6R4.NET TEST DAY
13/07/2022
This year saw the 7th annual 6R4.net Test Day take place recently at a private airfield in Lincolnshire.
Organisers Dan Ellmore and David Sims had arranged yet another thrilling day of non-stop track action, including once-in-a-lifetime opportunities for select passenger rides, and with the added option to simply 'chill' in the informal social atmosphere of the paddock – despite the blistering heat on the second year running at this venue.
The entry list comprised of 15 MG Metro 6R4s, 4 Ford RS200s (including Steve Harris in his 'monster' rallycross example), 2 ex-works Grp A Rover Vitesse, 2 Grp N WRC Subaru Imprezas, 2 Ford Escorts, a Vauxhall Astra Coupe touring car driven by former BTTC racer Fiona Leggate, a Renault 5 Turbo, and a Toyota Corolla originally campaigned in South Africa.
As normal, not all the entrants managed to make it on the day but what did appear, made it just as special.
There were some unique examples amongst the Metros that did attend, including the David Appleby / Tony Pond 'brainchild' that became the DAM 4100 of Stuart Bell – a more rounded and softer Rover 100 based design with very much a 'Marmite' kind of appreciation amongst owners and enthusiasts.
But something else special made it on the day too – an original factory V8 engined Freight Rover service barge, trailering an ex-works TWR prepared Tony Pond / Rob Arthur Grp A Rover Vitesse! Fully restored to its former glory in Computervision livery exactly as it appeared on the 1985 National Breakdown Rally, this glorious sight stunned many!
The car had only been seen by a select few since the current owner Brian Kershaw took ownership of it in the late 90s, and despite some niggling teething issues, understandable after such an extensive and thorough rebuild, it eventually burbled into life with sheer raw power!
---
---
The day was managed perfectly by a specialist track day Chief Marshall with a wealth of experience, bringing with him all the necessary safety measures required, and the format consisted of multiple 3 lap runs for each entry, starting off with preliminary sighting laps to guide them, after they had slowly exited the paddock on their way to the start line. Once their experience of the course grew, the action really livened up with the likes of Stephen Chamberlain as entertaining as ever in a Grp N Subaru Impreza, and David Bonning in his RS200 replica.
The whole point of the day is to bring owners, enthusiasts, and former drivers and mechanics together – even Metro 'royalty' like Austin Rover Motorsport engineer Wynne Mitchell was present – at an informal test day to recognise what is one of the greatest all-British rally cars ever, and without question the most respected car to emerge from the Austin Rover stable.
There is no event that pulls together as many Metro 6R4s, and to be invited along for the day is an honour in its own right as the select guest list for this private test day is very exclusive.
Noticing names like Alistair Sutherland – 1986 Marlboro National Rally Champion in a CBC Motorsport run Metro 6R4 – take a walk through the paddock admiring examples of the car that took him to his championship glory, or 'Jumping Jeff' Williamson climbing in to his 6R4, add to the thrilling atmosphere on the day.
The day ran very smoothly with plenty of action and without problems for the vast array of cars present, but my personal highlight has to be a passenger ride in the impeccably restored Rover Vitesse, or Dave Bonning's RS200 replica.
A massive thank you must go to Dan and David for putting together yet another exhilarating day, to the owner of the venue, to the Chief Marshall for all his vast experience, to the owners, drivers, and guests, and lastly to all the track marshals for their hard work in the blistering heat – without them all, the day would not have been possible.
---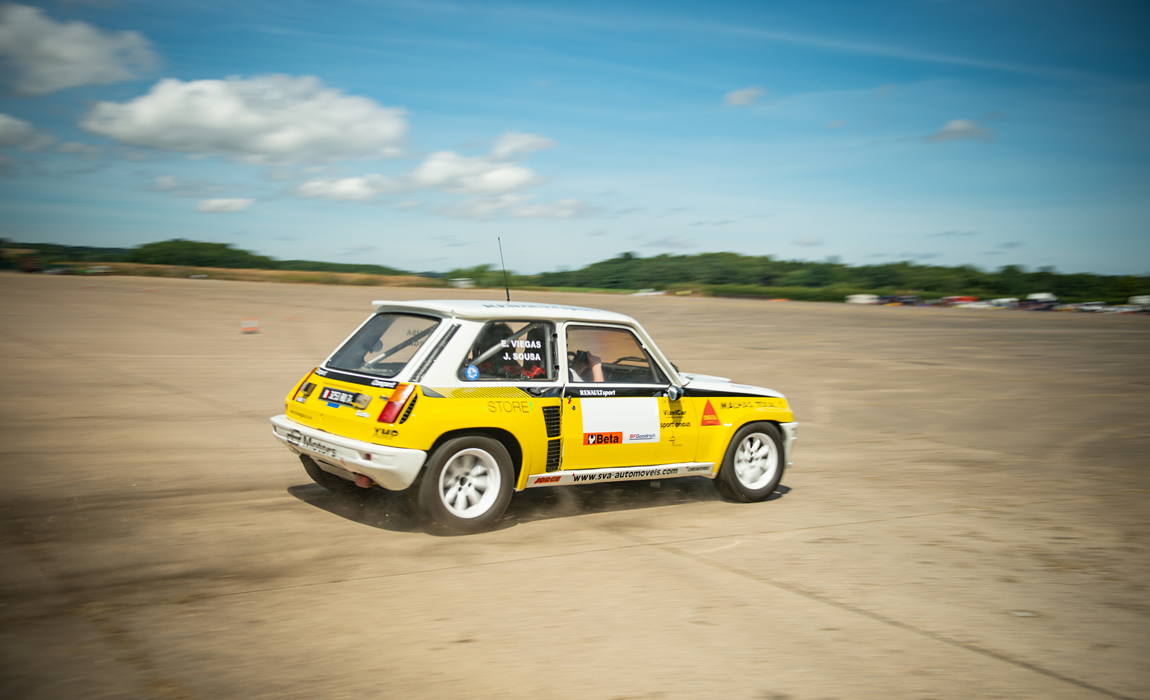 ---
Words & Photos by George Sims | George Sims Photography