DAKAR RALLY 2022
09/01/2022
For an endurance challenge that began its journey back in 1977 when Thierry Sabine got lost on his motorbike in the Libyan desert during the Abidjan-Nice Rally. On new years day 2022, a fresh new 14-day long adventure through breathtaking landscapes began from Jeddah in Saudi Arabia for the 44th edition of the Dakar Rally, billed with the slogan of "Dream, Dare, Live It"!
Opening up the motorsport calendar this year, the Dakar also entered into a new era, where not only alternative methods of power feature heavily in the top vehicles but also The Dakar became the first and flagship Cross Country Rallying event which is now formally recognised by the FIA as a new World Championship discipline.
The lineup of drivers in the main field of cars once again boasted a plethora of motorsports finest, including legendary drivers from the World of Rallying such as Carlos Sainz (Snr) and Sébastien Loeb. As well as familiar names such as Martin Prokop, Nasser Al-Attiyah and World Rallycross's Mattias Ekström also appearing this year.
DAY 01 | THE PROLOGUE
The action got underway with a tricky 19km qualifying stage (Jeddah-Ha'il – 1A), for which three times Dakar winner Nasser Al-Attiyah crossed the finish line in the Toyota Hilux ahead of another three times winner, Carlos Sainz (Snr) in the Audi RS Q e-Tron.
Photo: Nasser Al-Attiyah | Stage 1A | Red Bull Content Pool
---
DAY 02 | TIME TO LIVE IT!
The prologue stage was followed by a 600km drive north to Ha'il, where a 333km Stage (Stage 1B – Ha'il – Ha'il) awaited the crews on the second day of the event.
The first real stage of the event left no room for error, consisting of mainly sandy terrain the opening test was the perfect high-speed navigational challenge for the crews to get their teeth into and it delivered early drama for some of the leading contenders.
The trio of Audi drivers were the headline crews to be caught out on the opening stage of the event. First Stéphane Peterhansel aka "Monsieur Dakar" approx 120km into the stage received an impact to his Audi which resulted in damage to his rear end; he was forced to retire for the day ending any hope of a 15th Dakar title prematurely.
His teammates, Dakar newcomer Mattias Ekström who was running in second and the seasoned Dakar Pro "El Matador" Sainz who was inside the top ten, both ran into navigational issues and lost time… errr getting a little bit lost.
This left Toyota Gazoo Racings Nasser Al-Attiyah and Sébastien Loeb of BRX to fight it out. For which the Qatari bagged the opening stage win, getting the better of Frenchman Loeb by some 12-minutes, with Martin Prokop in third.
Photo: Nasser Al-Attiyah | Stage 1B | Red Bull Content Pool
"It was incredible because it was a really tricky stage. I expected it to be more straightforward. Mathieu did an outstanding job, especially in the second part of the stage. I'm very happy. The Toyota works like a charm and I'm having a blast in this T1+. It feels steady. We'll do our best, but today was a good stage for us.

Nasser Al-Attiyah
---
DAY 03 | ECO-POWER'S FIRST WIN
The third day was due to feature the first of two Marathon like stages of the event running from Ha'il to Al Artawiyah but due to heavy rainfall, the planned route had to be modified.
Overnight leader Nasser Al-Attiyah set off into the sandy dunes of the special stage with a 12-minute lead over Sébastien Loeb, but as the crews reached the first checkpoint it was Loeb who was in the lead.
Increasing his stage lead by nearly three and half minutes over the 333km special stage, Loeb went on to take his 15th career Dakar stage win and first since 2019. This was also team BRX's (run by Pro Drive) first-ever Dakar Stage win.
"It was a real match, Nasser was pushing very hard. He was opening the road for the cars but still he was really fast. We had to push like in WRC for almost 340 km. It was exciting but it was a really tough fast rhythm. At the end I caught him, so I was able to follow him through the dunes. It's a bit easier when you are just behind a car and right at the end of the stage there were a lot of stones. I tried to overtake him to avoid having a puncture – yesterday I had two, so it was important to finish the stage well. It wasn't a question of navigation today.

Sébastien Loeb
.:TECH FOCUS:.
The BRX Hunter runs on Prodrive's EcoPower Sustainable Fuel which is made from agricultural waste products and reduces overall CO2 emissions by 80% compared to petrol. Over the course of the Dakar, ProDrive says that this is a reduction of 28 tonnes of CO2 by not using carbon locked away in the ground in oil.
---
On the third day, it also transpired that Nasser Al-Attiyah compleated the entire leg between Ha'il to Al Qaisumah (the second day of the competition) without the FIA data logger connected to his Toyota Hilux.
This regulation infringement was thought to have been a simple mistake by one of the team's mechanics and would normally result in disqualification under the sporting regulations.
However, due to the nature of the breach being so early on in the event, officials commented that while the car was in technical compliance during the first stage "An exclusion for the rest of the event does not seem proportional" the disqualification remained suspended until the end of the rally and the team were also slapped with a fine.
Photo: Sébastien Loeb | Stage 2 | Red Bull Content Pool
---
DAY 04 | EL-MATIDOR'S HYBRID WIN
With a 380km road liaison distance, Special Stage 3 (Al Qaisumah) was shortened by 100km to 255km of challenging navigational conditions across big dunes and undulating tracks on the fourth day. While the recent heavy rainfall made some sections a bit unpredictable and harder to read, the bigger dunes, now a little moist were a little more compact and made for easier passage.
Motosport legend, Spaniard Carlo Sainz (Snr) drove his Audi RS Q e-Tron to a historic first-ever Dakar stage win for an alternatively powered electric vehicle, whilst also gaining his 40th Dakar career stage win.
.: TECH FOCUS :.
The 650bhp Audi machine is driven by two Formula E engines to provide drive to each of the vehicles axis. It also has another one plus a 2L combustion engine as used in a German DTM Car (Deutch Touring Cars) for the sole purpose of generating energy to charge the onboard batteries. And so although its propulsion is 100% electric, it could arguably be called a Hybrid? Anyway, Audi claims a 40% reduction in consumption thus also reducing emissions significantly.
"I'm happy with the car, we were able to drive fast today. This is the first race for this car so we are learning so much all the time."

Carlo Sainz (Snr)
Meanwhile arriving some 33 minutes behind Sainz at the finish line in two-wheel drive only, was Sébastien Loeb. The 9 times World Rally Champ not only picked up two punctures but had broken the prop shaft to his BRX Hunter after only 10km in, this cost him a significant amount of time.
Loeb said "It was a bad day for us" and "Doing this stage with two-wheel drive was really tough, I'm happy to reach the end of the stage". His misfortune allowed the man whom he had battled over the opening few days on the dunes with, Nasser Al-Attiyah, to extend his lead overall to 37-minutes.
Despite the cloud of the suspended potential exclusion from the event hanging over his head, Al-Attiyah remained focused on the job in hand and said: "We tried to minimise risk today and finish the stage without any problems. I think we're in a good position".
Photo: Carlos Sainz | Stage 3 | Red Bull Content Pool
---
DAY 05 | 44TH STAGE WIN ON THE 44TH DAKAR
The destination for the fifth day was Riyadh, and featured the longest special stage of the event. Stage 4 – Al Qaisumah – Riyadh at 465km in length featured a very fast 200km section that was followed by big dunes and rocky sections.
Carlos Sainz (Snr) was the first to get to grips with the conditions but for his Audi team-mate, Stéphane Peterhansel the event continued to bite back at him. A broken shock absorber after landing a big jump also took out the Q e-trons fan and radiator leaving him stranded some 98ks in.
The battle raged on between the likes of Sainz, Leob and Al-Attiyah all seemly being beaten by homeboy Yazeed Al-Rajhi. However Al-Rajhi's triumph was short-lived, the Saudi driver was hit with a two-minute time penalty for speeding; handing the stage win over Nasser Al-Attiyah, who had now reached his 44th career Dakar stage win. This enabled Al-Attiyah to extend his overall lead from Loeb to a little over 38-minutes.
Photo: Nasser Al-Attiyah | Stage 4 | Red Bull Content Pool
---
DAY 06 | IT DOESN'T MAKE SENSE!
The first of two loops around Riyadh was on the cards for the sixth day of the rally. The 421km Special Stage 5 began on stony ground with leader Nasser Al-Attiyah first to get to grips with the tracks ahead of his closest rival Sébastien Loeb.
Early on it was the dual for second place between Loeb and Carlos Sainz (Snr) that raged on until around the 201km mark when Sainz was hit with trouble after damaging the suspension on his Audi.
His teammate Stéphane Peterhansel stopped to assist and ended up donating his suspension parts to the cause. This kind gesture enabled Sainz to continue on to finish the stage, all be it after a big-time loss of around one hour.
After a troubled few opening days to the Dakar, a determined South African Henk Lategan was the man to take the advantage, surging ahead in his Toyota Hilux from 300km to collect his first stage win.
"I still don't believe it. I'm not sure what happend. We've honestley had a day from hell. We've had a proper Dakar Day."

"It started 10km from the start when my door broke. It went open and I was driving until the first control point with the door flapping open." "Then I managed to solve it, I strapped myself in and then couldn't open it"

"Then we had a puncture and I had to climb out the navigators door, So we've had just the craziest day, I can't actually believe that we have won the stage. It doesn't make sense.

Henk Lategan
The experienced cross country racer deprived Loeb of his second stage win but Loeb did, however, manage to get the batter of the overall rally leader Al-Attiyah by nearly 3-minutes to reduce the gap down to 35-minutes.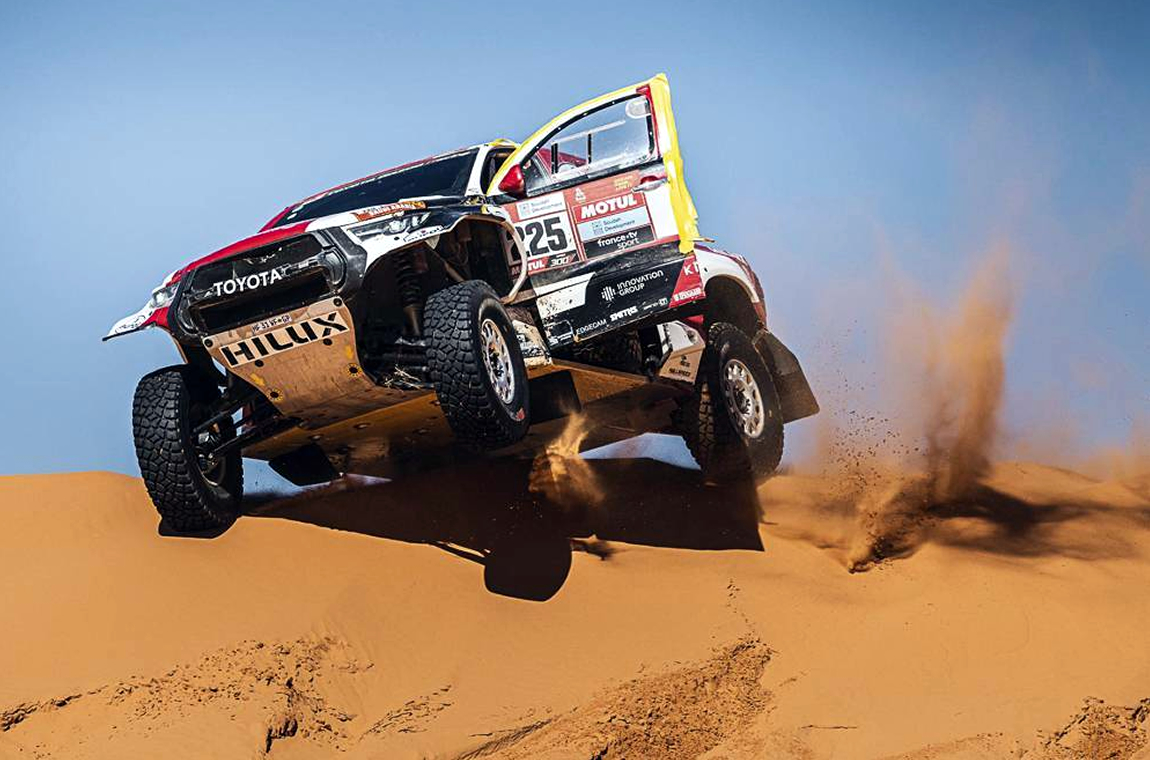 Photo: Henk Lategun | Stage 5 | Dakar Media (A.S.O. / C.Lopez)
---
DAY 07 | TERRA-OUT-OF-NO-VA-WHERE
On the 7th day, God gave us Stage 6, the second loop around Riyadh which offered up some 620km of driving which consisted of 216km of liaison and 404km of competition across some canyons which contained many rough and rocky sections.
By the first checkpoint, second place man Sébastien Loeb was on par with Stage 6 winner Henk Lategan; until Nasser Al-Attiyah took over the lead but then Carlos Sainz came in to trump them both with Yazeed Al-Rajhi also slotting in ahead of Al-Attiyah.
For the Audi team there was then a sense of Deja Vu, Sainz for the second consecutive day, ran into some mechanical trouble and it was once again team-mate Stéphane Peterhansel to the rescue. This left Al-Rajhi to lead Al-Attiyah from the second checkpoint with Lategan and Loeb in hot pursuit until the pair got last between 100-120km.
Al-Attiyah was able to overhaul Al-Rajhi after 190km while Rallycross ace Mattias Ekström was gaining on them but Ekström was not the only competitor who was a threat to Al-Attiyah. Argentinian Orlando Terranova seemingly came out of nowhere in the final part of the stage to pass both Al-Attiyah and Al-Rajhi to steal the win, his first since 2015.
Photo: Orlando Terranove | Stage 6 | Dakar Media (Florent Gooden / DPPI)
"It was a difficult stage because there were the tracks of the bikes, but some went in the wrong direction, so we had to stay very focused."

"At the neutralised zone, we felt that we were doing a good job, so we pushed harder on the second part."

"In the end, we won the stage and that's a great feeling. The car is fantastic and we are going to carry on pushing because we know that there is still a long way to go and that we can put in some fine performances".

Orlando Terranova
Mattias Ekström was able to peddle his Audi across the finish line in second place, one minute behind Terranova to claim his first-ever Dakar stage podium. The Swede commented: "We're happy to finish the stage in second because that's big progress compared with yesterday". Clearly, his experience gained from a full season in the all-new Extreme E series has massively helped in this, his first attempt at the Dakar.
After losing some 25-minutes, Loeb who finished Stage 6 way down in 30th had slipped down to third overall behind Yazeed Al-Rajhi, who lay some 48 minutes behind rally leader Al-Attiyah.
Sébastien Loeb said: "It was a complicated day. We got lost after about 100km and that cost us quite a lot of time. After that, we did everything we could to close the gap in front".
Al-Attiyah ended up 10th in the stage classification but was heading into the rest day having reached the mid-point of the rally with a decent lead still intact.
---
DAY 08
|

THE DAY OF REST

With week one of the 2022 Dakar done and dusted all competitors had reached the halfway point of this epic Rally Raid adventure. Having navigated their way through over 2000km of challenging off-road terrain all against the clock, they took a well-earned rest day to regroup and recuperate.

Three-time Dakar winner Nasser Al-Attiyah from Qatar had eeked out a lead of 48m 54sec over the six enduring stages to lead a host of other protagonists. But, he still had that tiny matter of a suspended disqualification from the event in the back of his mind to block out.
"We are quite happy to have finished the first week of the Dakar with a good lead.""We've worked a lot this week, without any mistakes. The car is working very well."

"This is the Dakar and we will try to manage next week without any risks. For victory, it is difficult to say – the Dakar is the Dakar, but we need to be careful and we need to be strong all the way"

Nasser Al-Attiyah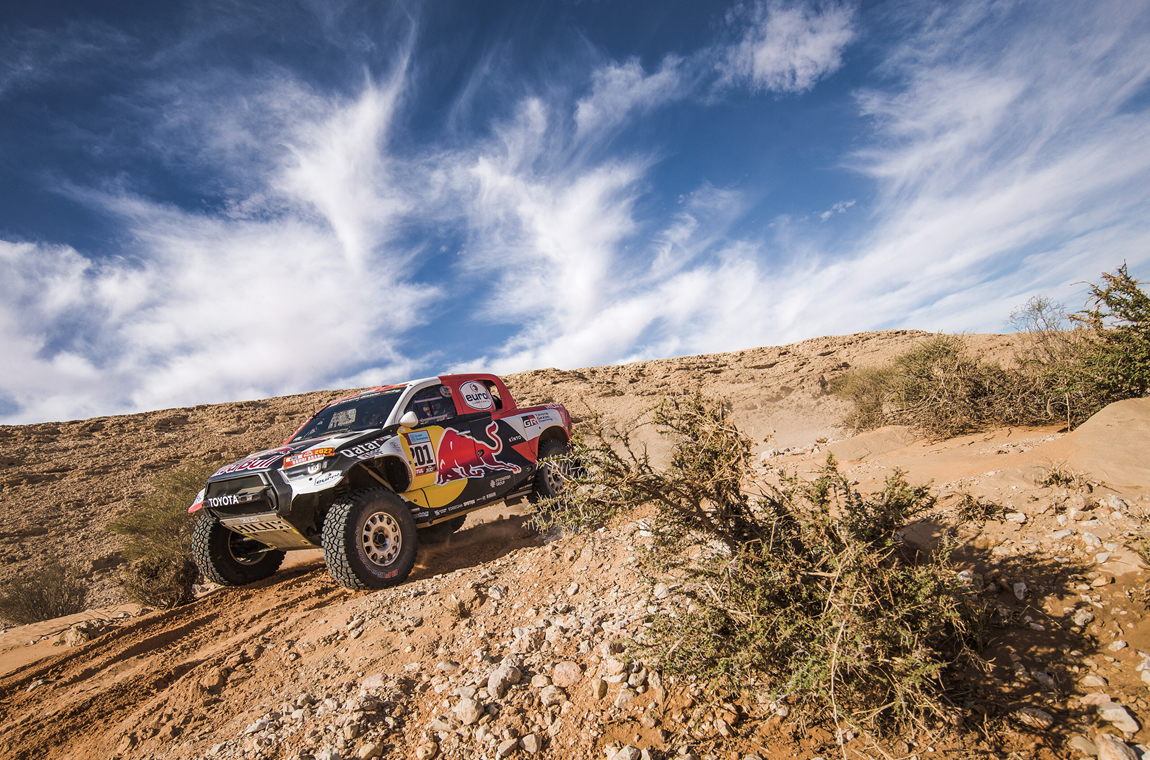 Photo: Nasser Al-Attiyah | Stage 6 | Red Bull Content Pool
---
DAY 09 | THE RESTART
The World famous Dakar Rally restarted under the glare of the sun in the sand dunes of Stage 7, for the second week of action. With a 400km drive over a winding maze of tracks and a destination of Al Dawadimi; the thrilling confrontation between world-class drivers had re-commenced.
Refreshed from their rest bite, the competitors set off on the journey to reach the end of this Saudi adventure. Rally leader Nasser Al-Attiyah was enjoying a decent margin out in front but whilst second place man Yazeed Al-Rajhi began to fade in this stage, others began to pick up the pace.
After a trepid first week, Carlos Sainz (Snr) stepped things up a notch setting the early pace, however, Sébastien Loeb was clearly on a mission to re-start his hunt. The Frenchman began to apply some pressure to lead both Sainz and Al-Attiyah from around the 220km mark.
Al-Attiyah reacted to Loeb towards the end of the stage but Loeb who began to suffer engine problems almost 50km from the finish line, held on to take his second stage win of the year by some 5-minutes. Importantly for Sainz, he had a clear problem-free run to round off the stage podium almost 8 minutes down.
With 5 stages remaining Loeb still had it all to do in the second half of the event and continued to trail Al-Attiyah by some 45-minutes, however, his seventeenth Dakar career stage win had netted him second overall passing Al-Rajhi.
Photo: Sébastien Loeb | Stage 7 | RedBull Content Pool
"We had a fantastic special until 50 kilometres before the line, when we started having engine problems. It just sputtered on, off and on again… We lost a lot of time near the end, but we still came out on top, so no complaints from my side. We're not in a position of strength, there are no questions to be answered. There is no strategy. We'll just do our job and see how it plays out."

Sébastien Loeb
---
DAY 10 | ROOKIES FIRST WIN
With a 435km liaison drive, it was time to head south to Wadi ad-Dawasir for the 395km Special Stage 8 where nothing but sand dunes stretch between the valleys for as far as the eye could see.
Sébastien Loeb opened up the massive day of endless dunes and was first into the stage. Praying that his engine issues from the previous day were solved, it was to be a puncture instead that would cause him a headache early on at 28km in.
The trio of Audi's were on form, Mattias Ekström leading his team-mates Stéphane Peterhansel and Carlos Sainz (Snr) at the first checkpoint in an Audi 1-2-3 assault. A scrap for the lead then ensued between the likes of Ekström, Loeb, Peterhansel and Sainz; all trading places throughout the stage, it was well and truly game on.
Eventually, it was World Rallycross & Extreme E star Mattias Ekström who came out on top at the finish line to secure his maiden Dakar Stage win. The Dakar Rookie from Sweden got the better of his Audi team-mate and Dakar veteran Peterhansel by just 49-seconds. Loeb crossed the line in third with 3 seconds in hand to deny Sainz and the team of an all Audi lockout stage.
Loeb had managed to reduce the gap to overall leader Al-Attiyah (who finished the stage way down in 12th) to just under 38-minutes but for the Frenchman, the opportunities both in the number of stages and Kilometers to challenge for that elusive first victory were beginning to run down.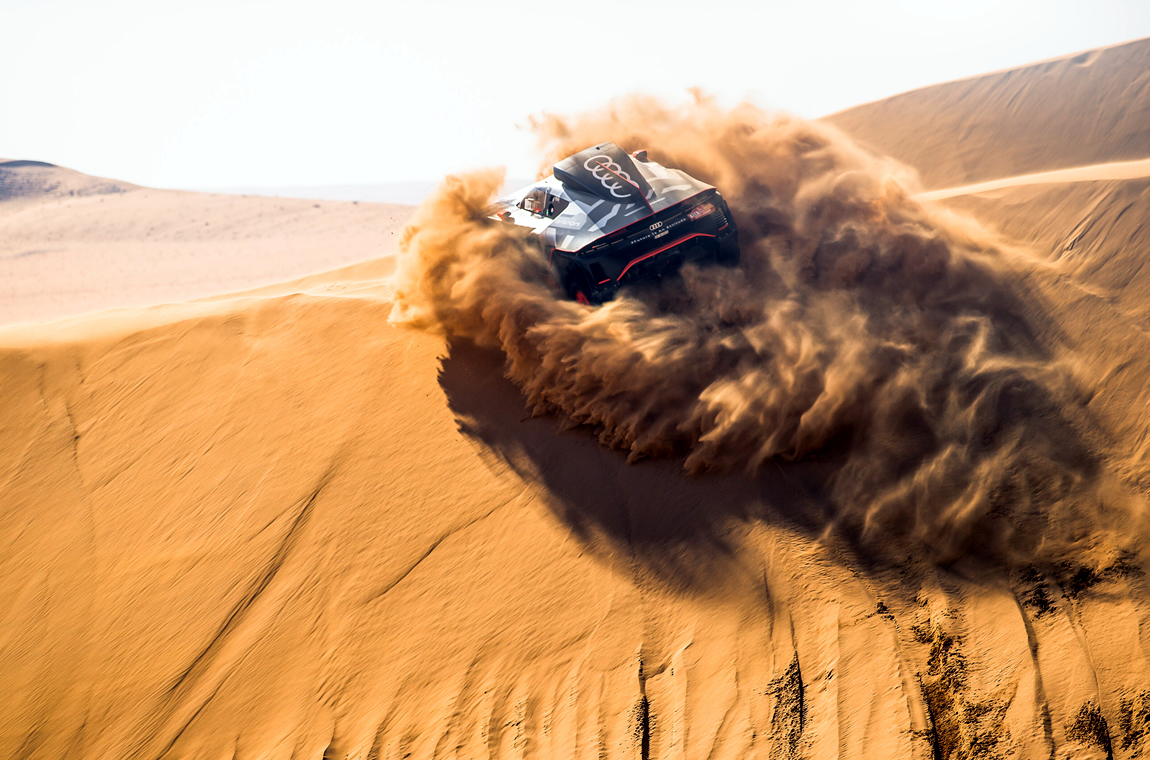 Photo: Mattias Ekström | Stage 8 | RedBull Content Pool
"I had a really, really enjoyable drive and Emil did fantastic navigation for the whole stage. We didn't even have one detail that was not perfect, so for me it was a very good day."

"We are all fighting to have a good result. For Emil and myself, we feel like the rookies here, learning every day and trying to manage the risk and there are so many kilometres where you can have a mistake."

Mattias Ekström
---
DAY 11 | AUDI 1-2-3
In the presence of mountains and canyons, the competitors found themselves winding their way through the tracks in the Wadi Ad-Dawasir region for Stage 9. The 287km special stage required a different driving approach in order to navigate the route, which consisted of not only sand and dunes but salt also.
Previous stage winner Mattias Ekström led the field away ahead of Stéphane Peterhanse and Sébastien Loeb who was penalised overnight for losing a wheel in stage the day before.
Although no time penalty was applied to Loeb, his team BRX were handed a $10k fine for the breach of rules, which stipulates that competitors must retrieve any such artefacts. Naturally one may not be aware of such an item detaching from their vehicle when in the heat of battle and Monsieur Loeb did argue to that point.
After a somewhat subdued previous day, rally leader Nasser A-Attiyah was looking to get back in the thick of it on day 11. He along with fellow Toyota Gazoo Racing drivers Henk Lategan and Giniel De Villers were dominating after the first 40km; leading a pair of Audis driven by Ekström and Peterhansel.
As the crew reached the first checkpoint, Stage 5 winner Lategan was the man with the slite edge; just 9 seconds in front of Al-Attiyah. However, by the time the South African had reached the second checkpoint at 118km, he had lost the lead to team-mate Giniel De Villers.
The trio of Toyota crews were able to sort out a victor amongst themselves in the end, to secure a Toyota 1-2-3. With Giniel De Villiers, (despite picking up a late slow puncture) taking his first stage win of the year (his 18th Dakar career stage win), ahead of Lategan and Al-Attiyah…. the day belonged to the Hilux.
"We had a nice clean stage today. I must say that the mechanics worked really, really hard last night because we had a problem with the dampers over the last two days or so. But they did a great job and the car was just unbelievable today. Really nice to drive, so we could push nicely."

"We had one slow puncture on the front left about fifty kilometres from the end, but it managed to hold out and now we're very happy, very happy for the team"

Giniel De Villiers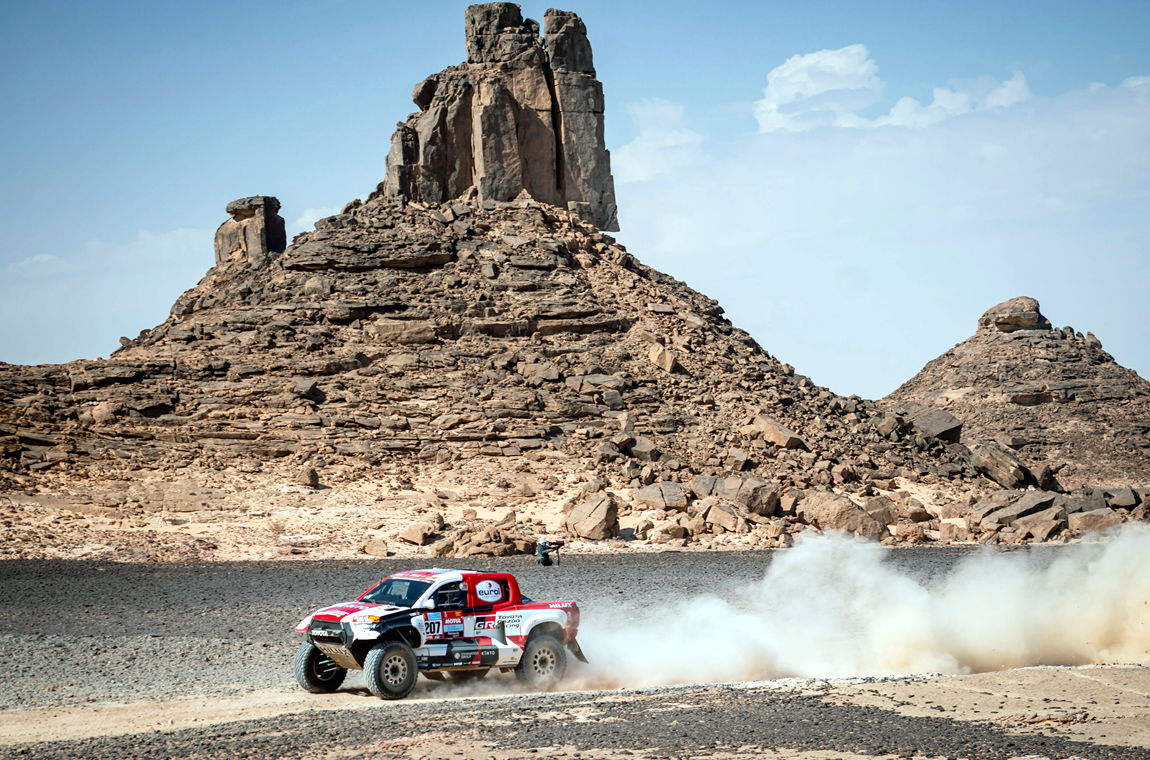 Photo: Giniel De Villiers | Stage 9 | Red Bull Content Pool
---
DAY 12 | ON THE TWELFTH DAY OF DAKAR, MY TRUE LOVE GAVE TO ME…
On the twelfth day of Dakar, my true love gave to me…….. A rich tapestry of landscapes.
Special Stage 10 – Wadi Ad Dawasir to Bishi offered up a diverse day that evolved through its 375km route. On perhaps one of the faster stages of the event, the competitors began the day on a fast sandy start across the Wajid and Hejaz plateaus before winding their way through valleys and canyons in some more narrower stoney mountain tracks.
Rally leader Nasser Al-Attiyah began his day with news that he was being handed a 5-minute penalty for incorrectly wearing his seat belts and head restraints after stopping to change a puncture in Stage 8 some two days previously.
Carlos Sainz (Snr) took the early lead ahead of his Audi teammates Stéphane Peterhansel and Mattias Ekström but Sébastien Loeb was gaining throughout the stage. The Frenchman caught and passed Ekström into a podium place at around the 170km mark, while his fellow countryman Pererhansel moved into the lead.
Initially, Al-Attiyah was playing it safe but then turned up the pressure on Loeb going head to head with him from 260km. At the final time check, Peterhansel led Sainz by just over 2-minutes with Henk Lategan holding off Loeb.
There was a late surge from Stage 6 winner Orlando Terranova, which saw the Argentinian driver not only pass his BRX teammate Loeb but Lategan also for the third spot on the podium. Peterhansel kept his teammate Sainz at bay to secure his 49th Dakar Stage win in the car category, just one behind the all-time record holder Ari Vatanen.
"It was one of our first clean specials, without shock absorber issues, punctures or navigation problems. We haven't had any big mechanicals since the start of the second week, so we're making good progress and having fun driving the car."

"I'm not necessarily a stage hunter, but each Audi driver has now won a stage, and that's fantastic. When Carlos became the first driver to win a Dakar stage in an electric car, it was a milestone, now we confirmed that performance. This is good for morale, not least because it comes after a complicated start to the rally."

Stéphane Peterhansel
Photo: Stéphane Peterhansel | Stage 10 | Red Bull Content Pool
---
DAY 13 | ONE LAST LOOP
Identified as the biggest technical challenge in the final part of the rally, one last loop around Bisha on the penultimate day of the 44th edition of the Dakar would see the competitors spend about half of the stage on dunes of all shapes and sizes. At 346km in length, this special had it all, Camel Grass, Dunes, Navigation, Riverbeds and Stones, it really was the complete package of a stage.
Previous stage winner Stéphane Peterhansel was the first to tackle the toughest stage of the event (Stage 11). However, all eyes would be on the likes of Rally leader Nasser Al-Attiyah and perhaps the only remaining challenger left to be in with a remote chance, Sébastien Loeb. With a deficit of nearly 33-minutes, Frenchman Loeb was facing perhaps the toughest task of his career in search of that elusive first Dakar victory, for which was disappearing into the distant dunes.
Al-Attiyah set about stamping his authority over Loeb and got the initial jump but conceded time by the mid pointing the stage. Out front, Carlos Sainz (Snr) was sitting pretty with a little over 4-minutes lead over Al-Attiyah. But the Qatari was keeping one eye on his mirrors at Loeb rather than focusing on challenging Sainz for the stage win.
In one last ditched attempt, Loeb knuckled down and passed Al-Attiyah gaining more than 2 minutes and then together with Lucio Alvarez closed the gap down on Sainz. Loeb continued to extend that gap to Al-Attiyah to around 4-minutes at the final time check but such efforts were still not sufficient to dent Al-Attiyahs overall lead at this late stage in the rally. Loebs efforts were however to be all in vain as the nine times World Rally Champ was handed a 5-minute penalty for breaking speed limits in a restricted speed zone.
"We drove a very good stage, with good navigation and a good rhythm. We did what we could. It has been a great stage again. At the moment we are still in second place, it's not so bad. I think our rhythm is really good. The car is strong and fast. With Fabian, it's going well. We've done good navigation all the time."

Sébastien Loeb
Ahead of those happenings, Spaniard Carlos Sainz was able to cross the line to snap up his second stage win of the event and net his 41st Dakar career stage win to boot.
Photo: Carlos Sainz (Snr) | Stage 11 | Red Bull Content Pool
"It was a really difficult stage and it had everything, so it was a really complete stage and quite difficult to open on. At one point we saw Stéphane who was coming back to catch a waypoint. We had to go back too because we missed it, but then after that, I didn't see him."

Carlos Sainz (Snr)
"It's been good. From the beginning we have been leading every day we have been gaining time. To control the Dakar is not easy, but I think we have a lot of experience now and we just need to manage the situation and to finish. You don't need to win every day."

Nasser Al-Attiyah
---
Photo: Nasser Al-Attiyah | Stage 11 | Red Bull Content Pool
---
DAY 13 | THE HOME STRETCH
With the dunes behind them, the final day of this truly epic motorsport adventure entered the home straight, leaving Bisha and heading towards the finish line in Jeddah.
Whilst the final stage itself was pretty tame in comparison to what the competitors had already experienced across this 13-day 4000km+ marathon; it still required composure for the rally leader Nasser Al-Attiyah who entered with some 33-minutes in hand to Sébastien Loeb.
Just 164km plus 516km of liaison was all that stood in Al-Attiyah way and the top step of the podium. And for Loeb, nothing short of a miracle would be enough for him to prevent the Qatari from obtaining his fourth Dakar title.
Previous stage winner Carlos Sainz (Snr) was first into the test in his Audi, but lying down in 12th in the overall rankings the Spaniard was left with little left to do but to enjoy the final ride.
Whilst Mr Dakar himself, Stéphane Peterhansel also in an Audi was eager to end on a high passing the first checkpoint in the lead. He was denied the final stage win having been pipped to the post by Toyota Gazoo Racings Henk Lategan, who crossed the finish line 49-seconds quicker.
Loeb crossed the stage end to the final blast in his Pro Drive built BRX with the fourth-fastest time, knowing full well that he had given it his absolute all in search of that elusive first Dakar title. With the knowledge that Al-Attiyah behind was heading for the overall victory, for now, a second-place it had to be. Loeb ended 33-minutes ahead of Yazeed Al-Rajhi who took the third spot on the final podium.
After over 4000km of the most challenging terrain that Sudi Arabia could offer, Nasser Al-Attiyah, who made his Dakar debut in 2015 reached the podium in Jeddah with almost 28-minutes in hand to Loeb to claim his fourth career Dakar victory, equalling that of the legendary Ari Vatanen.
The Qatari, alongside Co-Driver Mathieu Baumel, had dominated the event from that opening first special, netting 3 stage wins along the way. By fending off some stiff competition from the likes of 9 time World Rally Champ Sébastien Loeb, "El Matador" Carlos Sainz (Snr) and a whole host of other world-class drivers, Nasser Al-Attiyah was The 2022 King of The Dunes.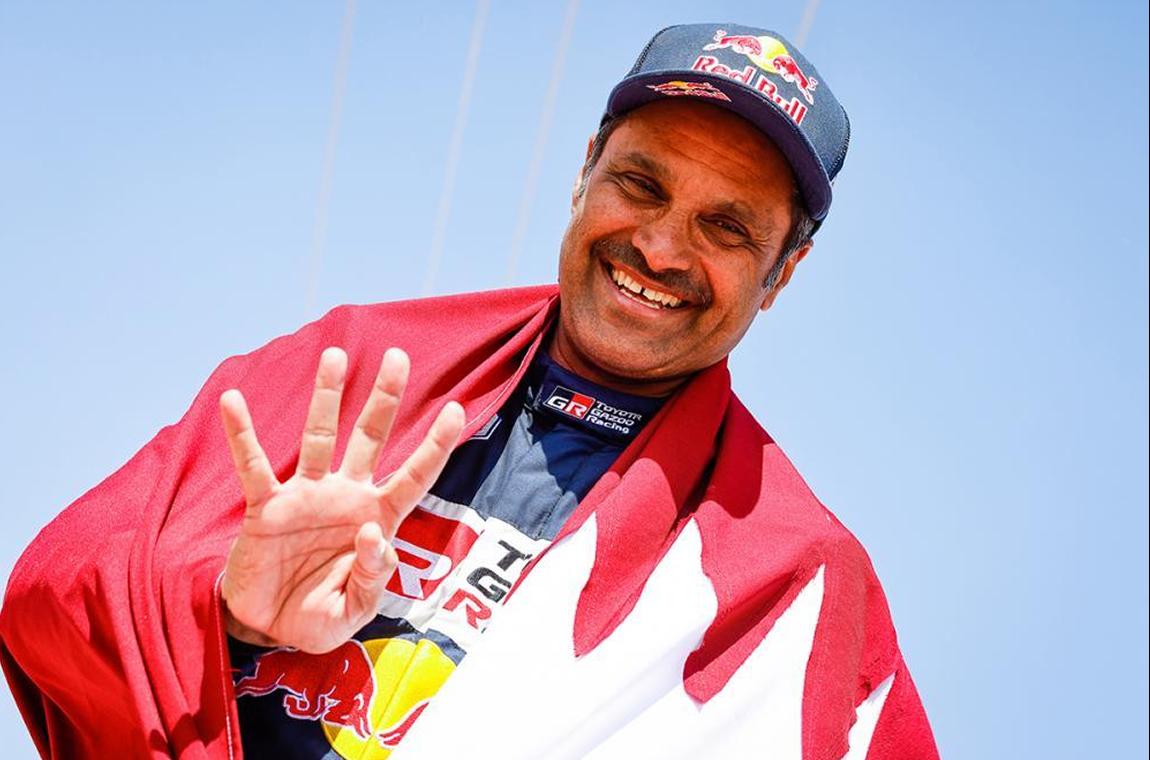 Photo: Nasser Al-Attiyah | Winner | Dakar Media
"It was an incredible Dakar for us. We hadn't won since 2019. We're pleased with the new T1+ regulations. There were three solid teams capable of winning. Matthieu and I, the team, we all did a good job to win. We had finished second every time since we came to Saudi Arabia two years ago, now we're really happy to achieve our goal."

"Toyota Gazoo Racing did a fantastic job in the span of a year by building this new car. The whole race went without a hitch. We were on high alert, but now we know that we have an amazing car and we will do our best for the World Championship. We opened up a gap on the first day and have since managed our lead."

"We're really happy, and I reckon we'll start thinking of the next Dakar in a week or ten days. We're fortunate to get to race the Dakar in Saudi Arabia, and I would like to thank the government for this opportunity to discover such breathtaking landscapes."

Nasser Al-Attiyah
---
CLOSING SHOT
Photo: Nasser Al-Attiyah | Stage 7 | Red Bull Content Pool
Words By Andy Cook – Xlerate | Photos by Red Bull Content Pool & Dakar Media