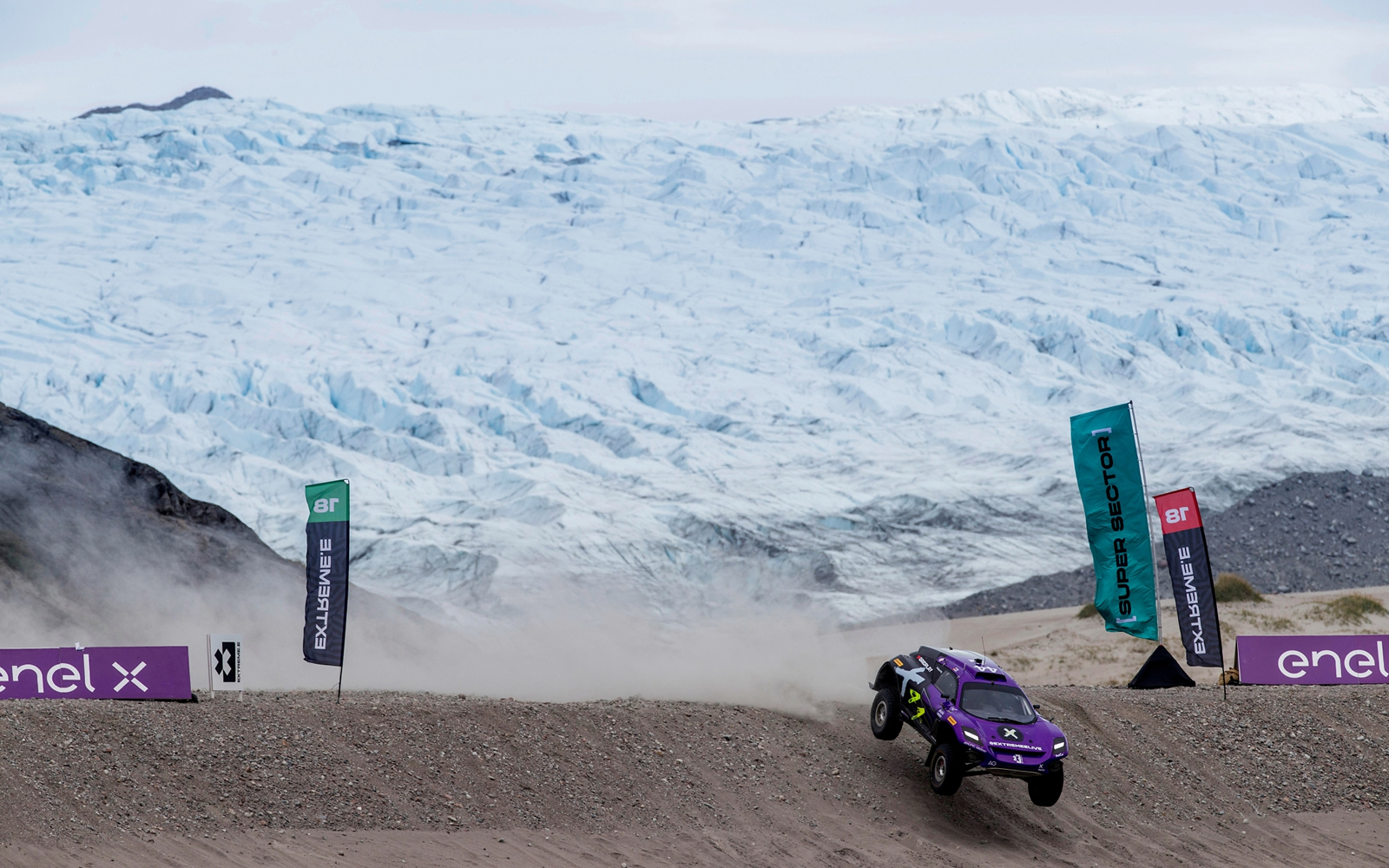 EXE | ARCTIC XPRIX | GREENLAND
29/08/2021
Extreme E: Saturday specialists X44 are Top Qualifiers once again in Greenland's first ever motorsport event.
Team X44 continued their 100% record of topping the overall standings after a rough first day in Greenland that caused championship leaders Rosberg X Racing to DNF in Qualifying 1.
Sebastian Loeb and Cristina Gutierrez won Q1 with a time of 13:45.2, and finished second fastest in Q2, behind RXR's Johan Kristoffersson and Molly Taylor.
However, an electrical gremlin for Kristoffersson and a roll for Taylor in Q1 meant they finished second slowest in the morning session, and third overall, putting them in the Semi-Final 2 race day.
ABT Cupra's Mattias Ekström and Jutta Kleinschmidt qualified second overall, with a second-placed finish in Q1 and a DNF after lap 1 of Q2.
They will join RXR in Semi-Final 2 along with Andretti United Autosport.
Veloce Racing and Acciona Sainz qualified fifth and sixth respectively, putting them in Semi-Final 1 alongside Team X44.
Qualifying 1
The big drama from the morning session was the troubles that championship leaders RXR faced on their lap. First, Kristoffersson was visibly livid as he had to reset the car three times on his lap, and as he walked away following the driver change, Taylor rolled the car but amazingly managed to continue immediately after landing on the car's wheels.
A big thing to come out of Friday's free practice session was the impact the boulder field towards the end of the lap would have on the racing, and that ran true in qualifying. JBXE's first lap had already suffered a minute's delay due to a cut-out before Mikaela Åhlin-Kottulinsky reached the boulder field and broke the front left suspension arm of her team's car, resulting in a DNF.
Timmy Hansen set the fastest Super Sector time of Q1 in his lap for Andretti United, but his car shut down under braking ahead of the driver change, which cost him and his team an extra minute.
Emma Gilmour put in a competitive performance as a stand-in driver for Veloce Racing. Whilst Jamie Chadwick was competing in the W-Series in Belgium, the Kiwi rally driver showed her class, with just one small error where she knocked over a track marker flag, resulting in a 10-second penalty. She helped Veloce finish fourth in Q1.
Chip Ganassi Racing's Sara Price and Kyle LeDuc continued to show great pace like they had in Round 2 in Senegal. A particularly impressive second lap from LeDuc helped the team finish in 13:41.6, but he himself clipped a marker flag, incurring a 10-second penalty which relegated the team to third place.
This meant that Team X44 took first place, followed by ABT Cupra as Jutta Kleinschmidt also impressed on her first event as the permanent occupant of the female seat for the team.
Qualifying 2
As rain threatened the afternoon session, the rugged Greenland terrain put an end to three teams' races. Xite Energy Racing had to retire the car when their ODYSSEY 21 became two-wheel drive, whilst a suspension failure for LeDuc ended the hopes of Chip Ganassi Racing.
The boulder field claimed another victim as Ekström suffered damage to the rims of both rear wheels, causing a double puncture. He limped the ABT Cupra car back to the driver change zone but couldn't remove the right rear tyre to change it, resulting in a DNF.
The power steering on Veloce Racing's car broke as Stephan Sarrazin reached the first corner of the first lap, meaning he and Gilmour had to wrestle the car home for the rest of their race. As a result of this, they were the slowest of the finishers, nearly two minutes behind the fastest time of the session.
That time belonged to RXR, who were the bravest of the remaining crews as the paddock realised that caution was required to get a strong finishing position. Johan Kristoffersson's second lap push helped the team finish 10.95 seconds ahead of Team X44, but a full 35 seconds slower than the winning time in Q1.
Andretti United's Timmy Hansen and Catie Munnings were able to take third place, ahead of JBXE Racing.
A new finals format is in place for this weekend, with a new route open to an extra final spot via the Crazy Race.
One of JBXE Racing, Chip Ganassi Racing and XITE Energy Racing will reach the final if they win the Crazy Race tomorrow.
They will be joined from the top two teams from each Semi-Final, with Semi-Final 2 looking the most competitive.
Words By: Cameron Wyper | Photos: Extreme E