EXE | RD2 – ISLAND X-PRIX 1
10/07/2022
CONTROVERSIAL INCIDENT GIVES GMC HUMMER EV CHIP GANASSI RACING MAIDEN WIN IN EXTREME E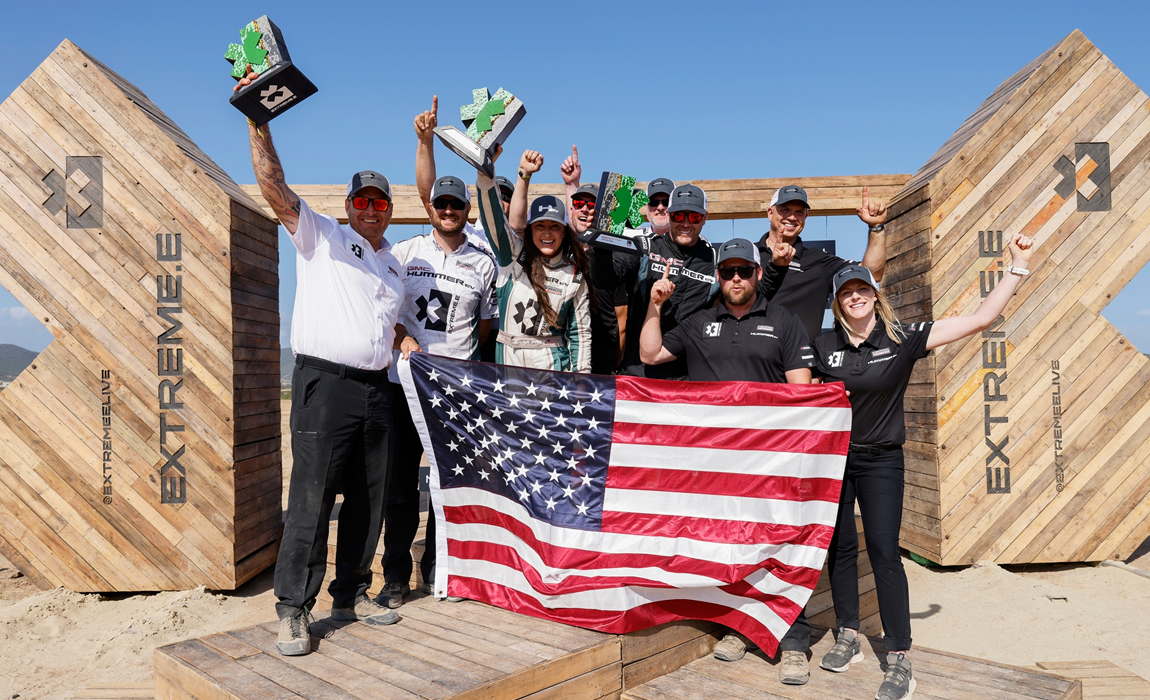 Kyle LeDuc and Sara Price's first Extreme E win was marred by controversy and confusion after a collision between Team Acciona Sainz XE and Rosberg X Racing.
Rosberg X Racing were initially given the win after finishing 10 seconds ahead of Chip Ganassi Racing but were handed a 30-second penalty for their involvement in the first lap incident.
However, more than two hours after the race had finished – long after the podium celebration and post-event press conference – Extreme E announced that RXR were given a 30-second penalty.
This relegated them to third place, behind Chip Ganassi Racing and the XITE Energy Racing pair of Timo Scheider and Tamara Molinaro.
In over 40 years of motorsports, this one of the most serious actions that I have ever seen without an exemplary penalty.

Carlos Sainz via social media
Carlos Sainz was left seething after his X-Prix was ruined by Johan Kristoffersson of RXR within seconds of the beginning of the Final race. After taking the lead ahead of LeDuc, Sainz was cruising down the standard racing line before Kristoffersson slammed into the rear right-hand side of his car whilst trying to join from an alternative line.
The contact sent Sainz's car spinning into the air, rotating three times before landing on its roof. The 60-year-old was able to get out of the car unassisted, and after being assessed in hospital, was fortunate to escape without much more than cuts and bruises.
Meanwhile, Kristoffersson was free to continue on with the race, eking out a five-second advantage by the end of his lap before the race was red-flagged to allow Sainz and his car to be recovered from the course. Following the restart, Michaela Åhlin-Kottulinsky extended that lead to take the chequered flag, 10 seconds ahead of Price.
There was an air off disbelief amongst those watching, both on the ground and at home. LeDuc in particular was shaking his head as Price crossed the line, looking rather aggrieved. Viewers went to social media to debate what they had just seen, but there was no indication that the result would change.
---
---
The podium celebration had a stunted feel to it, as Kristoffersson and Åhlin-Kottulinsky sprayed the champagne over themselves and their team whilst LeDuc and Price still not looking overjoyed despite securing the team's first ever podium.
Then, just before the post-event press conference at 7pm local time (nearly an hour after the race had finished) Extreme E's Twitter account posted to say the result was under investigation.
Åhlin-Kottulinsky, LeDuc and Molinaro were presented to the media and asked a couple of questions each before the session was cut short at just 13 minutes, without the opportunity for any of the accredited journalists attending on-site or virtually to ask a question of their own.
Everyone was left in the lurch, waiting for the decision of the stewards. Eventually, at 8pm local time, it arrived: RXR were given a 30-second time penalty.
However, the drama did not end there, as representatives from Acciona Sainz took to social media to vent their frustrations with the decision not to disqualify RXR.
Carlos Sainz said he was "really disappointed" with Kristoffersson's move during the race, and "even more so" with the penalty that still allowed RXR to gain a healthy number of championship points for finishing on the podium.
His teammate, Laia Sanz also said on her Instagram: "It really bothers me, because we had no fault in the crash and the chance to fight for our first victory was taken away from us"
Finally, Acciona Sainz team principal Joan Orús expressed his anguish at Kristoffersson's driving, saying: "We were leading in the corner into the first corner when we were hit from behind."
We will have to rebuild the car because it is completely destroyed. We are surprised to say the least because the car that caused this damage only received a 30-second penalty.
---
---
Words By Cameron Wyper | Photos: Extreme E Media