EXT-E | RD1 – SAUDI ARABIA | DESERT X PRIX 2021 | QF
03/04/2021
A new and exciting form of Motorsport with a purpose has landed on planet earth this weekend and we have finally been able to experience a taster of what Extreme E has to offer.
With its unique ethos and approach, Extreme E is offering up an epic five-race global calendar, staged in some of the most stunning remote landscapes that can be found. Extreme E utilizes the power of motorsport to showcase electric vehicles and their usage in motorsport but also aims to deliver not just awareness with regards to the importance of sustainability but a real local impact of climate change to the areas in which it visits in its race for a greener future.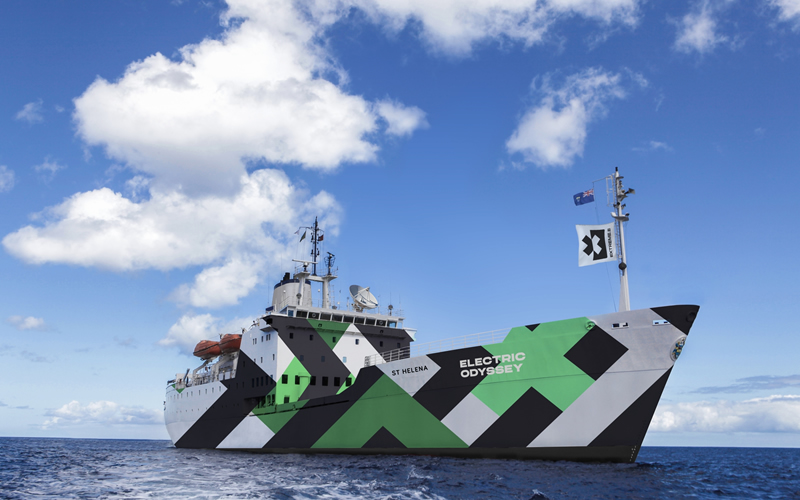 Photo: Extreme E
Extreme E has successfully attracted some big names from multiple disciplines and already boasts a paddock full of World Championship titles from the world of Motorsport such as F1, WRC, World RX and Dakar to name a few.
Photo: Extreme E
In the low morning sunlight in the remote desert of Alula, Saudi Arabia, nine times FIA World Rally Champion, World RX and Dakar competitor Sébastien Loeb took the honours of becoming the first driver to cross the start line. Heading out into the unknown of the 8.8km sandy, rocky course driving the cutting edge Oddesey 21 E-SUV for seven times F1 Champion Lewis Hamilton's X44 team.
Before flooring it off the start-line Loeb said "There's a bit of pressure, but I hope we do good".
Photo: Extreme E
Joining the Frenchman in team X44 is a five-times Dakar race competitor and the first female to ever win a stage of the legendary Dakar, Christina Gutiérrez. Despite a small mistake from Loeb, this experienced pairing laid down a very competitive course time which proved to be the time to beat for a while, earning them P2.
Photo: Extreme E
Next up to tackle the course was 2009 F1 Champion and team boss Jensen Button in a car wearing a livery which is a nod to his F1 title-winning Brawn GP car. Button has signed up Swedens circuit racer Mikaela Ahlin-Kottulinsky, but unfortunately, they had an issue with the car which resulted in a bit of time loss slotting them into P5.
2019 World RX Champion Timmy Hansen posted a great lap time for team Andretti United, giving it some real attitude and pushing the 400kw (550hp) Odyssey 21 E-SUV car to its limit.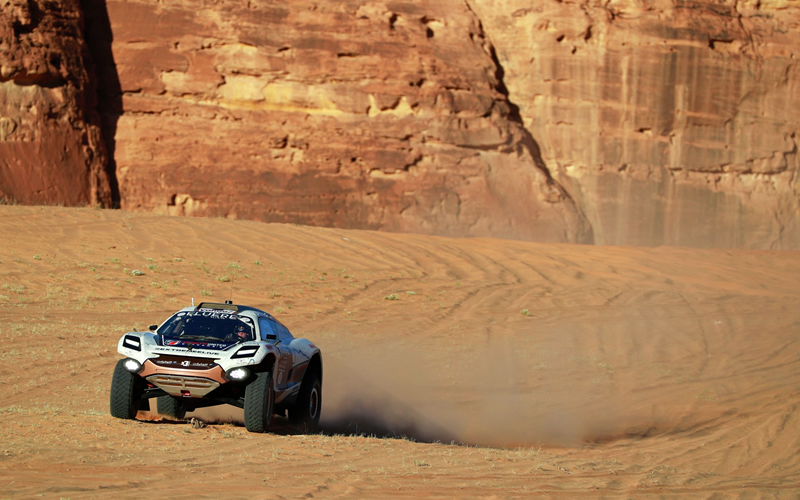 Photo: Extreme E
But on the driver switch to his team-mate Catie Munnings, it was clear early on that Hansen had picked up a slow puncture. Munnings wrestled the car in the loose sand but by only the halfway point of the course, the tyre had started to come off the rim. She crossed the finish line snaking all over the place but had still posted a decent time which proved good enough to secure them P4.
For the Veloce Racing pair of Stéphane Sarrazin & Jamie Chadwick, the start of their Extreme E adventure did not go to plan. The Frenchman carried a lot of speed through the steep downhill section of the course and made a cut too tight on a road crossing. This sent him rolling in spectacular style, scoring them a DNF and later forcing the team into retirment.
Photo: Extreme E
Three-times Dakar winner, the Spanish "El-Matador", Carlo Sainz put in a very committed drive for his first competitive lap. Teaming up with multiple World Trials Championship and ten times Dakar competitor Laia Sanz in an all Spanish Acciona | Sainz XE team. This is a team that in 2017, were the first to complete the Dakar in a 100% electric vehicle. Sanz put in a cautious but measured drive to net the Spanish pair P3.
Photo: Extreme E
Sainz said, "It was exciting, but anything can happen."
Current and three times World RX Champion Johan Kristoffersson is joined by Molly Taylor, an outright Australian Rally Champion, they drive for Formula 1's Nico Rosberg's team to offer up what promises to be a great F1 battle with Hamiltons X44 team & Buttons JBXE team.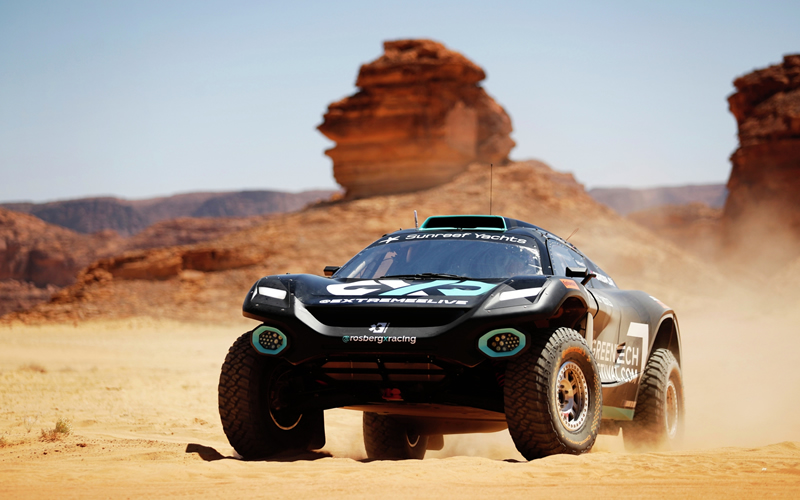 Photo: Extreme E
Kristofferson put in a clean and calculated drive and was very much on the pace of both Loeb & Hansen for his lap. Handing over to Taylor who was on full commitment, the Aussie rally driver gained time throughout her lap and was near on 4 secs faster than team X44 taking P1 in this first qualifying session.
Nico Rosberg "It's really nice to get the racing going, we learnt a lot".
Johan Kristoffersson "I had a good run and Molly did a good job."
Another big name in the world of motorsport stepping forward to compete in Extreme E is Mattias Ekstrom. A twice DTM Champion and 2016 World RX Champion, Ekstrom took part in this years Dakar for the first time in preparation for this opening Extreme E race.
Photo: Extreme E
After his first QF lap, he handed over to his team-mate Claudia Hurtgen who was some 3 seconds off the pace of Hansens who posted the fastest lap of Q1. Hurtgen a circuit racer was a little bit ragged and had a huge crash. The rear of the Odyssey E-SUV car stepped out on a rut and the bump sent the car into a barrel roll, thankfully she was ok but with a DNF and damaged car the team were forced to retire.
For the Hispano Suiza Xite Energy team, Christine Giampaoli Zonca was 40 seconds off the pace. As the team performed the driver switch to World RX regular Oliver Bennet they were handed a 75-second penalty for speeding in the switch zone which was far from ideal dropping them to P6.
Photo: Extreme E
Another team that was certainly not having an ideal start to their Extreme E campaign was Americans SEGI TV Chip Ganassi Racing. After crashing out in ShakeDown the team pulled an overnighter to repair the car and were last to tackle the course in Q1.
After only about 1 mile into Kyle Leduc's lap the car incurred a loss of power steering. The car was reset during the switch and appeared to then work; but unfortunately for his team-mate, Sara Price it then failed again. In the 30 degrees heat, it was a challenge for her to physically wrestle the car home in P7 to end an eventful first qualifying session.
Q2
Back out in the afternoon for a second go at the course and it was a chance to use the previous knowledge gained in Q1 to perhaps improve on times. The 9 teams were now down to just 7 following a couple of retirements and the course had evolved for everyone. The challenge had increased with every driver having to work the steering wheel just to keep moving forward in the sandy ruts.
Photo: Team X44
Gutiérrez was the first to set off into Q2 for team X44 and said "the course was very different and more difficult" compared to Q1. Her team-mate Loeb appeared to be experimenting a bit searching for different lines. Loeb said that he "took it safe and it was very rough out on the course".
Ahlin-Kottulinsky had a little moment on the approach to the driver switch zone and it appeared that the pit limiter button didn't engage properly on the JBXE run car. With the possibility of penalties looming, Button took to the course with an intelligent and committed drive. Making use of his experience of KERS from his F1 days, Button used his Hyperdrive boost on one of the slower parts of the course in an attempt to improve on their Q1 performance.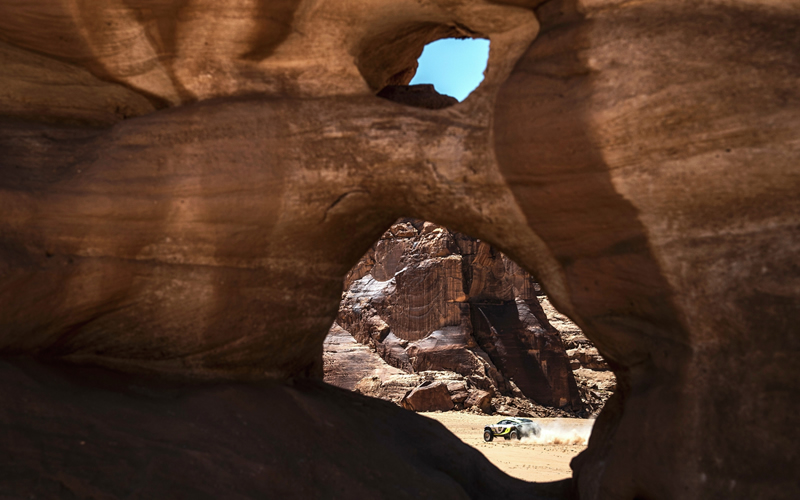 Photo: Extreme E
Button "it's tricky, and I'm catching the ruts a lot more, it was fun but I'm just trying to get used to this and get around."
Unfortunately for JBXE, that effort was all in vain as they were handed a whopping 3-minute penalty for both speeding in the pit and leaving the switch zone too early.
Photo: Andretti United
This time around, Mullings for Andretti United was now able to show what she was capable of with air in all four tyres. "It was good to finally get a clean lap, keeping it tidy in there" Mullings said after her lap. Hansen straight away played his tactical move by using his hyperdrive on the launch from the switch over zone and drove well enough to secure P4 for the team.
Sanz, who was only 9 seconds of the pace of her team-mate Carlos Sainz in Q1, opted to use Hyperdrive off the start line of their Q2.
After the driver switch-over to Sainz, Sanz said "We are in a good position, the races are short so we can not do any mistake".
Photo: Acciona | Sainz XE Team
Sainz continued on that good work and brought it home ahead of the Andretti pair of Hansen and Mullings but slotted in behind Loeb and Gutiérrez of team X44 in P2.
Taylor had another storming lap in the Rosberg Racing machine before handing it over to Kristoffersen. The Q1 winners once again delivered what appeared to be another clear outright win, sending a bit of a message to the other teams.
Photo: Extreme E
However, their celebrations were short-lived as they were then slapped with a penalty for speeding in the pit lane. This meant that they forfeited the Q2 win back to team X44, dropping them down to P3. Citing that they also had an issue with the pit lane limiter button just like JBXE team had done previously.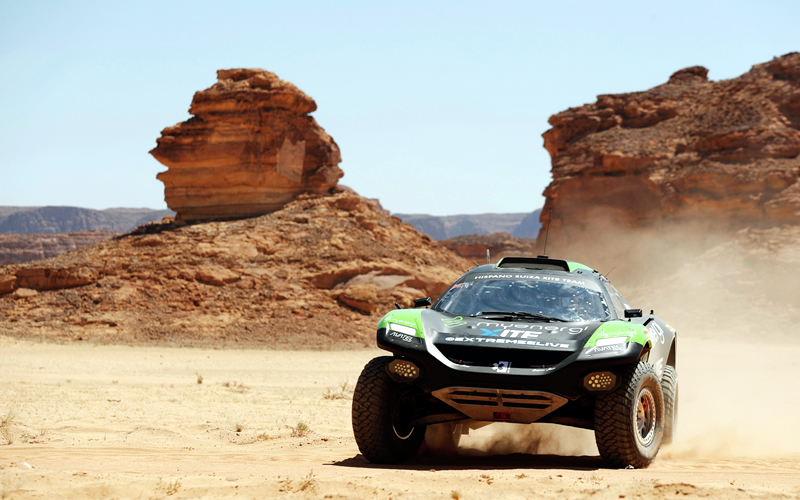 Photo: Extreme E
The Xite Energy Team of Bennet & Zonca put in a fairly clean drive in Q2, Bennet said "it was his best drive so far". Perhaps the most inexperienced pairing here but they had managed to secure their place in the top 6 as the Chip Ganassi Racing team failed to make the start line.
With the added times of both qualifying sessions and taking penalties into consideration. Overall Lewis Hamilton's X44 team lead team Acciona | Sainz XE with Rosberg Racing in P3.
Sébastien Loeb: "We feel happy, for us everything went well. Tomorrow will be different when racing with others at the same time. We will need to take a good start, but we are looking forward to it".
Gutiérrez "It is important to be smart, tomorrow will be exciting and will be a good test for us."
Team X44, Acciona Sainz and RXR all progress into Semi-Final 1, Team Andretti United, Hispano Suiza Xite and JBXE will "Crazy Race" with the winner progressing to the final. The shoot-out with no progression will be between SEGI TV CGR, ABT Cupra and Veloce Racing.
Words By Andy Cook – Xlerate | Feature Photo: TeamX44