EXT-E | RD1 – SAUDI ARABIA | DESERT X PRIX 2021
04/04/2021
After years in the making, the Electric Oddesy's that is Extreme E had finally reached its first day of wheel to wheel, side by side racing.
Social media was alive and excited to see Extreme E, go racing in the DesertXPrix on the "looner-like" landscape of Alula, Saudi Arabia for the first time. But following the action-packed opening day which featured time trial qualifying, what was really on everyone's minds was to see just how having multiple cars racing at the same time would play out on the 8.8km desert course, particularly surrounding the issue of dust.
Photo: Extreme E
After topping the times in the previous days qualifying heats Seven Times F1 Champ Lewis Hamiltons Team X44 got the pick of the grid position, opting for the middle position in Semi-Final 1. A position that was also selected by Andretti United in SF2 aka "The Crazy Race".
With an approximate 1km sprint off of the start-line to the first gate, it was obvious to all, that usage of the 4-second hyper-drive boost from the off and its timing was going to be critical.
Lining up on the grid for SF1 was a selection of the worlds finest from the World of Off-Road motorsport disciplines: Sébastien Loeb a 9 time World Rally Champion, an experienced Word Rallycross and repeat Dakar Rally Competitor representing Team X44, Johan Kristoffersson, three times and reigning World Rallycross Champion for Rosberg X Racing and the legend of Rallying and Dakar that is Carlos Sainz for Acciona XE.
Photo: Extreme E
Spain's Motorsports veteran Sainz who is not used to door to door racing said "The dust is going to be the key point, we hope we will have a good start". A concern that Frenchman Loeb, who does have experience of side by side battles on the dirt from his World RX days also echoed: "I'm excited for sure, I think it will be important to be ahead at the start but we shall see".
The three driver launched their Odyssey 21 E-SUV's off into the Saudi sand and rocks with Kristoffersson and Sainz ahead of Loeb from the start, but Loeb managed to get the leading line into turn 1.
Photo: Extreme E
Loeb and Sainz then went door to door while Kristoffersson back in P3 used his racing instinct to go wide choosing a totally different line for which he used to then cut back in. This gave him the edge on the exit of the turn and landed him P1 with the clean air. From then on Kristoffersson was able to pull out a sizable lead over Leob heading up to "The Drop" section of the course.
From this, our first taste of side by side racing with three cars, it was clear that the dust was indeed a massive problem for anyone but the leader. For Sainz at the back, he was feeling it the most and his lap time showed it. As they entered the pits for the driver switch, the gaps between racers became even more apparent, clearly, this is something the organisers will have to look at in future races.
In the clearer air Kristoffersons team-mate Molly Taylor (an Australian Rally Ace) was able to extend that lead throughout her lap to take the win in this, the first semi-final race and with it booking team RXR's place into the final.
Photo: Extreme E
Kristoffersson "The start was maybe not the best, but I feel sorry for the guys behind, after the first couple of turns, it is the end of the race really!" "Molly did a good job, we have to be happy with that after the intense first few kms."
Team boss Nico Rosberg said, "it has been an exciting start but now we have to work on a plan for the final".
Team X44 came in P2 some 28.9 seconds behind RXR knocking the Spanish Acciona racing pair of Sainz & Sanz out of the race.
Sainz "We had quite a good start but I touched a little bit of Seb and then Kristoffersson got passed. We knew that whoever would come out in front from T1 would win"
Photo: Extreme E
Ahead of the second Semi-Final, Ex F1 racer and JBXE team boss, Jensen Button said "It's exciting but you really don't want to be sitting in the dust". Button lined up against a couple of Word RX drivers, Oliver Bennett for Hispano Suiza Xite Energy Team who's only game plan was "I'm just gonna go for it into the first corner and see where we end up" and an extremely focused Timmy Hansen for Andretti United who said "I feel good, I'm going on the right side as I think that's the best chance into turn 1. Its important to get out first". With only one team from SF2 to advance through into the final to join team RXR & team X44, it was a case of winner takes all.
Photo: Extreme E
Hansen's game plan worked out perfectly, he got an amazing start to take the lead leaving Bennett & Button fighting out behind him.
In the dust, Button backed off but Bennet was a little bit more committed and to begin with, wasn't that far from Hansen, considering the reduced visibility.
Hansen the 2019 Word RX champ pulled into switch zone with a 30-seconds lead over Bennett and said: "you can never expect that, the start was mega, but I was managing the risk".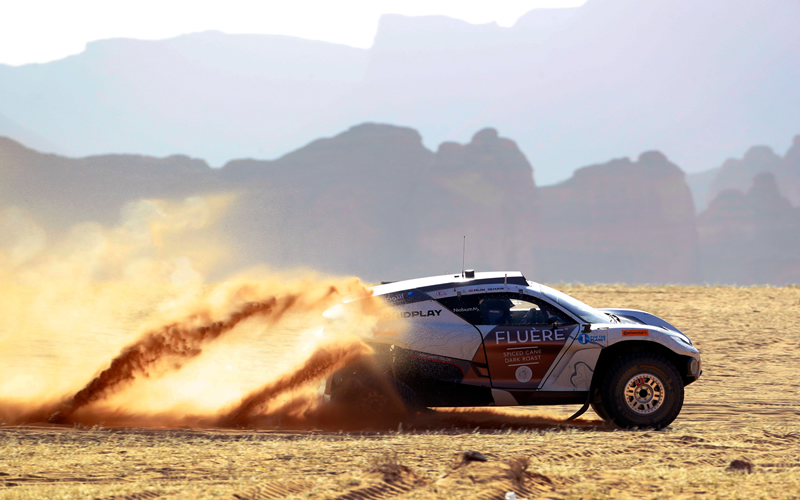 Photo: Andretti United
Hansen's team-mate Catie Mullings was able to maintain that lead out in front and crossed the finish line to claim Team Andretti's place in the final.
Mullings "I just tried to manage the gap and not take any risk. The track is getting worse and worse with rocks and stuff".
The Final
And so the stage was set for the final race of this opening Extreme E Desert X Prix race with an all WorldRX starting grid.
Before the final race Johan Kristoffersson said: "You can always have a plan but you have to adapt quickly".
Photo: Andretti United
Timmy Hansen was awarded the position of choice after being voted in for the grid play and got yet another amazing start, leading both Kristoffersson and Loeb into turn 1. But Kristoffersson repeated "that move" from the Semis, once again pulling a blinder to not only surprise Hansen but to take the lead heading out and onto turn 2.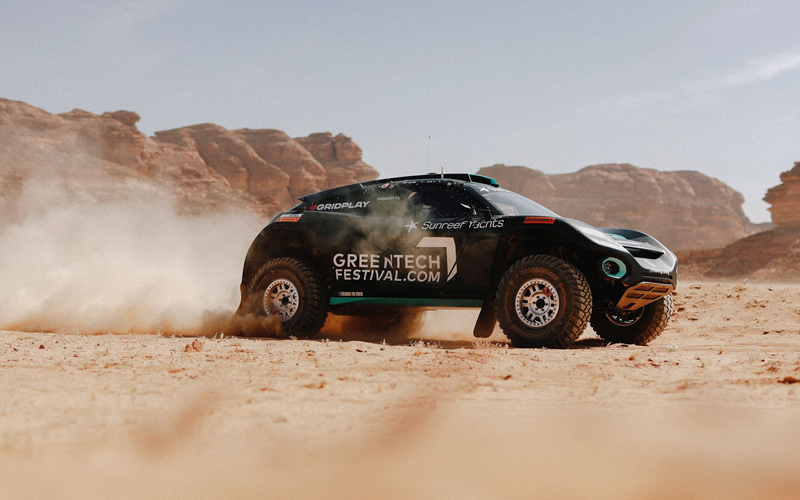 Photo: RXR
Whilst Kristoffersson upfront soon pulled out a 20-second lead over Hansen, Loeb had already suffered a power steering failure and thus fell back considerably.
With a 30-second lead heading into the pit lane for the driver switch over, Kristofferson completed his lap to hand over a comfortable lead to his team-mate Molly Taylor; who was able to take the chequered flag and win the first-ever Extreme E race for team RXR.
Photo: RXR
Taylor: "We had an amazing start and I just wanted to make the most of our time in the car. The team has done an amazing amount of work behind the scene".
Kristoffersson "There are still four races to go, and yes we had small issues this weekend but the team did a great job. Super happy and look forward to the next race".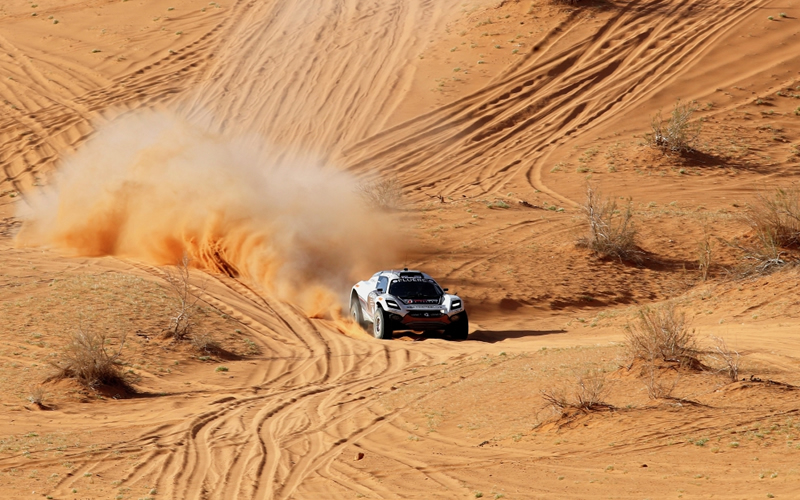 Photo: Extreme E
Andretti United take the runners up spot in the final and they should really be happy with that result.
Catie Mullings "I don't have the words and I can't stop smiling; this man (Timmy Hansen) is my hero and he has made my job easy. With that puncture yesterday, who would have thought we would be here?"
Hansen "I am disappointed that I couldn't take that lead from my good start but Johan did a mega move."
Photo: Extreme E
For team X44, although Loeb did appear to bog down off the start, by only the first turn of the course he had suffered a total power steering failure. There was never really any coming back from this and his team-mate Christina Gutiérrez could do nothing more than wrestle the Oddesy 21 E-SUV around the course to take P3.
Gutiérrez: "We should be happy, we broke the power steering so it was impossible to do anything more."
Loeb "it was on the first corner that I lost the Power Steering, so with this car it is impossible to drive from then on"
The RSR pair of Kristofferson and Taylor looked rapid all weekend and they absolutely deserved the win amongst this very strong field of competitors. RSR Team Boss Nico Rosberg said "it was an amazing drive from both Johan and Molly and it was the perfect end to a perfect race weekend" and he will no doubt be pleased to get one up on his old F1 rival Lewis Hamilton.
After Round 1 the teams' standings are
1) Rosberg X Racing | 35
2) Team X44 | 30
3) Andretti United XE | 28
4) Acciona Sainz XE | 26
5) Hispano Suiza Xite Energy | 20
6) JBXE | 17
7) ABT Cupra XE | 13
8) Veloce Racing | 8
9) SEGI TV Chip Ganassi Racing |0
From the desert of Saudi Arabia next up for the Electric Oddessey Adventure is the West Coast of Africa as the Extreme E sets sail for its next race on the beaches of Senegal for round 2.
Words By Andy Cook – Xlerate