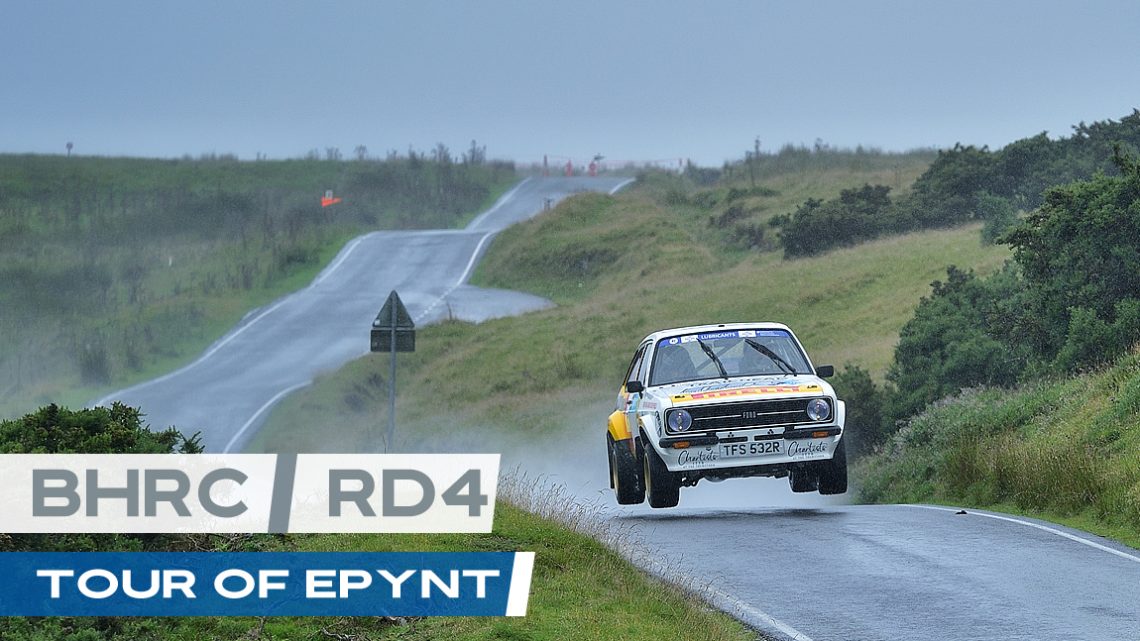 BHRC / RD4 / TOUR OF EPYNT
20/08/2023
The FUCHS Lubricants British Historic Rally Championship returned into action for Round 4 of its 2023 season, this time however, there was a rather significant difference to the previous rounds. For the first time since the 2019 Ulster Rally, the BHRC would venture onto the Asphalt and The Nigel Ferguson Fabricators Tour of Epynt would take the honor's of being the Championship's one and only visit to the black stuff this season.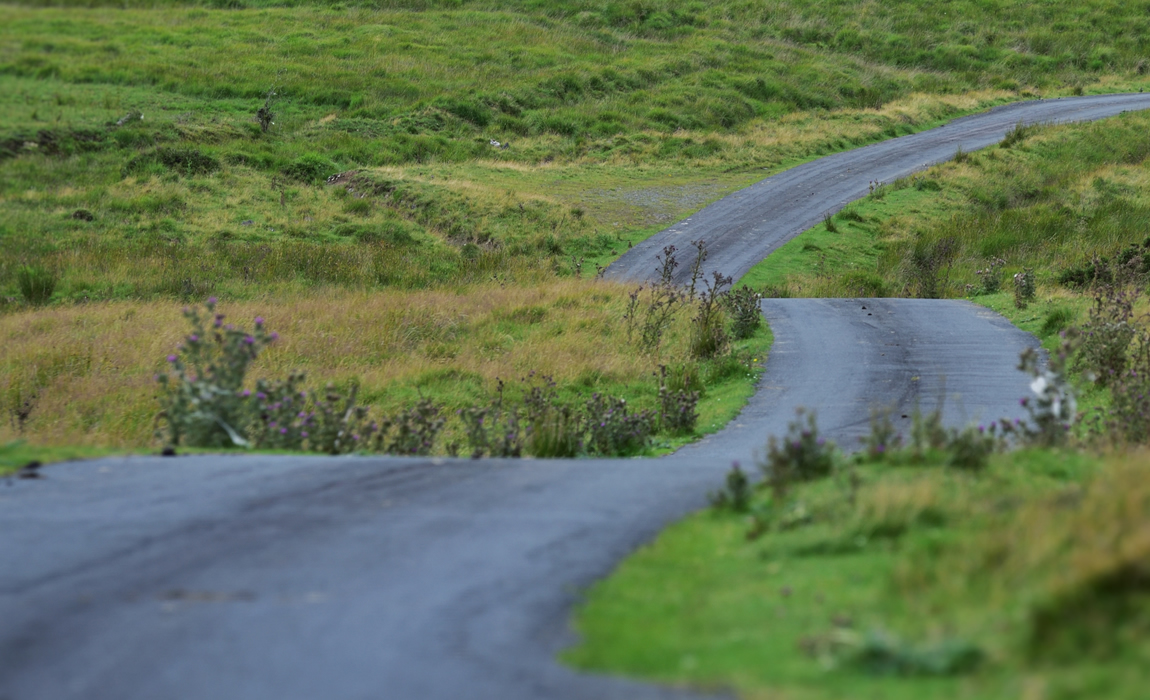 Photo By Andy Cook – Xlerate.Media
Organised by the Port Talbot Motor Club the event laid on some 69 competitive miles over 7 special stages held within the MOD Epynt/SennyBridge ranges, and as expected, the event would prove to be a challenging rally for those who would contest it. It would also run at a later time of the year than it has in recent years, but that did not automatically result in better weather.
Last time out on the gravel in North Wales, the Plains Rally delivered an epic battle between Richard Tuthill and Martin McCormack, Tuthill emerged the victor in his Porsche 911 and would arrive at Epynt on a high. However, he, like a number of the BHRC crews hadn't been to this legendary rallying venue in a very long time so in his own words had "no idea what to expect".
Local Builth boy, Jason Pritchard on the other hand, does have plenty of experience on these ranges and would perhaps be the favourite horse in the stables, fielding a brand spanking new Scott Williams Motorsport built MK2 Ford Escort. Nick Elliott would be the man heading into the event with the lead of the Championship "A good points finish is definite…. I need that!, if we come away still in the lead, then that would be really good."
It would be a case of the right tool for the right job for Elliott this time out and the FIAT Abarth 131 would remain parked up in the garage at home. It just hasn't been developed for tarmac rallying so Elliott opted to return to the wheel of a MK2 Ford Escort, which was a bit like slipping on a pair of old shoes.
The event began in the sunshine with an 11-mile test to wake the competitors up with and it was Championship leaders Nick Elliott and Dave Price who were the crew to transition onto the tarmac the quickest. Posting a time that was some 4 seconds quicker than Jason Pritchard & Phil Clarke, with Richard Tuthill just a further second behind Pritchard on that opening test of the day. The second one was a short 3-mile blast along the Burma Road and once gain Elliott got the better of Pritchard, this time it was by three seconds.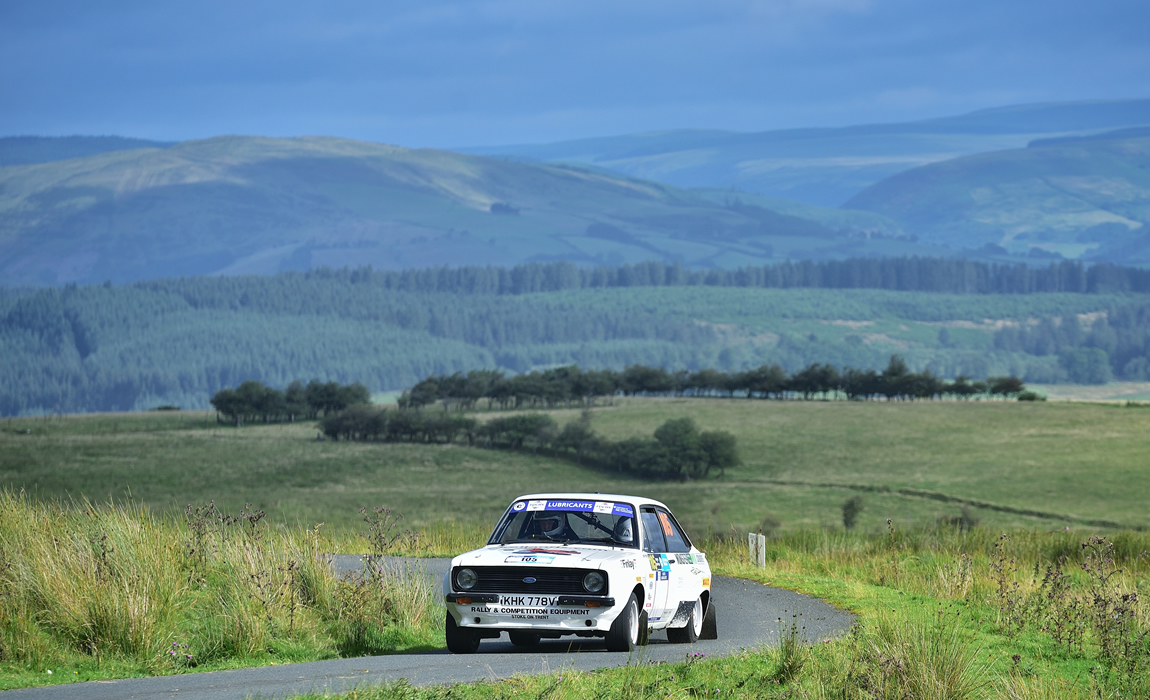 Photo: Nick Elliott & Dave Price
"Smooth….. just seeing how to drive on the tarmac again, we weren't mega quick but we weren't slow either, so, happy with that time, a lot quicker than I thought I'd do."

Nick Elliot
Second-place man Pritchard believed that he was "a bit scrappy in places" but on the whole thought that the first two, although slightly on the cautious side at times were alright. He was heading into the first service of the day with an idea about what changes to make to the new machine that he was putting through its paces for the first time competitively.
Meanwhile, Mr Tuthill in that Porsche was reporting that his first two had gone pretty much as he had expected. "It's pretty much as I thought actually, Melyvn's gone very quickly (Melyvn Evans – who was not BHRC registered) and so has Nick Elliott. I can see where the time is, whether I can achieve it I don't know."
Tuthill and Belgian Co-Driver Stephane Prevot were sitting in third out of the registered BHRC crews but were actually only two seconds down on Pritchard, which was pretty good going really considering his past isn't exactly filled with tarmac rallying let alone Epynt.
"It's just confidence and not having the knowledge of the roads, there are people who have pure knowledge of the Epynt ranges, I certainly don't. We'll keep trying and I'll get quicker but I suspect they will do too."

Richard Tuthill
---
The early indication was that it was a similar story across the BHRC field, Roger Chillman was also trying to get to grips with the change in surface for this rally "There's so much grip out there, It's just I don't know how to use it at the moment" "You've got to really commit to stuff and I'm just not quite there, it would help if I knew it a bit better". For Tom Walster it was in his own words "a baptism of fire", "I wish I'd put more effort in changing the car from gravel to tarmac" he went on to say at the first service stop. Nevertheless, he was having fun at least and enjoying the Epynt experience without looking at the times.
The second loop was a repeat of the first two stages, but as can often be half expected with Epynt, the venue appears to have its very own micro-climate and the weather had begun to draw in, bringing the wet stuff. This didn't seem to phase Pritchard too much, or maybe the changes that were made in service were about to pay dividends. Pritchard picked up his first stage win on SS3 and closed the gap down to Elliott to just 3 seconds.
Photo: Jason Pritchard & Phil Clarke
This repeated loop of two stages and the change in weather conditions would, however, result in the first casualty. Richard Tuthill and Co-Driver Stephane Prevot would exit from the rally on Stage 4, getting caught out on a well-known section of the Burma Road. Their Porsche 911 would suffer some damage, taking a wheel off they would go no further in the event.
Pritchard although was quickest on SS3, wasn't able to follow that up in the next one "Threw it away on SS4, silly mistake, too late on the brakes, it's greasy, it's raining, overshoot the junction", "It's all about getting the millage ready for the RAC in November".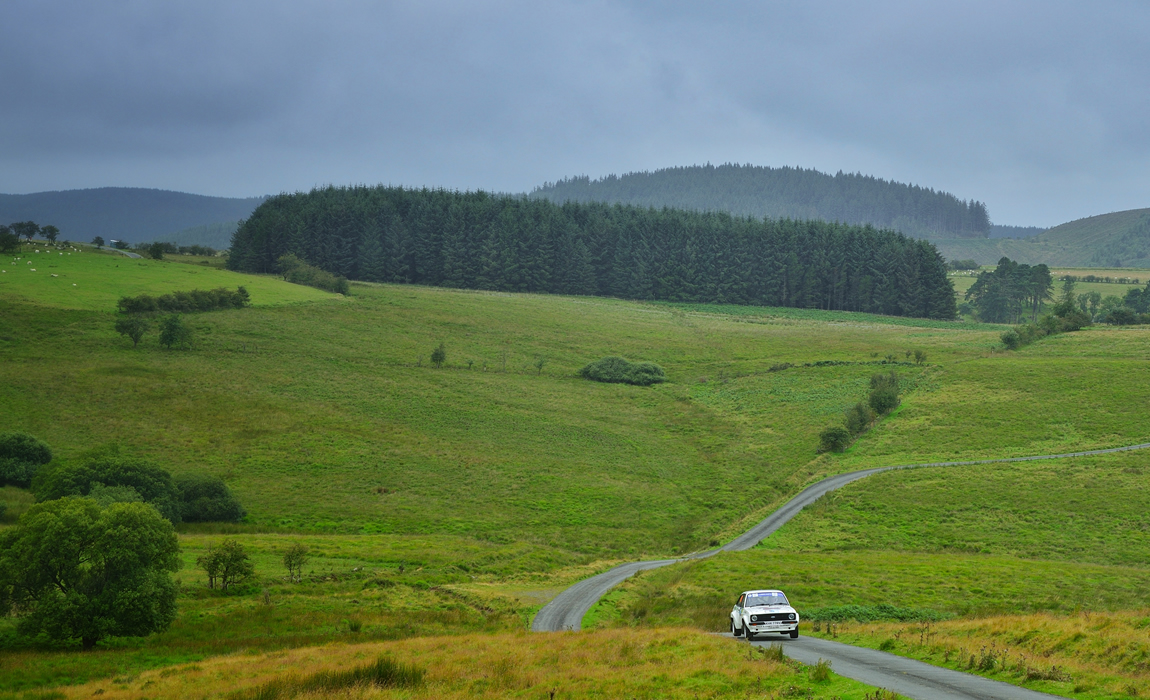 Photo: Nick Elliot & Dave Price
Elliott secured his third BHRC stage win but he was mindful that Pritchard was becoming a threat "Jason woke up as I thought he would (on SS3), we improved our time which I was surprised about", " What's the weather going to do? that's the question"
The fifth stage of the event was the longest test at 13.64 miles in length and signaled the mid-point in the rally. The bad weather had properly set in now and the crews were now dealing with a completely different conditions to what had been experienced earlier in the day. Although the wet made for some lively driving, a number of crews aired on the side of caution and for rally leader, Nick Elliott, he was a bit annoyed that he didn't push hard enough at the start of that stage.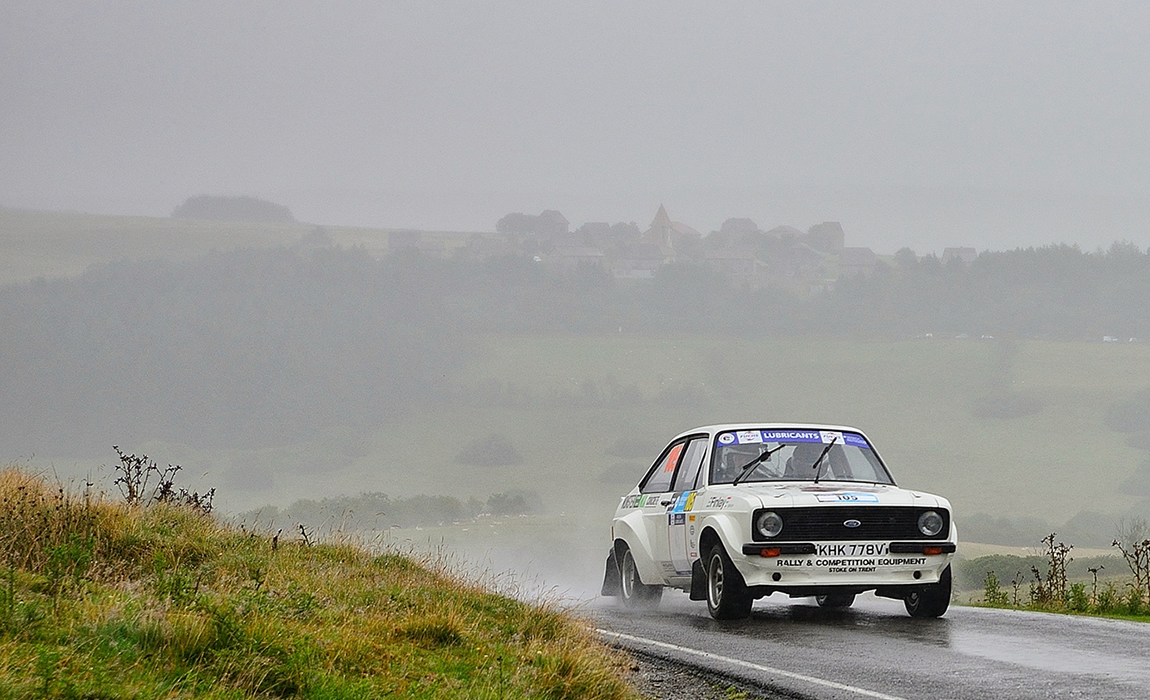 Photo: Nick Elliott & Dave Price
Pritchard who was just trying to drive to the conditions had now cut Elliott's lead down to just 3 seconds, but Elliott was putting on a brave face. "We only need 1 second don't we?" Elliott commented at the next service halt, knowing that he probably wasn't going to be holding off that surging Pritchard for too much longer.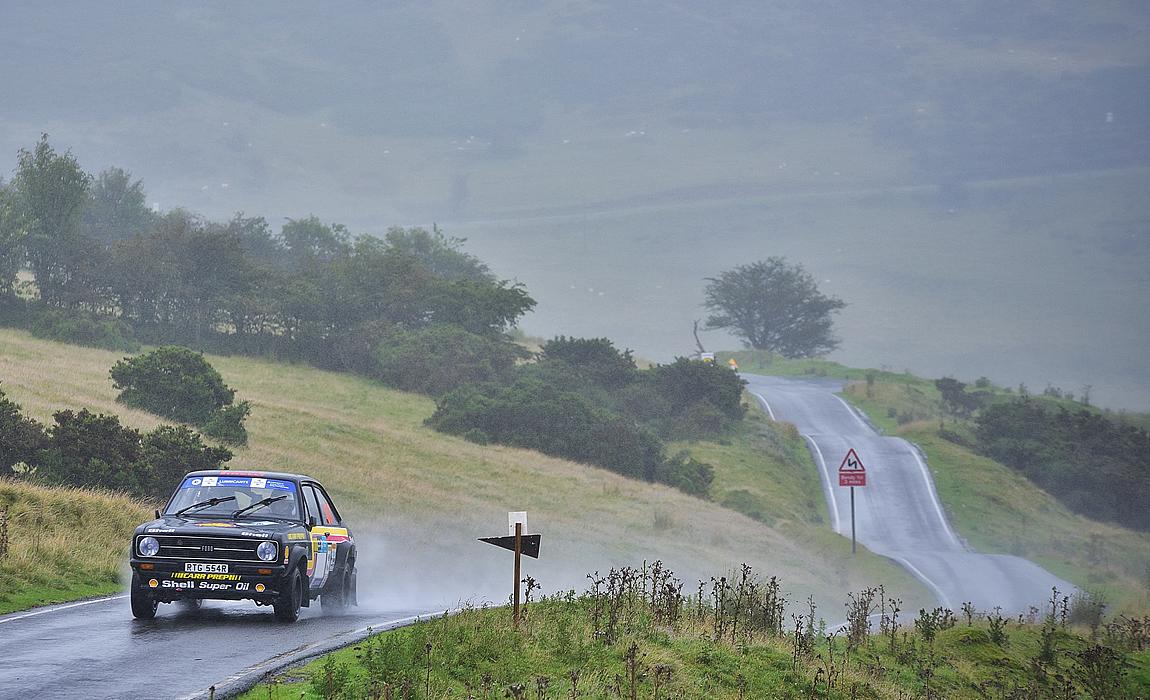 Photo: Richard Jordon & James Gratton-Smith
Behind that battle for the lead, Richard Jordon was pushing on in his MK2 Ford Escort "Just trying to keep Chilman at bay!"; Chilman on the other hand, was relieved just to be making it through the stages. "I don't know whether I enjoyed it or not, to be honest", "It's pretty quick and it's a different discipline and it takes a bit of getting used to". It was a similar story in the Walster camp: It's nice that I'm still here, I know it sounds like a silly thing to say but everything for me is just a learning experience. Suddenly it chucked it down with rain and I've never driven these cars in the wet before."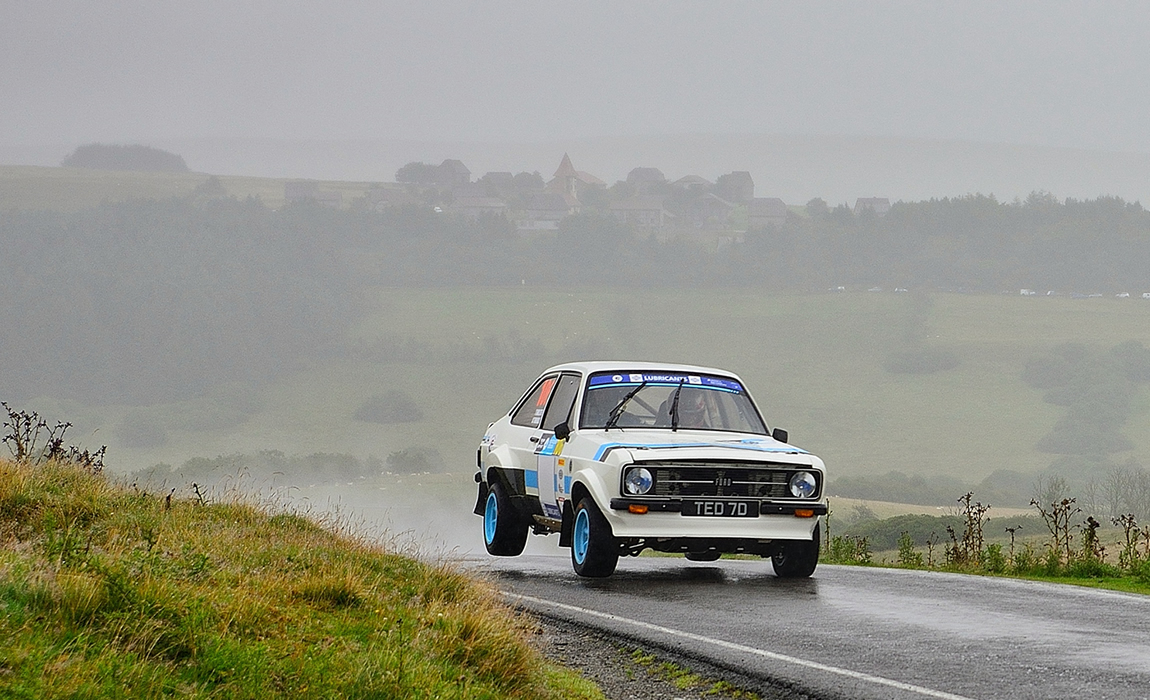 Photo: Tom Walster
---
The penultimate stage of the rally was where Jason Pritchard and Phil Clarke seized the lead from Nick Elliott and Dave Price. It was a case of go hard or go home at this point, if they were to go for the win.
By putting in a stellar stage time that was 19 seconds quicker than Elliott and Price, they had done it and taken the lead of the rally with just one stage remaining.
Photo: Jason Pritchard & Phill Clarke
"Phil said at the end of the stage, if you're not gonna try, I might as well get out so it was obviously a good run" "Just clean and tidy, nothing silly. When it clicks it's alright and it comes naturally then"

Jason Pritchard
Elliott had perhaps already accepted the outcome of the rally at this point "I knew Jason was on a really big push in there, but with the condition as it was, I just thought I would drive it clean and safe and get to the end and see what he's done, but he pushed and flew. I suspected that he would have us over those two big stages" But there were other things at play here, not just the rally win and Elliott was wearing his sensible cap on the day.
"I've gotta get to the finish", "I would have taken second at the start and would have been overjoyed with the people that are out today. If we can maintain it and get second finish, points wise we'll be over the moon"

Nick Elliott
Richard Jordon who was getting only his second taste of Epynt was on a mission to keep Chilman behind, with his eyes on that third step off the BHRC podium."We had a bit of a go in there to try and keep Chilman behind us" and he was on course to do just that as Chilman was pretty much looking to just bring it home in one piece in fourth. "There are 20 seconds to Jordan in front and 20 to behind, we are where we are so just get around for fourth".
Tom Walster to say was having an experience was a bit of an understatement. "Not a good one for us…. lost the clutch sadly! We wanted to have a bit of a go in there, it was like a fresh start. The first two miles were brilliant and then the clutch has gone. We put a new cylinder in the last service so it just needs sorting out, frustrating, really frustrating". At this point in the rally, he had all but made his mind up about this new thing called tarmac rallying "I was counting sheep, I had that much time" It's a trying day, but it's one hell of an experience but put me back in a forest, please!"
Jason Pritchard and Phil Clarke would enter the final 13.54-mile stage with 16 seconds in hand to defend and they would indeed emerge triumphant. Signing off their Tour of Epynt in style with that final stage win, the pair would take to the top step of the BHRC podium for the first time this season. The victory also signalled his first Fuchs Lubricants British Historic Rally Championship victory in five years.
It was no secret that Prichard was probably THE man out of the BHRC contenders with the best back catalogue over Epynt and as the rain poured down, he came into his own, using all of his previous experience and knowledge to his advantage.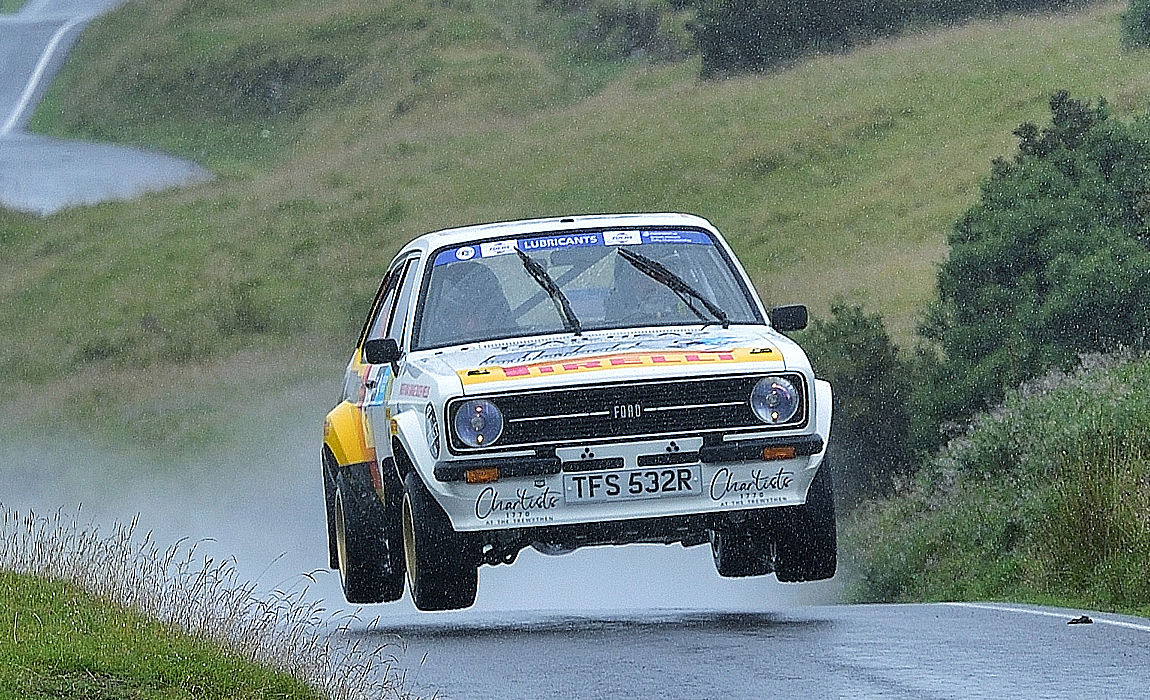 Photo: Jason Pritchard & Phill Clarke
"Enjoyable day on Epynt. First event for the new Scott Williams Motorsport MK2 Escort. A change of ride height and tracking after the first loop transformed the car and my confidence grew with every mile, even in the changing conditions. Thank you to all the team around me and my sponsors for your continued support"

Jason Pritchard
It was a tough gig for all of the BHRC crews who were brave enough to take on the mighty Epynt in a gravel-filled Championship. Runners-up, Nick Elliott and Dave Price have competed at the venue in the past when the BHRC used to include the Mewla Rally. It just seems like a long time ago and an awful lot of gravel events have been undertaken since those days. The pair left Epynt with a decent points haul for their second-place finish and they remain firmly at the top of the Championship standings at the mid-point in the season.
Photo: Nick Elliott & Dave Price
Richard Jordon & James Gratton Smith rounded out the BHRC podium having peddled their MK2 Ford Escort home in third, 1 min 42 down on the lead. It was a tough event for the pair, making the switch in surfaces which was only their second time ever on the tarmac, they were rewarded with their best BHRC result.
---
NEXT TIME …
The FUCHS Lubricants British Historic Rally Championship returns to the favorable gravel surface next time out at the Woodpecker Stages (Sept 9). The Ludlow Based event will feature a shakeup in stages this year, taking in some old and some new to the event and we expect to see an increase in numbers for the BHRC.
Words & Photos By Andy Cook / Xlerate.Media