F1 | RD1 – BAHRAIN GP 2021
28/03/2021
It has been over 100 days since last season ended in Abu Dhabi back in December but now with the new rules, this season is expected to deliver even more closer racing. The early indications are that the RedBulls and particularly the likes of Max Verstappen are going to be bringing the fight this year to Mercedes and our 7 times World Champ Lewis Hamilton.
For the first time Bahrain opens up the FIA Formula One race season, the scene of that truly horrific accident last year which saw The HAAS Car of Romain Grosjean burst into a ball of flames live on our TV screens.
Max Verstappen dominated the Free Practice sessions and then landed the Pole position for race day, with Hamilton joining him on the front row of the grid in P2. Hamiltons Mercedes team-mate, Valtteri Bottas who has won the last two seasons opening races landed P3. Elsewhere Sebastian Vettel, who drives this season for the newcomers Aston Martin, was relegated to the back of the grid following his ignoring of double yellow flags during qualifying.
Photo: Red Bull Content Pool
From the start, Hamilton would have to overtake Verstappen from the get-go or face the challenge of beating him on strategy, in what is typically a 2 stop race. However, it wasn't a particular epic start to this new season in this supposedly 57 lap opening race. On the formation lap, Sergio Perez had to stop and reboot his car, which triggered a further formation lap. Perez then started from the pits, while upfront Verstappen led Hamilton into turn 1. However, by only the third turn of this opening lap, the HAAS team newbie Nikita Mazeepin went off, triggering a very early safety car.
With some sand on the track, Bahrain is a fairly abrasive surface; the temperature was also a lot cooler than expected and so the majority started on the medium compound. It was Hamilton who was first to change over to the hard in his first pit stop.
Pitting 4 laps later, Verstappen opted to stay on mediums and came out from the pits behind Hamilton. With a fresh set of rubber Verstappen was able to gain some time back on Hamilton but had started to raise concerns for his diff as the race closed in on the midpoint.
Photo: Red Bull Content Pool
For the second round of pit stops, Hamilton once again deployed another set of hard tyres but for his Mercedes team-mate, Bottas; it was a complete nightmare. His mechanics ran into trouble and couldn't get the wheel nut off the front right, this lost him a bucket load of time (some 8 seconds) and dropped him down to 5th, handing P3 to Lando Norris in the McLaren. Luckily for Bottas, all was not totally lost, as he was able to make the position back during Norris's own pit-stop.
Photo: Mercedes AMG Petronas F1 Team
On lap 38 Hamilton received warnings from race control for track limits (something that would come in to play later in the final few laps of the race) but he couldn't see where. Verstappen's pace was good so he stayed out until lap 39 for his second and final pit stop of the race. From here on Hamilton then lead the race but a 3rd pit stop could well have been on the cards for him unless of course his tyres could hold out and he could keep Verstappen behind him.
With only 6 laps remaining Verstappen had Hamilton in his sights with only 1.5 seconds separating them. On lap 51 Hamilton went wide on the exit of turn 10 which gifted Verstappen some of that time, clearly Hamiltons hard tyres were starting to go off and he was struggling, particularly with the rears.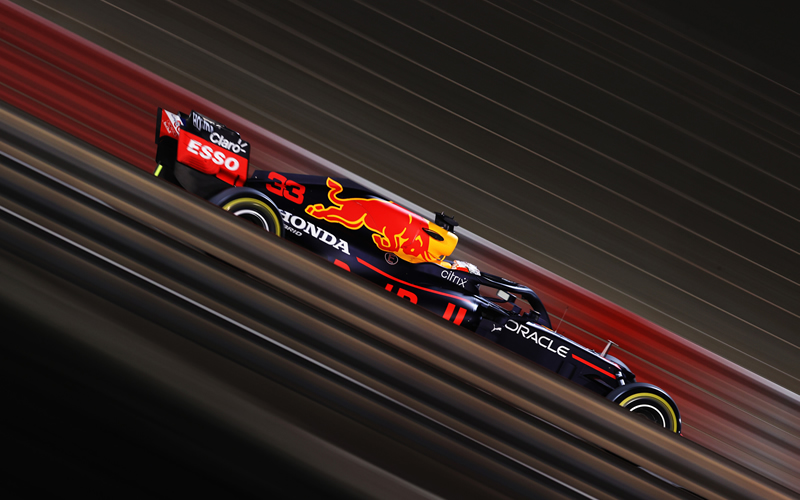 Photo: Red Bull Content Pool
Verstappen was now sensing the victory and took the lead on lap 53 but he passed whilst out of the track limits; he was immediately ordered to hand the position back to Hamilton or face a 5-second penalty.
Meanwhile, Bottas in P3 had enough time in hand to pit for a new set of rubber in search of the fastest lap of the race, which he was indeed able to secure.
Photo: Mercedes AMG Petronas F1 Team
This head to head battle between the Mercedes of Hamilton and the RedBull of Verstapping came down the wire, the Dutchman Verstappen try as he might just couldn't get the better of the Brit Hamilton. Hamilton crossed the finish line to take victory on this, the opening round of the 2021 Championships his third Bahrain GP win in a row.
Photo: Mercedes AMG Petronas F1 Team
Hamilton was clearly relieved to hold on for the win, like many thinking that the Red Bull was quicker and would likely win this one; but on this occasion, Hamilton had won the race. And for Mercedes, they couldn't believe their luck, with regards to both their strategy and the condition of that set of tyres. Hamilton said it was his hardest race for a while and thanked the team both present in Bahrain and back a the factory.
Photo: Mercedes AMG Petronas F1 Team
Words By Andy Cook | Xlerate
Feature Photo: Mercedes AMG Petronas F1 Team