F1 | RD2 – EMILIA ROMAGNA GRAND PRIX 2021
18/04/2021
In what was the 2nd race of the 2021 calendar we saw a wet start to the EMILIA ROMAGNA GRAND Prix at the Imola Circuit.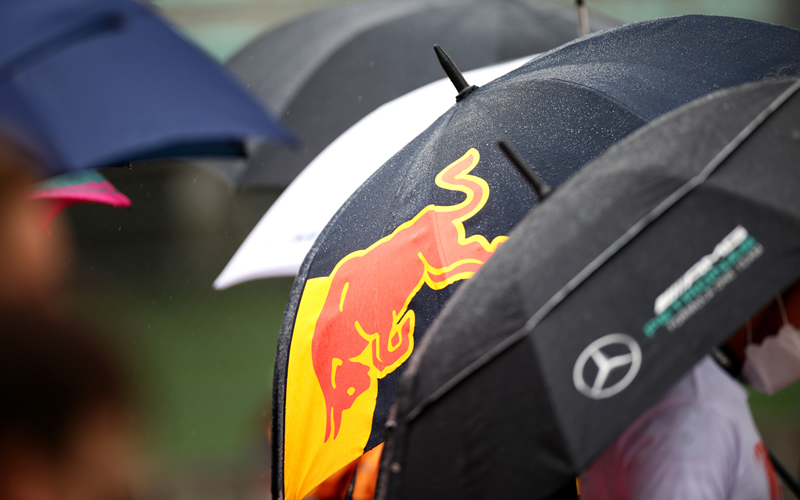 Photo: RedBull Content Pool
With qualifying showing the pace of Pierre Gasly (Alpha Tauri), Charles Leclerc (Ferrari) and not to mention Lando Norris (Mclaren), who unfortunately lost out on his top 3 position after a track limit infringement. The wet start was sure to be an opportunity for some of these "mid-field" teams, both with strategy and the possibility of mistakes from other drivers, to make their way up the points.
With minutes to spare before formation lap, Sebastian Vettels Aston Martin is kept in the pits to finish work, meaning a pit lane start for him.

With the full wet tyres on Gasly, Schumacher, Mazepin and Ocon's cars, the rest of the grid opted for the intermediate wets. Before the cars even got to the grid we saw Leclerc spinning on the formation lap showing how greasy the track was today.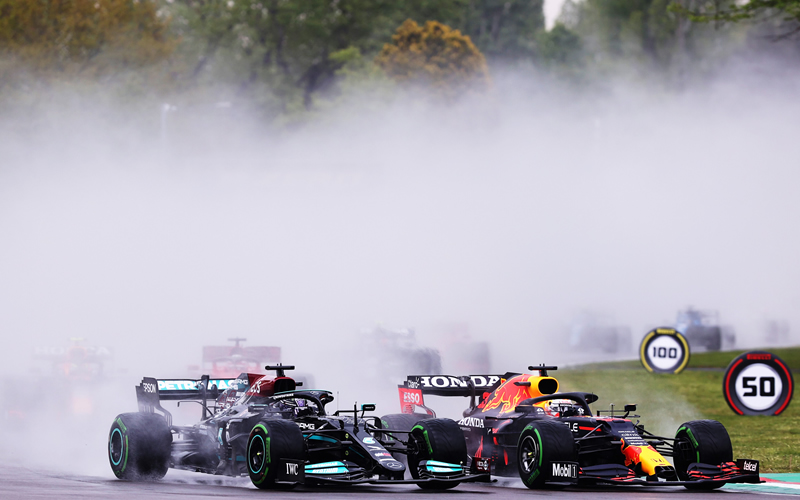 Photo: RedBull Content Pool
With lights out we saw an exceptional start from Max Verstappen, Lewis Hamilton tried to take the outside line but run out of road giving Verstappen the line. With some slight contact he found his way through to take first position, and in the other Redbull Perez dropped back to 4th behind Leclerc. By the 2nd lap, we saw a full safety car after Nicholas Latifi spun out hitting the wall after contact with Nikita Mazepin. Mick Schumacher found time to spin behind the safety car but recovered in time for the restart.
As the race restarts, we saw Verstappen pulling away and McLaren start showing their pace. Norris lost a couple of places after contact with Lance Stroll on the opening lap but managed to charge back up the field to his qualifying place of 6th. With Daniel Ricciardo just in front of him, his next target Norris really picked up the pace lapping at least 0.5 seconds quicker than Riciardio on the last two laps.
Photo: Mercedes AMG PETRONAS F1 Team
At lap 10 Hamilton was managing to hold on to second place after the damage on his car even with Leclerc keeping the pressure on. More rain started to fall at the start of lap 11 as Verstappen set a fastest lap. Meanwhile, in the other Redbull, Sergio Pérez found himself under investigation for overtaking under a safety car, leading to a 10 second time penalty (meaning the team can work on the car but they have to wait 10 seconds to do so).
Further down the field, George Russell found himself in the points as he passed Gasly on lap 13. By lap 16 Norris was less than a second behind Ricciardo with much more pace and with team orders given on lap 18, Norris was given the all-clear to pass Ricciardo and start chasing Pérez.
Photo: Aston Martin Cognizant F1 Team
As the pit stop window approached on lap 19 with the track drying it was a guessing game as to who would blink first and put on the dry tyres. And on lap 22 the first to blink was Aston Martin with Vettel putting on the slicks, while he also was informed of a 10 seconds stop-go penalty for not having wheels fitted in time before the race (unlike Pérez he is not allowed to stop and have any work done on his car during his penalty).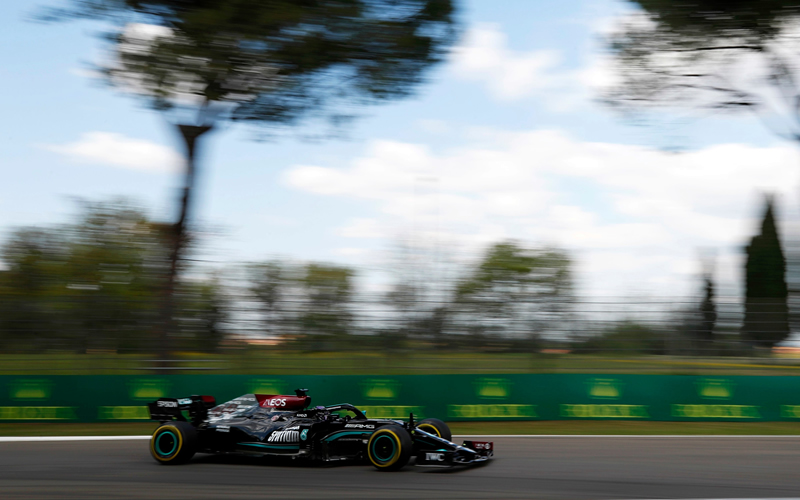 Mercedes AMG PETRONAS F1 Team
By lap 25 Hamilton was sounding confident saying that the grip is coming back to his car in a gap that was 5 seconds was now 2.4 seconds to Max ahead. 2 laps later and it was into the pits for the slicks on the leading Redbull, Hamilton didn't follow him in and took over the lead of the race, hoping for the overcut with the fastest first sector time of the race. A blistering lap had Hamilton's pitstop on the next lap been a second quicker we would have seen him come out ahead of Verstappen, but with some delay on the front right tyre going on he came out just behind with Verstappen back in the lead.
Photo: RedBull Content Pool
At lap 29 we saw pit stops from Bottas, Norris and Pérez who also served his penalty. On lap 31 we saw Lewis Hamilton go sliding off the track and into the barriers, using reverse he manages to pull his car out of the gravel putting him a lap down. At the same time, there was a massive impact between Russell and Bottas which saw both cars having to retire followed by some heated exchanges between both drivers. During all the madness Hamilton managed to get back to the pits change tyres and get a new front wing on the car. Followed by a red flag to clear the debris from the Russell & Bottas crash.
At the restart within 600 meters of track, we have Norris up into second place passing Leclerc as Yuki Tsunoda spins off into the gravel. By lap 38 things were not going Pérez's way, he spins after his left rear tyre dipped into the damp part of the track, leaving him all the way down in 14th place. Hamilton battled forward, moving up into 6th place and setting a fastest lap passing Ricciardo on lap 42, while in the midfield Vettel chased Alonso for 11th.
Photo: Mercedes AMG PETRONAS F1 Team
We saw Tsunoda shown a black and white flag on lap 46 for not respecting track limits. Within 3 more laps at lap 49, Hamilton was hunting Carlos Sainz for his fourth-place; with Verstappen still holding the lead at 13 seconds over Norris in second place and Leclerc in third.
At the beginning of lap 50, using DRS we saw Hamilton take 4th place from Carlos Sainz, with Leclerc next in his sights. With 10 laps to go the top 5 were Verstappen, Norris, Leclerc, Hamilton and Sainz. With Ocon just in the points further down the pack, followed by Alonso Perez and Vettel in the midfield battling for the 10 place spot. By lap 55 Hamilton picked up DRS on Leclerc and pushed himself up to a third-place podium spot, just 1.1 seconds behind fellow brit Norris.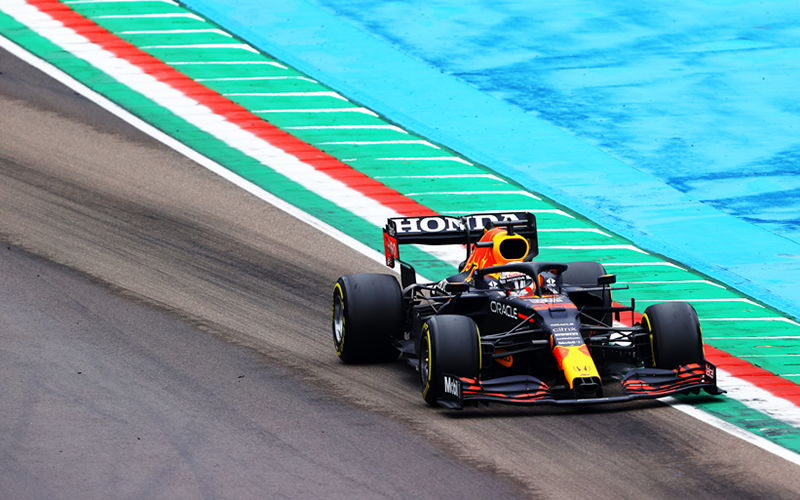 Photo: RedBull Content Pool
With Verstappen 17 seconds ahead at this stage, it was his race to lose. Tsunoda was awarded a 5-second time penalty, to be added to his time at the end of the race after being shown black and white flags and still not respecting the track limits. With Hamilton still pressuring Norris at lap 58, Lando did well to keep his head under the extreme pressure from the seven times world champion on his gearbox.
Back in 8th Gasly found the gravel but manages to rescue the car and carry on, but not where he would have liked to have been given the promise he showed in qualifying. At the beginning of lap 60 with DRS and much more pace over the Mclaren of Norris, Hamilton moves up into second place, also scoring a fastest lap; meaning he will lead the world championship by just 1 point.
In the last lap, we saw retirement for Sebastian Vettel with gearbox problems; life at Aston Martin not going as he would have liked.
At the chequered flag, we saw Max Verstappen take the win, with Hamilton 2nd and Norris in 3rd.
Photo: RedBull Content Pool
Only the 2nd race of the season and it's great to see so many cars and drivers battling for those podium places.
Looking forward to much more of this to come in what is sure to be an exciting historic season for F1.
Words By Craig Newman | Xlerate