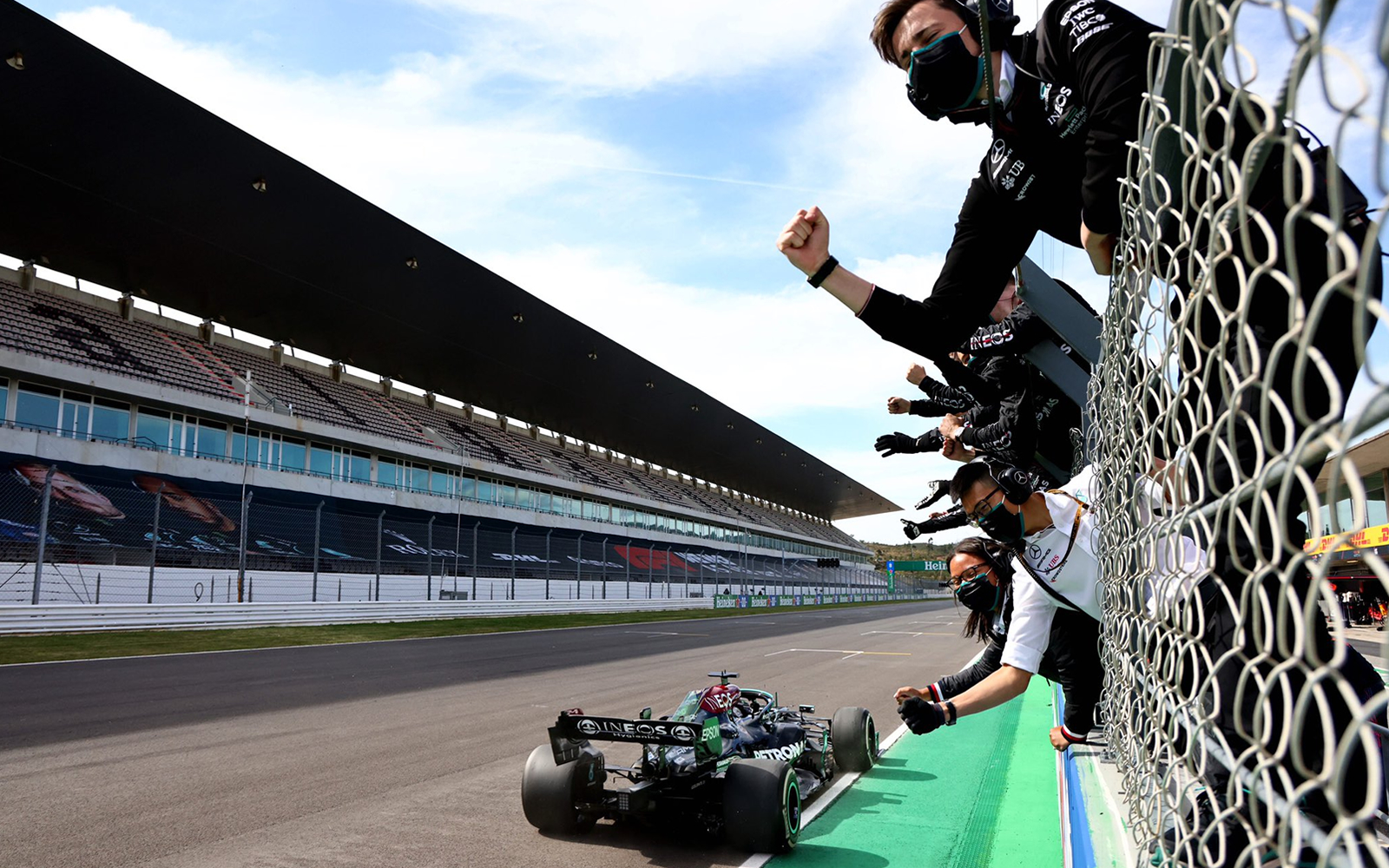 F1 | RD3 – PORTUGAL GRAND PRIX 2021
03/05/2021
Bottas was starting on pole in Portugal after a great qualifying lap, a mistake from Max Verstappen gave the Mercedes 1st and 2nd on the grid and the Redbulls 3rd and 4th.
Photo: Mercedes AMG PETRONAS F1 Team
In 5th Sainz started on the softs with everyone in front on the mediums. In the opening lap, we saw Stroll move up to 16th and Norris up two 6th with Sainz passing Perez. A blistering start from Ricciardo saw him eat up 3 places into 13th. Bottas held onto 1st with Hamilton a few seconds adrift, and Max close to the gearbox of Hamilton.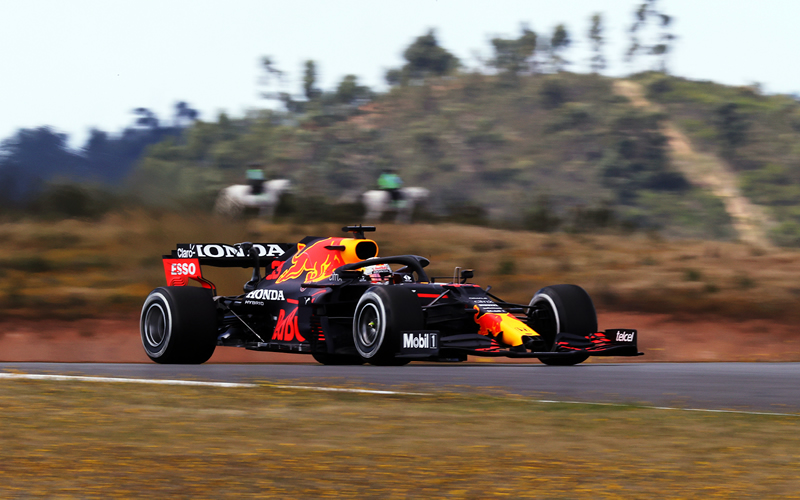 Photo: RedBull Honda Racing
Hardly had the race began and we saw a safety car as Raikkonen loses his front wing after being tagged by his teammate causing him to retire from the race. With the Safety car in on lap 6, Bottas did a great job to hold the pack up and caught Lewis off guard at the restart. This saw Max take full advantage of the Redbulls straight-line speed and pass Hamilton into 2nd.
Further down the field, we saw Norris move up into 4th as Ocon loses two places and Russell in the Williams (who qualified in his best ever 11th) loses 3 places. Ricciardo who had a dismal qualifying had battled up to 11th by lap 8. Around lap 10 we saw Hamilton making up the ground between him and Verstappen. On lap 11, with a fastest lap, Hamilton pounces on a small mistake by Verstappen and retook 2nd place.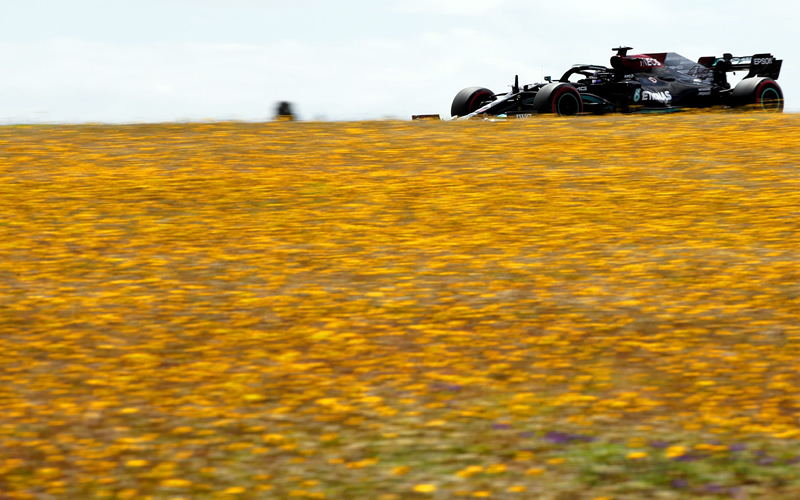 Photo: Mercedes AMG PETRONAS F1 Team
By lap 12 Hamilton was charging after Bottas and was already 2 seconds ahead of Verstappen in 3rd. A few places back Perez went past Norris on lap 15, moving him back up to his starting position of 4th. Behind Lando, both Ferraris sat in 6th and 7th as we soon saw Ricciardo move past Vettel into the points.
Lap 20 saw a great move by Hamilton as he moved into 1st, with Bottas taking the long way around the corner and opening up the racing line for Hamilton to pounce.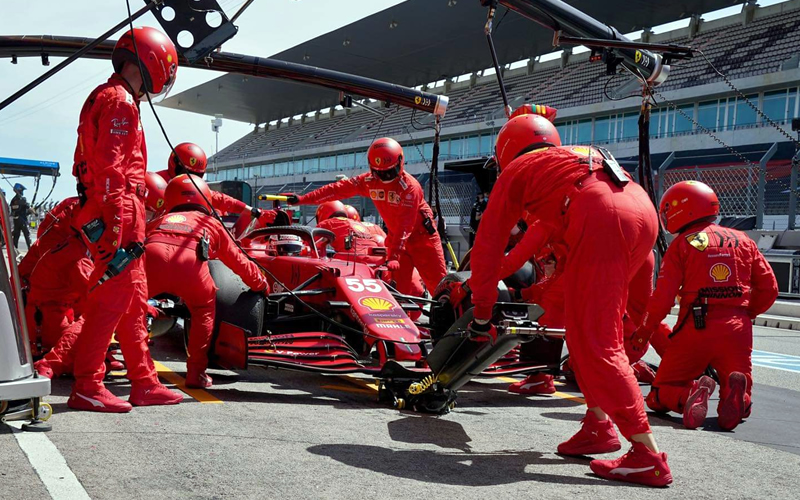 Photo: Scuderia Ferrari
First to pit was Sainz on lap 22, switching onto the mediums after starting on the softs and coming out in 16th. This was shortly followed by Norris on lap 23 for mediums to cover off Sainz in the Ferrari. On lap 26 we saw Leclerc to be the first to move onto the hard tyres, coming out in 10th place.
As Russell fell further down the order to last from 11th by lap 32, Ricciardo was sitting in 5th lap by 34, however, he still had to make a stop. In the midfield, Ocon and Gasley battled for 11th with Ocon coming out on top this time.
Photo: RedBull Honda Racing
Verstappen pitted on lap 36 moving onto the hard tyre and being the first of the top 3 to pit. This was shortly followed by Bottas on lap 37 who had a good stop and managed to get out ahead of Verstappen. However, with cold tyres and Verstappen's tyres, a lap in with much more heat, Verstappen went ahead of Botas.
A lap later Hamilton pits going onto the hard tyres, leaving Perez leading with a stop to make. We finally saw Ricciardo pit from 5th, to also go onto the hards; unfortunately, a slow stop bought him out 10th just in the points. If the pit was a second quicker he could have been in 9th.
Photo: Mercedes AMG PETRONAS F1 Team
The Mercedes seemed to be working better on the hard compound tyre as Bottas started catching Verstappen by 0.5 per lap. A few laps later we saw Mazepin almost turn into Perez while being lapped under blue flags, in which both drivers were lucky not to make contact.
With 15 laps to go Ricciardo managed to push himself up to 9th passing Alonso. While with tyres almost at the end of their life, Perez still hadn't pitted from 1st. Hamilton was closing in and Verstappen was keeping Bottas just out of DRS range at 1.4 seconds.
Photo: RedBull Honda Racing
On lap 51 Hamilton passed Perez putting Lewis back up in 1st place and leading the Grand Prix as the battle between Alonso and Ricciardo continued, seeing them switch positions again and Alonso back in 9th.
By Lap 52 Perez had to stop and opted for the soft tyres rejoining the race in 4th. We also learnt that Mazepin was given a 5-second penalty for blocking Perez and ignoring blue flags. On Lap 56 Bottas dropped almost 5 seconds behind Verstappen, due to a temperature default error on his car slowing him down and taking away any chance of a 2nd place finish.
Photo: Alpine F1 Team
With Alonso finding speed from somewhere, he was chasing Sainz in the Ferrari, whose tyres were much older than those on Alonso's car. Inevitably we saw Alonso move up to 8th, past Sainz, his fellow Spaniard.
At the back, Schumacher and Latifi battled for 17th and 18th with Schumacher being the winner between them.
Photo: Mercedes AMG PETRONAS F1 Team
At 3 laps to go and knowing any chance of a 2nd place was now impossible, Bottas pitted for softs and an attempt at the fastest lap. With 2 laps left Ricciardo took 9th from Sainz and with Verstappen having enough time to get in and out the pits, he also stops for softs and a fastest lap attempt.
There was more sorrow for Sainz on the final laps, and as Gasly moved up into 10th; Hamilton crossed the line for a 97th win. We saw fastest laps from both Verstappen and Bottas with Verstappen losing his last lap due to a track limit infringement, Bottas ended up taking the point.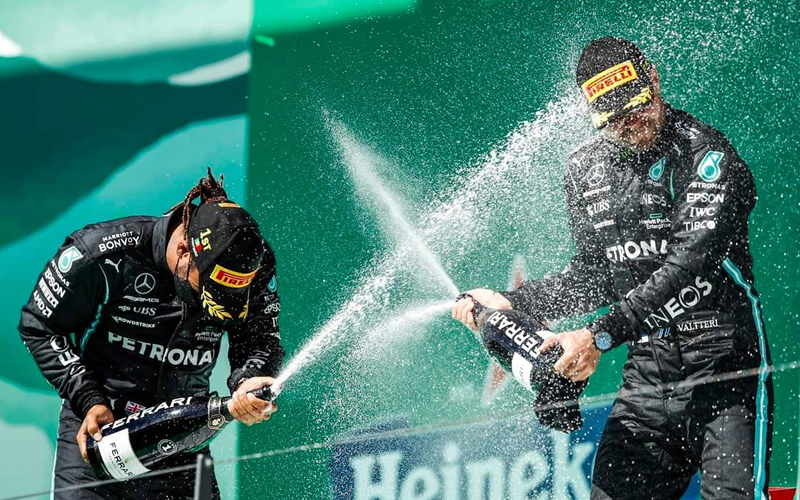 Photo: Mercedes AMG PETRONAS F1 Team
In what was a much calmer race compared to last week, with many small battles throughout the field and some great overtakes, this track once again proved to be one of the highlights on the calendar this year so far. As we move straight onto Barcelona next week Lewis holds an 8 point lead over Verstappen who's on 61 points.
Words By Craig Newman – Xlerate| Feature Image: Mercedes AMG PETRONAS F1 Team