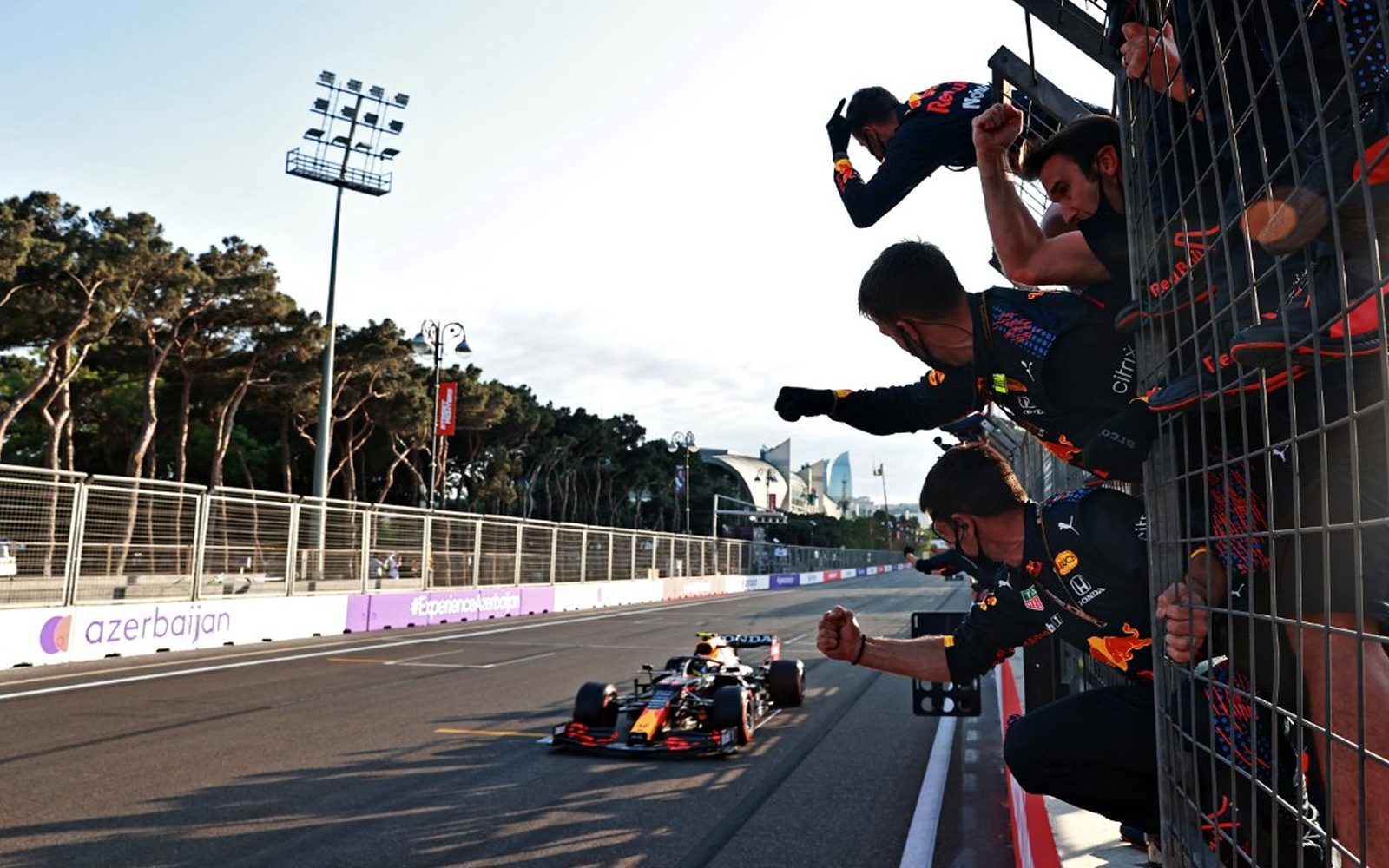 F1 | RD6 – AZERBAIJAN GP 2021
07/06/2021
Round 6 of the 2021 FIA Formula 1 Championships returned to Azerbaijan for the Baku City Street Circuit.
Charles Leclerc got away in 1st from pole with Lewis Hamilton 2nd and Max Verstappen 3rd. Sergio Perez made up ground from sixth to fourth, taking advantage of the battle between Carlos Sainz and Pierre Gaslys and then passing the AlphaTauri into turn 3.
Photo: Scuderia Ferrari F1
Leclerc was only 0.3-seconds ahead at the end of the first lap but was soon down to 3rd after being passed by both Verstappen and Hamilton. At turn 15 Leclerc appeared to cut the corner, giving Hamilton the line and the opportunity to get past the Ferrari.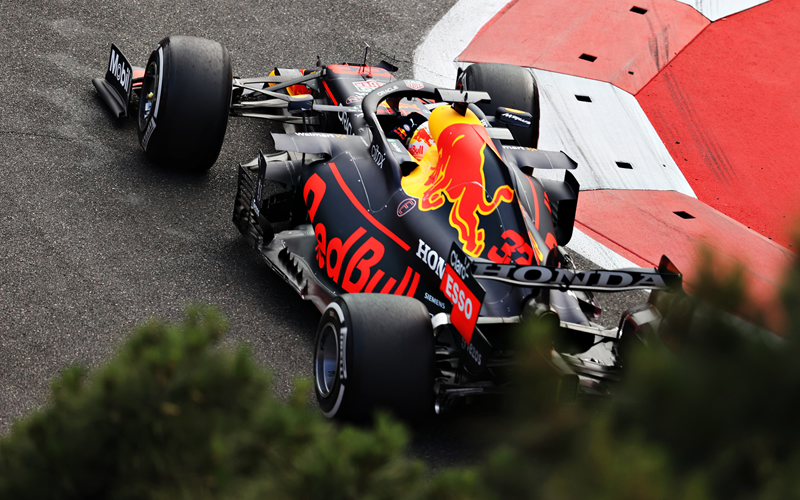 Photo: Red Bull Content Pool
Hamiltons Pit Stop Release Delayed
On the 7th lap, Verstappen passed the Ferrari with Perez doing the same only a lap later to put the pole-sitter down into 4th. On lap 9 Leclerc came into the pits to change his softs for hards and was followed by Hamilton. However, Hamiltons stop was 2 seconds longer than intended as the team had to wait for Gasly's AlphaTauri to pass by the Mercedes pit box before releasing him.
Photo: Mercedes AMG Petronas F1 Team
A 1.9 second stop for hard tyres for Verstappen compared to Hamilton's 4.3s stop saw Verstappen come out in the lead. Hamilton was then also jumped by Perez on the next lap, meaning the extra 2 seconds in the pit had a massive impact on Hamilton's race.
With DRS to attack Perez at Turn 3, the Mercedes couldn't get close enough to make the move; Vettel was now leading the Gran Prix after not having pitted yet and was using the hard tyres to their full potential.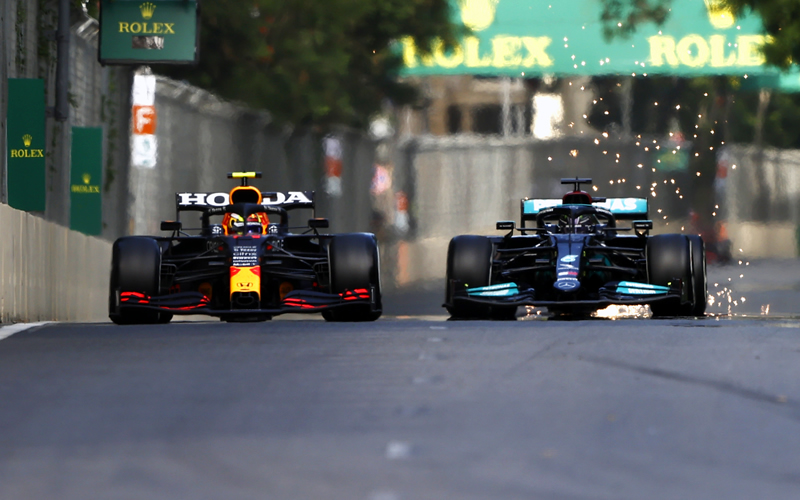 Photo: Mercedes AMG Petronas F1 Team
Verstappen slowly made up ground and put some time between himself and his teammate, who Hamilton chased but just couldn't find a way past. Vettel pitted for a fresh set of hards on lap 18 coming out behind Leclerc.
Verstappen's advantage over Perez was 3.1s by lap 15, and things settled down for the next 10 laps; with Hamilton losing pace on the Red Bulls and eventually slipping out of Perez's DRS range.
Photo: Red Bull Racing
Tyre Failure Causes Safety Car
Verstappen was 7 seconds in the lead when a tyre failure struct Lance Stroll (who had started P19), which sent the Aston Martin straight into the wall and coming to a stop near the pitlane entry. This caused a safety car but the pit lane remained closed for five laps behind the safety car as the debris was cleared.
Photo: Red Bull Racing
The race restarted on lap 36 with Verstappen pulling out a 2 second lead over his teammate within just one lap. Hamilton never looked like being able to find a way past Perez, although he looked quicker for the first two laps after the restart.
Back in 4th, Vettel passed Leclerc coming out of Turn 1 and then managed to outpace Gasley on lap 37 making up two places in one lap.
Upset & Angry As He Kicked The Rear Tyre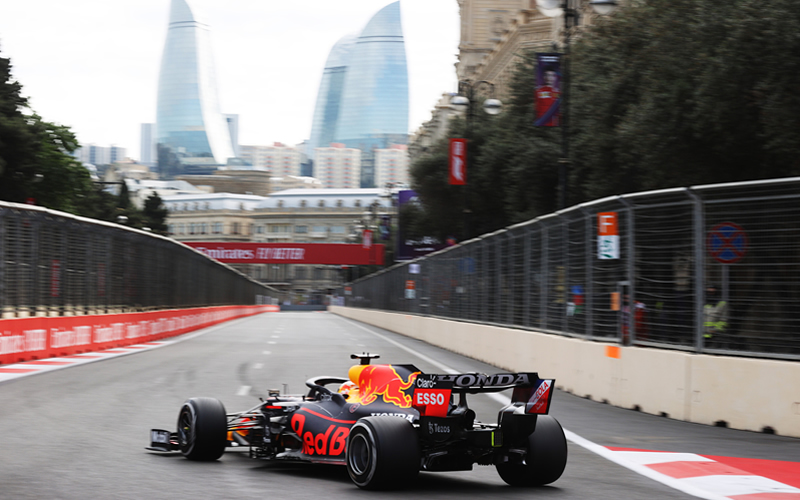 Red Bull Content Pool
Verstappen looked in full control and to be easing his way to victory with a 4.4 second lead when on lap 47 the Red Bull suddenly slammed into the wall with yet another tyre failure. Thankfully Verstappen was ok but he was visibly upset and angry as he kicked the rear tyre of his Red Bull car.
After a few laps behind the safety car, the race was suspended; we heard radio messages between Red Bull and the FIA calling for all cars to be able to change tyres, given that there were no warning signs of Verstappen's tyre failure. Some 35 minutes later, the final few laps of the race could finally go ahead from a standing start, with all the cars now on soft tyres.
A Second Career Win & A First With Red Bull
Photo: Red Bull Content Pool
From 2nd Hamilton looked to have the advantage over Perez; but with hot breaks and an apparent mistake from Hamilton himself, he shot off into the runoff. This gave Perez a clear path to a second career win and a first with Red Bull. Vettel finished 2nd thanks to Hamilton's trip up the escape road, and Gasly 3rd after fending off an attack by Leclerc on the final lap.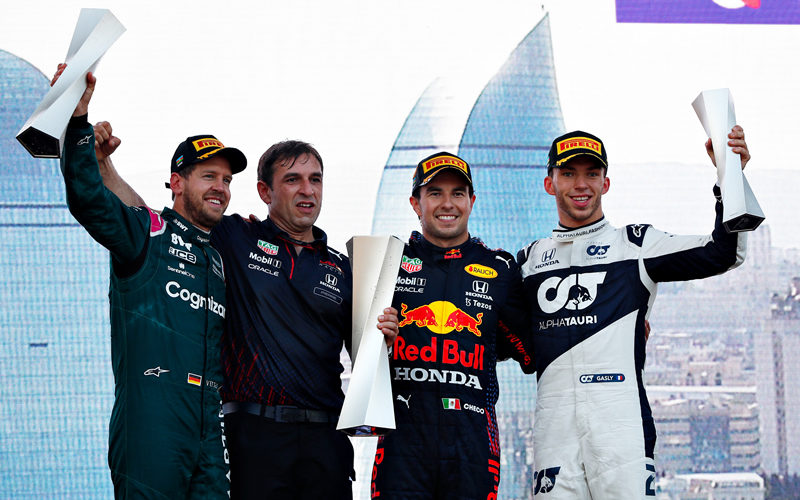 Photo: Red Bull Content Pool
Lando Norris had fought back from a bad start to climb to eighth before the red flag, which turned into 7th after Verstappen DNF. He then made up two spots at the second start to 5th, on the gearbox of Leclerc as he pushed Gasly.
Fernando Alonso had an excellent second start to move up to sixth ahead of Yuki Tsunoda and Carlos Sainz Jr; Daniel Ricciardo and Kimi Raikkonen made up the top 10. George Russell lost drive as he approached the grid on the second warm-up lap and had to retire to the pits, with Esteban Ocon as the other non-finisher after reporting a loss of power on only lap 4.
All in all this was a great race and a mixed podium which only shows how this season is set to be one of the best in a long time.
UP NEXT…
We move onto France in 2 weeks, a very different circuit to the previous two street tracks and with what will surely be another great race.
Words By Craig Newman | Feature Photo: Red Bull Racing