MOTOGP | RD1 | QATAR 2019
10/03/2019
Well everybody it had been 112 days since the last race back in Valencia 2018, and here we were again, the 2019 season was underway.
Free Practise sessions were inconsistent for the front runners but Valentino Rossi did manage to steal the show in FP1 by topping the charts. However, it was short-lived for the 9 times champion seeking his tenth title, as the rest of the FP's and Qualifying was a disappointment for him and the Yamaha team.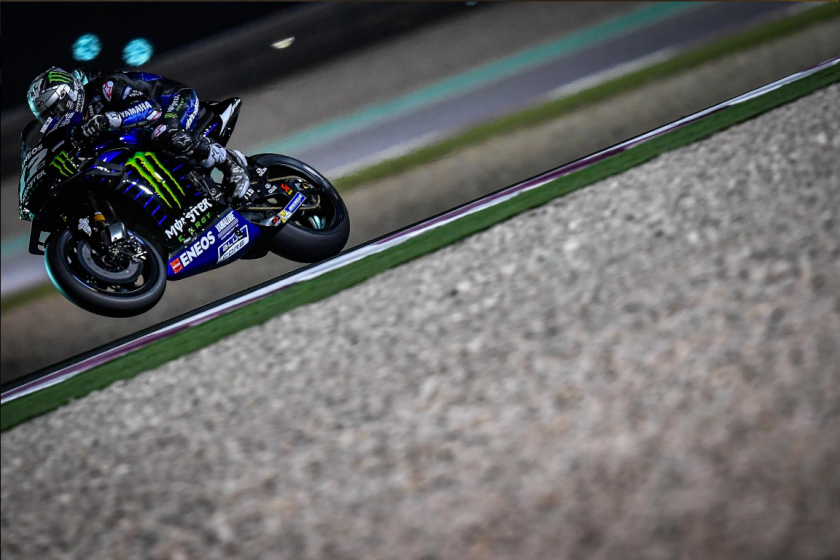 On the other side of the garage though, his teammate did better and destroyed the field by taking Pole Position against the odds. This was partly down to his fairing choice of which convinced Rossi into a change in the hope of better grip.
Marquez the reigning champion had a low-key time apart from the usual couple of crashes. There were a lot less out of shape moves too from the champion to what we usually see from him.
His new teammate Jorge Lorenzo had a bad crash at turn 6 on his new Honda by having a high side in which he hit the tarmac with some force damaging his back, hands and feet.
The Australian Jack Miller had a big face plant crash at high speed and injured his nether regions.
After a terrible qualifying for a few top riders we had Rossi sitting fourteenth on the grid but he is a "Sunday Man", next to him was Jorge Lorenzo on the Repsol Honda. The front row was Maverick Vinales, Andrea Dovizioso and Marc Marquez, but the drama at the start was rookie Quartararo in the new Petronas Yahama team who stalled his bike on the warm-up lap and had to start from the pit lane.
When the lights went out it was Dovizioso and Miller into P1 and P2, and we had a good battle starting.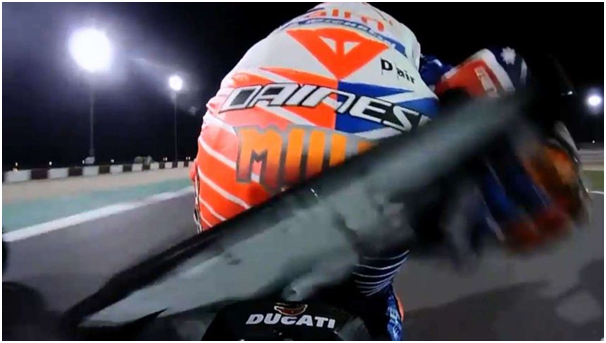 On lap two Miller had an issue with his seat and ended up ripping it out and chucking it off the track (in my opinion lucky to not get a penalty, nobody seemed to raise an eyebrow) and he dropped 9 places.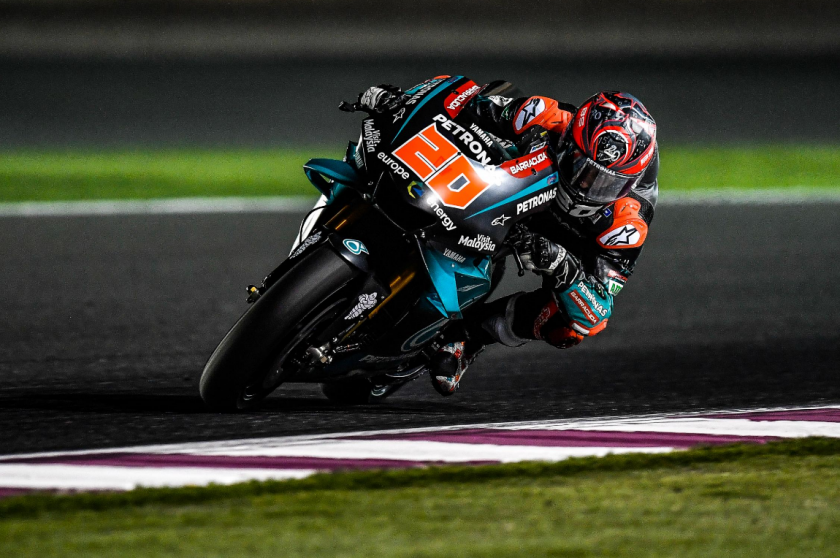 For several laps, it was 9 plus riders in a freight train and we had a good battle with a lot of overtaking, the pit lane starter Quartararo was setting fast laps though catching up.
Dovizioso was doing what he does best and leading into a good rhythm with Marquez stalking him in a subdued fashion. The Brit Cal Crutchlow was hanging in there and at times seemed very on the limit to keep up, Rossi was taking places and had worked up to fifth position.
In the latter laps, Marquez did make a move but it was short-lived, as the Ducati in a straight line out of corners down the long home straight was just too much for the Honda rider. There were a few others attempting slipstreaming tactics too which was good entertainment for all and giving us a much more competitive race due to rule changes. What was amazing though was considering Rossi had given away 19 km/h to the fastest rider in FP sessions & Qualifying by only doing 329 km/h (205.6 mph), had somehow managed to be the second-fastest in the race by doing 344 km/h (215 mph).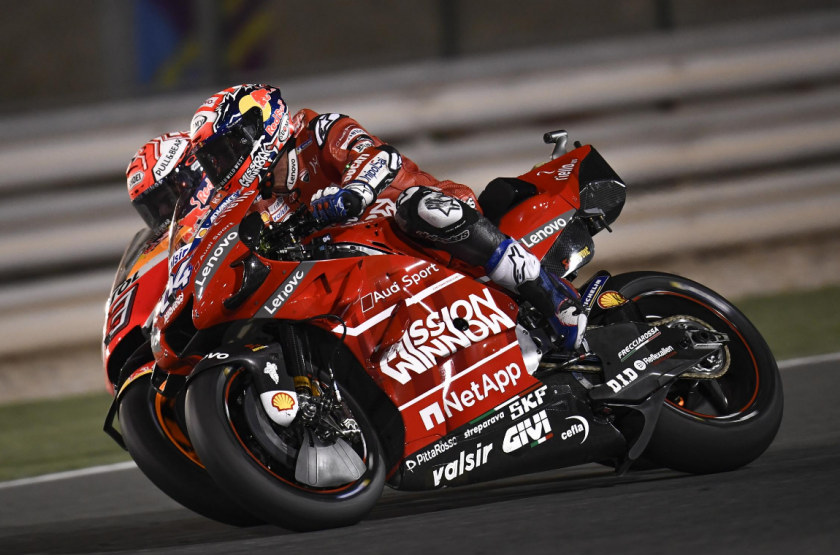 Into the last corner, Marquez did the expected lunge on Dovizioso who typically seemed to have let him through expecting the move, only to cut back and take Marquez well before the line. Cal Crutchlow took the last place on the podium, Rossi salvaged a bad weekend into fifth, Joan Mir was best of the rookies and took a good eighth position.
Moto 2
Marcel Schrotter took Pole Position, Xavi Vierge second and the Italian Lorenzo Baldassarri third, but into turn one Xavi Vierge took the holeshot from them and went into the lead. Behind the leaders, into turn one there was carnage whereby Italian Nicola Bulega and the two Spaniards Jorge Navarro & Iker Lecuona went down, and at turn six again another Italian on his debut Marco Bezzechi hit the deck.
From lap two Lorenzo Balddasarri was slowly building a lead, Thomas Luthi a title favourite had a bad start and was playing catch up. The surprise front runners Marcel Schrotter and Remy Gardener who were having a good battle were caught and overtook by Thomas Luthi who chased down the leader. Whilst Lorenzo Baldassarri and Thomas Luthi went into the last turn it was Lorenzo Baldassarri who won it by 0.026 seconds over the line, Marcel Schrotter slipstreamed Remy Gardener over the line to take the last podium spot.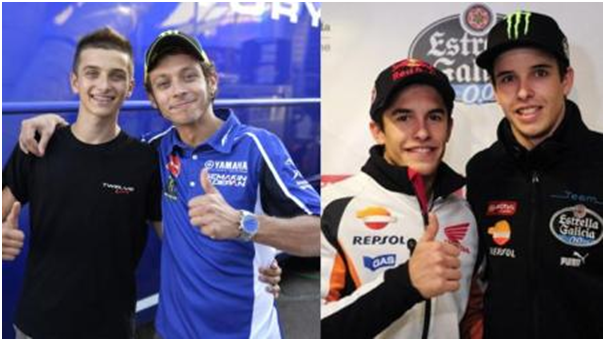 Marc Marquez's brother Alex could only finish seventh, Valentino Rossi's half-brother Luca Marini could only manage eighth, both are supposed to be title contenders. Xavi Vierge the early leader ended up tenth and Great Britain rider Sam Lowes rolled in sixth after a promising start.
Moto 3
The Spaniard Aron Canet took Pole Position and hopes to do better this season as he is a favourite for the title. He got a good start into turn one as did the other title favourite Italian Romano Fenati who was hoping for a good comeback.
Romano Fenati returning to Moto 3 from Moto 2 after his ban last season whereby he tried to pull another riders brake leaver at high speed by leaning out at Misano last year. The officials have given him a second chance as he is too good a rider to ignore, let's hope he has mellowed out and learned his lesson.
The South African Darryn Binder was the first to crash and then another 4 riders crashed out at turn 6 again. From then on it was a continuous 15 rider dice of a freight train for most of the laps with lots of slip-streaming down the home straight into turn one, with Romano Fenati more often than not taking the wide line.
However, it did appear that Romano Fenati made a big mistake into turn 6 several laps later and he took the escape route thinking he was or had been given a penalty, only to find out at the end he had not.
The escape route had been put in as a new rule to penalise riders who exceed the track limits 3 times consecutively. Therefore, when the stewards see fit to give the penalty the rider would see it on his dashboard.
Toba Kaito became the first Japanese rider to win a Moto 3 race, Lorenzo Dalla Porta second and Aron Canet came third.
Next up, it is off to Argentina on Friday 29 March 2019
Words By Emilio Sanchez for Xlerate
Photo's MotoGP.com Copyright © 2019 DORNA
MotoGP
Records:
Pole Lap: Maverick VIÑALES 1'53.546 170.5 Km/h
Fastest Lap: Lap: 3 Fabio QUARTARARO 1'55.039 168.3 Km/h
Best Race Lap: 2016 Jorge LORENZO 1'54.927 168.5 Km/h
All Time Lap Record: 2019 Marc MARQUEZ 1'53.380 170.8 Km/h
Moto 2
Records:
Pole Lap: Marcel SCHROTTER 1'58.585 163.3 Km/h
Fastest Lap: Lap: 10 Thomas LUTHI 1'58.711 163.1 Km/h
Best Race Lap: 2019 Thomas LUTHI 1'58.711 163.1 Km/h
All Time Lap Record: 2019 Marcel SCHROTTER 1'58.585 163.3 Km/h
Moto 3
Records:
Pole Lap: Aron CANET 2'05.883 153.8 Km/h
Fastest Lap: Lap: 2 Romano FENATI 2'05.403 154.4 Km/h
Best Race Lap: 2019 Romano FENATI 2'05.403 154.4 Km/h
All Time Lap Record: 2019 Aron CANET 2'04.561 155.4 Km/h
Official timings supplied by www.motogp.com.