ARCTIC LAPLAND RALLY 2021
16/01/2021
The 56th Arctic Lapland Rally became even more of an interest outside of the Finnish national rallying community this year, simply because of the speculation (which later become true in the run-up to the event) surrounding the possibility of an Arctic Rally replacing the cancelled Rallye Sweden in the FIA World Rally Championships calendar.
Because of this, Toyota Gazoo Racing WRT had the foresight to enter their long-standing test driver Juho Hänninen in a works Yaris; in the hope that it would give them the edge over their rivals in the FIA World Rally Championships, come their return to the Arctic circle at the end of February.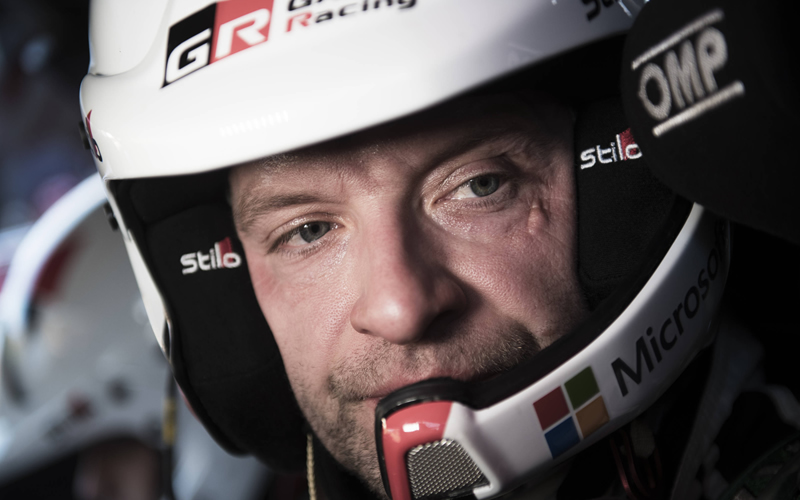 PHOTO: Juho Hänninen | Red Bull Content Pool
By entering Hänninen into the event it would enable the team to gather very valuable Intel on the rally, such as its typical stage conditions, the performance of the new Pirelli studded winter tyres and also their ability to identify a base set up for the Yaris.
Hyundai Motorsport on the otherhand did not enter any WRC i20's, perhaps Craig Breen should have been a consideration for this? Instead, the young Norwegian Oliver Solberg took part to provide him with some competitive seat time in his recently delivered i20 R5.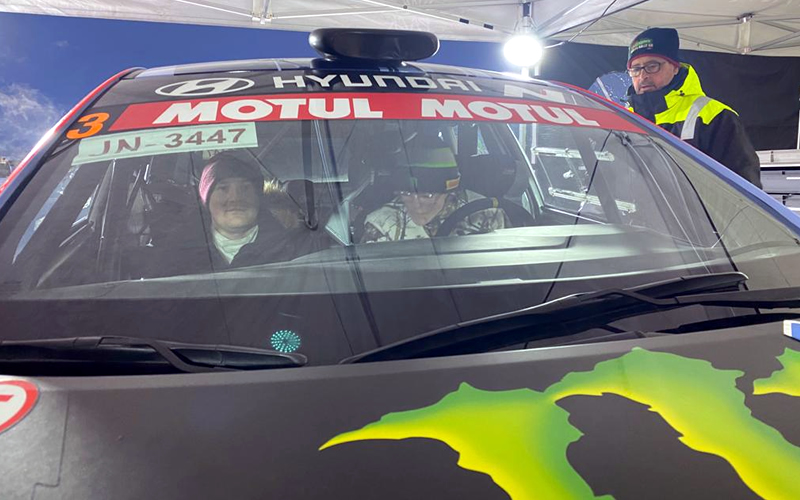 PHOTO: Oliver Solberg | Official Social Media Channel
His 2021 Hyundai team-mate Ole Christian Veiby was also entered in an i20 R5 which was run by 3 times World Rallycross Champions, Johan Kristofferson's Motorsport outfit. Veiby has experience in driving the i20 R5 having competed in a Hyundai on no less than 10 events last year, so he offered up a good benchmark for Solberg.
PHOTO: Valtteri Bottas | Hannu Rainamo
Joining the Finnish Championships locals on the stages this year for his third Arctic Rally appearance was Mercedes – AMG Petronas Formula 1 driver Valtteri Bottas in a Citroen DS3 WRC run by PH Sport and World Rallycross star, Nicolas Grönholm (son of two times World Rally Champion Marcus) in an R5 VW Polo.
It was really a case of it being Hänninen's rally in the bag right from the off and so after only the first stage, it was of absolutely no surprise that he had already pulled out a 9.5 second lead over Finnish Championship regular Juha Salo, who was in the lower-spec Rally 2 Skoda Fabia EVO.
Whilst the Finnish Championship contenders Teemu Asunmaa, Emil Lindholm and Juha Salo battled it out behind Hänninen, the Hyundai pair, Veiby and Solberg ended day one in 5th and 6th separated by 9.6 seconds.
PHOTO: Oliver Solberg | RALLI SM / AKK
"The stages are so fast but I was just trying to get used to the new car" "It's been very difficult, we just tried to learn the car more and more and try to get into the rhythm. So far it's not been so good, but we enjoy it."

Oliver Solberg
Friday ended with a 30km stage in the dark where Juho Hänninen completed a full house of stage wins ending the day with a whopping 52 second lead over his closest competitors, the TGS Worldwide team-mates Teemu Asunmaa and Emil Lindholm in their Skoda Fabia Rally 2 EVO's.
The action resumed on Saturday morning with the longest test of the rally, a challenging 42km stage named Siikakämä to the South; where Oliver Solberg had a considerably better start to the day.
Recording the second-fastest stage time overall and the fastest R5 time, Solberg said "it felt ok", perhaps this longer stage suited him more and enabled him to get into a better rhythm with the i20? This was in comparison to Veiby who could only manage the 8th fastest time.
PHOTO: Ole Christian Veiby | Jarno Saari
"It's a really really fast stage, I was really not committed on the fast sections. We made some adjustments to the car which helped on the slow sections, but I need more commitment on the fast sections."

Ole Christian Veiby
This morning wake up call for the competitors was met with a service halt before being followed up in the afternoon by a further three back to back stages in the military area to the North East of Rovaniemi.
On the Heinunkierto stage that young Solberg really upped his game by taking the overall stage win. Beating the WRC Yaris of Hänninen by 0.7 seconds was a real testimony to his talent and ability; this then lifted him to 5th overall passing his team-mate Veiby.
"It was a fantastic stage but so much loose snow, I thought I'd lose a lot to the guys behind so it's a nice surprise to win the stage"

Oliver Solberg
PHOTO: Oliver Solberg | Official Social Media Channel
Despite some intercom issues, Solberg's form continued on into the penultimate stage of the rally (Sarriojärvi – 30km) with another second fastest time overall and yet another R5 stage win . This netted him 3rd place overall passing Finnish Championships contenders Salo and Lindholm.
Meanwhile, F1 star Valtteri Bottas in the Citroen DS3 WRC had overtaken Veiby for P6, the position where he would ultimately finish the rally in.
PHOTO: Valtteri Bottas | Official Social Media Channel
"It's been fun and challenging as expected, we were trying to improve step by step throughout the rally, and the stages are fast and beautiful!" "It is good to be at the finish line, I've learned a lot about rallying again and enjoyed the stages a lot"

Valtteri Bottas
The final stage of this winter wonderland test came in the form of 31km Ristilampi / Pohjanhovi, where Juho Hänninen entered with a 2 minute lead over second-place Teemu Asunmaa who was on course to take the win in this, the opening round of Finnish Championships.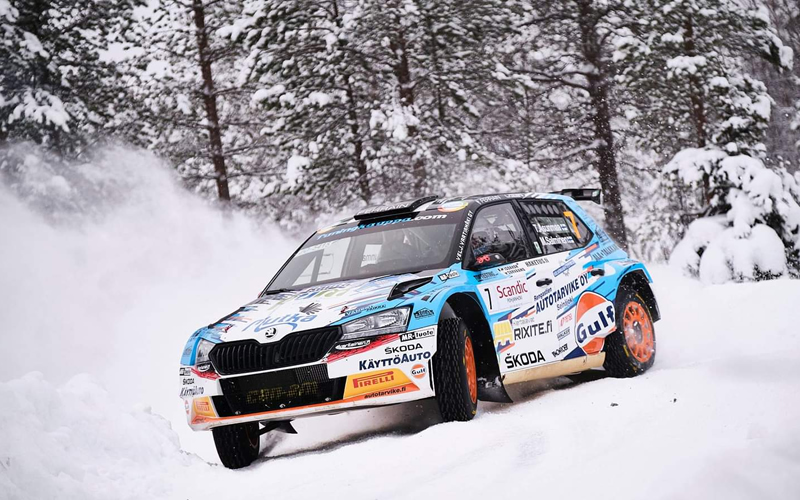 PHOTO: Teemu Asunmaa | RALLI SM / AKK
Solberg ended the day and the rally with a final 2nd fastest time overall and R5 category stage win, he took the third spot on the Podium just 0.9 seconds behind Asunmaa.
"Today has just been fantastic – fastest R5 car on every stage (even with losing time with intercom issues!) Really, Really happy with this on our first event with a brand new car, it's unbelievable" "The i20 R5 has been fantastic, so fast and I'm feeling really good in it!"

Oliver Solberg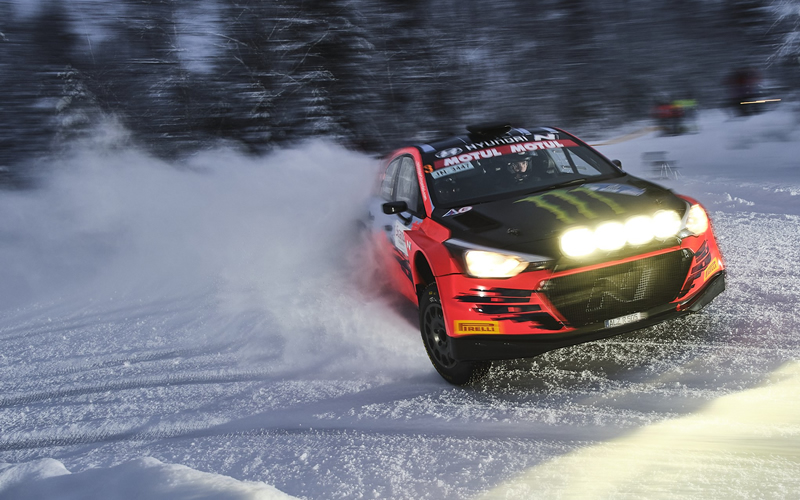 PHOTO: Oliver Solberg | Official Social Media Channel
Solberg's father Petter commented on his sons performance:
"Amazing, unbelievable! So, so proud of Oliver's performance today" "It's unbelievable to have this pace on a new event and with a brand new car. To win every stage today is incredible, I had tears in my eyes today for sure!"

Petter Solberg
PHOTO: Ole Christian Veiby | Hannu Rainamo
However his Hyundai team-mate Veiby had a disastrous final stage to end the event on:
"My throttle got stuck so we had to stop, something came in the middle of the throttle, it was not the best day but nothing we can do about that." "It was not the finish to the Arctic Rally that we were hoping for"

Ole Christian Veiby
This resulted in him dropping all the way down to 17th overall.
And so Juho Hänninen with the help of Miika Teiskoneni in the Co-Drivers seat joins the list of past Arctic Rally winners which includes no less than five World Rally Champions: Ari Vatanen, Hannu Mikkola, Marcus Grönholm, Timo Salonen and his previous boss, Tommi Mäkinen.
Hänninen was able to achieve what was set out by Toyota Gazoo Racing WRT and gather the very valuable information from this event. This will now position the team well as they prepare, in advance of the forthcoming Arctic Rally which is to be held over 24th-28th February in place of the cancelled Rallye Sweden as the second round of the FIA World Rally Championships.
"Good test, the job is done. It's easier for others to start their pre-event test. We were testing new tyres and some new parts on the car."

Juho Hänninen
WORDS: ANDY COOK – XLERATE | FEATURED ARTICLE PHOTO: RALLI SM /AKK