BHRC | RD 4 WOODPECKER RALLY
14/09/2022
It seems like a forever and a day since the FUCHS Lubricants British Historic Rally Championships last graced the stages, but finally, one of the UK's most popular series returned into action at the Phill Price Memorial Woodpecker Stages Rally.
From the Shropshire market town of Ludlow with its HQ at the Racecourse, the Sixty and Worcestershire Motor Club organised event returned for its 38th edition; laying on 43 competitive stage miles across 6 stages in the Radnor and Haye Park Forest complexes.
Photo By Xlerate.Media
Last time out, way back in May at the Plains Rally, multiple British Rally Champ, Matt Edwards secured his second win of the season. However, it was Henri Grehan who arrived in Ludlow on his local stomping ground leading the Championship standings; with just 7 points separating the two Category 3 protagonists, for Grenhan the pressure to perform was on.
Leading up to the event the country was baked in sunshine and there had been a bit of a drought. The crews headed into the opening 8.7 miles test in Haye park hoping that the dust wasn't going to hang too much.
Matt Edwards recognised that it was going to be a hard one to win, but also admitted that he couldn't afford a no score on this one. He drew the first blood on that opening test in his Fiat Abarth 131. Stopping the clocks 3 seconds quicker than the MK2 Ford Escort of Henri Grehan, with Nick Elliot 11 seconds down in third in the other Fiat 131.
Matt Edwards & Hamish Campbell
Whilst Championship Category 2 leader Adam Milner would not be making an appearance on The Woody; Chris Skill would be the quickest man off the mark in his Ex Works MK1 Ford Escort. Getting the better of Rory McCann's Hillman Avenger by 9 seconds in that opening Haye Park test.
---
Chris Skill & Brian Hodgson
---
The crews then headed off across the border into Wales for two stages in Radnor. Edwards once again nipped Grehan, this time by 4 seconds in Cwm y Gerwyn 1, which was the shortest test of the event at just 5 miles.
But Grehan retaliated in the next one, SS3 Stanlo Tump beating Edwards by some 6 seconds to take his first stage win and with it, taking over the lead from Edwards.
Henri Grehen & Dan Petrie
Grehan headed back to the mid-day service halt in Ludlow with just two seconds in hand to Edwards, whilst Robert Gough had managed to overhaul Nick Elliot in Radnor for the third spot.
"It's going ok, we've had no issues, we lost a bit of time in the first stage to Matt Edwards but we've clawed it back, so all it's to play for."

Henri Grehan
Chris Skill & Brian Hodgson
Over the course of the morning's loop of stages, Chris Skill and Co-Driver Brian Hodgson had built up a commanding lead of over a minute to McCann in Category 2.
Back out after service and Grehan set about pushing on for the win but Edwards was not going to let him have it without a good old scrap. Edwards was able to claw back just a second over the repeat pass of Haye Park, it was well and truly GAME ON!
It was tight at the top and there was just a single second between the pair heading into the penultimate stage of the event. Rob Gough was maintaining his third spot over Nick Elliot and was a lot happier with his second shot at Haye Park.
Rob Bough & Sam Collis
Edwards again came back at Grehan in Stage 5 (Cwm y Gerwyn 2) and clawed back the other missing second. This meant the pair were heading into the final stage of the rally neck and neck with it all the play for. But this final stage showdown could produce only one winner.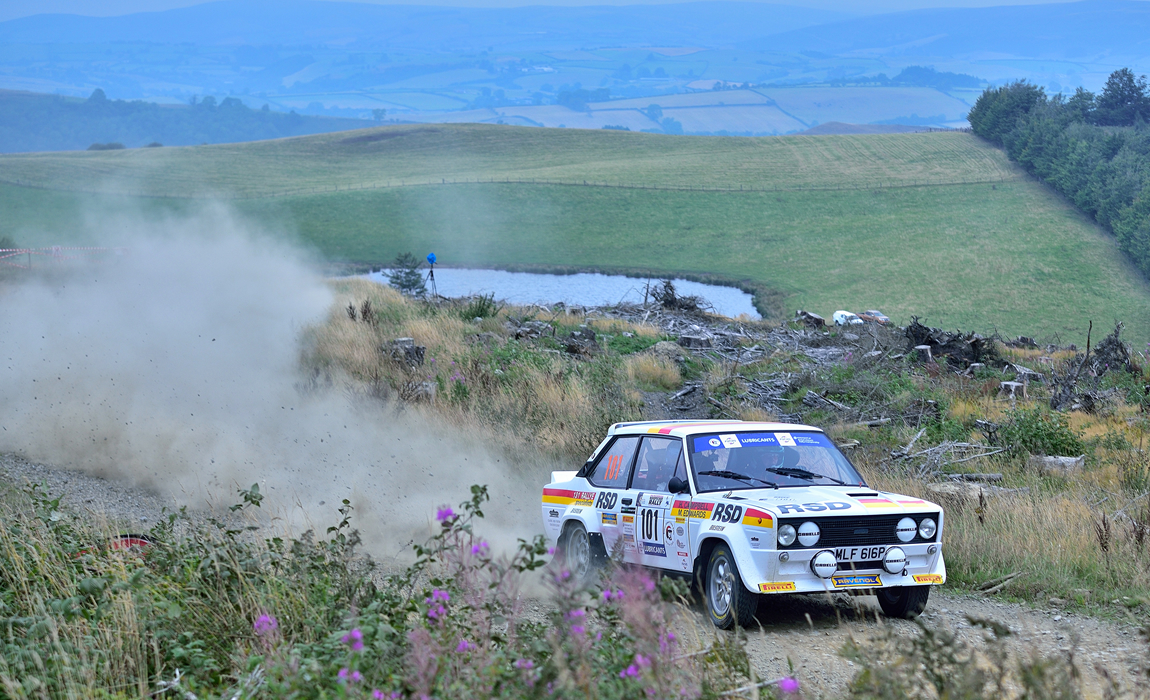 Matt Edwards & Hamish Campbell
The pair entered the final 7.23 miles giving it their all, but only Grehan would emerge out the other side of Radnor. Sadly for Edwards and Co-Driver Hamish Campbell, the stunning Fiat Abarth 131 was to retire in that final stage with mechanical issues and damaged suspension. But one man's disappointment resulted in rejoice for another….
---
And So Henri Grehan alongside Co-Driver Dan Petrie crossed the finish line in their MK2 Ford Escort with 30 seconds in their back pocket to Robert Gough and Sam Collis. Taking his maiden BHRC win, Grenhan had also extended his lead at the top of the Championship standings and enjoys a 23 points advantage over Nick Elliot, with Robert Gough laying in third.
Henri Grehen & Dan Petrie
"Great day on my local Woodpecker rally. Many thanks to the team I couldn't do this without your effort, you all know who you are!! Dan Petrie top job on the notes. And the people that showed their support for us on the day, I'm very grateful."

Henri Grehan
Nick Elliot who had what he described as a "scrappy" day out on the stages, rounded off the third spot on the podium in his Fiat Abarth 131, as well as picking up the FIA Category honours.
Nick Elliot & Dave Price
Meanwhile, Chris Skill peddled his Ex Works MK1 Escort back to Ludlow for the Cat 2 honours. Skill alongside Co-Driver Brian Hodgson spent the day continuously extending their lead over second place man, Rory McCann and finished with well over two minutes in hand. This win for Skill moves him above no-show Adam Milner in the rankings.
Unfortunately, there was a noticeable absence of any Category 1 cars at this event.
---
Chris Skill & Brian Hodgson
---
NEXT TIME
The FUCHS Lubricants British Historic Rally Championships returns to the Forests of North Yorkshire for the fifth round on the Gravel at the TrackRod Historic Rally (23rd & 24th Sept), in Pickering. Here the crews will once again find themselves not only tackling stages such as Crompton and Gail Rigg for the second time this year but will also get a taste of the legendary Dalby Forest.
Words & Photos By Andy Cook | Xlerate.Media
---
CLOSING SHOT