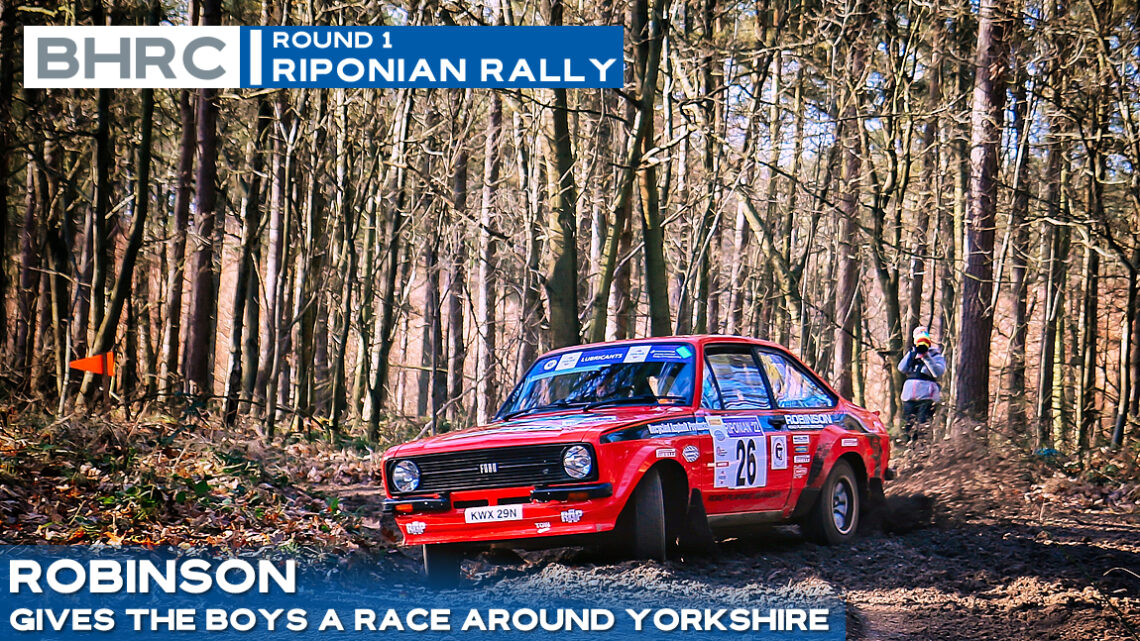 BHRC | RD1 – RIPONIAN RALLY 2022
10/02/2022
The British Historic Rally Championship made a welcomed return to the British rallying calendar, with the Riponian Rally in North Yorkshire taking the honours as the opening event of the 2022 FUCHS Lubricants sponsored season for the first time. After a shortened season last year, an all-gravel lineup of eight planned events features on this year's premier Historic Stage Rallying Championship calendar, its first full season since 2019, pre-COVID times.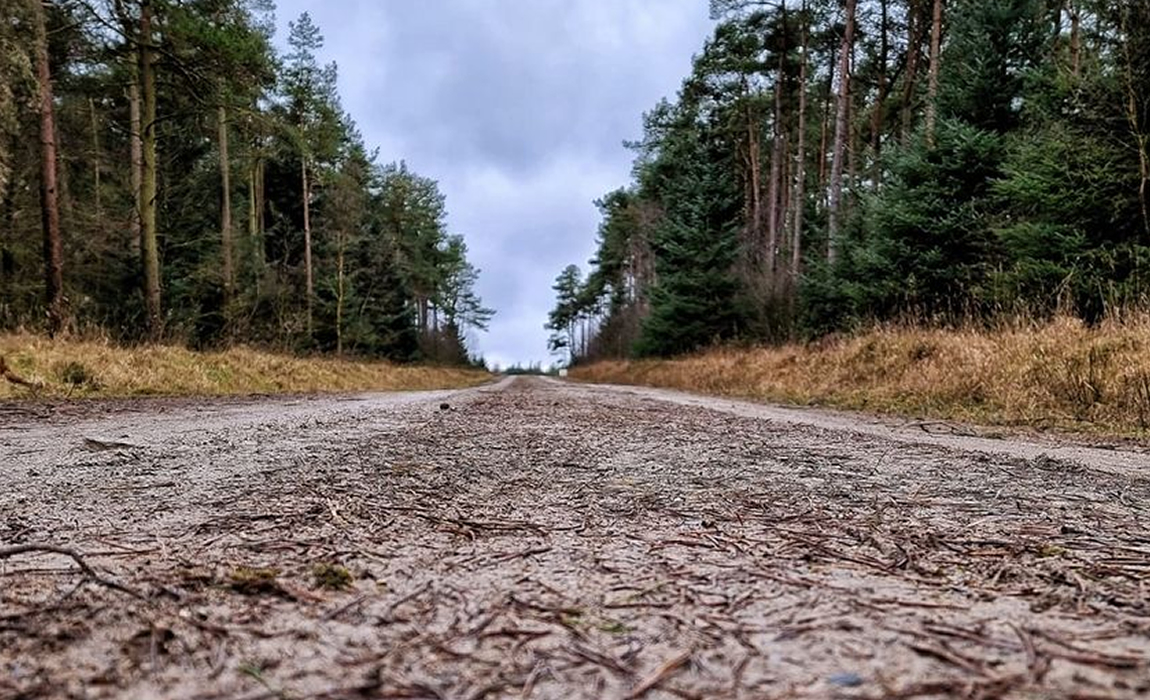 Photo: BHRC Media/Socials
"The season opener had the recipe for a great top 10"
Returning to defend his 2021 title, Ben Friend alongside Cliffy Simmons arrived in Thirsk, Yorkshire with a strong line-up of challengers to contend with. The season opener had the recipe for a great top 10 at that sharp end of the Category 2 cars, with a list of around 50 registered championship hopefuls; including but not limited to the likes of Mathew Robinson, Nick Elliott, Adrian Hetherington and Roger Chilman to name but a few.
With 6 stages covering a little over 43 competitive stage miles, The Riponian and its classic North Yorkshire gravel tests offered up the ideal way to kick things off with. No strangers to fighting it out at the sharp end in Historic rallying, Mathew Robinson and Sam Collis were the ones who would make their mark on the Championship at this opening round.
"a clever bit of thinking by the event's organisers"
It was a cold windy start to the opening slippy 6-mile stage of the rally; Wass Moor offered up something a little bit different as a first test. The stage linked two forests together over about an 800 meter stretch of closed public tarmac roads, a clever bit of thinking by the event's organisers, The Ripon Motor Sport Club which was met with praise from a number of competitors.
---
"an ideal way to begin the day"
As the number 1 seed, Mathew Robinson began his day with three Weetabix but sighted his speed out on that opening stage to perhaps some "fictional" weight loss over the off-season. Either way, taking a two-second lead on that opening test was an ideal way to begin the day. With a set of soft tyres strapped to his MK2 Ford Escort, Robinson alongside his regular Co-Driver Collis got the better of Birthday boy Nick Elliott, with reigning Champ Ben Friend a further 4 seconds behind in third.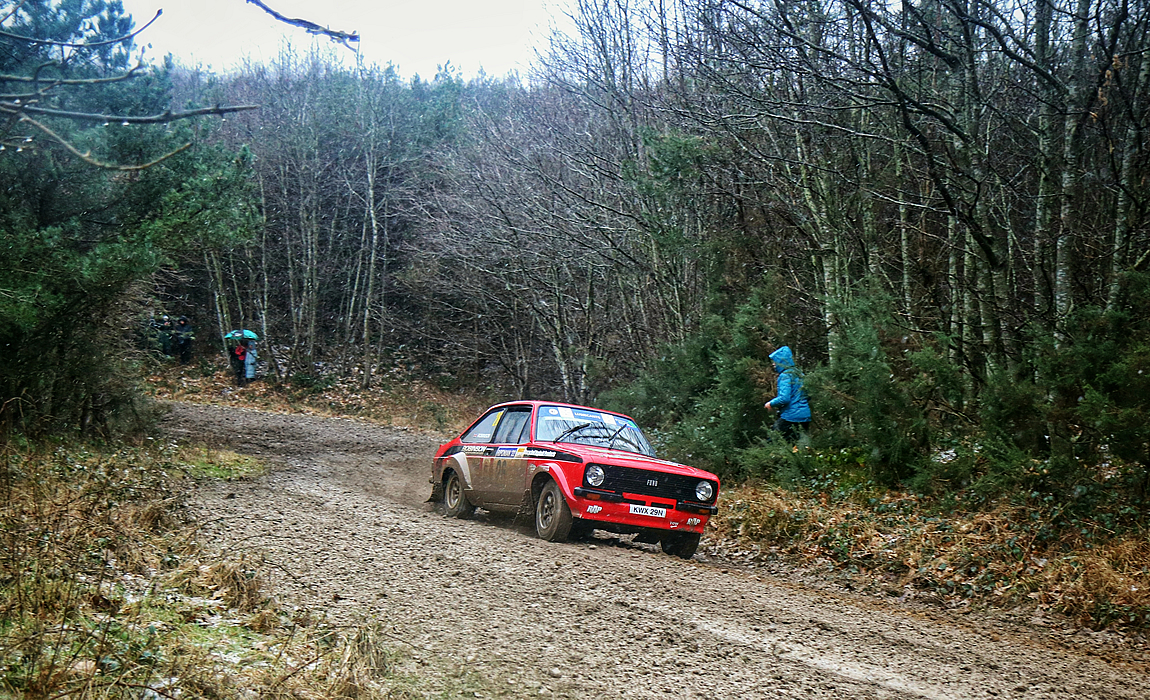 Mathew Robinson | Photo: Carl Millband
The crews then headed off to the more well known Crompton Forest where Robinson opted for the medium compound for the longest stage of the rally at 8.33-miles in length. The second test of the rally was a familiar stage which is more often than not run in September on the TrackRod Rally, but typically in much dryer conditions. At this time of year, it was, however, a bit more greasy but it was still a quick one. With reports of speeds topping out around the 120mph mark at times, the crews were by now settled into their rhythms.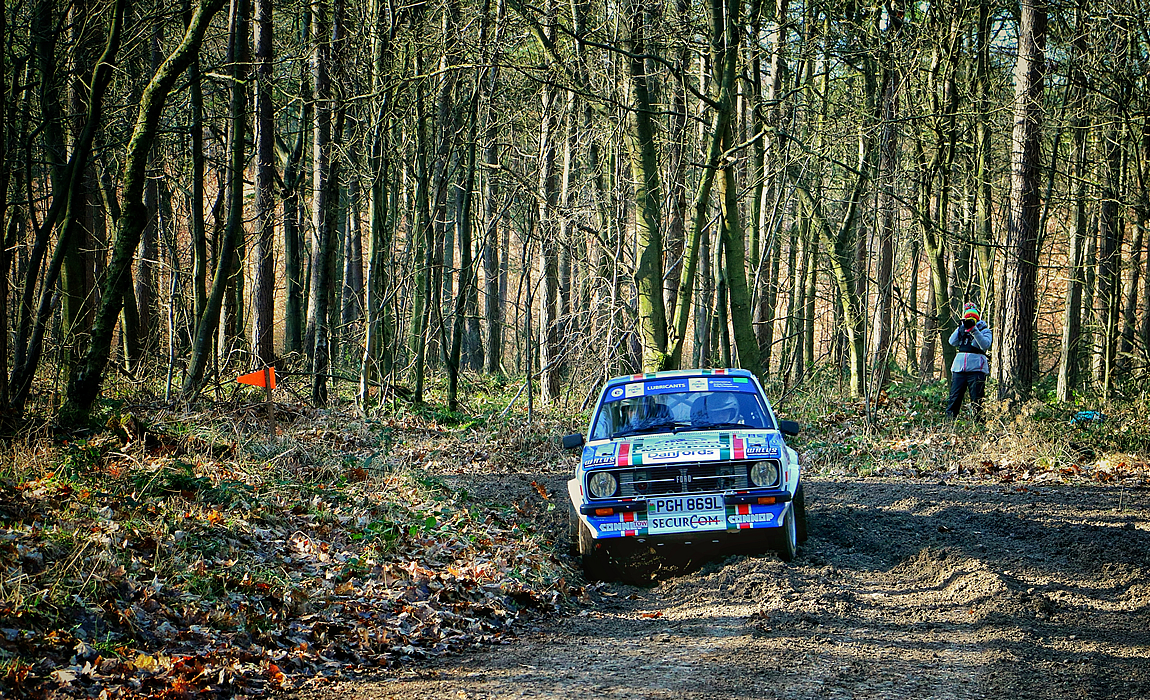 Roger Chilman | Photo: Carl Millband
Roger Chilman who was looking to get back in the saddle following his short-lived Roger Albert Clark outing last year began to make his move, "feeling more comfortable and at one with the car" he passed a man who hadn't set foot in a forest driving an old Escort for some seven years, for 5th place. And that man was Meirion Evans, but he was struggling to regain that confidence and trust in the notes after being away so long from this form of rallying.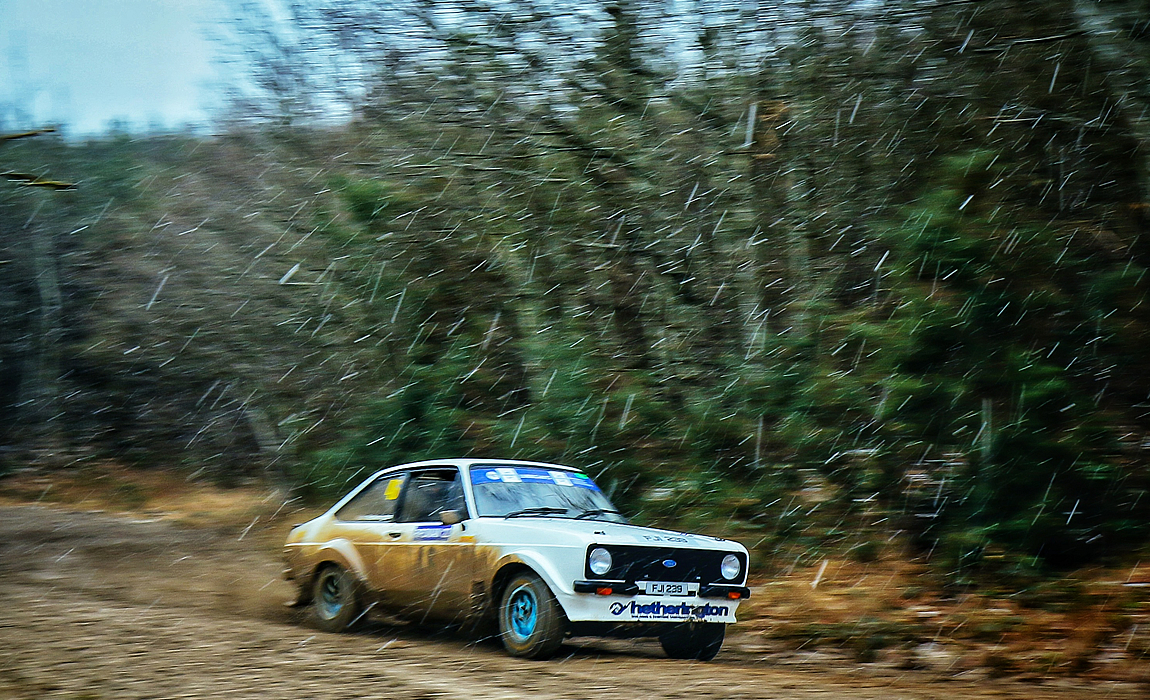 Adrian Hetherington | Photo: RS Motorsport Media
Adrian Hetherington delivered a great stage time and was also able to overhaul Ben Friend to move up into third; but Friend reported at the end of Crompton that they had been suffering intermittent intercom issues in the cockpit, which was far from ideal. Robinson who was happy with his tyre choice took another 7 seconds out of Elliott to extend his overall lead to 9 seconds heading into the final stage of the morning loop, SS3 Gale Rigg.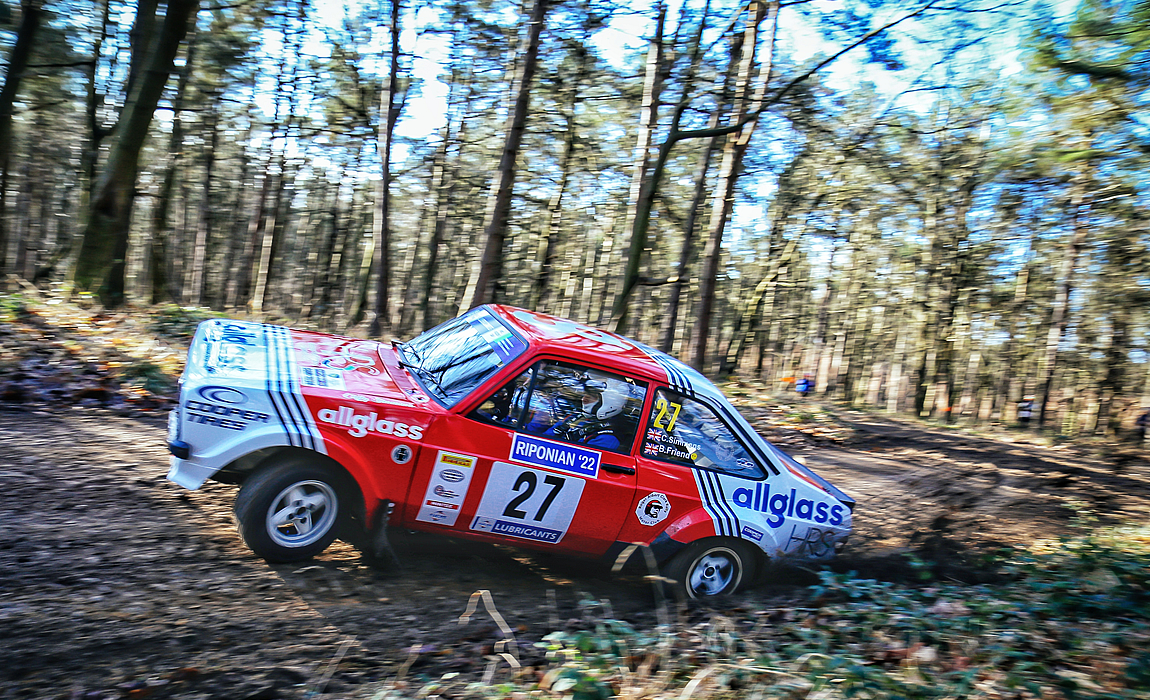 Ben Friend | Photo: RS Motorsport Media
Gale Rigg was another familiar stage at a little over 7 miles, but once again the organisers opted to utilize a section of the tarmac public road to add something a little different to the configuration of the stage. Friend appearing to get his intercom issues under control was able to regain that third place back, more so after Heatherington suffered a puncture which dropped him down and out of contention. However, Friend was still some +36 seconds adrift from the battle upfront for the rally win between the likes of Elliott and Robinson.
"try as he might, wasn't able to get close to The Local Boy"
Elliott try as he might, just wasn't able to get close to "The Local Boy" Robinson on the Gale Rigg test, dropping a further 13 seconds to Yorkshireman heading into the midday service halt.
---
"the weather began to take a turn for the worst"
Back out after service for the repeated afternoon loop and Robinson set about stamping his authority over Elliott. However, the weather began to take a turn for the worst as the crews reached Wass Moor, with blizzard-like conditions falling from the sky. But that wasn't phasing Robinson in the slightest, securing yet another stage win over the repeated Wass Moor test, there appeared to be little that Elliott could do to topple Robinson's dominance.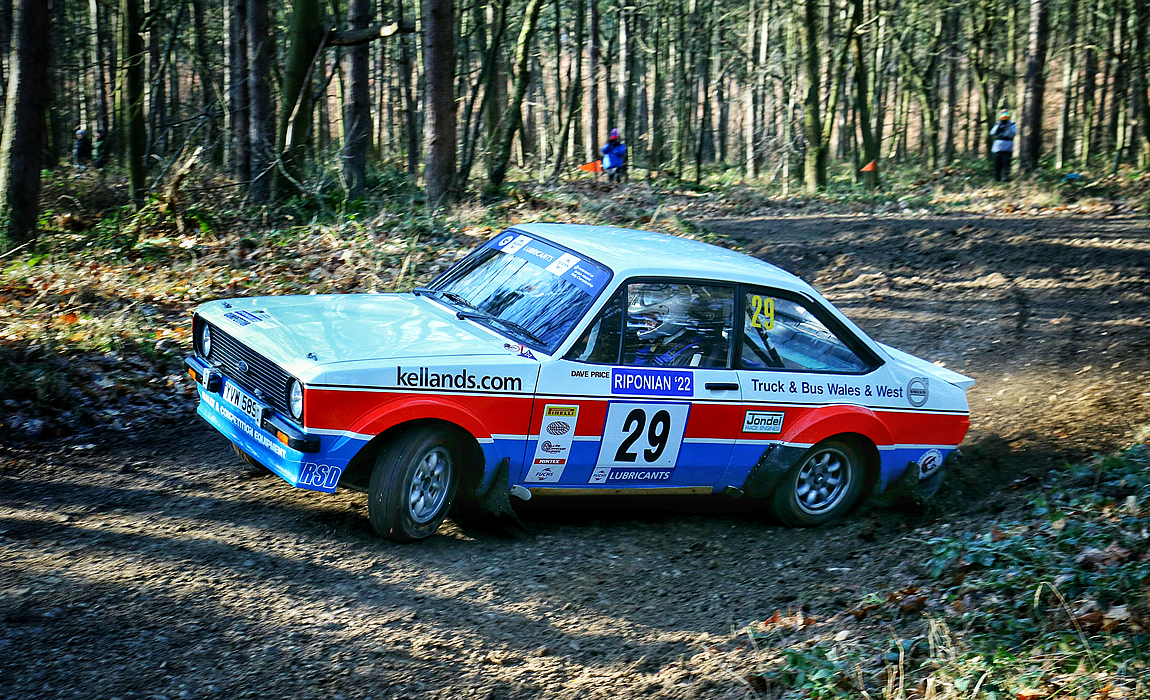 Nick Elliott | Photo: Carl Millband
With just two further stages to go through Crompton and Gale Rigg, Elliott had the two longest stages of the rally left to try and overhaul the leader. Unfortunately yet again Robinson took another 6 seconds out of him in Crompton Forest and Elliott by now had concluded that in reality, he wasn't going to catch him; thus he was looking to just "keep in on the track" and consolidate his position to bring it home for the points.
The battle for third place on the podium was perhaps a little more closely fought than the one for the win. Roger Chilman who was gifted 4th place after Heathringtons demise, was getting that little bit closer to where he wanted to be. Having posted the exact same stage time as Friend in Crompton, he was just 9 seconds off of that third place heading into the final 7 miles through Gale Rigg.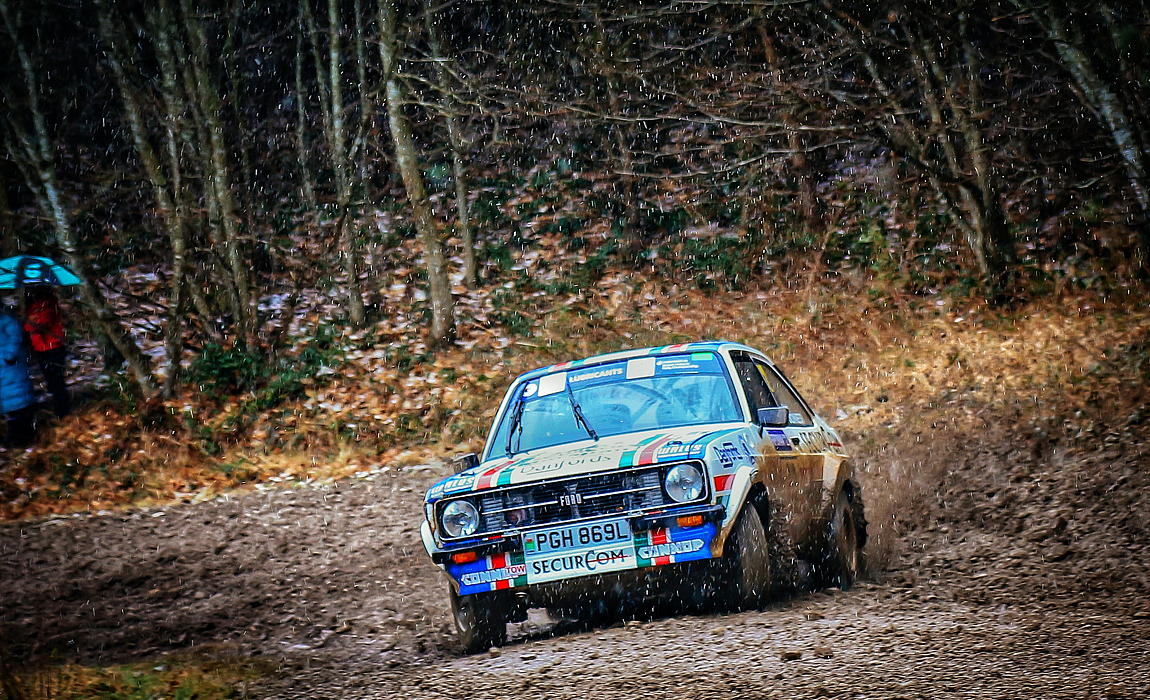 Roger Chilman | Photo: RS Motorsport Media
Due to the weather conditions, the stage had degraded and by now was very different to the morning run. Mathew Robinson alongside Sam Collis was able to cruise to victory through the final test and cross the finish line with some 47 seconds in hand to take the opening-round victory. By winning all six of the stages, the local pair admitted that they "knew the stages well", in this dominant performance in their MK2 Ford Escort.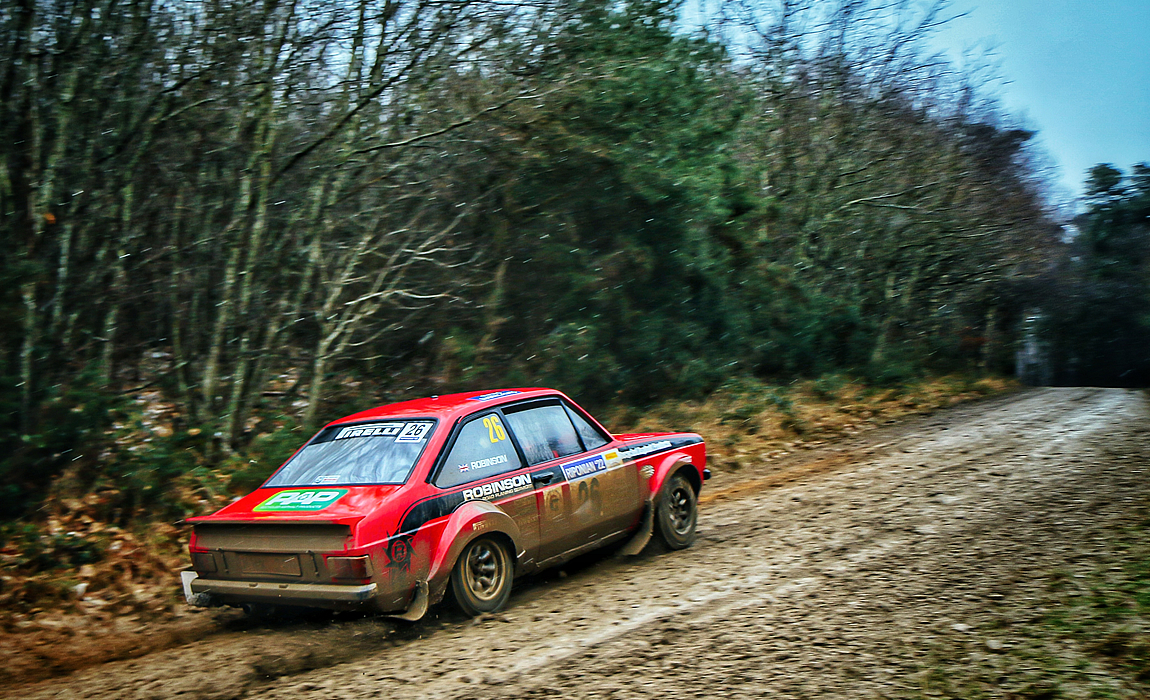 Mathew Robinson | Photo: RS Motorsport Media
"Everything has gone to plan, we are pretty happy with that. After coming off the RAC, where we did useless in the dark and where we struggled to get into a rhythm and then went off into a ditch in Falstone when it was snowing. To come back and give the boys a bit of a race around …. yeah I'm pretty pleased with that." "To keep it on all of the stages, I think its probably one of our better performances"

Mathew Robinson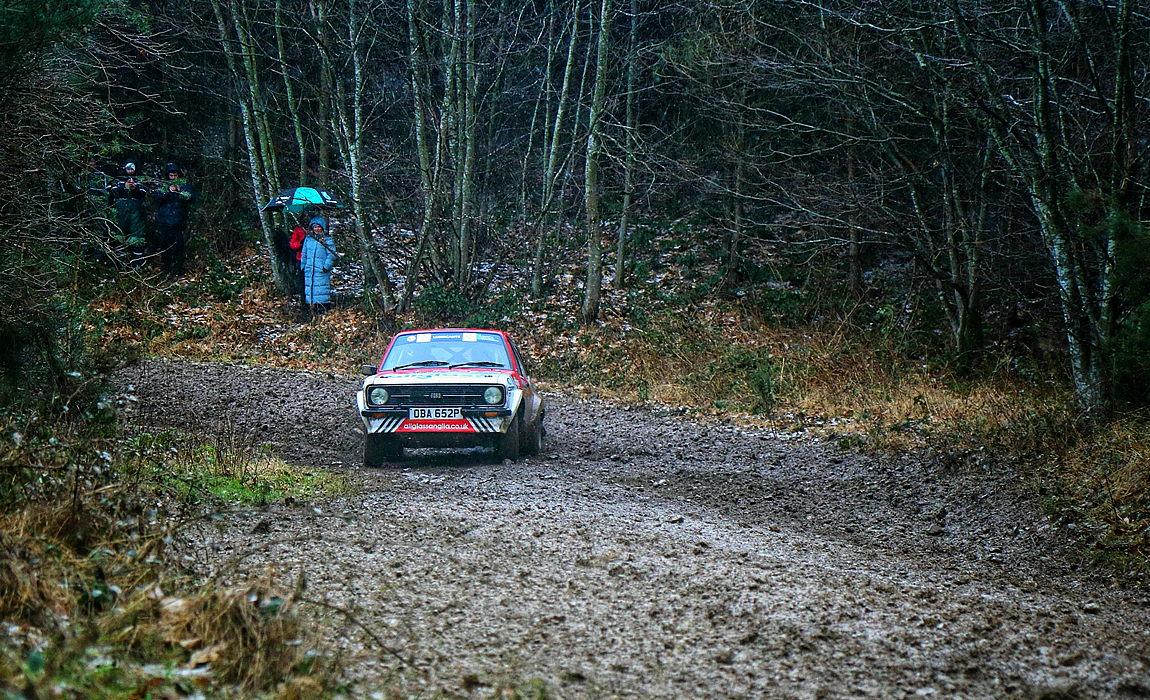 Ben Friend | Photo: Carl Millband
Unfortunately for reigning BHRC champ, Ben Friend alongside Cliffy Simmons, that final run through Gale Rigg would see the pair pick up a puncture just 4 miles from the end of the rally which would leave them ending up in 5th overall behind Henri Grehan & Dan Petrie.
Friends misfortune handed the third spot on the podium to Roger Chilman and Gwynfor Jones who brought their MK2 Escort home some 1 minute and 24 seconds behind second-place Nick Elliott and Dave Price.
---
CATEGORY 1
Meanwhile, in Cat 1, 2021 top finisher Bob Bean alongside Mike Curry on the notes returned to contest the Championship this year.
Photo: Bob Bean | Carl Millband
The seasoned veteran of rallying who has been piloting blue oval machinery around the stages since the 1960s; peddled his Lotus Twincam powered Ford Cortina home through some challenging stage conditions to take the first-round honours.
CATEGORY 2
In Cat 2, youngster Ben Smith who was being guided by his father Steven on the notes was able to secure his debut BHRC rally victory.
Photo: Ben Smith | RS Motorsport Media
Taking over the lead in the afternoon loop from the second run through the Wass Moor stage, the father-son pairing brought their Ford MK1 Escort home 8 seconds in front of the stunning Datsun 240z of Jeremy Easson. With the early Cat 1 leader Warren Phillikirk suffering from gearbox issues in the afternoon, rounding off the podium in third.
---
NEXT TIME ….
Next up for the FUCHS British Historic Rally Championship is a return to the classic World-Class gravel stages in Wales for the WKD Trained Dogs Rally North Wales on 26th March.
Words By Andy Cook | Feature Photo: RS Motorsport Media