BHRC | RD1 – RIPONIAN RALLY 2023
16/02/2023
The Forests of North Yorkshire came alive with the sounds of horsepower once again as the FUCHS Lubricants British Historic Rallying Championship began its 2023 season with the Riponian Rally. This ever-popular event signalled the start of another promising season of Historic Stage rallying, where seven quality events are expected to feature on the calendar this year.
However, the season opener would begin out on the gravel without all three of its previous Champs. Reigning overall and Cat 3 Champ Henri Grehan, Cat 2 Champ, Chris Skill and Cat 1 winner Bob Bean, along with a couple of other noticeable names from last year would all not make an appearance in Yorkshire, but that did not dent the strong entry list too much.
Last year, local boy Matthew Robinson would dominate this very event, winning every stage in his own back garden; however, just days before the off it transpired that Motorsport UK would not grant his licence in time for the event. With the number 1 seed out of the contention already, it was left to a gaggle of other top drivers to battle it out for the opening round glory.
Approximately 45 competitive stage miles across six stages (three, each run twice) were on the Yorkshire menu, two of which made use of closed public road legislation to join sections of the forests together.
A "reyt proper" test of just over 7 miles in length would get the proceedings underway in Gale Rigg but this opening stage would already see the retirement from one of the expected would-be challengers. A returning Marty McCormack would suffer a broken distributor to his Ford Escort MK2 and would therefore not even complete this first stage.
A returning Nick Elliot at the wheel of the stunning Fiat Abarth 131 would be the man who was quickest out of the blocks on the fast-opening Gale Rigg test. Stopping the clocks 5 seconds quicker than a slightly cagey Roger Chilman, Elliot the runner-up on this very event last year, began his morning meaning business.
Nick Elliot & Dave Price | Photo By Richard Simpson (RS Motorsport Media)
Elliot believed that although he was "a little bit scrappy in places" he didn't think that it was too bad and overall "it was a sensible" start to the rally in his eyes. The general message from the competitors at the stop line was that this first stage of the day had a lot more grip than they were all expecting.
---
A newcomer to the British Historics, Craig Jones would be the one to impress in his MK1 Escort RS2000 on that opening stage. Having competed last season in the British Rally Championship in a 4×4 Ford Fiesta, Jones is a man that is not accustomed to rear-wheel drive historic machinery. Taking on the Historics for the first time and posting the joint quickest time on that first stage with last season's Cat2 runner-up Josh Carr, was something to make everyone sit up and take note of.
Craig Jones & Ian Taylor | Photo By Andrew Scott
Jones arrived at the stop line off SS1 commenting "Doesn't matter what the times are, that is a laugh!" and had just demonstrated his potential at the first throw of the dice. He had perhaps at that point in time, also, become a bit of an unexpected challenger to the likes of Carr and Philliskirk, who were last season's front-runners.
A second Yorkshire favourite was up next, just across the road in Cropton Forest the longest test of the day at a tad over 9 miles in length would be the one for the crews to really get their teeth into and here is where the battle for the lead began to intensify.
New kid on the block Tom Walster who was making his return to rallying after more than a decade away from the sport, decided to throw himself right into the mix. Walster, alongside Co-Driver Christopher Ridge was out for his debut in the BHRC, AND only his second-ever outing in a rear-wheel drive car to that matter, he topped the timings on the second stage of the day.
Tom Walster & Christopher Ridge | Photo By Richard Simpson (RS Motorsport Media)
Ludlow man Walster who was still bedding himself in, got the better of Chilman by 3 seconds in the first pass over Cropton, which catapulted him into joint second place with Elliot. Frustratingly for Elliot, he had now also lost the lead to Chilman in that one, but there was only a second separating Chillman out front to the likes of Elliot and Walster heading into the final stage of the morning loop.
Josh Carr who believed that his MK1 simply "couldn't go any faster", picked up his first outright stage win of the season in SS2 Cropton, reacting to Jones's opening stage efforts. Carr who is expected to be one of the main contenders for Cat 2 honours his year stopped the clocks 5 seconds quicker than the MK1 Escort driven by Mike Stuart and assumed the position at the top of the Category timesheets.
---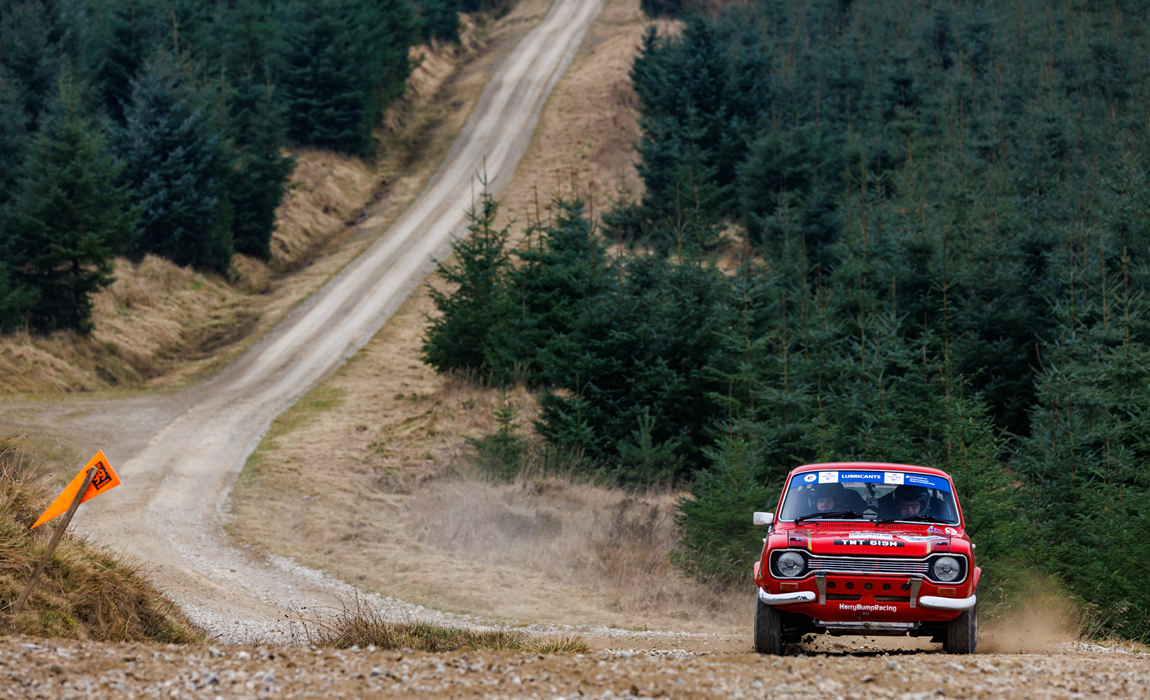 Josh Carr & Richard Wardle | Photo By Andrew Scott
---
The shortest stage on the route through Wass Moor was just a little over 5 miles in length, this stage had different characteristics to the other more well-known stages of Gale Rigg & Cropton. It was more technical and with some sections being more enclosed, it was a tad moist under the trees.
Roger Chilman and Co-Driver Patrick Walsh picked up their second stage win, getting the better of Simon Webster by 4 seconds; this elevated them to a 5 second lead over Nick Elliot & Dave Price heading into the mid-day service halt.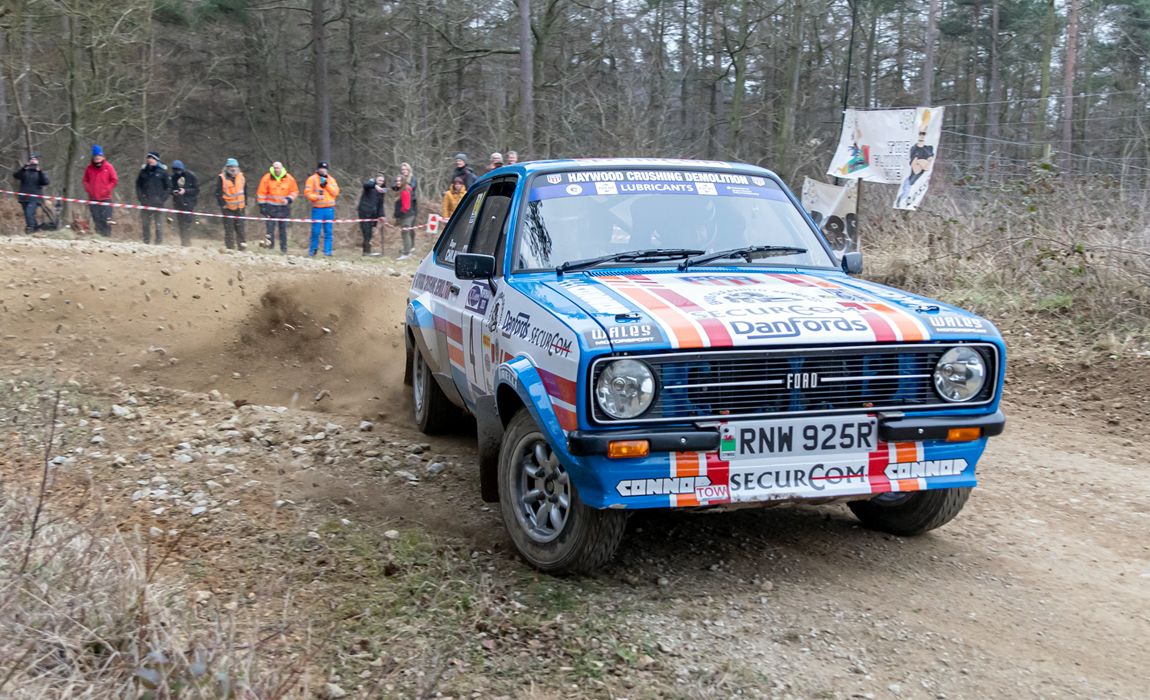 Roger Chilman & Patrick Walsh | Photo By GF Rally Images
"It's good fun, we were happy enough in there. There's a bit where we know we can go quicker….We are happy".

Roger Chilman
Elliot, although he tried hard, admitted that things didn't go well for him in Wass Moor; with a few mistakes which cost some time here n there, he again felt that he was a little bit ragged. At least he was still holding on to that second place overall, but only just by a single second over Tom Walster, who was perhaps being more than a little too hard on himself.
Tom Walster & Christopher Ridge | Photo By Richard Simpson (RS Motorsport Media)
"I always said it would be a learning curve, but I'm hugely disappointed" "There's plenty of time to be made" Tom commented at the stop line of Wass Moor. In all honesty, to be right up there with the seasoned drivers such as Chilman and Elliot on only a second outing in a rear-wheel drive Escort…. there really is absolutely no reason to be disappointed.
Young Josh Carr rounded off his morning with another Cat2 stage win in Wass Moor, just a slender second was enough to pip Jeremey Easson on this one. Carr had built up a lead of some 14 seconds over the morning stages to lead both Warren Philliskirk and Craig Jones, who was locked in a battle in joint second place.
Josh Carr & Richard Wardle | Photo By GF Rally Images
But for Jones, he was "Just enjoying it" and said, "Doesnt matter where we finish, it's just time in the car". Philliskirk was also really enjoying the battle that was unfolding out on the stages too "He's (Josh Carr) flying and we're in the zone" he commented at the stop line of SS3.
---
Back out after service and the repeated run over Gale Rigg did not go well for one of the contenders. Elliot & Price who were eager to chase down Chilman out front, perhaps pushed their Fiat 131 a little too hard, which resulted in a spin. "I throw it away in there, had a big spin backwards and had to reverse it, that killed it for us" "10 or 15 seconds gone there…. my mistake".
Nick Elliot & Dave Price | Photo By Andrew Scott
This goes to show just how tight the margins are out front, one mistake such as a spin can result in a time loss which will almost certainly take you out of contention, with no hope of gaining the time back on these short sprint-style rallies. The result of this meant that Tom Walster was promoted into second. Walster was still going strong and although admitted that he was still a little disappointed and in his own words believed "there's a lot more to come from Me, The Car and Co-Driver".
---
Despite the conditions being a lot rougher for the second pass, the rally leader, Roger Chilman had a good clean stage and was happy, however, it was in fact the Birthday Boy, Adrian Hetherington who was the one to perk up for the afternoon's loop. A margin of three seconds was enough to earn him the stage win ahead of Chilman; there was pure speculation by some that it was the birthday cake that was consumed back in service that had made the difference?
Adrian Hetherington & Ronan O'Neill | Photo By Andrew Scott
Meanwhile, in Category 2, Craig Jones was rewarded with his first outright BHRC fastest stage time, which was some three seconds quicker than Carr which reduced the gap down to 20 seconds heading into the final two stages of the rally.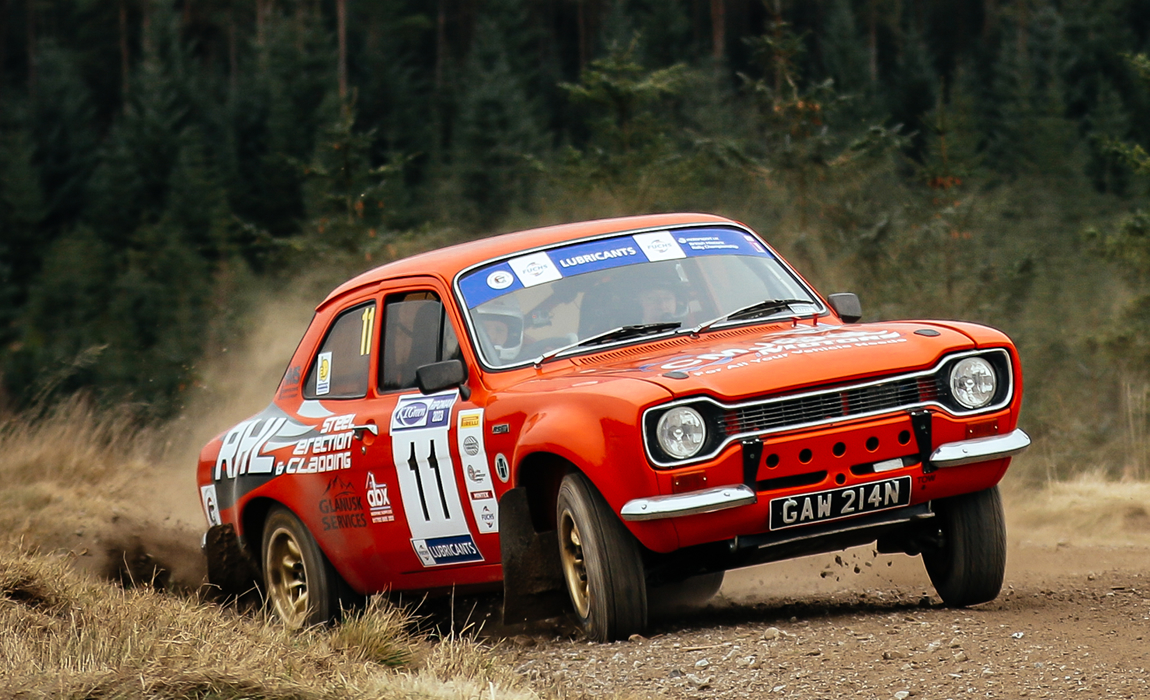 Craig Jones & Ian Taylor | Photo By Richard Simpson (RS Motorsport Media)
"It was a lot rougher and a lot more churned up, but just as enjoyable so can't grumble" Jones said at the end of the stage "We're here to get it home today, so more than happy to be where we are".
Hetherington was a repeat offender for the second pass of Cropton, netting his second stage win in a row by beating Walster by 2 seconds. However, Walster who had stopped the clocks in Cropton some 5 seconds quicker than leader Chilman, was now just three seconds behind the leader heading into the final stage of the rally.
Josh Carr responded to Jones's antics in the very next stage (Cropton) to send a clear message to the newcomer on the scene. Carr set a storming time in the penultimate stage which was a whopping 15 seconds quicker than his closest rival in Jones. This gave Carr some breathing space and a decent buffer heading into the final stage of the event.
Josh Carr & Richard Wardle | Photo By Andrew Scott
Carr arrived at the stop line of the final stage (Wass Moor 2) saying "If he takes 35 seconds out of us in there, I'll give up" and without a doubt, Carr had indeed secured the opening round Category 2 honours. "That's all we wanted, last year and this year, my first Cat2 win" Carr beamed out. He and Co-Driver Richard Wardel had gotten their BHRC campaign off to the perfect start in Yorkshire but they had been pushed all of the way by series newcomer Craig Jones.
Craig Jones & Ian Taylor | Photo By Andrew Scott
"Can't grumble with that can we really?, we've had a smashing day, the cars been faultless, and Ians been spot on as well." "We've just had a super duper day and that result is the icing on the cake, there's more too come."

Craig Jones
---
Roger Chilman and Patrick Walsh entered the final stage with a 3 seconds advantage and would emerge from Wass Moor victorious to take their maiden BHRC win. "That was great, fantastic, we've had a really clean run, we've gone as quick as we wanted to go, really enjoyed it, great stages".
Roger Chilman & Patrick Walsh | Photo By Richard Simpson (RS Motorsport Media)
After picking up the final stage win of the day, the pair added another 1 second to their overall margin over Tom Walster. Tom has done amazing today, he's done so little in an Escort so he's gonna be a real factor throughout the championships. It's a shame there was no Robbo & Sam and also that Marty went out early because that would have mixed it up." Chilman commented.
For the runner-up, Tom Walster, finishing second on the podium to anyone on a BHRC debut is more than a good result, but to finish just a handful of seconds behind the likes of Roger Chilman and to give the more experienced drivers a run for their money is even more impressive.
Tom Walster & Christopher Ridge | Photo By GF Rally Images
"We had a bit of a go you know, I lost it all this morning which was a real shame but it's a good start". It was clear that Walster is super critical of his own performance "When the helmets are on, you just want more and more" he commented at the stop line; I've not done proper rallying for say 10-15 years, so yeah I am happy". To gain this result on his first BHRC outing more than bodes well not just for himself but for the Championship as a whole also.
Adrian Hetherington & Ronan O'Neill rounded off the podium in third, a further 7 seconds back. Having not been in the car for a few months, the Irishman initially struggled to find his braking points early on in the rally but turned things around in the afternoon's loop by scoring two stage wins. Finishing on the podium at the opening round of the Championship is an alright Birthday present to one's self, in fact, a lot better than his previous attempt at the Riponian last year.
Adrian Hetherington & Ronan O'Neill | Photo By Andrew Scott
Just missing out on the overall podium place, Nick Elliot and Dave Price were still rewarded with the Cat4 honours after finishing some 18 seconds off the pace of rally winner, Chilman. "It's so tight at the top 5 or 6 today that a 10 or 15 seconds mistake drops you loads, so that was the one that killed us today" Ultimately it was that mistake in the second run through Gale Rigg that took them out of contention for the win.
Nick Elliot & Dave Price | Photo By Richard Simpson (RS Motorsport Media)
"The cars getting better and I'm getting more in the swing of it now and getting the best out of it. There's more to come, there are positives but we would just like to have been another place or two higher up really"

Nick Elliot
Unfortunately, the Category 1 field was once again lacking in competitors, with no Bob Bean in his Lotus Cortina to contend with, Terry Cree with Co-Driver Richard Shores besides him calling the notes, peddled their Mini Copper S home unchallenged for maximum points.
---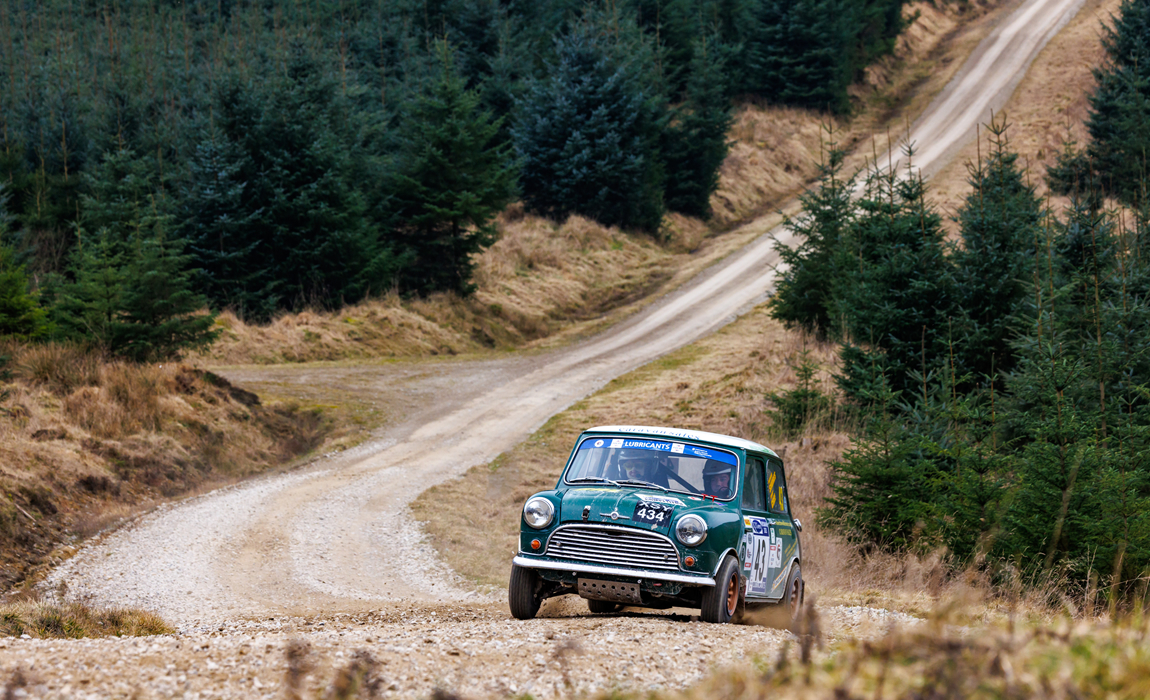 Terry Cree & Richard Shores | Photo by Andrew Scott
---
NEXT TIME …
The FUCHS Lubricants British Historic Rallying Championship heads into North Wales for the second round of the series on 25th March. Where Rally North Wales will relocate to Welshpool and lay on classic world-class Welsh gravel stages in the Dyfi, Gartheiniog and Dyfnant complexes.
Words By Andy Cook – Xlerate.Media | Feature Photo By Richard Simpson (RS Motorsport Media)