BHRC / RD2 / RALLY NORTH WALES 2023
01/04/2023
The FUCHS Lubricants British Historic Rally Championship arrived in Welshpool for the next instalment of its 2023 season at the Get Jerky Rally North Wales (March 25). After an eventful season opener in the North Yorkshire Forests at the Riponian Rally back in February, where Roger Chilman took the honours, there would be an increase in competition across the field as the Championship begins to gain motion.
Organised by the Wolverhampton & South Staffordshire Car Club, the compact one-day rally, which is the second round of this seven-round British Historics calendar would feature eight Classic World Class Welsh Gravel Stages (four of repeated).
After being flagged away from the start in Welshpool town centre, the rally would begin in Dyfnant Forest before heading further West into the Dyfi Forest Complex for a further three stages, covering approximately 44 competitive stage miles.
That opening 7.5-mile test was the longest one of the rally and would signal a welcomed return for this event into Dyfnant. A venue which is perhaps under-utilised having not been used since probably the Roger Albert Clark Rally in 2021? it would offer up a challenging start for the crews.
Nick Elliott and Dave Price who finished fourth overall last time out would be the crew who were quickest out of the starting blocks in the stunning-looking Fiat Abarth 131.
Photo: Nick Elliott & Dave Price | By Andrew Scott
Stopping the clocks just two seconds quicker than Round 1 winner Roger Chillman, Elliott however, thought that "It was hard work in places" because the stage was muddy and a bit on the sticky side. He also commented that "It didn't feel quick", however, he was fairly happy to get through, unlike some of our other "would be contenders" for the rally win.
Second-place man Chilman thought his first stage of the day wasn't brilliant "If my mother was sat next to me, she would have told me to go faster" he remarked at the stop-line.
"We were quite tentative and just didn't get any sort of rhythm on the medium corners, which you need to commit to, but it wasn't that bad" our Championship leader reports.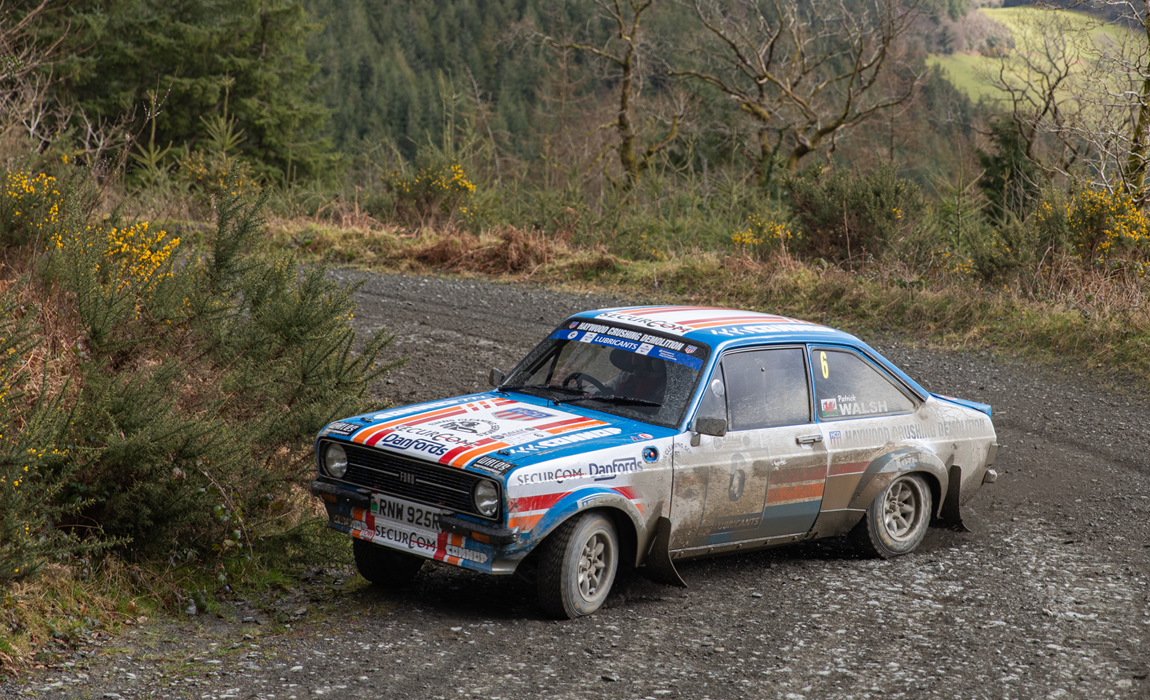 Photo: Roger Chilman & Patrick Walsh | By GF Rally Images
One other such "would-be contenders" that would find themselves yet again out of luck on the very first stage of the rally would be Martin McCormark and Co-Driver Barney Mitchell.
The Irish pair had an absolutely shocking start to their season at the Riponian, retiring on the opening stage of the rally due to mechanical issues with their Ford Escort MK2. This time around it was one of the four black round things that would be leaving them deflated on the opening stage of a rally.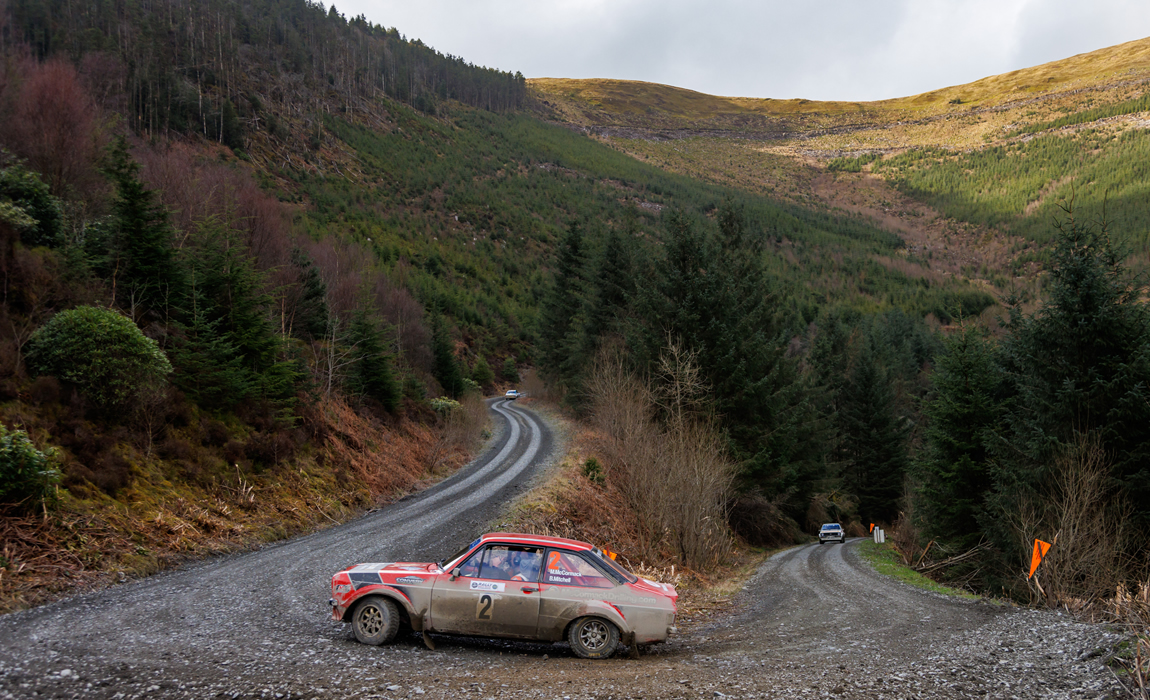 Photo: Martin McCormack & Barney Mitchell | By Andrew Scott
"We had a puncture about halfway in, it introduced itself at a rather spectacular time so we spun at high speed" a somewhat light-hearted and comical McCormack reported at the end of SS1. "It felt a little bit funny before that, but I just thought it was slippy".
Right there at that moment in time, the pair would be forgiven for just packing up and heading home and to some extent, walking away from their Championship campaign.. but there were some positives to be had for them as the rest of the rally progressed.
---
The second of our "would-be contenders" to run into some difficulty on that opening stage was BHRC returnee, Richard Tuthill in the gorgeous Porsche 911. Tuthill who reportedly hasn't taken part in a BHRC round since the Severn Valley way back in 2011 was joined by Belgium's Stephane Prevot beside him calling the notes for this appearance.
Photo: Richard Tuthill & Stephane Prevot | By Andrew Scott
A man with vast experience, Prevot has also co-driven for an impressive back catalogue of drivers over the years, names such as Alistair McRae, Björn Waldegård, Chris Atkinson, François Duval, Hennin Solberg, Mads Østberg, Markko Märtin, Stéphane Lefebvre and Stig Blomqvist have all employed his services throughout his career in rallying.
Alas, all that experience wasn't going to be able to prevent his current hirer, Tuthill from making a mistake on that opening test. "I've just managed to go off on the slowest corner of the whole rally!" Tuthill said frustratingly. "It was just one of those artificial chicanes…. so that's disappointing… my fault", however, much like McCormack, Tuthill's day was also going to get much better.
Photo: Jason Pritchard & Phill Clarke | By Andrew Scott
Throwing a third name into the group of hopefuls which got off on the wrong foot in SS1 was three times British Historic Champ, Jason Pritchard. "It was terrible to be honest, obviously 18 months out of the Escort, so very rusty." Pritchard who has spent most of his time in the National Asphalt Championship in more modern machinery recently would be looking ahead to the Roger Albert Clark rally at the end of the year, so for him, seat time back in the MK2 was the aim of the game here.
Photo: Robert Gough & Paul Morris | By Andrew Scott
Rounding off the top three on that opener was last year's Bronze Medalist, Robert Gough. Just a further second down on Chilman, Gough with Co-Driver Paul Morris was one of the handful of crews to think that the opener actually went alright "It was good, it flowed quite well… lots of standing water but there's good grip".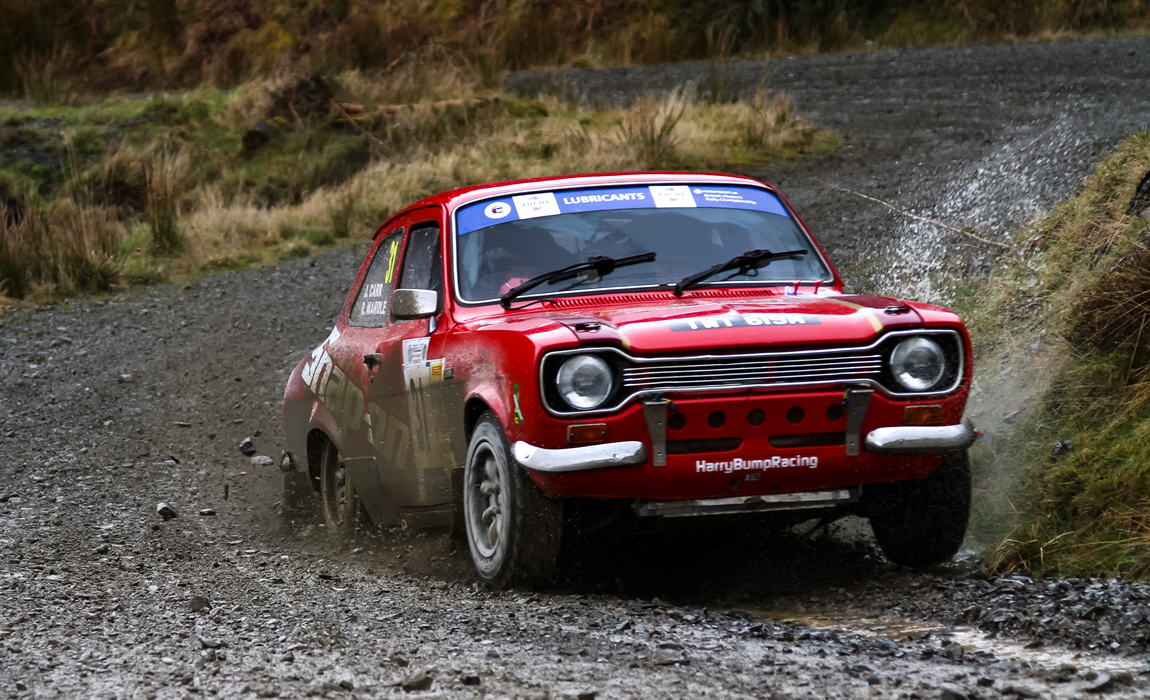 Photo: Josh Carr & Richard Wardle | By Andrew Scott
Meanwhile, in Category 2, Round 1 winner Josh Carr would be facing an increased level of competition to contend with this time around in Wales. But his opener in Dyfnant most certainly did not go well and this was more than evident.
"What a disaster!… Well, we moved all the bails for the lads behind us…. every single one we hit. They're ridiculous, it's so slippy and we've just made a complete hash of it".

Josh Carr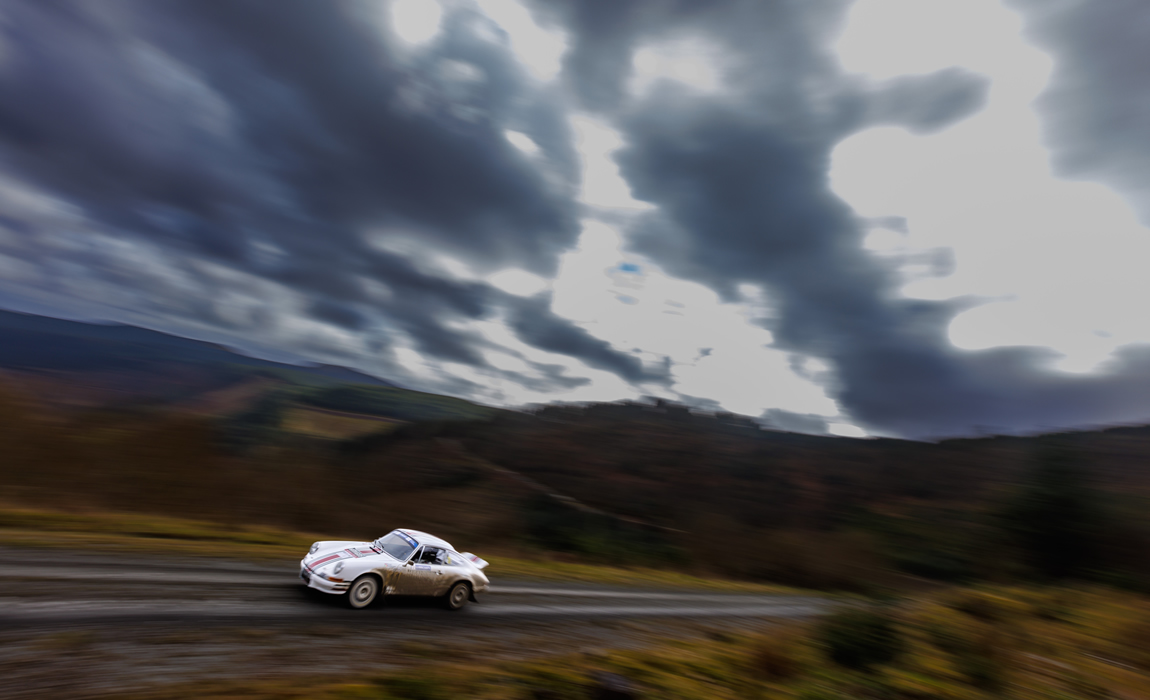 Photo: Seb Perez & Gary McElhinney | By Andrew Scott
The man of the moment on the first stage would be a young Seb Perez in the Amigos mobile billboard Porsche 911. Despite having some difficulties at a tight chicane, Perez who came second overall in a MK2 Escort at the Roger Albert Clark Rally in 2021 stopped the clocks some 13 seconds quicker than his nearest rival Mike Stuart in the MK1 Ford Escort.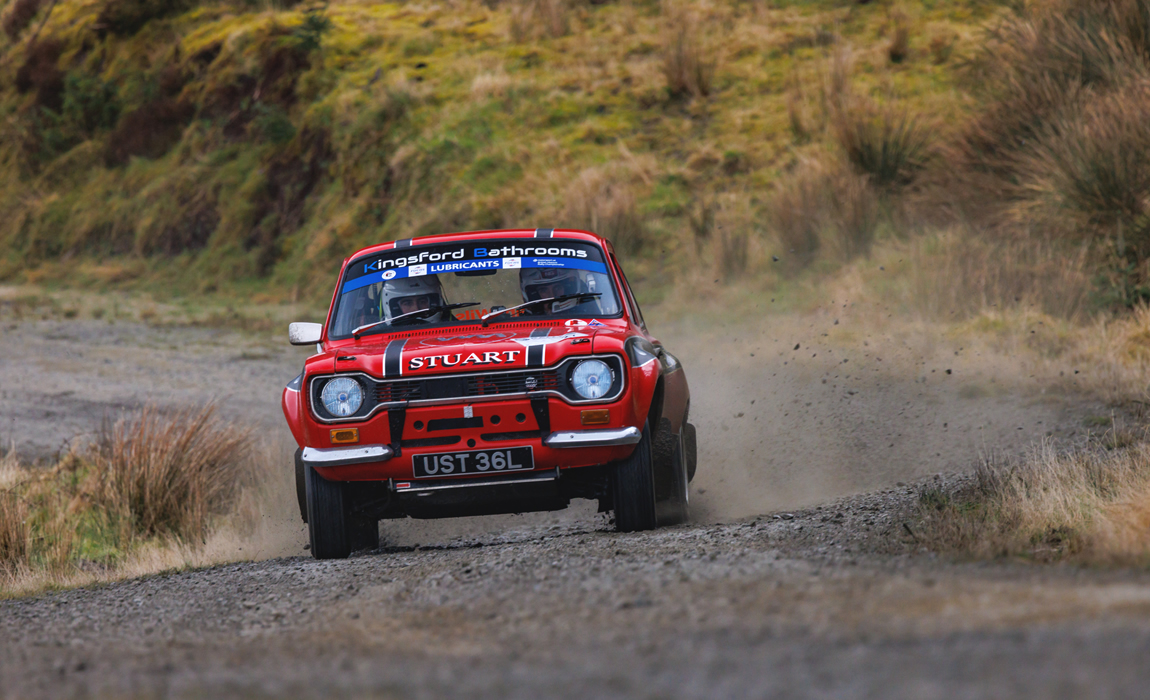 Photo: Mike Stuart & Sinclair Young | By Andrew Scott
Scotsmen Stuart & Co-Driver Sinclair Young had come a long way to Wales for this event and so "kept it tidy" was their gameplan with a target of getting to the finish but, Stuart admitted that this first Welsh Stage "was tricky and a bit of an eye-opener", nevertheless they were three seconds quicker than another BHRC returnee, Ben Smith in his MK1 Escort RS2000.
Smith alongside his father Stephen hasn't competed in the BHRC since the Woodpecker last year and also did not make it out for the season opener in North Yorkshire "We're glad to be back and that was in the deep end that first one" Smith said. "It's our first rally of the year, so we just pushed in some places and held back in others" but for now, third fastest on the opening stage was a pretty decent starting point to work from.
---
The crews arrived in the north side of the Dyfi Forest complex for a five and a half-miler in Gartheiniog, where Richard Tuthill managed to finally hock up that 911 and delivered his first UK stage win for years. Stopping the clocks three seconds quicker than Roger Chilman, he was beginning to make amends for that opening stage blunder.
Photo: Richard Tuthill & Stephane Prevot | By GF Rally Images
Chilman reacted in the very next stage, Big Ray over in the South Eastern side of Dyfi and claimed his first stage win of the rally; he was 5 seconds quicker than Jason Pritchard who was by now, beginning to blow off those cobwebs and get up to speed.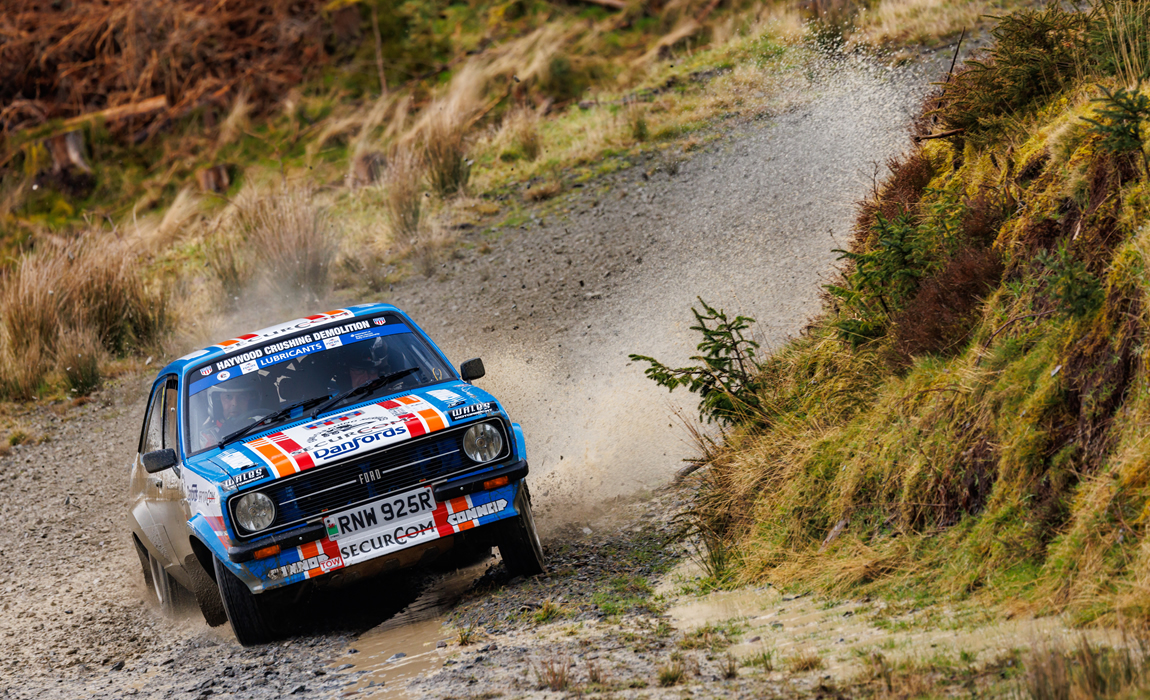 Photo: Roger Chilman & Patrick Walsh | By Andrew Scott
Chilman was not able to replicate that fastest stage time on the final stage of the morning loop, Dyfi Main and it was Tuthill that fought back to pick up his second stage win.
Tuthill peddled the Porsche through the 5.9 miles of Dyfi just a single second quicker than Martin McCormack, whose MK2 Escort was now performing much better with four fully inflated tyres.
Photo: Richard Tuthill & Stephane Prevot | By Andrew Scott
But Tuthill was clearly still annoyed at the first stage of the morning"It's bloody messy you know, that's the best way to describe my morning." he expressed after SS4. "I guess ten years out of a rally car and to have the pace is nice" he goes on to say.
Chilman's morning efforts had, however, earned him the lead at the midpoint of the rally. Heading back to service with a 21 second lead over Robert Gough, Chilman had enjoyed the three Dyfi Complex stages more than the first one in Dyfnant Forest. "They just flowed a bit better and I think the grip was maybe a bit more consistent, we've definitely gone better in there so really happy".
But it was the complete opposite story in the Gough & Morris camp, "I don't think that 3 & 4 haven't gone that well, it's just slippy and it's just trying to overdrive or underdrive and its quite easy to get caught out really… so I dunno." Nether-the-less holding second place at the halfway point seemed to contradict his feelings.
Rounding out the top three were Nick Elliott & Dave Price who were struggling with their top speed in the Fiat Abarth 131. "It's gone ok, we just haven't got the top speed; on the long straight we just can't get much over 7500 revs and it's just seeing the time evaporate in front of ya."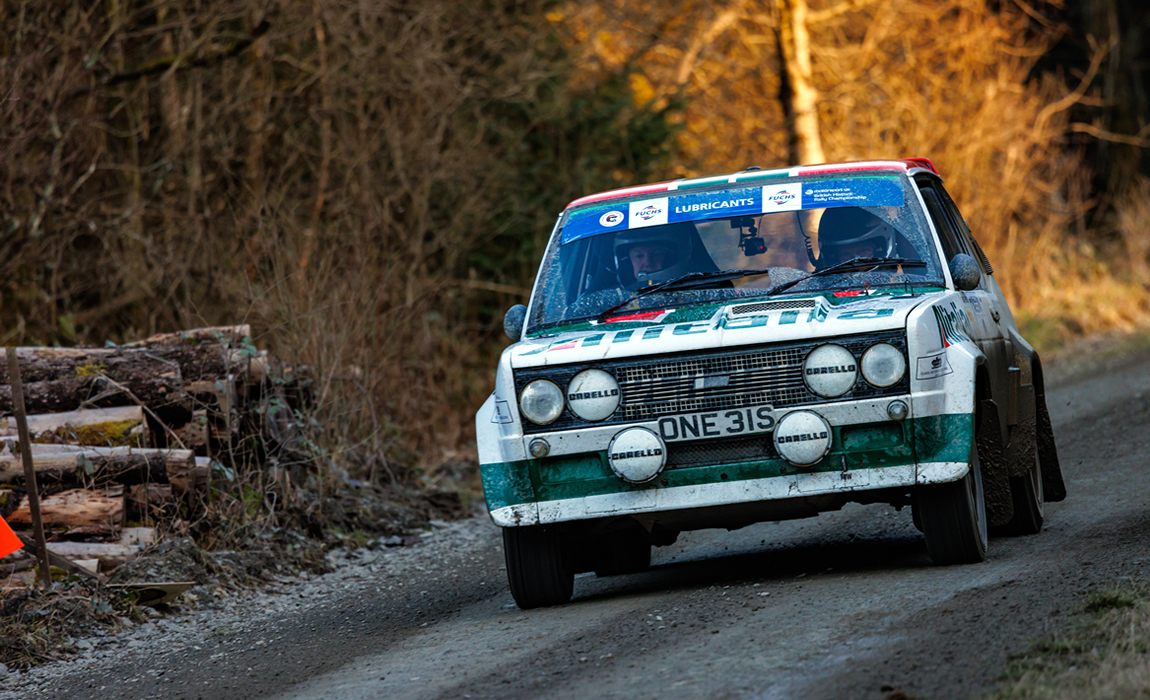 Photo: Nick Elliott & Dave Price | By Andrew Scott
Elliott was trying his best to eek as much out of the Italian engine as he could, especially on the twisty sections of the stages. "When it's the straights the Escorts are just 20 mph quicker". Ultimately Elliott was fighting a tough uphill battle on this event, these Welsh stages lie within a totally different landscape to the Forests of North Yorkshire at the last round.
In Category 2, Seb Perez was having more than a good day in the office, dominating the morning's loop of stages with a full complement of fastest stage times. The young lad in his own words was "Bedded in now" and was peddling that Porsche around the Welsh Forest mighty impressively. "The past three were good but that first one was a bit of a disaster."
Photo: Seb Perez & Gary McElhinney | By GF Rally Images
With almost a minute in his back pocket to second place CAT2 man Josh Carr, Perez was even mixing it up with the Cat3 crews and found himself laying in fifth overall as he reached the mid-day service back at Welshpool. Mike Stuart was a further two seconds behind Carr rounding off the top three Cat2.
---
Back out after service and unfortunately SS5 the second run through Gartheiniog had to be halted due to an accident for Craig Johns & Ian Taylor, who rolled their MK1 RS2000 close to the finish. Notional times were added and the crews re-routed onto SS6 Big Ray.
Photo: Richard Tuthill & Stephane Prevot | By Andrew Scott
Here rally leader Roger Chilman was on par with Martin McCormack on this one but they were both beaten on the clocks by Mr Tuthill, who was three seconds faster. Those three names were going at it hammer and tongs in the Dyfi Forest loop of stages as the event was entering its final stretch.
Photo: Martin McCormack & Barney Mitchell | By GF Rally Images
Tuthill and McCormack matched each other's pace in the penultimate stage, Dyfi Main, posting identical times which was eight seconds quicker than Chillman. But the rally leaders Chillman and Patrick Walsh were sitting poised ready with 30 seconds in hand over Nick Elliott & Dave Price heading into the final stage.
Photo: Nick Elliott & Dave Price | By Andrew Scott
Over the two Dyfi stages, Elliott and Price were just about managing their lack of top-end grunt to keep themselves still in the game and they had managed to overhaul Robert Gough & Paul Morris for that second spot.
Chilman & Walsh entered the final stage leaving the likes of McCormack and Tuthill to fight it out for the final stage win but ultimately the win was in the bag for them. Crossing the finish line back in Welshpool with over half a minute lead over Elliott and Price, Chilman had just bagged the second British Historic Rally Championship victory + Cat 3 honours of the season.
Photo: Roger Chilman & Patrick Walsh | By Andrew Scott
Nick Elliott and Dave Price had secured their first overall podium finish and in the grand scheme of things, second place along with the FIA category honours over Jason Pritchard was a relatively good days work for the pair.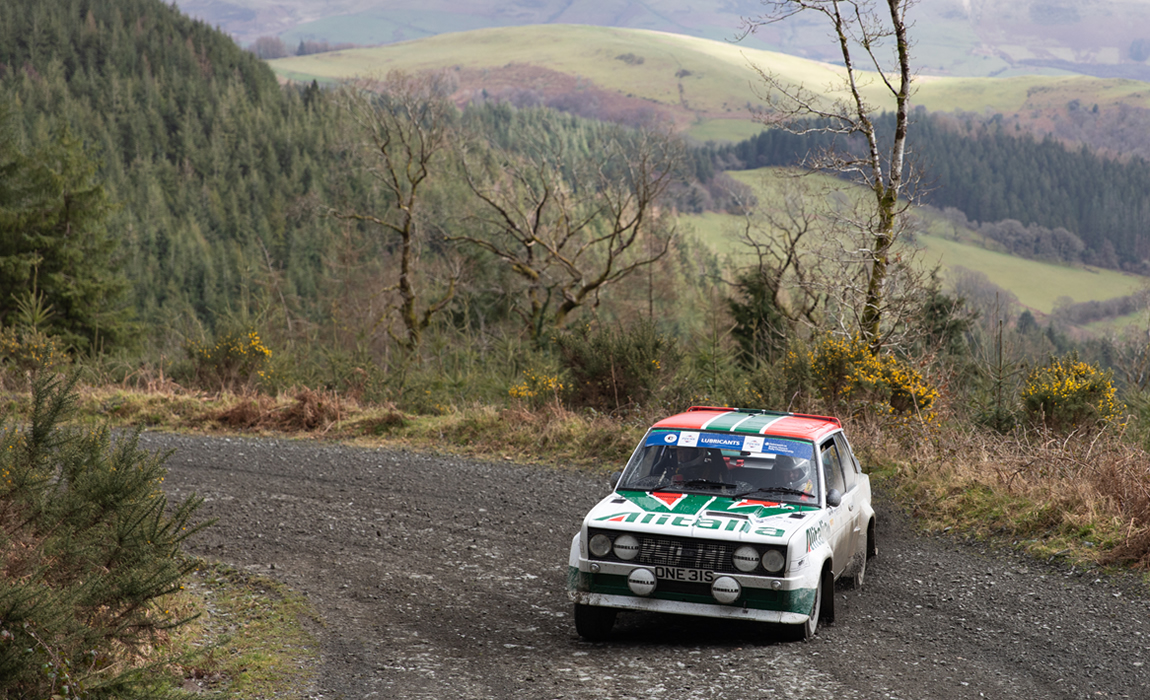 Photo: Nick Elliott & Dave Price | By GF Rally Images
After a significant amount of time out of the seat of the MK2 Escort, Prichard with Phil Clarke beside him had also managed to overhaul Robert Gough and Paul Moris in the final Dyfnant stage for that remaining podium place.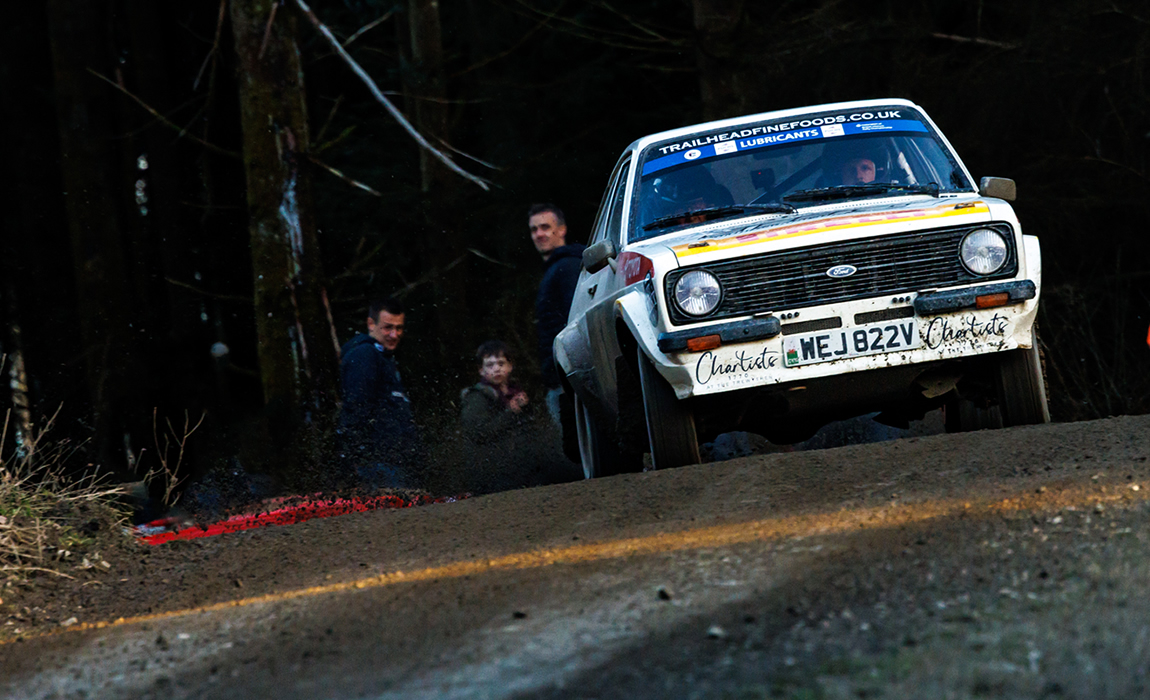 Photo: Jason Pritchard & Phil Clarke | By Andrew Scott
"We're here, that's the main objective, to get some seat time and get mileage ahead of the November event" Pritchard confirmed; so it's not entirely clear if more BHRC outings are on the cards ahead of "THE BIG ONE" The Roger Albert Clark Rally in November.
---
The afternoon loop of stages delivered a last-minute turnaround in events; where the clear leaders of Category 2 over the entire rally right up until the final stage would not emerge from the second pass over the 8-mile Dyfnant Stage.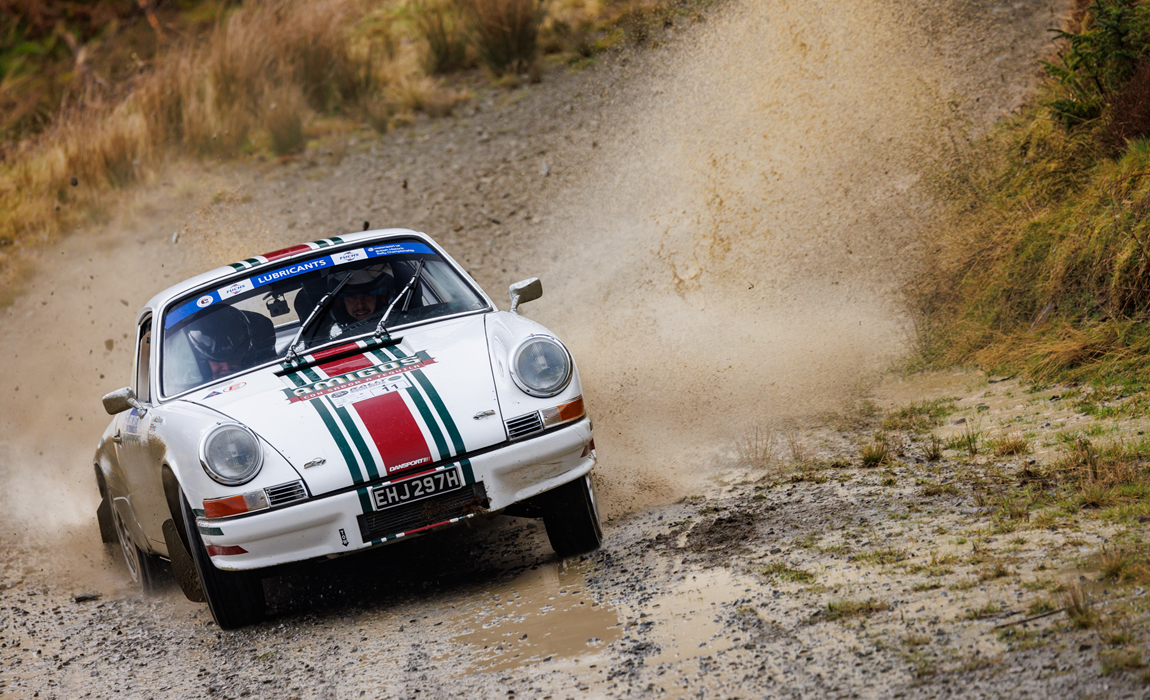 Photo: Seb Perez & Gary McElhinney | By Andrew Scott
Seb Perez and Gary McElhinney had done all the hard work but were not going to be rewarded for it as their Porsche 911, unfortunately, developed a misfire before they could complete the last test.
In SS6 Big Ray, Josh Carr picked up his first Cat2 stage win "Better than this morning" , "It's a lot dryer and we've got the right tyre on now" but both Mike Stuart and Ben Smith were able to get the better of him in the remaining two stages of the rally.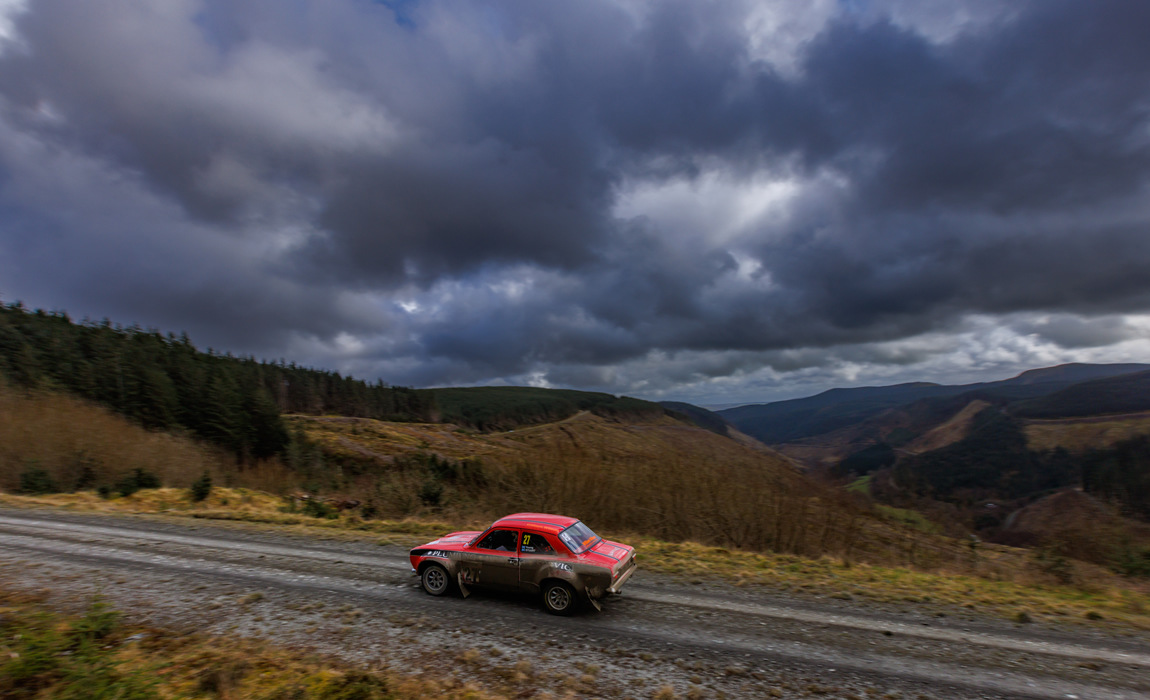 Photo: Mike Stuart & Sinclair Young | By Andrew Scott
Stuart & Co-Driver Sinclair Young "We're having fun" even it the steering column on their MK1 Escort was being held together with tie wraps! Although they entered the final stage of the event some 57 seconds adrift of the Cat2 lead, the demise of Perez here had handed them their first BHRC victory in Category 2.
Just 5 seconds behind Stuart & Young was the father and son pairing of Ben & Stephen Smith. Their first event of the year hadn't gone without teething problems of their own, such as steering issues throughout the day, but to finish second on the podium at the first one back is a great result.
Photo: Ben & Stephen Smith | By Andrew Scott
Taking that Pesky Perez in that Porsche out of the equation, the battle between the three MK1 Escorts in the Category 2 field was a good-en. A further 17 odd seconds behind Smith and rounding off the podium was Josh Carr and Richard Wardle.
Photo: Josh Carr & Richard Wardle | By GF Rally Images
After their somewhat frustrating start to rally on that opening run through Dyfnant, they cooled down a bit, re-composed themselves and were able to salvage a decent points haul from their third place to put towards their Championship hopes.
---
NEXT TIME …
The FUCHS Lubricants British Historic Rally Championship remains in Wales for the third round and takes a short drive further north to Bala for the Plains Rally (May 20). Where this Knutsford & District Motor Club organised event, will lay on another quality 44 stages miles in the South Snowdonian neck of the woods.
---
Words By Andy Cook – Xlerate.Media | Feature Photo By Andrew Scott