BHRC / RD3 / PLAINS RALLY 2023
28/05/2023
The FUCHS Lubricants British Historic Rally Championship remained in North Wales for the third round of its 2023 season. From the picturesque South Snowdonian town of Bala in North Wales, the Plains rally (May 20) organised by the Knutsford & District Motor Club, would lay on 44 competitive stage miles over eight World Class gravel stages in the Alwen and Aberhirnant Forest Complexes.
Last time out on Rally North Wales whilst Roger Chilman was on song picking up his second victory in a row, other seasoned protagonists endured some rather bad luck. However, this time around, those losers at the previous round would come back fighting and would be right in the thick of an epic fierce battle for the British Historic Rally Championship honours.
Photo: Tom Walster & Andrew Roughead | By Andrew Scott
The event began with a short 2.78-mile blast through the south side of Alwen Forest where relatively newcomer to the BHRC, Tom Walster was the quickest out of the starting blocks in his MK2 Ford Escort. Posting a time that was just three seconds quicker than BHRC veteran Adrian Heatherington (also in an MK2 Escort), Walster believed that "there was more to come yet" and cited that "everything is a learning curve". But the big news from that opening stage of the rally was that Marty McCormack had finally completed the first stage of a rally without any dramas.
The first two rounds of the Championship were nothing short of unbelievable for the Irishman and not for good reasons in that sense. Retiring on the opening stage of the season in Yorkshire at the Riponian with mechanical issues and then picking up a puncture on the first test of Rally North Wales (which took him straight out of contention) meant that he had absolutely nothing to show for his season thus far. Maybe we were about to see a turning point at the Plains as he was the third quickest on the first stage of the morning, just a single second behind Heatherington.
Here at the Plains Rally, it would be the turn of our Championship leader heading into the event, Roger Chilman to be the one to see the drama on the opening stage of a rally. "In the first one, we just bent the sump guard which pushed onto the steering rack, so it made the steering a bit heavy" Chilman reported, "We managed to do some farmer bodging on it at the end of SS1" he went on to say.
Photo: Roger Chilman & Patrick Wlash | B Andrew Scott
It was only a short stage to kick things off with so the time loss was minimal and Chilman still, however, managed the fourth fastest time "It's good, it's dry and it's fun, just a couple of bumps that are a bit worrying" but was that impact and damage going to be more a problem as the rally progressed?
---
The second test of the rally was perhaps a little bit more familiar to all, 6.55 miles of Alwen North was next on the agenda and here is where our first indication of a ding-dong battle would begin to show. After sorting out some intercom issues from the opening stage, BHRC returnee Richard Tuthill in the stunning Porsche 911 and McCormack in the MK2 Ford Escort stopped the clocks on identical times, both getting the better of Championship leader, Chilman by 4 seconds who continued to suffer with a damaged steering rack.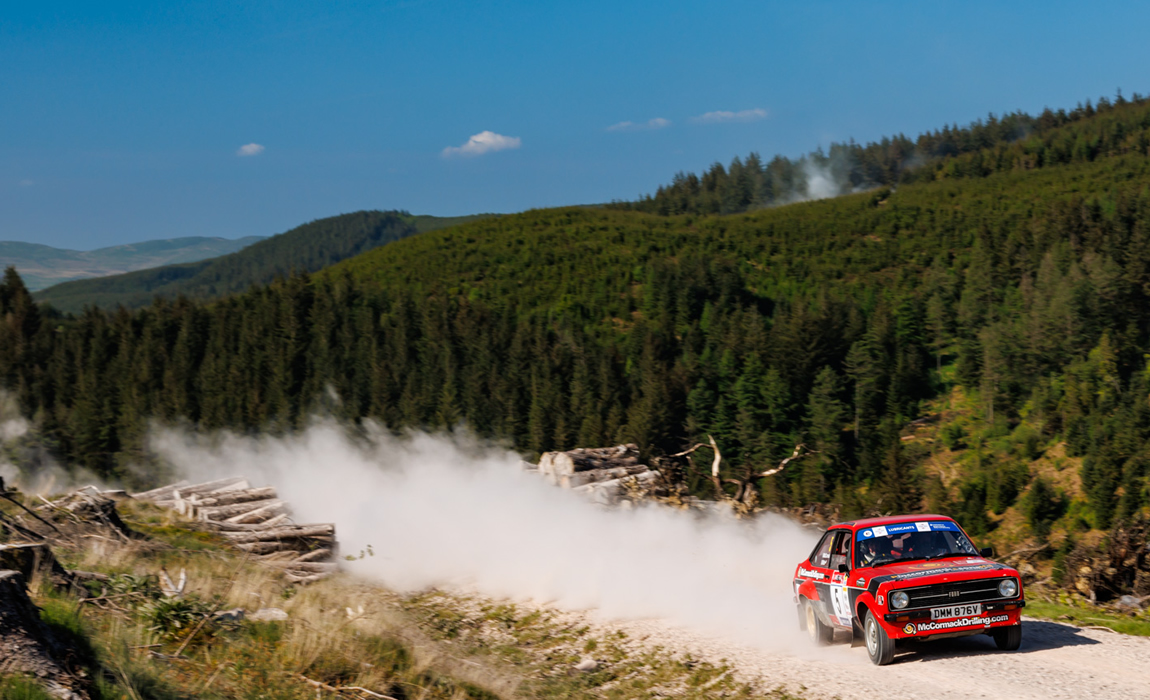 Photo: Martin McCormack & Barney Mitchell | By Andrew Scott
A rather relieved McCormack arrived at the end of SS2 and took up position at the top of the leaderboard with a slender 2 seconds advantage over Tuthill who thought that he was "there or thereabouts", with Walster a further second back in third.
"I got there no?…… Brilliant, it's some craic, it's fast, it's dusty, it's coming at you. I haven't a clue what I'm doing half the time but it is some craic! Win, lose or draw that is some fun"

Martin McCormack
Meanwhile, in the FIA Category, Nick Elliott was leading Richard Jordan by 2 seconds after the first two stages of the day, but Elliott who found himself in 6th overall in the BHRC seemed to have his mind elsewhere. With the sun beating down on the cockpit of the fabulous-looking Fiat Abarth 131, all that he could seem to think about was the prospect of Ice Cream at the end of the rally.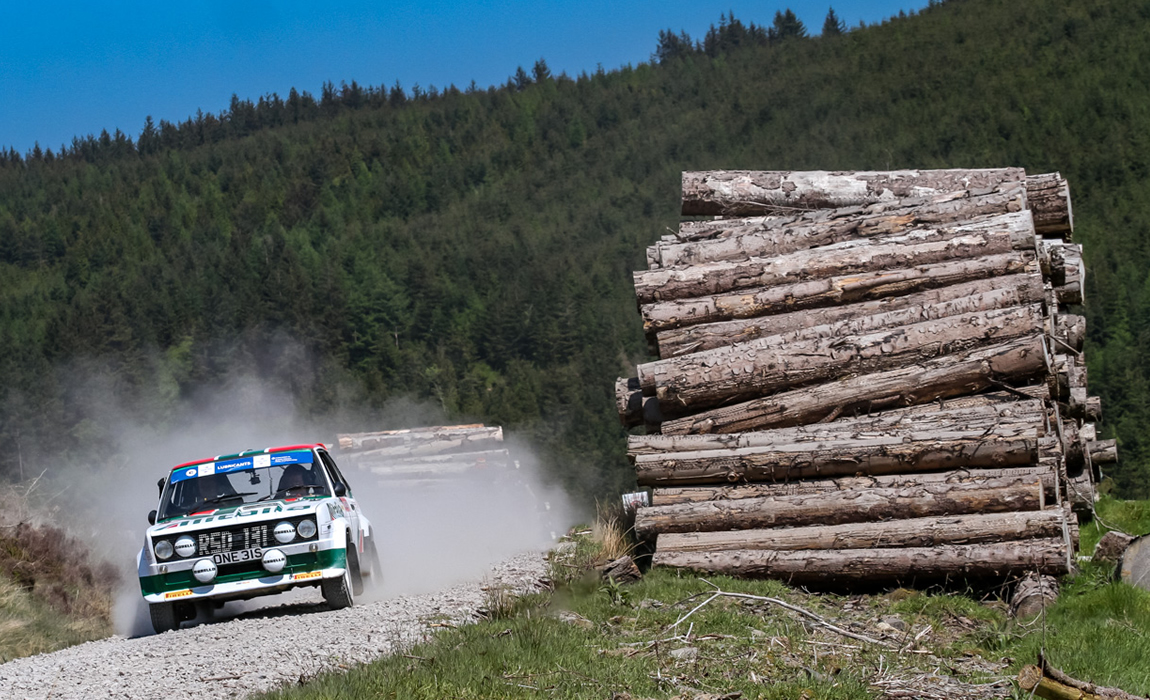 Photo: Nick Elliott & Dave Price | By Andrew Scott
"I think we were just clean and safe through there, it was a bit rough in places but I just kept it smooth. Let's just see what the pace is going to be this morning, I don't think we'll be winning by a long way but I'm happy with that".

Nick Elliott
The crews headed south of Bala for what should have been a further two stages, beginning with the longest test of the rally, an 8 miles in Aberhirnant. However, due to an accident, the stage was unfortunately cancelled and the crews were re-routed onto another short 3 miles test just across the road in Llangower.
---
Richard Tuthill secured his first outright stage win here beating Heatherington by a single second. "It's alright, it's just a walk in the park, it's dreamy" Tutill, who had the very capable Dale Furness sitting beside him calling the notes for this one commented with an air of sarcasm. "We gained three seconds back off McCormack and took the lead by a second, That'll do, we're just warming up, it's all good".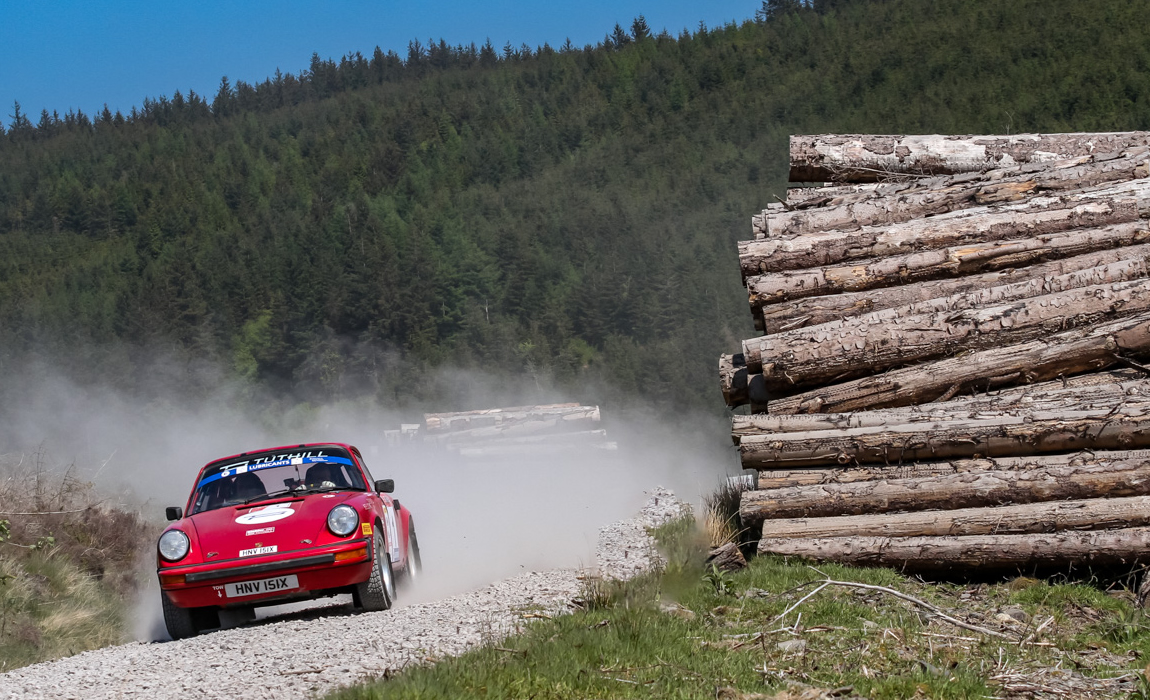 Photo: Richard Tuthill & Dale Furness | By Andrew Scott
But McCormack who was sitting in second heading into the mid-day service halt reported that he thought his MK2 Escort was suffering from a fuel starvation problem "It was very loose in there but we got a misfire in the start, I dunno what was wrong, it's like a fuel starvation problem or something. After the first mile or so it sorta cleared itself" McCormack reported.
Chilman was still soldiering on with a damaged front end on his MK2 Escort and had now dropped to 5th overall "I'm not 100% happy with something at the front with the steering, you're in the corner and something is not free", but at least this short stage was the last one in the loop before service. "We haven't had a chance to really to do anything until we get to service and we'll have a really good check of it, so I didn't 100% commit"
Photo: Roger Chilman & Patrick Walsh | By Andrew Scott
With just three seconds separating the top three overall at the mid-point in the rally, it really was anybody's guess as to who would be adorning that top step on the podium come the end of the day.
Having picked up two category stage wins, Nick Elliott & Dave Price in the Fiat Abarth 131, although were six overall, were leading the FIA Category with 3 seconds in hand over Richard Jordan & James Gratton-Smith in the MK2 Ford Escort after the morning loop.
Photo: Nick Elliott & Dave Price | By Andrew Scott
"It was fairly clean through there, nothing tremendous just trying to keep it clean and get to the end for the Ice Creams"

Nick Elliot
In the Category 2 fight, it was Scotsman Mike Stuart who was leading the pack of MK1 Ford Escorts. Setting off on the right foot in the opening stage of the day, Stuart with Dafydd Evans beside him calling the notes got his day off to an ideal start with the first stage win of the morning.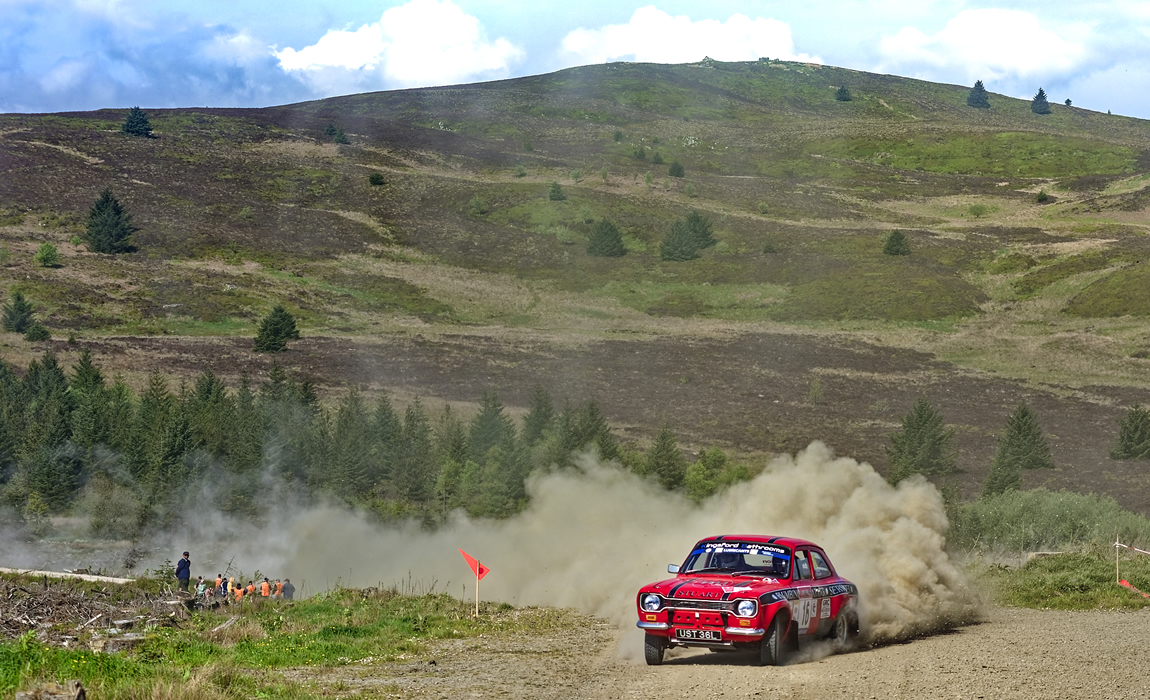 Photo: Mike Stuart & Dafydd Evans | By Paul Mitchell (Paul Mitchell Photography)
That opening stage through Alwen South was only a short one but Stuart had posted a time that was some 11 seconds quicker than Round 1 winner Josh Carr.
Stuart would continue that early pace on into the very next stage (SS2 Alwen North) but the slightly longer test just meant that he could pull out more time from Carr. "It was great like, it was fast, I think I'm not getting in the rhythm yet and I'm a bit cautious. I thought I was really loose in the first one but I dunno…. I was neat and tidy, I'm loving every minute of it."
Photo: Mike Stuart & Dafydd Evans | By Joe Gilbertson
This time he bolstered his lead with a further 20 seconds but Carr had caught the dust of the car in front of him which no doubt hampered him "We caught the car in front of us in there, we caught their dust so we probably lost quite a bit of time in there" Carr expressed.
With the cancellation of the longest stage in Aberhirnant, it was just a short 3-mile blast in Llangower before the crews returned to service in Bala. Stuart & Evans who "felt good" secured their third stage win of the morning in what he described as "a nice flowing stage", once again getting the better of Carr & Richard Wardle who were now trailing the leaders by some 47 seconds at the halfway point in the rally.
"We caught the dust in the second stage and the intercom stopped working in that last one. So we're just losing time hand n fist" Carr reported. Yes, the morning hadn't gone their way, and yes Stuart seemed to be out gunning them on every stage, but this was going to be a rally of two halves and was certainly not over at halftime.
Photo: Jeremy Easson & Mike Reynolds | By Andrew Scott
Jeremy Easson & Mike Reynolds rounded out the Cat2 top three returning to service edging it in the battle for third with Andrew Stokes & Jonny Tad Evan. "It's a bit warm and sticky in here and a bit dusty n dry but nothing that we didn't expect. I think I'm fitting in now (to the MK1 Escort)" – Jeremy Easson
---
Back out after service for the repeated runs and third place man Andrian Hetherington, unfortunately, put it in a ditch in Alwen South and McCormack began his fight back taking the stage win over Tuthill by a second. This put the pair on the level pegging overall, but McCormack was clearly up for the fight and even though his fuel starvation issue hadn't completely gone, he edged Tuthill in SS6 Alwen North 2 by 5 seconds to take the lead of the rally with just two to go.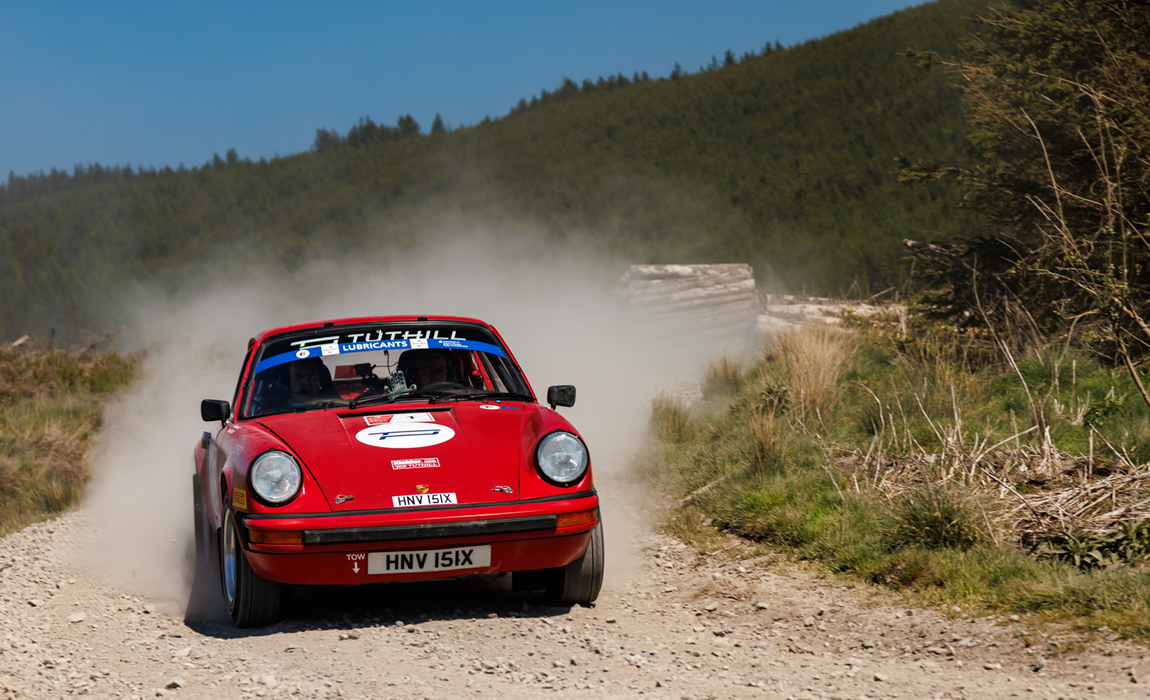 Photo: Richard Tuthill & Dale Furness | By Andrew Scott
"Marty has gone incredibly well there, hats off to him that's extraordinary. Good for him, amazing, we've had battles before he's a proper guy, impressive"

Richard Tuthill
Behind that raging battle for the lead, Tom Walster was absolutely loving these Welsh stages "That was mega!" he exclaimed, "I absolutely loved it and we had a proper fist pump". He was some 21-odd seconds off the pace of the two ahead of him but had the likes of Nick Elliott behind breathing down on him to be concerned with.
Elliott who was still leading Jordan in the FIA Category after having two good clean stages in a row, was now up to fifth overall. This was helped ever so slightly because Chilman, despite the best efforts of the crew back in service, clearly hadn't sorted out that steering issues following the damage from the compression in the morning loop.
"We're on a get round mission now, these things are hard enough to drive with stiff steering anyway. We've improved it but as soon as we hit something it's gone again. It's hard work, it is what it is, we've just got to get around now"

Roger Chilman
Meanwhile, over the two repeated Alwen Stages there was drama for our Category 2 contenders, Mike Stuart & Dafydd Evans, the pair were towed out off SS6, the second pass of Alwen North, by good samaritan Marty McCormack. Co-Driver Evans reported, "Just before the finish line it just bogged down and eventually died out a couple of 100 yards before the flying finish."
Photo: Mike Stuart & Dafydd Evans | By Paul Mitchell (Paul Mitchell Photography)
After that strong morning performance having led the way from the off, the pair would, unfortunately, go no further in their MK1 Ford Escort. It was gutting for Stuart to travel all that way from Scotland and have to retire from the rally with a healthy lead. This handed the Cat2 lead over to Josh Carr & Richard Wardle, who now found themselves heading into the final two stages of the rally with around a 38-second buffer to Jeremy Easson & Mike Reynolds.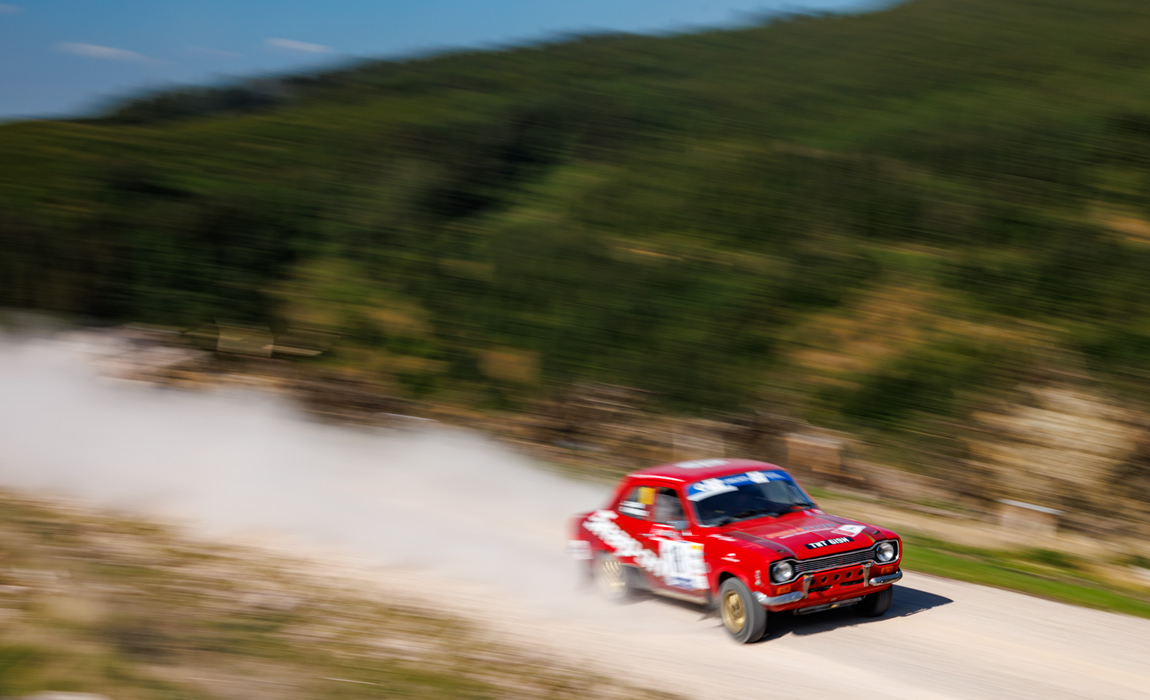 Photo: Josh Carr & Richard Wardle | By Andrew Scott
---
Just when you thought the battle up front couldn't get any hotter, Richard Tuthill went and upped the ante to yet a whole another level in the penultimate stage of the rally. McCormack and Tuthill were going at it hammer and tongs over the afternoon's loop of the rally in this intense fight for the win and it was clear that neither of them was going to give it up without a good old scrap. Tuthill came back at McCormack in the longest test of the rally, the 8-mile Aberhirnant stage to yet again tie the pair level on the timing sheets heading into the final stage of the rally.
Photo: Richard Tuthill & Dale Furness | By Andrew Scott
All that remained was just 3 miles of Llangower, it was absolutely gripping and the rally could go either way, who could call it? perhaps only a flip of a coin? McCormack emerged first but had to wait with bated breath for Tuthill to cross the finish line of that final stage before the winner was finally known.
"It's absolutely bonkers, we're laughing and saying what a days rallying, WHAT A DAYS RALLYING!" "The weather, the stages, everything and it just shows you, there were times it suited us and at times it suited Richard (Tuthill)".
Photo: Martin McCormack & Barney Mitchell | By Andrew Scott
The ever-excitable McCormack said"There were a few times today when we weren't hanging about, Barney did an excellent job, he keeps calling…. I don't know how he does it there's no fear in that man. Good Craik." The likes of McCormack and Tuthill have got previous and were both reminiscing over some of their past battles, but the Plains Rally 2023 will surely be up there for the pair.
Tuthill and Co-Driver Furness finally arrived in their Porsche 911 and they had done it, getting the better of McCormack in the MK2 Ford Escort by just two seconds. The pair had taken the win in the final stage and with it, secured their first BHRC victory for what seems like a lifetime.
Photo: Richard Tuthill & Dale Furness | By Andrew Scott
"He (McCormack) was very good on the long one after lunch and I had to concede as I couldn't match him, but it all turned around, we've got some history. Tuthill goes on to pay tribute to McCormack: "If I had lost to him today there would be no better man to lose to and it wouldn't have been a loss, I would have been beaten, I don't really know what to say, that's cool."
Behind that epic battle for the win, Tom Walster & Andrew Roughead brought their MK2 Ford Escort home to round out the overall (+ Cat3) podium almost 30 seconds down on that leading battle.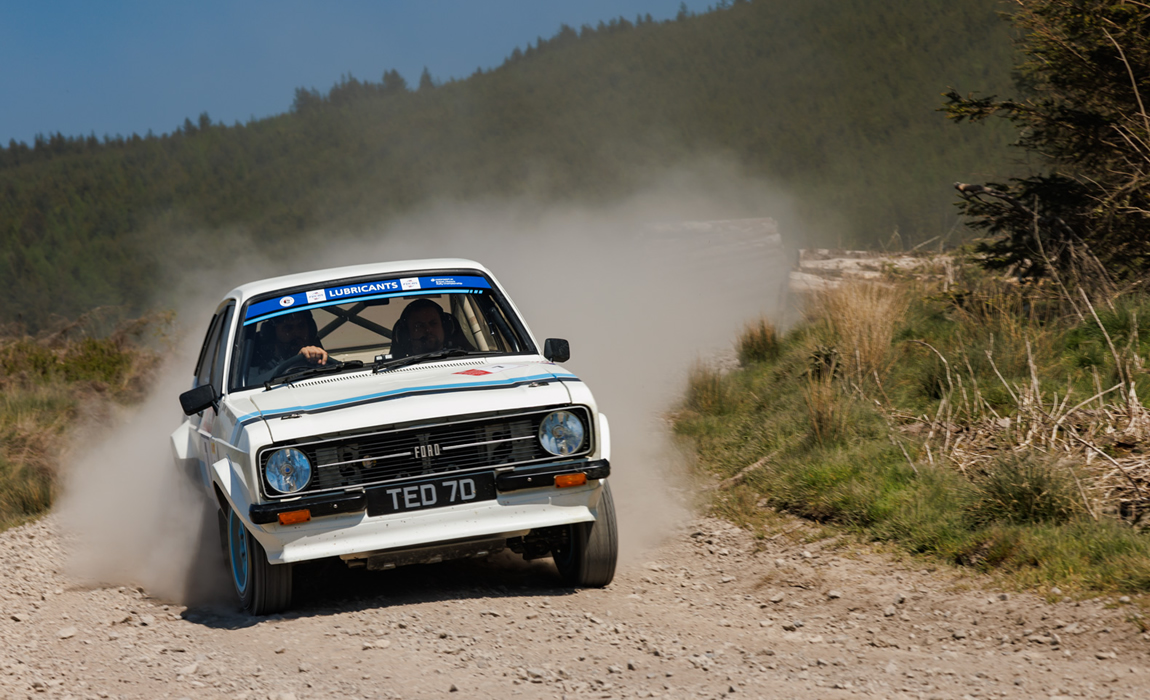 Photo: Tom Walster & Andrew Roughead | By Andrew Scott
"It's a real learning experience for everything, all these boys have been doing this for like 10 – 15 years, I've done three events, so it's such a big learning curve driving from the rear. The stage times are coming, we're happy enough" Walster commented.
---
Nick Elliott & Dave Price came home in fourth overall in their Fiat Abarth 131 securing the top FIA Category honours ahead of Richard Jordan & James Gratton-Smith in the MK2 Ford Escort RS1800, with Rudi Lancaster & Guy Weaver rounding out the category podium. After a tough but relatively good day in the office, Elliott could now finally get his hands on that Ice Cream that he had been longing for all day.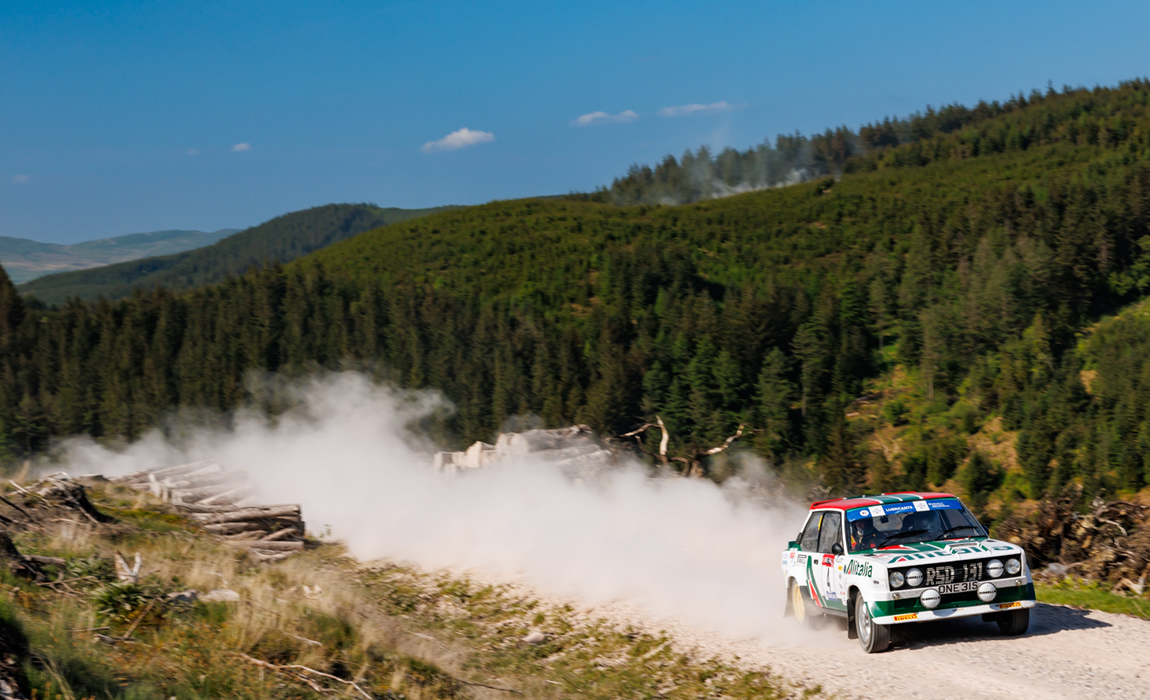 Photo: Nick Elliott & Dave Price | By Andrew Scott
"I struggled with the last two stages, whether the tyres are too soft… it's all over the place on the back end so I just had to drive through really" "We made the end which a lot of others haven't, the pace in the top 5/6/7 all day has been amazing"

Nick Elliott
Josh Carr & Richard Wardle kept it cool over the final two stages to secure their second Cat2 victory of the season in their MK1 Ford Escort. Yes, they were outclassed in the morning and were perhaps given a massive hand-out when Mike Stuart retired from the lead in the afternoon, but that age-old saying in rallying, in order to finish first, you must first finish most definitely rings true here.
Photo: Josh Carr & Richard Wardle | By Andrew Scott
"Gutted for Mike, but we've earned that, Mint job" "You never know what's gonna happen, look at the last round, we were leading and then we crashed. Very tough day"

Josh Carr
Photo: Jeremy Easson & Mike Reynolds | By Andrew Scott
Jeremy Easson & Mike Reynolds were Cat2 runners-up in their MK1 Ford Escort RS2000, crossing the finish line back in Bala some 39 seconds behind Carr. Easson & Reynolds had fended off third place pairing of Andrew Stokes and Jonny Tad Evans who rounded out the Cat2 podium.
Photo: Andrew Stokes & Jonny Tad Evans | By Andrew Scott
Round 3 of the British Historic Rally Championship had delivered our fiercest battle of the season thus far. With a top line of talent all pushing some great Historic Rallying machinery around some of the best stages, we were really treated to an epic day of rallying and can only expect more of this kinda caper in the coming events.
The Standings
Nick Elliott now leads the overall standings and is two points ahead of Tom Walster with Roger Chilman in third. Walster leads Chilman in Cat 3 by 10 points ahead of McCormack. Elliott also leads the FIA Category by 8 points clear of Richard Jordan, with Rudi Lancaster in third. Josh Carr continues to lead Cat2 and is 12 points ahead of Jeremey Easson with Andrew Stokes in third. Once again, sadly there have been no competitors in the Cat 1 field.
---
NEXT TIME …
The FUCHS Lubricants British Historic Rally Championship remains in Wales for Round 4, but its all change as the series makes the switch to tarmac spec for the one and only Asphalt event of the year on the legendary smooth roads of Epynt for the Tour of Epynt (July 30).
Words By Andy Cook – Xlerate.Media | Feature Photo By Andrew Scott