BHRC / RD6 / TRACKROD RALLY YORKSHIRE
29/09/2023
The TrackRod Motor Club would host the penultimate round of the 2023 FUCHS Lubricants British Historic Rally Championship from the seaside town of Filey, North Yorkshire. The TrackRod Historic Cup Rally would offer up an array of classic gravel tests in and around the Pickering area with stages such as Dalby, Cropton and Gale Rigg all featuring on the menu. With 6 stages on offer, covering around 57 competitive stage miles, the bumper entry of BHRC crews would arrive in Yorkshire with a bit of a challenge on their hands.
Photos By Xlerate.Media
Last time out on the Woodpecker Stages, Roger Chilman & Patrick Walsh walked away with their third win of the season but Nick Elliott continued to lead the overall standings heading into the TrackRod and mathematically either of the two could have potentially sewn up the title in Yorkshire.
As in previous years, there would be no messing about and it was time to strap on the lamp pods and head into the darkness of the legendary Dalby Forest for a 12-mile blast on Friday night. Dalby Forest has a rich history in British Rallying, a venue used in the original RAC rally back in the day, it has seen its fair share of action over the years.
In the daylight, it's challenging enough but under the cover of darkness, the long fast straights followed by narrow, tight corners can be daunting for the best, even the seasoned of competitors.
Photo: George Lepley & Dale Down | By Andy Cook – Xlerate.Media
But that didn't put off a young George Lepley who was back in action in the Group A Mitsubishi Gallant VR4, and he was not holding back on that opening night stage, despite the Gallants gearbox jumping out of gear.
Thinking that he had a terrible stage, following a number of offs and overshoots, he and Co-Driver Dale Bowen had actually blown the rest of the more experienced field away with a time that was over 11 seconds quicker than yet another young man who's performance in the dark was equally as impressive.
Photo: Seb Perez & Gary McElhinney | By Andrew Scott
And that was a returning Seb Perez in the Cat2 Porsche 911 RS, with Gary McElhinney beside him on the notes. They began their TrackRod off in style by getting the better of Jason Pritchard and Phil Clark in the MK2 Ford Escort. But Pritchard who confessed that he would normally be one to enjoy night stages, actually had a bit of a disastrous start to his rally.
Photo: Jason Pritchard & Phil Clark | By Black Mountains Media
"That was an absolutely rubbish stage, probably the worst I've ever driven. First square right, Phil was a little late calling a note and I overshot, I just lost my rhythm from then on. On the tarmac I had a half spin again, just awful stage, I'm disappointed with myself."

Jason Pritchard
Meanwhile, in Cat2, Woodpecker winner Josh Carr kind of predictably had a big moment in the opening night stage "We came off down the first big long straight, we hooked it in the inside and it pulled the inside in and we were just passengers".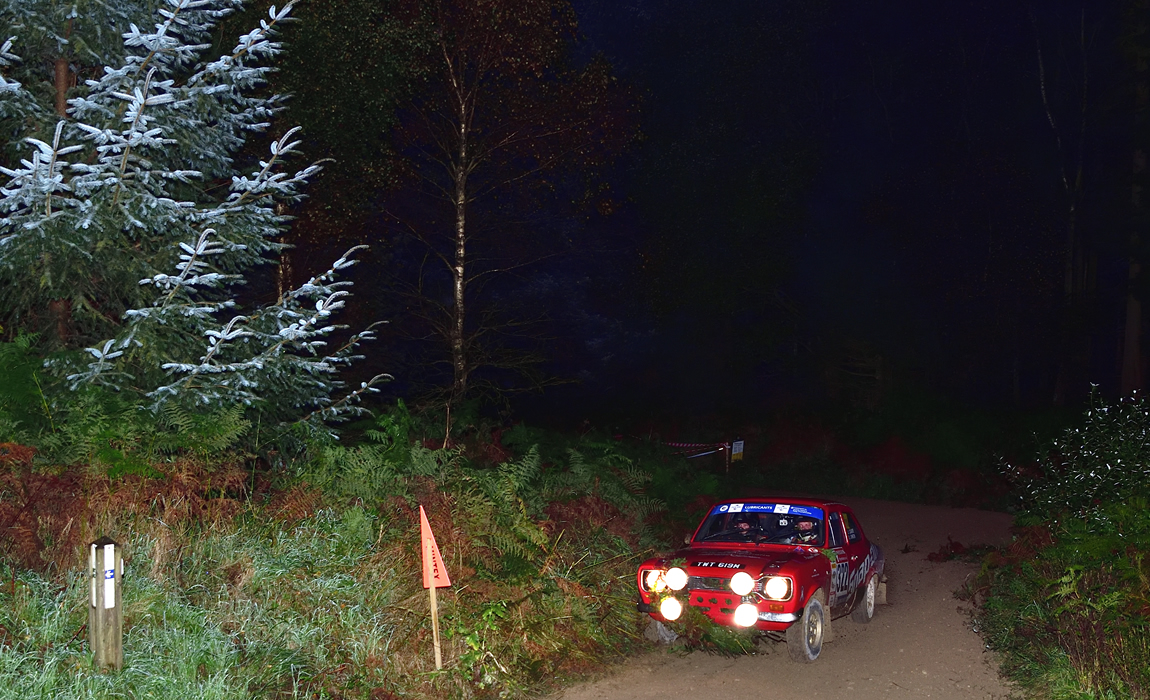 Photo: Josh Carr & Osia Owen | By Andy Cook – Xlerate.Media
If one was to have put money on it beforehand, it would probably have been put on him. You see Carr has got previous on the Dalby night stage, two years ago he went out of the rally on this very stage in the darkness. This time around he had only just made it through by the skin of his teeth, commenting at the stage end "That was unbelievable, how this roof is still straight we'll never know". But he had made it through with the MK1 intact, all be it carrying a little bit of vegetation and around 10 seconds off the pace of Jeremy Easson in front of him.
---
Photo: George Lepley & Dale Bowen | By Andy Cook – Xlerate.Media
---
In the daylight of the very next morning the crews headed into Gale Rigg where a 6-mile test would restart the rally after the previous evening's antics. George Lepley once again recorded the fastest BHRC time in the Gallant, Nick Elliott had re-set from the night before and was back on the pace in the Fiat Abarth 131, getting the better of Pritchard by a couple of seconds.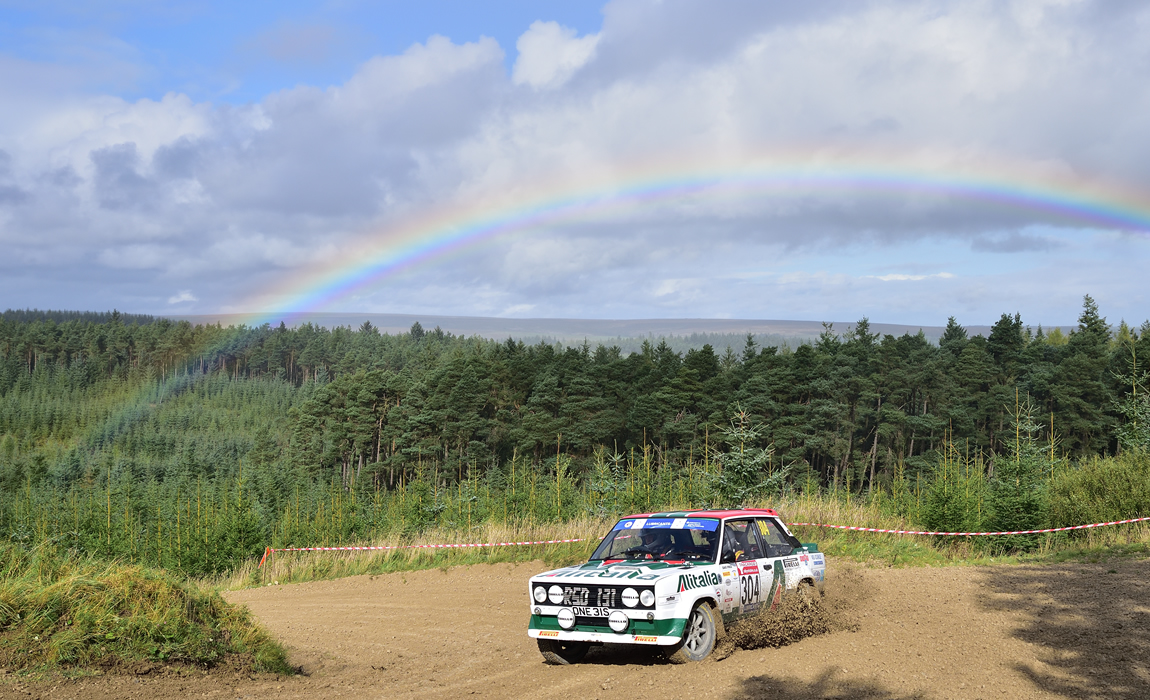 Photo: Nick Elliott & Dave Price | By Andy Cook – Xlerate.Media
"Went better in there, it seemed to hook up a bit better, tyres also worked better, fairly pleased with that run. I couldn't have done much better with the conditions as it got wet on top and very slippery"

Nick Elliott
Just across the road in Cropton Seb Perez in that Porsche once again showed the FIA and Cat3 crews how it's done, recording his first overall BHRC stage win this season.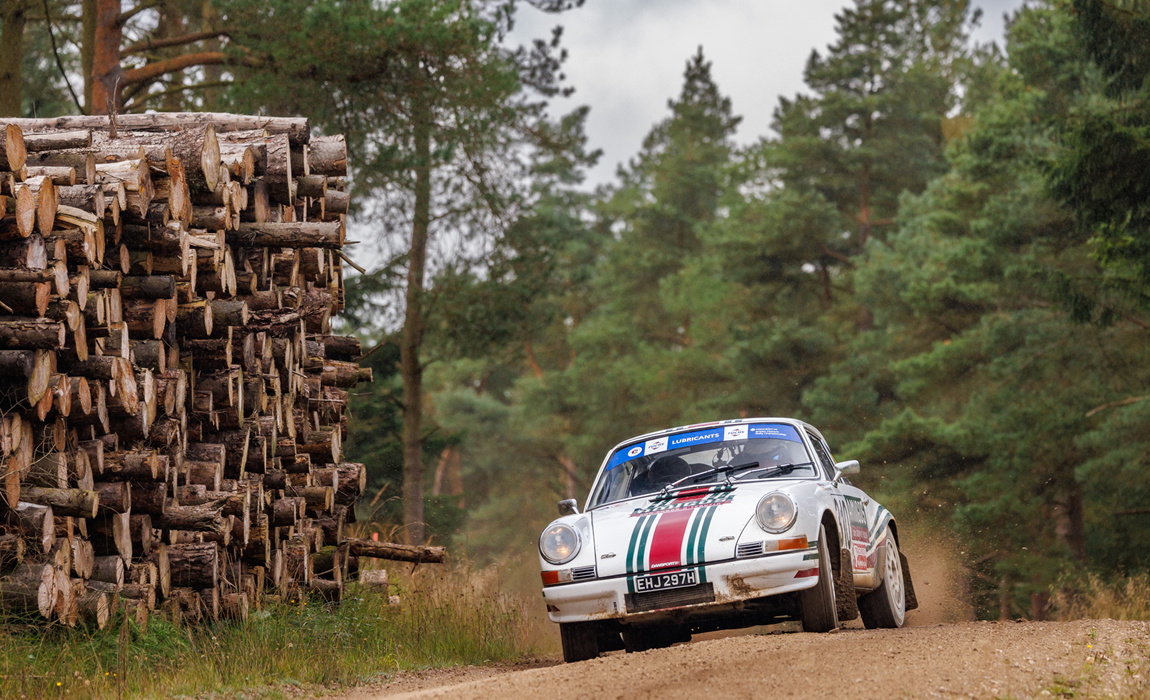 Photo: Seb Perez & Gary McElhinney | By Andrew Scott
Pritchard was starting to find his rhythm in the MK2 Escort and was beginning to pull it together following his far-from-ideal start to the rally the night before in Dalby. Unfortunately, George Lepley and Dale Bowen were forced to retire the Mitsubishi Galant VR4 in Cropton due to that iffy gearbox which finally gave up.
The final stage of the morning loop in Staindale saw Pritchard and Clark flying to pick up their first BHRC Stage win, stopping the clocks 2.8 seconds quicker than Perez. Perez had actually recorded the exact same time as Adrian Hetherington who was by now, getting his confidence back and starting to enjoy the stages.
Photo: Jason Pritchard & Phil Clark | By Black Mountains Media
Pritchard's efforts in Staindale had also now earned him the lead of the BHRC, a single second separated him and the now second-place man Seb Perez heading into the service halt.
"Bit more of a feeling in there, but these stages should suit that Porsche. We're just doing our own thing, enjoyed that one, it wasn't as rough as the others."

Jason Pritchard
But what about that Championship title battle between the likes of Elliott and Chilman? Well, Elliott seemed to be getting the Fiat to hook up over these Yorkshire stages, believing that they suited the car, he was now up to third overall in the BHRC; but Chilman seemed to be finding things a bit more difficult.
"I'm finding it quite difficult to find the right pace and to commit or not commit, and when you are like that, a bit of time just drains away."

Roger Chilman
I guess he was perhaps focusing too much on that potential title hopes instead of just driving it like any other rally and he clearly didn't want to bin it. For now, Chilman was laying 6th in the BHRC behind Gareth James (5th) and Paul Thompson (4th).
Although Seb Perez and Co-Driver Gary McElhinney had lost the overall BHRC lead to Pritchard, they still had a sizable lead over Josh Carr & Osian Owen in Cat2. Perez had topped the Cat2 timings on all three of the morning stages and led Carr in the C3 MK1 Ford Escort by well over two minutes. Jeremy Easson in a C5 MK1 Ford Escort rounded out the top three after that morning run.
---
After the service halt Pritchard and Clark set about chasing down both the BHRC and overall rally win, the second pass through Dalby Forest in the daylight, like the previous night also didn't seem to go too smoothly.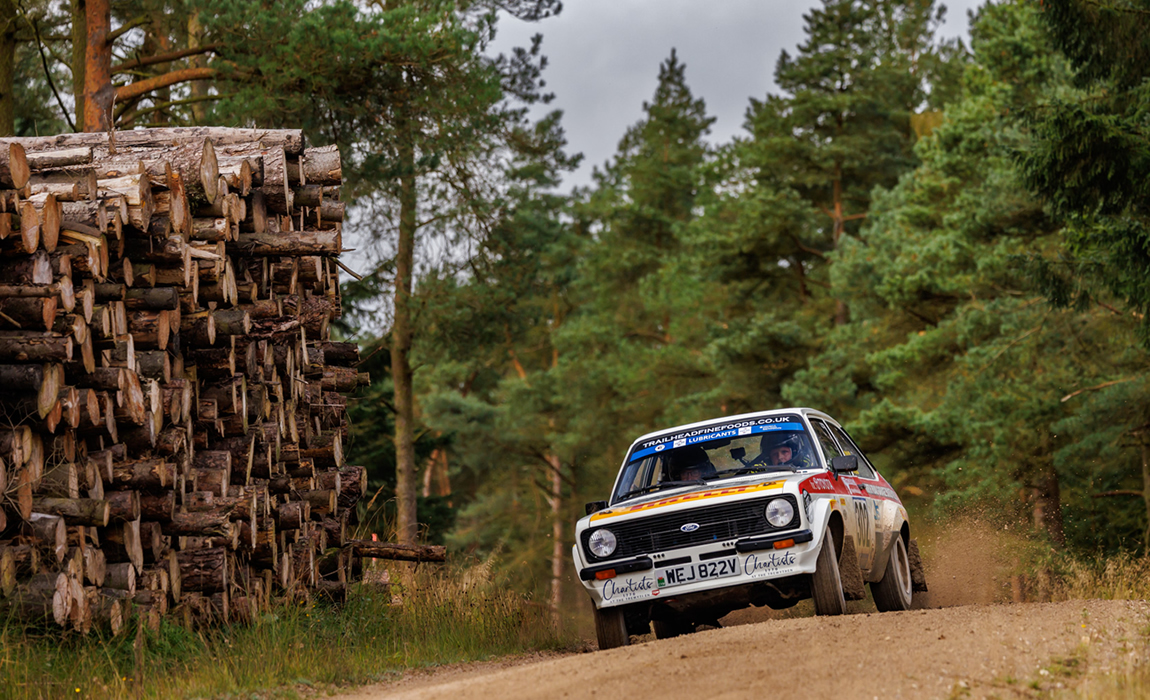 Photo: Jason Pritchard & Phil Clark | By Andrew Scott
"We stalled, stalled on a hairpin under on the braking, I was braking that hard, I didn't know until I went to pull out of the hairpin and it was off, a few seconds lost there but otherwise it wasn't a bad run"

Jason Pritchard
Nevertheless, the time was still good and he had picked up his second BHRC stage win ahead of Paul Thompson & Josh Davison, with Elliott & Price the third quickest.
Seb Perez, despite having a half spin, had a relatively good run through Dalby, but was now kind of out of contention for the overall BHRC win, just so long as Prichard could keep it on the road through the final somewhat daunting 13.24 miles of Langdale Forest that is.
Photo: Seb Perez & Gary McElhinney | By Andrew Scott
Jason Pritchard with Phil Clark alongside him in the MK2 Ford Escort would enter that final test of the rally with a lead of 16.5 seconds over Perez and the pair would sign off their TrackRod with that final stage win.
Photo: Jason Pritchard & Phil Clark | By Andy Cook – Xlerate.Media
Crossing the finish line back in Filey with a margin of almost a minute, but that wasn't to Seb Perez, instead, Nick Elliott & Dave Price also had a good run over the final stage which enabled them to overhaul Perez & McElhinney to take second overall in the BHRC.
Photo: Nick Elliott & Dave Price | By Andrew Scott
Pritchard & Clark had taken their second BHRC victory of the season and perhaps shown that it is not just the tarmac of Epynt that they can do the business on.
I could get use to this. Thank you to all the marshals and organisers for an excellent couple of days Motorsport. To all the team around me and my sponsors for making it all possible. Really enjoyable day in the car with Phil again and thanks for another excellent job on the notes.

Jason Pritchard
Their win on the gravel in Yorkshire puts them in good stead as they look to tackle The Big One aka the Roger Albert Clark rally in November. Pritchard had also taken maximum points in the FIA class ahead of Elliott with Steve Ward rounding out the category in his MK2 Ford Escort.
Taking drop scores into consideration, Roger Chilman now leads Nick Elliott in the overall standings by 8 points in perhaps a two horse race heading into the final round.
---
Photo: Jason Pritchard & Phil Clark | By Andy Cook – Xlerate.Media
---
Perhaps it was of some consolation that Seb Perez had secured the top step of the Category 2 podium, yes it would no doubt have been a little bit disappointing to loose that second place overall to Nick Elliott and Dave Price on the final stage. Either way, he and Co-Driver Gary McElhinney left Yorkshire with their heads held high, knowing that they really shook things up with their pace in the 911, bringing the fight to the FIA and Cat3 cars was a mighty impressive performance.
Photo: Seb Perez & Gary McElhinney | By Black Mountains Media
Unfortunately, there would be final stage drama for Josh Carr and Osian Owen; they were totally outpaced by Perez in Yorkshire and after the penultimate stage in Dalby they were on for the runners-up spot in Cat2. However, the pair would not emerge from that final Langdale test and retired their MK1 Ford Escort scoring their first DNF of the season.
This may or may not be an issue for Carr as he still leads the Cat2 standings, with 14 points in hand to Jeremy Easson but with just one to go both need to get one final decent score to make up their best 5 events.
The last-minute demise of Carr gave way to Jeremy Easson to scoop up the second spot on the Cat2 podium, Easson alongside Co-Driver Mike Reynolds had been pushing Carr throughout the rally and got the better of him on two stages. The pair crossed the finish line in their C5 MK1 Ford Escort a fair way off Perez but they had seen off the likes of Warren Philliskirk & Garry Green who put in an appearance for their local event and rounded out the podium.
Photo: Jeremy Eason & Mike Reynolds | By Andy Cook – Xlerate.Media
Gareth James & Dan Petrie put in an impressive performance in their MK2 Ford Escort, finishing 4th in the overall BHRC standings; they had also taken the top spot in the Cat3 field by beating Roger Chilman by some 25 seconds. James Lepley & Simon Jones would round out the Cat3 top three in their MK2 Ford Escort but Lepley admitted that he just went with the approach of "getting some mileage under my belt" given that Yorkshire offered up a lot of new stages for him.
Taking possible best 5 scores into account, Roger Chilman has the Cat3 title this year as Tom Walster can't match his score, even if he won the final round. Nick Elliot picks up the FIA title as Richard Jordan can't match his score should he even win the final.
---
NEXT TIME …
The FUCHS Lubricants British Historic Rally Championship heads even further north for one final showdown of the year at the season finale, the Carlisle Stages (October 20-21). Here is where our new 2023 Champions will be crowned after they've given it one last battle over those classic border stages in and around the Kielder Forest Complex. Like the TrackRod, the event will begin in the darkness with two night stages on the Friday evening to kick start the proceedings, before another 45 miles the next day.
---
Words By Andy Cook – Xlerate.Media | Feature Photo By: Black Mountains Media