BHRC / RD7 / CARLISLE STAGES
02/11/2023
The FUCHS Lubricants British Historic Rally Championship arrived in Carlisle for the final round of its 2023 season. After some 300-plus competitive stage miles of rallying across 43 odd special stages on both gravel and tarmac surfaces, the title would be decided in and around the legendary Kielder Forest region of England and Scotland at the final rally of the 7 event calendar.
Last time out on the TrackRod Historic Rally, Jason Pritchard & Phil Clarke secured their second victory of the season, beating Nick Elliott and Dave Price who kept their Championship hopes alive on the gravel of North Yorkshire. However, after taking into consideration drop scores from the previous 6 events, arriving in Carlisle, Roger Chilman & Patrick Walsh were in the hot seat for the title.
The number crunching had to be done way in advance, Chilman needed to finish at least fourth to secure the prize and only one man could potentially stop him from achieving that goal, and that was Nick Elliott. For Elliott, nothing short of an outright win at the final round would suffice but he also needed Chilman to finish outside of the top 4 for his stars to align. Elsewhere in Category 2, Josh Carr simply needed to peddle his MK1 Escort home to the finish in order to secure the title, else Jeremy Easson would be ready to step up in his place should he not do so.
The event was organised by the much respected Roger Albert Clark Motor Club which also operates the entire BHRC Championship, however, the organisers found themselves being tested by the Weatherman on the day of the event. A storm had hit the Kielder region forcing the closure of the Forests on the Friday which scuppered the plains for two night stages. The loss of those two stages dropped the overall event expected mileage down from 53 to 44 but that did not dent the challenge that lay in wait for the crews who faced 6 gravel tests in the daylight.
The opening test of the event was a short but sharp 4.73-mile blast to the east of Kershopefoot, Tommy's Fell was already on everyone's mind before they had even set foot in the Forest. The conditions were predictably muddy and slippery, with the final mile or so of the stage being the concern for many but this opening stage would deliver early drama for that Championship title fight.
Arriving at the stop-line of that opening test in the Porsche 911, Richard Tuthill broke the news that sadly Nick Elliot and Dave Price had stopped in stage. "Without swearing, that was awfully tricky, Nick is off, James is off just down the road, it so tricky" "It was about getting through neatly and understanding what the car will do" he went on to say.
Next to arrive at the stop-line was our Champion in waiting, Roger Chilman sheepishly pulled up to confirm what Tuthill had just reported.
"He's (Nick Elliott) on the side of the road, they're both out of the car, all we know is that we've got two minutes on him and that's all we wanna say at the moment"
What a shame, any chance of a final rally battle of the year between those two protagonist was looking all but gone now.
"It was tricky before then and we saw a few cars off and then we saw Nick" Chilman goes on to say, "Patrick wisely told me to keep my head and keep concentrating, but it was very quick and very slippy, but we go through"
Championship title aside, that opening stage was won by Gareth James who posted a mighty impressive time. Believing that the stage offered a lot more grip than he was expecting, he and Co-Driver Dan Petrie had stopped the clocks some 5 seconds quicker than Jason Pritchard who was a further 2 seconds quicker than Marty McCormack in third.
---
Photo: Gareth James & Dan Petrie | By Gary Fothergill – GF Rally Media
---
Pritchard like many didn't have the cleanest of runs and seemingly picked his way through it, commenting that it was easy to see where 10 seconds could be found, should one have wanted to push in that opening test of the rally. McCormack said it was "Slippy as hell" but appeared to have had some fun "sliding" around the stage.
Eventually, Elliott and Co-Driver Price emerged from the stage looking rather deflated and he explained how it had all gone wrong for them.
"Just went sideways into a muddy bend, clipped the mud on the outside and that threw us to the inside and beached it on the mud." "First time I put the car off all year… doesn't really help us today" "We had to wait for all the cars to go through and we got a rope and the guys managed to pull us back" "Not sure what to do now, whether to drive the next two stages or call it a day" "Thats rallying, anything can happen and unfortunately it happened to us…. we could be upside down!"

Nick Elliott
The crews headed into a slightly more forgiving Riccarton stage next for a longer 7.79-mile test. Tuthill who sat out the TrackRod was now like many crews focusing on the RAC rally that lay in wait ahead in November. The Porsche man was using the Carlisle Stages as a testing ground for a new injection engine that had been installed into the 911; although the initial signs were that there was some work still to be done as he reported "It's not pulling out of the slow corners", this along with some understeer meant that he was struggling to get on the pace of the other front runners.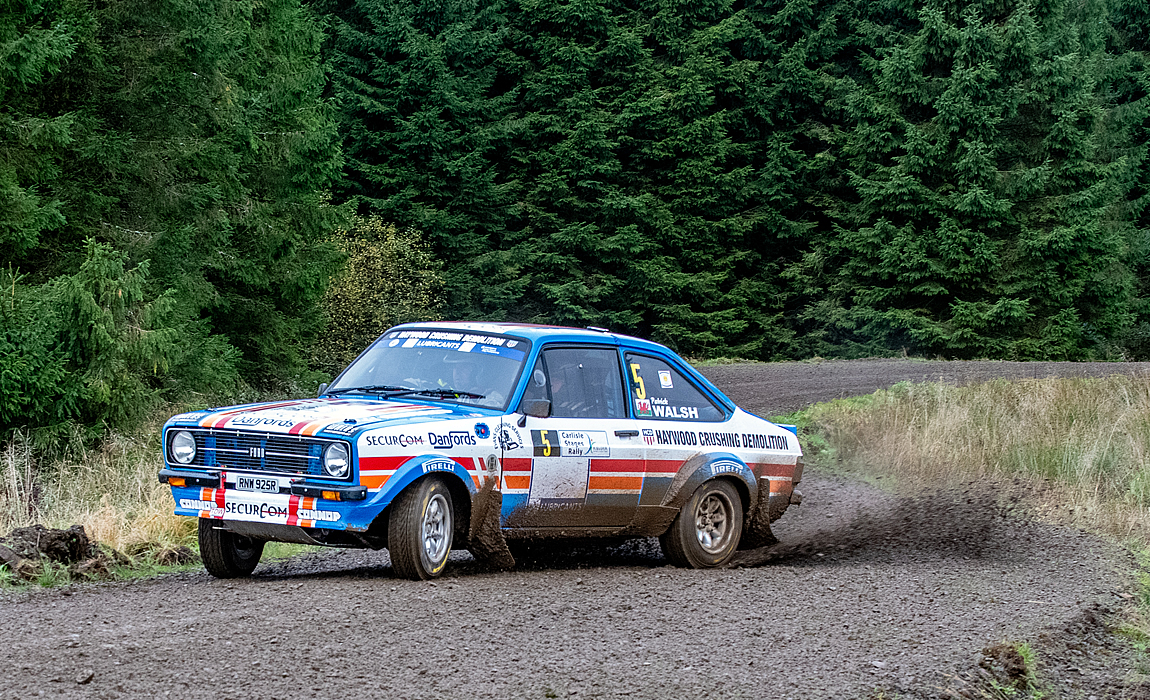 Photo: Roger Chilman & Patrick Walsh | By James Downie – Rally Media UK
Chilman was now coming to terms with the prospect of becoming the 2023 Champ "We're just gonna try and get around now, it felt a bit better in there so I was happy enough" but this is rallying and rallying in Kielder to add to the challenge. Absolutely anything could happen out on these stages and this was why Elliott and Price continued on in their Fiat Abarth 131 opting to "just drive through the stages" within mind to re-asses at the mid-day service halt.
With the pressure of that Championship title fight now all but gone, Elliott could just relax and drive, he secured the second fastest time in Riccarton behind Pritchard who picked up his first stage win here.
Photo: Jason Pritchard & Phil Clarke | By Gary Fothergill – GF Rally Media
Pritchard, as he had done all season, was firmly focused on getting the seat time in the MK2 in preparation for his RAC assault. The Welshman admitted that he was benchmarking himself for this one against Marty McCormack who is a four-times Roger Albert Clark Rally winner.
When McCormack heard that comment, the ever-comical man could only respond in one way "That's a very dangerous thing, using me as your benchmark I tell ya." The second stage was a better one for him and many folks really "I'm getting the feeler of the thing again, I enjoyed it and the cars going fine", McCormack's time was a second down on Elliott but he would go one better in the very next stage, the last stage of the morning loop.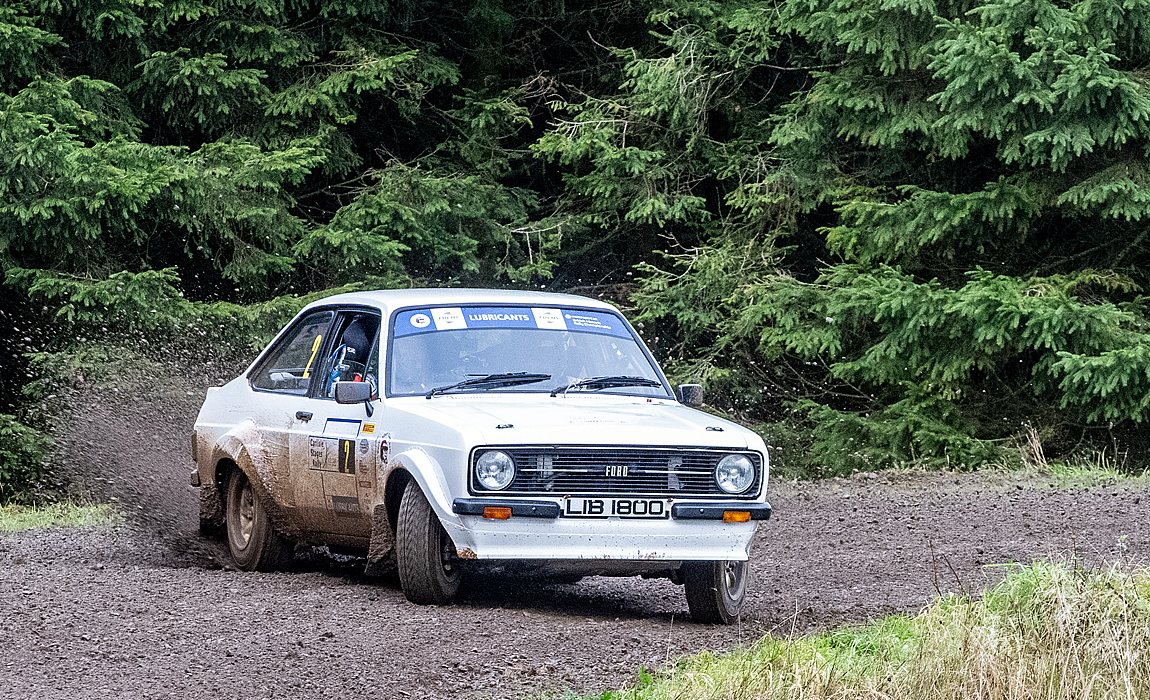 Photo: Martin McCormack & Barney Mitchell | By James Downie – Rally Media UK
7.91 miles of Buck Fell was where McCormack threw himself into the ring in the hope of being in with a chance of the final win of the season. The Irishman stopped the clocks on an identical time to Pritchard with Garth James a further 4 seconds down on the pair. Jason Pritchard and Co-Driver Phil Clarke were heading back to the mid-day service halt with a lead of just 5 seconds over McCormack & Barney Mitchell with Gareth James & Dan Petrie rounding out the top three at halftime.
---
Cat2
The fight for the Category 2 title wasn't as dramatic as the one that was unfolding for the overall title. Jeremy Easson had begun his day the right way in the opening test getting the better of Josh Carr by a couple of seconds but over the course of the morning's loop of three stages, it was clear that Carr had the sensible cap firmly on.
Photo: Josh Carr & Osian Owen | By Gary Fothergill – GF Rally Media
Carr knew what had to be done and he was refraining from being drawn into a battle for the rally win, all that was needed was for him to bring it home in one piece and across the finish line.
Photo: Phil Jobson & Peter Johnson | By Gary Fothergill – GF Rally Media
By the midpoint in the rally, Easson and Co-Driver Mike Reynolds were locked in a scrap with Phil Jobson & Peter Johnson who were leading them by some 6 seconds. Carr remained on course despite laying in 4th behind BHRC returnee, Craig Jones.
Jones who has not been seen in the series since his sizable off back in March at the Rally North Wales was clearly nervous to be back in the seat of the rebuilt MK1 Escort RS2000. After the first stage of the rally, Tommy's Fell "I was crapping myself if I'm honest" the Welshman said, "We've gotta get it home today, so no heroics". It was good to have him back in series and to be there or thereabouts after the first loop of three was promising for him and Co-Driver Ian Taylor.
Back out after service and Nick Elliott & Dave Price had chosen to call it a day and would not return to the stages for the afternoon loop. Pritchard got his afternoon off to a flyer in the Hyndlee stage, scoring a time that was 7 seconds quicker than McCormack to bolster his lead. McCormack retaliated in the repeated run through Riccarton but could still only manage to take the stage win by just a second over Pritchard.
Photo: Martin McCormack & Barney Mitchell | By Gary Fothergill – GF Rally Media
Pritchard and Clarke would enter the final stage of the rally with a lead of 11 seconds in hand over McCormack & Mitchell, however, there would be last-minute drama for McCormack who would lose a chunk of time in that final test, and with it would drop out of the podium and down into 6th.
Jason Pritchard and Phil Clarke would romp home on that final run through Buck Fell picking up their third stage win of the rally and with it securing their third BHRC victory (+ FIA honors) of the season to add to the tarmac of the Tour of Epynt and the previous outing on the gravel of the TrackRod.
Photo: Jason Pritchard & Phil Clarke | By Gary Fothergill – GF Rally Media
"It's been a good day, we went out to have some fun, we haven't seen the results all day so it's a bit of a shock to have won"

Jason Pritchard
Pritchard and Clarke had crossed the finish line in their MK2 Ford Escort 41 seconds down the road from runners-up Gareth James & Dan Petrie who secured a well-earned BHRC podium in Carlisle. The pair started strong on the opening test of the day in picking up a stage win and kept it in the mix throughout every stage, posting top three times on four out of the six stages.
---
But the headline news was, that rounding out the third step on the podium was our new 2023 FUCHS Lubricants British Historic Rally Champions, Roger Chilman & Patrick Walsh. After a season-long battle with arguably a top pool of talent in Historic spec rally machinery, many of which were very capable, the pair had gotten the job done at the final round in their Wales Motorsport-prepared MK2 Ford Escort.
Photo: Roger Chilman & Patrick Walsh | By Gary Fothergill – GF Rally Media
It was clear that Chilman & Walsh faced some stiff competition throughout 2023, the fact that the title was decided at the final round of the season would back that up.
"Really hard……at the start of the year a lot of people decided to do the Championship, some really really good crews. We had some good results to begin with and others had a bit of misfortune. The car has been fantastic, we've been reliable and that's what you need to win Championships. I've had a great man beside me (Patrick Walsh) and he's done these things before. Merion and Wales Motorsport, the car has been fantastic, all my sponsors and friends have been fantastic"

"The great thing about this year is there was some really good competition, it feels really good and a proper achievement and one that we'll remember."

Roger Chilman
Commiserations went to Nick Elliott & Dave Price, the pair had put in a strong performance over the 7 event-long season and it was terribly unfortunate to put it off on the final event of the Championship. Nevertheless, the pair had shown that the Rally Sport Developments Fiat Abarth 131 has what it takes to bring a real Championship fight to the MK2 Ford Escorts, in the right hands that is of course
Photo: Nick Elliot and Dave Price | By James Downie – Rally Media UK
Elsewhere in Carlisle, Gareth James and Co-Driver Dan Petrie picked up the Cat 3 win ahead of Chilman & Walsh, with Simon Webster & Jez Rogers rounding out that BHRC Cat3 podium.
Photo: Gareth James & Dan Petrie | By James Downie – Rally Media UK
Cat2
Josh Carr had just 22 and a bit miles across a further 3 stages between him and that Cat2 title to navigate. Jeremy Easson was doing all that he could do to ensure that he stood the best chance of sweeping up should anything untoward happen to Carr.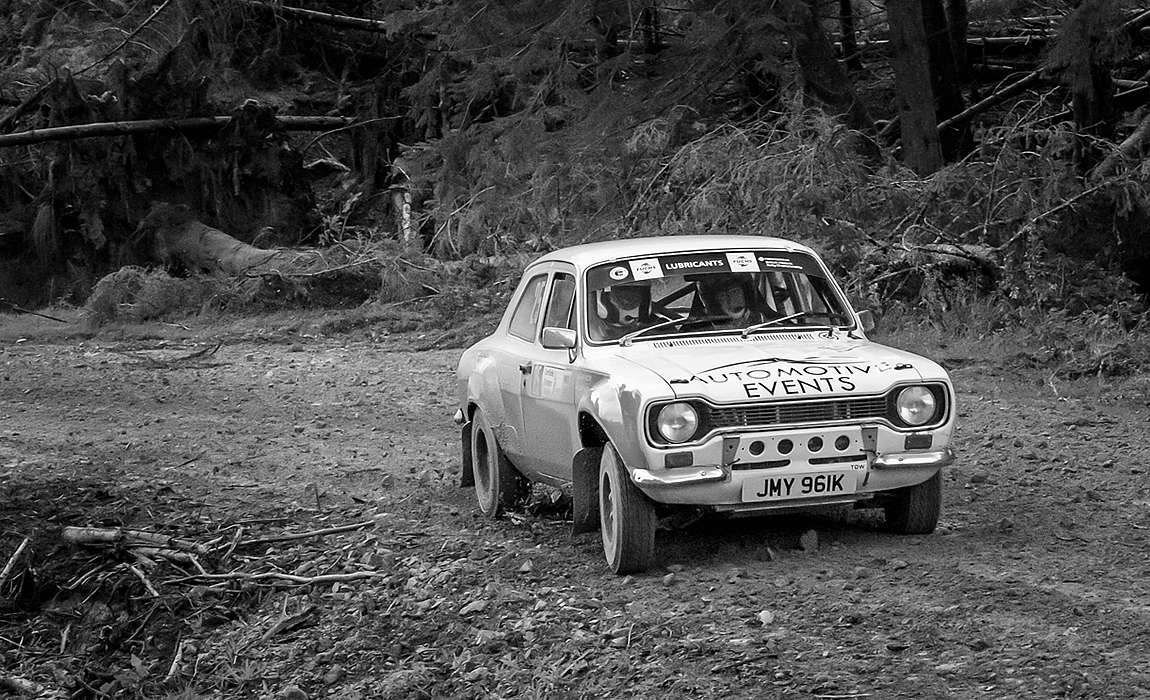 Photo: Jeremey Easson & Mike Reynolds | By Gary Fothergill – GF Rally Media
Easson set off into the afternoon loop of stages and picked up two stage wins in Hyndlee and the repeated run through Riccarton to take up the lead of Category 2 with just one stage remaining. Heading into that final test of the rally and indeed the 2023 season, Easson and Co-Driver Reynolds had a lead of 7 seconds over Phil Jobson & Peter Johnson. Alas, there was nothing more that Easson could possibly do that would have any influence or impact on the outcome. The 2023 title was firmly in the hands of young Josh Carr, and so it was all eyes on him for that final 7.91 miles of Buck Fell.
Josh Carr aided by the note calling of Co-Driver Osian Owen would emerge from the final stage in fourth place but that was irrelevant. Carr had done it, he had secured his first FUCHS Lubricant British Historic Rally Championship Category title. For a man who would normally have no trouble in offering up words which often would be full of many emotions, passion, comedy and at times frustration at the stage ends, he would struggle to find the words to describe his moment at the end of this one.
Photo: Josh Carr & Osian Owen | By James Downie – Rally Media UK
"That's the hardest 7 miles I've ever driven, it's been a long year but I got here" "It's been a hard year and after the disappointment last time we had to finish"

Josh Carr
---
And that folks is a wrap on what has been a sensational 2023 FUCHS Lubricants British Historic Rally Championship.
Seven quality events were featured on the calendar this year and every one of them delivered a great rally. With class, challenging and enjoyable stages on offer which saw great battles across the field of competition, the series attracted a top line-up of British rallying talent in some great historic spec machinery.
With a top organising team behind it to boot, all this made for a rather enjoyable Championship to take part in, spectate on and follow throughout 2023 and all those involved in whatever capacity should be applauded.
---
Words By Andy Cook – Xlerate.Media | Feature Photo By Gary Fothergill