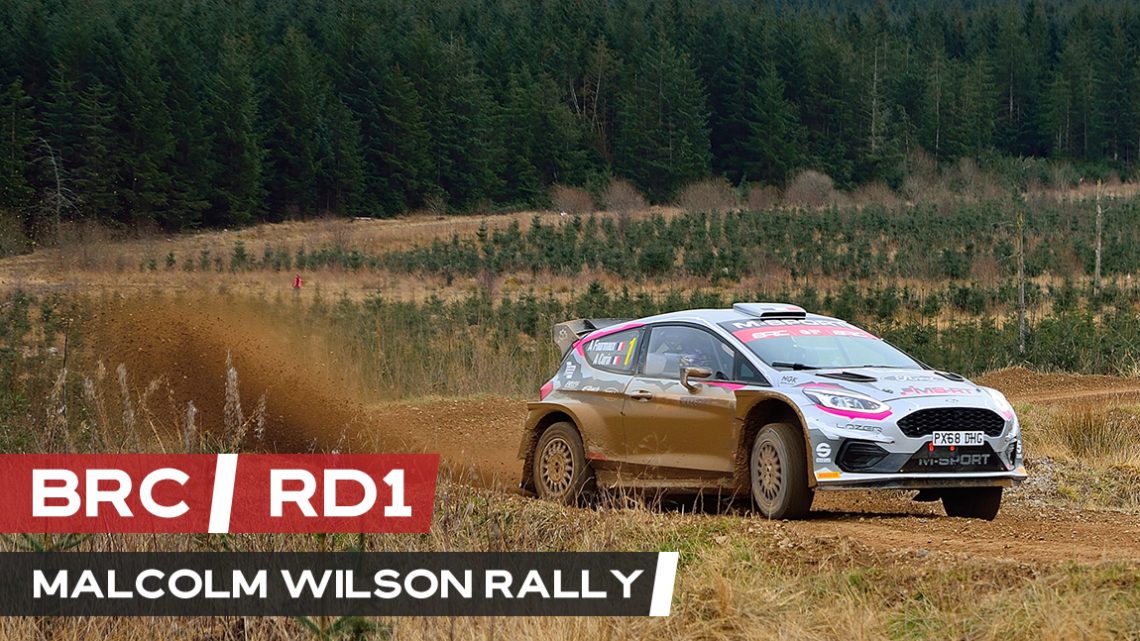 BRC / RD1 – MALCOLM WILSON RALLY 2023
18/03/2023
The 2023 Motorsport UK British Rally Championship got underway in somewhat significantly more challenging circumstances than expected at the opening round, The Malcolm Wilson Stages Rally (11th March). The season opener also signalled a return for the British Rally Championship to the Lake District Stages for the first time in decades but it wasn't just the competitors that were to be tested to the limit on the event. The organisers, The Morecombe, Kirkby Lonsdale and West Cumbria Clubs were faced with some rather challenging circumstances themselves before a competitive wheel had even been turned.
This 46th edition of "The Lakeland Stages" rally had originally planned some 10 gravel tests covering approx 51 competitive miles for the National event, however, just 48 hours from the off, the weatherman decided to dump a load of the white stuff in the region. On the Thursday before the rally, the snow started to fall and by the early hours of the following day, the Whinlatter Forest region of stages on the outskirts of Keswick were pretty much impassable for the BRC crews to recce and were, therefore, taken off the menu.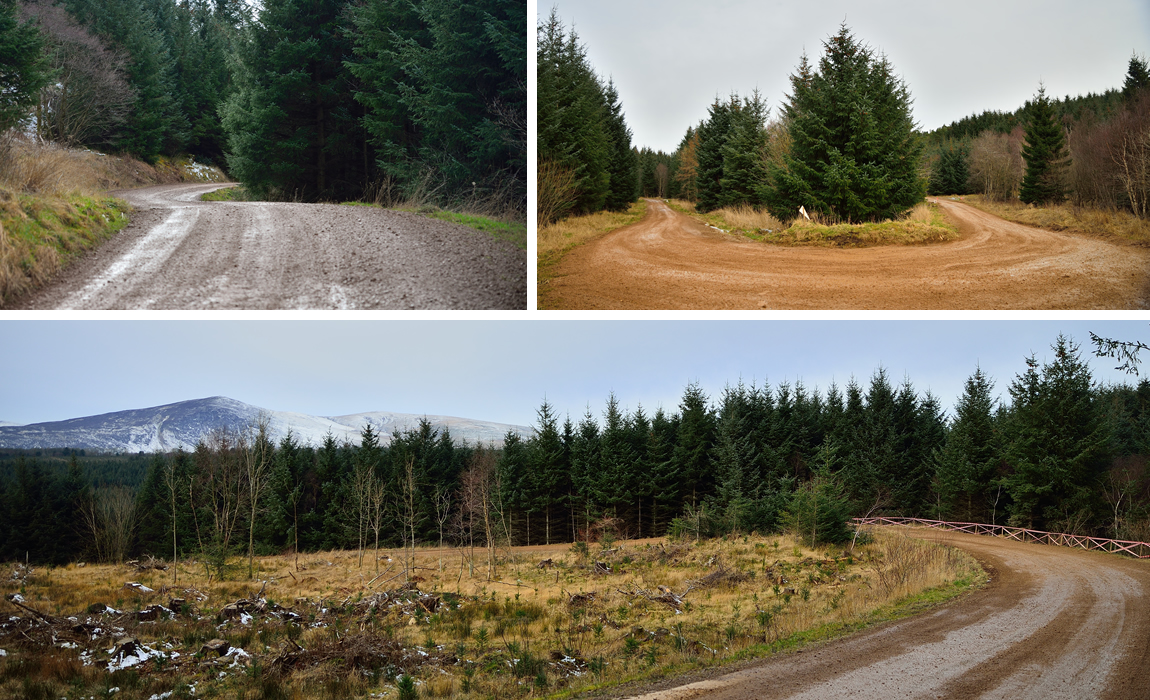 Photos By Xlerate.Media
Although the southern stages in Grizedale Forest and Greystoke to the East had snow, they faired up a little better and were still passable. With the loss of the first three stages and a chunk of millage gone, the event was however, unbelievably still able to run thanks to the mammoth efforts of all involved. The organisers pulled together against all the odds to run a revised 5-stage 40-mile event and they should be commended for their efforts.
M-Sport World Rally Teams HQ at Dovenby Hall, Cockermouth once again played the role of hosting the rally and the team deployed their works driver, Adrien Fourmaux into action at the event to battle it out with British crews. M-Sports bossman, Malcolm Wilson cited that it was not only the vital seat time for the young Frenchman but also that the BRC was the ideal landscape to push the development of their Rally2 Fiesta.
In addition to Fourmaux and a strong line-up of British crews at this season's curtain raiser, there was another welcomed addition to the entry list. And that was an M-Sport Puma Rally1 car, fresh in from its pre World Rally Mexico test in Spain, with Jourdan Serderidis peddling the car competitively in public here in the UK for the first time.
With the Hobcarton, Comb and Wythop stages all off-limits, the crews headed into the M-Sport testing ground at Greystoke Forest for the first stage of the event. Fourmaux with the number one on the doors of his works Rally2 Fiesta, led the crews away somewhat tentatively, as parts of the Forest still had patches of snow and ice. "It's the first time that I see Greystoke like this" Fourmaux commented, "a lot of ice on the breaking points, so the grip was changing a lot, it was very tricky" Fourmaux reported at the stop line.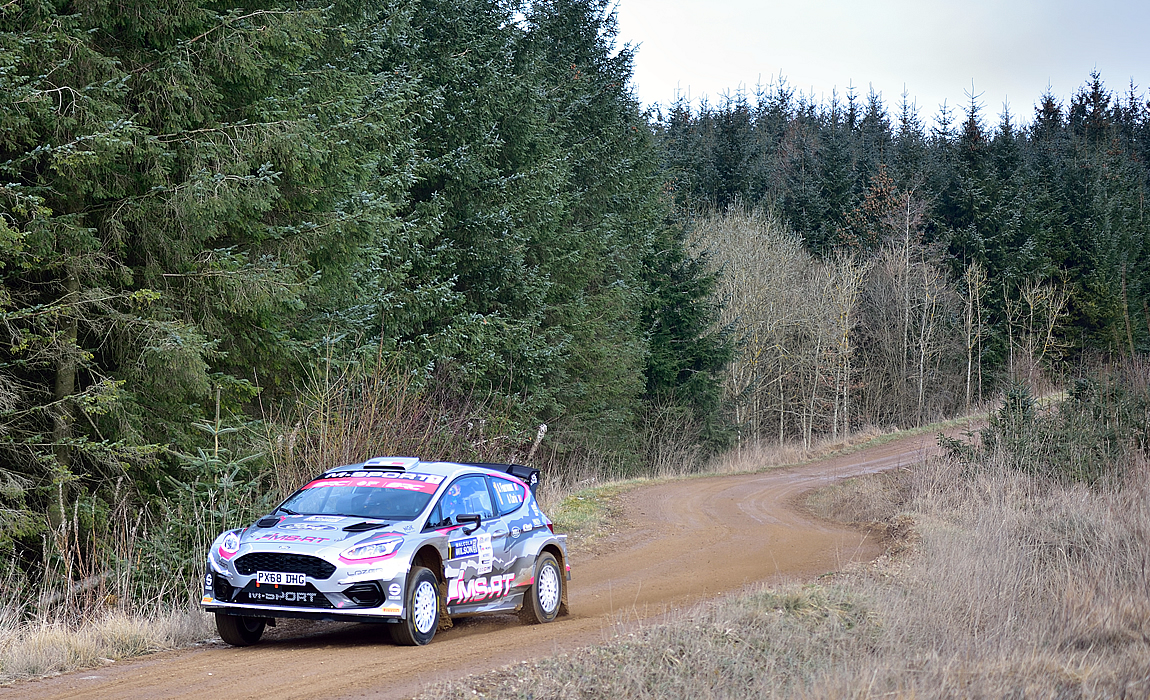 Photo: Adrien Fourmaux & Alexandre Coria | By Andy Cook – Xlerate.Media
With three out of the five stages of the revised route being held in Greystoke, the money would be firmly on Fourmaux as the favourite right from the get-go, but it wasn't the Fiesta of Fourmaux that was the quickest off the mark on that opening test, it was James Williams.
---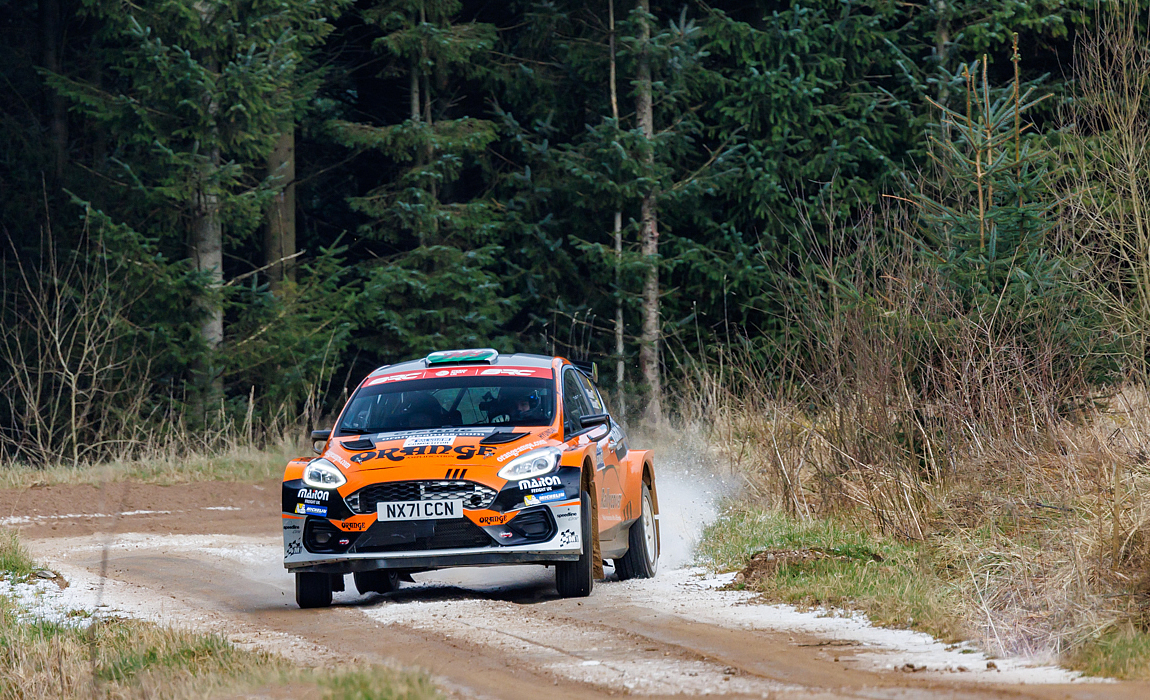 Photo: James Williams & Dai Roberts | By Andrew Scott
---
Williams who finished third in the BRC last year has made the switch from the Hyundai i20 to a Rally2 Ford Fiesta for his 2023 BRC assault and he stopped the clocks just 0.1 of a second quicker than Fourmaux over the opening 7.5-mile stage. "It was super icy and snowy with lots of places where you could go off, so I took it quite apprehensively to be honest, but we came through it clean so that's the main thing" Williams commented. "The car feels good but it's hard to give it a good go because of the conditions" he went on to say. Considering that this was his very first competitive stage in the Fiesta and he was up against a works driver on his team's home testing ground, that was a pretty impressive way for Williams to start his rally.
Keith Cronin was third fastest at 4.9 seconds down in his VW Polo GTi R5 car. The Irishman has returned to the BRC once again with Mikie Galvin beside him in the hope of matching Jimmy McRae and gaining his fifth British Rally title.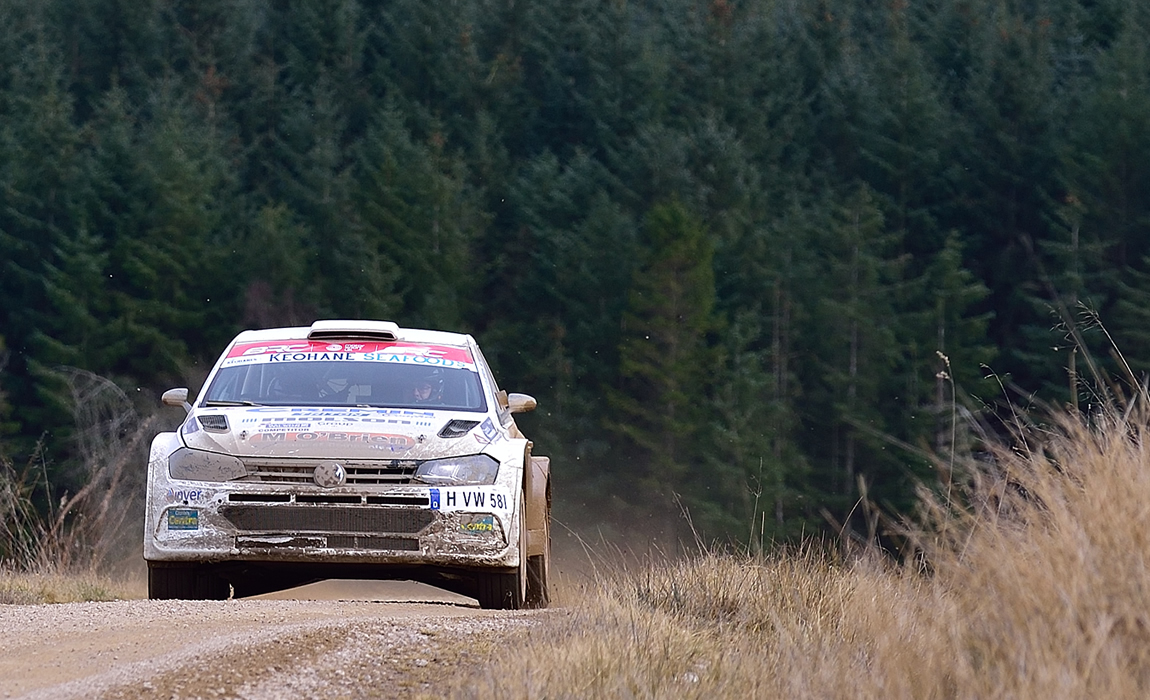 Photo: Keith Cronin & Mikie Galvin By Andy Cook – Xlerate.Media
The pair left it until the eleventh hour to place their entry for this opening round and haven't had any real seat time since perhaps the TrackRod Rally Yorkshire last September. "I just tried to manage it, it's our first stage in 6 months, very tricky" was all that he had to say.
Outside of the top BRC1 class, there was a strong Junior presence at the Championships opener, including Kyle White and Sean Topping who are returning for another shot at the JBRC title in their Peugeot 208. After an up-and-down season last year, White ended up third in the JBRC with three podium finishes and a maiden win on the Nicky Grist Stages to his name.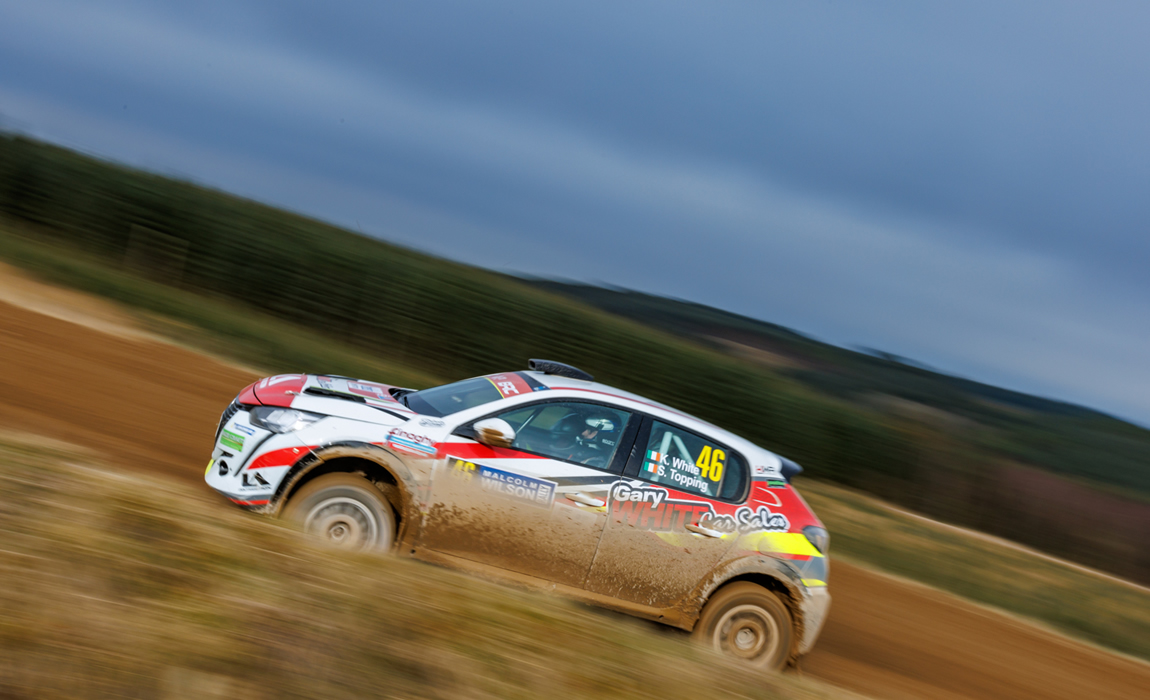 Photo: Karl White & Sean Topping | By Andrew Scott
However, if the first stage of the year was anything to go by then White was once again going to be in for another rollercoaster ride, as he arrived at the stop line of the first test with a front left puncture. Reporting that it came about halfway through the stage the young man simply said "I dunno, I just can't catch a break at the moment" but all was not lost, despite that puncture, he had still posted the fastest time amongst the Juniors.
White was 2.5 seconds quicker than last season's BRC Academy Trophy winner Kyle McBride who was making his step up into the JBRC in the Motorsport Ireland backed Ford Fiesta Rally4 car this year. McBride alongside Liam McIntyre did, however, have an overshot whilst trying to find the braking points in the icy conditions; but the pair were happy enough with their first stage. "We lost the time on that overshoot, so we know where the time is in there, but we are happy to get through".
---
With about an hour's drive south to Grizedale Forest which is situated between Coniston Lake and Lake Windermere, the crews had time to gather themselves ready for another two stages in the testing conditions. The second stage of the event was 8.5 miles of Grizdale South and here is where Adrien Fourmaux took charge of the rally. Posting a time that was some 17 seconds quicker than his closest competitor in Elliot Payne, he took the lead of the rally by more than 31 seconds.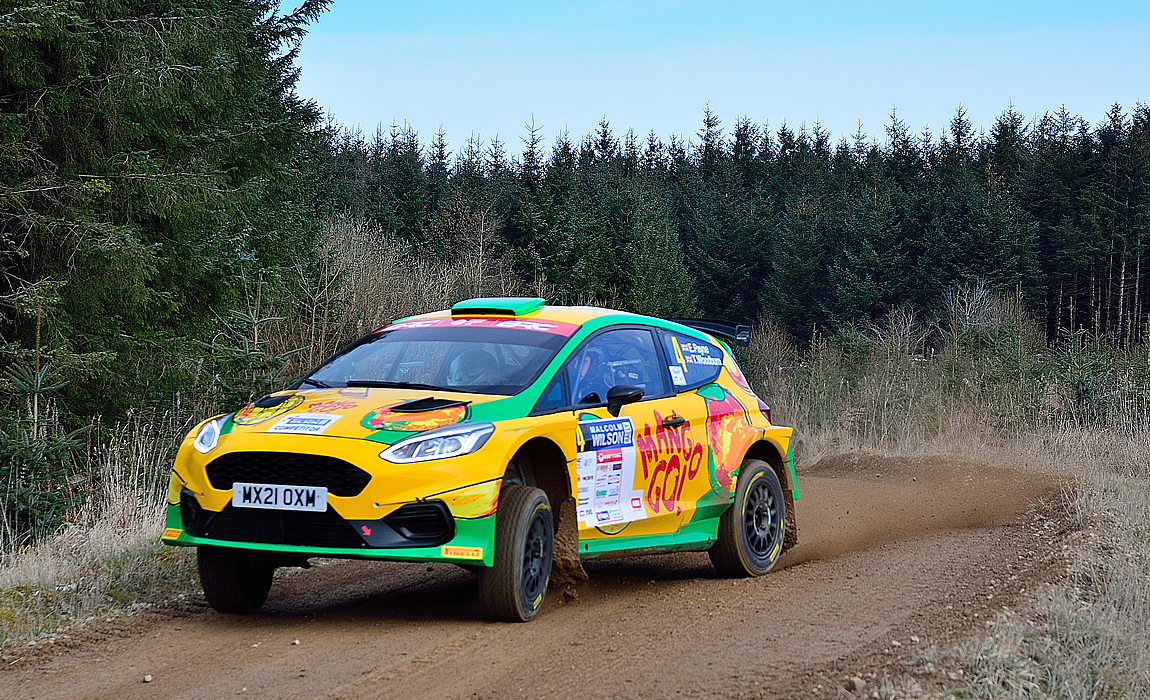 Photo: Elliot Payne & Tom Woodburn | By Andy Cook – Xlerate.Media
Payne who was also registered for the BTRDA Series did not take part in the pre-event recce of the stages but given the circumstances was it really that much of a big deal not to have?
Cronin had unfortunately caught Jourdan Serderidis about halfway through the stage after the M-Sport works driver had a spin in the Rally1 Puma. "They spun and we thought they were going to let us pass but he didn't" The frustration was evident in both Cronin's tone of voice and body language "I don't know where that puts us but we dropped an awful lot of time" Cronin reported.
Previous stage winner James Williams got caught out on an icy section and had a bit of a squeaky bum moment with a 5th gear spin. This lost him a bit of time which had dropped him down to third overall, just 2.9 seconds behind the now second-placed man Keith Cronin. "I just wish we could have a bit of luck, to be honest…..it would be nice" Williams expressed.
Junior leader Kyle White had a much better stage in Grizedale South; with a convincing stage win that was nearly 18 seconds quicker than McBride, White had perhaps now set his sights on that first win of the season already?
Photo: Keith Cronin & Mikie Galvin | By Andy Cook – Xlerate.Media
Keith Cronin, despite that lost time in Grizedale South, carried on fighting regardless and secured his first stage win of the year in the longest stage of the rally (9 miles) through the Northern stretch of the Forest. By posting a time that was 3.4 seconds quicker than the rally leader Fourmaux, he had closed the gap down just a tiny bit.
Elliot Payne was the third quickest in Grizdale North but thought that he was a little bit off the pace and kept lifting too much; and as for Williams, well his day wasn't getting much better. After that spin in the previous stage, he then picked up a puncture about 7 miles in, which lost him another chunk of time.
"I dunno what to say really, not much we can do about it to be honest. We'll keep on smiling and keep going"

James Willimas
Meanwhile BRC returnee Callum Black had passed Gary Pearson who was nursing a clutch problem to take up fourth overall, but Black was also having a few hiccups of his own "I just locked up under braking and spun it backwards into a junction, stalled the engine and then panicked… it was one of those stages" Black reported at the time control.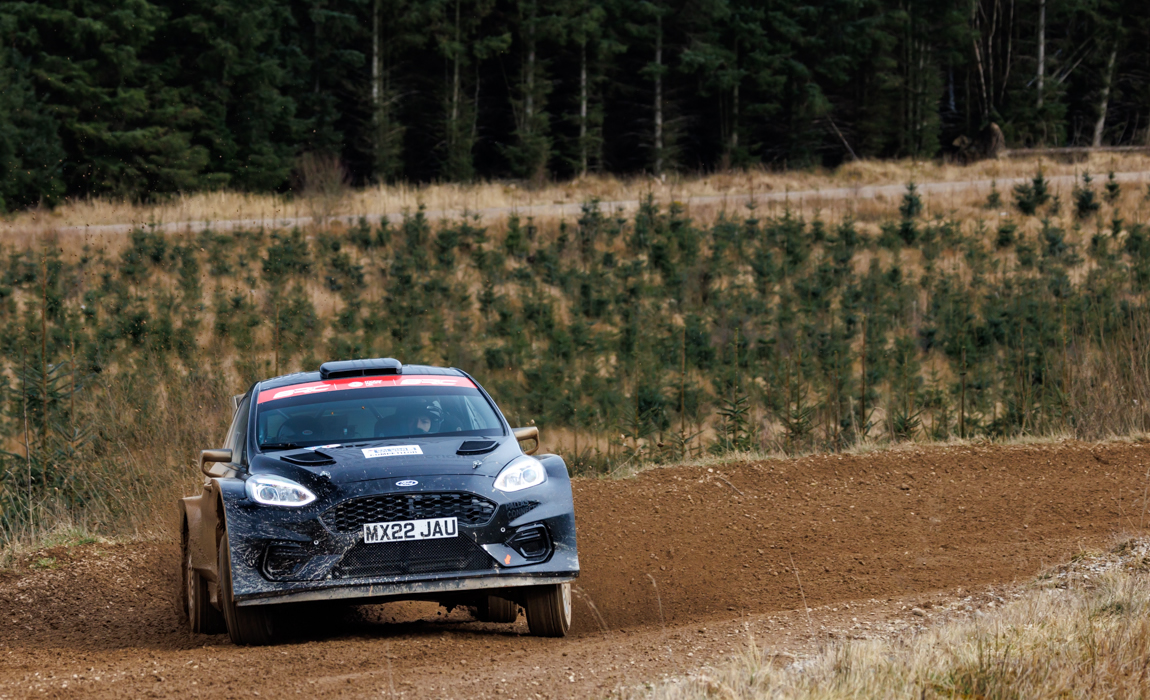 Photo: Callum Black & Jack Morton | By Andrew Scott
---
Kyle White and Sian Topping continued to push on in their Peugeot 208, securing another fastest stage time in the Juniors. With a time that was once again significantly quicker than his closest rival in McBride who thought that he was on the wrong tyre choice after a wee trip into the scenery; White and Topping were now eking out a decent enough advantage of over four and a half minutes heading into the final two stages of the rally. "We're just doing what we're doing and not taking any mad risks.. the cars going very well" said White.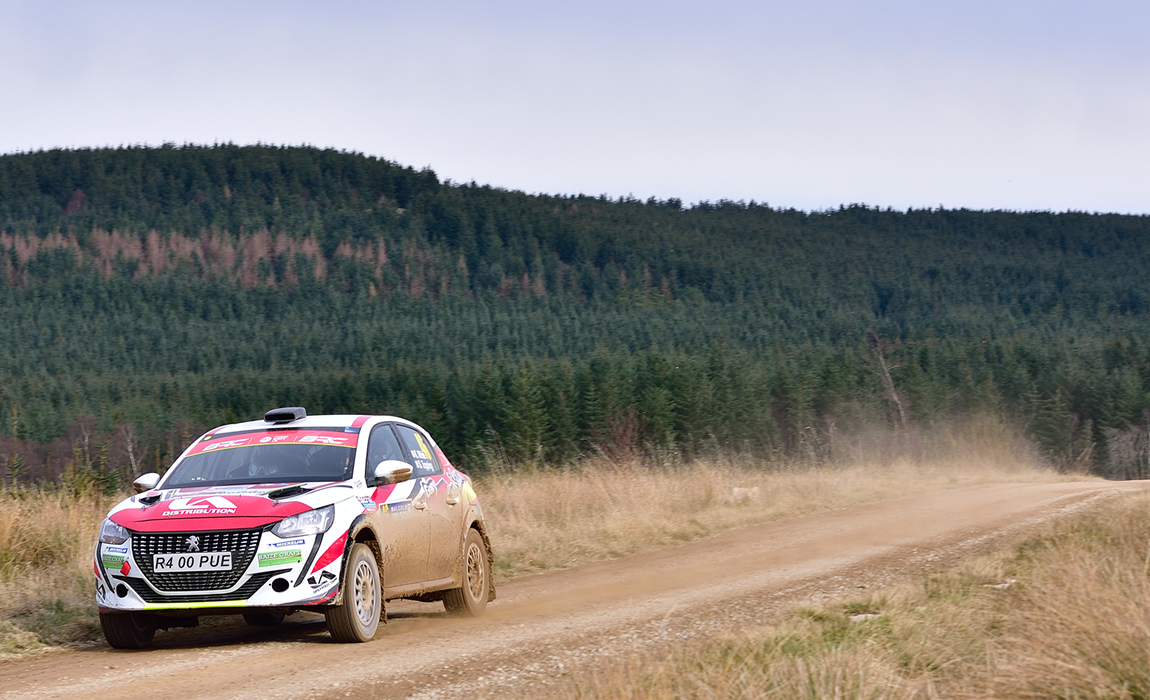 Photo: Kyle White & Sean Topping | By Andy Cook – Xlerate.Media
Adrien Fourmaux headed into the penultimate stage of the rally, the second pass of Greystoke feeling relaxed and in a strong position. He secured his second stage win here, despite admitting that he was playing with cars settings maybe a little too much.
Photo: Adrien Fourmaux & Alexandre Coria | By Andy Cook – Xlerate.Media
Cronin's day clearly wasn't going to end in top-step glory on this outing, reporting that the Polo's power steering started to fail about halfway into the stage. "It had completely gone by the end of the stage, so it was quite difficult" Cronin reported. This had cost the Irishman about 20 seconds or so and with just one final stage to go, it would now just be a case of survival. With one final service halt offering up a chance to sort the issue, he just had to maintain the podium place and secure those valuable Championship points.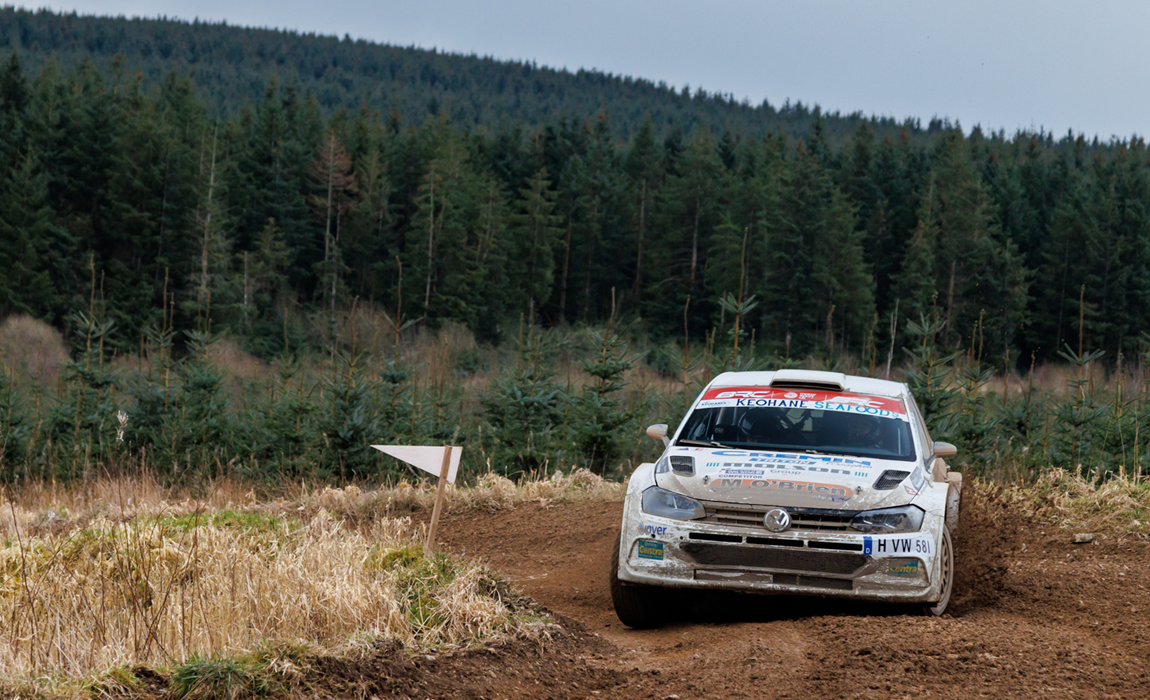 Photo: Kieth Cronin & Mikie Galvin | By Andrew Scott
Elliot Payne was pushing and admitted that he " had a few moments"; despite still being way too early on the braking, he had managed to get the better of Williams by just 0.4 seconds to grab his second "best of the rest" stage time. This allowed him to maintain his podium place heading into the final stage of the rally.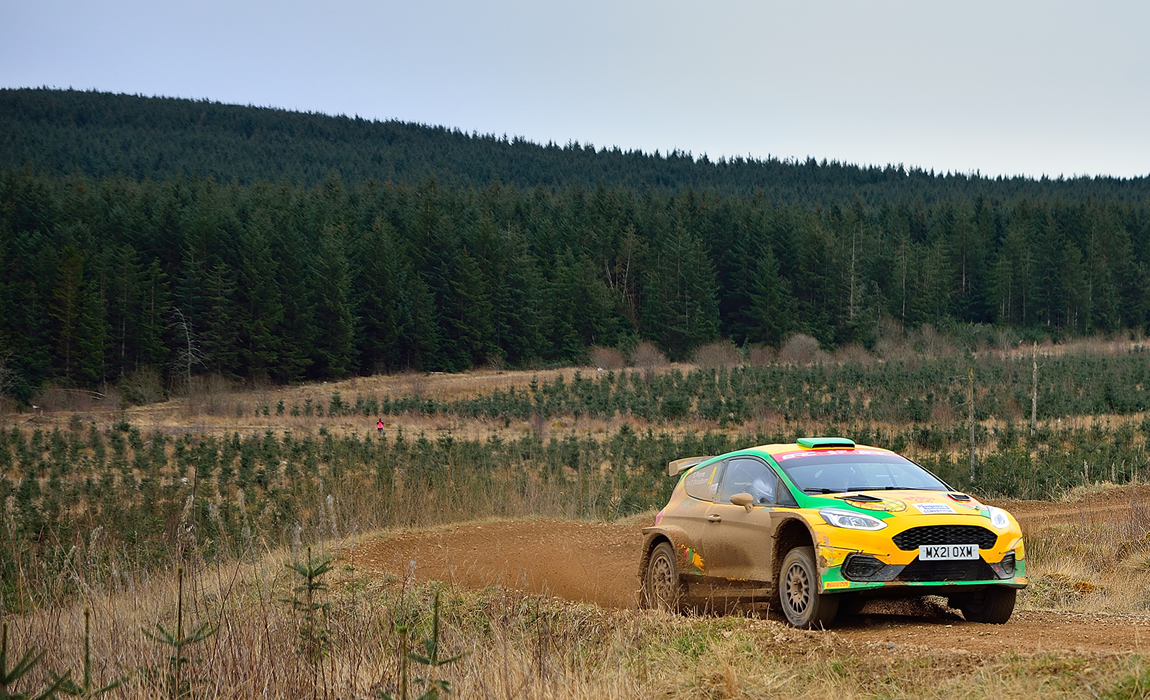 Photo: Elliot Payne & Tom Woodburn | By Andy Cook – Xlerate.Media
Our fastest Junior driver Kyle White arrived at the stop-line thinking that he had a puncture, but alas following a quick look around, they were all good. "I think there's something broke on the back, it was a good run but maybe a shock or something has broken, so we have to get into service and have a look". With almost a 30-second lead over second-placed man Karl McBride heading into the final 7.5 miles of Greystoke, White was now well and truly on for his first victory of this new season.
And so all that stood in the way of M-Sports Adrien Fourmaux and Co-Driver Alexandre Coria and that top step of the British Rally Championship podium was a final blast over the Greystoke Stage.
Photo: Adrien Fourmaux & Alexandre Coria | Photo By Andy Cook – Xlerate.Media
Perhaps it was of no real surprise that this factory-backed driver would secure the win in his works prepared Ford Fiesta Rally2 car, even more so with the majority of the rally playing out on his team's home testing ground. Crossing the finish line with some 53 seconds in hand, his boss Malcolm Wilson was ready and waiting to congratulate him.
"It was really really good fun, it was also a nice experience this morning with the tricky conditions and the ice that we can sometimes find on the GB rally. The Greystoke stages are really enjoyable to drive, OK not easy with the ice and snow but atleast it was fun.

Adrien Fourmaux
Four times British Rally Champion Keith Cronin alongside Co-Driver Mikie Galvin was able to get that power steering issue sorted in that last service and successfully navigated the final stage to secure the runners up spot in their VW Polo GTi R5. With just a single stage win to their name, they can still be confident that they held their own, up against arguably a driver with a considerably higher level of experience and with significantly more seat time.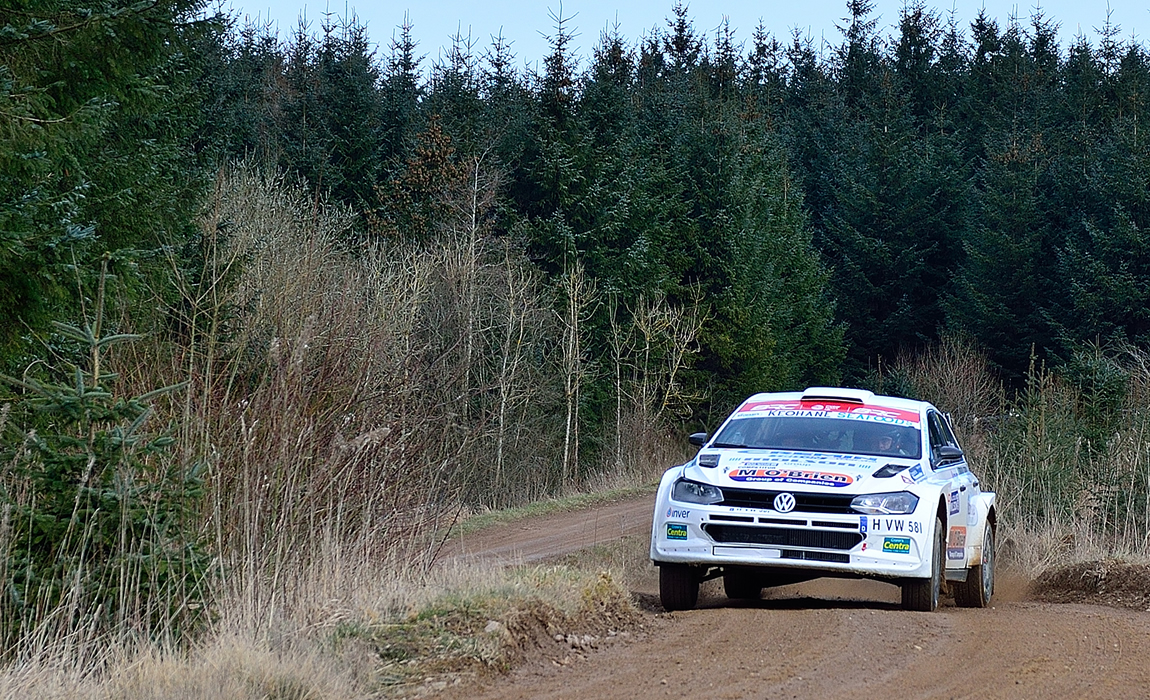 Photo: Keith Cronin & Mikie Galvin | By Andy Cook – Xlerate.Media
"I suppose we would have been there or thereabouts if it wasn't for catching the car in the second stage. Then obviously we had the power steering problem after that, it's really good to have them guys (Fourmaux & Coria) here and to be on pace with them when things were going well.", "It was really tricky, especially in the first passes with the ice but we got through it", "It was our first rally in 6 months, so it was a good result and hopefully we can keep it going and get to the next one and see from there."

Keith Cronin
A further 28 and a bit seconds down on Cronin securing his maiden BRC podium was Elliot Payne alongside Tom Woodburn. The pair have shown good pace in their Rally2 Fiesta at this opening round and were really mixing it up in the stage times with the other leading BRC crews, who have had a full season in the Championship last year and beyond.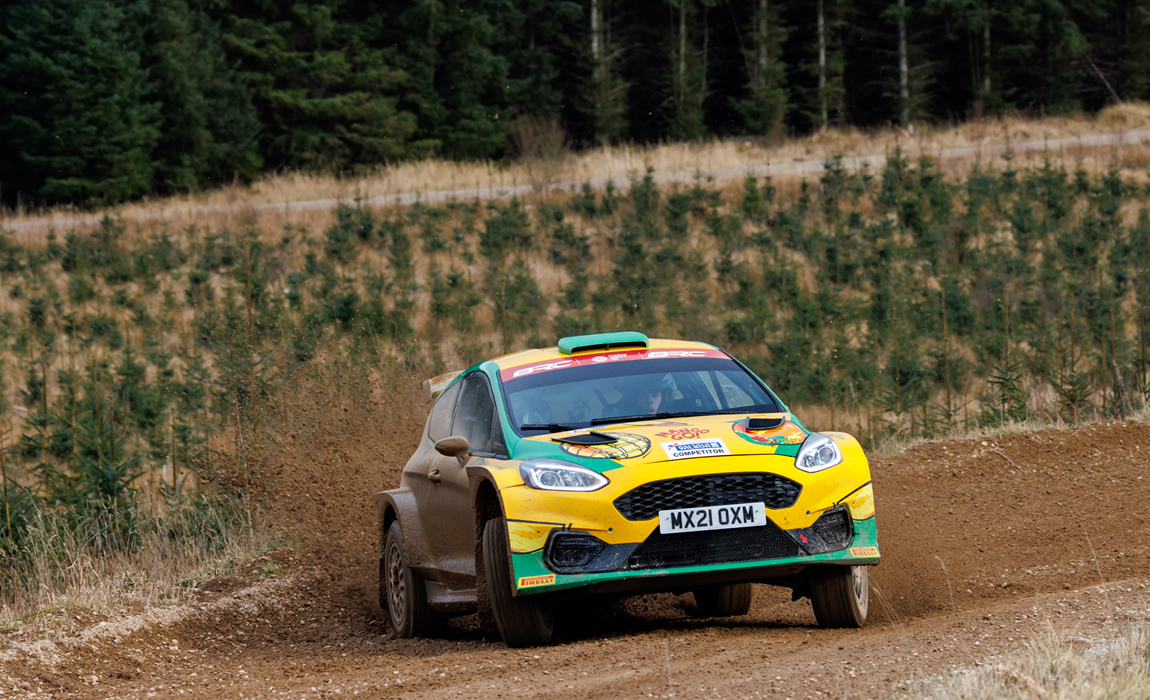 Photo: Elliot Payne & Tom Woodburn | By Andrew Scott
"Yeah, it's been difficult without a recce without a doubt and I think it would have paid dividends today… but we got through it in the end and had a bit of a slide and a play."

Elliot Payne
---
Despite their troubles at the event, James Williams and Dai Roberts brought their Rally2 Fiesta home in fourth, securing some valuable points to put towards their Championship challenge. Since those troublesome two stages down in the Grizedale Forest, it was a case of just racking up the millage and trying to learn the car as much as possible from then on.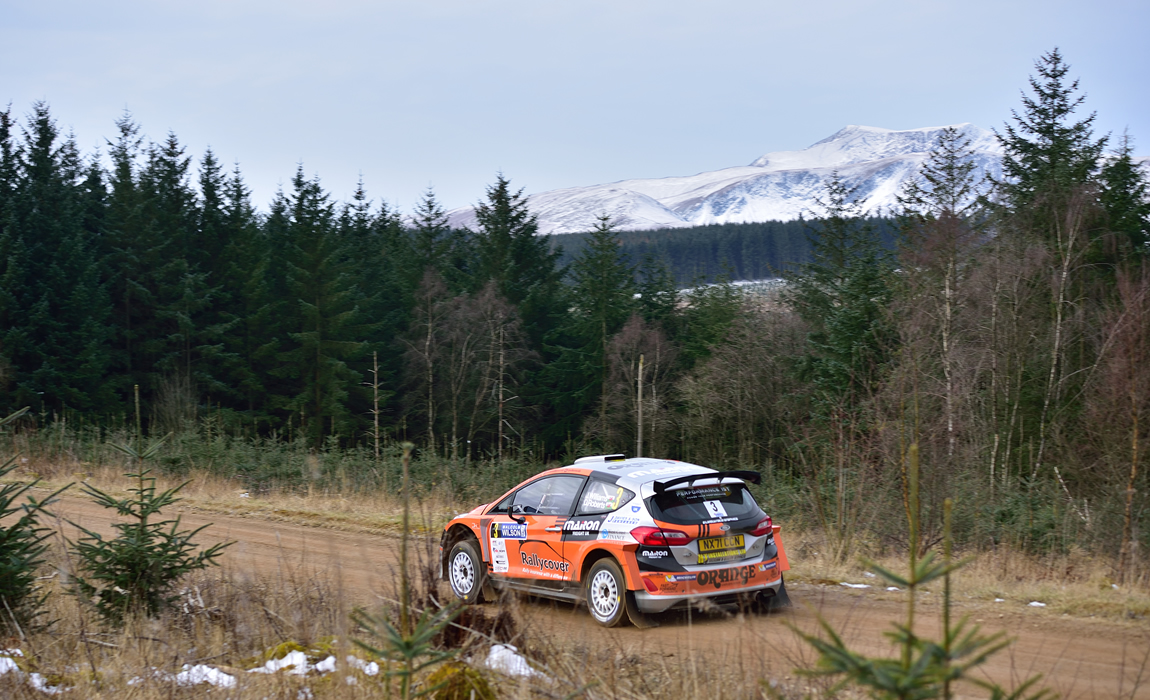 Photo: James Williams & Dai Roberts | By Andy Cook – Xlerate.Media
"We're new to the car this weekend and we were able to come out of the blocks fast and show that we are really here to fight this year. We just need a bit of luck now and fingers crossed it will come together for the remaining rounds"

James Williams
Rounding off the top 5 was BRC returnee Callum Black alongside Jack Morton calling the notes. It is fair to say that the pair were a little off the pace on this first event back but let's not forget the fact of the matter is that they have only competed on a handful of events both in the Rally2 Fiesta and in recent years. The lack of seat time coupled with having to learn a new tyre package of course was going to be a challenge, what with the level of competition faced at this opening round.
Photo: Callum Black & Jack Morton | By Andy Cook – Xlerate.Media
"We've really enjoyed it, it was always going to be really tricky with the weather but happy we've got the end. Just a bit of a shame that it took us all day to get on top of the tyres and understand them… but that's part of the process and we now know for future rounds so hopefully we can do more."

Callum Black
Elsewhere and finishing sixth in the BRC1 field, it was a tough day in the office for Scotsman Gary Pearson who described it as "a bit of a character-building day". He and Co-Driver Hannah McKillop perhaps were hoping for a little more at the season opener. Pearson has made the switch back to the Skoda brand for this season and was unfortunately hit with a clutch problem on his R5 Fabia which didn't help.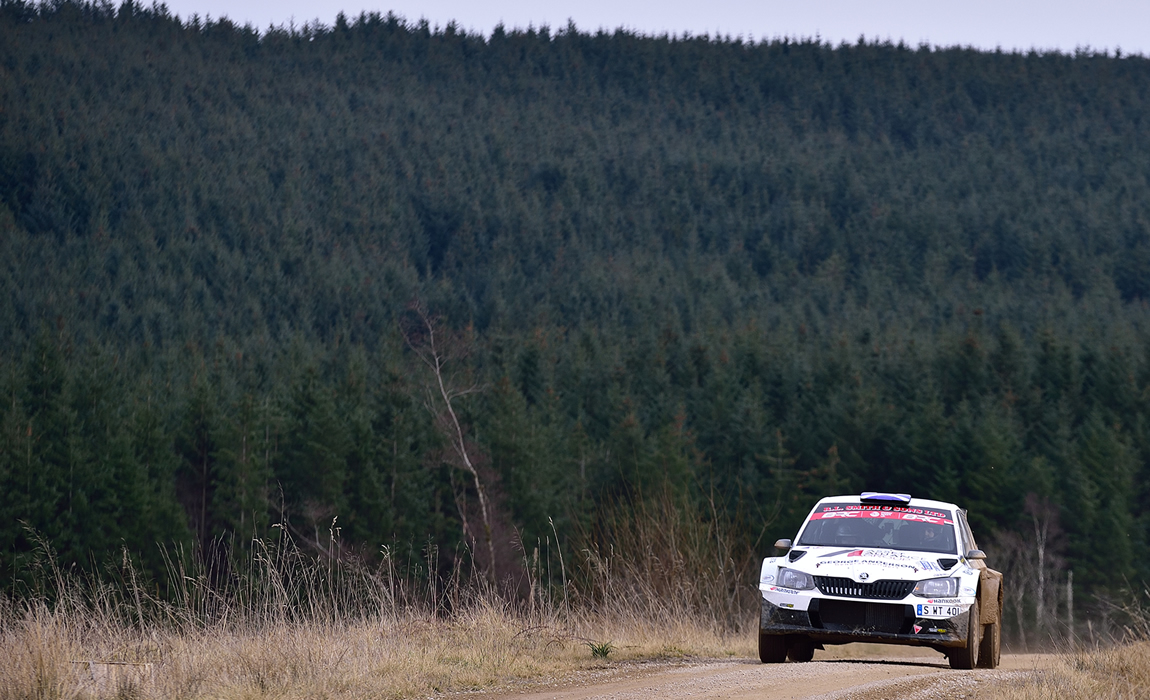 Photo: Gary Pearson & Hannah McKillop | By Andy Cook – Xlerate.Media
"At the end of the day, we've had a tough start to our season but we got some points and are happy with the result." He will now be looking forward to the second round, the Jim Clark Rally on the tarmac at the end of May, which is not only his home event but where he secured a podium place last year.
Another driver to have a tough day in the office was last season's Junior Champ Eammon Kelly, who in his own words said "It's just one of those days where we couldn't really put it together".  Finishing seventh at the opening round, it's still early days for Kelly and Co-Driver Conor Mohan, who were out on only their second top-level BRC outing in the R5 VW Polo GTi.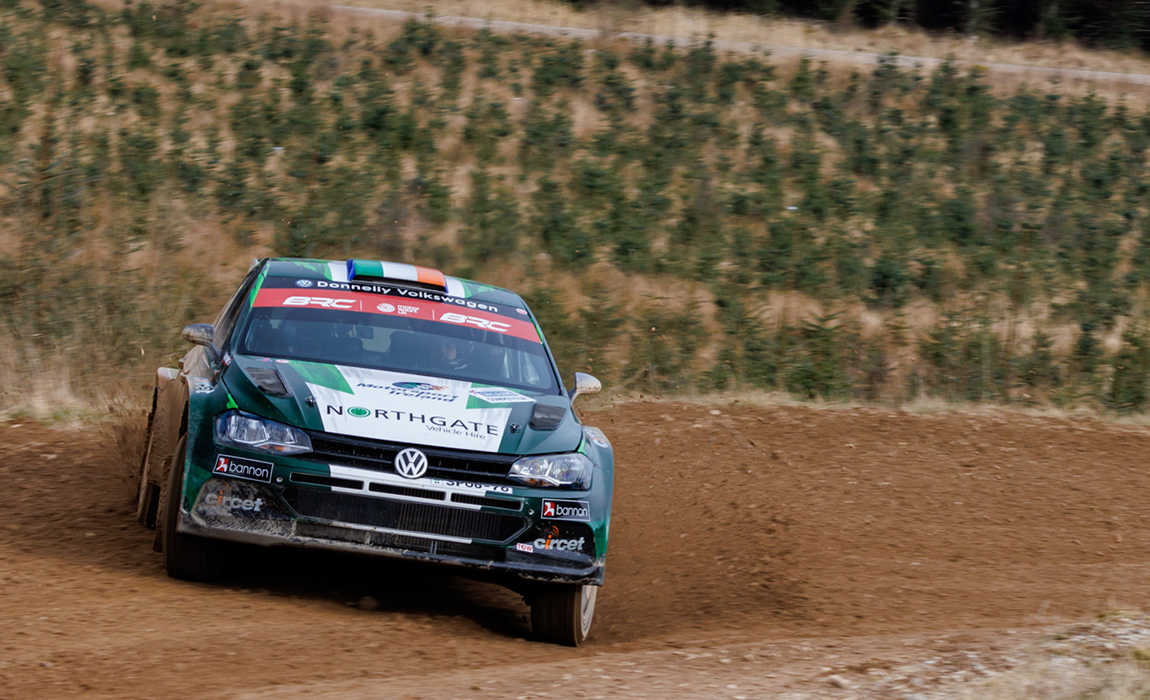 Photo: Eammon Kelly & Conor Mohan | By Andrew Scott
"It's good millage, we always learn something and any day in a rally car is a good day, so we enjoyed it" Kelly comments at the stop line of the final stage. "We know we are a long way away from where we can be and want to be, it's just back to the drawing board. We know we have it in us, we just have to work harder and try and get it." he goes on to say.
---
Taking to the top step of the Junior British Rally Championship podium for only the second time in their careers, was Kyle White and Sean Topping. For an event that perhaps didn't start too well, what with picking up a puncture on only the very first stage, the pair were probably left wondering if they were going to be getting a result from then on.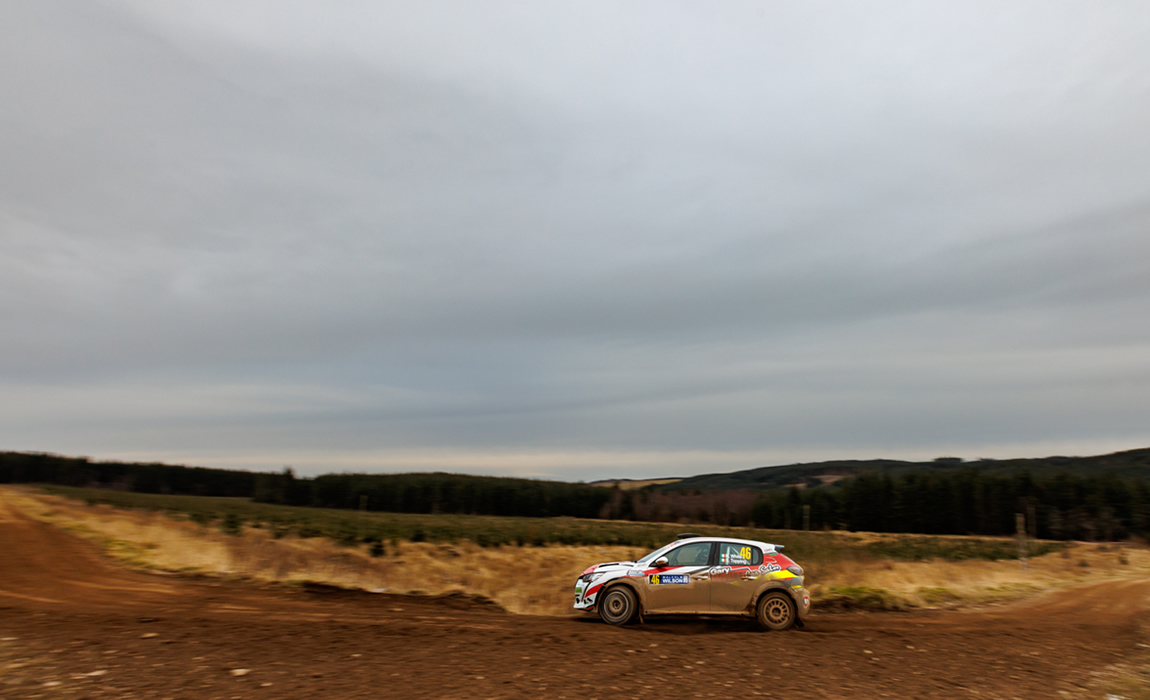 Photo: Kyle White & Sean Topping | By Andrew Scott
But they kept their heads down and got on with the job in hand and were rewarded with the opening round glory. After peddling their Peugeot 208 around the stages nearly 24 seconds quicker than their closest rival in Kyle McBride, the Malcolm Wilson Stages had delivered them the best possible result to set off from in their quest for their first JBRC title.
Runners-up McBride and Liam McIntyre were both happy with their performance and the result, this whole event was a case of both learning the Rally4 Fiesta and competing at this level. The 2022 Academy Trophy winners had also just secured a decent points haul at only the opening round of the season…. onwards an upward comes to mind.
Photo: Karl McBride & Laim McIntyre | By Andy Cook – Xlerate.Media
Casey Jay Coleman and Adam Coffey rounded off the Junior Podium in third. Whilst Johnnie Mulholland and Eoin Treacy picked up maximum BRC3 Class points with no one to compete against, as did Stephen Waugh and Mark Broadbent in the BRC4 Class.
---
NEXT TIME …
There is now around two months until the next round of the Championship, where the series will head across the border and into Scotland for the Jim Clark Rally (May 26/27). The switch in surface will offer up a new challenge on this iconic two-day event which will signal the first of four back-to-back Asphalt events for the crews.
Words & Feature Photo By Andy Cook | Xlerate.Media
---
CLOSING SHOT
Jourdan Serderidis – M-Sport Ford Puma Rally1 WRC | By Andrew Scott