BRC / RD2 / JIM CLARK RALLY 2023
01/06/2023
The Motorsport UK British Rally Championship resumed in the Scottish Borders at the Beatson's Building Supplies Jim Clark Rally for its second round of the 2023 Championships (May 26/27). From the town of Duns, this gruelling two-day Asphalt rally offered up some 72 competitive miles across 9 stages and would uphold its reputation as an enjoyable, yet tough and challenging rally for the British Rally Championship crews to tackle.
Last time out way back in March in the Lake District on the Gravel at the opening round, The Malcolm Wilson Rally. World Rally Championship driver Andrien Fourmaux began his BRC assault on his team's home turf by scoring maximum points. Unsurprisingly Fourmaux won the event in his M-Sport Factory-backed Ford Fiesta Rally2 by some margin over last year's Championship runner-up, Keith Cronin but also quite sensibly the Frenchman played his Joker Card to boost his points haul.
Photo By: Xlerate.Media
Heading into the second round, the Jim Clark with a sizable lead in the standings already, Fourmaux was once again hot on favourite, but this was really just stating the obvious. Considering that Cronin hadn't been out in his VW Polo GTi R5 car on the tarmac since Rali Ceredigion back in September last year, Cronin and the other BRC front runners were, however, still up for picking a fight in the Scottish borders.
The event got underway on Friday with its ceremonial start in Duns town centre in front of a packed crowd before heading out to the opening stage of the rally in the early evening. Here in the 11.78 miles of Longormacus, Adrien Fourmaux and Co-Driver Alexandre Coria set about chasing their second British Rally Championship win. And the World Rally Championship driver was indeed the quickest off the mark in that opening test over Keith Cronin & Mikie Galvin by a tad over 7 seconds.
Photo: Adrien Fourmaux & Alexandre Coria | By Black Mountains Media
"It is a really nice stage. It is quite tricky and technical, I like it it's really really fast." The Frenchman commented at the stop line "We are happy with our pace, I don't know what the others are doing but we are pleased".
Cronin arrived kind of expecting Fourmaux to be on it from the get-go, "OK, first tarmac stage in a long time, I dunno… it was hard to get into at the start but I think it was getting better towards the end" but only time would tell for the five times British Rally Champ as to just how much faster Fourmaux was going to be.
Local lad, Gary Pearson was the third quickest of the BRC crews on the first test, arriving a the stop line with some minor damage to his Meirion Evans Motorsport rented VW Polo GTI R5.
Photo: Gary Pearson & Dan Barrett | By GF Rally Images
"Just a little bit too much feaver maybe in the early part of the stage. One of the chicanes looked a wee bit more open and we got caught by the second bail, but that was all, nothing to be to worried about" "Maybe a bit wee ragged being my home rally but we tidied it up towards the end"

Gary Pearson
---
Opening round Junior British Rally Championship winner Kyle White topped the timings for the Juniors in his Peugeot 208; whilst behind him there was drama for two of his rivals. Both Max McRae and JBRC regular Kyle McBride went off after only a couple of miles into the first test of the rally. Their early exit from contention then left only JBRC newbie, Luke Barry to post a time on SS1 behind White.
The second pass of Longformacus was delayed and would start under the cover of darkness; this is where Adrien Fourmaux would pretty much have the rally already sewn up. With all that seat time that a Works-backed driver has on the World Stage, there was no wonder that he outclassed the British crews in the dark.
Photo: Adrien Fourmaux & Alexandre Coria | By Black Mountains Media
"It is amazing in the dark, a lot of spectators in the stage, so it's great to see the atmosphere"

Andrien Fourmaux
The timing sheets from this stage alone showed the difference between such a driver and our part-time national crews, as Fourmaux posted a time that was a whopping 16.1 seconds quicker than Cronin. The Frenchman was now heading into the overnight halt with an already significant buffer of 28 seconds.
Cronin thought that this second stage was a bit better but he wasn't fully in the zone yet, "I'm still not getting into it, I'm breaking too early and my confidence isn't there." It was, however, still early days, what with it only being the second stage of the rally. But from here on, it was going to be a big ask to real in Fourmaux "It's just difficult when you're not sitting in the car often", Cronin expressed, and deep down he already knew what the end result would likely be.
Pearson who had hired the assistance of World Rally Co-Driver Dan Barrett for this event clearly wasn't holding back on his home event. Alas, even with this high calibre besides him calling the notes, unfortunately, he went off in this stage, the crew were OK and the car didn't look too bad. Pearson's misfortune had elevated James Williams & Dai Roberts into third in the BRC at the end of the opening leg.
"Made a couple of mistakes in there to be honest. The car wasn't absolutely perfect for the stage to be honest, quite a lot more bottoming than I had last year, but lovin' it." Williams referring to his switch in machinery from the Hyundai of last season to the Ford Fiesta Rally 2 this year "Just learning the car, this is the first event on tarmac in the car so that's the biggest thing".
Kyle White arrived at the end of the first leg alongside Co-Driver Sean Topping smiling "All intentions just to drive through, it's unfortunate what happened to Max and Kyle, I was looking forwards to a battle with them this weekend." But the young Irishman now had the lead of the rally to protect with very little competition to push him and the pair already had their sights set on just getting to the end for that win and the points haul that comes with it.
Photo: Kyle White & Sean Topping | By Black Mountains Media
Meanwhile, in the BRC National Classes, Alan Carmicheal & Arthur Kierans, although had two troublesome stages to begin their event with, they were leading the National Classes in their Hyundai i20 R5 car (NRC7). In the opening test they caught a cloud of dust and in the second pass under the cover of darkness, he thought he had a "terrible run" and was "just too slow". Nevertheless, the pair just wanted to get through that opening night and they had done just that.
Irish lad Johnnie Mulholland was debuting the M-Sport built Ford Fiesta Rally3 on the tarmac in the BRC3 class, and what a baptism of fire the opening night of the Jim Clark Rally would be for the car and them.
"It was good, I think we were very cautious, the cars just slightly different handling-wise over some of the bumps n stuff, so we are a bit cautious on everything", "It's a good car with loads of potential, so we will try and go a little bit faster".
Mulholland and Co-Driver Eoin Treacy ended the opening Leg with a big lead over the BRC4 Class Ford Fiesta of Stephen Waugh & Mark Broadbent.
---
LEG 2
The second leg would contain the main meat of the bone for the rally, but would that already significant lead that Adrien Fourmaux had built up the night before prove to be too much for any of our BRC regulars to comprehend even getting close to?
With two loops of three stages in the daylight, the next morning began with a 7 miles stage, "Edrom" and Cronin & Galvin were getting back in the saddle by posting the fastest time of the BRC crews. 1.7 seconds was the margin over James Williams & Dai Roberts, with Fourmaux a nats whisker behind them.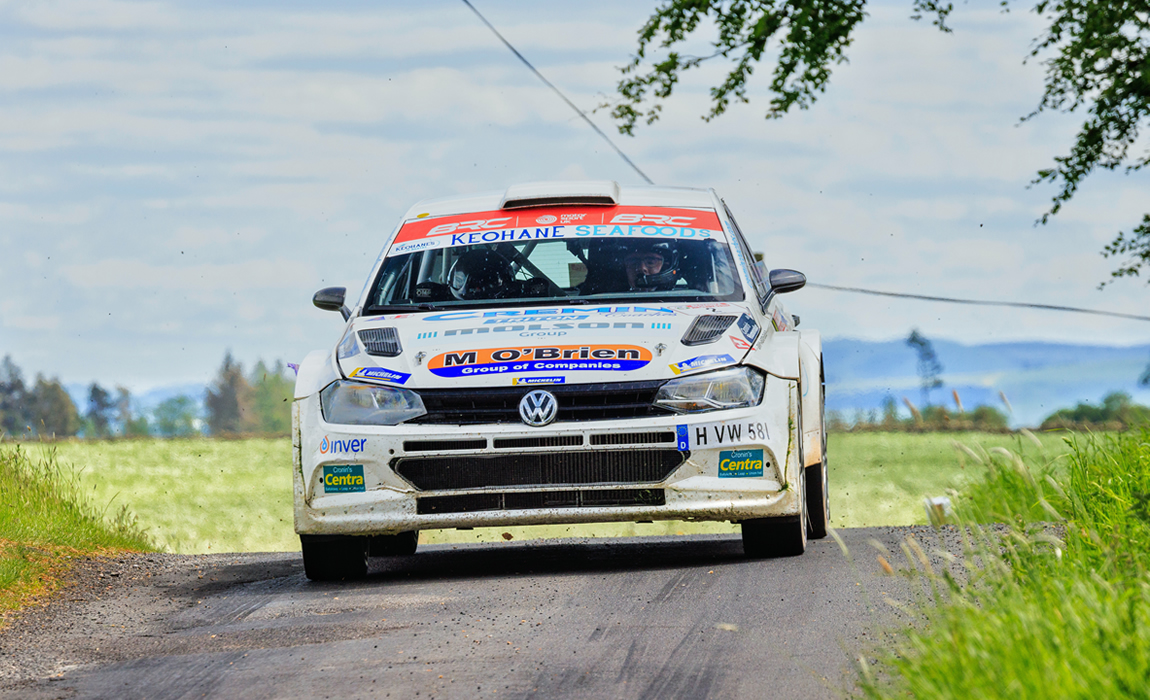 Photo: Keith Cronin & Mikie Galvin | By Black Mountains Media
"That's a bit better than last night" the Irishman commented at the end of the stage "It was a bit sketchy at the start and I couldn't get the tyres in, so we had a few moments at the start, but it got better in the end".
Williams thought that his stage was "kinda messy in places" and that he was "not that happy with it", finding it "super slippy" and believing that it was hard to commit because "the tyres were just sliding everywhere", which tallied up with what Cronin had reported.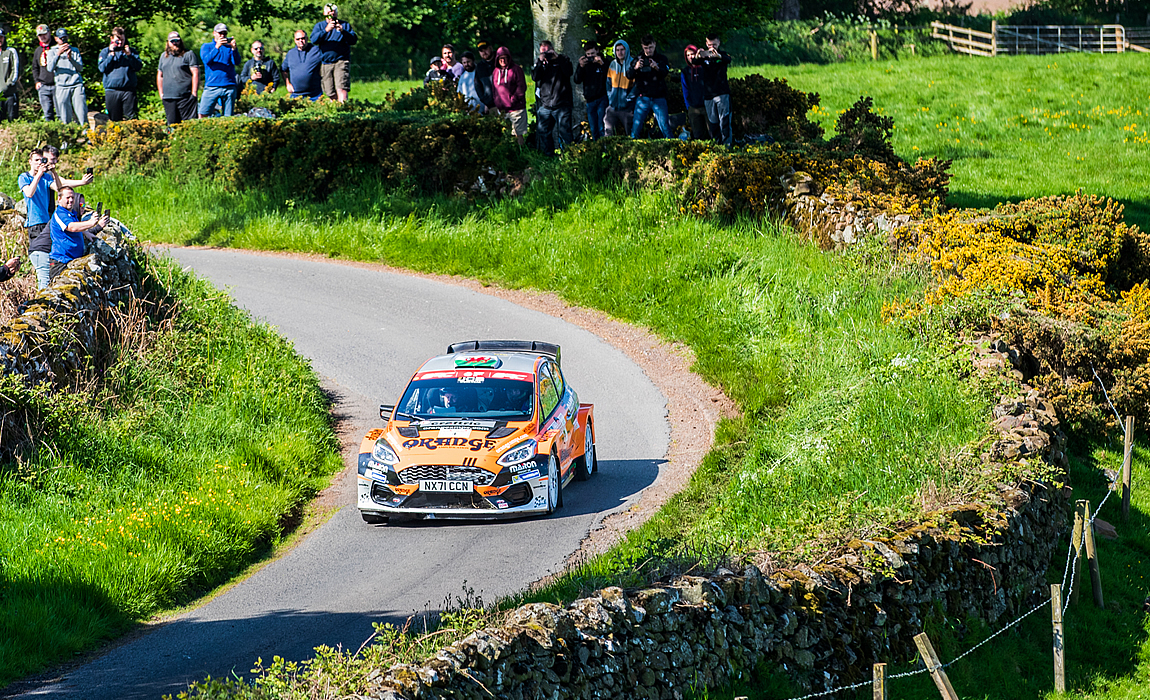 Photo: James Williams & Dai Roberts | By GF Rally Images
Ahead of them, the first man on the road, Fourmaux commented that there were a lot of stones on the road in his lines "It was really slippery on this stage with lots of stones on the lines, It was a bit tricky. For sure it will be easy for the afternoon but actually, it was a clean stage."
Losing a few tenths or even seconds here and there wouldn't really have much of an impact on his overall lead. So long as he kept his foot in and kept the car on the road, then being there or thereabouts on the timing sheets for each stage from here on would more than suffice.
Cronin was back on form in the next one, SS4 Ayton was a tad over 7 miles in length and he gained back another second to Fourmaux here. Williams had dropped time which promoted Callum Black & Jack Morton into third in the BRC, but they were more than half a minute away from the likes of Cronin.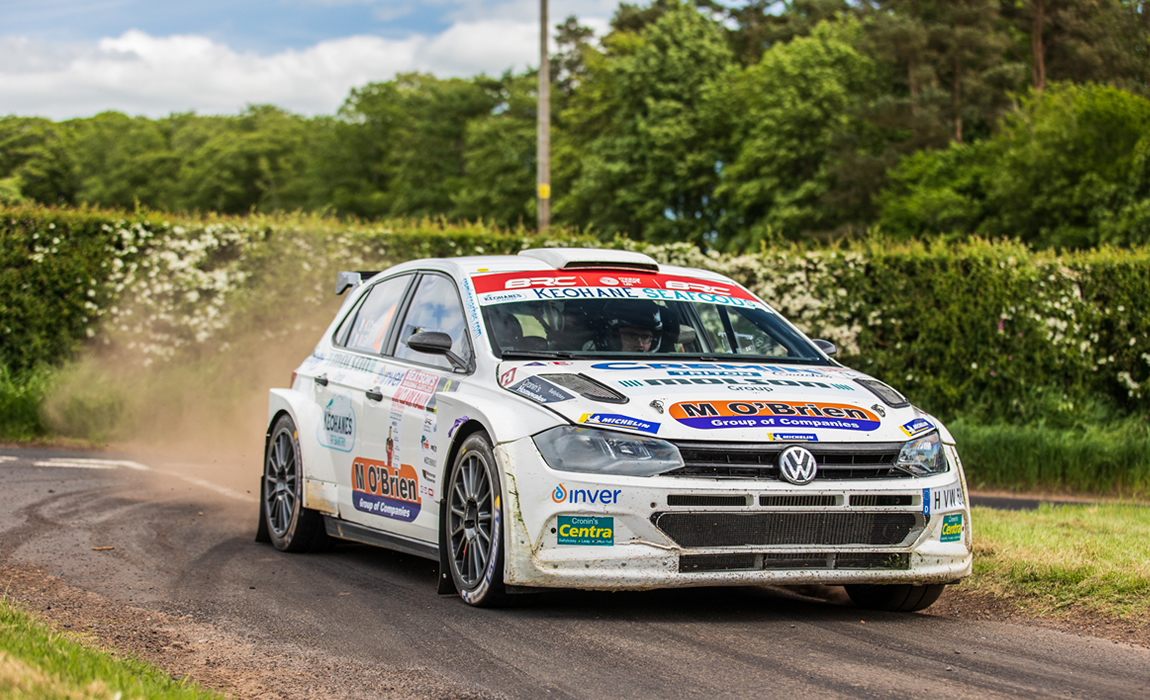 Photo: Keith Cronin & Mikie Galvin | By GF Rally Images
Like Cronin was to Fourmaux, Black had very little hope of gaining ground to challenge Cronin for position, but Black had other things to worry about, rather than even contemplating going after the four times British Rally Champion in front of him.
"We've got issues with the pop of valve.. it keeps triggering and then we lose power, so will have to change that in service."

Callum Black
Photo: Callum Black & Jack Morton | By Black Mountains Media
The last stage (SS5 Fogo) of the morning loop before service saw both James Williams/Dai Roberts and Elliot Payne/Tom Woodburn retire from the rally after rolling out. Callum Black was nursing his poorly Ford Fiesta Rally2 car back to service, whilst Cronin set his third fastest BRC stage time of the morning. Cronin picked up almost another second to the rally leader Fourmaux in here, but try as he might, his efforts doth butter no Neeps and Tatties and Fourmaux arrived back at service in Duns with over a 24-second buffer.
---
For our leading Junior BRC crew, Kyle White & Sean Topping, although it was effectively their rally to lose, it was actually not a simple task to just get to the end.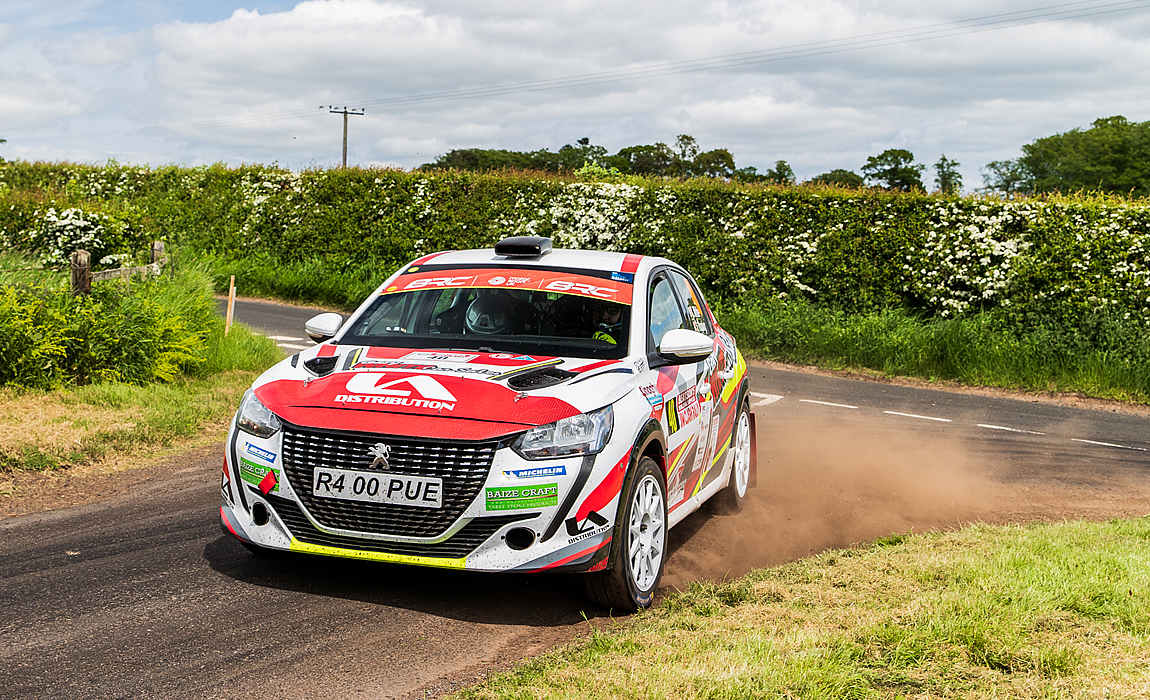 Photo: Kyle White & Sean Topping | By GF Rally Images
"I was just driving through without the lag on trying to protect the car as much as possible because we've got a 6 minute lead in class. We'll be dropping loads of time today, but we just want to protect the lead. It's hard for Sean having to adjust his notes"

Kyle White
Kyle McBride & Liam McIntyre had restarted for the day in their now rather second-hand-looking Rally4 Ford Fiesta. A podium place was still on the cards for the pair and it was just a question of which one. At the mid-point in the day they had clawed back a decent amount of time to newcomer, Luke Barry who was having a crack at rallying in the JBRC for the first time alongside Alex Waterman in an R2 Ford Fiesta.
Alan Carmichael & Arthur Kierans' troublesome rally had continued on from the previous night and into the morning loop of three stages. Cold tyres on the first stage of the loop knocked the confidence and they then visited a hedge in a field during SS5 Fogo. The pair continued on making it to service with only cosmetic damage to their Hyundai i20 R5.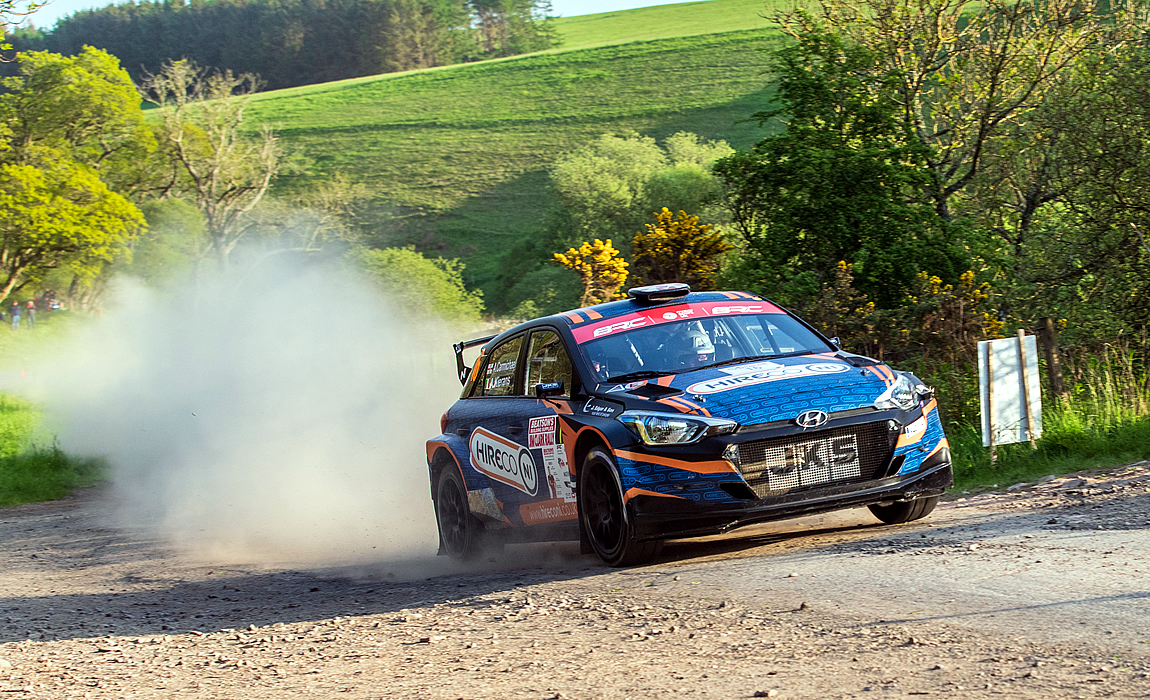 Photo: Alan Carmicheal & Arthur Kierans | By GF Rally Images
Johnnie Mulholland and Eoin Treacy continued to push on in their Rally3 Ford Fiesta (BRC3) getting to grips with the new machine on the tar "It was good", "We're still trying to get used to things, late braking is the big thing at the minute as the brakes are so much better…. but we'll get there, so we are still learning". Stephen Waugh & Mark Broadbent were a few minutes behind in their (BRC4) Fiesta.
Back out after service for the final stretch of the rally and Fourmaux edged Cronin in the repeated run of Edrom by a minuscule tenth. Taking advantage of the now cleaner roads the Frenchman confirmed that it was "much better" than the morning pass. "Now we have proper lines of rallying so we are enjoying the stage more. The grip is so much more better. I am enjoying it".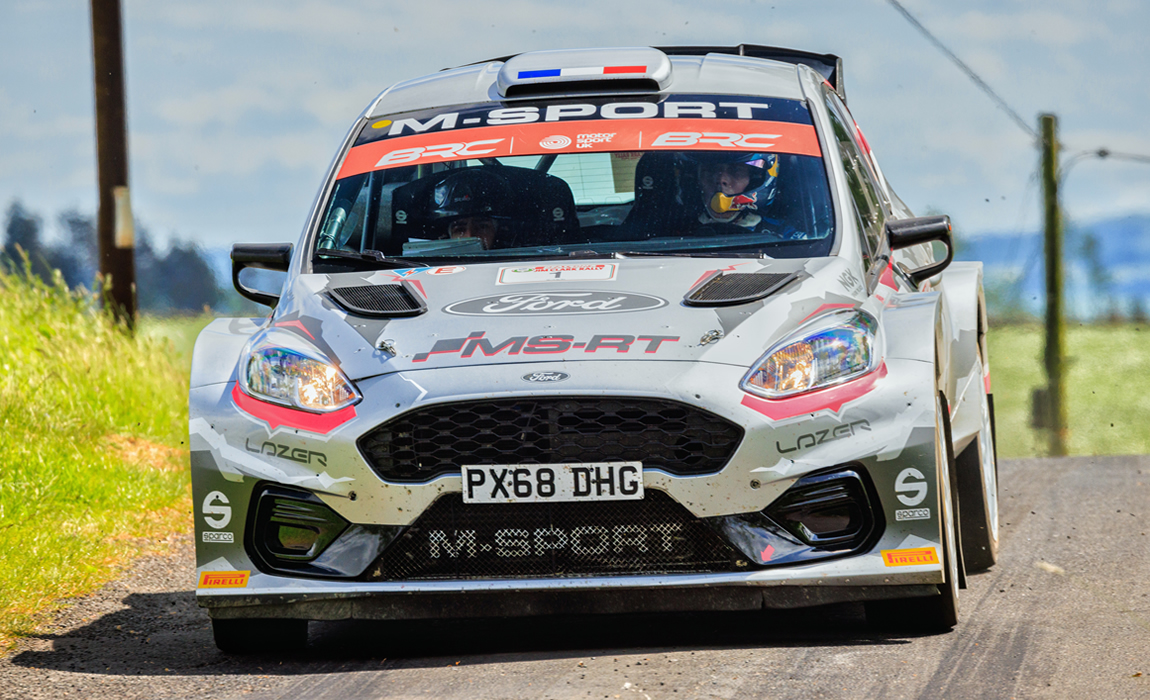 Photo: Adrien Fourmaux & Alexandre Coria | By Black Mountains Media
Second-place man Cronin thought that he and Co-Driver Mikie Galvin were a bit in no man's land really "We're not going to catch him, so just trying to keep a good rhythm going. We went at a nice pace and it feels a hell of a lot better today".
Despite holding third in the BRC, Callum Black's rally wasn't going all that too well "We hit something and it's bent all the steering, we stopped to make sure we weren't punctured so that we didn't get disqualified".
To add insult to injury, it looked like despite having the pop-off valve replaced back in service, the issue still remained, it was now a case of survival for the pair over the remainder of the stages.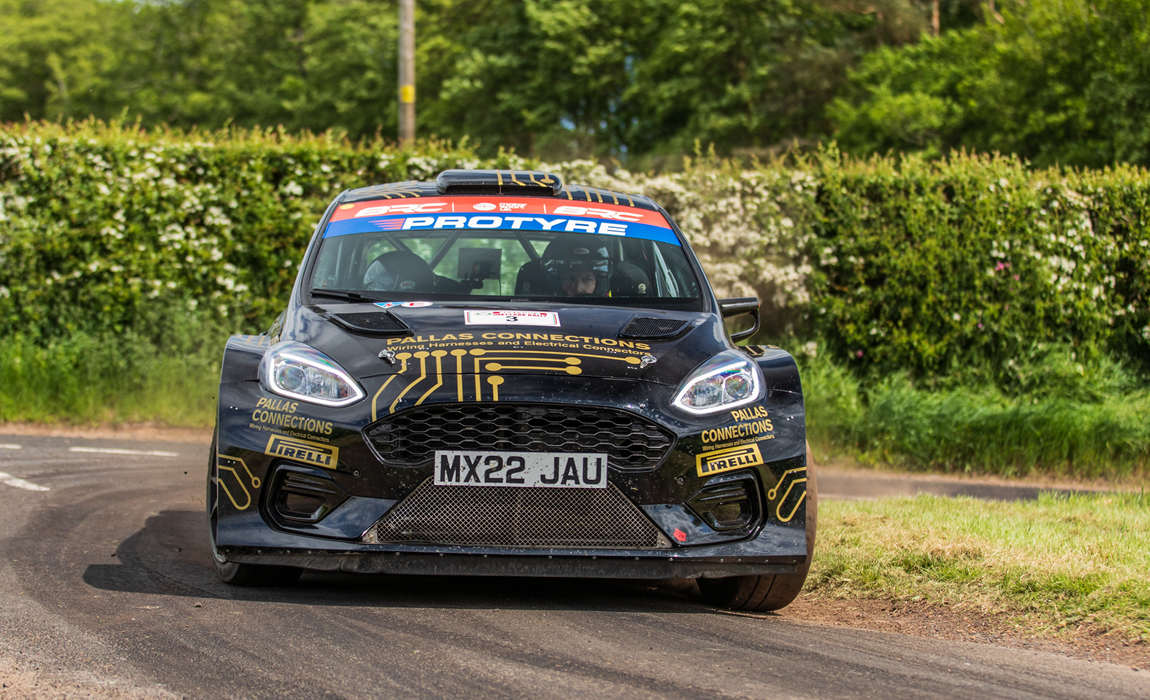 Photo: Callum Black & Jack Morton | By GF Rally Images
Cronin reacted to Fourmaux in the penultimate stage of the rally, Ayton 2, clawing back another 2.5 seconds but with more than half a minutes deficit heading into the final stage, barring nothing untoward happening to Fourmaux out front, there was only going to be one outcome.
---
At the stop line of the final stage (SS8 Fogo 2) there was some initial confusion as the rally leader, Fourmaux arrived ahead of the zero safety car. Under the Motorsport UK rules, no competitive car should pass the zero car in stage, else exclusion would occur. This sparked a wave of controversy and questioning but it later transpired that this was due to an error by officials, who sent him into the final stage only 2 minutes behind the 0 car, no disqualification was therefore to be imposed.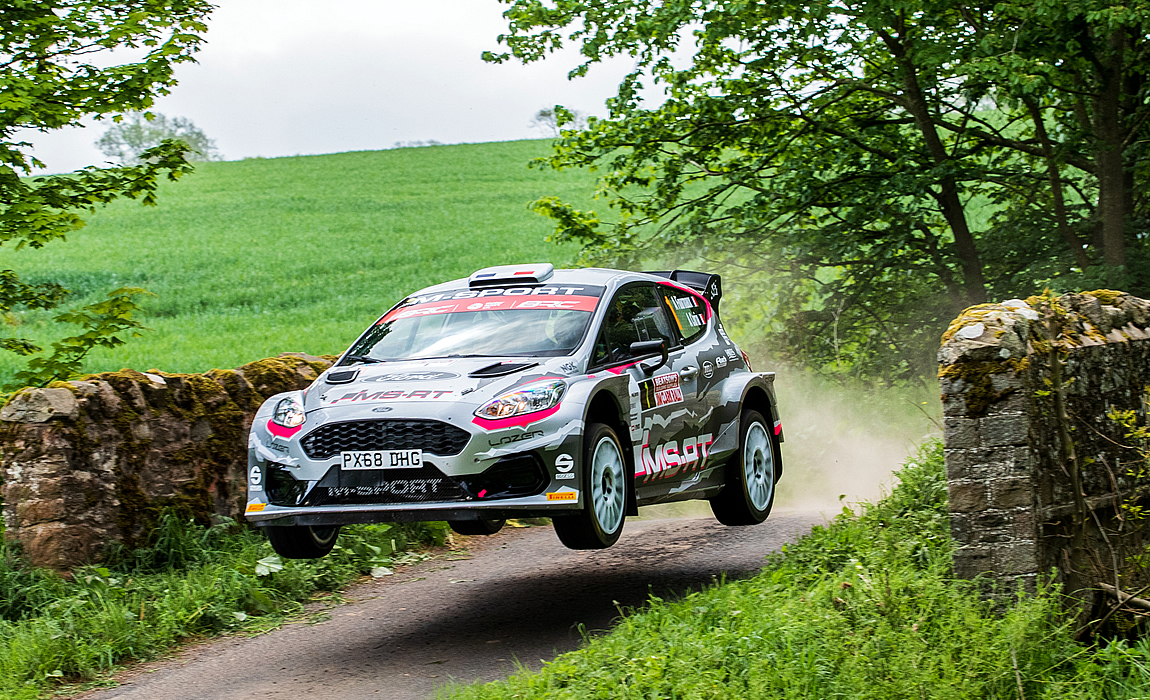 Photo: Adrien Fourmaux & Alexandre Coria | By GF Rally Images
Andrien Fourmaux alongside Co-Driver Alexandre Coria had done it, they had secured their second British Rally Championship victory at the Beatson Building Supplies Jim Clark Rally in their M-Sport factory-backed Ford Fiesta Rally2 car.
"We really enjoyed the rally, it was really technical with slippy parts in some sections. We had a really good day yesterday and then we were managing today, so we can be happy."
Crossing the finish line with 29 seconds in hand, Fourmaux & Coria now had back-to-back wins on both surfaces in the British Rally Championship under their belts.
"I'm really enjoying the BRC, it was different with the gravel and the tarmac, which is the next event. I'm living 30 minutes from Ypres (the next round), and I've won it twice, so I will try".
Bringing their VW Polo GTI R5 car home in a well-earned runners-up spot, Keith Cronin & Mikie Galvin had done all that they possibly could have. It was always going to be a mammoth task trying to bring the fight to the likes of Fourmaux and they gave it a good going. Ultimately the pace of Fourmaux out of the blocks and into the darkness of the Friday night was where the rally was lost and there was very little that the Irish pair could have done to influence that outcome.
Photo: Keith Cronin & Mikie Galvin | By Black Mountains Media
"No doubt it was the best we could have hoped for at the start of the rally. I was saying at the start of the rally that I was kinda expecting that Andrien would get us all by a lot at the start and he did. But everyone's pace came up, but yeah the best that we could have had."

Keith Cronin
After two rounds, it is clear that IF Fourmaux is to contest the full BRC season, it doesn't really bode well for the other British crews, and more so for the likes of Cronin who is hunting down that fifth title. If you were him, what would you do? continue to find the budget and carry on competing or look for another playing field?
"We'll take it rally by rally, not sure if we will go to Ypres yet, will see, we might wait until the one after, it's a long way away to go for us. You're not going to beat Andrien on a rally, but we'll keep trying."

Keith Cronin
---
Rounding out the BRC podium was British Rally Championship returnee, Callum Black in his Ford Fiesta Rally2. A podium finish on the tar at only the second round does read well, only Black and Co-Driver Jack Morton just had a bit of a mare getting it on this one.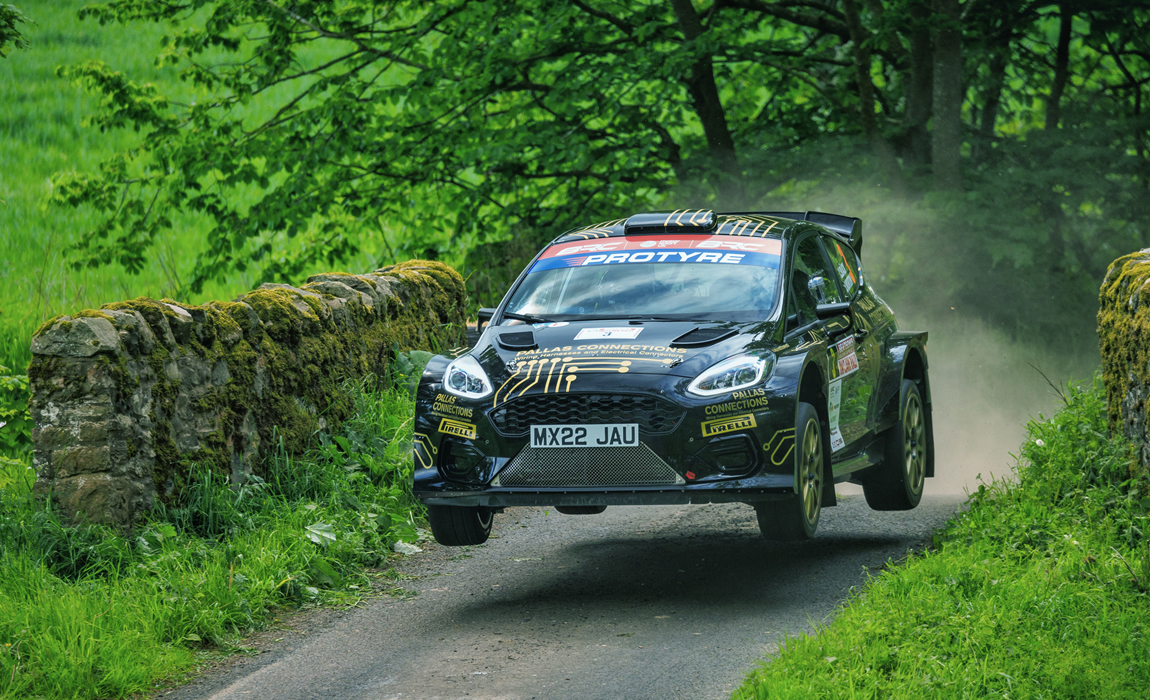 Photo: Callum Black & Jack Morton | By Black Mountains Media
"We'll take that, it's been a trying day today, to be honest. We had a weird pop-off valve issue which we changed at service and it actually made it worse, frustrating! And it didn't help that I smacked a rock in the first stage of the second loop, so we've been driving around with bent steering which hasn't been much fun."

Callum Black
Onwards and upwards comes to mind here, their efforts see them take hold of third place in the standings behind Cronin; but with Fourmaux being such a formidable force in the Championship thus far, perhaps the likes of Cronin and Black should just focus on the scrap for being the best of the rest?
Another crew to have had a trying rally were National BRC winners, Alan Carmicheal & Arthur Kierans. From the start of the rally in catching the dust in the opening stage to a minor excursion into a hedge, coupled with some technical issues with their Hyundai i20 R5 car, they had battled on until the bitter end and got the result that they needed.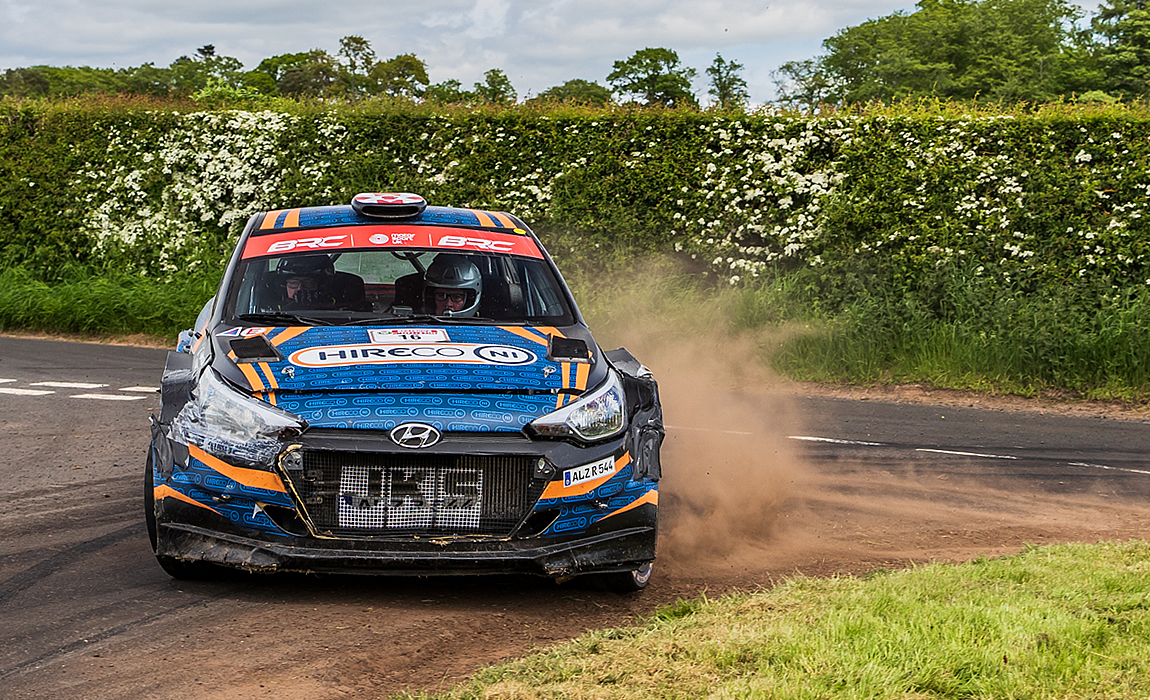 Photo: Alan Carmicheal & Arthur Kierans | By GF Rally Images
"I can count on one finger the amount of stages that went well today and yesterday. Everything is flashing (on the dash of the car). The last stage I didn't even have anti-lag and then this stage…. same again, but I got to the finish…. how.. I dunno, but I'm here. It could be worse!"

Alan Carmicheal
The cruise to the end of the rally in order to pick up the Junior British Rally Championship honours was not such a straightforward task for Irish lad, Kyle White. With no real competition to skirmish with throughout the day, the win was his for the taking, however, it did not come without its woes.
The first stage after service (SS6 Edrom2) was where the concern for White & Co-Driver Topping would begin "It started smoking there in the stage pretty bad, so we are losing boost now, I have the lag off and we are in road mode". There was a decent buffer but would the plucky little Peugoet 208 hold out until the chequered flag?
Thankfully it did, White and Topping nursed the poorly Pug home to pick up their second JBRC win making it two out of two. Their back-to-back victories now sees them with a commanding lead over Kyle McBride in the Junior Championship standings.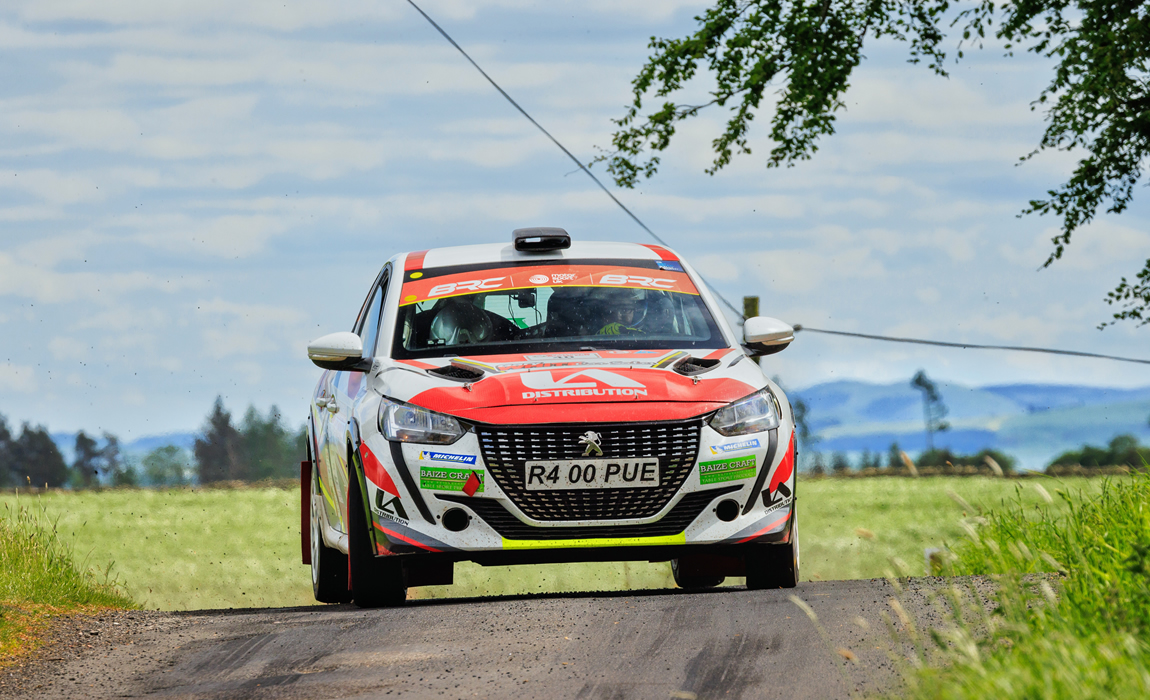 Photo: Kyle White & Sean Topping | By Black Mountains Media
"It's one of them ones, I'm sort of glad no one was fighting with me, because there's very little power in that at the moment with the turbo so it would be hard to keep anyone at bay. "We did the hard work last night and it shows today that all you need to do is finish. It doesn't get much better but we'll have to do a bit of work to the car for Ypres."

Kyle White
McBride and Co-Driver Laim McIntyre never gave up after their opening stage misdemeanour and recovered the rally to pick up some valuable points after securing the second step on the JBRC podium ahead of rallying newbie Luke Barry.
Johnnie Mulhullond & Eoin Treacy had a successful first outing on the tarmac in their new M-Sport Ford Fiesta Rally 3 car. The event was a learning curve from beginning to end and they were rewarded with maximum BRC3 points for getting to the end of what was a tough rally for all who took on the mighty challenge that is The Jim Clark.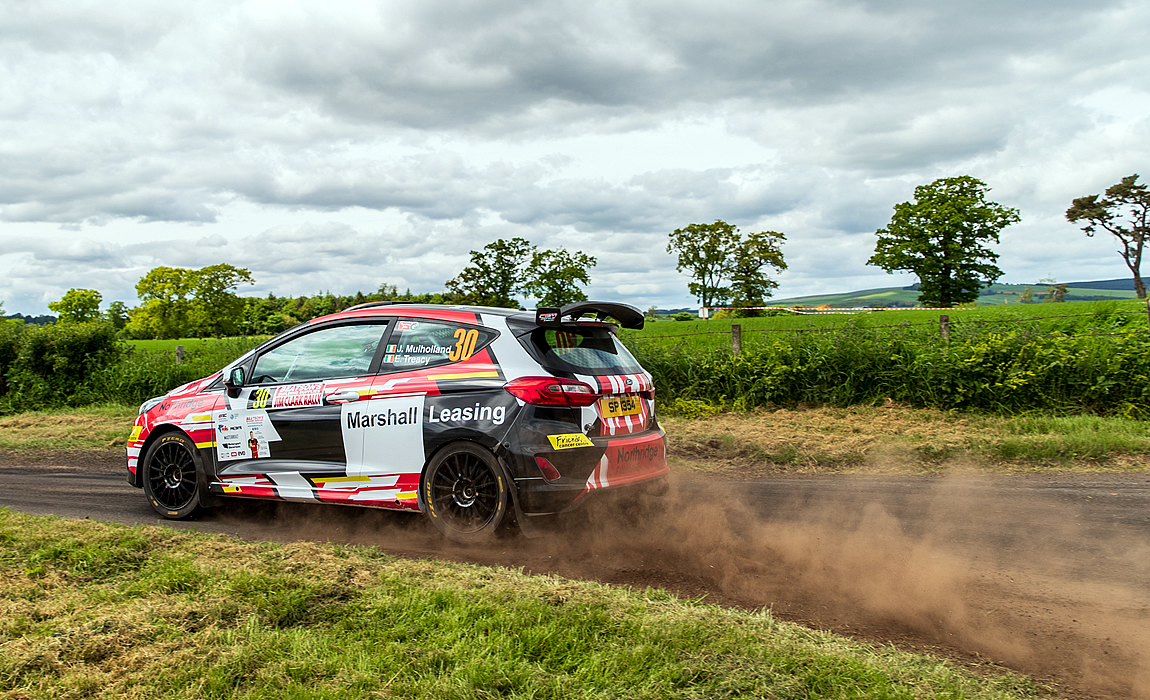 Photo: Johnie Mulholland & Eoin Treacy | By GF Rally Images
"I think we've been getting quicker all day which is nice to see. I think we would have been disappointed if we weren't getting closer to the other guys, so we're glad to see the few changes that we made seem to have worked. We're getting a bit braver, I wish we can go again now"

Johnnie Mulholland
Stephen Waugh alongside Co-Driver Mark Broadbent also peddled his Ford Fiesta home for top BRC4 points but was a fair bit off the pace of the latest spec machine of Mulholland, but that is entirely understandable.
---
NEXT TIME …
The Motorsport UK British Rally Championships heads across the channel and into Europe next. The legendary Ypres Rally (June 23/24) will host the third round of the series on the ultra-fast and challenging Belgium roads, where jeopardy can await our British crews as they pitch themselves up against the local talent.
---
Words By Andy Cook – Xlerate.Media | Feature Photo By: Black Mountains Media