BRC | RD4 GRAMPIAN FOREST RALLY
28/08/2022
The British Rally Championship reached its most northern event of the 2022 season in the Scottish Forests to the west of Aberdeen for Round 4 at the Grampian Forest Rally. From its base in the town of Banchory, the Stonehaven & District Motor Club organised event featured 6 very fast and flowing gravel stages in the Drumtochty, Durris and Fetteresso Forests. Covering some 43 competitive miles, the event offered up something different to the Championship which was backed up by five times Scottish rally Champ David Bogie, who thought they were perhaps some of the best gravel stages that Scotland has to offer.
Photo: BRC Media Team
Last time out on the Nicky Grist Stages in Wales, the crews got their first taste of gravel action this year; where Osian Pryce took the honours scoring his second victory of the season.
This result moved the Welshman a step closer to the Championship leader, Irishman Keith Cronin, but neither of these two main contenders have significant experience on these Scottish stages. Cronin although heading into the Grampian had an eleven-point lead over Pryce, he acknowledged that he really could do with the win this time out.
The opening 5.13 miles test in Durris saw Cronin get his Scottish Gravel assult off to the ideal start in his VW Polo GTi R5 car, posting a time that was three seconds faster than Ruairi Bell in the Skoda Fabia R5. Cronin's main concern (Osian Pryce), however, was a further second off the pace in third.
Cronin extended his lead in stage 2, Drumtochty but was finding it difficult at times in the hanging dust; he was, however, comfortable in the car and wasn't taking any risk but most certainly was not expecting to lead by some 10 seconds heading in the first service halt of the day.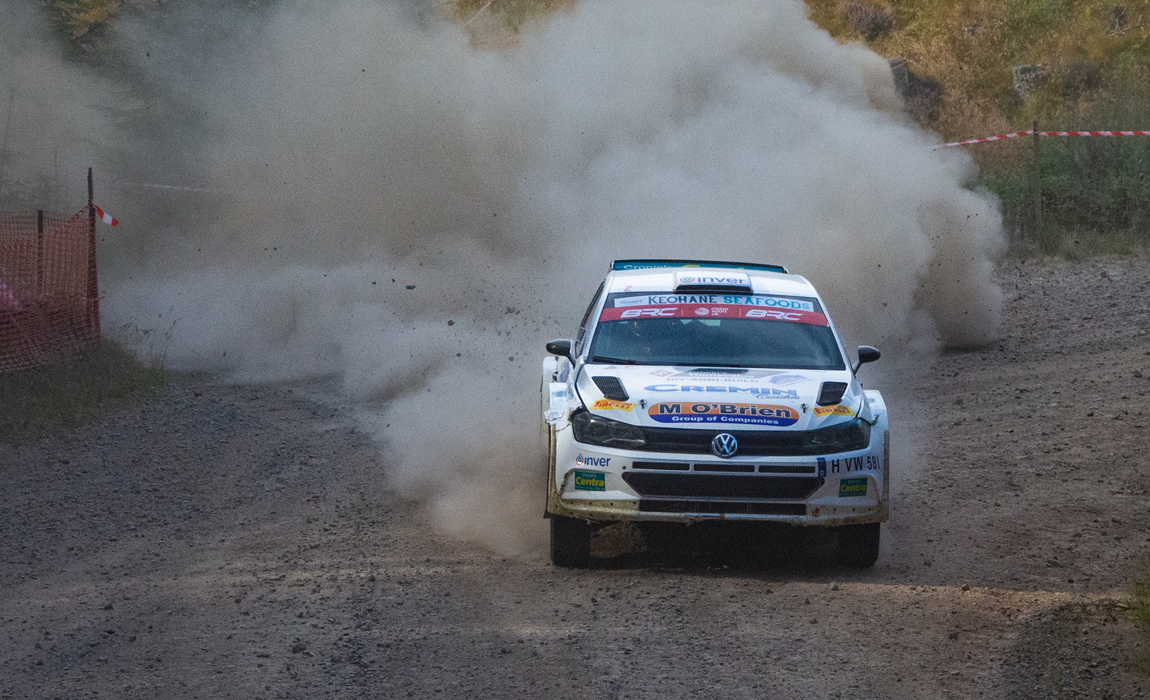 Keith Cronin & Mikie Galvin | Photo By Ewan Mackenzie
Pryce who had gained second place in SS2 Drumtochnty and although was being perhaps a little bit too over-cautious admitted that he was shocked at how much time he would lose to the cleaning effect on the opening test of the morning alone.
James Williams in the Hyundai i20 R5 car was holding third, just a second off the back of Pryce, which for him was a little unexpected considering he got lost in the notes and had a few big moments himself in the dust. Just two seconds separated second to fifth places, the action was already tight at the top after the first loop of two.
---
Meanwhile, in the JBRC, Irish lad, Eamonn Kelly was leading Round 3 – Nicky Girst Stages Winner, Kyle White, by 5 seconds after the opening two-stage loop of the morning. The pair stopped the clocks on identical times on the opening test of the rally but Kelly took the initiative on Stage 2 to take up the lead of the Juniors.
Eamonn Kelly & Conor Mohan | Photo: BRC Media / JEP
Heading into the first service of the day, Kelly was feeling nice and relaxed in the Rally4 Ford Fiesta with his 5-second advantage but recognised that he needed to be on form right from the off, the battle was once again well and truly on.
Back out after the first service and Cronin was straight on it and into the longest test of the rally, Finglenny to extend his lead even further with his second stage win of the day. But behind him, Ruairi Bell had overhauled Osian Pryce for second place overall, as Pryce once again suffered from road sweeper duties and dropped some 10 seconds to rally leader, Cronin in this stage alone.
"We haven't really been doing anything wrong, I knew the car was good and everything is working fine, it's just the road conditions. It's not ideal, in terms of the rally and we've dropped a lot of time but we kinda knew that we would be up against this, we just have to deal with it and keep going."

Osian Pryce
Osian Pryce & Noel O'Sullivan | Photo By Ewan Mackenzie
The only saving grace for Pryce was that he along with Bell, had both managed to claw back 3 seconds to Cronin in SS4 (Scare Hill) with a joint stage win but with two stages remaining, Cronin was happy with his middle loop despite suffering from the dust.
Meanwhile also in the middle loop, James Williams was once again (Like Clacton and The Nicky Grist) suffering from a loss of power to his Hyundai i20, which dropped him down to 5th behind Garry Pearson.
---
Thanks to his efforts in SS3, Cronin had a 13 seconds lead over Ruairi Bell heading into the final loop and barring anything untoward happening, was sitting poised ready to score his second victory of the year.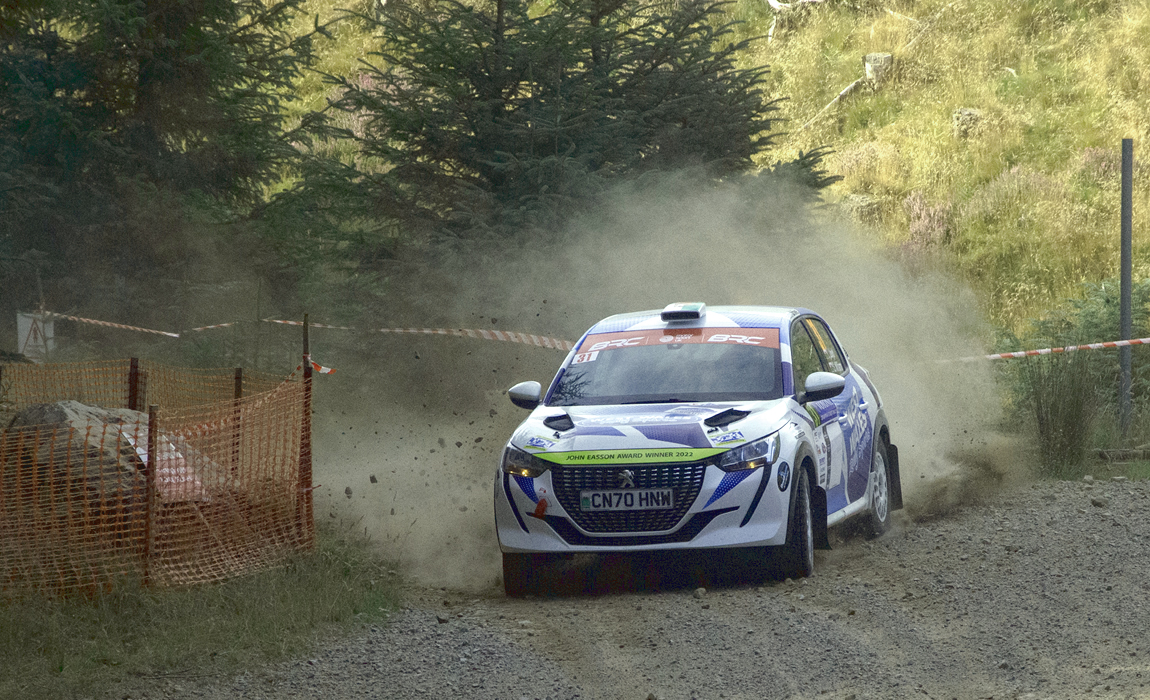 Kyle White & Sean Topping | Photo By: Ewan Mackenzie
Kyle White got the better of Eamon Kelly in both of the middle loop of stages to close the gap in the Juniors down to just a single second. Kelly reported that his tyres were shot but White was pushing on hard behind the wheel of his Peugeot 208 Rally 4 in order to catch and bring the fight to him. The final loop of two was teed up for another cracking battle in the JBRC right to the end.
As the crews compleated the penultimate stage (SS5 Strathgyle Wood), Cronin was holding his lead of the rally out front, despite reporting that the dust was getting worst. Behind him the battle for second was still in full swing, Bell and Pryce once again matching each other's pace and stopped the clocks on identical times in this stage, but Pryce was heading into the final stage of the rally four seconds adrift of Bell with it all to do.
Ruairi Bell & Max Freeman | Photo By: BRC Media / JEP
---
James Wiliams was on for a fourth place as Garry Pearson went off in the penultimate stage of the rally, his nearest challenger Jason Taubard Pritchard was some 27 seconds off with just one to go.
In the final stage of the rally, Osian Pryce alongside Noel O'Sullivan had been able to catch and overhaul Rauri Bell for the second spot on the podium. Bell who had led Pryce since the third stage of the rally had unfortunately dropped some 12 seconds after having an off in the final 8.7-mile Hurlie Bog test.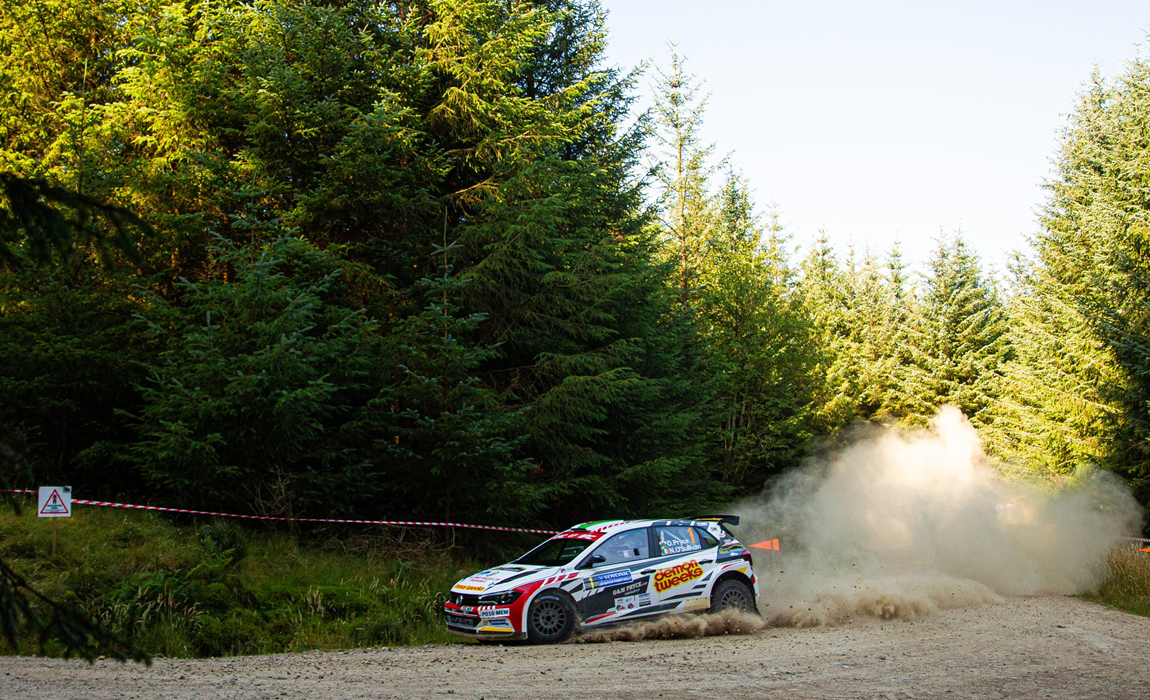 Osian Pryce & Noel O'Sullovan | Photo By: BRC Media / JEP
"Tough rally really, as we expected, we're not shocked about it, it's proven we had some of the pace when we were on a level playing field with the road conditions. All in all a bit of a tough weekend, glad to see the end of it." "It's (2nd) a bit of a consolation from a bad weekend, It's a shame for them (Ruairi & Max) for doing so well, they've had some poor luck so they didn't deserve that.

Osian Pryce
Bell and Co-Driver Max Freeman were lucky to make the end of that final test after their off and did complete the rally with just 8 seconds in hand to fourth place man James Williams and as a consolation, was still able to take the third spot on the podium.
Ruairi Bell & Max Freeman | Photo By: Ewan Mackenzie
"We were down a ditch, in a tree and off the side of the road, we hit the throttle and we managed to get out the ditch, I don't know how…..Now I've used up all my luck again. I don't think I've ever been happy, sadder and disappointed about third place." "We've still got three events left of the season, still got plenty to prove, not the way we wanted it to end"

Ruairi Bell
Irishman Kieth Cronin alongside Co-Driver Mikie Galvin, with 5 out of 6 stage wins crossed the finish line with some 21 seconds in hand to take their second BRC victory of the year.
Keith Cronin & Mikie Galvin | Photo By: BRC Media / JEP
"It was great to get the win, we really did need it, especially going to Wales next, where it will be tough to beat Osian." "We had a good start and were able to manage it from there, it's a great win, our first win on Gravel for a while." "Yes we are leading it (The Championship) but we need the wins to be able to win the Championship"

Keith Cronin
After being at each other's throats all day, unfortunately, Karl White lost over 35 seconds in SS5 to Kelly and then retired from the rally altogether before contesting the final stage. White's unfortunate demise ended that epic Junior battle which had played out on the stages up until this point.
Eamonn Kelly alongside Co-Driver Conor Mohan crossed the finish line ahead of Johnnie Mulholland & Eoin Treacy to claim their second victory of the season thus far, on the very event where they won their first JBRC event last year.
Eamonn Kelly & Conor Mohan | Photo By: BRC Media / JEP
"It was disappointing when we heard he (Kyle) went out because we were ready for a fight and we put in a big push on that stage where he went out. Fair play to him he pushed us to another level." "We did what we could, we did our best, we're are proud of ourselves and really happy to be here no matter what way."

"We come into every round looking to win now and this win boosts our Championship hopes and we can see it in our sights now"

Eamonn Kelly
---
Keith Cronin leads Osian Pryce in the standings by 86 to 68 points with James Williams rounding off the top three BRC1 driver standings on 45. Eamonn Kelly leads Kyle White from 91 points to White's 58 points in the Juniors. Whites DNF at the Grampian now puts Jonnie Mulholland within reaching distance of him on 55 points.
NEXT TIME …
The British Rally Championship returns to the asphalt next at the Rali Bro Ceredigion, Aberystwyth for the 5th round of the Championship on 3-4 September where the closed roads of Wales will host another battle for our BRC protagonists.
Words By Andy Cook (Xlerate.Media) Photos By: BRC Media / JEP & Ewan Mackenzie Photography
CLOSING SHOT