BTRDA / RD1 MALCOLM WILSON RALLY 2023
26/03/2023
2023 marks the 70th year of the BTRDA Rally Series leading two awards, the Gold & SilverStar, and this ever-popular national stage rallying Championship would once again be supported by MRF Tyres.
It has been some five months since last season drew to a close on the stages of North Wales at the Cambrian Rally back in October and it was great to see the Malcolm Wilson Rally once again return as the season curtain raiser.
This exciting eight-round Championship got underway in the stunning arena that is the Lake District on the 11th of March in somewhat challenging wintery conditions. The season opener didn't go quite as the organisers, The Morecombe, Kirkby Lonsdale and West Cumbria Clubs expected; however, they "clubbed together", so to speak, to put on a 5-stage 45-mile event.
Just some 48 hours before the off, a load of the white stuff fell from the skies and the day before the rally, the stages in the Whinlatter region, just outside of Keswick were near on impassable. This meant that unfortunately stages such as Hobcarton, Comb and Wythop all had to be dropped from the route and with some quick clever thinking from the organisers, they were substituted with an extra run in Greystoke Forest in order to keep the show on the road.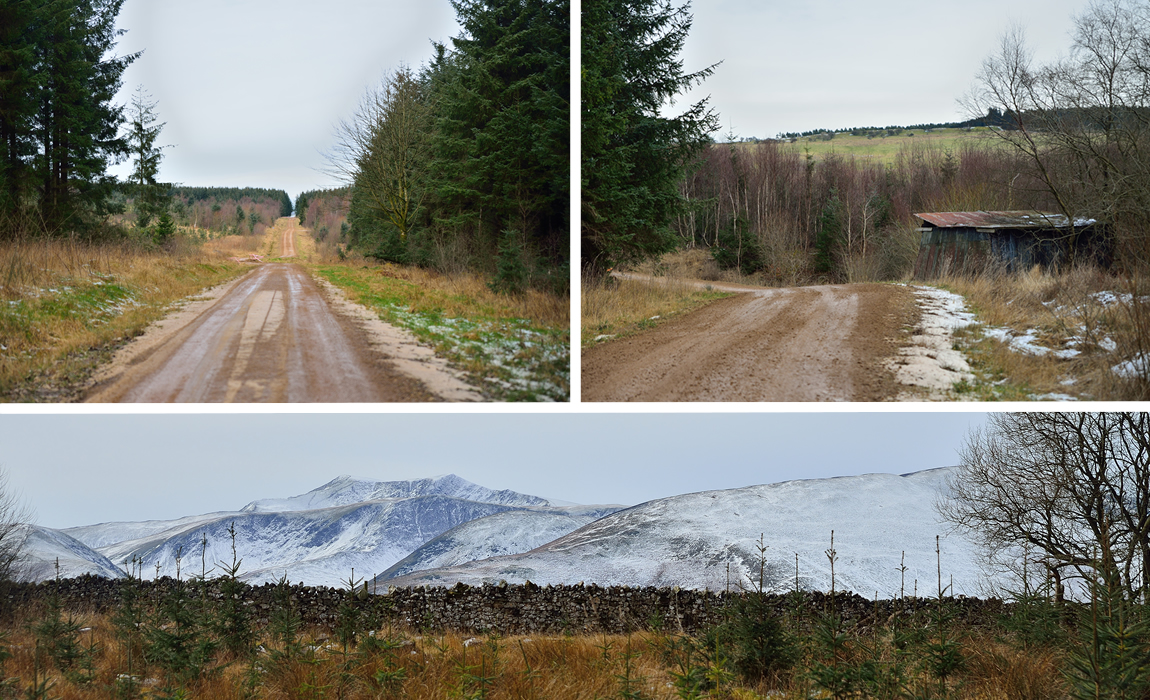 Photos By Andy Cook | Xlerate.Media
The line-up at this first round, although was strong in the Gold, Silver and Bronze Star awards, there were, however, still a number of noticeable names missing from last season. It also particularly felt a bit thin on the ground on the Historics front; perhaps the cost of living crises that the UK is facing at the moment is preventing some from coming out to play?
The season burst into life with a 7.5-mile stage in World Rally Team M-Sports home test venue, Greystoke Forest. Although the majority of the snow had gone, there were still some patches of that white stuff lingering and some tricky icy sections for the crews to deal with.
GoldStar
After having a handful of selected non-Championship outings last year, Teg Sports Arron Newby was the one to impress on that opening stage. Stopping the clocks in his Skoda Fabia R5 car some 5.4 seconds quicker than the Ford Fiesta Rally2 that was being driven by reigning BTRDA GoldStar Champ, Elliot Payne, Newby simply thought that "It was alright".
Photo: Arron Newby & Jamie Edwards | By Andy Cook – Xlerate.Media
Newby alongside Co-Driver Jamie Edwards went on to say "We were cautious where there was ice and that's a lot slippier than we thought it would be in there but we got through safe enough". It was a similar story across the field really, Payne reported that he and Co-Driver Tom Woodburn "Were just all over the place" whilst third fastest on the opener, Russ Thompson said "We had help off a few banks but It felt good", and he was a further 4.3 seconds slower in the Mitsubishi EVO 9.
With one stage under their belts and about an hour's drive south to Grizedale Forest, the crews could look forward to the two longest stages of the event to get their teeth into next. Grizedale South at 8.5 miles was where Elliot Payne woke up and began to mount his challenge for that first win of the season. Payne got the better of Matthew Hirst & Co-Driver Declan Dear by a whopping 18.9 seconds to take the lead of the GoldStar heading into the longest test (Grizedale North) at around 9 miles in length.
---
Photo: Elliot Payne & Tom Woodburn | By Andy Cook – Xlerate.Media
---
Payne then bolstered his lead over Hirst by a further 8.9 seconds and was heading back up to Greystokes for the penultimate stage of the rally with an advantage of over 39 seconds.
"First one (in Grizedale) went really well to be fair, I think we clawed quite a bit of time back but, the second one I think we were .. dunno just a bit off and kept lifting." "It was slippy but better than the first Grizedale Stage"

Elliot Payne
Meanwhile, Arron Newby who totally aced the first stage of the day was having a completely different experience in that Grizedale loop. "I struggled like mad in there to be honest, we were very cautious which is an approach we said that we were going to take".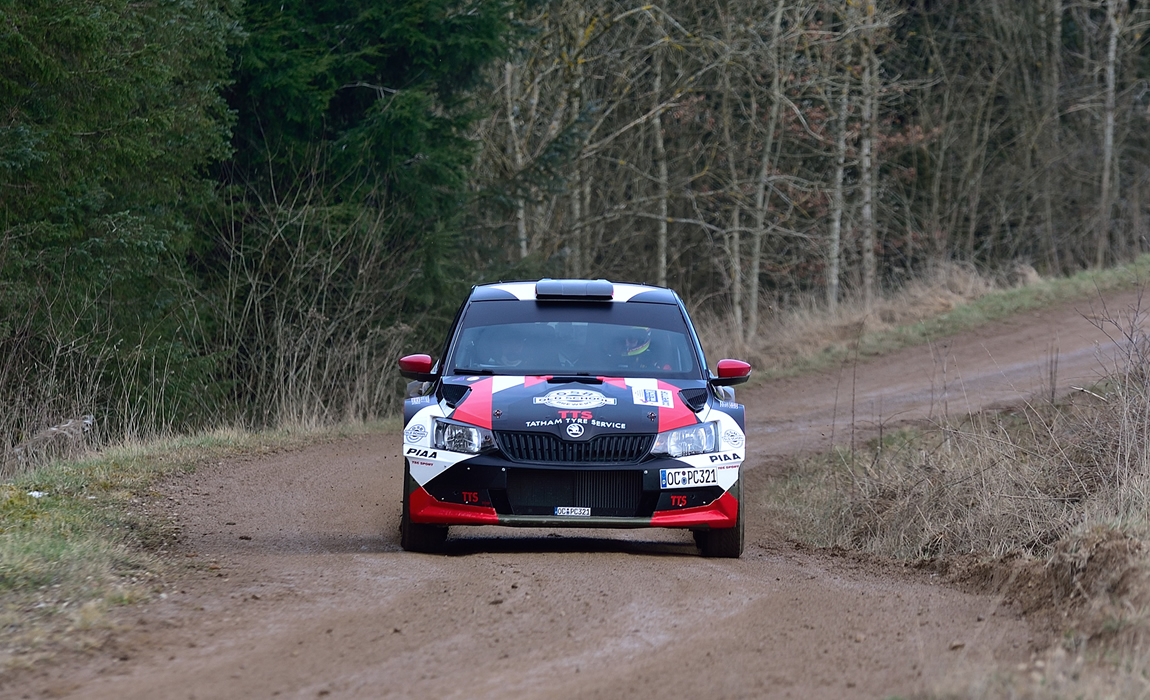 Photo: Arron Newby & Jamie Edwards | By Andy Cook – Xlerate.Media
However, Newby and Co-Driver Edwards were maintaining third in the GoldStar with just two to go "We know what we can do in Greystoke and we always go well in there. They're the last two stages, so whatever the damage is, we'll see if we can get it back" And the proof was going to be in the podding for Newby in those final two Greystoke stages.
Now that the snow and ice had all but gone, the conditions in Greystoke Forest were more favourable to all crews and Payne who was just way out in front secured his third GoldStar stage win in the second run through the stage.
Photo: Elliot Payne & Tom Woodburn | By Andrew Scott
Newby was now on a bit of a mission to go after second-place man Matthew Hirst and he took back nearly eight seconds out of Hirst in the penultimate stage of the rally, "That'll do" Newby said at the stop-line. Now just 3.6 seconds separated them heading into the final stage of the event.
And so Elliot Payne alongside Tom Woodburn was able to bring it home through the final, now somewhat muddy Greystoke stage to take the opening round GoldStar honours. Crossing the finish line with more than 50 seconds to his closest rivals, Payne had started the season right where he left off last year with a first GoldStar podium of the year.
Photo: Elliot Payne & Tom Woodburn | By Andy Cook – Xlerate.Media
"Yeah, it's been difficult, but we got through it in the end and had a bit of a slide and a play."

Elliot Payne
But what about that raging battle behind him for second between the likes of Hirst and Newby?
Well, Arron Newby finished off the rally exactly the way that he had begun his day; by romping through that final stage to not only take his second stage win but to overhaul Hirst and securing the runner-up spot in the GoldStar.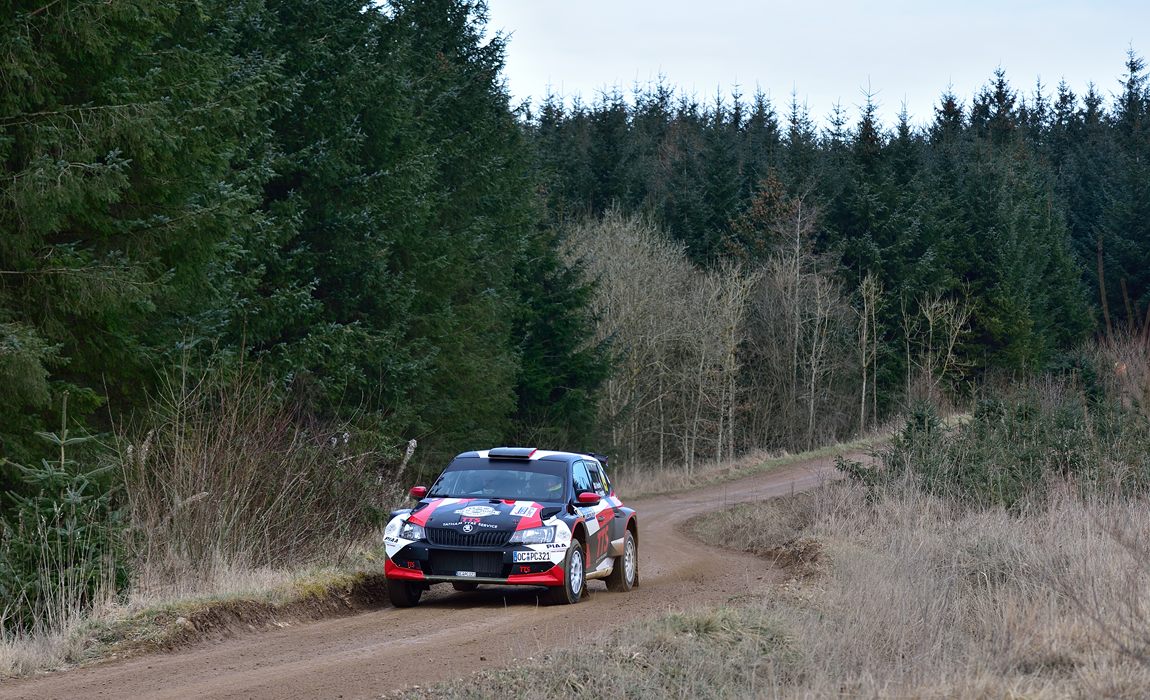 Photo: Arron Newby & Jamie Edwards | By Andy Cook – Xlerate.Media
Newby and Co-Driver Jamie Edwards had somehow managed to pip Matthew Hirst by a nats whisker, just 0.4 seconds was all it took to snatch that second place from Hirst & Dear over the final 7.5 miles of the rally.
Photo: Matthew Hirst & Declan Dear | By Andy Cook – Xlerate.Media
A further 36 and a bit seconds behind Hirst in 4th was the top B13 crew, Russ Thompson & Stephen Link in their Mitsubishi EVO9; rounding off the top 5 was Ian Bainbridge & Will Atkins in their Ford Fiesta.
---
SilverStar
In the SilverStar award, it was a bit of a similar story that played out over the stages at the opening round. Robert Proudlock peddled his plucky little R2 Opel Adam through the icy opening test in Greystokes the fastest and was 5.3 seconds quicker off the mark than Andy Davison.
Photo: Robert Proudlock & Steven Brown | By Andy Cook – Xlerate.Media
Davison who was out in his VXR powered Sunbeam for the first time since its fresh winter rebuilt thought that the challenging opening stage was "Good Fun" and went on to comment "Slippy in places and this (the Sunbeam) is a bit twitchy". Behind Davison in third on the opener was Ben Friend in the MK2 Ford Escort.
Friend, who had not driven the car since maybe September last year felt that this tricky opening stage was "Very unpredictable", however, from the second stage of the day (Grizedale South) onwards, things were going to be on the up for him and Co-Driver Cliff Simmons.
The pair wasted no time in getting up to speed in the first of two stages in Grizedale Forest. Stopping the clocks over 21 seconds quicker than their closesr competitors, last years reigning SilverStar Champs Rob Wright & Mark Fisher (also in an MK2 Escort), Friend had now begun to mount his challenge.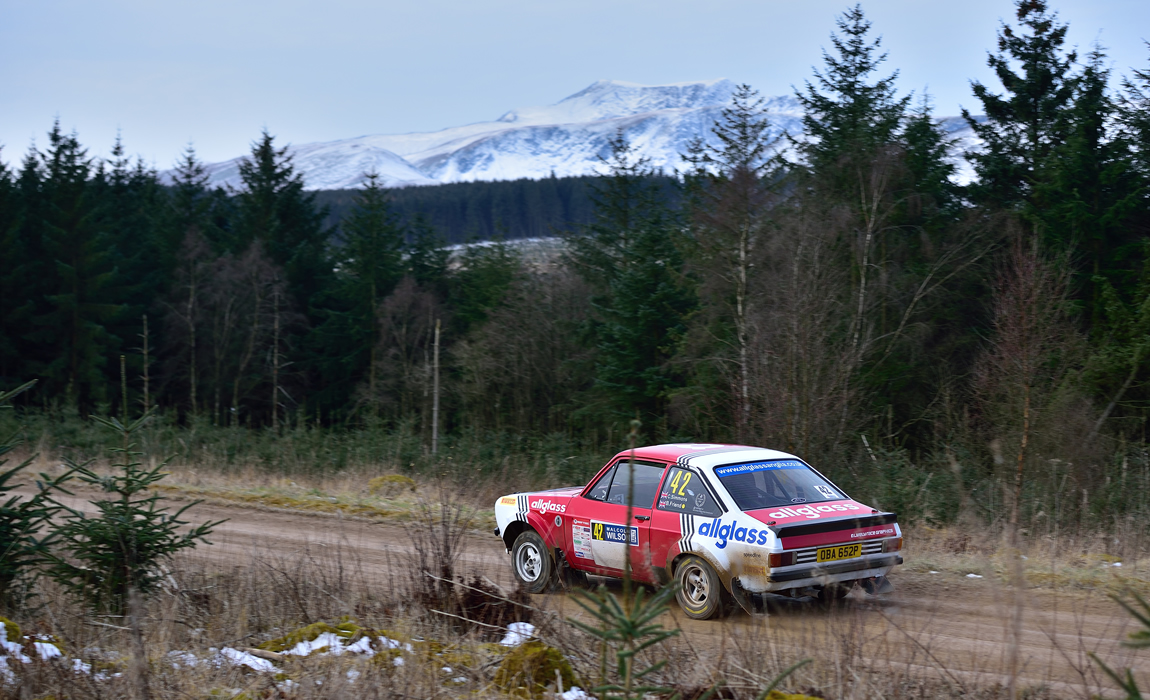 Photo: ben Friend & Cliff Simmons | By Andy Cook – Xlerate.Media
A further 3.9 seconds was added to the advantage over Write & Fisher in Grizedale North but Friend reported that they had a couple of overshoots after "Getting a bit carried away", putting it down to having "a bit of a heavy right foot" in his own words.
With just a loop consisting of two runs through Greystoke Forest to contend with, Friend and Simmons had a lead of nearly 26 seconds heading into the penultimate stage of this opening round. Behind second placed man Rob Wright, was the R2 Opel Adam of Robert Proudlock who was a further 14.3 seconds down.
Friend picked up his third fastest SilverStar stage time in the second run over the now very different looking Greystoke Forest and was heading into the final stage of the rally with a 31-second lead to Wright. The final run over the 7.5 miles Greystoke stage was now in somewhat muddier conditions compared to what was faced in the opening stage of the day here. Ben Friend alongside Cliff Simmons calling the notes was able to secure thier fourth fastest stage time and with it, took maximum points in SilverStar award.
Photo: ben Friend & Cliff Simmons | By Andy Cook 0 Xlerate.Media
Crossing the finish line in thier MK2 Ford Escort with almost 50 seconds in their back pocket to second place Rob Wright & Mark Fisher, Friend had the ideal start to his BTRDA assault this year also picking up he Historic Cup honours to boot, ahead of Ernie & Patricia Lee in the BMW 325i.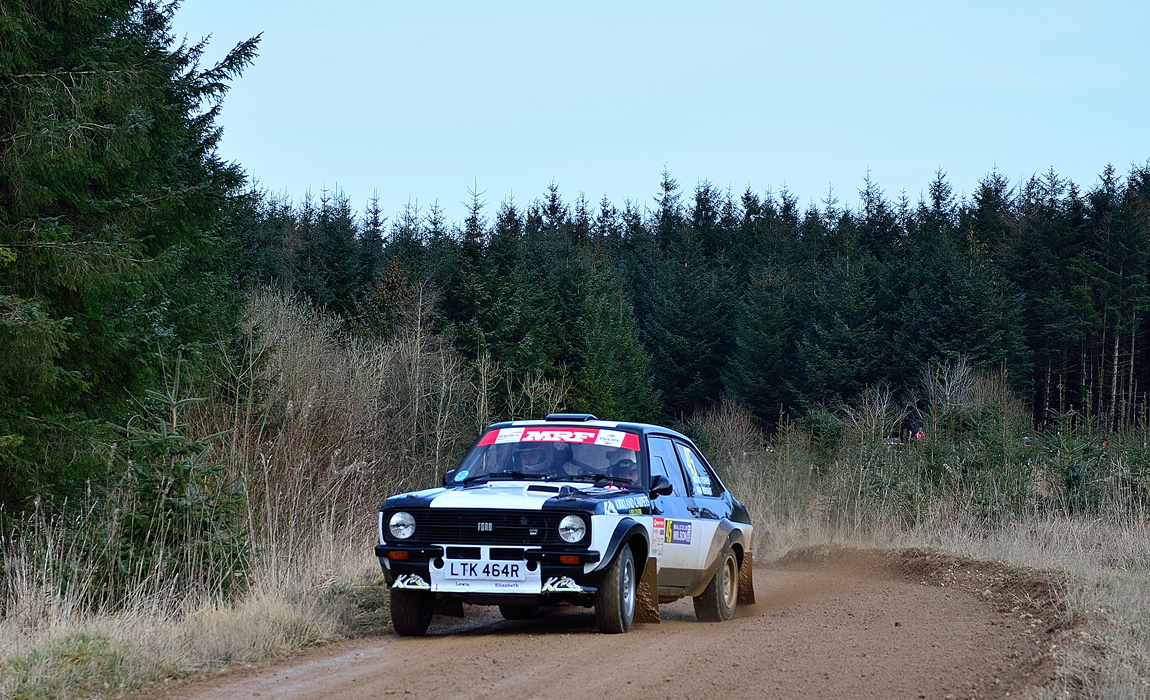 Photo: Rob Wright & Mark Fisher | By Andy Cook – Xlerate.Media
Robert Proudlock & Steven Brown rounded off the SilverStar podium in their Opel Adam and also secured the R2 Cup honours ahead of Liam Clark & Ben Wild in the Ford Fiesta R2.
Photo: Robert Proudlock & Steven Brown | By Andy Cook – Xlerate.Media
---
BronzeStar
The BronzeStar award delivered a convincing and dominant performance from the 1400s Vauxhall Nova of Nigel & Karen Jenkins. The pair set off on the right foot in the tricky conditions of the opening Greystoke test, with a 10.4 seconds gain on only that first 7.5 miles of competition, to lead last season's BronzeStar runner-up, Lewis Hooper in the Nissan Micra.
Photo: Nigel & Karen Jenkins | By Andy Cook – Xlerate.Media
After the two longer Grizedale Stages to the South, Jenkins had built up an advantage of over 41 seconds to Hooper and was heading into the final two runs over Greystokes well positioned to take the opening round.
Jenkins added the second pass of Greystoke to his name and was heading into the final stage of the rally looking primed for that first BronzeStar podium of the year. With an advantage of some 48 seconds in their back pockets heading into the final stage, Nigel & Karen Jenkins were able to cruise through the final Greystoke Forest test to secure maximum BronzeStar points and their first of perhaps many victories of the year?
Photo: Nigel & Karen Jenkins | By Andy Cook – Xlerate.Media
Kris Farrell picked up the final fastest BronzeStar stage time but it was a case of too little too late for him to mount any challenge for a podium place at this late stage in the day.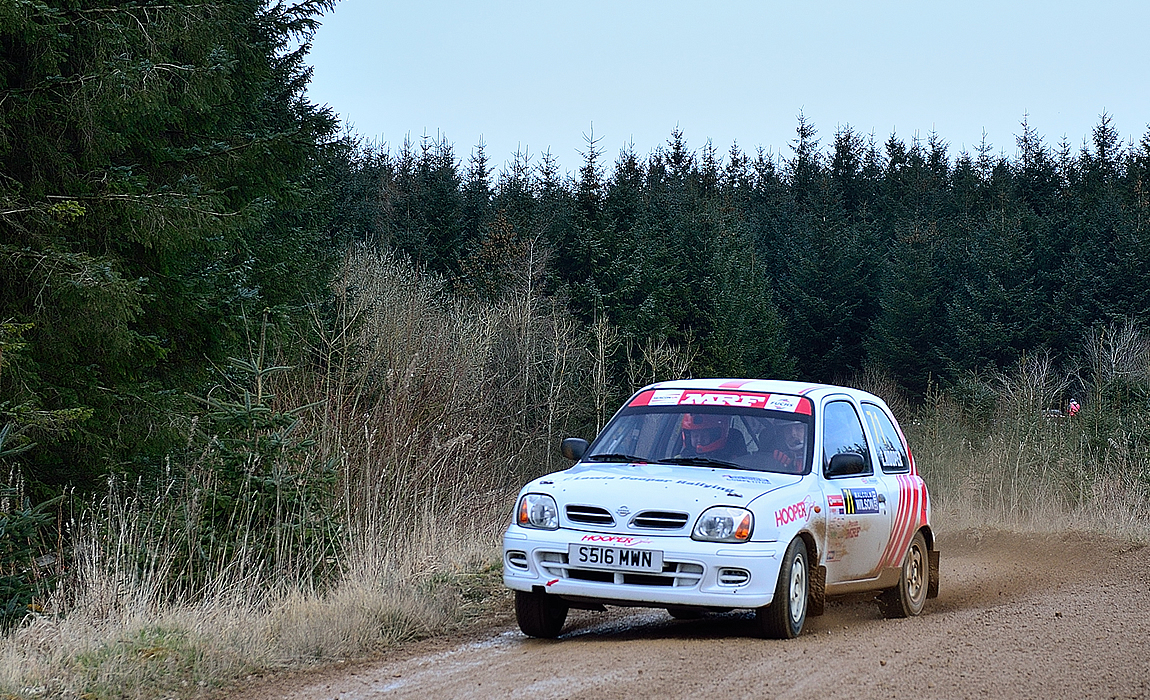 Photo: Lewis Hooper & Rhys Edwards | By Andy Cook – Xlerate.Media
Lewis Hooper & Rhys Edwards who took the Rally First honours finished some 1 minute and 17 seconds ahead of Andrew & Oliver Wheatley in the 1400C Ford Puma who rounded off the BronzeStar podium. Another of last season's returning BronzeStar protagonists Edward James just missed out on the podium in his Nissan Micra Kit car by 6.5 seconds.
---
Elliot Payne leads the GoldStar standings ahead of both Arron Newby and Russ Thompon who are joint second ahead of Matthew Hirst in fourth. Ben Friend tops the SilverStar points table ahead of last season's Champ Rob Wright and Nigel Jenkins heads up Lewis Hooper at the top of the BronzeStar points table.
NEXT TIME …
The MRF Tyres BTRDA Rally Series relocates into Mid-Wales for the Rally Nuts Stages (April 14), where Builth Wells will host a cracking one-day rally which will feature those World Class Welsh Gravel stages of Myherin, Hafren and Sweet Lamb.
---
Words By Andy Cook – Xlerate.Media | Feature Photo By Andrew Scott