UKRALLY | PLAINS & SIMPLE | PLAINS RALLY 2017
13/05/2017
To start with, here's bit of a history lesson on the Plains
"The Plains first saw the light of day in 1964 when, as rallying was beginning to increase in popularity, it made its debut as a road rally based in the lanes of the Cheshire Plain from which it derived its name. Under the guiding hand of its creator Alan Jolley it grew in stature, a major decision being to move the event from Cheshire to the more demanding and exciting lanes of Wales.
In 1971 the event was selected as the Rally of the Year, a feat which was repeated the following year. Ever conscious of the need to move with the times the decision was taken again to change the format of the event. During the mid-seventies, forest stage rallying had taken off and even though the event was the most popular event in the road rallying calendar with over 300 entries received for the 120 places it was decided the "The Plains" should become a forest stage event.
In 1974 Alan Jolley handed the reins over to Tony Goulding who totally transformed the event format. The last road rally Plains was therefore organised in 1974 and while many lamented its passing it re-emerged in 1976 as part of the British Trials and Rally Drivers Association Gold Star Championship."
Unfortunately, the thing called "The Internet" was unavailable back in the 60's/70's to use as a tool for reporting on events such as this, nor were we around to that matter, in fact, we only started to attend this event back in 2008.
Whizz forward to 2017 and because we love this area of Mid Wales and it's stages of which it is home to so much; we returned again for another instalment of the 2017 BTRDA & Welsh National Rally Championships for the Plains Rally.
167 Competitors tackled approx 40 stages miles set out over 6 stages thru the Dyfi Forest Complex and a little further to the north in the Penllyn & Llangower forests.  Just to show just how challenging these world-class stages are, 38 crews had retired from the event by the end of the day.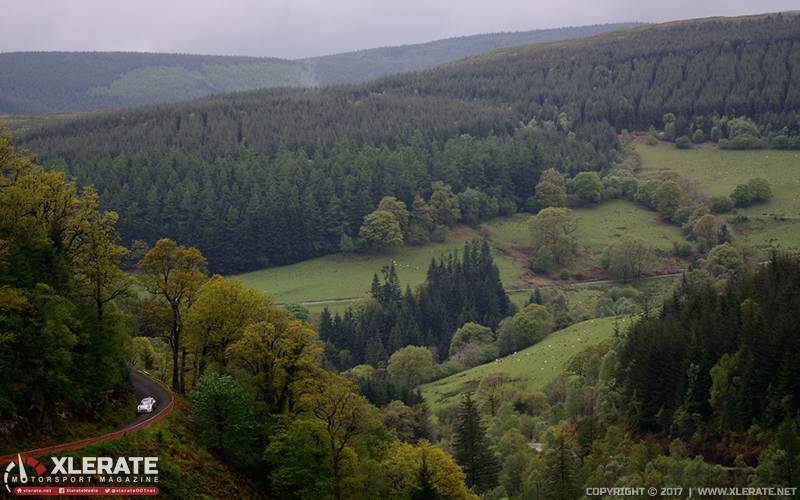 At the top end of the game, big names in current modern UK rallying would do battle in the B14 class. In the run-up to the event, it would have been a very tricky task for the event & championship officials to seed this lot: Thorburn seeded 1, Weston – 2, Hunter -3, the Moffet boys at 4 & 5 with other names such as Payne & Petch to name just a few all in with a shot, it really was a quality entry list.
The overall win and 1st in the BTRDA Gold Star went to David Weston & Kirsty Riddick in their Subaru Impreza WRC just 6 seconds ahead of Josh Moffett in the Ford Fiesta RS WRC; who wasn't registered for the BTRDA. And so the no 1 seeded Scotsman Euan Thorburn in the 02 WRC Fiesta who took third overall also took 2nd in the Gold Star, with Hugh Hunter taking 4th overall and 3rd in the BTRDA Gold Star
Full Results can be found:
http://www.btrdarallyresults.co.uk/results/index.php?EventID=366&e=366&ls=2
Words & Photo's By Andy C | Copyright © 2017 Xlerate