UKRALLY | RALLY NUTS STAGES | 2018
14/04/2018
The 45th running of this Midlands Manor Motor Club organised event had some changes for this year, many will know it as The Severn Valley Stages (or going a little further back The Mutiny). A move in its date being the main one from an early June slot in the rallying calendar (which it has held in more recent years) to Mid April this time around where it makes its welcomed return to BTRDA Rally Championships; of which it hasn't been a part of since the eighties. This opportunity came about due to the Somerset Stages event being rested this year, as the organisers not only give those stages down in the South West a bit of a break but are said to be looking into to planning an event for 2019 which could potentially make use of the new closed road legislation.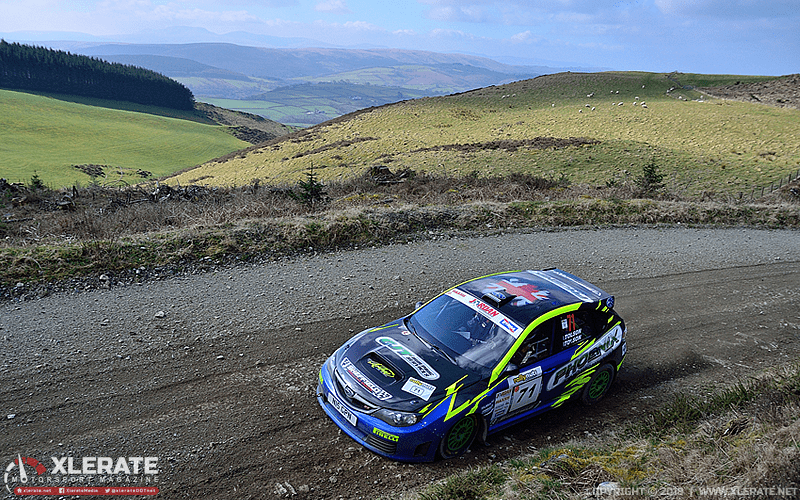 There were however some familiar things to return this year, including the Welsh National Rally Championships and last year's event sponsor Rally Nuts, who now becomes the event title sponsor for 2018 –  The Rally Nuts Stages. Based at Builth Wells Showground the event ran seven stages serving up approx 40 stage miles; in and around the Llandovery area the main bulk of six stages were which were separated with a single visit to the Radnor stage a little further to the North. Stages of which have featured a fair bit in Wales Rally GB, Britain's round of the FIA World Rally Championships in recent years when the event was based in the Cardiff & Swansea regions.
As in every round of these ever-popular championships (the BTRDA & WNRC), the event attracted a pretty decent entry with a strong 124 competitors entering the first stage of the day in the bright morning sunshine, was dust going to play a part? The top 10 was an impressive list of names and any one of which would have been worth betting on, Petch, Bird, Edwards, Francis, Payne and Reynolds were all out in class B14 WRC or R5 Fiestas (or a Focus in Birds case) and that line up of Fords only had one other thrown into the mix, in the form of Tom Cave who was out for a bit of fun in his own B13 class Impreza.
After the first block of three stages in Crychan, Cyfn and Gwibedog, Matt Edwards looked to be edging it ahead of Luke Francis and Paul Bird; but another of our own favourites was already missing from the timesheets early on. That was the great peddler of the MK2 Escort that is; Nick Elliot somewhere in SS1 between post 7 & 8 he was hit with engine troubles and the car was sounding rather poorly, not great when only just starting the day off.
After brief service halt crews then headed up to Radnor for SS4 a nice 10 miler stage to get their teeth into, especially as they should now all have found their rhythm for the day. There wasn't much change at the sharp end, except Tom Cave had moved up into fifth just behind Hugh Hunter, Petch & Reynolds also appeared to be doing battle in sixth and seventh. It was back to service for the final set up tweaks ahead of the afternoon's loop of three back down in Llandovery.
After the first run, the stages appeared to be holding up fairly well with only the odd bumpy sections, luckily dust wasn't really too much of a problem, just the odd bit of bright sunshine to contend with. Back into Crychan Petch was looking to move up the order to improve on his championships point haul over taking Cave (who isn't registered) for fifth.
As they headed into the final stage of the event, Gwibedog 2, everyone held position not wanting to throw away any valuable points, Julian Reynolds did also manage to get past Cave to take sixth but the top of the leader board remained rather static over SS 6 & 7. And so the overall winners were Matt Edwards & Darren Garrod in the Swift Caravans sponsored Ford Fiesta, 40 seconds ahead of Luke Francis & John Roberts who were also in a Fiesta WRC ahead of Paul Bird & Jacob Morton in the slightly older 2007 Focus WRC.
100 of the original 124 starters finished the event which is pretty good going for a BTRDA round, could the condition and quality of the stages have been a contributing factor? who knows! It was just nice to have a great day rallying in some cracking stages on an event that runs to time so well.
Full Results from the event can be found on: http://www.btrdarallyresults.co.uk/results/index.php?EventID=511&ls=2
Words & Photo's By Andy C | Copyright © 2018 Xlerate