BHRC | RD2 RALLY NORTH WALES 2022
30/03/2022
The FUCHS Lubricants sponsored British Historic Rally Championship relocated to a super sunny Wales for the second round of the 2022 season at the Rally North Wales. Organised by the Wolverhampton and South Staffs Car Club, the event featured classic gravel test in and around the Dyfi Forest Complex. It comprised of 8 Stages (made up of two loops of four) and covered a little under 45 competitive miles for some 60 odd registered BHRC crews to tackle.
Last time out at the opening round in Yorkshire (the Riponian Rally), Matthew Robinson alongside Sambo Collis dominated the field, winning every stage and beating the challengers for the clear outright win. But the stages in Wales for the second round were a long way from Robinson's local stomping ground of North Yorkshire and would perhaps offer up a bit more of a level playing field.
"Edwards was the cat amongst the pigeons"
To add to that, Nick Elliot has got previous at the Rally North Wales, a three times winner of the event and the last time the event ran back in 2019, Elliot was the BHRC victor. He and the other contenders would perhaps also be looking for a bit of payback Robinson believed heading into the rally. To spice things up a bit even further at the sharp end, three times British Rally Champion Matt Edwards rocked up in Dolgellau in a Fiat Abarth 131 and would be THE cat amongst the pigeons.
Whilst three out of the four stages used would be rather familiar to much of the field, the opening 4-mile test, Pantperthog is rarely used on National Rallys. One would have naturally thought that such a stage would no doubt be in super tip-top condition given its lack of usage over recent years. However, it wasn't long before the road conditions on that opening test had begun to deteriorate and the first to suffer would be the reigning BHRC champ, Ben Friend.
After picking up a puncture on the final stage of the Riponean, his cooper tyres would not be able to stand up to the rougher Welsh gravel on this occasion either. A double puncture early on in stage 1 resulted in a spin, fortunately, Friend and Co-Driver Cliffy Simons were, just like the majority of the BHRC crews carrying two spares and they were forced to change them both mid-stage. But the time was lost and effectively they were already out of contention after only just 2miles of action and before the rally had really got going.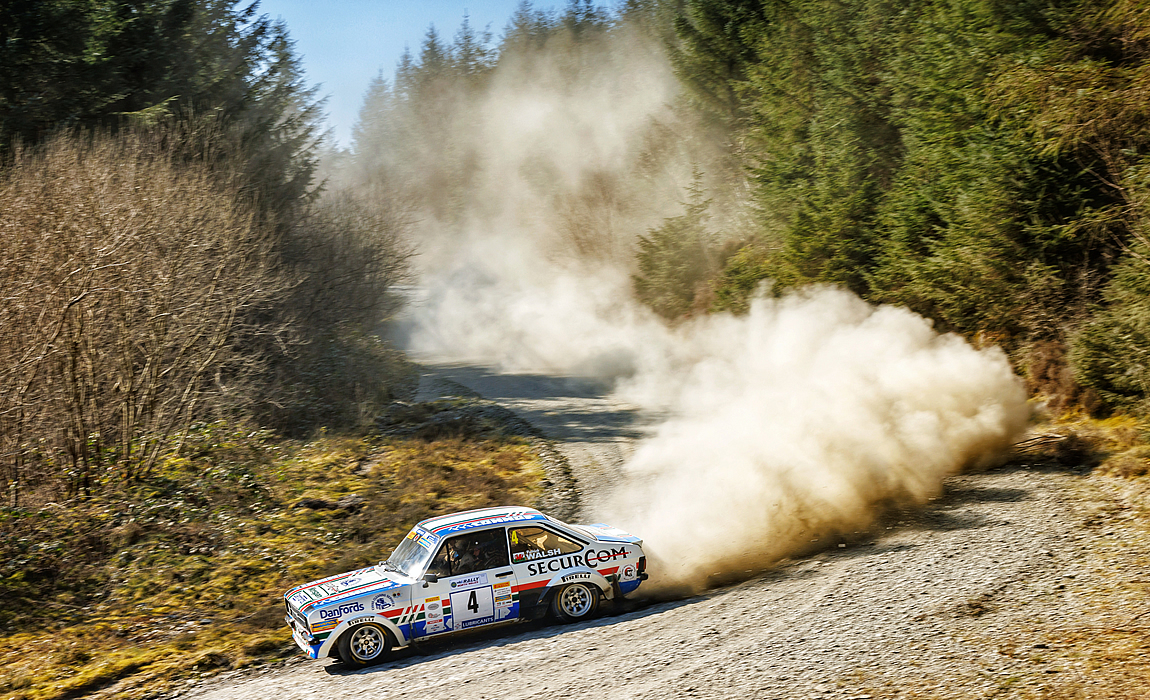 Roger Chillman & Patrick Walsh | Photo By Andrew Scott
Nick Elliot and Roger Chilman would be the ones to navigate Pantperthog the fastest, jointly posting the same time that was just one second quicker than Matt Edwards in the Abarth 131. In the second stage Dyfi, Edwards would turn that one-second deficit into a one-second advantage over Elliot; despite breaking a weld on a suspension component which left the 131 sporting some interesting camber angle on the front right
---
Nick Elliot & Dave Robson | Photo By Ifan Thomas
---
"Edwards grabbed the 131 by the scruff of the neck"
As the crews transitioned through the Dyfi Forest complex into the Big Ray stage on the east side, Edwards found himself having to manage the situation with the front right corner of the car. The tyre was rubbing on the spring and the handling was becoming a little bit funky shall we say.
Elliot won the stage by 5-seconds but Edwards grabbed the 131 by the scruff of the neck and was managing to drag it through the stages but had dropped 4 seconds behind leader Elliot.
Nick Elliot & Dave Robson | Photo By Andrew Scott
Elliot with a change of co-driver beside him in Dave Robson for this one hinted that he much prefers the wet and muddy conditions that Wales would normally supply, compared to the warm and dusty conditions that were being experienced. The pair picked up the final stage win of the morning loop through Gartheniog in their MK2 Ford Escort RS1800; by taking another 3 seconds out of Edwards to extend the overall lead heading into the midday service halt.
Roger Chilman was holding 3rd but that final stage of the morning would see a couple of noticeable retirements, namely that of season opener victor, Mathew Robinson who suffered a broken prop shaft and Ben Friend who simply ran out of tyre tread.
The midday service gave the RSD (Rally Sport Developments) team a chance to attend to Edwards 131, putting right the damage from the morning loop of action. However, the repeated run through that by now very VERY rough Pantperthog stage was in itself a battle of its very own.
With Sump Guard Surfacing going on for all, Edwards was also shown a yellow flag following Andrian Heatherington rolling out. But for Edwards, that 131 would take another pounding here when a big boulder on the line caused a huge impact which resulted in even further damage to the car. A bent sump guard, bent subframe, bent steering rack and bent chassis leg had left Edwards with a "horrendously heavy" steering Fiat. This event was supposed to be a case of driving for fun but had actually become a case of survival for Edwards, having to manhandle the car through the rest of the afternoon's stages.
"Edwards was now primed for the win"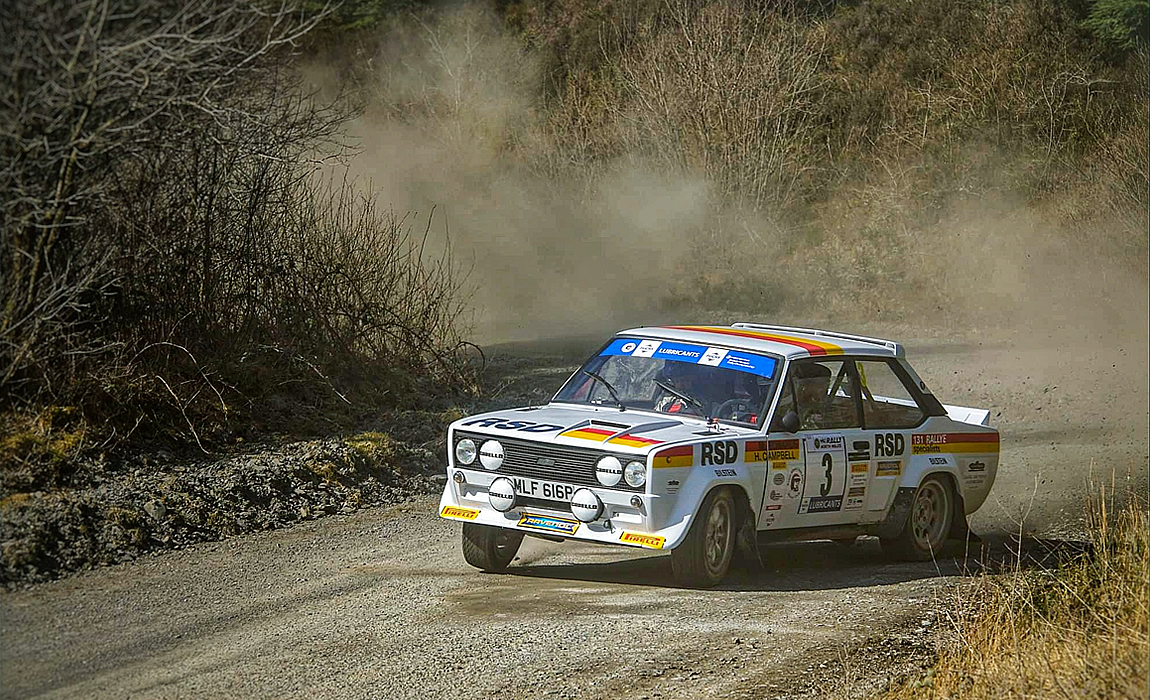 Matt Edwards & Hamish Campbell | Photo By Ifan Thomas
However a puncture in this stage for Nick Elliot resulted in time loss, but he still had some 15-seconds in hand. Behind him, Roger Chillman was now level on time with Edwards heading into Dyfi Forest but somehow Edwards in that battered and bruised Abarth pulled a stage win out of the bag to take the lead of the rally from Elliot by 2 seconds. Again in Big Ray Edwards got the better of Elliot and all of a sudden, with just one stage to go in Gartheniog, Edwards was now primed for the win with 11-seconds to defend.
---
In a somewhat unexpected turn of events, Edwards who had been fighting the challenging conditions in a battle-scarred Fiat throughout the day in an attempt just to make it to the end, signed off with that final stage win (his 4th of the day) to secure what can only be described as a sensational victory.
Winners | Matt Edwards & Hamish Campbell | Photo By Andrew Scott
Crossing the finish line exhausted yet full of smiles and with 16 seconds in hand to Nick Elliot & Dave Robson, Edwards and Co-Driver Hamish Campbell had brought the Fiat 131 Abarth home for its first-ever BHRC victory. You will also need to look a long way back in the back story of the British Historic Rally Championships to find the last time a MK2 Escort wasn't on the top spot.
"It was epic to take this victory after some fairly disheartening months around the sport for me.

Myself and Hamish really enjoyed the majority of the mileage despite our challenges. Which included Hamish holding it in 5th on the straights in the afternoon as the steering was too heavy to hold with one hand!

"The father/son, Kevin and Keith at RSD have really put their heart and soul into that car over a lengthy period of time, remaking most of the parts from scratch to bring a classic rally car back to life. It's not been easy and there's more to do, but this is a great reward for your efforts.

I can't say it was a pleasure to drive this afternoon, as I'm now laying flat with my upper body seizing up by the minute, but it certainly did the job and stood up to a serious pounding today!"

Matt Edwards
Rounding off the podium behind second-place man Elliot was Roger Chillman & Patrick Walsh, also in a MK2 Ford Escort. After two rounds Elliot, however, leaves North Wales leading the Championship after two back to back second-place finishes.
---
CATEGORY 2
Cat 2 and its classes were a little bit better contested in Wales, Adam Milner alongside Roy Jarvis began their day pushing their MK1 Escort Mexico (C1/2) through the opening Panperthog stage the fastest, just 2 seconds ahead of Chris Skill & Brian Hodgson in the Ex-Works MK1 Escort RS1600 (C4/5).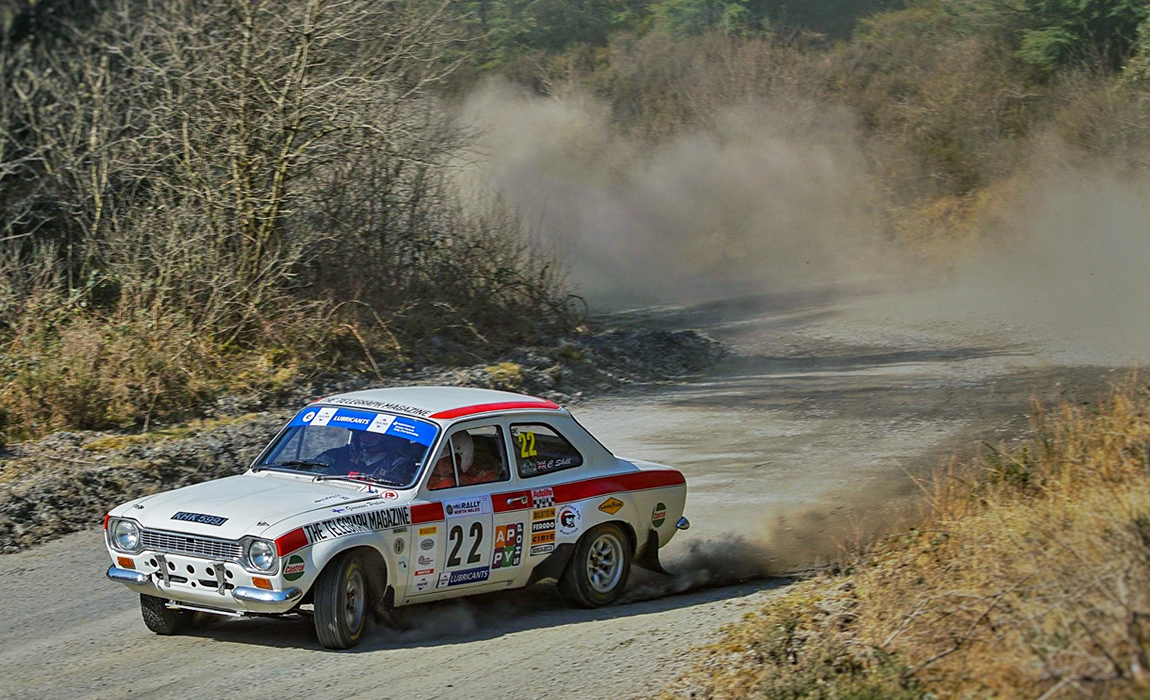 Chris Skill & Brian Hodgson | Photo By Ifan Thomas
Milner and Jarvis would prove to be the fastest Cat 2 crew on all of the 8 stages and crossed the finish line some 2-minutes ahead of Skill & Hodgson (top C4/5 crew). Like Edwards in Cat 3, Milner also had a sensational rally, having not only won their C1/C2 class but had won Category 2 whilst finishing 5th overall, beating a number of newer Cat 3 cars.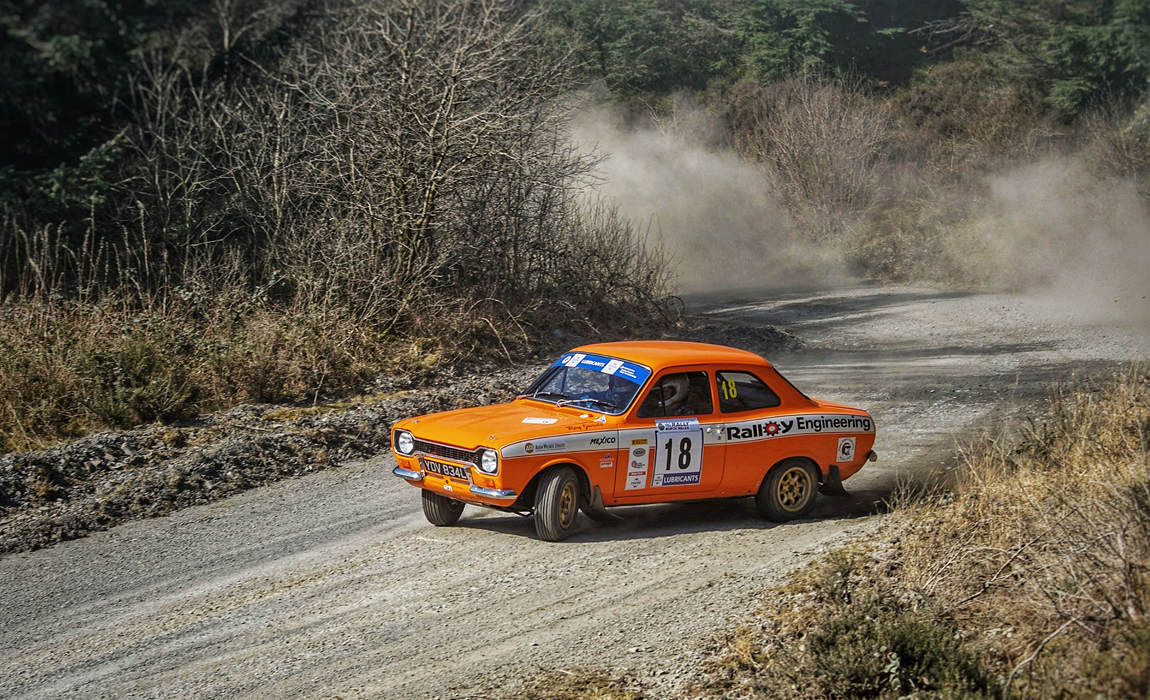 Adam Milner & Roy Jarvis | Photo By Ifan Thomas
Milner's result was perhaps a little bit surprising for him, despite his blistering pace, he reported that the day had been a bit of a problematic one for him. It began in the morning with being on completely the wrong tyres, where they were effectively melting in the heat but continued on into the afternoon with a puncture in SS5, which also resulted in some "iffy brakes".
"That's not too bad, the last two went pretty well, apart from our brakes vibrating. We've had a really good run really."

Adam Milner
Ben & Steven Smith | Photo By Ifan Thomas
Round 1 Cat 2 victor Ben Smith alongside father Steven was the third-fastest Cat 2 crew and brought their Class 3 MK1 Escort home in 8th overall. Given that this was the young man's first-ever attempt at these Welsh stages that's pretty good going.
---
CATEGORY 1
In a replication of the opening round, Bob Bean & Mike Curry were once again sadly the only Cat 1 crew out to contest the rally in their Lotus powered Ford Cortina, they finished 44th overall.
Bob Bean & Mike Curry | Photo By Andrew Scott
---
NEXT TIME ….
The British Historic Rally Championship will remain in Wales for Round 3, where the Plains Rally (May 21st) will offer up yet more of those World Class gravel stages. With its new rally base in Bala, the event will take on stages such as Aberhirnant, Llangower, Alwen and Clocaenog and will cover approx 44 miles.
Words By Andy Cook | Feature Photo By Andrew Scott