WELSH / RD2 / RALLYNUTS STAGES 2023
07/05/2023
The Pirelli Welsh Rally Championship relocated further south to Builth Wells for the second round of its 2023 season. Organised by the Midland Manner Motor Club, the Rallynuts Stages (April 15) would offer up yet another top-quality one-day gravel rally, consisting of approximately 44 competitive miles over 7 stages.
Photo By: Andy Cook | Xlerate.Media
Last time out at the season opener, Rally North Wales, reigning Welsh National Champs Matthew Hirst & Declan Dear began their title defence with a convincing win but this time around, their day out on the classic mid-Wales stages of Myherin, Hafren-Sweet Lamb and Coed Sarnau would prove to be a bit of troublesome one for the pair.
Hirst and Dear got their rally underway with the opening stage win on a 7.6-mile test in the West side of Myherin. The pair were the quickest off the mark in their Ford Fiesta R5 (W14 class), getting the better of Russ Thompson & Stephen Link in Mitsubishi Evo 9 (W13 Class) by some 22 seconds. Rob Wilson alongside Richard Morton Crozier was the third quickest of the Welsh crews in their Mitsubishi Lancer Evo VII.
The following three stages of the morning loop were pretty much a cut n past of that first test, with Hirst & Dear topping the timings ahead of Thompson for the Welsh crews on every stage.
Photo: Matthew Hirst & Declan Dear | By Andy Cook – Xlerate.Media
As the rally reached the midpoint with a service stop back in Builth Wells, Hirst and Dear were sitting pretty at the top of the scoreboard. With a lead of over a minute to their nearest 4WD competitors in Thompson and Link, Hirst and Dear were on track; Robert Gough and Paul Morris in their Historic Spec Ford Escort MK2 rounding out the overall Welsh leaderboard.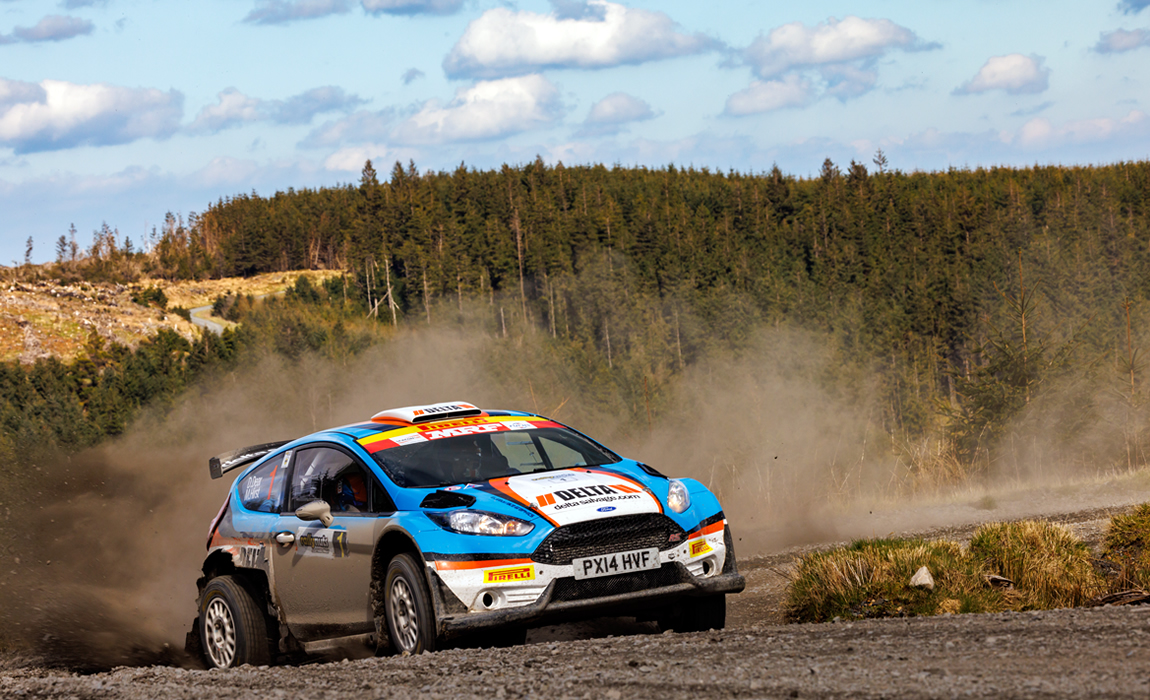 Photo: Matthew Hirst & Declan Dear | By Andrew Scott
---
However, despite the morning going to plan for Hirst & Dear, their luck was about to run out in the very first stage of the afternoon loop. Myherin main was an amalgamation of the two-morning stages to create a single 8-mile stage but here is where our rally leaders were struck down with a puncture.
It was not only their tyre that was slashed but also their lead over Thompson, which was down to 25 seconds. But fear not, they were back on it in the very next stage, the repeated run through Hafren-Sweet Lamb. Their fifth stage win here increased their buffer back up to some 43 seconds heading into the final stage of the rally SS7 Cwmysgawen 2.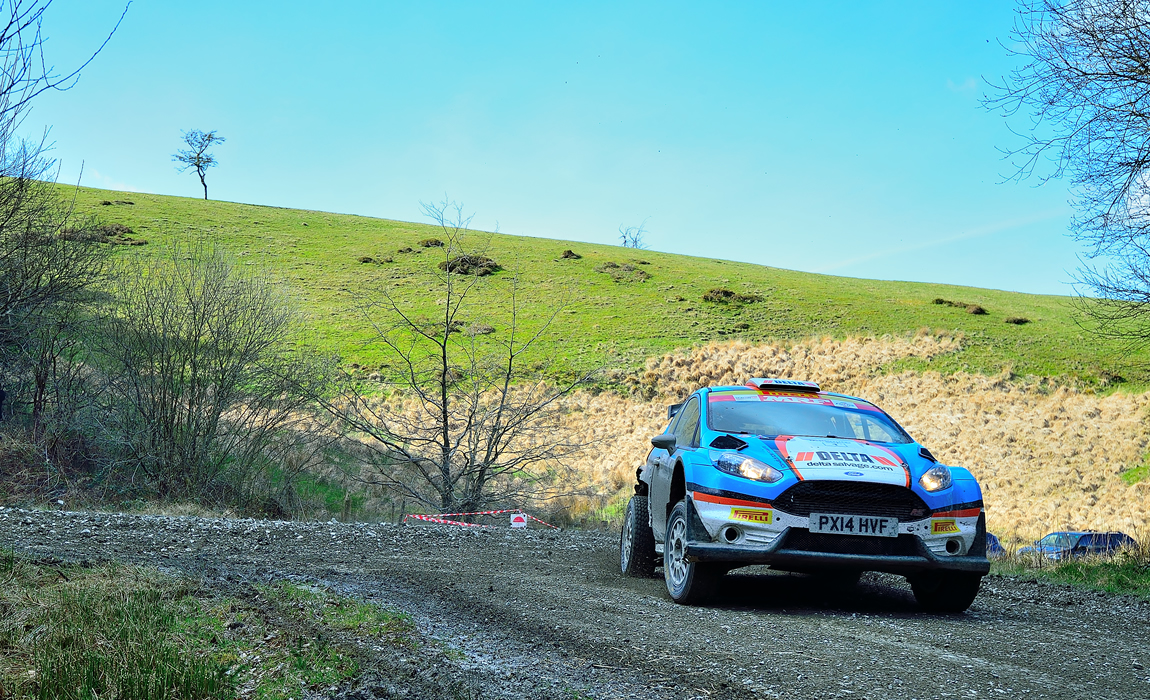 Photo: Matthew Hirst & Declan Dear | By Andy Cook – Xlerate.Media
In the final stage of the rally through Coed Sanau yet again Hirst & Dear were struck with a puncture, luckily it was the shortest test at only 4.69 miles in length and the pair were able to reach the stop-line with a lead still in tac. After a perfect morning, the afternoon had thrown them two curveballs but the pair battled on and had survived to take the Round 2 honours.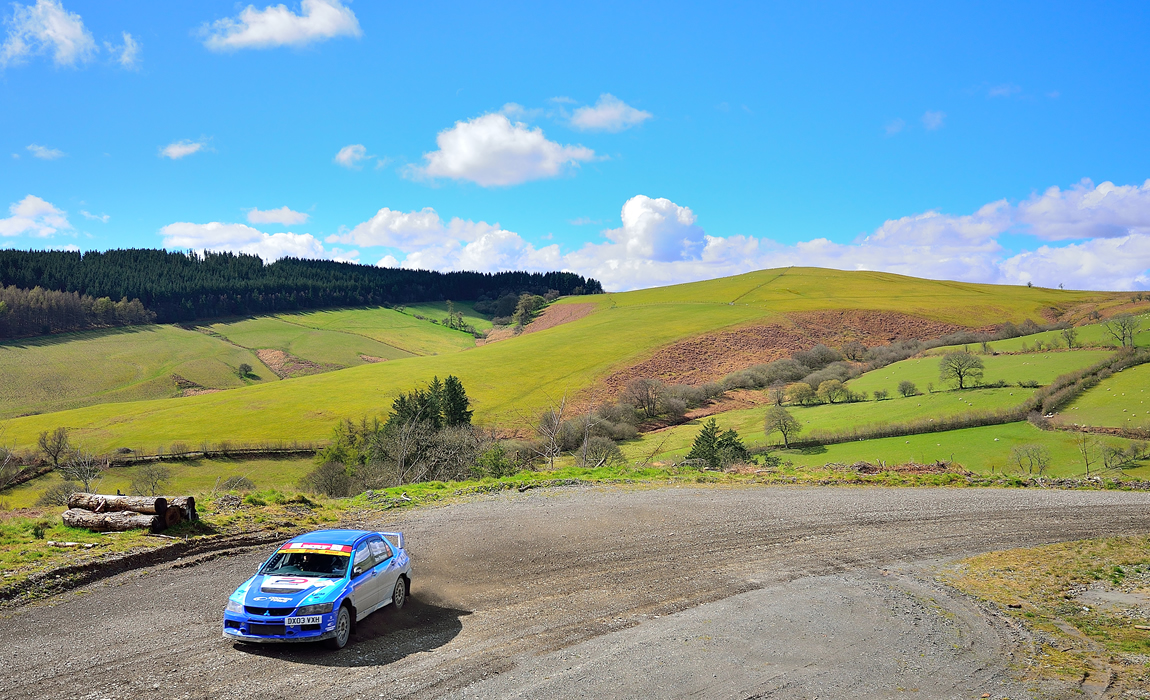 Photo: Russ Thompson & Steve Link | By Andy Cook – Xlerate.Media
Russ Thompson and Steve Link in their Mitsubishi EVO 9 (W13 Class) were the runners-up and came in 18 seconds behind the winners Hirst & Dear. The Mitsubishi Evo VII of Rob Wilson & Richard Morton Crozier rounded out both the 4WD and Overal Welsh Championship podium in third.
Photo: Rob Wilson & Richard Morton Crozier | By Andy Cook – Xlerate.Media
Eddie Lewis with the help of Sion Cunniff calling the notes secured the top Welsh Junior award in his Ford Fiesta R5 Car, despite having a bit of an up-and-down rally. Ben Smith picked up the 2nd step on the Welsh Juniors podium also securing his first Historic W6 Class victory of the season in his MK1 Ford Escort.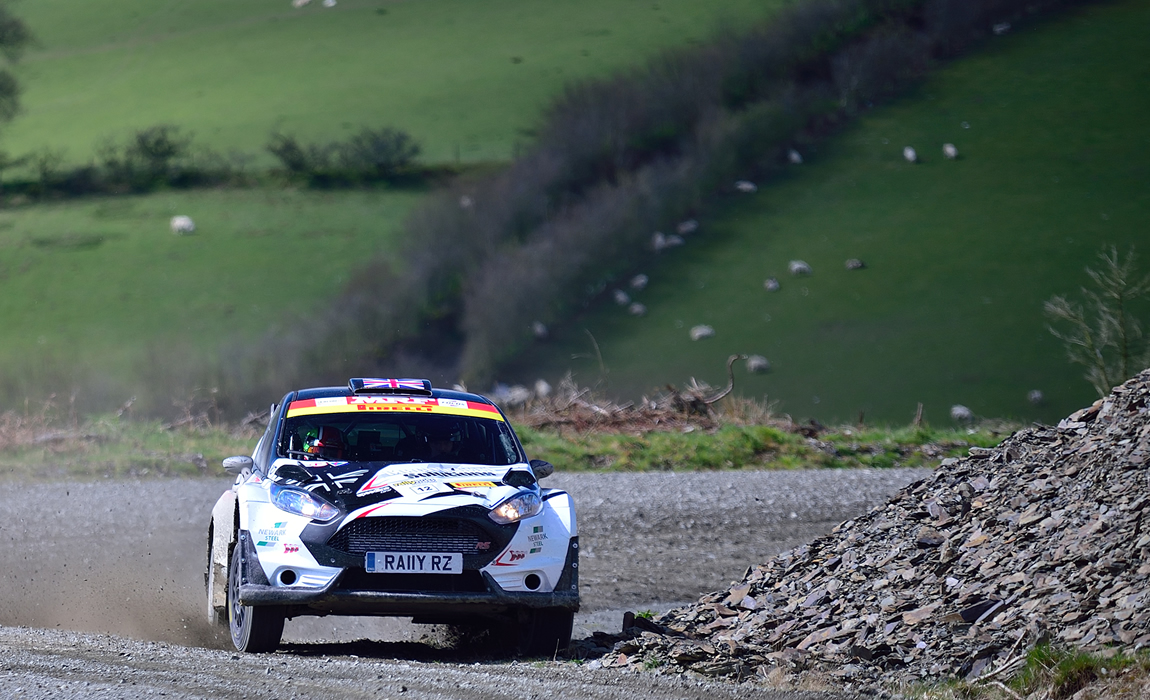 Photo: Eddie Lewis & Sion Cunnif | By Andy Cook – Xlerate.Media
It was however, Robert Gough & Paul Morris, who secured the overall top Historic honours (+W9 Class), in what was a dominant performance in their Ford Escort MK2, they also finished fifth overall out of the registered Welsh Crews.
Photo: Robert Gough & Paul Morris | By Andy Cook – Xlerate.Media
Meanwhile defending Welsh 2WD Champs Boyd Kershaw & Co Driver Keegan Reese would deliver thier second Hockley Motorsport Welsh 2WD win (+W11 Class) of year in their MK2 Ford Escort. With a full house of top stage times the pair crossed the finish line back at Builth Wells with a margin of 1 minute 25 seconds over the E30 BMW of Kevin Metcalfe & Ian Jones. Callum Griffiths & William Lewis rounded out the Welsh 2WD podium in the Ford Fiesta ST and also rounded out the Welsh Juniors podium.
Photo: Boyd Kershaw & Keegan Reese | By Andrew Scott
---
NEXT TIME …
The Pirelli Welsh Rally Championship heads back up North to Bala for the Knutsford & District Motor Club organised Plains Rally (May 20). Where 44 Stage miles on some more classic "World Class Welsh Gravel" will await the crews for Round 3 of the series.
---
Words & Feature Photo By Andy Cook | Xlerate.Media