UKRALLY | BTRDA | WNRC| WOODPECKER STAGES 2018
12/09/2018
The Event Signs Woodpecker Stages was round 7, the penultimate of the 2018 BTRDA Forest Rally Championships and Round 8 of Pirelli Welsh National Rally Championships and featured a number of stages on the English-Welsh border. The morning kicked off in the forests close to rally HQ in Ludlow with a short 6miler in High Vinnalls where 135 competitors entered the firsts stage of the day before moving onto SS2 Wigmore.
After the first two stages the number 1 seed Matt Edwards in the Swift sponsored Ford Fiesta was the fastest from the off; followed by Luke Frances +16 sec and Steve Petch +26 sec who were both also in Fiesta WRC's. Next up was the longest stage of the day, with a little over 10miles in Radnor the crews could really get in the flow and this is where Edwards would stretch out his lead to 30secs over Francis with his clean sweep of stage wins for the mornings' action.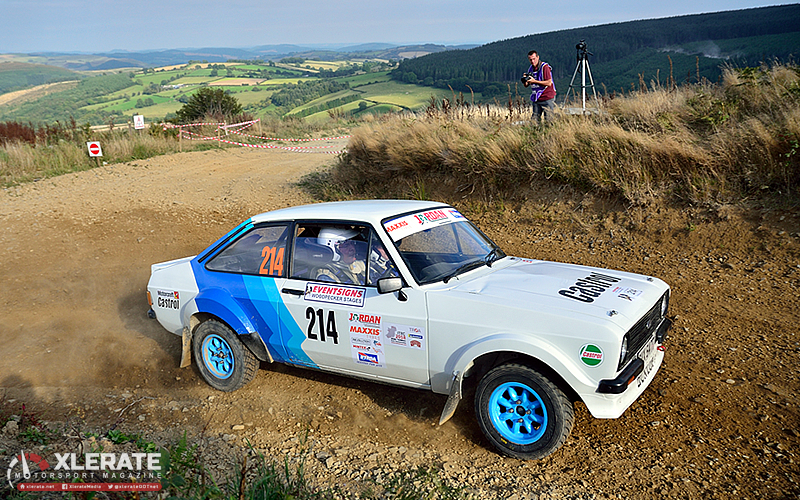 As crews headed into service Ernie Graham was leading the Historic classes in his MK2 Escort RS and Dave Brick in the Vauxhall Nova was the leading 1400.  After a blast through Haye Park where Francis finally grabbed a stage win from Edwards and another short stage in Wigmore; there was no change at the sharp end. Edwards, Francis and Petch remained the top three as crews headed back to Radnor Forest where the morning stage had now been split for the final two stages of the day.
Bringing the variety of machinery to the event Dave Brick pretty much lead the 1400's all day in the Vauxhall Nova, Barry Jordon in the BRM Hillman Avenger took the H1/H2 Class honours, Ernie Graham in the MK2 Escort RS took the H3 class win and the awesome looking Mitsubishi Galant VR4 of Tom Coughtrie won the H4 class.
Despite getting a puncture in the final stage of the day, SS7 Cwm y Gerwyn in the North of Radnor Forest was where Edwards signed off his Woodpecker win and with it the 2018 Jordan Road Surfacing BTRDA Gold Star Championship title; with just one round remaining. Although Francis managed to grab the final stage win of the day, he was some 30secs behind Edwards; with last year's BTRDA Gold star champ Steve Petch rounding off the final podium spot.
The Woodpecker was Edwards fourth win of the year in the Pirelli MSA Welsh Forest Rally Championships and with it winning a free entry into the Rally of Legends – Wales Rally GB, Britain's round for the FIA World Rally Championships in October.
Full Results: http://www.btrdarallyresults.co.uk/results/index.php?EventID=515&ls=2
Words & Photo's By Andy C | Copyright © 2018 Xlerate