WRC | RD1 | MONTE CARLO RALLY 2021 | LEG 2
22/01/2021
The second day of the Monte Carlo Rally started in the darkness early Friday morning with a 19km stage: SS3 – Asperemont – Le Batie-des-Fonts. A stage which was last used in 2019, it climbs to the top of a Col where at around 12-14km into the stage a 4km surprise in the form of patches of shiny ice awaited the crews; before an interesting decent tiptoeing back down towards the finish.
The temperature had risen slightly since the crews had passed over it for reconnaissance early during the week, so the conditions were very different from what they had in their notes. This with the added darkness and fog patches of the early hours in the morning contributed to the challenge of this opening stage to Friday's leg.
Sébastien Ogier was first into the stage and kicked things off with the first stage win of the day. Ogier said: "We have to trust the gravel grew"; sentiments that team-mate Elfyn Evans also echoed at the stop line. Evans posted a time if just 2.7 secs slower than Ogier despite having a small half-spin at a tight hairpin.
Overnight leader Ott Tänak had a great start to the stage but ended with a terrible final split, for which he put down to being too careful in the icey section at the top of the Col. This, unfortunately, lost him the lead dropping him down to 4th.
Tänak's Hyundai team-mates Thierry Neuville & Dani Sordo were both on a different tyre strategy to that of their rivals, opting for a single studded snow tyre on the rear as opposed to four softs all around. Neuville, did his best saying that he "got the most out of them" but ultimately as the morning progressed, both he and Sordo would learn that it was, in fact, the wrong choice.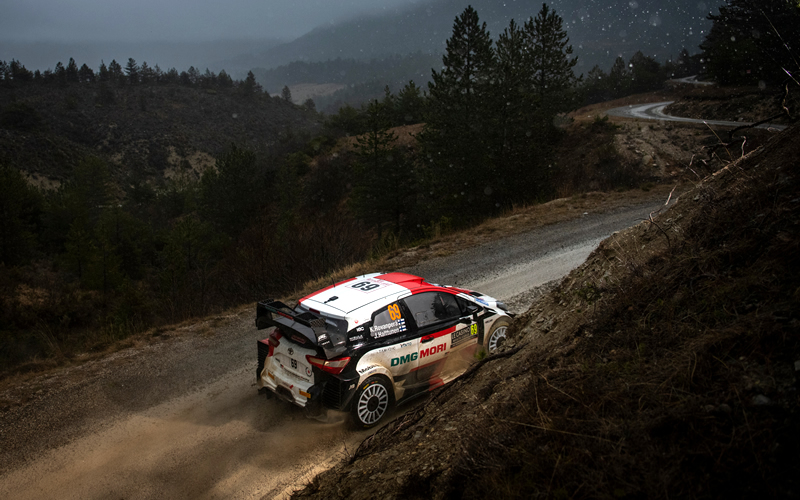 Despite also having a slight spin at the same hairpin as team-mate Evans, Kalle Rovanperä took over the lead of the rally here to start the day off with a Toyota 1-2-3.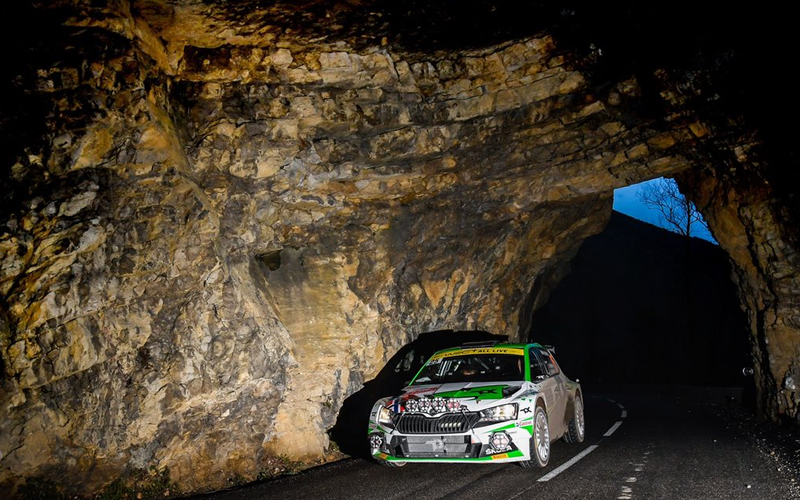 Andreas Mikkelsen in the Fabia Rally2 EVO managed to catch the WRC Hyundai i20 of Pierre-Louis Loubet towards the end of the stage, this came as an added distraction for Mikkelsen which resulted in him not paying attention to the pace notes at times. Nevertheless, it was still a strong way to open up the day with a stage win in the WRC2 class beating M-Sports Andrean Fourmux by some 10 seconds.
"Overall I'm happy. I lost concentration when I caught Loubet but that's okay – a tricky stage."

Andreas Mikkelsen
Up next was a new stage for this year, 22km SS4 Chalancon – Gumiane 1, this one was still a little dark but at least it appeared to be clear of ice.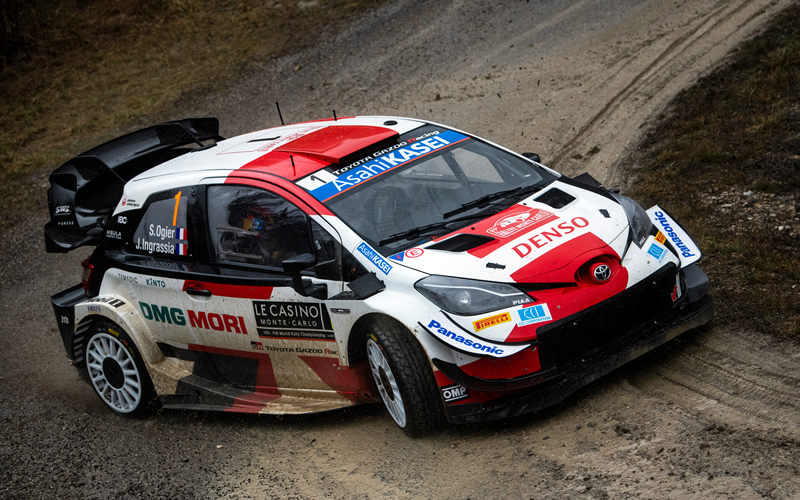 Ogier who said "the feeling is a little bit better" followed up his opening stage win with another one here, leapfrogging his Toyota team-mates, Evans and Rovanperä to take the rally lead for the first time.
Evans felt that it wasn't such a bad run but reported that "it was very slippery in the middle section" thinking that perhaps he had been a bit too careful on occasions. But if anything, it was maybe the right approach to have, given what happened to him in Monza last year, after all, it was only the first full day of the first event of the season.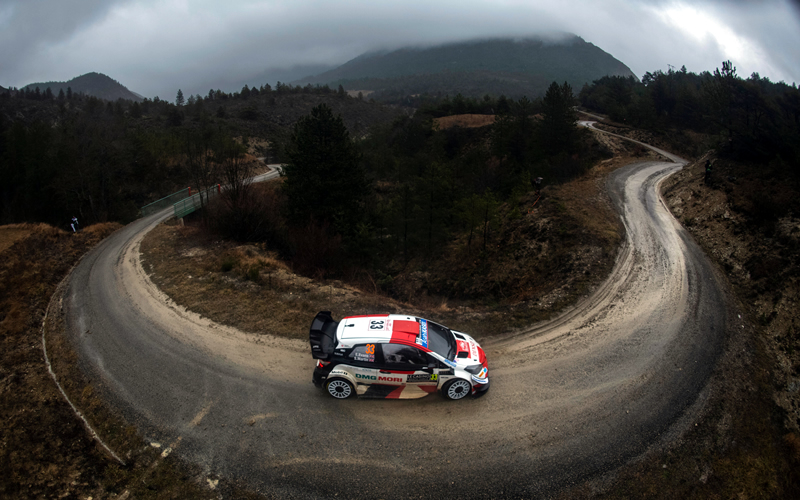 Following issues which he struggled to fix in the allocated time on the road section, Kalle Rovanperä was handed a 10-second penalty for checking in late to the stage time control. This was a real shame considering he posted the second-fastest time, he would have been leading otherwise.
Ott Tänaks previous days engine gremlins appeared to persist, with low boost in tight hairpins, he had managed the situation as best he could trying not to stall the car.
The final stage of the morning loop (SS5 Montauban-sur-l'Ouvèze – Villebois-les-Pins) was now in daylight with temperatures at around 0 degrees. This 22km stage was not a typical Monte stage, it was slightly wider compared to that of the mountain stages up in the high Alpes but there were no real surprises expected here. The surface was dryer compared to the previous two but as the stage evolved it did get progressively dirty from all cuts.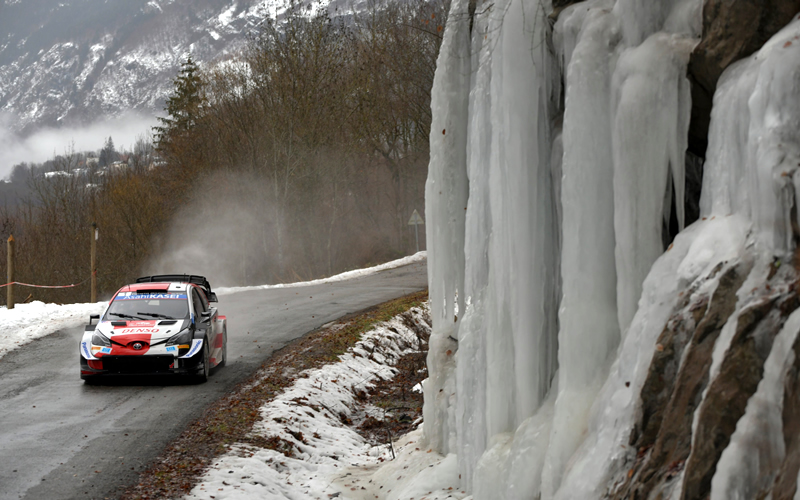 Sébastien Ogier had a better morning jumping from P5 to P1 over the 3 stages, ending the morning loop with an 11 second lead over team-mate Evans in second. Evans sited that in this particular stage he didn't have as much past experience to call upon as Ogier did.
Ott Tänak had a few nasty surprises with the rear-end of his i20 stepping out a couple of times, whilst Neuville had a big spin due to having a single studded snow tyre on the rear. Luckily for Thierry, it was slow enough, so he got away with it. To add to his dramas, he had not been given any prior information from his gravel crew, who were reportedly unable to drive through the stage beforehand due to incident (crash) in the road section.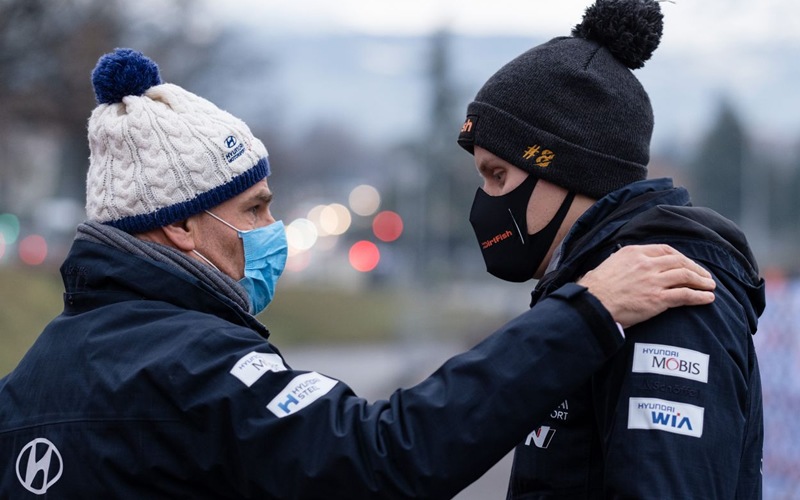 Heading into service Hyundai boss Andrea Adamo admitted that they got it wrong on the tyres choice for Neuville and Sordo but was unsure as to why Tänak, who was on the same rubber as their competitors was slow.
Back out after the midday service halt and stage 6 was the repeat of Aspremont – La Bâtie-des-Fonts. This time in the daylight and there was a lot of standing water from some heavy rain in the area, the choice of tyres on offer from Pirelli which did not include a rain tyre for the Monte made for some difficult decisions or compromises so to speak.
It was an unlucky stage for Ogier, who picked up a front-left puncture and understandably sounded a bit down at the stop line.
"There are so many cuts that its very hard to know where the line is"

Sébastien Ogier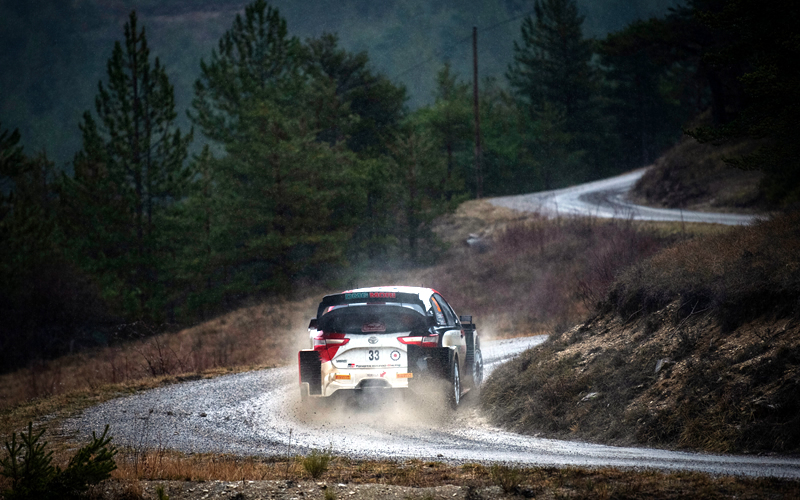 Ogier's misfortune handed the rally lead over to his Welsh team-mate Elfyn Evans, who now lead the rally by some 20 seconds.
"It was ok in that stage but difficult with the extreme grip changes"

Elfyn Evans
Ott Tänak recorded a time which was some 6.9 seconds slower than Evans but it was the second-fastest stage time and this pushed him up to 2nd overall past rival Ogier who was now in P3.
"It was so tricky… I tried my best. Not the place to be a hero!"

Ott Tänak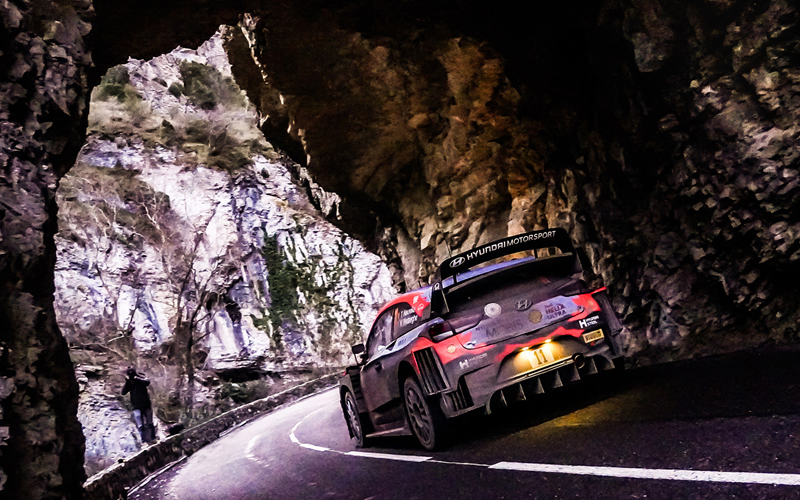 Following a change of tyre strategy in service, Theirry Neuville was now on the optimum rubber and put in an ok stage time (3rd fastest) which also gave the impression the partnership with his new Co-Driver Martijn Wydaeghe was also going well .
"The car and tyres are working well, Martijn has done a good stage, so it was more enjoyable compared to the morning loop".

Thierry Neuville
Kalle Rovanperä made what he described as "a stupid mistake" on a very muddy cut only 600m into the stage. This sent him off and into a field which resulted in a chunk of time lost. This dropped the young Fin down to 5th overall.
Meanwhile, in the WRC2 field, Norwegian Andreas Mikkelson was really enjoying the tricky conditions in the Skoda Fabia. Reporting that "the car felt really stable", he continued to extend his lead over Frenchman Adrian Fourmaux in the Fiesta R5 throughout the afternoon's loop.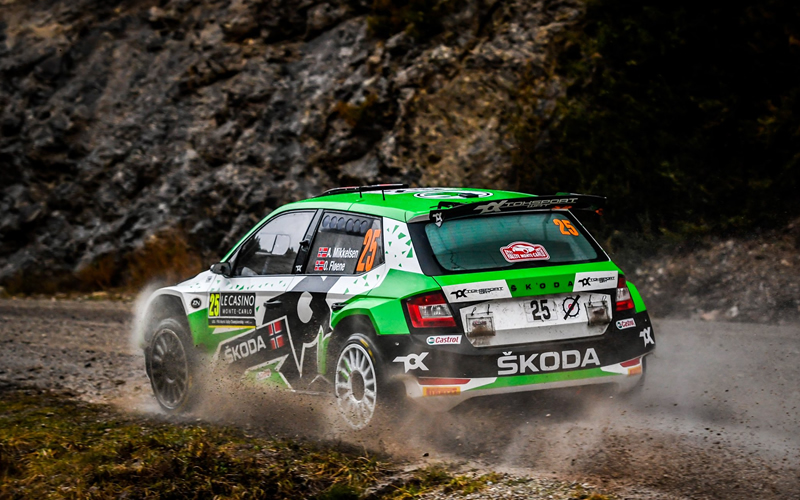 The weather continued to deteriorate considerably into the final 22km stage of the day (SS7 Chalancon – Gumiane). The rain mixing with the mud which had already been ripped out onto the racing line following the mornings run was making it tough to read the road.
As a result of his puncture on the previous stage, Ogier was left with no option but to use his one studded tyre.
"It was not ideal but there was nothing that we could do"

Sébastien Ogier
However, Ogier had still beaten his team-mate, Evans who dropped some 16 seconds to him, this slashed Evan's advantage to just 7 seconds. As it so happens Evans was also wearing a single studded tyre on the rear of his Yaris, after picking up some damage to the wheel previously he chose to not take a risk with it.
"It's very difficult to find a balance, the car just has a mind of it own sometimes in these difficult conditions"

Elfyn Evans
Ott Tänak who started the day leading the rally had dropped back to third now after this stage, where he dropped some 20 seconds; reporting that his visibility was hampered by the misting of the front screen.
Neuville set a better time than his team-mate Tänak but was still some 14 seconds slower than Ogier.
"That was a really nice stage for us, Martijn did a real great job and I was more confident as well"

Thierry Neuville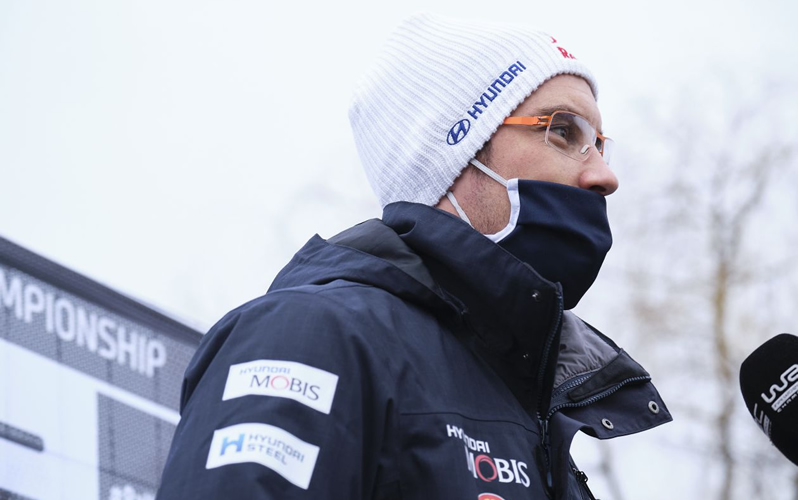 Thierry seemed fairly happy at the stop line of this last stage of the day but admitted that it would be difficult to re-gain the time loss from the morning's loop.
Kalle Rovanperä followed Neuville into the stage and beat his time to get a little closer (+4.6 seconds) to Ogier's but it looked as if the stage was getting faster because Mr Sordo then came along and bettered that still (+1.3 seconds).
"I get more confident, but I 'm still not happy with the race"

Dani Sordo
And so Britain's Elfyn Evans ends the day with a 7.4 second lead over his Toyota team-mate Sébastien Ogier, with an even bigger gap back to Hyundai's Ott Tänak in 3rd.
After winning 4 out of the 5 stages, Toksports Andreas Mikkelsen leads M-Sports Adrian Fourmaux in the WRC2 category by over 47 seconds.
"I'm really enjoying it, the gap is quite good, it is a nice feeling; my gravel crew are doing a great job and I also think the Skoda is a great car in these conditions"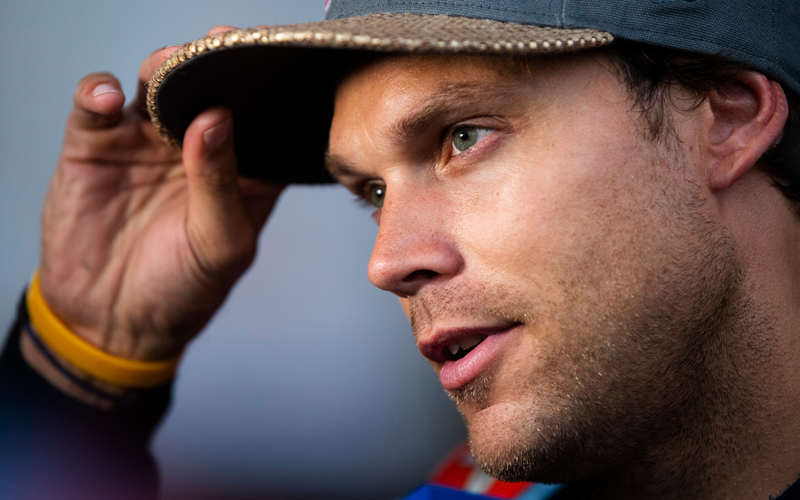 Just 57km over three stages face the competitors on Saturday, with the prospects of snow on the way overnight, It could potentially deliver some of the typical Monte stage conditions that we expect and were hoping for and some interesting rallying to matter.
Words By: Andy Cook – Xlerate