WRC | RD2 | RALLY SWEDEN 2019
23/02/2019
Rally Sweden is the Championships only full-on winter rally, yes the season opener in Monte Carlo last month also featured tricky wintery conditions and at times was like watching an episode of Dancing on Ice, but it's got nothing on Sweden, which is simply just unique! The crazy thing about rallying on the snow and ice at this event, is that for the world best drivers, it's one of the fastest events…. why? ….. Studded Tires which dig into frozen roads provide a whole another level of grip and one is astonished at the speeds that can be achieved in conditions which most normal people would only tiptoe around on.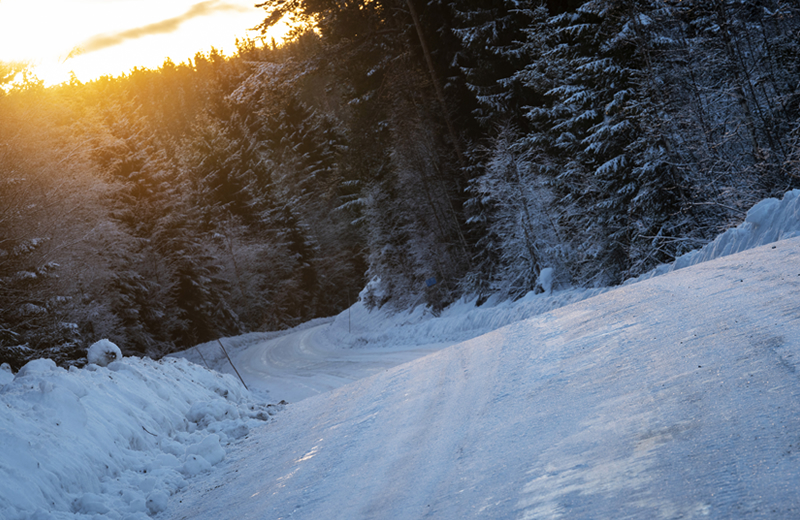 Round 1 winner Sebastien Ogier was not looking forward to playing the role of a snowplough at the front, last year's Rally Sweden winner Thierry Neuville was hoping for a repeat of last year's success and Toyota was hoping that one of their drivers, either Tanak, Latvala or Meeke could be in with a chance of the win.
This year the 67th edition of the event saw an almost identical route to last year, made up of 19 special stages totalling more than 300 km of competitive action, it had tempted a number of other well-known figures out for some fun.
Monte saw the return of The GOAT, Loeb joining Hyundai but for Sweden, an old rival of his was stepping into one of Tommi Makinen's Toyota Yaris WRC's cars for a one-off drive. Welcome back a two time WRC title winner whose last appearance was nine years ago, Marcus Gronholm; who was out celebrating his 51st birthday, now that's some present to himself!
Close to the service park in Torsby, a 6.8km Shakedown stage was where we would get an idea of who was getting to grips with these conditions. Neuville in the Hyundai i20 was fastest just 2.2. seconds in front of Ott Tanak in the Toyota Yaris, Championship leader Ogier in the Citroen C3 was third just a tenth behind him, so normal service resumed with the top three drivers in the WRC fighting it out on this one?
Neuville's teammates Loeb and Mikkelsen only posted the 8th and 10th fastest times, clearly, this wasn't going to be good enough for Hyundai in their title fight here, both Drivers would have to step it up when the event started for real. Tanak's Toyota teammate Jari-Matti Latvala was now a WRC record-breaker at the age of 33; but not in the way he would've liked, it wasn't a record for most wins but was for the most WRC event starts. Sweden was his 197th rally in the top flight, surely it was about time that his experience brought home another win? Well starting the event off with just the 9th fastest time in Shakedown was not the right way to go about it.
The darkness fell on Thursday night and the opening test SS1, at the trotting track in Karlstad came alive with the sounds of WRC machinery playing up in front of a large crowd of the Swedish Rally Mafia. Now this spectator super special stage has bad memories for the Belgian Thierry Neuville, two years ago he crashed out of the lead here, but this year he delivered the opening stage win beating Championship rival Ogier by just 0.8 sec. Teammate Mikkelsen had also found the correct peddle here taking third, setting things up just right for Hyundai ahead of the longest leg of the rally the next morning.
Friday's stages were identical to last years in a cross border classic day of action, sharing its stages with next-door neighbour Norway. A loop of three stages run twice faced the drivers, Hof-Finnskog and Svullrya were both runs on Norwegian roads whereas Rojden starts and finishes in Sweden but nips across the border in the middle. The first loop of three stages saw Ott Tanak charge into the lead taking the fastest time on Stage 2 and 4 …… HELLO, we fancied Tanak for the win in Sweden, was our prediction going to be right? Clearly, his intent indicated just that.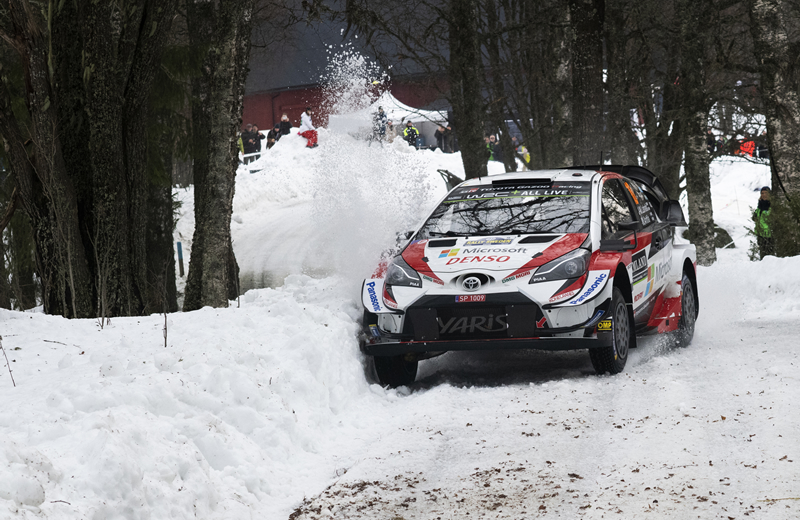 M-Sport's Teemu Suninen was back out in the Fiesta, this is what he had been building up to, his chance to shine in Sweden, he was lying in second place just 5.5 sec behind the rally leader and had his first stage win in SS3. Fellow M-Sport driver Elfyn Evans also got in on the action too, winning Stage 5 but Tanak's teammate Latvala had fought back not only overtaking fellow countryman Suninen but had taken the lead of the rally.
Stages 6 & 7 were M-Sports for the taking, Suninen showed his worth becoming the fourth leader of the event by winning stage 6, his second of the day and Evans also won his second, taking fastest time on stage 7 and moving up the leader board into 5th. The end of Friday signalled a first for the 25-year-old Fin Teemu Suninen, his first time leading an WRC round despite some close calls with the snowbanks.
Suninen: "The feeling is amazing. We've done a really good job, particularly in staying away from mistakes. It's everyone's target to be fastest but we need to remember there are two days to go in difficult conditions and I must concentrate on my driving,"
Friday was an eventful day all-round, Tanak who had initially led following two stage wins in the morning was in second, whilst his teammate Latvala spent the best part of 25 minutes digging out his Yaris from a snowbank in SS8. Friday was also a bad day for Frenchman Ogier, who parked his Citroen C3 in a snowbank in Stage 6 following a string of bad stage times, this was clearly not going to be his event. Neuville ended the day in seventh following a couple of high-speed spins which damaged his Hyundai i20 aerodynamics. Five times Rally Sweden winner Marcus Gronholm survived two spins before a third got the better of him retiring him in a snowbank.
In the WRC2 Pro category, Norwegian Mads Ostberg was back out on the stages once again, this time in an R5 Citroen C3; in front of his home fans he was showing that he meant business today, whilst fellow countryman Ole Christian Veiby claimed a clean sweep in the WRC 2 class in his privately-run VW Polo GTi. WRC2 Pro Monte winner Gus Greensmith beached his M-Sport run Fiesta R5 car in SS5 but was still in third 1m.06sec behind Skoda's Rovanpera who also saw some snowbank drama in SS3.
Saturday was a new day and it was time for Tanak to take back control, with a return of the Rammen stage, Hagfors and the highlight of the event for many, the Vargasen stage which features the infamous Colin's Crest jump; the fans were in for a treat. Latvala opened the day with the fastest time in the first run of Rammen, closely followed by Tanak who had now knocked Suninen off the top spot but in other news, Ogier had woken up today and was back in action winning stages 10 and 11 the first runs of the Hagfors and Vargasen tests.
By the end of the first loop of stages Tanak had built a lead of more than 33 seconds ahead of the now second place Andreas Mikkelsen and the Fiesta of Elfyn Evans had moved into third ahead of Neuville as they headed into the afternoons repeated loop.
SS12 & 13 were both Tanaks as he set himself up with a comfortable lead ahead of Mikkelsen, Ogier managed another stage win in SS14 Vargasen 2, while his Citroen teammate Esapekka Lappi moved up into third overall passing both Evans and Neuville.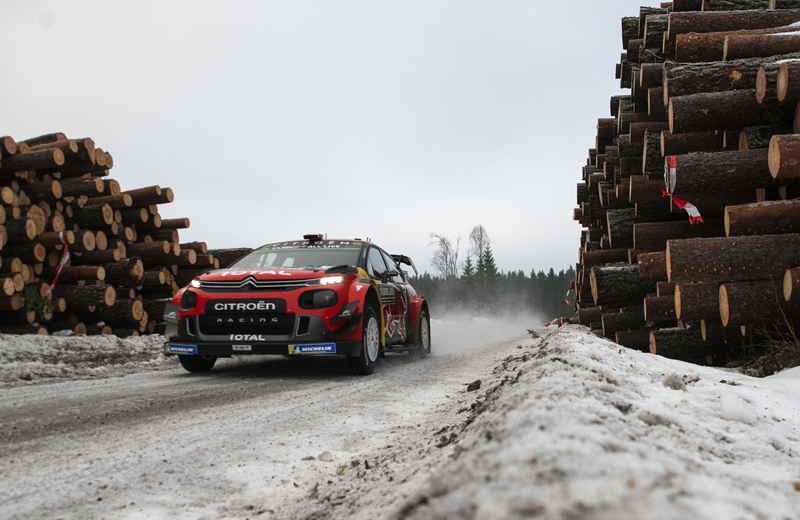 Mads Ostberg continued to lead WRC2 Pro in his R5 C3 with a lead of 3min 21sec over Kalle Rovanpera, who was the fastest of the day winning seven of the eight stages in his Skoda Fabia. This enabled him to draw closer to Ostberg, however, this hard work was all undone on SS13 when he like many others made yet another trip into a snowbank. Rovanpera remained ahead of Brit Gus Greensmith who's Ford Fiesta suffered a number of mechanical failures.
Ole Christian Veiby was holding the WRC2 lead, Veiby was joined in Sweden by multiple FIA World Rallycross Champ Johan Kristoffersson in a VW Polo GTi. He was very much on the pace up until stage 10, Hagfors 1 where he got stuck in a snowbank and dropped to 5th promoting Jari Huttunen into second. The WRC2 battle was intense as Veiby and Huttunen both took stage wins throughout the day, Veiby led Huttunen by 15 seconds heading into the final day.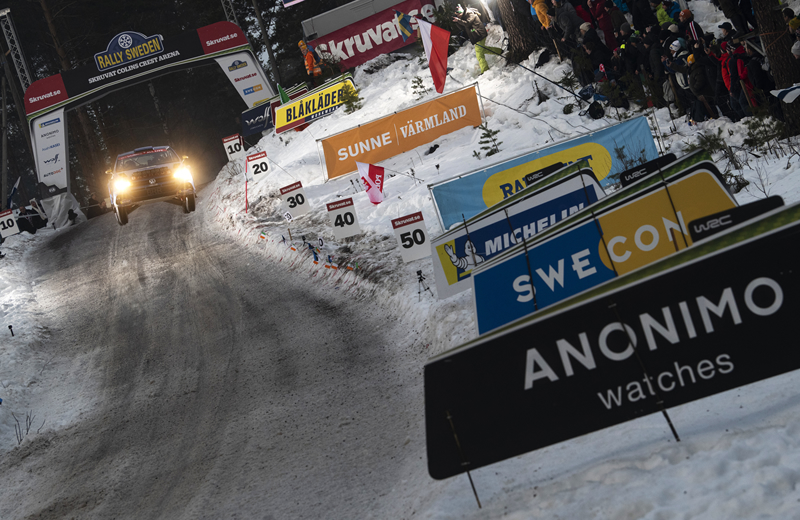 Every year thousands of rally fans flock to the Vargasen stage where the Colin Crest arena plays host to the most important prize in World Rallying, that is the longest jump award. Since 2009 the organizers of the event have presented this award in honour of the late great 1995 World Champ, McRae.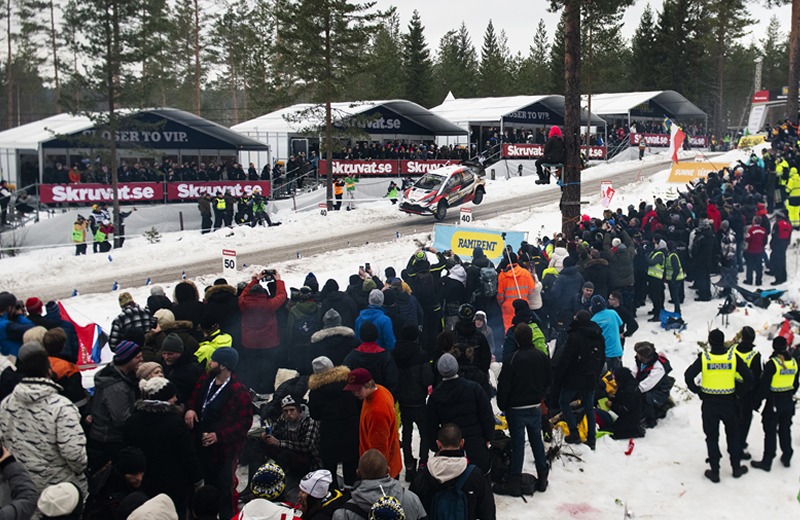 This year it was fellow Brit Kris Meeke who was mentored by McRae early on in his career that launched his Toyota Yaris 41 meters on the second pass of the stage to win. Meeke denied Mads Ostberg (who was joint runner up with Kristofferson) a hat-trick of Colin's Crest Awards. The Norwegian was the winner in 2017 (42m in a Ford Fiesta WRC) and 2018 (42m in a Citroën DS3 WRC) so for him to jump 40m in an R5 car this year is not such a bad effort.
Sunday the final day's action featured two stages run twice, first up was the Torsby Sprint stage and was separated by two runs of the Likenas stage. Here Neuville set about a high-speed recce run ahead of the final Power Stage later, he set only his second fastest stage time of the event since winning stage 1 on Thursday night, it was all a bit late to start a charge now!
Latvala claimed another stage win in the first run of Likenas SS17 and Evans popped up once again for another stage win on the second run SS18 but Tanak was pretty much home and dry now, only needing a final clean run over the second Torsby Sprint.
Heading into the final stage of the event, the Power Stage; all that remained to be seen was who was going to pick up what bonus points. Ogier was all about salvaging something from his dismal event but could only manage 4th quickest ahead of Citroen teammate Lappi. Evans put in another strong stage time to take the 3rd top PS time and Neuville's efforts were simply blown away by Ott Tanak who smashed his time by 3.5 seconds too not only take the full Power Stage points but the rally win.
This was Tanak 7th WRC victory and the Estonian became only the fourth non-Scandinavian driver to win in Sweden, he takes his place at the top of the Championship leader board with a 7 point lead over Thierry Neuville who finished third behind Finland's Esapekka Lappi. Ogier drops to third in the standings after finishing way down in 29th overall, walking away from Sweden wanting to forget the event ever happened.
Tanak: "I don't think we pushed to the maximum, maybe the most on the limit in the Power Stage. There we tried to drive well but we were, more or less, on the limit. Normally you have to fight for the last tenth of seconds, but we were in the best situation,"
Toyota Gazoo Racing WRT also lead the Manufactures standings by just a single point ahead of Hyundai Shell Mobis WRT following a strong 4th finish by Andreas Mikkelsen.
Words By Andy C – Xlerate
Photos By Jaanus Ree © Red Bull Content Pool