WRC | RD3 – RALLY CROATIA 2021 | LEG 3
25/04/2021
The final day of Rally Croatia, the third round of the 2021 FIA World Rally Championships produced a truly thrilling and an extremely close final battle. This brand new Asphalt rally was the first of the four full tarmac rounds this year and has certainly delivered a challenge for the Worlds best drivers.
Before the final days' action had even begun out on the stages there was drama for the overnight rally leader, Sébastien Ogier. The seven-time World Champion was involved in a road traffic collision on the road section prior to the first stage of the day. There was no service on the final day of the rally, so the Toyota driver was so lucky to be able to continue on, all be it with damage to the car's bodywork and aero. This was despite the efforts from the local law enforcers, who wanted him to stay at the scene to discuss the matter further with him.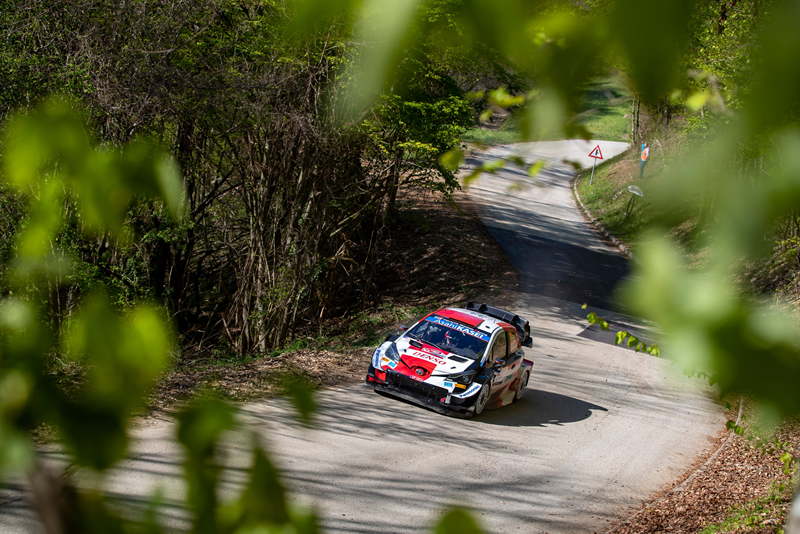 Photo: Toyota Gazoo Racing WRT
Welshman Elfyn Evans laid down the challenge on the first stage (SS17 Bliznec – Pila 1) and was fastest through this 25km test, beating Thierry Neuville by 1.4seconds. But upfront Ogier was clearly feeling the effects of the damaged aero to his Yaris following that RTC, his lead was now down to just 4.2 seconds.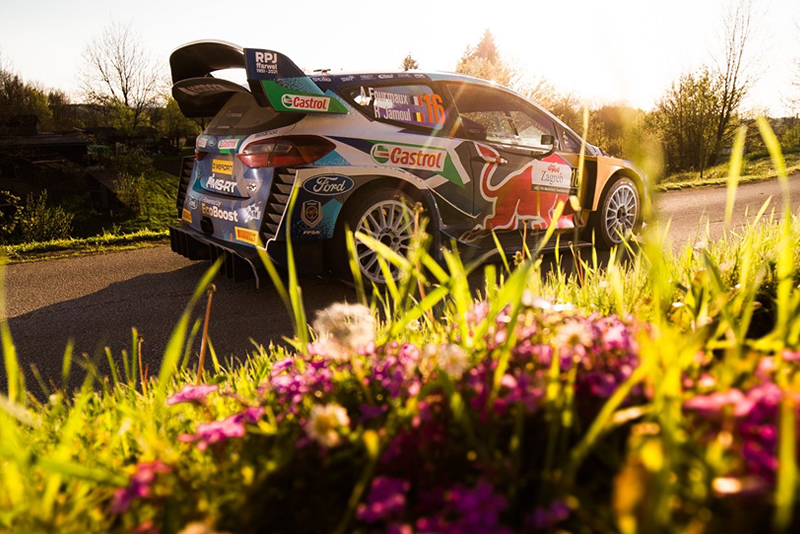 Photo: M-Sport WRT
M-Sport had a bit of a nightmare start to their final day, Brit Gus Greensmith suffered a hydraulic issue, resulting in no paddle shift and rising French star Adrian Formaux slid off the road because of his cold tyres, time was lost and all his hard work was gone.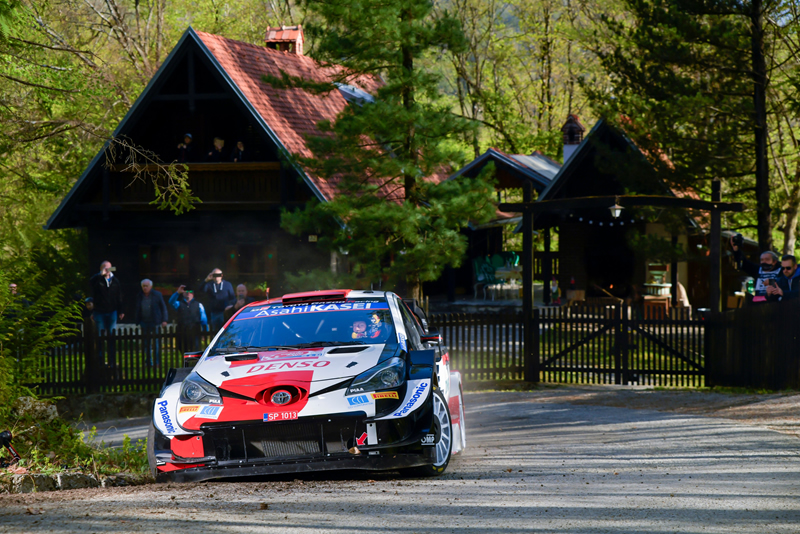 Photo: Toyota Gazoo Racing WRT
Neuville described the second stage of the day as "a hell of a stage", Evans was "ON IT" and was not only sending a clear message to Neuville but also to Ogier who lost the rally lead to Evans here. Ogier was now potentially also in danger of losing 2nd to a surging Neuville behind him. Ogier simply said "it's not over" but Evans was putting in a strong performance showing that he very much wanted his first win of the year.
Hyundai boss Andrea Adamo didn't think that under normal rally conditions Neuville could win the rally but this is rallying and anything could of happen, so Neuville's never give up attitude was to continue on until the bitter end.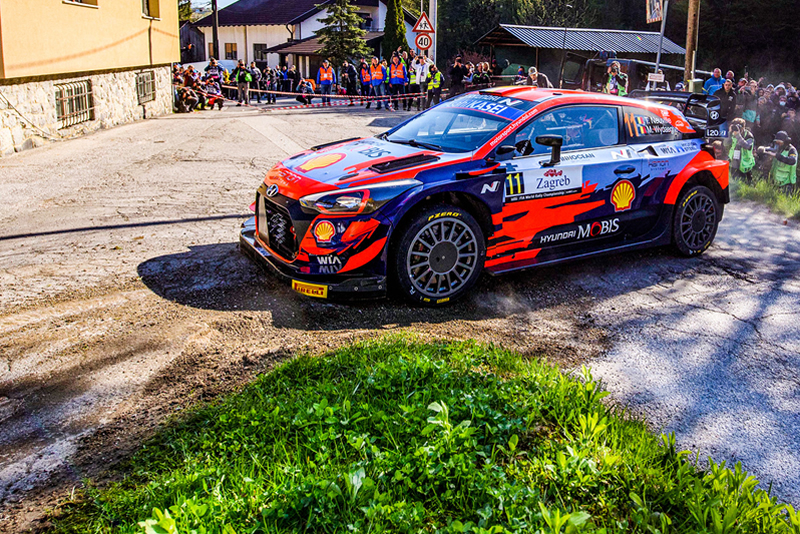 Photo: Hyundai Motorsport WRT
Into the penultimate stage of the whole rally Neuville gave it his all and said "I gave it everything in there. The car was working nice and my pace notes were good. I can't do more.", even having to wipe the sweat off his brow mid-stage. Neuville won this stage but Evans was still holding off the challenge and was just 0.4 sec slower than Neuville.
"Pushing pretty hard. It's not so easy trying to guess how much gravel there is, but all okay."

Elfyn Evans
Meanwhile, Ogier was using all of the road and did have a couple of moments, perhaps because his tyres were going off? He managed to keep hold of second place and was 3.9 seconds behind leader Evans, Ogier appeared very on edge at the stop line.
With just 14km to go in the final power stage, it was going to be a final stage showdown. Evans had a 3.9 second lead over his teammate Ogier but there was still the danger of Neuville behind the Toyota pair, everything was set for a thrilling conclusion to the rally.
Toyota team principal Jari Matti Latvala said "it was going to be an incredible fight on the final stage" and hoped that they could get a Toyota 1-2, he also said that "to be able to win they had to finish the race".
And so a final 14km blast was the scene for the Wolf Power Stage.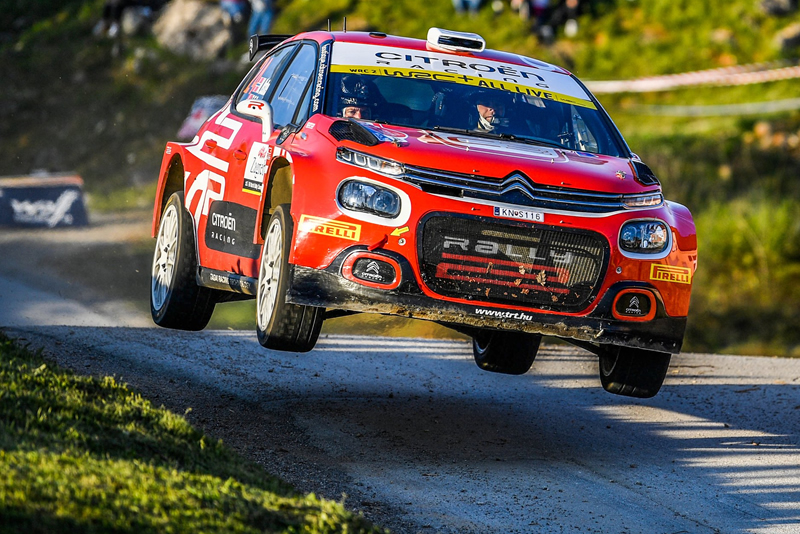 Photo: Mads Ostberg Social Channels
In the WRC2 class, a returning Mads Ostberg brought his Citroën C3 R2 home for his first win, despite nursing a break issues on the final day. The Norwegian fought off a good battle from Russian Nikolay Gryazin throughout most of the rally. Gryazin who had power steering problems on Saturday unfortunately went on to roll his VW Polo GTI R5 this final morning.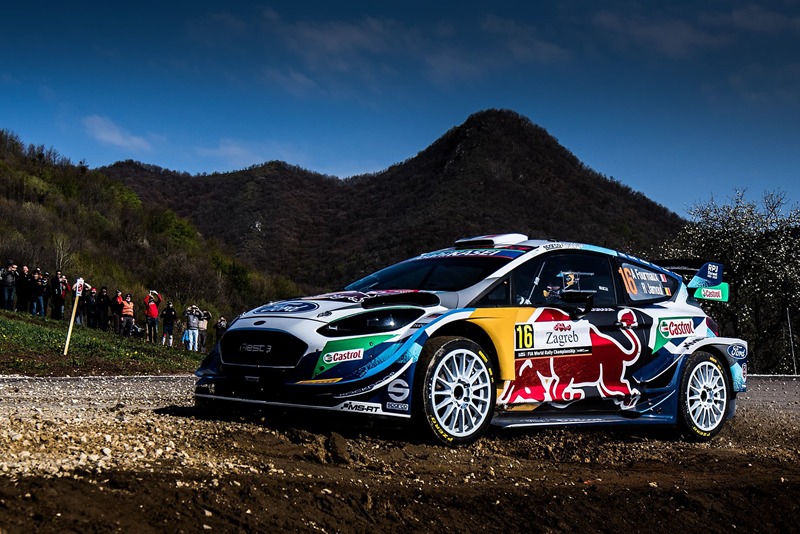 Photo: M-Sport WRT
Frenchman Andrian Formaux delivered a very impressive drive for his first time in the seat of a full-blown WRC Fiesta for M-Sport. Finishing 5th overall was some result given that the young man had less than 4 years rallying under his belt; perhaps he is the one to watch for the future?
"I am really happy. Just disappointed about one thing: the rally is finished now! I can only say thank you to M-Sport for their opportunity. It was an incredible weekend for us. I think we had an amazing pace in some places. What a weekend"

Andrian Formaux
Photo: Hyundai Motorsport WRT
Estonian Ott Tänak arrived at the stop line of the final stage a bit dejected, Rally Croatia really didn't go the way that he wanted. With only a single-stage win to his name, his tyre strategy was more of a tragedy and cost him. Ending more than 1 minute and 25 seconds off the pace of his team-mate Neuville, fourth place at least brings him a handful of points.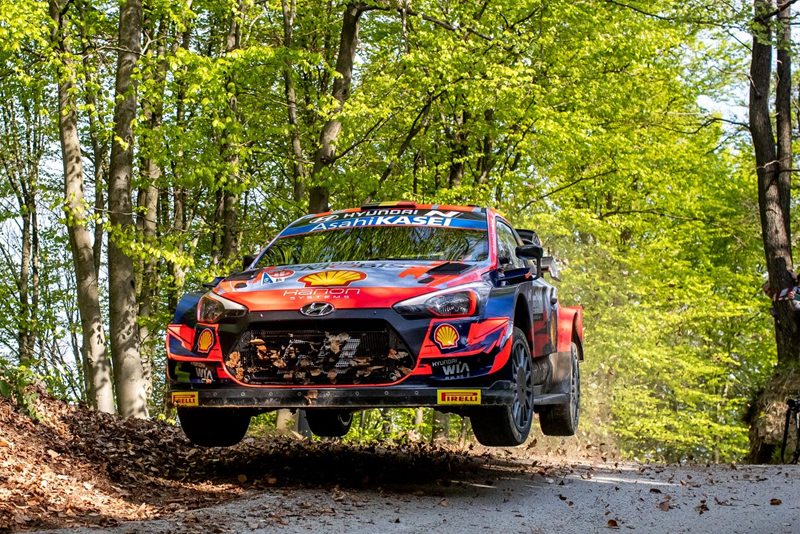 Photo: Hyundai Motorsport WRT
Theirry Neuville pushed so hard and gave it everything but being on the absolute limit comes with its risks. He pushed a little too much and went deep to overshoot a bend, but what could he do? he absolutely had to give it his all. Neuville ended his eventful rally with the third fastest stage time and third on the podium.
"I pushed very hard but I overshot a junction and lost three seconds. We have tried our best. I was absolutely on the limit of the car all the time and trying to enjoy, which we did. Martijn did a good job also – it wasn't easy for the co-driver. I am happy to be here.

Theirry Neuville
Photo: Toyota Gazoo Racing WRT
Sébastien Ogier was next into the stage, he had a 3.9 seconds deficit to make up in just 14km and also gave it his all. He too like Neuville had his moments but the time was good, very good but he thought that it wouldn't be enough. Rally leader and Ogier's team-mate Evans was also into the stage and pushing like hell to hold on to the win but once again we see him falling at the final hurdle. Unbelievably he had lost the rally by just 0.6 seconds, the pressure on Evans from Ogier had proved just too much. At times in this final stage he was on target and others down on the splits but in the final few bends he got out of sorts whilst on the limit and this is perhaps where the rally was lost.
"That last corner! I just got onto the loose and completely missed the next corner. It wasn't all lost there, but I'd say a second was gone. That's a shame, but it was a big fight all weekend and hats off to Seb for the last stage.

Elfyn Evans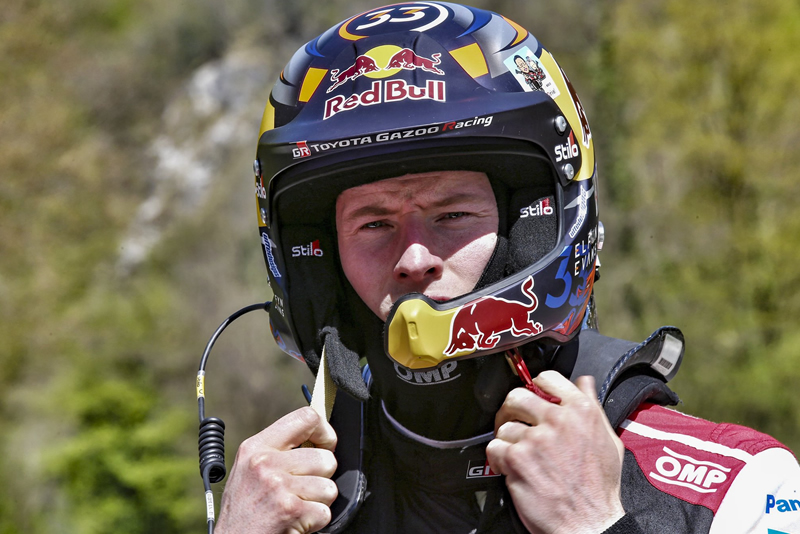 Photo: Elfyn Evans Social Channels
It was truly gutting for every British rally fan to once again witness the victory snatched from the hands of the young Welshman, how many times do we have to see this?
For 7 times World Rally Champion Sebastian Ogier, he adds yet another milestone to his CV, the first-ever World Rally Croatia Winner. Adding the power stage win to his final tally of 8 stage wins he leaves Croatia with a maximum points haul, which now sits him proud at the top of the drivers' Championship standings. Toyota will also celebrate with an important team 1-2 in their quest for the manufactures title this season.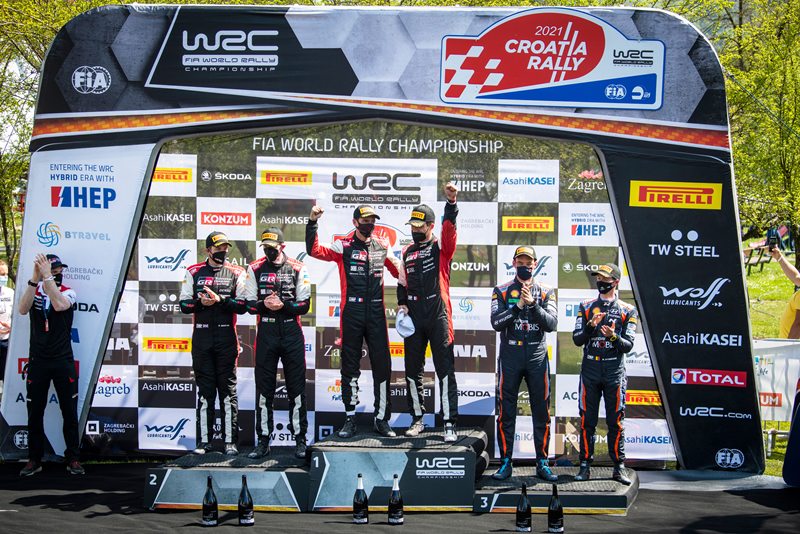 Photo: RedBull Content Pool
"I was thinking it will not be enough, it went really close up to the last few meters, maybe a last small mistake from Elfyn handed us the win? I think about the weekend the whole team has done an amazing job. The emotion for us now is super strong, it has been crazy for us all weekend between the punctures and the issues this morning, I was glad to be still in the race. I guess this is why we do this sport, for the emotion. I said sorry to Elfyn, he's done an amazing job and with such a close finish you need only one winner. I'm very happy for the whole team, Toyota and the car has been amazing."

Sébastien Ogier
Next up the FIA World Rally Championships heads to Portugal in May and onto the gravel.
Words By Andy Cook – Xlerate