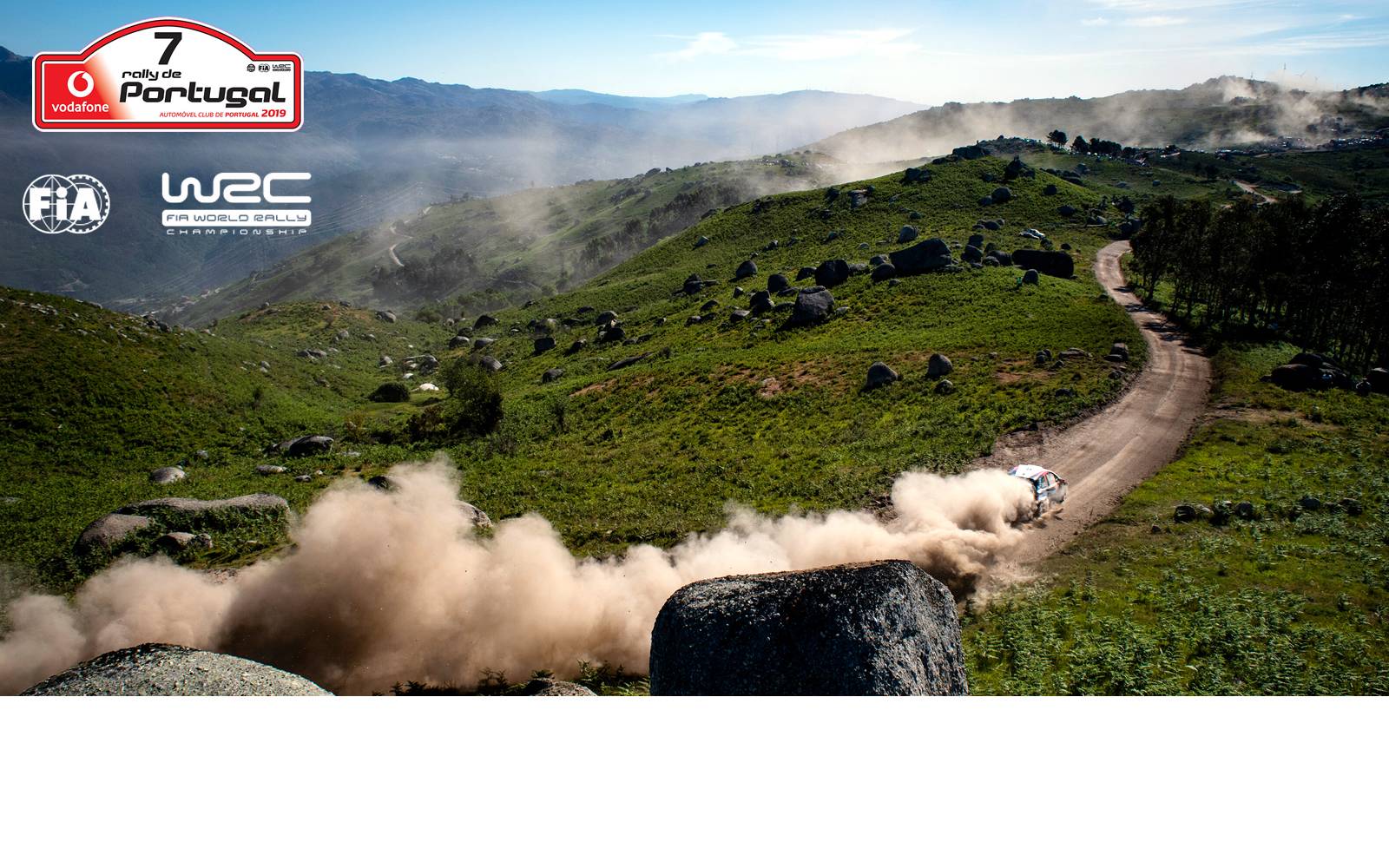 WRC | RD7 | RALLY DE PORTUGAL 2019
02/06/2019
One of the oldest and most supported rounds of the FIA World Rally Championship, Rally De Portugal signified the start of a string of European events.
First held in 1967, this classic rally was one of the founding WRC events in 1973 and has been awarded "Best Rally in the World" on no less than five occasions and always delivers an atmosphere out on the stages.
After the recent addition of Rally Chile to the calendar, Portugal moved to a couple of weeks later this year. This means temperatures were a little higher than usual and what with the sandy stages, it made for a hot and dusty one.
Changes to the event this year included a Thursday night start in Coimbra and a return to the gravel roads around Arganil, which haven't been used since 2001. But fear not rally fans, that Iconic Fafe jump remained in the itinerary this year as the main highlight on Sunday, the final day's action.

Following the biggest off in his career last time out in Chile, Thierry Neuville set the pace at Shakedown on Thursday morning in a freshly re-built Hyundai i20.
Beating Toyota's Kris Meeke by just a tenth of a second on the short 4.6km Baltar warm-up stage, Neuville who won this rally last year was feeling OK.
Thierry Neuville:

"I'm feeling OK. Still a little bit of pain but when I'm driving and the helmet is on, everything is fine".
Neuville's exit in Chile was not only a blow to his Championship campaign but also the teams. Under pressure from the Korean brand and in their quest for their first World Rally title, the week before the rally, the Hyundai camp opted for a last-minute substitute.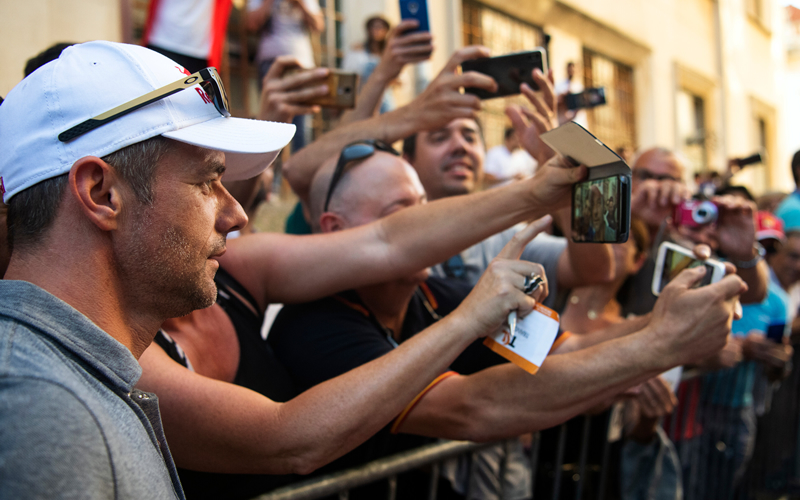 Following his fantastic result of finishing third on the podium in Chile on his first Gravel rally for the team, nine-time World Champ Sébastien Loeb was summoned to Portugal to replace Andreas Mikkelsen.
Sébastien Loeb:

"I am pleased to have the chance to build some important momentum by taking part in Rally de Portugal. This is an unexpected decision, but I am feeling in a positive frame of mind and determined to get another strong result for the team."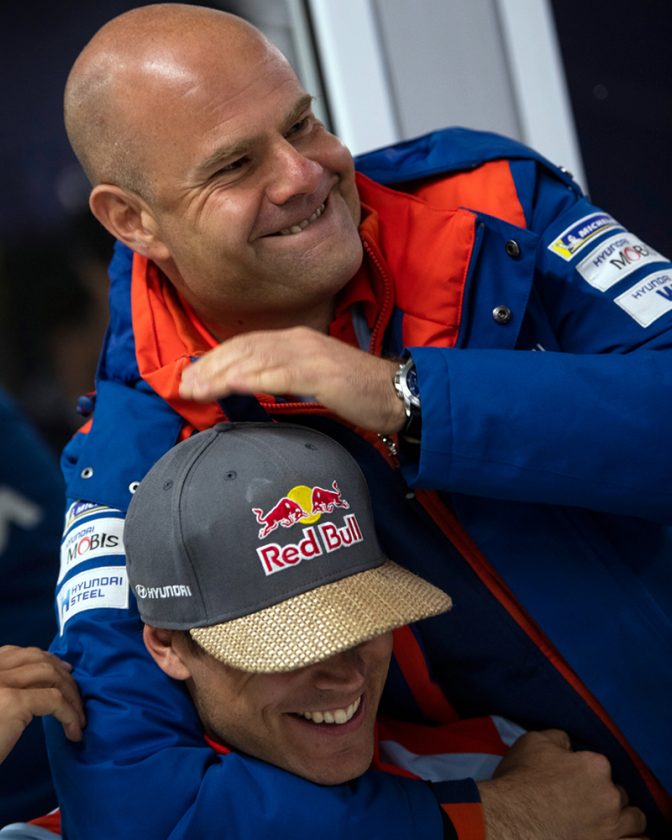 This is the second time that the Norwegian Mikkelsen has been dropped for a rally following his underwhelming performances. Mikkelsen is pencilled in to return to the stage in Sardinia.
Team director Andrea Adamo:

"It was necessary to react quickly after Chile, this decision was not taken lightly. We need to move forward as a team and make the most effective use of our versatile crew line-up"

The new-look opening leg on Friday featured roads of the past to the east of the city near Arganil and offers up a somewhat unknown new challenge for the current crop of World Rally Stars.
A 12km test, SS1 Lousa opened up the proceedings and Citroëns Sébastien Ogier, who was leading the drivers' standings heading into this classic event, was on road sweeping duties. It was inevitable that this was going to hurt him, 10th on the opening stage said everything about his situation.
It was the returning Hyundai driver Dani Sordo who got the first stage win of the event, beating the Toyota Yaris of Ott Tanak by 4.2 seconds.
The Spaniard who was starting a little further down the running order benefited from the cleaner road conditions. There wasn't too much dust to worry about as a 4min gap between cars was introduced by the organisers, but it was still hot and challenging out on the stages.
Dani Sordo:

"It was not so bad. There was some difficult parts but I enjoyed the car. I'm happy."
On the second stage of the event, previous rally winner Ott Tanak set about challenging for the victory. Despite being second on the road, his first stage win on the event was laid down and he was being backed up by team-mate Jari-Matti Latvala who posted a time which was just one second slower. Meeke in the third Toyota Yaris, despite having intercom issues was also keeping up with them.
Ott Tanak:

"The feeling is okay but from this position we are trying to do everything we can. It's difficult to perform miracles in these conditions; it's a long day!"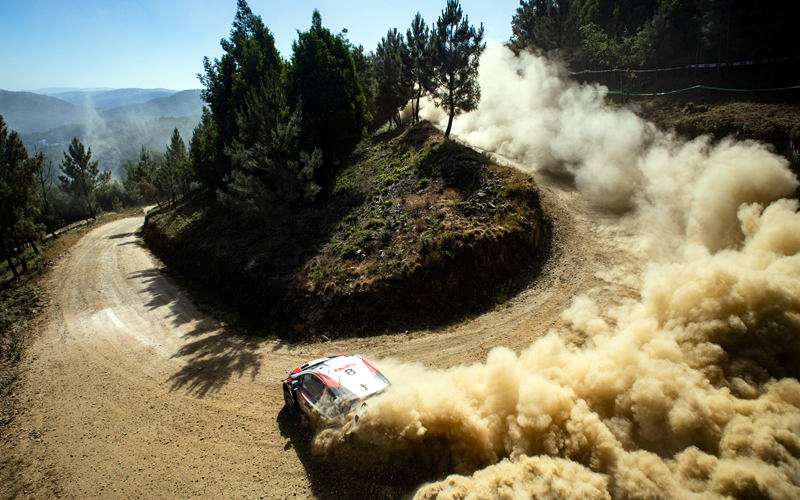 Sordo still led the rally overall, all be it by only half a second, but it was already looking to be a strong event for the Toyotas as they filled 2nd, 3rd and 4th places behind Sordo.
Tanak followed that up in the very next stage with another stage win beating Thierry Neuville by 1.7 sec. But whilst one Hyundai was getting back into the swing of things the other two were in trouble.
Both Dani Sordo and Sébastien Loeb were having fuel pressure issues, a furious Sordo had not only lost the early rally lead but was now totally out of any fight, right down in last with team-mate Loeb.
Hyundai Team Principal; Andrea Adamo:

"It seems there is a problem in the fuel system. We don't think it is an evaporation issue. I think we know what it is."
And so after the opening morning's loop of stages, it was a Toyota 1-2-3 with Ott Tanak leading his team-mates, Latvala and Meeke.
Ott Tanak:

"We had a very good first loop. It's been quite tough with dust. I must say the grip has been quite good and the car is performing well. The second loop can be more demanding and rough so we need to remain focused and make the right tyre choice".
Back out for the repeated loop and Dani Sordo's Hyundai appeared to be behaving itself, once again winning the stage just like he did in the morning.
M-Sports Teemu Suninen was going well, after his morning's efforts he was up into 4th place and by Stage 5, Gois 2 the longest of the day, he had managed to win his first stage in the Ford Fiesta, beating current champ Ogier by just 0.6 secs, which moved him into third overall.
Teemu Suninen:

"It's great but let's see how the next one goes."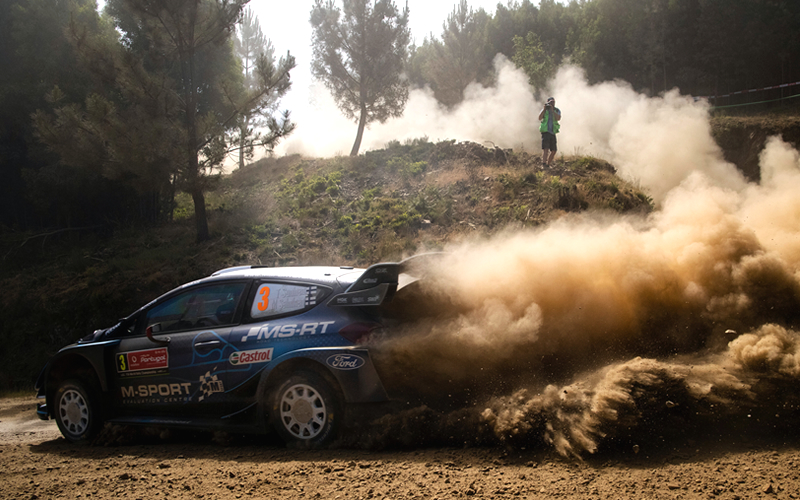 However, in the very next stage, Suninen would be hit with a severe lack of brakes, which is not ideal when competing in a high-speed gravel rally.
Teemu Suninen:

"We had no brakes at all. I cannot do anything with this car. Maybe I hit something but I didn't feel anything. A car without brakes is very difficult to drive."
Following Suninen's unfortunate situation Neuville was slowly getting up to speed and by winning SS6 Arganil 2 he was promoted to 4th overall in place of Suninen's.
The final stage of the first day was the spectator-friendly super special stage SS7 Lousada, a short 3.36km head to head blast around the Rallycross track to put on a bit of a show for the passionate Portuguese rally fans, for which Neuville posted the fastest time on.
Thierry Neuville:

"It was a difficult day for us. I struggled in the morning as I was a little bit too cautious. Once we found that feeling we were back on the pace."
However the surprise performance of the day would to go to Finland's Teemu Suninen who put in some fantastic stage times and if it wasn't for his brake troubles in SS6, he may well have been in the mix with those Toyotas.
Another M-Sport driver who was having a pretty good day in the office was Britain's Gus Greensmith, stepping up for his first outing in a full WRC spec Fiesta for Portugal was a big thing for him. After a number of outings in the WRC2 Pro class this year he was putting in a mega performance to end the day in 7th overall.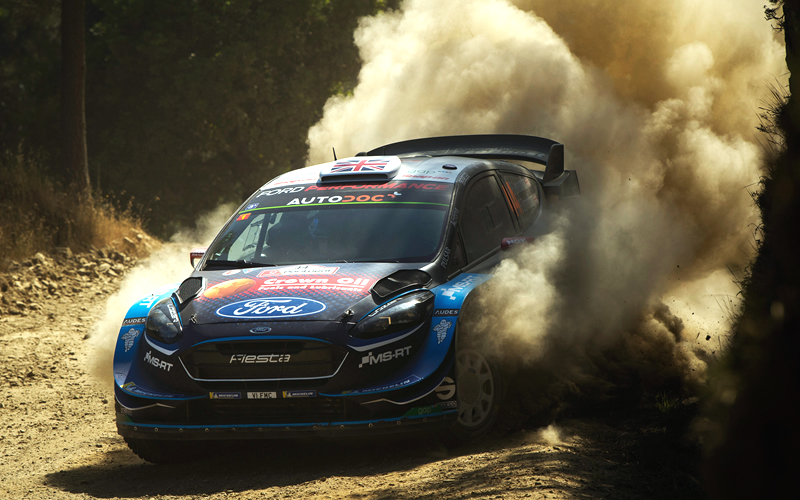 Finland's Kalle Rovanperӓ dominated the WRC2 Pro class' in the morning's loop by winning all three stages in his all-new Skoda Fabia R5 EVO.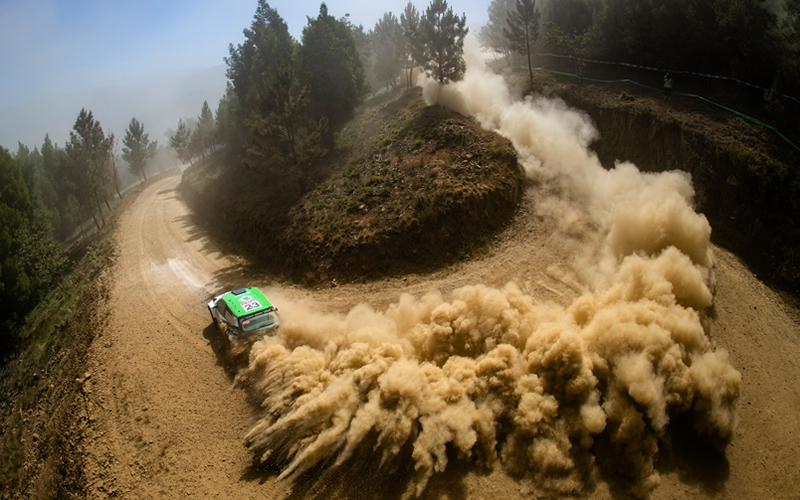 Returning to the WRC this weekend was the experienced Jan Kopecký who was also out in a new EVO R5 Fabia, once Kopecký got back in the groove he was fighting with Rovanperӓ.
Unfortunately for Rovanperӓ a puncture on SS4 lost him a lot of time and with it, the class lead to Kopecký.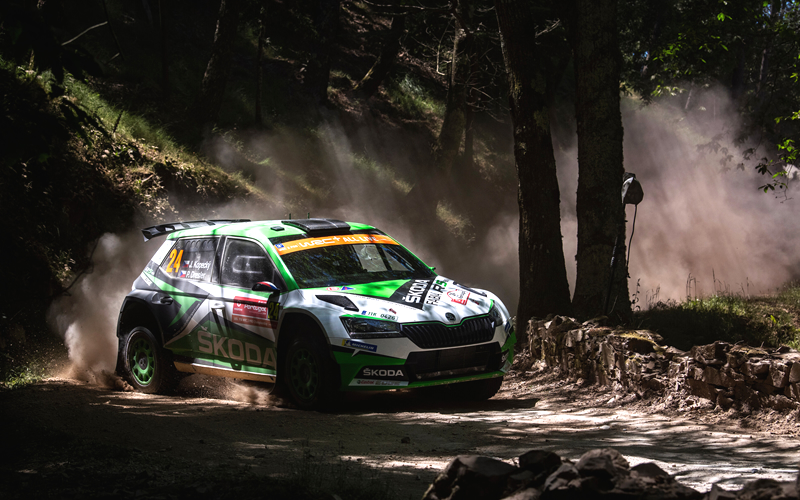 Jan Kopecký:

"The new car is working well so I am really happy. I can be satisfied with my performance."
Rovanperӓ won the final two stages of the day and managed to get himself back up into 2nd behind Kopecký to continue on the fight into the next day; while Mads Ostberg retired for the day after suffering a number of punctures to his Citroën C3 R5.
And so the opening day of Rally De Portugal would be owned by the Toyotas, that Estonian Ott Tanak would once again dominate the field with a lead of more than 17 seconds ahead of team-mate, Jari-Matti Latvala with Kris Meeke completing the all Toyota lockout at the top.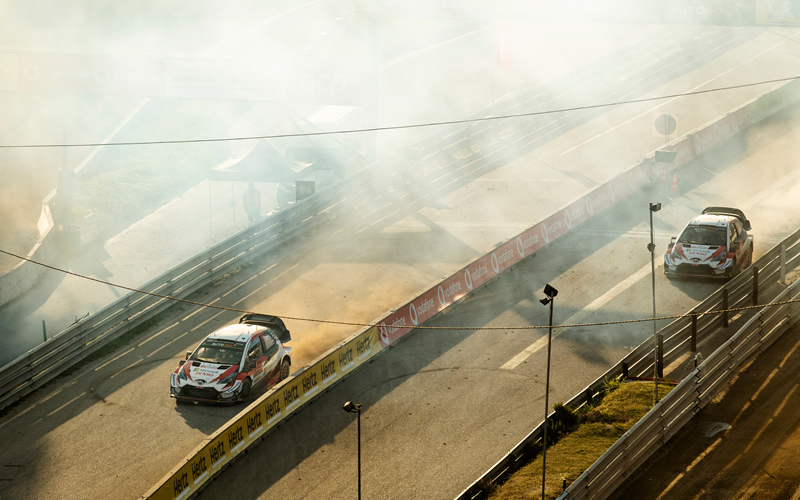 Ott Tanak:

"It's been a tough day and it's been challenging. I had a good feeling and I did my best. I said before the rally that this would be a really critical day and we managed to do it. Now we need to do the rest of the job."

Returning to some more familiar stages a little closer to Porto for day two, the trio of Toyota's set about continuing on their dominance of the Rally.
Kris Meeke kicked off this, the longest day of the event with the opening stage win on the 20km SS8 Vieria do Minho, beating team-mate Jari-Matti Latvala.
However it wasn't the quite perfect start to the day for the team as Ott Tanak was hit with brake problems, but he still managed the 5th fastest time and maintained his lead overall.
Kris Meeke:

"Very dusty. Really happy with how the car is working."
The morning was full of fun and games courtesy of the Hyundai team, following on from their disastrous opening day where two out of the three i20's suffered fuel starvation problems. Both Sordo and Loeb were more than a calendar month away from the times at the top of the leader board so that got the team thinking.
How can they make the best of this bad situation?
Simple, by playing the game of tactics with regards to road positioning to potentially assist their no 1 man Neuville.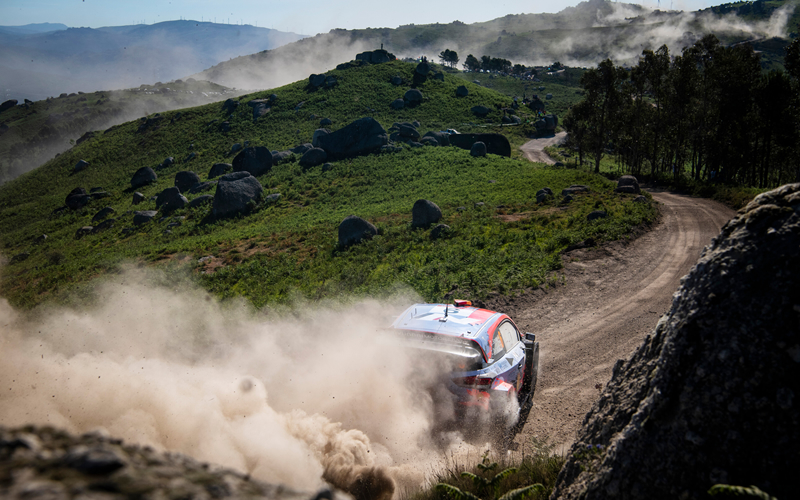 By checking Sordo late into the time control of SS8, this slotted him in front of Neuville but crucially behind Ogier. Thus pushing Ogier up one road position in the running order but that didn't have the desired effect that Hyundai had hoped for.
Ogier still beat Neuville in this stage, opting to talk with his driving rather than his mouth at the stop line of the stage.
So how would Hyundai then react to this?
By playing another card on SS9 of course, this time ordering Loeb to check into the time control of SS9 late, slotting him in behind Ogier also and pushing Ogier up yet another position.
Once again Ogier, who had simply accepted the situation for what it was, chose the path of action speaks louder than words and posted a faster time than Neuville.
While all that silliness was going on Tanak had managed to find a fix for his brake problem on the road section before SS9 and was back up to speed with the added confidence that when he stepped on the brake pedal, the Yaris was going to stop.
Latvala who had opted for the hard compound tyre had won the second stage of the day beating Tanak by just 0.4sec; with Meeke maintaining his third spot which was pretty good considering that this time last year he was on his way to hospital following a big one and out of a job.
Latvala who was clearly on the better tyre option, compared to that of the medium compound which his team-mates were running, followed up that stage win with another on the longest stage of the rally and final stage of the morning's loop, the 37km SS10 Amarante.
Jari-Matti Latvala:

"It was a good stage for us. The soft road worked very well for me because I was using the ruts. Let's see!"
Back out after the mid-day service Latvala was nursing a suspension damper problem on the first stage of the afternoon. The front left wheel could clearly be seen bouncing around as he tackled the first stage of the afternoon's loop and a small puddle of oil was left behind at the stop line.
Jari-Matti Latvala:

"We had a small impact and the front feels a bit soft. We need to check the front dampers. I took it easy so that we could finish the stage and check the car."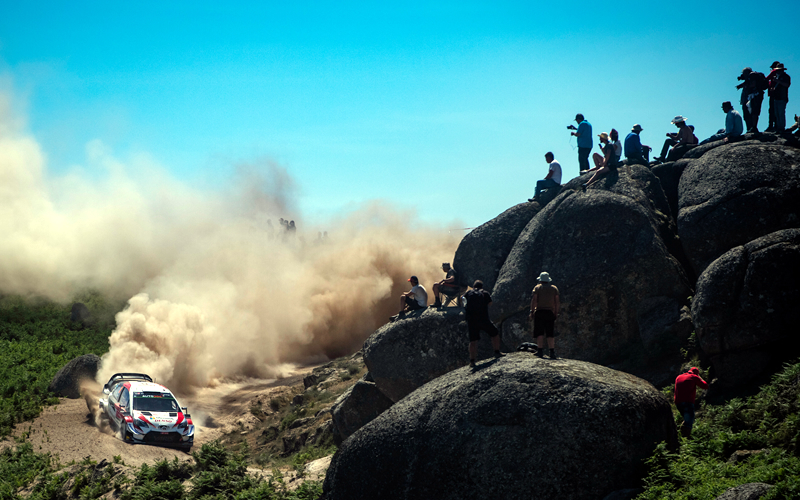 Tanak who had been held back in the morning's loop due to his brake problems had finally won his first stage of the day beating Meeke by just one second in SS11 Vieira do Minho 2.
Latvala's damper problem got progressively worse over the course of the next stage, losing some two seconds a kilometre he was haemorrhaging time. Latvala had dropped a number of places down to 5th overall. Meanwhile, while Thierry Neuville was on a charge to win the stage and had now been promoted into the 3rd podium place.
Latvala would not start the long Amarante stage, thinking that the damaged suspension would more than likely cause more damage and so he headed back to service choosing to super rally for the final day. The suspension troubles wouldn't end with Latvala.
Ott Tanak also hinted at a potential issue with his and in the long stage the damper fault developed on the front right of his Yaris costing him time, the gap between him and his team-mate Meeke in second was down to just 4.3 seconds.
Neuville now back into a decent points-scoring position rounded off the afternoons' loop of stages with a stage win but his push in this stage caused a bit of damage to his Hyundai i20.
Thierry Neuville:

"I tried to give it everything. It was not a trouble-free run for us – we were smelling a lot of water but the car is okay."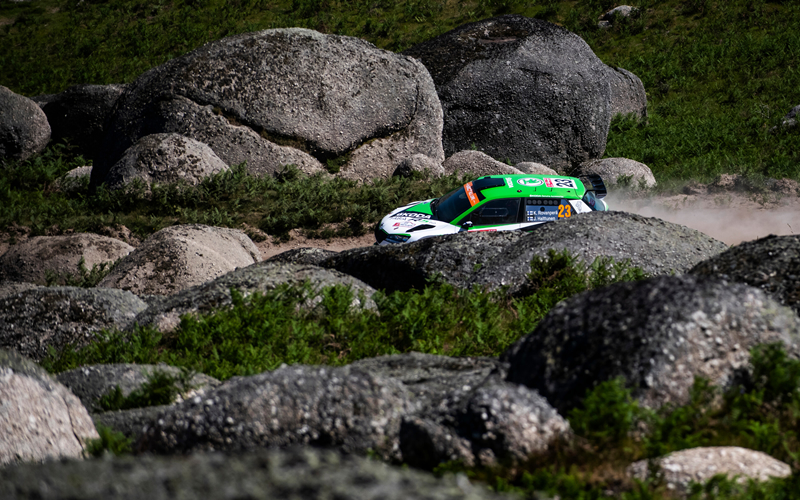 Kalle Rovanperӓ strung together a mass of stage wins, taking five out of the six stages he dominated WRC2Pro to lead team-mate Jan Kopecký by more than a minute.
Kalle Rovanperӓ:

"It was good. On this loop we made an optimistic tyre choice so the tyres are quite done! I have to say, the second loop in these cars is quite rough so it's not so nice to drive fast."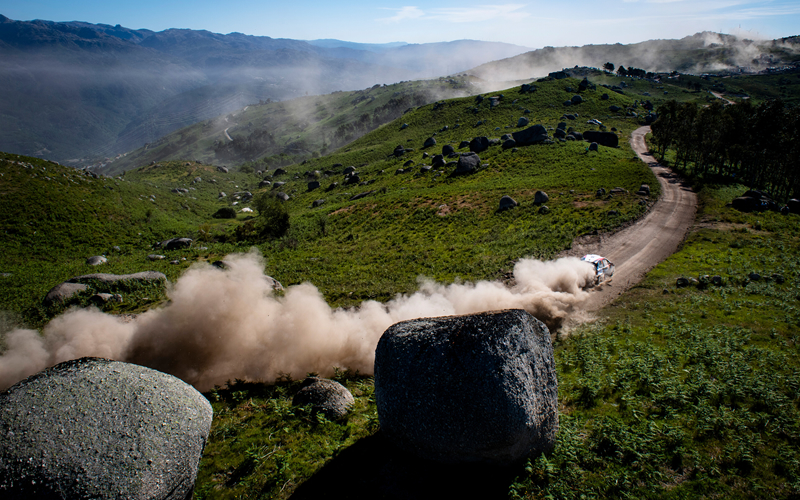 With the two evening, street stages cancelled Ott Tanak would end the day in the rally lead by just 4.3 seconds to team-mate Kris Meeke heading into the final day. Tanak's championship rivals Neuville and Ogier would end the day in 3rd and 4th place respectively with a bigger gap of 21 seconds separating them.
Sébastien Ogier:

"The feeling was not as great as this morning but it was not a bad day anyway. It's a short day tomorrow so we shouldn't lose too much there!"

The final day's action was unchanged from last year's event, with five stages to contend with, including the world-famous Fafe stage, where big crowds gather to watch the spectacular jump at the end of the stage.
Heading out for the morning with a 4.3 second advantage over his team-mate was rally leader Ott Tanak but with Meeke breathing down his neck would team orders come into play?
Hmm, I've no doubt that it would have been discussed back at the service park but with Thierry Neuville sniffing around not far behind in third, the likes of Meeke and Tanak had no real choice but to go all out and just see how things would progress.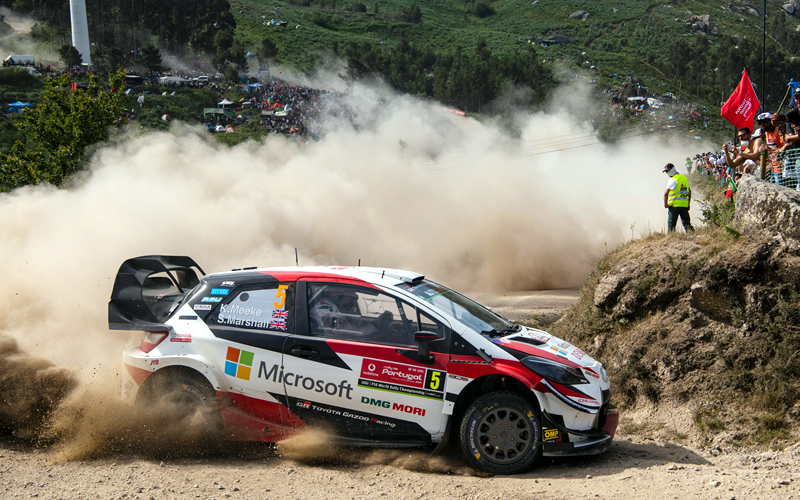 A short 8km Montim stage opened up the day and Meeke wasn't messing about, beating Tanak by 1.9 seconds to win the stage he had closed the gap up already. This showed that Meeke meant business and didn't really want to settle for second, not when he was still in with a shot at the rally win.

Kris Meeke:

"It's important to put the gap in this morning. I spoke to Tommi [Makinen] this morning and he said to push on this first one."
Tanak responded by winning the next stage beating Kris by 3 seconds, which he then followed up with another stage win in SS18 Luihas, surely by now they Toyota pair would just sit tight and cruise it home for the one-two seeing as Meeke in second now had an 18 second gap from Neuville in third?
Kris Meeke:

"The most important think is a Toyota 1-2. After that, okay. I'm just trying to do my job but it's important to keep the gap to Thierry. It's up to Ott to do what he wants to do."
Ott Tanak:

"I had to push a bit but for us it's important to keep the margin with Thierry. I see Kris was faster than Thierry as well so everything is good."
In the penultimate stage of the rally Meeke still appeared adamant that he would push Tanak all the way, unfortunately for him, he would be the one to crack under the pressure with a spin at the same hairpin where Lappi rolled out first thing.
Kris Meeke:

"It hooked up at a hairpin. I thought I was round it and just at the last minute it came round. I got caught in my dust and I couldn't get a gear."
On the final day Skoda's Kalle Rovanpera cruised home for the WRC2Pro win, winning every stage, he beat team-mate, Jan Kopecky, by more than a minute.
Kalle Rovanpera:

"Big thanks to the team – everything has been going well and they have worked really hard to get the car finished."
And so the stage was set on the famous Fafe Power Stage, Hyundai's Dani Sordo salvaged some bonus points by posting the 5th fastest time.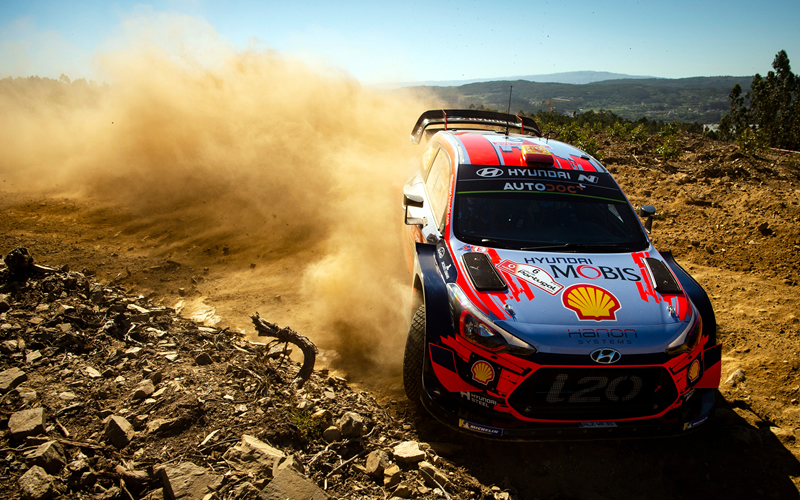 After his problems on day one that's the best that he could have done, finishing way down in 24th overall at least he could be happy that he had the pace at times.
Dani Sordo:

"We tried to put the disappointment and frustration from Friday behind us, and to enjoy these great Portuguese stages. We have put in a full team effort this weekend so I think we all share in the podium result, even if it would have been nicer to be standing on the podium ourselves."
Loeb, who also suffered the same fate as Sordo on that opening day, ended the rally way down the order in 20th and finished the final stage with broken rear suspension.
Loeb who's past experience of this rally was all down in the south of the country enjoyed tackling these stages for the first time ever in his career.
Sébastien Loeb:

"We were able to set some competitive times, which shows what might have been possible, I am happy for the team to get a podium finish after what has been a tough event."
It was a sad unfortunate end to the rally for Britain's Gus Greensmith, making a pretty decent effort of stepping up to the full-blown WRC Fiesta on this event he showed his potential.
Following his unfortunate off yesterday, he was super rallying today and keen to put on a show over the Fafe jump for his final few moments in the WRC Fiesta.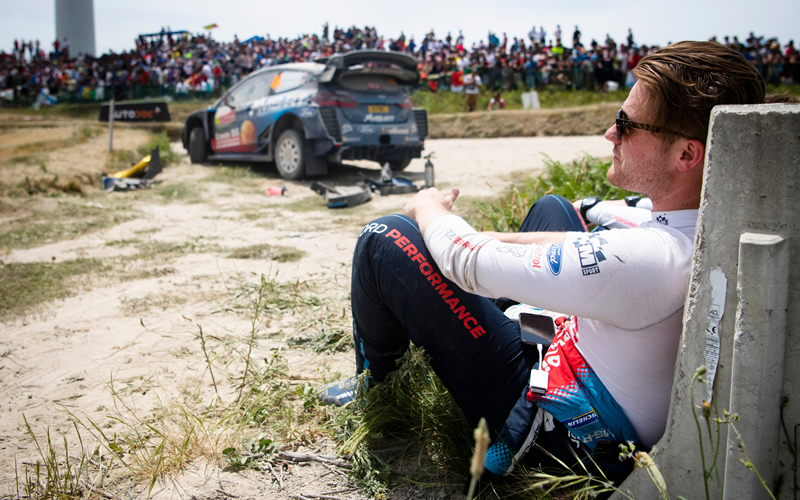 He perhaps pushed the car a little too hard, the steering appeared to brake and on landing, he was catapulted into the bank. Wrecking the car just a few hundred meters before the finish, this was gutting but most entertaining for the thousands of rally fans looking on.
Gus Greensmith:

"It's been a really good weekend for us. For some reason everything just seemed to click quite nicely and, to be honest, the speed came pretty quickly. We were battling with Elfyn and Teemu throughout most of the weekend – and that wasn't something I was expecting from my first time in a world rally car!

"It was a different challenge opening the road today, but generally a really good experience. It was just a shame that we had the issue over the jump. To have our rally come to an end just 200 metres from the finish was a bit gutting, but overall it's been a more than positive weekend."
Another good performer who was denied a result by mechanical problems was Jari-Matti Latvala. This event was such an unlucky one for him, at times challenging for the win alongside his team-mates, it was a case of what could have been here in Portugal.
If only he wouldn't have damaged his suspension damper at the end of Saturday he could well have finished on the podium. Unfortunately because of Greensmith's off, he was shown the red-flag and thus was unable to challenge for the power stage win. So, it was a most disappointing rally finishing 7th overall.
Jari-Matti Latvala:

"It's been a tough weekend. The most important thing is that the car was fast and we had the speed."
The M-sport team had a mixed rally Portugal, Elfyn Evans with his electrical gremlins at times managed a 5th place finish, which overall is an OK-ish result for him.
He finished just behind team-mate Teemu Suninen in 4th; who despite also having his technical issues, actually had a decent rally and at times put in some good stage performances.
Elfyn Evans:

"We made a pretty good start to the weekend. It wasn't perfect, but the pace was there. Obviously it was a shame to lose as much time as we did with the issue on Friday, but these things happen. There wasn't much more we could do after that, and in all fairness fifth place is a lot more than we could have hoped for on Friday evening."
Teemu Suninen:

"I can be quite happy with this result. It's a shame that we had a problem on Friday afternoon because that meant we didn't have a good road position for the rest of the weekend. But our pace was really good on Friday morning, and we took some points in the Power Stage today which was also really good."
Citroëns Sèbastian Ogier laid down the gauntlet on the power stage but with the likes of Meeke, Neuville and Tanak still to come, he had pretty much settled for 4th place overall and whatever bonus points he would end up with.
But hold on, Meeke who may well have settled for second but was going for the Power Stage win made a mistake early on in this final stage of the rally.
As Ogier reached the stop line, news that Meeke had thrown it away was filtering in. Ogier had now been promoted to the 3rd spot on the podium as unbelievably Meeke was out of the rally on the final stage of the event. This news was made even sweeter for Ogier as he won the power stage when Neuville and Tanak were un-able to beat his time.

Thierry Neuville gave it all he could but was 0.9 seconds slower than Ogier, never the less it was a case of job well done for him in Portugal.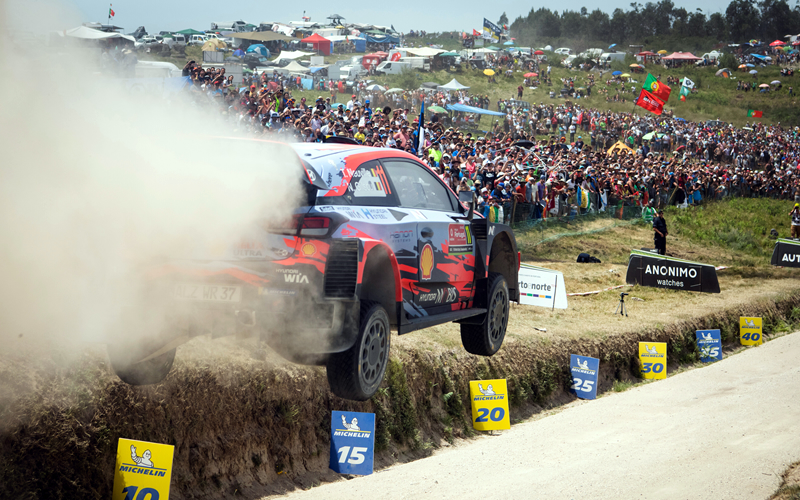 Second place on the podium was a great result following his DNF last time out in Chile, it's just unfortunate for the team that the other Hyundai's did not score anything towards the manufactures championship.
Thierry Neuville:

"After the big crash we had in Chile, it was important to come back fighting, It's not been an entirely smooth weekend but we have shown some strong pace including several stage wins. The championship is nicely poised as we reach the halfway point."
Tanak was on a charge for the power stage win or at least that's what we all thought! The Toyota team back in service had just waved goodbye to their one-two finish thanks to Meeke but they had also been doing the number crunching.
Coming up next after Portugal was Rally Sardinia, a gravel event for which one doesn't really want to be road sweeper on the opening day.
Tanaks splits throughout this final stage were good but little did we know that Co-Driver Martin Jarveoja would be watching the clock extremely closely. Tanak flew over the infamous Fafe jump but then hit the brakes just before crossing the finish line.
Why on earth would he not want to win the power stage?

Championships points and road positioning was the reasoning behind this; winning the rally was yet another great result for the young Estonian but adding top power stage points to that would put him at the top of the drivers' championships heading to Sardinia. In other words, he didn't want to be first on the road on the opening day of the next rally, thus the calculations were done, cleaver no?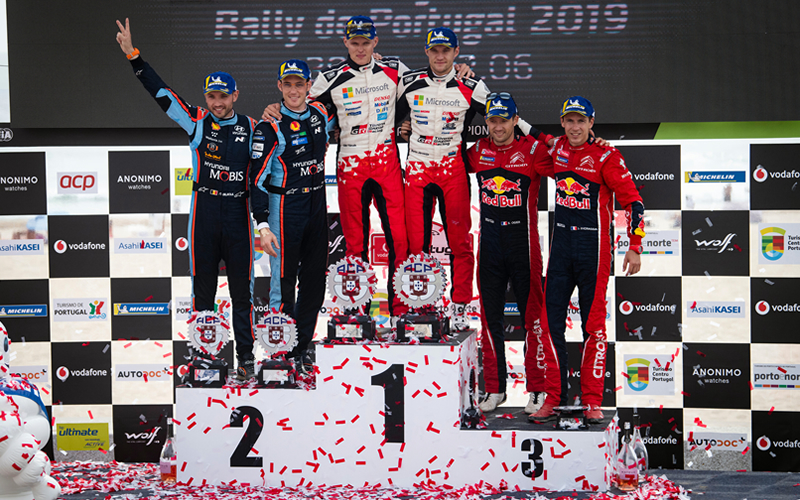 And so Ott Tanak wins his third rally of the year, keeping him second in the drivers' standings behind Sebastian Ogier who is on 142  points, but more importantly, Tanak is now even closer on 140 points, while Thierry Neuville lies in third on 132 points.
Ott Tanak:

"This is one of my hardest victories ever. We had a big fight and some small issues but managed to win it. Before the rally it was looking tough. It wasn't looking too bad on Friday but yesterday lunchtime it was looking quite bad"
Despite two out of the three Hyundai's leaving Portugal with nothing, Hyundai Shell Mobis WRT (202 pts) remain at the top leading Toyota Gazzoo Racing WRT (182 pts) in the manufacturer's championship.

Next stop for the FIA World Rally Championships it's time to "jump in the dust" on the beautiful island of Sardinia for Rally Italia Sardegna.
Words By Andy Cook – Xlerate
Photos By Jaanus Ree © Red Bull Content Pool