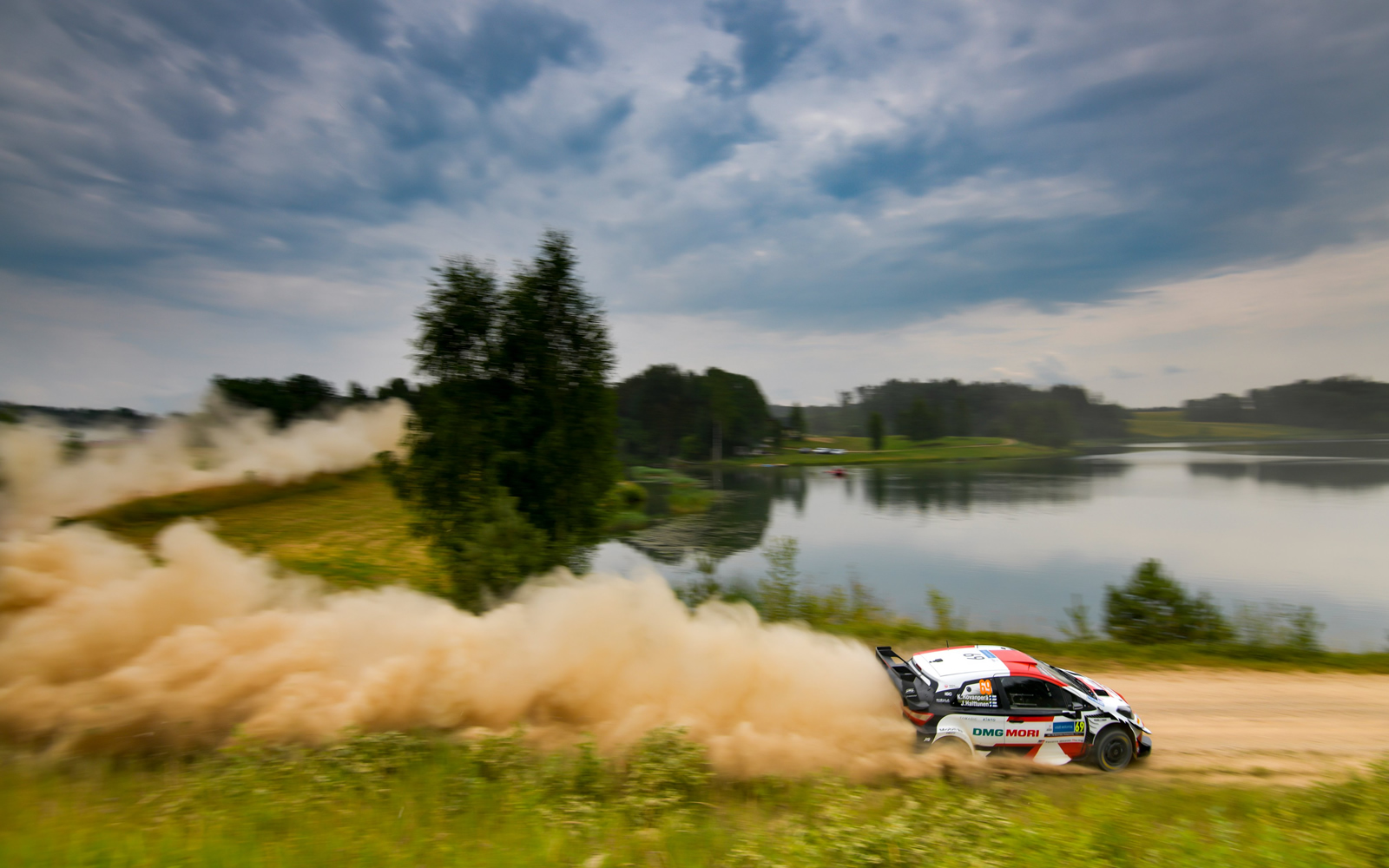 WRC | RD7 RALLY ESTONIA 2021
18/07/2021
The FIA World Rally Championships returned to Estonia for Round 7 of the 2021 season. Estonias second edition of hosting a World Rally not only brought with it the familiar fast gravel roads with extreme jumps that were experienced last year, but this time around a few technical sections were also thrown in for good measure to.
Photo: Hyundai Motorsport WRT
A total of 314km spread over 24 special stages awaited the competitors in front of a mass of Estonian Rally fans who had flocked to the stages in the sunshine.
Frenchman Sébastien Ogier arrived in the Baltic country leading the drivers' standings for Toyota Gazoo Racing WRT after his surprise victory last time out on the Safari Rally, in Kenya; but it was his Toyota team-mate Kalle Rovanperä who was to impress right from the very off.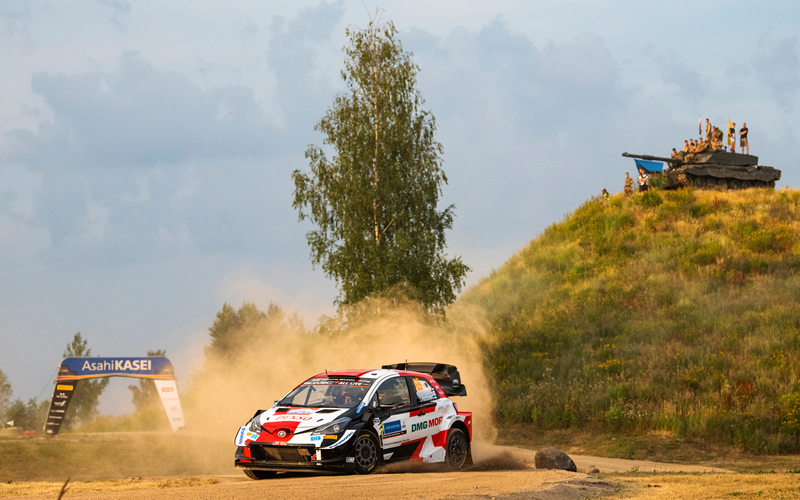 Photo: Red Bull Content Pool
The young Finn Rovanperä was not only the quickest on Shake Down and the opening Super Special Stage on Thursday in Tartu but went on to lead the opening leg of the rally on Friday.
On a rally that features fast & flowing smooth gravel stages and is not known to be rough, Hyundai should have had zero excuses for not delivering in Estonia (with reference to their recent spout of suspension failures). Unfortunately, on the opening full day, both of their lead drivers were struck down with punctures.
Photo: Hyundai Motorsport WRT
National hero Ott Tanäk who won this, his home rally last year picked up his first puncture as early on as SS3 Otepää, only the second stage of the day. This was not a great sign but things then got worse for him and the Hyundai team. Both Tanak and his teammate Thierry Neuville also punctured on the very next stage, but for Tanäk that was the end of his fight for the rally win.
A double puncture for the Estonian driver on SS4 Kanepi occurred when he knocked two tyres off their rims in an offroad excursion which meant that he was out of spares and yet again forced to retire from a rally. This was a massive blow to the local hero who was odds on favourite to once again win.
"At the beginning of SS4 I went wide into a corner and went out on the field and knocked off two tyres. I had two punctures so we had no spares left and it was not possible to continue."

Ott Tanäk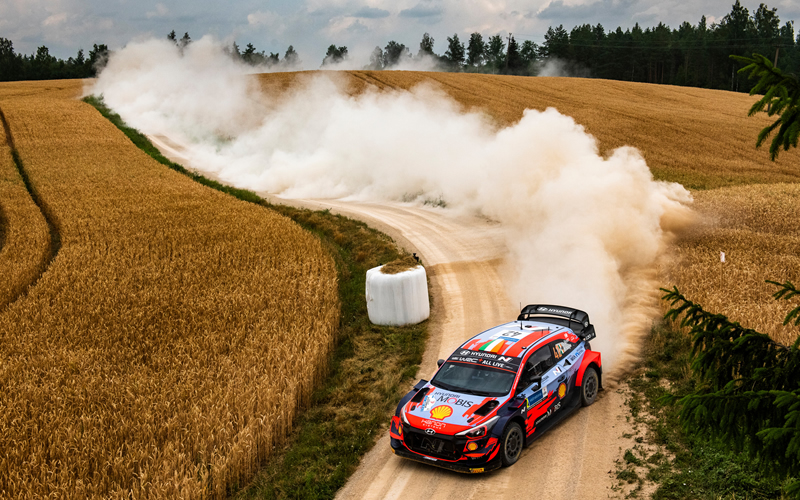 Photo: Red Bull Content Pool
Neuville's puncture had dropped him down the order and out of the immediate fight, but Hyundai did still have one saving grace in Craig Breen. The man who finished second on this very rally last year, which was indecently his last gravel event for Hyundai also, was out in the third top-spec Hyundai car for only his second WRC outing of the year since the Arctic Rally in February. And the Irishman was on form and impressing, with consistent top two stage times and a stage win under his belt on the opening leg of the rally, he was bringing the fight to the rally leader, Rovanperä.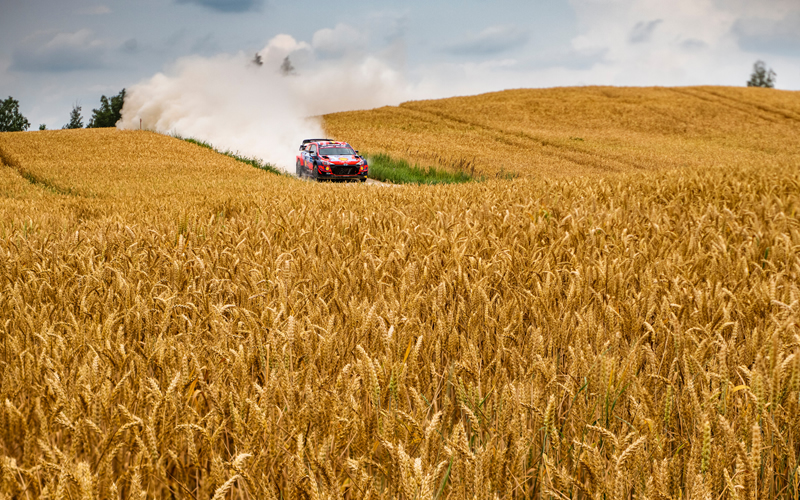 Photo: Red Bull Content Pool
As the afternoon progressed, Belgian Neuville had overhauled the Toyota pair of Sébastien Ogier and Elfyn Evans to end the day in third overall; but was still some 53+ seconds off from his teammate Breen ahead of him in second.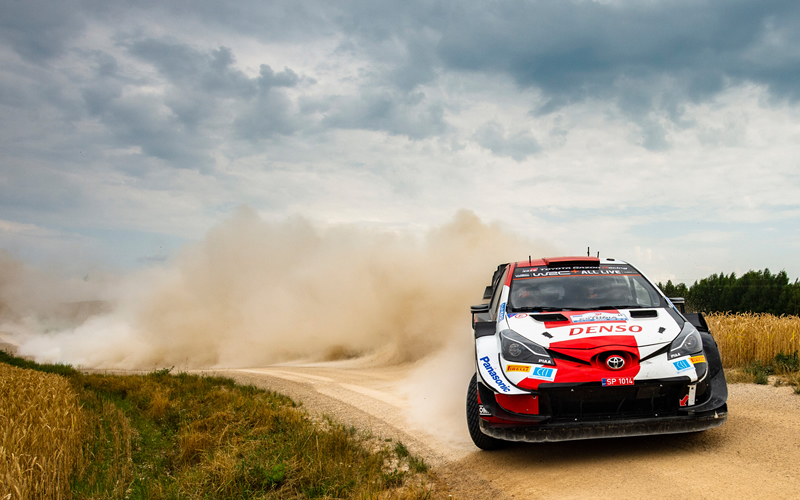 Photo: Red Bull Content Pool
Kalle Rovanperä ended the first full day of the rally with an 8.5 second lead over Craig Breen. Once the likes of Tanäk had fallen and Neuville had dropped back, Rovanperä had strung together a total of 5 stage wins throughout the opening day to lead the rally.
"It has been a nice day, going according to the plan. The second loop was better for us"

Kalle Rovanperä
In the WRC2 class, a Viking battle between the two Norwegians Andreas Mikkelsen and Mads Ostberg ensued, only for the party to be broken up in the afternoon when Ostberg's woes began.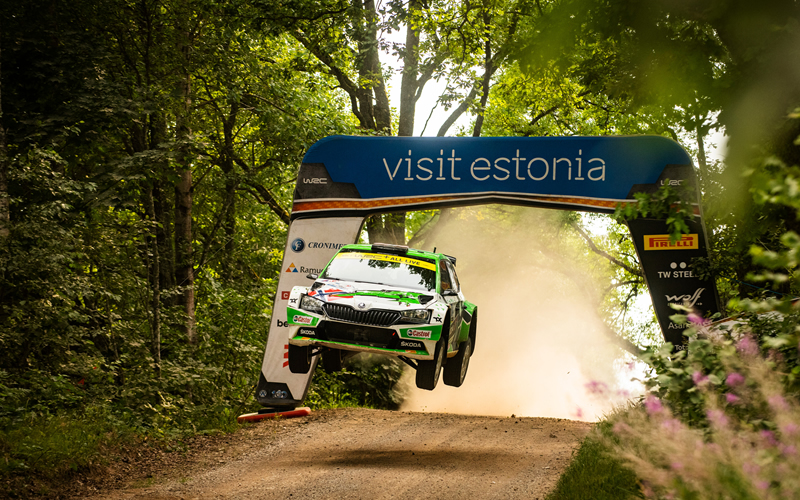 Photo: Red Bull Content Pool
Mikkelsen and Ostberg were trading stage wins up until the first stage of the afternoon's loop (SS6 Arula) when Ostbergs Citroën C3 picked up a puncture. This turned his 6 second morning lead into nearly a 16-second deficit and to add insult to injury, he was then hit with a 10-second penalty on SS8 Kanepi 2.
Photo: Red Bull Content Pool
The result of all this dropped Ostberg down to third behind Nikolay Gryazin, to end the opening leg of the rally some 38+ seconds off from the lead. A frustrated Ostberg was once again not a happy man.
'It's been a difficult afternoon. Things didn't go our way – we are unlucky with the weather and unlucky with the puncture. It seems like everything is going the wrong way at the moment, so we need to collect everything and just start again tomorrow."

Mads Ostberg
Saturday featured four all-new stages for the longest leg of the rally, totalling some 132km. Overnight rally leader Rovanperä continued to lead the rally throughout the mornings' loop of stages.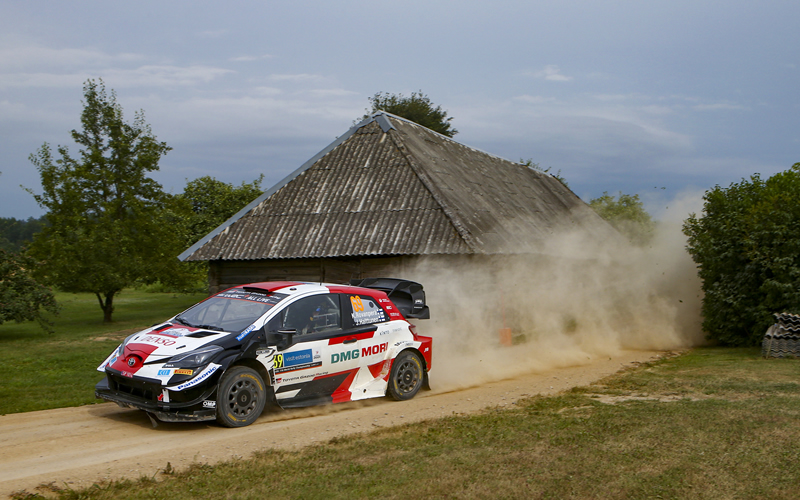 Photo: Toyota Gazooo Racing WRT
The young Finn kick-started his day with an absolutely stunning time on the opening 23km Peipsiääre test, beating a super rallying Ott Tanäk by a whopping 10.7 seconds. This truly amazing stage win had also more than doubled his lead over second-place man Craig Breen to nearly 23 seconds.
"(Kalle?)That little man is in the car more often than I am. Honestly, I did a perfect stage, if he is 8 seconds faster, he can have it."

Craig Breen
Tanäk responded by winning the remaining 3 stages in the loop, but with no hope of getting back in the points, the event was now nothing but a live test for the Hyundai driver.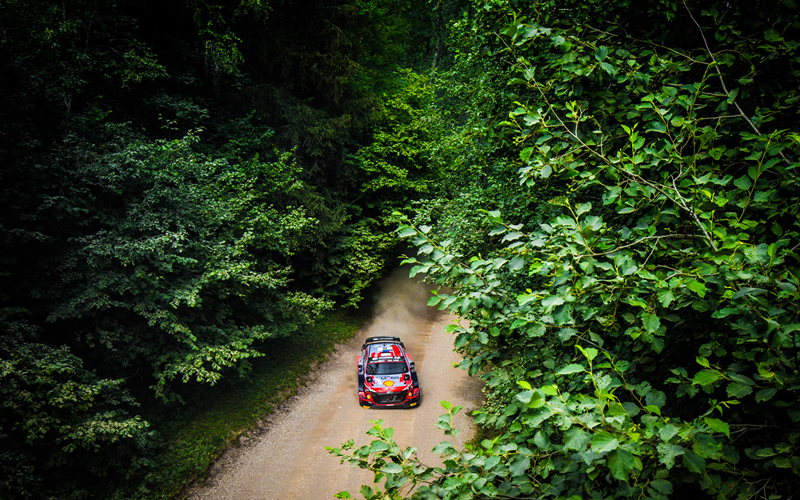 Photo: Hyundai Motorsport WRT
"There is no plan for today, we have to drive. We're trying different things for ourselves, we'll see what we do with this info because we won't come back to Estonia with this car."

Ott Tanäk
Rovanperä continued to extend his lead to Breen significantly over the morning stages and headed into the midday service with a 35-second lead.
In the afternoon's loop, Tanäk came out of service and continued to carry his speed, winning three of the repeated stages to show what could have been. 3rd place Neuville and 4th place Ogier rounded off the day with a stage win each, but it was Toyotas youngster, Kalle Rovanperä who was heading into the final day of the rally with over 50 seconds in hand to second place man Craig Breen.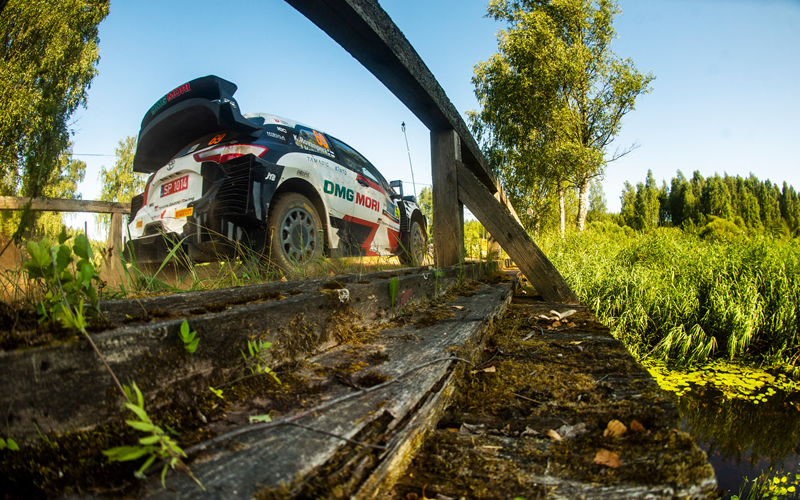 Photo: Red Bull Content Pool
"It was really great day. Yesterday the gap felt small and today we could affect it much bigger. It's really difficult to maintain the gap, but it's easier for tomorrow. I was preparing a lot for the first stage. I knew it could be a stage where you can make a big difference, and we made a big effort there."

Kalle Rovanperä
Andreas Mikkelsen continued to lead the WRC2 field throughout Saturday, he continued to trade stage wins with Mads Ostberg over the morning loop, until the final stage in the loop when Nikolay Gryazin rolled his VW Polo forcing stage stoppage.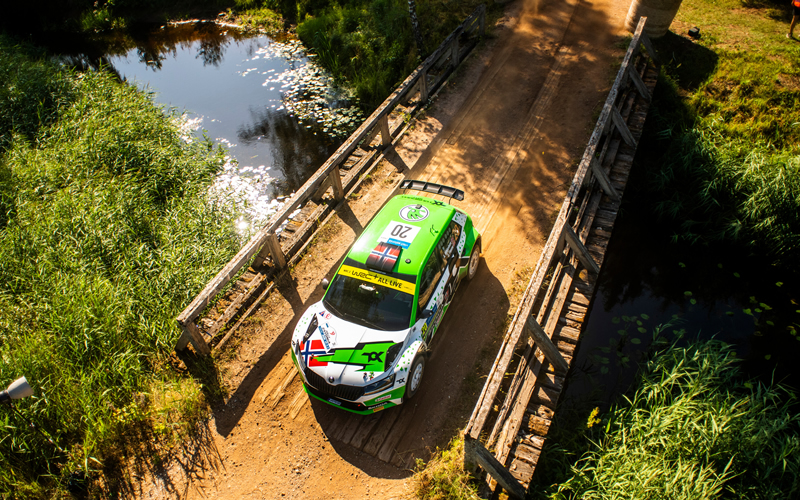 Photo: Red Bull Content Pool
Ostberg had managed to close the gap to Mikkelsen down to 11.3 seconds after the first stage of the afternoon loop. But was once again struck with yet another puncture on the second stage of the afternoon, SS15 Mustvee.
Photo: Red Bull Content Pool
At this point in the rally losing another significant chunk of time, some 32 seconds, meant that any chance of challenging for the WRC2 win was now gone.
"It's been a very tough rally for us so far. We have given away so much time out of our control, so it's very frustrating but I don't give up. It's a long day tomorrow as well, and if we carry on with the speed we have done, everything is possible."

Mads Ostberg
Mikkelsen would head into the final day of the rally with a comfortable 25.9 seconds lead over Ostberg.
It's been a really tough day, The second loop has been a warzone on the stages. We managed to stay away from the biggest trouble and have a clean road. We have some more to do for tomorrow, so it's full focus."

Andreas Mikkelsen
The final day of Rally Estonia covered just 52km over 6 short stages, all that was required by Rovanperä was to bring it home to take his first WRC win and Mikkelsen for his second WRC2 class win of the year.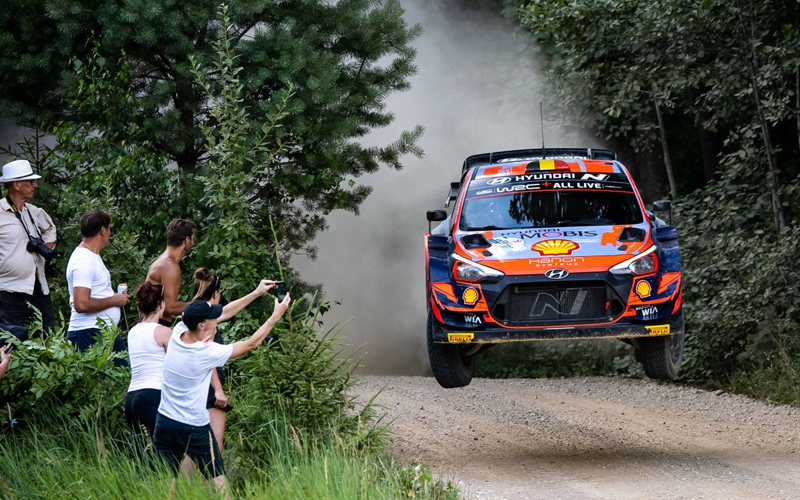 Photo: Hyundai Motorsport WRT
On the opening two stages of the day, the Hyundai pair of Neuville and Tanäk posted joint-fastest stage times on both the SS19 Neeruti and SS20 Elva stages. Neuville then went on to grab stage wins on SS21 and SS23 which helped him to extend his gap over Ogier to further protect his third spot on the podium heading into the final two stages of the rally.
With just the final power stage to go Andreas Mikkelsen entered with a 15-second lead over Mads Ostberg and emerged victorious to claim his second WRC2 win of the season.
Photo: TOK Sport WRT
"Very proud. First of all, a big thank you to Toksport and Skoda for providing the car. It's been absolutely perfect all weekend. We came into this rally really well prepared, so I am very happy to give the team the result they deserve. It couldn't be better."

Andreas Mikkelsen
Ott Tanäk once again found himself having to resort to gunning for the Power Stage win in search of walking away from the rally with at least something to show for it, and he did just that. The first half of the season has been a terrible one for the 2019 Champ and it was hoped and to some extent expected that his home rally in Estonia would re-ignite his season, unfortunaltyey it proved not to be the case. Tanäk ended the rally on a low as a somewhat lost soul that appears to have maybe given up on the season?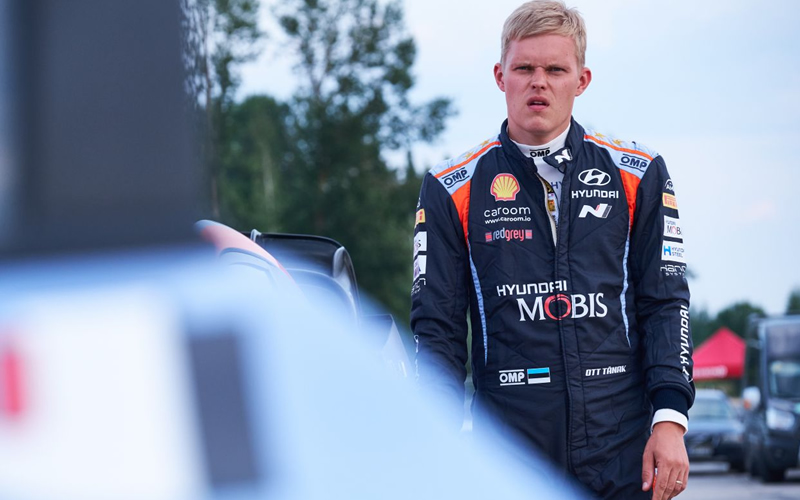 Photo: Hyundai Motorsport WRT
It's not important for me anymore but for the team. (Rest of the season?) We keep fighting, but.. as I said, we keep fighting, but just for rallies now."

Ott Tanäk
Thierry Neuville brought his Hyundai i20 home for the third spot on the podium, Estonia was a tough rally for the Belgian. Hampered by a puncture on the first full day of the rally which perhaps prevented him from doing any more, third was still a respectable result.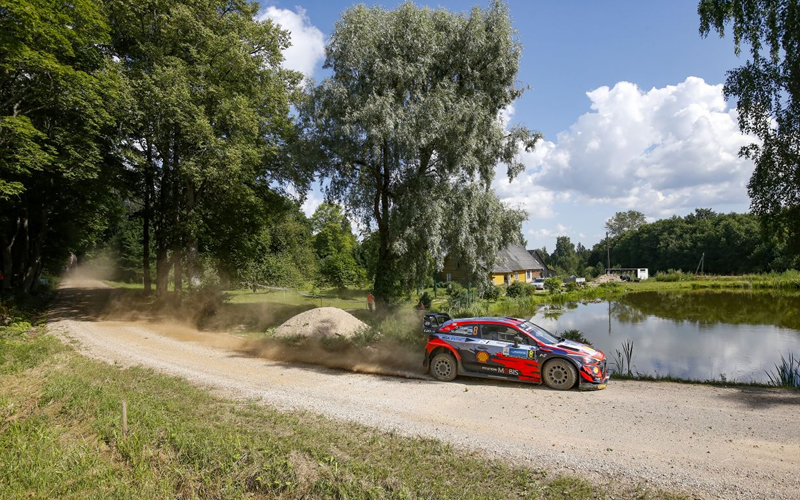 Photo: Hyundai Motorsport WRT
"I think we did the best we could. Again a tough sunday for us, I don't know what to say, too much technical issues. It makes everything more complicated for us, but it's a part of the game"

Theirry Neuville
For Hyundai, both of their lead drivers had been outshone by the part-timer, Craig Breen; in Estonia, it was a case of job done and done extremely well too. Alongside Paul Nagle on the notes, the Irish pairing had once again delivered, perhaps an unexpected result of second place? but in doing so, they have shown their worth. They may also have just pencilled their names down on every team's consideration list for a permanent seat?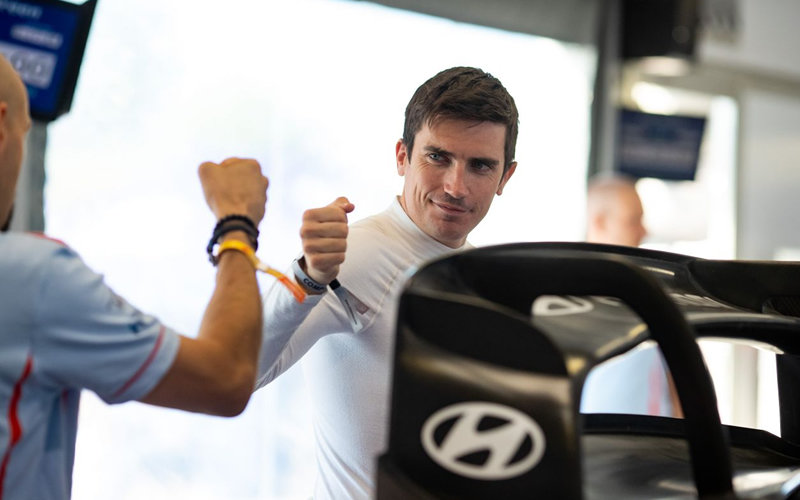 Photo: Hyundai Motorsport WRT
"Nice weekend, i've enjoyed it immensely. I'm quite pleased. Thanks Alan, he's leaving this weekend. Adamo gave me the opportunity but it was Alan (Alan Penas) who did the introduction."

Craig Breen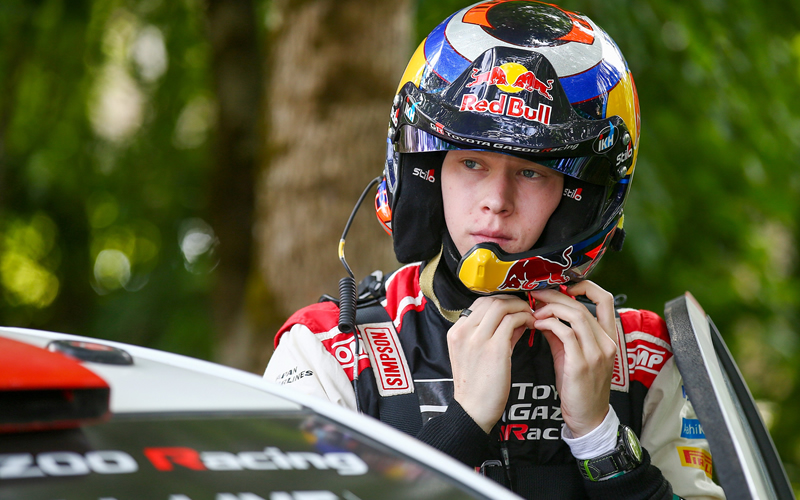 Photo: Toyota Gazoo Racign WRT
Rovanperä entered the final short 6.5 km Tartu Power Stage with a lead of 54+ seconds and already had one hand on his maiden WRC winners trophy. At just 20 years old, the youngest ever World Rally winner crossed the finish line as his father, World Rallying legend Harri Rovanperä looked on with a tear in his eyes.
"For sure it's been a difficult season and it's nice to get it here in Estonia, it's almost home rally. Felt really nice. Long season so far and not so good results, but we proved that the pace is there and we brought it home."

Kalle Rovanperä
Sébastien Ogier continues to lead his teammate Elfyn Evans with a significant lead in the drivers standings for Toyota Gazoo Racing WRT, who also still lead Hyundai in the team standings.
Next Up …
The FIA World Rally Championships heads to Belgium next for the Ypres Rally (13th-15th August) where it will be a return to Asphault.
Words By Andy Cook – Xlerate | Feature Photo: Toyota Gazoo Racing WRT