WRC | RD9 – NESTE RALLY FINLAND 2019
11/08/2019
The summer break was over and it was time for the FIA World Rally Championship to resume its battle for the 2019 title and take over the city of Jyväskylä in Finland for Round 9, "The Grand Prix on Gravel".
Although having a history dating back to 1951, the event was a round of the first World Rally Championship in 1973 and has been known as the rally of 1000 lakes. The rally which has been dominated by Finnish drivers winning 55 of the past 68 editions has super smooth gravel roads and big jumps which favours the brave, whether they be Scandinavians or not.
The route for this year's Rally Finland featured only subtle changes from last year's event, however, the infamous Ouninpohja stage was missing from the route. Fear not there were 307km of other challenging smooth fast Finnish stages on offer in amongst the forest and many lakes around central Finland.
In the run-up to the second half of the season, a number of crews tackled Rally Estonia in preparation for their Finnish assault. This fast-paced event has many characteristics similar to Finland and so offered up the perfect opportunity for some extra set time in a competitive environment.
Local hero and current WRC Championship leader Ott Tanak headed WRC regulars such as Elfyn Evans & Teemu Suninen from M-Sport Ford, Esapekka Lappi for Citroёn and Andreas Mikkelsen for Hyundai. Other noticeable entrants were Craig Breen alongside Paul Nagle who had landed a drive at Hyundai for Finland, young Oliver Solberg out for a blast in the VW Polo GTI R5 and a face from the past in Markko Martin who was out for some fun in a Fiesta WRC.
(Photo: Jaanus Ree)
As most could have probably predicted it was Ott Tanak who won the event beating Mikkelsen by over a minute. Worryingly Evans had injured himself on one of the larger Estonian jumps; which following Doctors orders were to put him out of Finland. In stepped fellow Brit Gus Greensmith for his second outing of the year in the top-spec WRC Fiesta.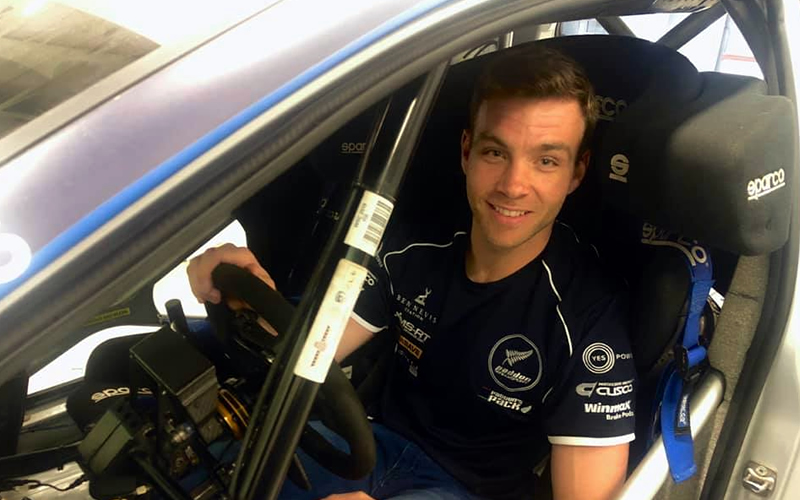 (Photo: Haydon Paddon)
Hyundai reject Haydon Paddon was due to make his return to the WRC in Finland for a one-off drive in an M-Sport run Fiesta. However, during pre-event testing, he crashed causing substantial damage which was un-repairable. Rumour has it that he will get another chance to drive in the WRC this year, fingers are crossed for him that this is fruitful.

The event kicked off Thursday morning where on Shakedown, Toyotas Ott Tanak posted the fastest time in his Yaris ahead of Championship rival Thierry Neuville. Noticeably Irishman Craig Breen, who was out to impress, raised a few eyebrows from the off by posting the third-fastest time.
Later that evening a super special stage in central Jyväskylä opened up the rally competitively where the mass of Finnish rally fans were joined by fans from across the world to watch Thierry Neuville peddle the Hyundai i20 around the short 2.3km stage to lead the event heading into Friday, the first full day's action.

On Friday the crews headed west for a full days rallying starting off with the 20km test Oittila; where local Finnish rallying veteran Jari-Matti Latvala took the opening stage win in his Toyota Yaris by just a tenth of a second over fellow countryman, Esapekka Lappi in the Citroёn C3.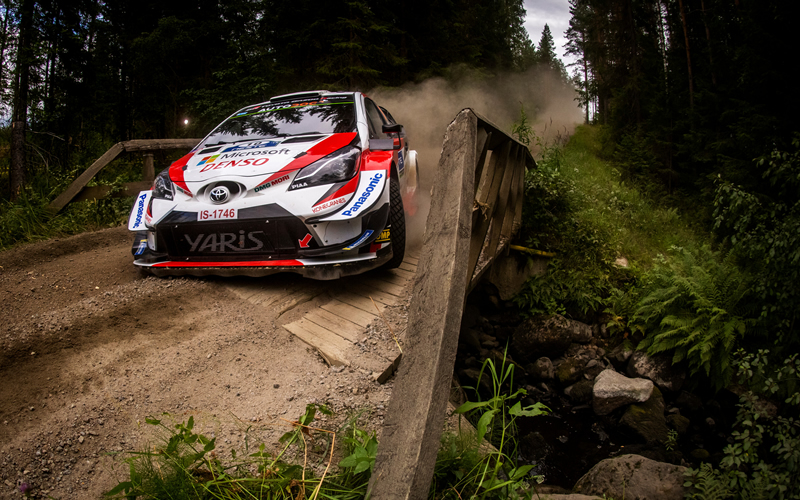 As expected the Toyotas were dominating the event early on, naturally being their home event where their team's HQ is pretty much in the same postcode it was inevitable that they were going to be fast in Finland. Brit Kris Meeke won stage 3 (Moksi) ahead of team-mates Tanak and Latvala. Latvala then added his second stage win of the morning in the very next stage – SS4 Urria.
Rally leader Tanak grabbed his first stage win of the event in stage 5 (Ässӓmӓki) but Latvala was on a mission to catch him and by winning the final stage of the mornings' loop, he closed the gap to 5.4 seconds. Kris Meeke rounded off a Toyota 1-2-3 but the Toyotas pace was of no real surprise to be truthful, the revelation of the mornings rallying was to be the return of Craig Breen & Paul Nagle.
The WRC rejects were slowly getting to grips with the Hyundai i20 and by only the fourth stage of the event, they were posting second fasted stage times. An impressive three in a row in the opening loop had positioned them in 5th overall heading into the first service halt.
"We're getting closer and closer! What could be wrong; Friday morning in the forests of Finland in probably the finest car I've ever driven!"

Craig Breen
Latvala past his team-mate Tanak in the first stage of the afternoon to snatch the rally lead and another Fin who has a previous victory in Finland was coming on strong behind him in second. Lappi had seemed to have clicked with the Citroёn here; whether that was down to Citroёns upgrades to the C3 over the summer break or just that Lappi felt comfortable on this, his home event; either or both were possible factors. Never the less he was finally showing his worth, something that we've not really seen too much of in the first half of the season.
A couple of second fastest times put Lappi into second by Stage 9, but he was clearly pushing, at times perhaps a little too much because towards the end of that stage he was almost over the limit and it was only just by the skin of his teeth that he didn't roll the car.
Perhaps that scare was enough for him to wind it back just a tad, in the final two stages of the day he drove a little bit more conservatively ending the day in third overall behind the Toyotas of Kris Meeke in second and Jari-Matti Latvala who was leading his home event.
"Very cool. Good to be back on the pace – especially in this rally. I have enjoyed a lot today and the car has been perfect. Rallying is nice again!"

Esapekka Lappi
"You don't get any better than this – on these roads in these cars it's beautiful. I think everybody is giving their maximum."

Kris Meeke
"It's been a good day. It is amazing to go for tomorrow because the fight is so tight."

Jari-Matti Latvala
In the WRC2Pro class, it was all a bit of a disappointment really; with a no show from Mads Ostberg to mix it up, it was left to a returning young Frenchmen, Eric Camilli in an R5 Fiesta to take the challenge up with Kalle Rovanperӓ. However, Camilli's efforts were of no match for the young talented Fin in the Skoda Fabia R5 Evo. Rovanperӓ's clean sweep of 11 stage wins in front of his home crowd earned him a lead of well over two minutes at the end of the opening leg.
"It has been an interesting day – we had a really good fight with the other guys in the morning and finding some setup changes in service was good. Tomorrow we will see how it works."

Kalle Rovanperӓ

Leg two of the event offered up the longest competitive stage mileage of the event; with some 132km+ of relentless rallying on the fast and flowing Finnish stages across some 14 hours of driving for the world's best to tackle was on the menu.
Ott Tanak's team-mate (Jari-Matti Latvala) had gotten the better of him on the opening day of the rally, but he wasn't about to give up this rally to him just yet. Tanak started his bid for glory on the opening days 14km test Pihlajakoski with a stage win to regain the rally lead. That, however, was short-lived as he was beaten in the very next stage by not only Latvala but Kris Meeke also. This was a right old ding dong battle developing between the three Toyotas, if this was to carry on; would team boss Tommi Makinen likely to enforce team orders on the trio by the end of day two?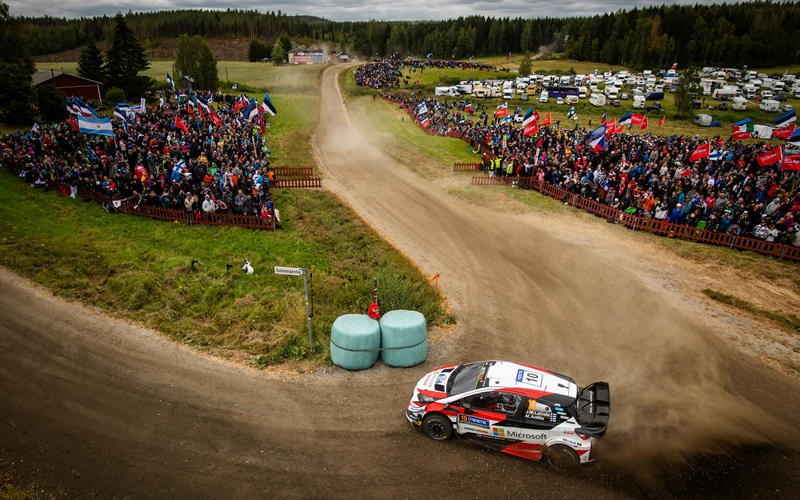 Again Tanak fought back with another stage win in SS14 Kakaristo to regain the rally lead but Latvala's bad luck had struck him once again picking up a left-rear puncture. It was in the same place where his team-mate Kris Meeke ripped a wheel also ending his fighting chances.
With a fresh wheel on his Yaris, Latvala pushed for a stage win in SS15 Leustu, the final stage of the mornings' loop. Latvala's time loss in the previous stage now left him more than 13 seconds adrift of Tanak upfront but his concerns were now for the Citroёn C3 of Esapekka Lappi who was close behind him in third.
"We have to concentrate on Lappi at the moment because he is the biggest threat to us for the manufacturers' championship."

Jari-Matti Latvala
Back out after the midday service and Lappi had sensed an opportunity following Latvala's unfortunate puncture in the morning. Lappi hit the accelerator pedal to win the first stage of the afternoons' loop taking second place away from Latvala.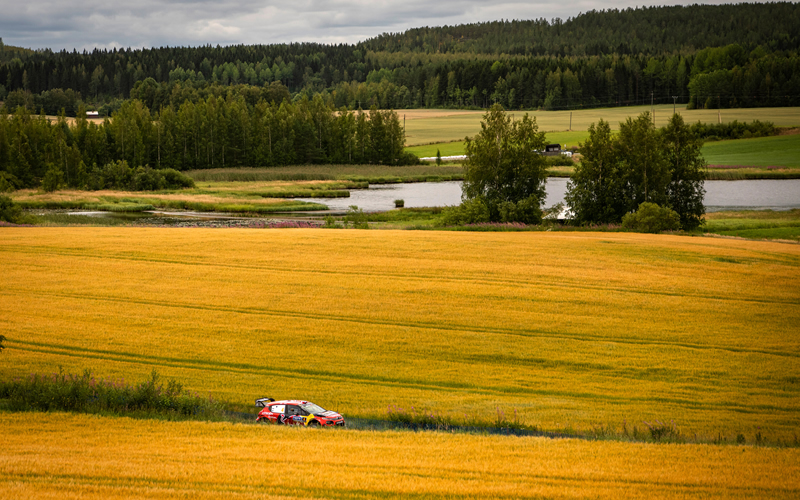 Lappi had clearly put Latvala out of his mind and behind him, he now only had sights for Tanak ahead and went on to battle it out with him for the rest of the afternoon. Tanak won SS17 Pӓijӓlӓ beating Lappi by 2 seconds but Lappi returned the favour in the next stage, winning that by just half a second.
Norwegian Andreas Mikkelsen who continues to be under immense pressure from the Hyundai team boss, Andrea Adamo was making steady progress. Following on from his podium finish last time out in Sardinia, he was looking to continue on that good run in the i20. This second half of the season is crucial for him to start delivering or face being left without a seat next year. A stage win in SS8 on Friday was followed up with another on the final stage of the day on Saturday in SS19 Leustu, to end the second leg of the rally in a promising 4th overall.
"We are in the fight for sure – I am looking forward to tomorrow. Really cool."

Andreas Mikkelsen
Skoda's Kalle Rovanpera delivered another full house of WRC2Pro stage wins; it was all looking a bit embarrassing for the rest of the competition really
"It has been a really enjoyable day today. The stages are really nice and I had a lot of fun which is good!"

Kalle Rovanpera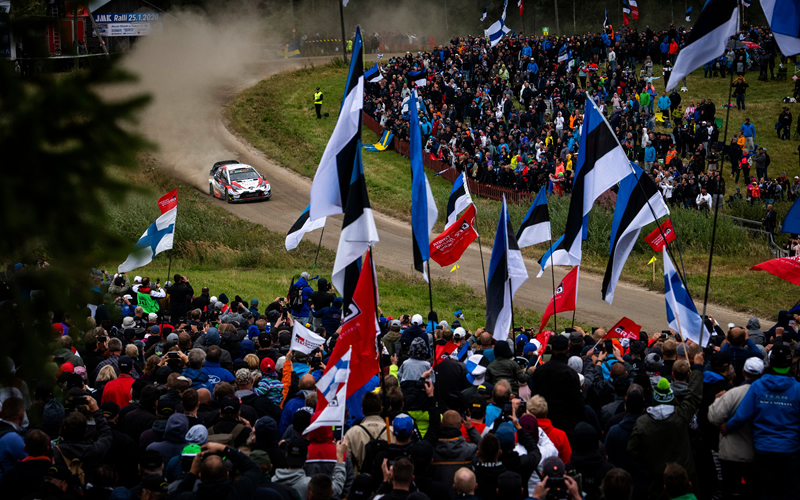 And so at the end of the second full day of action, it was normal service resumed with Estonian Ott Tanak out in front for Toyota with a decent 16 second lead over Citroёns Esapekka Lappi; with Jari-Matti Latvala in third.
"It's been a good day for us – a clean day.

It started with quite a big push but this afternoon has been a clean run."

Ott Tanak

Into the final day of the rally, Tanak led the crews off with just four shorts stages totalling just 45km ahead of him, on his way to claiming his second-ever Rally Finland win in a row. Opening up the day with a stage win in SS20 Laukaa to the extent his lead over Lappi to 20 seconds, Tanak would have been hoping and praying for no last-minute dilemmas like the heat brake that he experienced on the final day of Rally Sardinia; where he lost the rally win on the final Power Stage due to mechanical failure.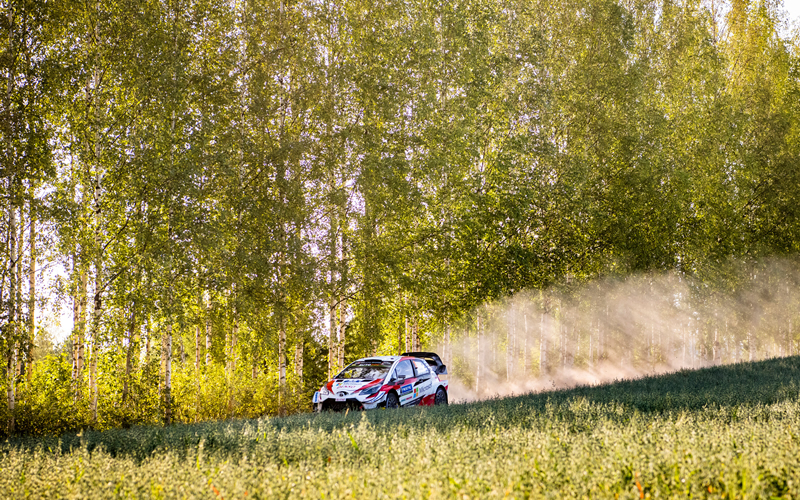 Fellow Toyota team-mate Jari-Matti Latvala launched one final assault on Lappi by winning SS21 Ruuhimӓki but there would simply be not enough stage mileage left to catch his fellow younger Finnish countryman.
Hyundai's Andreas Mikkelsen won the penultimate stage of the rally which along with his third fastest Power Stage time aided him in securing 4th place overall. This result in Finland comes at a much needed time for the Norwegian and actually gives Hyundai an ok result from a rally that they are historically not strong at.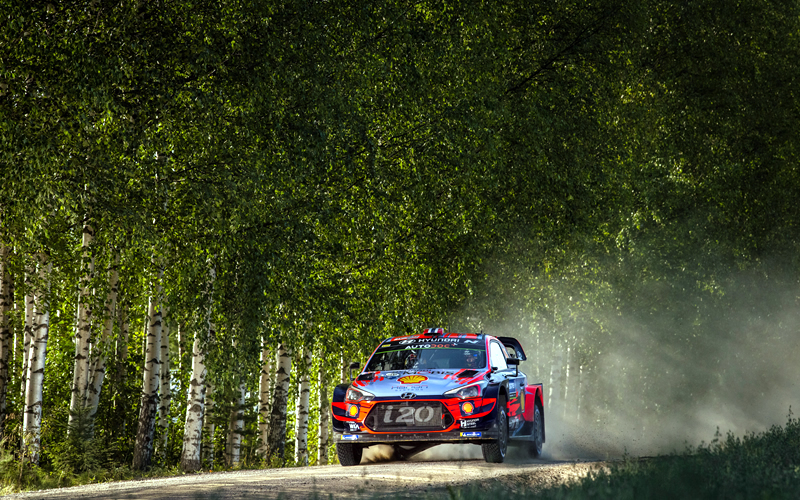 If Mikkelsen continues on this path and moving in the right direction he may well just retain the seat next season. Only time will tell, he has a potential 5 more rallies to convince the boss man Adamo, however, if the likes of Loeb & Sordo are to return to the squad for tarmac events such as Germany and Spain that is likely to reduce.
"This fourth place means a lot to me. It's been a tough rally in the past so it's really nice now to crack the code for this event and to have a great feeling in the car. The team has been working really hard these past 6-months especially. Now I feel like my old self again."

Andreas Mikkelsen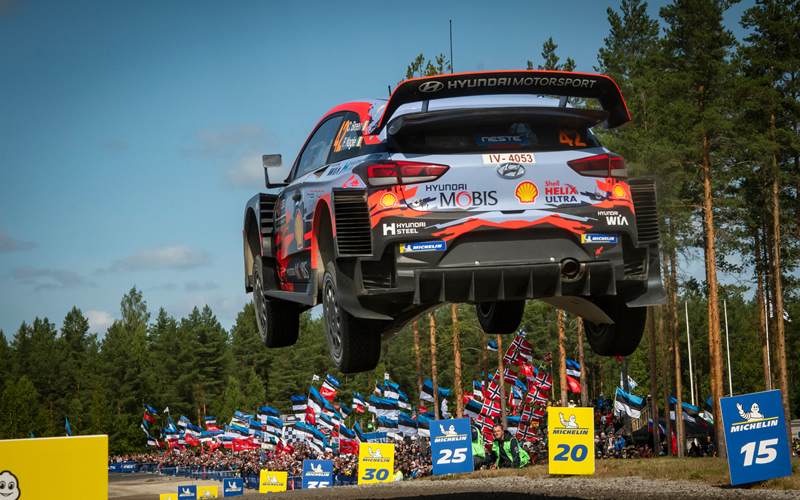 First time out on a WRC event this year and in the i20 for Craig Breen and Co-Driver Paul Nagle and they delivered a strong drive in Finland. Playing the team game and excepting team orders picked them up a 20-second penalty; to hand what would have been a 6th place finish over to Hyundai's title hopes, Thierry Neuville. This drive by the Irish pair may well have just put themselves at the top of the list for future WRC outings, if not with Hyundai but possibly other teams.
"It's pretty amazing – I have to thank a lot of people. I was in an extremely dark place for a few months last year and people have come to the rescue – they know who they are. It's nice to be back at this level again."

Craig Breen
Rounding off the top 5 and sandwiched between the Hyundai's of Mikkelsen and Neuville was Sèbastian Ogier in the Citroёn C3. For a man who has six World titles under his belt, he has only ever won the event once which was back in 2013 in the VW Polo. Word recently broke that next year will be Ogier's final full season in the WRC before he retires, this would perhaps be one last chance to win this iconic rally once again.
"I did everything I could. It was a difficult rally for us but I fought with every issue we had – including myself as I was not at my best yesterday."

Sebastien Ogier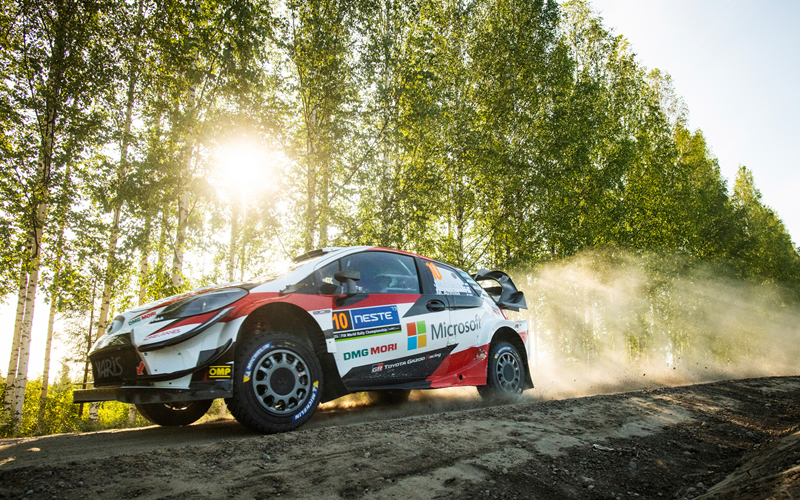 Securing the third spot on the podium was Jari-Matti Latvala, a three times winner of this his home event. A Toyota car built in Finland and driven by a Fin was always going to be a top contender for the win. Latvala is a man who has ample experience yet plenty of heartbreak, to put in a strong performance where at times, he was looking hot on favourite was a positive for him. If it wasn't for that puncture he may well have been lifting the trophy in front of his home fans but instead, the mistake handed second place to his younger Finish counterpart, Esapekka Lappi.
"I'm really really happy to be back on the podium here on Rally Finland. It has been almost nine months since I last had a podium, a really really long time. This result gives us more confidence to keep fighting for more podiums in the upcoming rallies."

Jari-Matti Latvala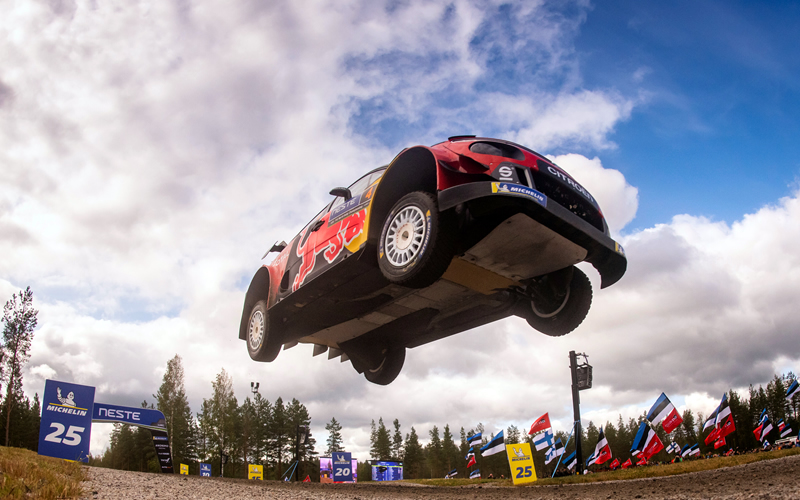 So who would have thought that a Citroёn that wasn't driven by a certain Frenchman would have finished runner up on Rally Finland? I suppose the only way this was going to happen would have to be in the hands of a young Fin. Lappi has always oozed confidence and his win in Finland back in 2017 was a contributing factor to him landing the seat at Citroёn this year. However, for the first half of the season he just hasn't been at home with the C3, yes the car has had its issues; but more often than not, Lappi perhaps has maybe underperformed? Could his seat also be under review for next season?
"I am very happy for the team – they deserve this so much. I have not been able to bring them results this year and now I have been able to do something good. Thank you to everyone!"

Esapekka Lappi

Powering home on the final stage of the rally to claim not only the full bonus points for winning the Power Stage but claiming the rally victory, his second consecutive rally Finland win was Estonian Ott Tanak.
"It feels really good to get this victory. It was very important to get a good result here to help us in both championships. I would say that this is a perfect result to begin the second part of the season."

Ott Tanak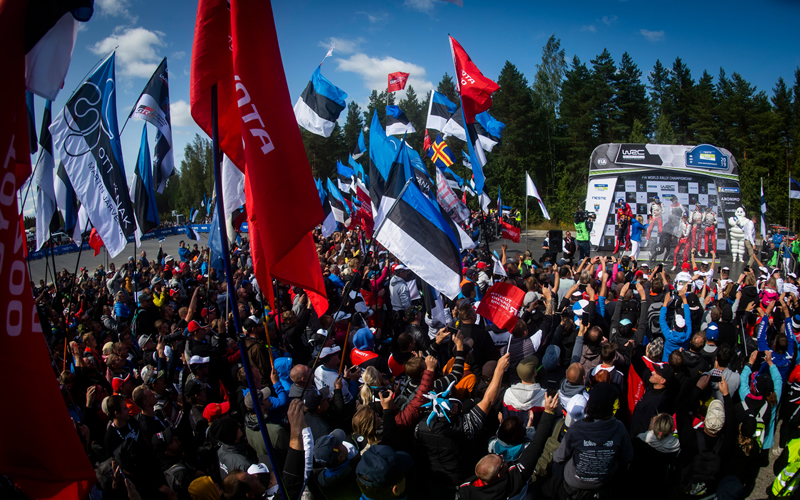 Finland's rising rally start Kalle Rovanperӓ once again delivered a dominant performance on this his home rally. OK so the competition wasn't really there but beating the more experience Eric Camilli in an R5 Fiesta by more than 4 minutes is impressive none the less.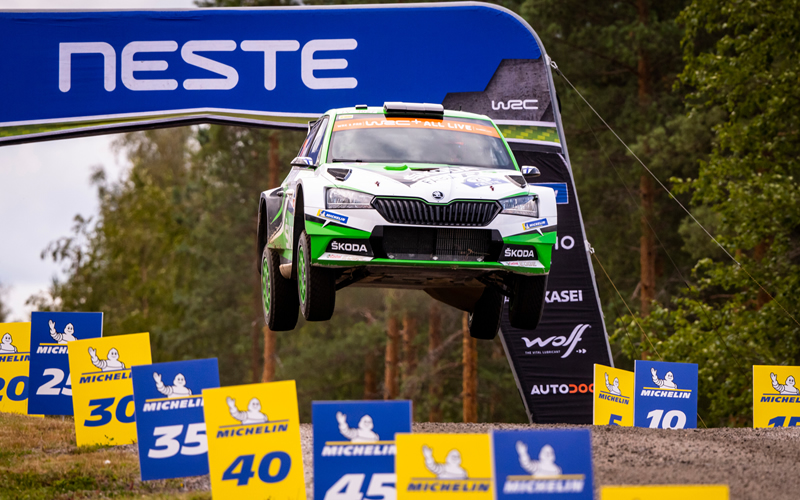 Rovanperӓ leads Mads Ostberg by 38 points in the WRC2Pro class and looks to have the Championship all but sewn up already. Ostberg who missed Finland for the first time in 14 years is hoping to return in Germany, where further developments to his Citroёn C3 R5 are hoped to bring improvements.
Ott Tanak is already looking like our new Champ and now leads reigning Champ Ogier in the drivers' standings by 22 points. With 5 remaining rallies left to score points in, surely is a matter of when rather than will Tanak secure his first world title?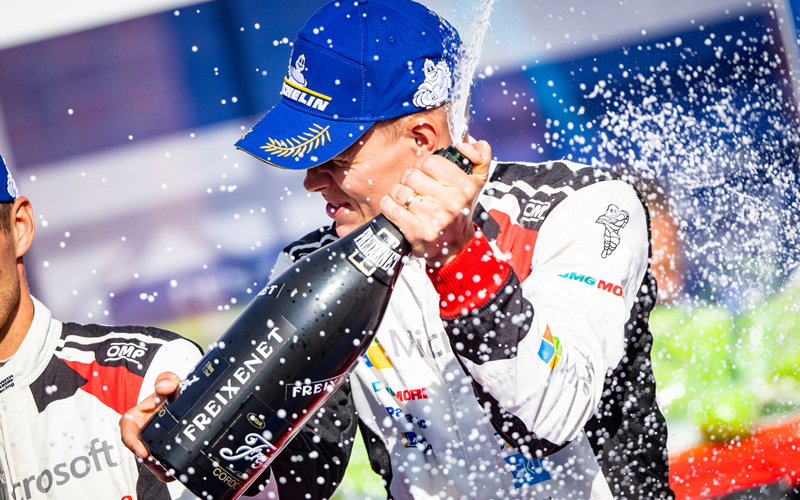 The battle for second place between Ogier and Neuville is tights, just three points between them. In Finland & Sardinia both Ogier & Neuville never really looked like potential champs, for the past two events they both seem to have no answer for Tanak's speed, have they given up already?

Up next is Germany, a tarmac event which should suit them both Ogier and Neuville well seeing as it is their preferred surface. Ogier is a 3 times a winner of the event and Neuville has also won it once himself. BUT hold on one minute! take a look at the records for Deutschland and you shall see that a certain Estonian has won the last two; 2017 in a Fiesta and 2018 in the Yaris, so there's a strong possibility that Tanaks charge for the title could well net him a German hat-trick…. "AUFREGEND!"
Hyundai's efforts in Finland meant they extended their lead over Toyota, I think it's safe to say now that both Citroёn and M-Sport Ford are out of the running for the Manufacturer's title this year.
Words By Andy Cook – Xlerate
Photos By Jaanus Ree © Red Bull Content Pool