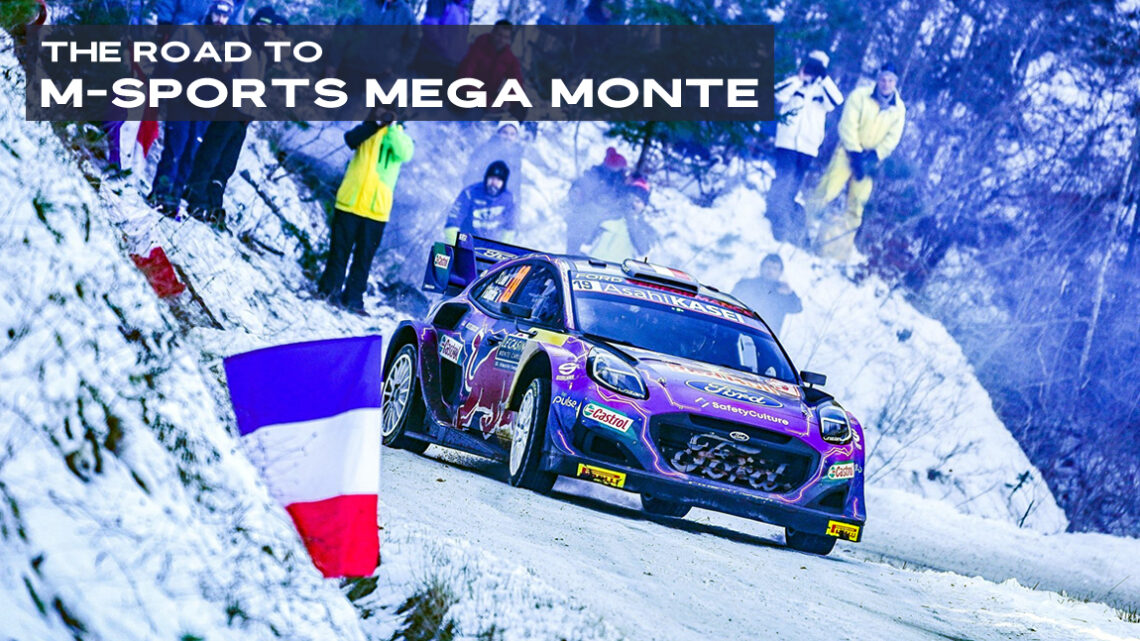 WRC | THE ROAD TO M-SPORTS MEGA MONTE
25/01/2022
When one sits back and considers the build-up to the 2022 Monte Carlo Rally and the first step into the new generation of Hybrid Rally cars, deep down we all kinda knew that the Puma offering from M-Sport Ford was always going to be a good package, didn't we?
But the question was How Good?
How good was it going to be compared to the Yaris GR from Toyota Gazoo Racing or the i20 N from Hyundai?
Well, the early signs point to it being very good and a very competitive car, but we only have that Mega Monte from M-Sport to judge this on so far, only time will tell as the season progresses.
The road for M-Sport to that Mega Monte result has been a long and difficult one. M-Sport has gone through a torrid time in recent years, fighting redundancies throughout a global pandemic and thru no fault of its own might it be added.
To compete at the sports highest level through financial struggles with its driver line-ups has been met with some backlash from some fans. Fans who perhaps did not understand M-Sports position or had no consideration for the tough choices that have to be made in any business or the wider goals, regardless of it being one based around motorsport or any other sport to that matter.
Fans are passionate and can be very vocal with their feelings in this day and age of social media. They can find an easily accessible platform to voice publically, absolutely anything they like towards the Championship, its governing body, its promoter or either the teams and drivers who compete and that can be directed at them with ease.
I get that passion….. I absolutely do …….BUT
Any such negativity towards a team like M-Sport or any such driver who brings in a significant amount of funding (whilst following and living out their own dreams) to keep the good wheels of M-Sport in motion and in the WRC, should in my opinion, be frowned upon by the real World Rally fans.
Strip it back and think about it in the simplest way possible…. The FIA World Rally Championships is hardly over subscribed with teams and manufacturers actively wanting to take part. Therefore the WRC would be significantly worse off without M-Sport…… end of.
However, at what point did it all start to head in the wrong direction for the British based motorsport outfit?
Before anyone could attempt to answer that question, they must first consider where it all went right first.
---
NETTING THE BIG FISH
Photo: Sébastien Ogier | M-Sport Ford Fiesta | Wales Rally GB 2017 | Andy Cook – Xlerate.net
Managing to still field a team and compete throughout the French years in the WRC, where Sébastien Loeb with Citroën (2004-2012) and then Sébastien Ogier with VW (2013-2016) dominated, is remarkable considering Fords backing dwindled and only the sales of M-Sports products enabled that presence to continue on.
It was only when VW announced their shock exit from the top-level WRC that perhaps M-Sports owner and boss, Malcolm Wilson sniffed a chance of hooking Ogier, who had now been set free from his VW contract onto the drivers market whilst still being paid from it.
In 2017 Mr Wilson somehow netted the biggest fish in rallying at the time and that was a French one who brought with him the funding from Red Bull. Ogier, as the lead driver was backed up by Estonian Ott Tänak, who had sidestepped from the DMACK backed Ford Fiesta and Welsh lad Elfyn Evans, who had returned to the top tier after spending some time competing in the WRC2 and British Rally Championship in 2016.
It was M-Sports most successful year in their Fiesta, with Ogier at the wheel the driver's title was delivered. Thanks to the efforts of Tänak and Evans in support, they had also secured the Manufactures title for the first time since 2007 when they had the significant financial support of Ford themselves with BP as the title sponsors in their Focus.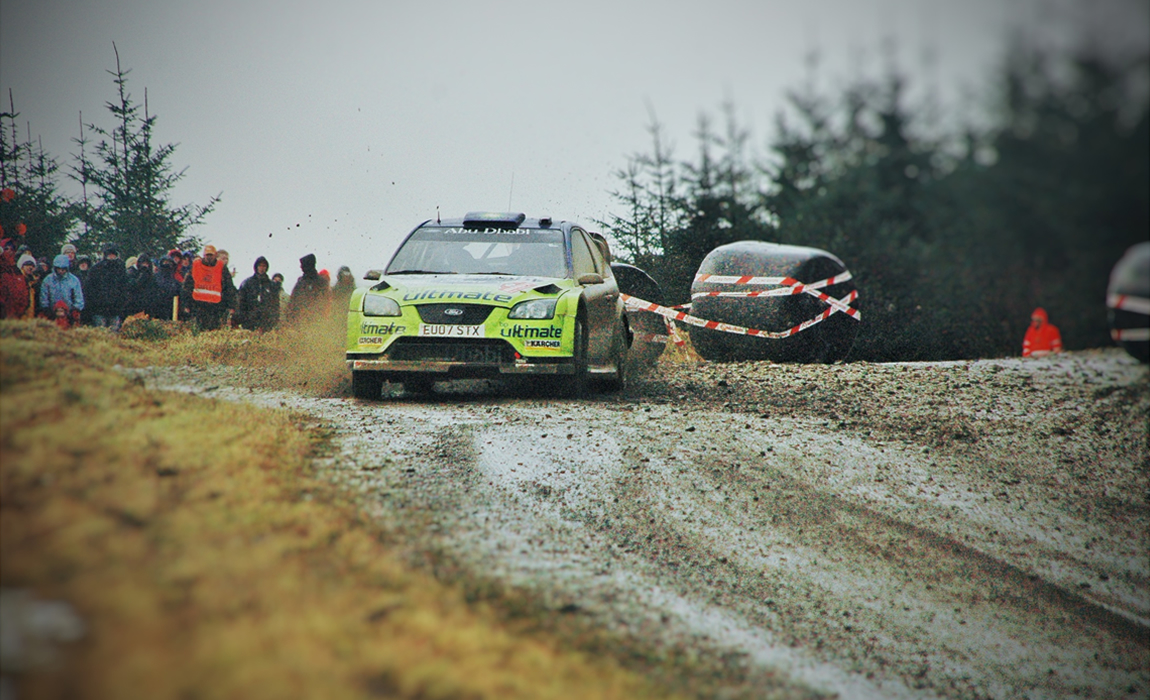 Photo: Marcus Grönholm – BP Ford WRT – Focus | Wales Rally GB 2007 | Andy Cook – Xlerate.net
---
FROM THE BEST IN THE WORLD TO LEAD DRIVERLESS
The following year Ogier remained at M-Sport to secure his 6th driver's title but after Tänak's performance in 2017, in netting 3rd in the driver's Championship, he was lured away by money to Toyota; leaving Ogier with Evans in support and new recruit Teemu Suninen to contest M-Sports 2018 assault.
Although Ogier won the drivers title that year, M-Sport was not able to repeat the manufacturer's title and Ogier, looking for his next career challenge, was enticed to Citroën for the 2019 season in what became perhaps his worse career move to date.
This left behind Evans, Suninen and Pontus Tidemand but there was another change, a change at the top of M-Sport. Malcolm Wilson took a step back from the WRC operations and allowed Rich Millener to step up as team principal for the World Rally team.
Another season passed and Ogier was on the move again, this time to Tommi Mäkinen's Toyota Gazoo Racing outfit in Finland and he had convinced Mr Mäkinen and the Toyota board to poach Eflyn Evans to join them. An so in 2020, M-Sport was left without a lead driver and arguably any driver who could realistically challenge for wins let alone any such title.
Photo: Sébastien Ogier | M-Sport Ford Fiesta | Rally Italia Sardegna 2018 | Andy Cook – Xlerate.net
---
THE SACRIFICE
In those two consecutive seasons of 2020/21, having to navigate both COVID and BREXIT the driver lineup at M-Sport consisted solely of drivers who brought financial backing with them. Not one occasion sticks out as being a turning point where any of those drivers could have challenged at the front, let alone for a rally win. In fact, throughout, they only manage a single podium place which was Suninen's 3rd in Mexico 2020.
It has been said that M-Sport sacrificed those last two seasons to focus its funding and efforts on the 2022 season and the development of their new Ford Puma Hybrid Rally1 car. First to test, out of the three manufacturers, M-Sport led the way in the development of their Hybrid Rally1 car. Their sacrifices appear to have paid dividends going by the Mega Monte performance of the Puma at the opening round of the 2022 season.
Photo: M-Sport Fords Hybrid Rally1 Test Car
---
THE ACE CARD
Perhaps the ace card that M-Sport played was in the hiring of nine times World Rally Champion, Sébastien Loeb. It all began with a bit of testing of the Puma in Spain at the back end of 2021. What better non-active, non-contracted WRC driver than the most successful and experienced of them all in Loeb, to get behind the wheel and provide feedback on their creation?
Clearly, Monsieur Loeb liked it, else why would he have agreed to peddle a Puma on the Monte in January at the opening round? After all, his part-time drive for Hyundai throughout 2019/20 didn't particularly add much value to his career résumé or stats, so why would a one-off drive in a Ford either?
Photo: M-Sport Ford WRT | Jaanus Ree
---
THE STARS ALIGN
Either way, the stars aligned between, M-Sport/Ford, Loeb and Red Bull for the 90th Edition of The Monte Carlo Rally and my gosh was the world of rallying treated to a spectacular battle between Loeb and the outgoing 8 times World Champ Ogier.
Loeb at 47 had fought off Ogier to secure his 8th Monte win and his 80th World Rally win (his first since Spain in 2018 with Citroën) and for M-Sport, it was their first win since 2018.
Could anyone have predicted this outcome?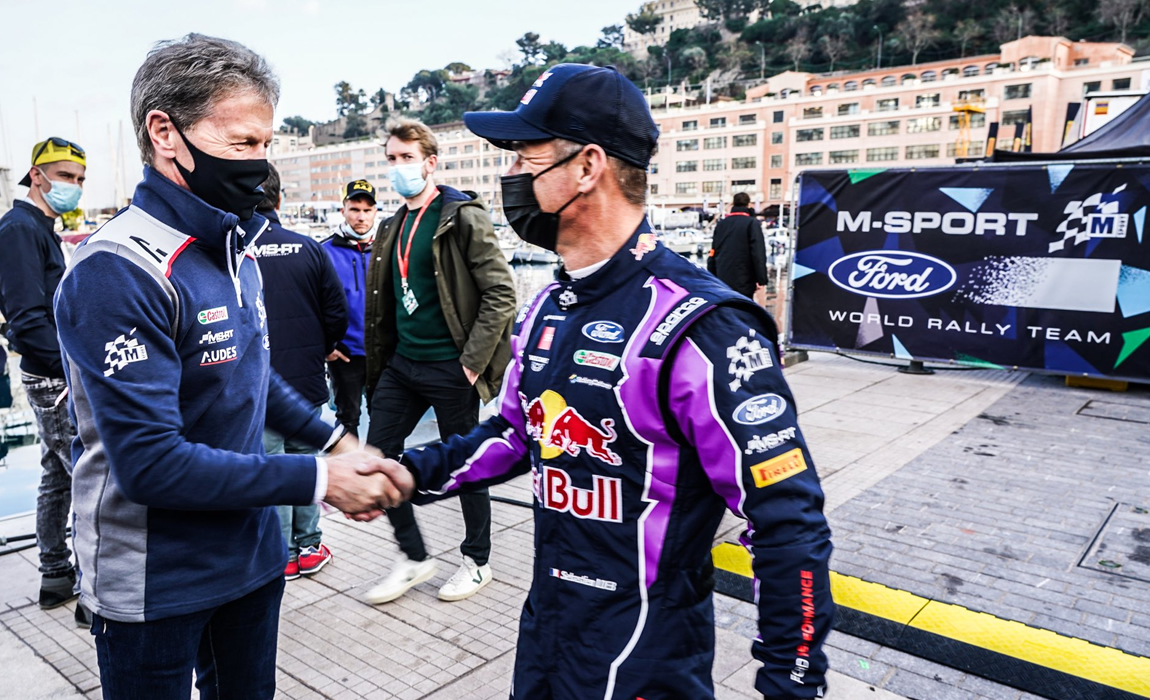 Photo: WIlson & Loeb | Rally Monte Carlo 2022 | M-Sport
I feel really happy, I didn't expect so much when I came here. It was a good fight, Ogier was really fast

Sébastien Loeb
But the Monte wasn't just a story about glory for the oldest World Rally victor, that Puma had also provided Britains Gus Greensmith with perhaps a career turning point?
On Saturday of the rally Greensmith peddled his Puma to his own maiden World Rally Stage win, it was an outright fastest time against two multiple World Champions…. surely this had to be a strong positive sign for Gus?
Greensmith was clearly having the time of his life in the new Puma and he had nothing but praise for this new car that the team at M-Sport had built. Those sentiments were echoed by M-Sports newest recruit, Craig Breen who joined the team on a two-year deal.
Despite the Irishman putting in what he described as "an average performance" on the Monte, he and Co-Driver Paul Nagle had secured the third spot on the Podium, the highest-scoring permanent crew. Considering this will be his first full season in the WRC, it was an amazing start and Breen had just delivered perhaps a little too early?
But whilst the Monte delivered plenty of smiles in the M-Sport Ford camp, there was another Frenchman whose Monte did not end well behind the wheel of a Puma.
Adrien Fourmaux was the first to kill off a Puma, the young rising star from the FFSA (French Federation of Automobile Sport) wrecked his Puma on the opening test (SS3) of Friday morning.
M-Sports team principal Richard Millner was not impressed and left Forumaux out on a cold rally stage for much of the day, to contemplate what he had done before sending the recovery crew to fetch him.
---
Photo: M-Sport Ford WRT | Rally Monte Carlo 2022 Podium | Red Bull Content Pool
---
LIFE AFTER LOEB
Before the Monte Carlo Rally, Loeb did suggest that he was expecting further talks with his sponsors (Red Bull) about appearing on further rallies this season. By winning the Monte what better way is there to build a case for this?
But what does life after Loeb at M-Sport look like?
Do the likes of Breen, Greensmith and Fourmaux have what it takes to compete for rally wins against the rest of the full time works drivers from Toyota and Hyundai? namely the likes of Elfyn Evans, Ott Tänak, Thierry Neuville and maybe even the up and coming Kalle Rovanperä also?
Next up is the Swedish Rally towards the end of February, the likes of Loeb and Ogier do not particularly have an appetite for such a rally so neither of these two giants will be making an appearance.
Although this will be an entirely new event, based further north and will be somewhat a bit of a level playing field for all. Out of the three permanent M-Sport drivers, I would only really consider Breen to be a challenger for the podium on this winter rally.
Breen is the one that has the most experience at tackling the WRC's winter rally round. He scored a 4th on the Arctic Rally last year with Hyundai and going over his career, his best result on the snow & ice came in 2018 with Citroën, when he secured 2nd place on Rally Sweden.
Even after Sweden is done, I doubt that we should perhaps expect to get a more true unclouded (by Ex-World Champs) view of the performance level between the three teams, cars and their drivers until maybe Croatia or even the mainstay that is Portugal.
The World is already talking about M-Sport Ford being the contender to challenge Toyota Gazoo Racing this year, after Hyundai's dismal Monte performance.
For the good of the Championship, let's hope so, let us all hope that the fight not only for the drivers' title this year (now that there is no Frenchman in contention) but the Manufactures title also. Let us all pray to the Rally Gods that round by round and stage by stage right up until the final rally, that this new Championship season delivers what it so needs right now….. and I so want for M-Sport to be in the mix.
Words By Andy Cook | Feature Photo: M-Sport Ford WRT