UKRALLY | WYEDEAN STAGES 2017 | WYE NOT?
11/11/2017
Our final trip out into the trees this year was to the Forest of Dean for the Winner Garage Wyedean Stages Rally and the final round of 2017 Pirelli MSA Welsh Forest Rally Championships and the HRCR Stage Masters Historic Stage Rally Challenge amongst others.

Since this event departed from the BTRDA series back in 2015; The Forest of Dean motor club hasn't looked back with too much of a tear in its eyes. This year as in the previous event has seen it run in this ultra-compact format which simply just works, giving the competitor the chance to enjoy these Dean stages, some of which returned this year after having a bit of a rest from Motorsport use.
Rain Rain Rain….. these stages in and around the Forest of Dean have a reputation of being slippery at the best of time but when the rain just refuses to let off it makes for a rather challenging event, even for us on foot trekking a well-trodden bridal way as we made our way into stage for the day's action.
The overall winner of the event was the number one seeded entry and BRC regular's Callum Black & Elliott Edmondson in the R5 Fiesta (WRC Class) 53 seconds ahead of Nick Elliott & Dave Price in their MK2 Escort (Historic Class), just 12 seconds behind and taking the final step of the podium was Peter Stephenson & Darren Garrod in the 06 WRC Focus (WRC Class).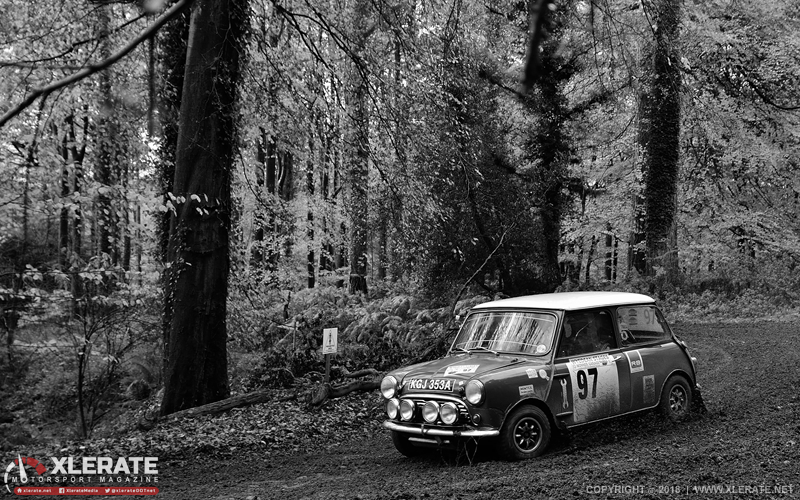 These stages do have plenty of history going right back to the days of RAC Rally of Great Britain but to be truthful, in our opinion they're not particularly photogenic or our favourite stages to snap at, in all honesty, what with the weather being so naff, it was a bit of a miserable end to our 2017 season. Nevertheless, we thought Wye Not make the effort? We'd rather be standing out in a forest in the rain watching rally cars go by than not and we always feel drawn to this event year upon year.
Full Results from the event can be found HERE.
Words & Photo's By Andy C | Copyright © 2018 Xlerate