ARX | AMERICAS RALLYCROSS CHAMPIONSHIP
23/07/2018
There is a new series in the World of Rallycross which is bringing a positive vibe back to this ever-growing sport over the pond in the good old US of A. After a lot of controversy surrounding the Global Rallycross and its demise, back in March at Silverstone, UK, MD of IMG's Motorsport division Paul Bellamy talked of how they simply "could not sit back and do nothing". Calling upon a wealth of experience gained from IMG's efforts in getting the European and World Rallycross to where it is today in becoming a leading form of a world-class and well supported major motorsport series; coupled with the global resources and reputation that IMG holds; this newly launched Americas Rallycross championships looks to be in good stead with solid foundations.
To get the ARX off the ground to the extent that IMG has in such a short time by attracting the major manufactures and big named drivers along with securing a number of venues are a testament to IMG ability and commitment into making this a success. When the UK went through leadership change with it's Government this year the slogan "Strong and Stable" was used and although this may not have gone exactly to plan for the UK Government at the time, it is, however, a fitting slogan for IMG and the ARX.
Alas, a few months on from the announcement and we found ourselves at Silverstone, UK for not only Britain's round of the World RX series and the all-new Speed Machine Festival but the launch and opening round of the ARX. Where it showed just how serious everyone from IMG, the teams and drivers were taking it as a fantastic grid of cars lined up in front of a great crowd of Motorsport fans where Volkswagen Beetle Supercar driver Tanner Foust made ARX history in taking the first event win.. In my opinion, It proved to be a total success and a great start of this new venture.
Moving on from Silverstone the motion continued as further details of the four events for its first year along with teams and drivers signing up came out. Round two landed at the COTA in Austin Texas, where household-name Ken Block joined the party and fans tuned in for live action on Facebook and for highlights on CBS Sports, watching Scott Speed take the second victory. As the ARX heads into the second part of this taster season the battle heats up going into Round 3 on the Trois Riveres street circuit in Quebec, Canada in August; where the ARX once again joins forces with the FIA World RX Championships.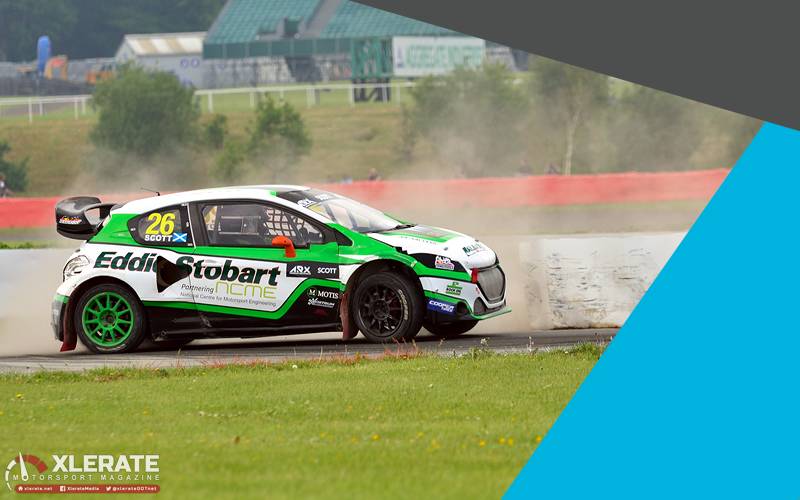 Next year we firmly believe that a full championship calendar will be on the cards and that the championship will establish itself as The place to compete in this wonderful form of motorsport over in the Americas; but for the time being it's a case of "So Far, So Good"!, below is a selection of our snaps from RD1 @ Silverstone.
Words & Photo's By Andy C | Copyright © 2018 Xlerate