ERX | RD2 – HELL – NORWAY 2019
18/06/2019
The second round of the European Rallycross for Supercars took place at Hell. 7 drivers joined the full season drivers to bring the grid up to 19 cars.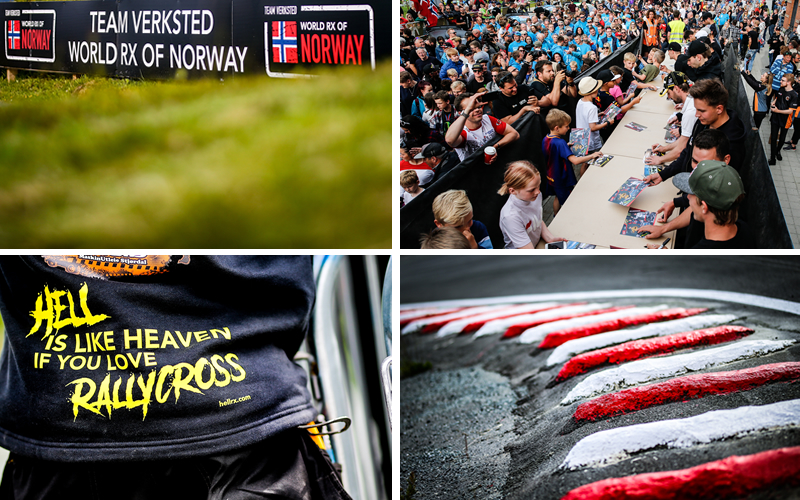 In the first race Jean-Baptiste Dubourg got the best start into turn 1 with Mikko Ikonen and Stein Egil Jenssen making contact with the latter jokering. It then became a race between Dubourg and Thomas Bryntesson who had jokered on lap 1 with Bryntesson coming out on top and set the fastest time of Q1.
"For sure it's really good to do a great first heat"

Bryntesson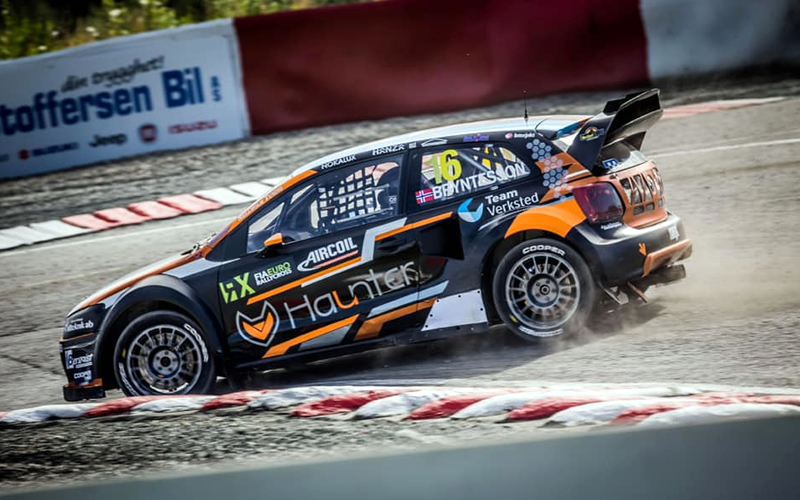 Hans-Jøran Østreng was left on the line which left Alexander Hvaal and Ole Kristian Temte to joker. Lukas Walfridson led Aleš Fučík on the standard lap. Hvaal had to pass Fučík before he had jokered which cost him time but still came out ahead of Walfridson. Østreng came back to beat Fučík and Temte.
"It feel amazing. I haven't been in a race car since 2017. Yeah it means a lot. 1st race since my father passed away and I also got a kid watching so it means a lot."

Alexander Hvaal
Peter Hedström got the jump in race 3 and jokered ahead of Attila Mózer. Robin Larsson made contact with Mandie August on the standard lap which sent the German into the wall. Andréa Dubourg and brother of Jean-Baptiste led Larsson and both were being caught by Hedström but each of them came out ahead of him with Larsson winning from Dubourg.
"I was upset after missing the gear in the start. I'm pretty happy with the second [fastest] time but annoying with the mistake."

Robin Larsson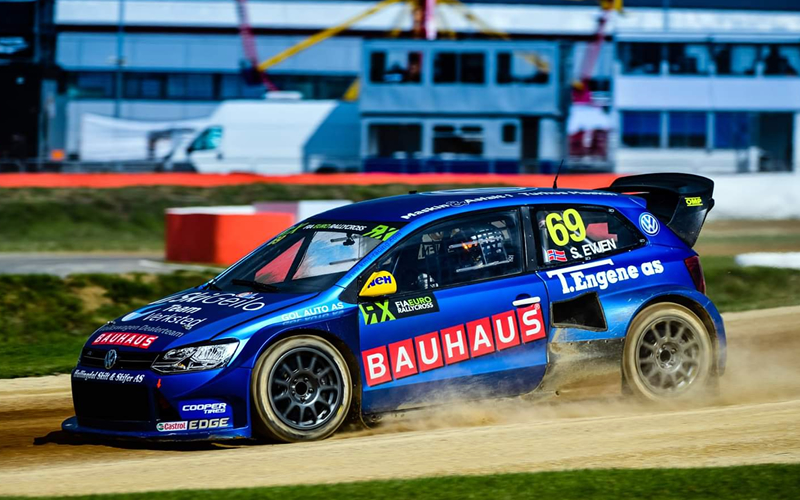 In the final race, René Münnich got the best start but Sondre Evjen led after a good pass at turn 1. Pontus Tidemand led Tamás Karái in the joker lap. Tidemand got held up by Mario Barbosa until the Portuguese half spun. When Evjen took the joker lap he stayed ahead and posted the second-fastest time in Q1.
Temte made the best start in race 1 and was followed to the joker lap by August who overtook Temte when he ran wide. Barbosa and Jenssen made contact at turn 1 so when they jokered on lap 3 the female racer, Mandie August came through to win.
Fučík and Mózer hit each other into the joker lap. Karái led Ikonen and Østreng on the standard lap and after the jokers played out the order didn't change with Karái winning.
Hedström made the best start with Walfridson and both drivers jokered. Andréa Dubourg led Hvaal and Münnich but made small mistakes to allow Hedström to close in.
When the leaders took to the alternative route on the final lap Hedström and Dubourg were side by side from turn 2 to the bottom of the hill at turn 4 with Peter Hedström winning out despite a few hits up his backside from the Frenchman.
After the race Hedström threw his arms up in frustration and in the post race interview Hedström had some very strong words "All the time this f***ing guy is behind me push me all the time. All the time."
Larsson cut across Bryntesson and Evjen into the standard lap. Tidemand tried to follow but backed out and copied Jean-Baptiste Dubourg by jokering.
On the run to turn 2 Bryntesson pushed Evjen wide with Evjen then sliding back into him. Bryntesson managed to hold the position after a good save and followed Larsson to the finish with Larsson topping Q2 from Bryntesson, Dubourg, Evjen and Tidemand. Robin Larsson "Yeah it was a really good start and I could just focus on the lines."

Mózer spun at turn 1 after contact with Fučík while Jenssen was also slowed on the standard lap. Temte jokered on lap 1 but slowed briefly giving Fučík a comfortable win from Jenssen. Østreng failed to start in Q3 and missed the rest of the weekend as well.
Barbosa got the best start and jokered with Mandie August but both came together with Mandie spinning and Barbosa retiring. Ikonen and Walfridson jokered on consecutive laps remaining in the same order to the flag.
"I'm not too happy about the speed this weekend and we have been struggling with some issues"

Mikko Ikonen
Hedström led from pole and jokered with Hvaal just behind at turn 1. When Andréa Dubourg top his joker lap he came out next to Hvaal, made contact and pushed the Norwegian wide.
Karái kept the lead after he jokered with Münnich slotting into second. In the last race of Q3 Tidemand made the best start and cut across the pack as he jokered followed by Evjen and Bryntesson.
Larsson was under pressure from JB Dubourg and when each of them jokered on the final lap both came out ahead of Tidemand, Evjen and Bryntesson to finish 1-2 overall. Karái was the only driver not in race 4 to finish in the top 5 of Q3.
Robin Larsson was very relaxed about his very impressive joker lap technique which is to slide sideways into the corner, "The joker lap is very easy, just flat and handbrake".
Barbosa failed to start and his weekend was done. Mózer hit Temte as they both tried to joker on lap 1. It broke Temte's front left wheel off and made Mózer lose 25 seconds.
August had a clear track to the end but could only set the 12st fastest time in Q4. Mózer was later disqualified. Fučík nearly stalled at the start with Jenssen also being left behind which left Hvaal and Walfridson to split their joker strategy up front. Hvaal built a good gap to win comfortably from Walfridson, Fučík and Jenssen.
Alexander Hvaal "Not been in a race car since 2017 and still got some of it so happy. I will risk everything and just go flat out. You guys better watch out."
In race 3 Bryntesson managed to out-brake Münnich going into the standard lap to take the lead. Andréa Dubourg held off Ikonen in the joker lap. Bryntesson then pushed and took the win with Dubourg 2nd, Hedström 3rd, Ikonen 4th and Münnich last after needing to joker twice.
Karái was dropped at the start. Larsson and JB Dubourg made contact into turn 1 which let Karái catch back up to the pack. Tidemand led Evjen into the joker lap but couldn't stay close enough to overtake Larsson. Dubourg came out of the joker lap in 2nd but ran wide at turn 2 letting Tidemand back through. Karái won the race because he forgot to take his joker lap and with the 30-second penalty dropped to 15th overall and last of the finishers.
Larsson was again top qualifier from Bryntesson and JB Dubourg. Evjen was 4th closely followed by Tidemand. Ikonen and Walfridson were in the last Semi-final spot with a large gap to 13th place Fučík.
Larsson made the best start from pole and was followed by JB Dubourg and Tidemand into turn 1. Ikonen, Münnich and Hedström went to the joker lap with some contact between Münnich and Hedström costing them some time. The top 3 all jokered on the final lap with Dubourg in 2nd and Ikonen just ahead of Tidemand in the final transfer spot.

At the start Walfridson was left at the line. Bryntesson led the standard lap while Evjen jokered closely followed by Hvaal. Andréa Dubourg got underneath Bryntesson on the exit of turn 1 which pushed the Norwegian slightly wide.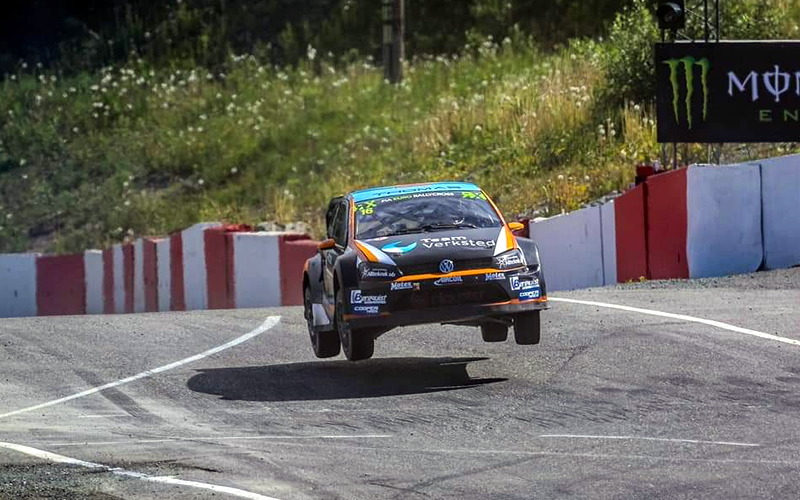 Karái was 3rd behind the pair. Bryntesson made a forceful move at turn 1 the next lap to take back the lead which he would not relinquish. Evjen got ahead of Dubourg with both making the final. Karái, Hvaal and Walfridson did not make the cut.

Final Heavy rain came just before the final. The WRX cars had their Semi-final just before so the drivers had some reference of where it was wettest. It would still be a treacherous outing with no one having driven any wet running on the circuit all weekend.
In the Final JB Dubourg made the best start to get alongside Larsson and jokered followed by Ikonen and his brother Andréa. Evjen tried to out-brake Larsson but ran wide on the standard lap and dropped back to 2nd with Bryntesson in 3rd.
Evjen ran wide again at turn 1 on lap 3 and Bryntesson dived past knocking his fellow VW driver wide. Jean-Baptiste Dubourg was then getting held up by Evjen until he ran wide for a third time at turn 1 and lost the position to the Frenchman.
Larsson and Bryntesson jokered on the final lap with Larsson retaining the lead and Bryntesson slotting into 3rd. JB Dubourg was right behind the leader by Robin Larsson who won his second consecutive event. Ikonen was 4th with Andréa 5th and Evjen last with broken steering.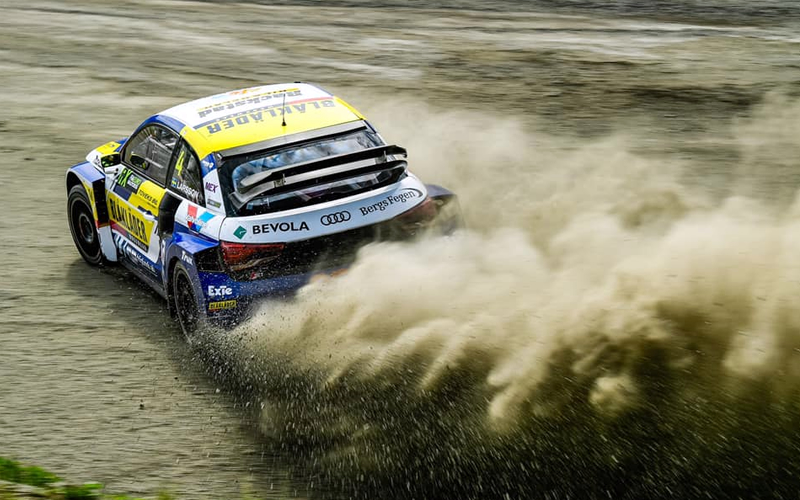 "First time in the rain for the car and me. It feels terrible when you drive in the rain with this car but it was nice to put that win in. You get nervous when the rain is coming but so so nice to get the win."

Robin Larsson
Larsson is now 9 points clear of Bryntesson going into his home event in Sweden with the Dubourg brothers 3rd and 4th. The European Rallycross Championship supports all of the remaining European based World Rallycross rounds
Word By Callum House – Xlerate