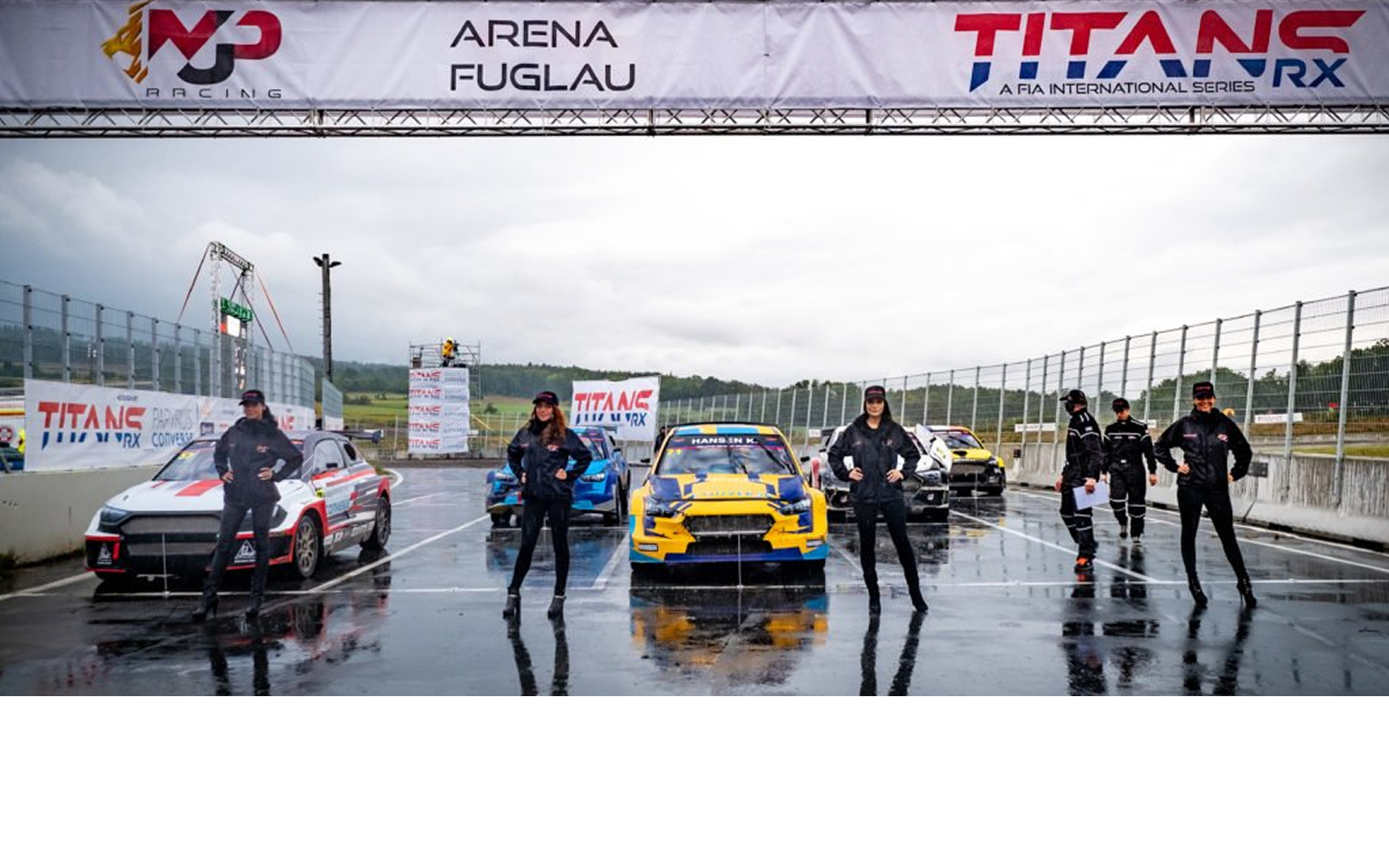 TRX | RD7 & 8 – AUSTRIA 2019
19/09/2019
ROUND 7
Round 7 and 8 of Titans RX took place at the MJP Arena in Fuglau. Many of the drivers had tested the car there and some even raced there at the test event back in May but the circuit had had a jump added out of turn 3 since then. 15 drivers were on the entry list with Webb again replacing Piquet. Abbie Eaton returned to the cockpit as well as Andreas Steffen, this time in Tom Coronel's car. Hayden Paddon made his first return since the season opener in France.
FINAL
Topi Heikkinen won the 7th round of Titans RX by only 7 hundredths of a second. In the final Topi made the best start from Kevin Hansen and pulled away during the opening laps. However, Kevin came back at him and in the final 2 laps closed from 1.1 seconds away to 4 tenths. Topi seemed to slow going into the final corner but covered the inside. Despite a push through the corner and with Kevin trying to get the cutback, the Fin took his 3rd win of the season. Behind, Paddon fought past Timmy Hansen and Craig Breen to take 3rd. Timmy was in 3rd but locked up and ran very wide at turn 1 on lap 2 and missed the drop jump falling to last. He made his way back up before picking up a front-left puncture and couldn't hold back Breen who picked up a rear-right puncture after getting past Timmy with the pair making several pieces of contact. Jerome Grosset-Janin pulled off at the start with a technical issue.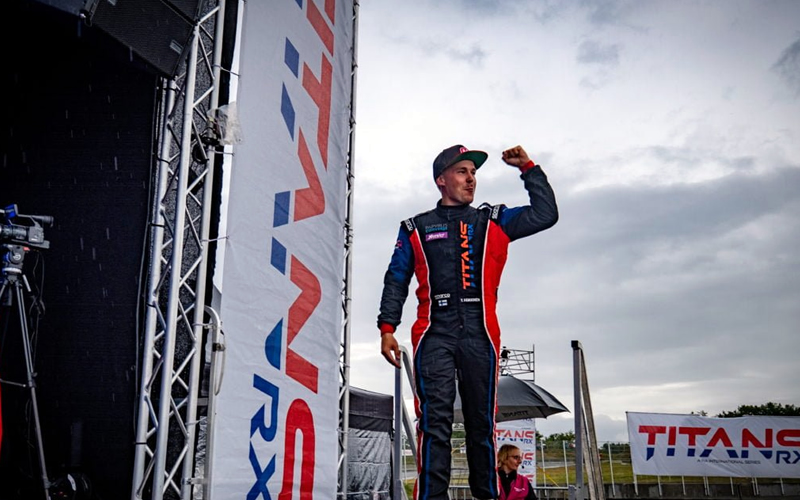 "We had a really good day, everything went as we planned."

Toomas Heikkinen
"4th place in the final with a puncture, fogged up windscreen and no power steering for a while. It wasn't a bad end to the day."

Craig Breen
SF1
Topi gained pole in the final by leading his semi from start to finish with Timmy close behind. The Swede made a great start and was 2nd into turn 1 but was pushed wide by Topi and dropped to 4th. However, within half a lap he had re-passed both Tamara Molinaro and Andrew Jordan.
Tamara made a great pass over the jump on Jordan before the Brit dived back past. This let Paddon close in and overtake Molinaro after going side by side through turn 2 and 3 and inherited the last spot in the final when Jordan spun to last at the next corner. Webb struggled at the back but kept Jordan behind to the finish. 
SF2
The second semi-final saw CsuCsu make contact with Grosset-Janin at turn 1 and he spun into the inside wall before being collected by Reini with both drivers stopping. The race was restarted but not before the weather had taken a turn for the worse.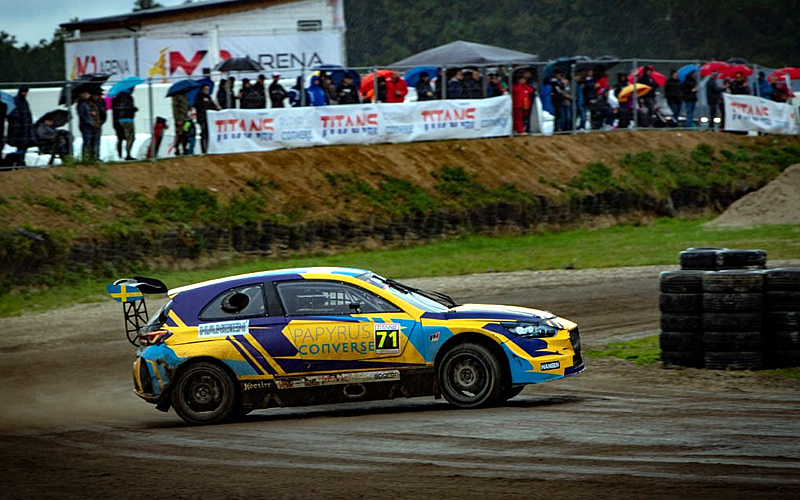 In the slippy conditions, Kevin led from the start while behind Breen overtook Grosset-Janin out of turn 3 with Ronny slipping by as well. Jerome then retook 3rd and held onto it as Ronny slowed with a technical issue meaning he was lapped.
"I struggled a little bit in the semi-final with the setup to be honest."

Craig Breen
QF
Heikkinen won the final 2 sessions to top qualifying after Q1 winner, Timmy suffered a DNF in Q2. Timmy pushed Heikkinen wide into turn 1 in Q1 and used that to build his lead but in Q2 after a poor start, his throttle stuck open which pitched both him and CsuCsu off.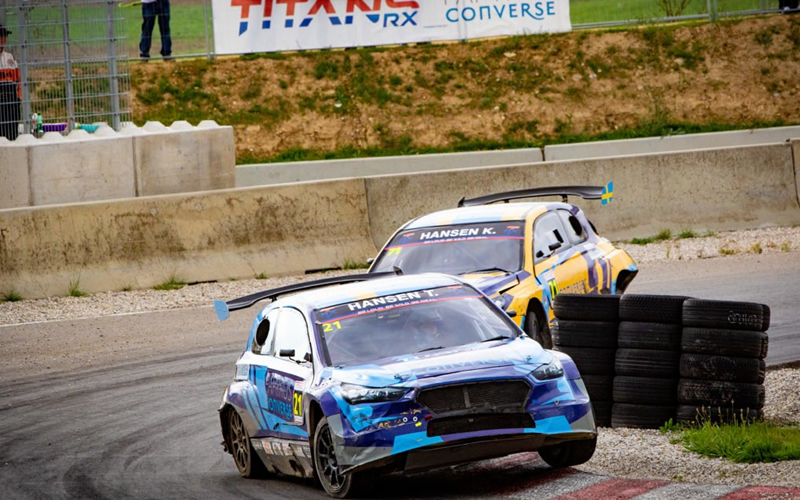 This gave Kevin Hansen 2nd in that race despite having to push an errant tyre stack out of the way and after finishing 2nd in his Q1 race by only 0.024 seconds he ended up second in qualifying. Paddon was 3rd ahead of Grosset-Janin and Jordan who missed free practice due to illness. He struggled in the races and was overtaken by McCarthy but a spin by the former Stig gave Jordan the position back.
"It was just about being clean on Saturday, I enjoy driving the car and everything, I certainly could've gone quicker but it was about trying to stay out of trouble too."

Hayden Paddon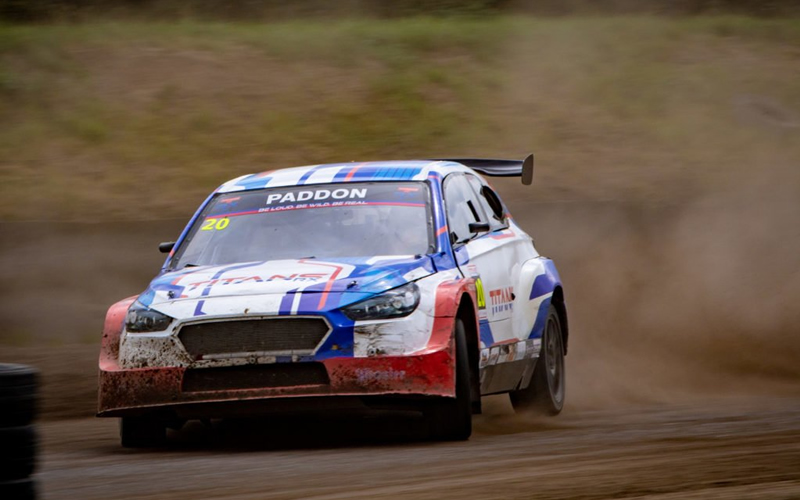 CsuCsu was in 6th with Timmy only managing seventh ahead of Ronny and Molinaro who had a great battle with Webb in Q1. Tamara spun on lap 1 and Webb took a penalty lap which let Tamara close in and passes the Brit halfway through the race. On the final lap, the Italian driver stalled before getting her car going and diving up the inside of Webb into the final corner but the Brit still made the semi-finals in 11th.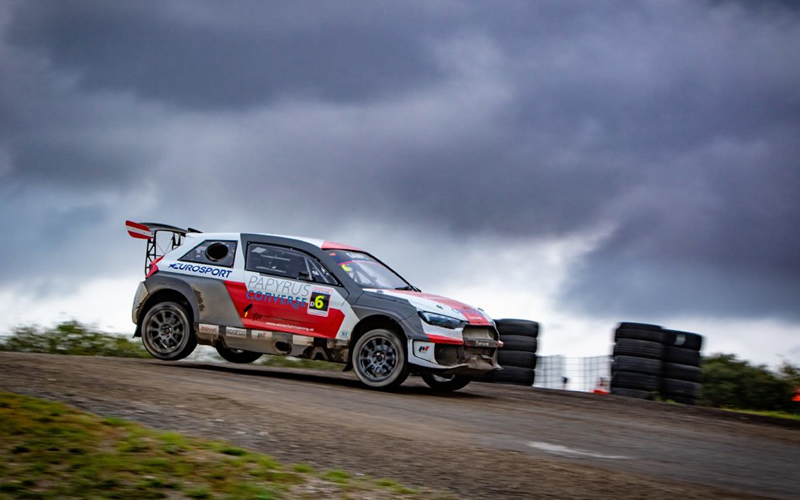 Reini Sampl won his second ever Titans RX race when Andreas Steffen ran very wide into turn 1 and hit McCarthy and Jordan wide with the points gained being enough to give the local driver 10th in the qualifying standings while Breen just scraped into the semi-finals. He spun twice in qualifying but a great pass on his girlfriend Molinaro in Q2 gave him enough points to make the semi-finals. Abbie Eaton on her return to the series missed the cut by 2 points with Perry McCarthy again struggling in 14th and Andreas Steffen in 15th on his return to the car having run wide at turn 1 multiple times.
"I had a really bad feeling on Saturday morning after free practice, I really didn't feel confident enough to do anything."

Tamara Molinaro
ROUND 8
FINAL
Timmy Hansen won the Sunday event in Austria after using his pole position to hold the inside line into turn 1. With this, he kept Heikkinen wide and pulled away to his 3rd Titans RX win of the season. Kevin followed his brother through on the inside of Heikkinen as did Grosset-Janin but the Frenchman was pushed wide at turn 2 and dropped to last. Craig Breen had made his way up to 4th with Tamara holding 5th. On the next lap, Topi found a gap on the inside of Kevin out of turn 2 and squeezed by to take the position he would finish in. Breen tried to close on the young Swede but in the end, could not gain his first podium despite reaching the final in all of his 5 event starts. Tamara was a season's best 5th after Jerome could not recover from his lap 1 off. Timmy celebrated his victory with doughnuts.
"It was two clean races, not the most exciting from my perspective, but a win is a win. I had a good launch, put everything together and we came out on top so it was good."

Timmy Hansen
"It was a great weekend. I finished P2 after a hard fight in the final".

Toomas Heikkinen
SF1
Timmy Hansen won his semi-final after avoiding the carnage at turn one which saw Molinaro slow into the back of Kevin and Jordan followed by Paddon into Kevin. The Italian racer bounced into the air but continued to finish 3rd while Jordan pulled off that lap and Paddon received a puncture and limped into retirement. Kevin secured 2nd spot only 7 tenths behind his brother with Molinaro a further five seconds back. Andreas Steffen took the last spot of the runners after a much-improved performance from the previous day.
"I start to overtake, be aggressive and show I have guts too".

Tamara Molinaro
SF2
Topi failed to utilise his pole position and came out of the opening corners behind Jerome Grosset-Janin. However, the Finish driver would find a way back past half way through the race to secure the front row grid slot in the final.
A few corners from the finish Jerome's car suffered a technical issue and went into limp mode allowing Craig Breen to snag 2nd. Having built up enough of a margin the Frenchman finished just 1.1 seconds ahead of Abbie Eaton denying her of what would have been her first final appearance. Perry McCarthy and Oliver Webb made contact at the start causing both to slow which meant none of the 4 Brits made the final.
"We chose to still use the old tyres from yesterday and in the semi-final we put the new ones on and I thought that we could win the semi"

Topi Heikkinen
QF
Timmy Hansen topped qualifying after winning 2 of his races, his Q1 win the result of an around the outside pass on Paddon while he set the fastest time in Q3. He beat out Topi Heikkinen comfortably after the Fin failed to win any of his races, a highlight being him holding off Grosset-Janin with a collapsed rear suspension.
Andrew Jordan was a highly impressive 3rd after recovering from a terrible Q1 where he had an off but rebounded to win his 2 remaining races. Jerome was just ahead having won a race with a robust defence from Breen. Kevin Hansen dominated Q1 and Q2 by using the inside line at the start each time but an electrical issue in Q3 meant he pulled off and could only end up 5th in the points.
"2 heat wins today and a P2 overall time, puts me P3 overall after 3 heats."

Andrew Jordan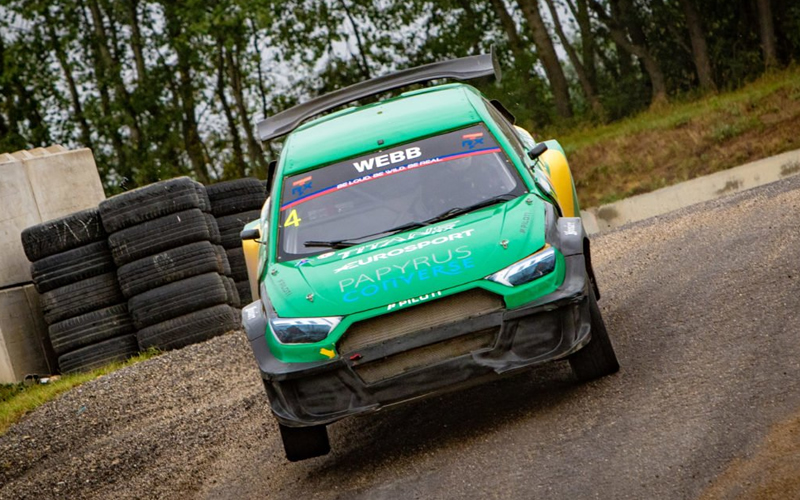 Oliver Webb was a very impressive 6th ahead of Tamara, who had made an extremely forceful move on Paddon, and Breen whose engine expired in spectacular fashion from the lead in Q2. Paddon, Eaton and Steffen made the Semi-finals with Perry McCarthy getting his second ever semi-final start. McCarthy had a very close battle with Eaton in Q1 with the female driver coming out on top after several position swaps. CsuCsu missed the cut by only 2 points after he retired in his final race with a gear linkage issue while Reini also missed out due to failing to start in Q1. Ronny took the lead his Q1 race but an engine failure meant he finished last and couldn't take part in the rest of the weekend.
"Was leading my race in Q1, when my engine gave up with two laps to go."

Ronny C'Rock
Kevin Hansen still leads the championship but by only 5 points over Toomas Heikkinen with Timmy Hansen a further 6 points back.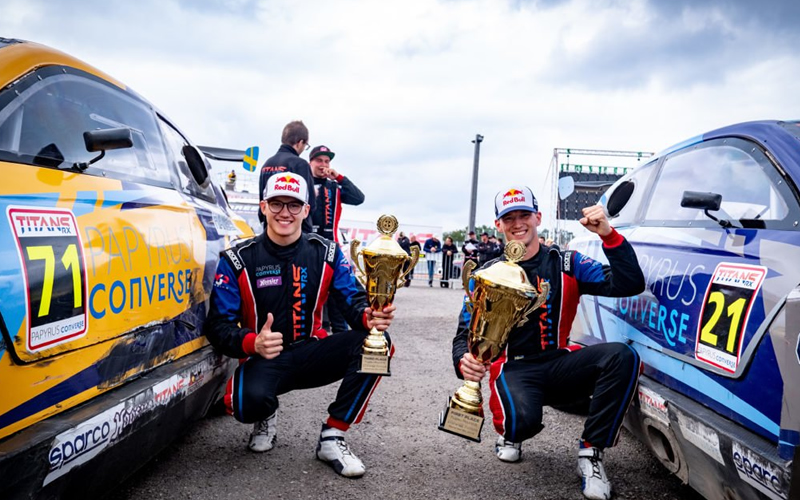 "We need to deliver every weekend. The gap is not big so we need to race for every position we can get."

Timmy Hansen
NEXT UP
The championship heads to Hungary for the penultimate round of the season at the wall lined Nyirad circuit where any mistake usually ends in the barriers. Both Breen and Paddon will miss the event as they race in Rally GB that weekend.
Words By Callum House – Xlerate
Photos: Titans RX