WRX | RD7 – CANADA 2019
08/08/2019
The 7th round of the 2019 season took place in Trois-Rivieres. ES Motorsport couldn't find a driver after Kevin Abbring was unable to attend leaving the field with 16 cars.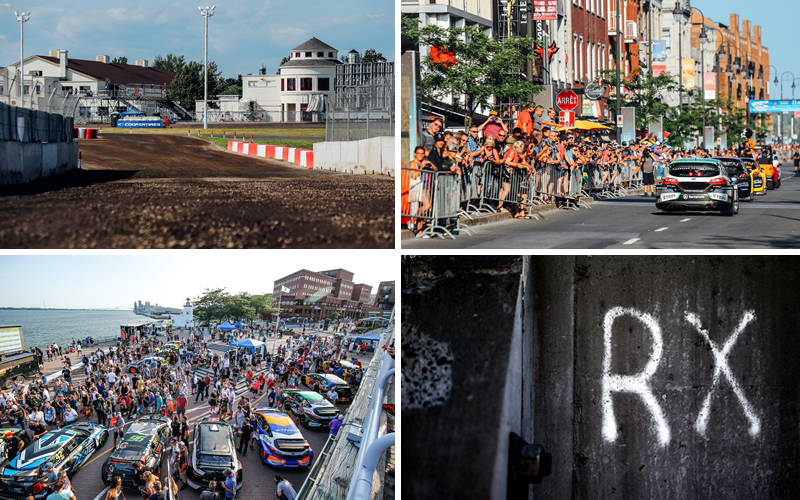 It was an RX Cartel 1-2 in Q1 with Andreas Bakkerud leading Liam Doran. Bakkerud led his race from the start but Doran had to find a way past Guerlain Chicherit after losing out down to turn 1. The British Bomb made the worst start but powered round the outside and tried to cut across the Frenchman.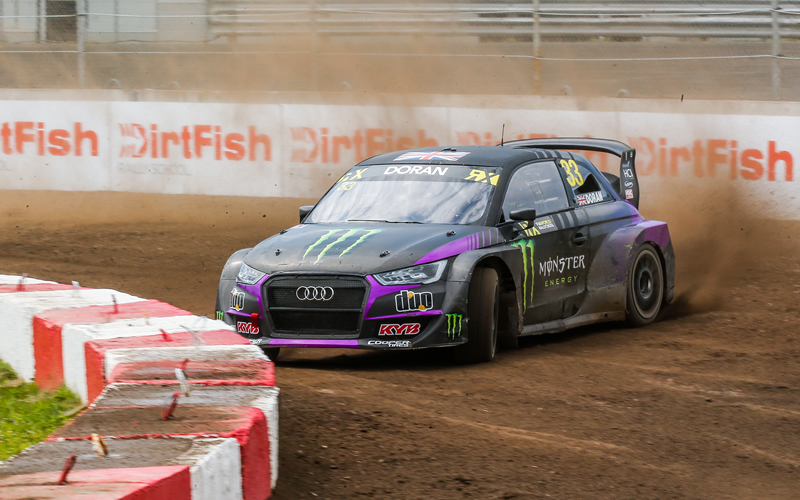 The pair made contact with Doran settling for second. After jokering on the first lap and passing Oliver Bennett, who had clipped the wall, he came out ahead of Chicherit.
Behind Bakkerud, Jani Paasonen made a good start to be P3 behind newly-wed Krisztian Szabo. Rokas Baciuska jokered on lap 1 and found good speed to take second place. However, the Lithuanian would be handed a 5-second penalty for track limits abuse and dropped to last. Guillaume De Ridder was in last.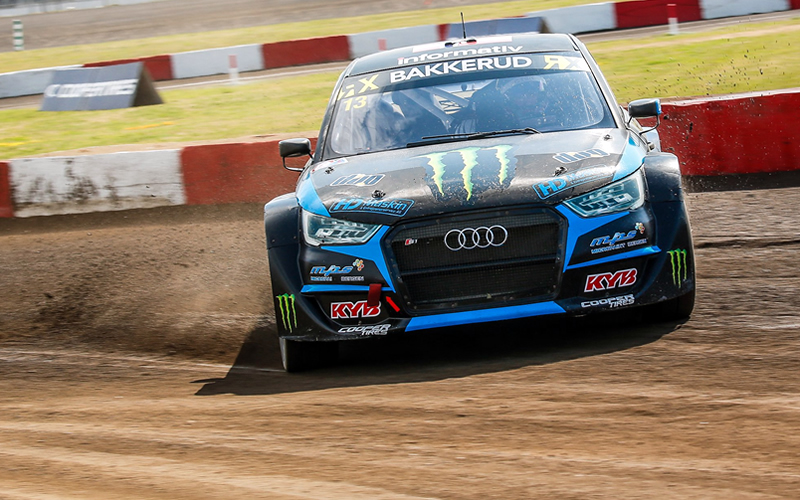 "I didn't really feel coming here to Canada that this track would suit us. But RX cartel being P1 and P2 after Q1. I didn't see that one coming."

Andreas Bakkerud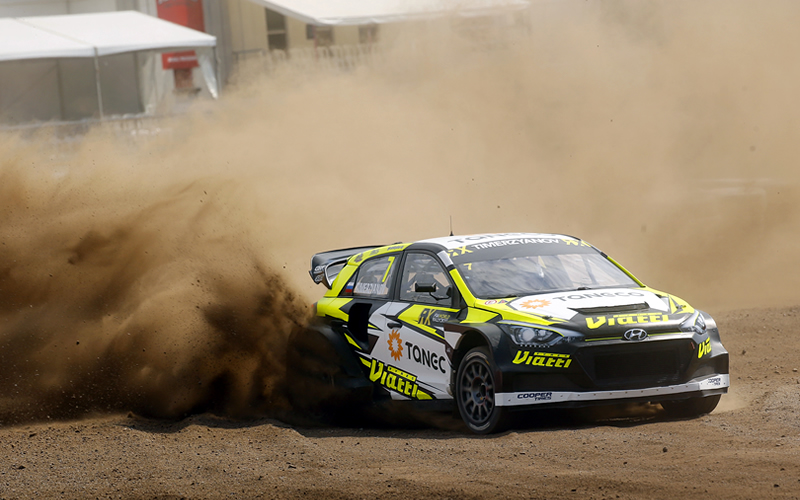 In race 1 and 3 the order was set after the second corner with no one overtaking on track or with the joker lap. Timur Timerzyanov beat Timmy Hansen into turn 1 ahead of Cyril Raymond while in race 3 Anton Marklund braked latest over everyone to take the lead and win. Kevin Hansen dropped to last as 5th on the grid Niclas Gronholm jumped up to second ahead of Timo Scheider and Janis Baumanis.
"Solid start. I don't know, everybody was braking very early into turn 1 so it was like okay, thank you, see you later. After that a clean race. Good pace and we will build on from this."

Anton Marklund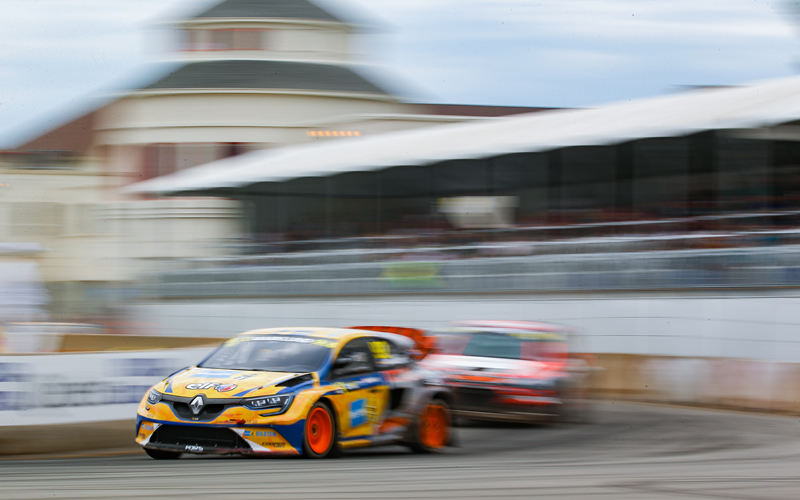 It was randomly decided that the fastest drivers would go out first. With a slightly damp track it meant the slower drivers in Q1 would have a chance at winning the session.
Anton Marklund went from 5th to 2nd at turn 1 with Doran holding the inside line to head the pack. Into turn 2 the Swede dived past and took the lead but the Brit managed to go around the outside to retake the lead at turn 5. On the second lap Doran suddenly slowed with a technical issue and crawled to last place. Bakkerud followed Marklund to second by holding off Timerzyanov. Timmy hit the wall on lap 2 and lost a large amount of time. Marklund and Bakkerud would end up only 6th and 8th in Q2.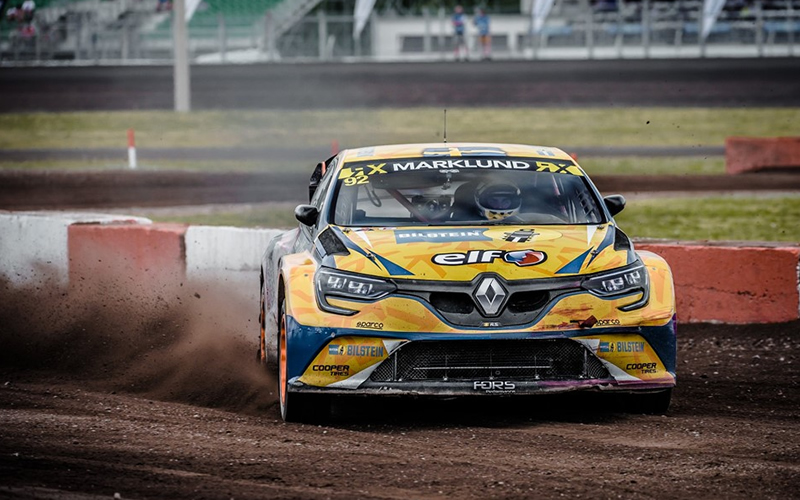 "Beat Liam and then I had some big dust and I thought it was on fire I felt it was smoke. I lost my focus into turn 5 and Liam was going around the outside like a Rockstar and I'm on the inside like a total amateur. Unfortunately, I think he had an issue and my pace was good enough to win the race."

Anton Marklund
It was 5 wide again into turn 1 with the whole field banging into each other. 5th place man Kevin Hansen tried to cut across the pack but was fired wide and came out of turn 1 in 4th. From second, Chicherit got the cut back on Gronholm as the Fin made contact with Scheider while Baumanis dropped to last after touching Kevin out of turn 1. Gronholm jokered with Kevin following him and despite being held up behind Baumanis and then Scheider, Niclas took the lead and with it won Q2 from Chicherit. Scheider held off Baumanis while Kevin was given a 5-second penalty for track limits.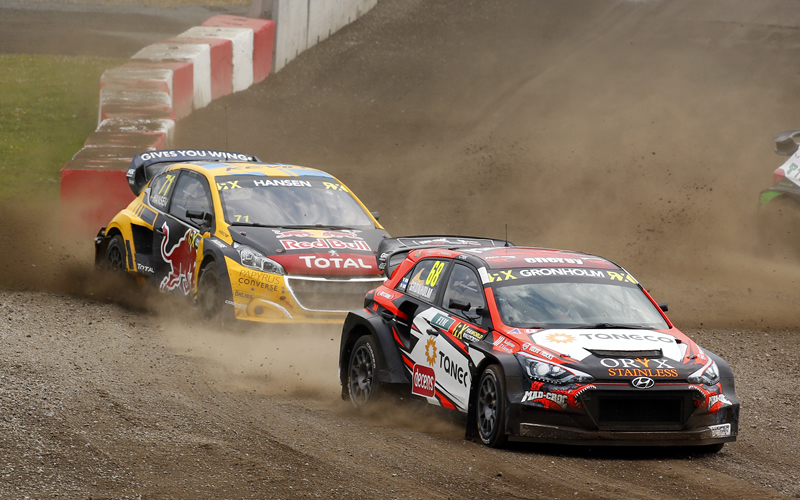 "Maybe before Baumanis went to the joker I was a bit held up. Not a clean run. The starts are not really good either. It's nice to get a heat victory but I would like to have a more clean run."

Niclas Gronholm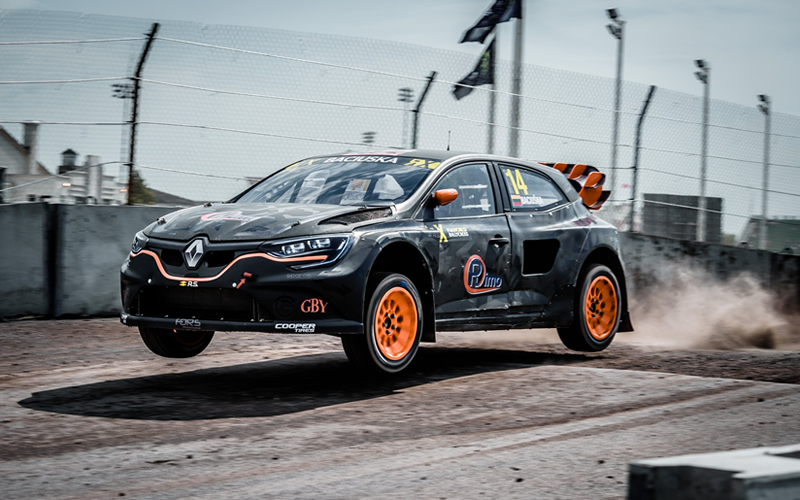 Szabo and Baciuska won the last 2 races to end up 7th and 3rd in Q2. Szabo relied on mechanical issues for both Paasonen and Cyril. Paasonen was clipped by Cyril, breaking the Fin's suspension and causing 2 spins while Raymond slowed on the final lap.
"Now I won. My times are not the best yet so I still have something to work on but I do my best overnight and hopefully I will find some speed for tomorrow."

Szabo
Niclas Grönholm topped the standings from Bakkerud while championship leaders the Hansen brothers were down in 11th and 12th in the standings.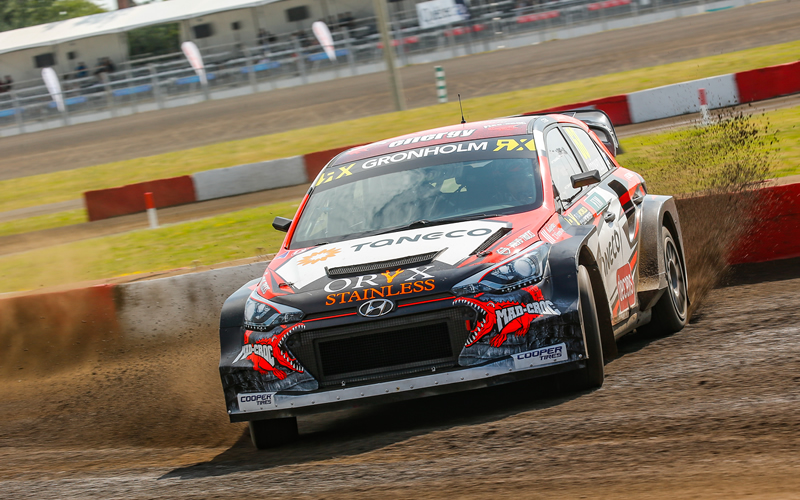 Timmy Hansen won the opening race from Doran. The Brit looked set to lead into turn 1 but made contact with an erratically braking Jani Paasonen and ran wide. Kevin tried to copy his brother's win but instead lost out to Raymond. The Frenchman held the inside into turn 1 and covered off Kevin with his joker lap with Hansen then unable to pass.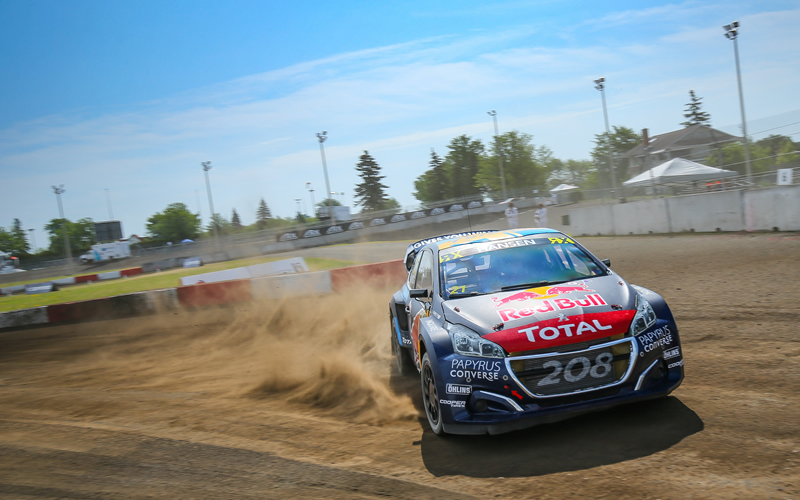 "Yeah it was a good run. It's a shame they put water on the track and don't give us the fair chance to race properly. I know it was one of those good runs and I did everything I could."

Timmy Hansen
Timur Timerzyanov made the best start and led the field with Bakkerud going last to second out of turn 1. The positions stuck throughout the race with Bakkerud holding off Marklund, Bennett and Szabo as Timur set the fastest time of Q3.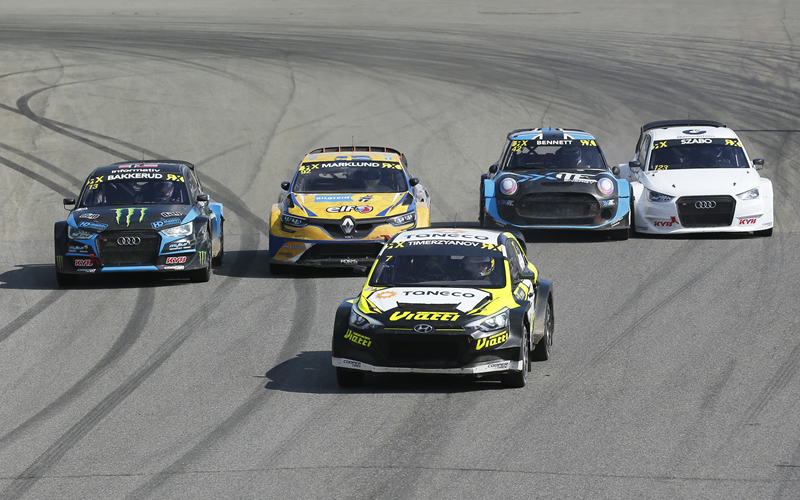 "Was really happy. I think we done a good job with the guys. I think I was really lucky. Last lap on the first sector I done such a big mistake. It was really close to crash my rear into the tyres but I think I get some points for the drifting."

Timur Timerzyanov
At the start the field stayed together with Baumanis and Baciuska squeezing Scheider who was launched in the air across Baciuska's bonnet. Timo spun and hit Chicherit's front left forcing the Frenchman to retire. Separately, Baumanis pushed Gronholm into contact with the turn 1 wall but Niclas held the inside line. Near the end of lap 1, Baumanis slammed into the tyre wall and spun. He reversed towards the final corner before grabbing first gear and accelerating down the main straight, already overtaken by Baciuska. Gronholm avoided all the chaos and set the second-fastest time of Q3 to bring up a GRX 1-2.
"We had a big collision with Janis in the first corner. I hit the metal wall on the inside and Janis on the outside so the steering wheel is a bit bent. It wasn't a clean run. I made a mistake on lap 2 and almost went into the tyres so lost a lot of time. From there on it was a bit more careful than yesterday."

Niclas Gronholm
Niclas extended his points lead over Bakkerud with Timur now in 3rd,a resurgent Timmy Hansen in sixth and Kevin was down in 10th, only 2 points ahead of 13th place.
Chicherit and Baumanis won the opening races ahead of Timo and Baciuska after going around the outside of the pack. Paasonen and De Ridder brought up the rear in each heat and weren't fast enough to progress to the semi-finals. Baumanis and Chicherit would end Q4 in 2nd and 3rd respectively.
"When you have a bad race you pay the next one cos I was first to go. Super slippery, lots of gravel so I just do the best I can. I just try to stay with the top 8 at least."

Chicherit
The whole field made contact at the start with Bennett forced into the side of Marklund and both suffered wheel damage forcing Bennett to pull off. Kevin Hansen almost spun but held the car and managed to brake latest to overtake Raymond with Szabo 3rd. Cyril used his joker lap to try and overtake the leader but instead was overtaken by Szabo. A mistake by the Hungarian let the Renault driver sneak back past with the pair side-by-side for a few corners before Szabo had to settle for 3rd.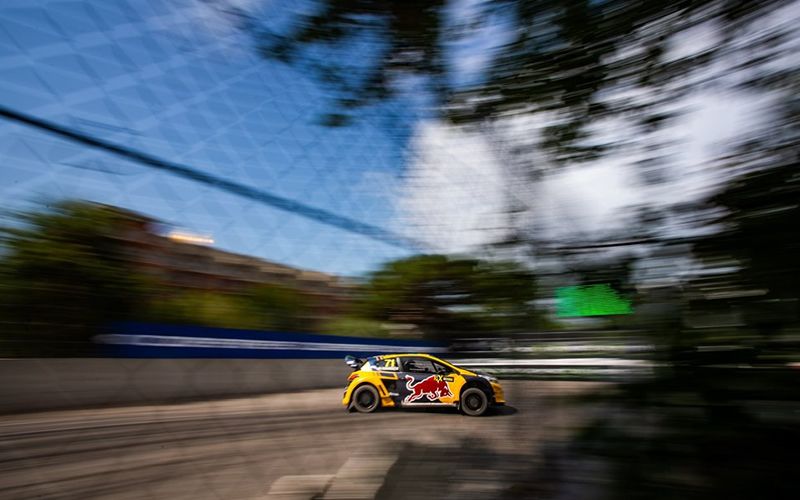 "I had decided that this needed to be my run. And it was. Not in every way. Okay I survived the action on the straight. I never like when people push on the straight. I really just needed to grab that P1."

Kevin Hansen
Bakkerud made the best start and cut across the GRX pair. However, he made contact with Gronholm who hit Timur with the Russian and Norwegian both being spun in front of Gronholm. Timerzyanov managed to catch his slide and came out of turn 1 in 3rd after avoiding Bakkerud's out of control car. Timmy also had to take avoiding action and clipped the spinning Audi losing even more time than Timur. Gronholm took the lead from Doran who snuck by on the inside. A few corners later Doran hit the Joker lap exit wall which caused his tyre to deflate over the course of the next lap. He jokered to cover off Timur and Timmy as they closed on him going onto the final lap. Hansen overtook Timur into turn 5 but 2nd place Doran half spun and almost stopped. With nowhere to go, Timmy hit Doran and spun both of them with Timur bouncing off the outside wall and driving into Timmy, breaking the Swede's front left. Bakkerud came across the stopped cars and avoided them all the take 2nd. The group spent a lot of time trying to reverse and after some more contact Doran drove out in 3rd with Timur in 4th. Timmy, with his wheel hanging off, limped his way to the finish so as not to record a DNF, albeit over a minute behind. Gronholm set the fastest time of Q4 and won qualifying.
"I don't know what happened behind me. I just got sandwiched into turn 1. Bakkerud and Timur went straight on into each other. From there on it was more or less trying to control the speed and not hit the pot holes. It's now really rough on the track."

Niclas Gronholm
Timmy's 15th fastest time didn't give him enough points to qualify for the semi-finals for the first time since 2016. With Gronholm and Bakkerud in first and second, they closed to within 17 and 5 championship points respectively of Timmy with Kevin only another 10 points ahead.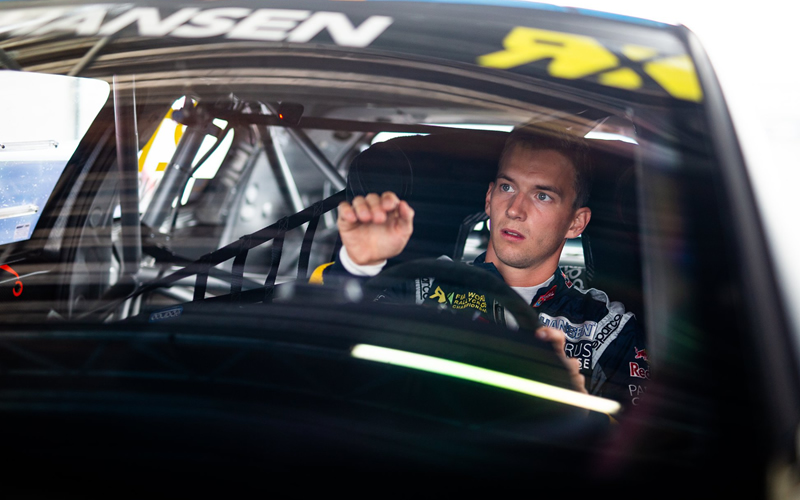 "It's hard to stand on the side here. In Q4 I had a good run, but I was at the wrong place in the wrong time. That's racing I just have to accept it. I'm out of the semi from my perspective, no reason. Have to watch the others. I'm helping Kevin now."

Timmy Hansen
Timerzyanov made the best start from second with Baumanis following him past Gronholm through turn 1. The pair stayed out front the whole race even with Timur clipping the wall and causing his car to crab. Kevin got up to 4th and took the joker lap with Baciuska on lap 1. Raymond was 6th at the start and would end up in that position but not before holding up Kevin until the Frenchman jokered on lap 3. The next lap Gronholm jokered but came out behind Kevin which gave Hansen the last spot in the final. Baciuska tried to dive past Gronholm and cost them both time as the Fin tried to keep it out of the wall with Baciuska taking some damage and retiring with Raymond.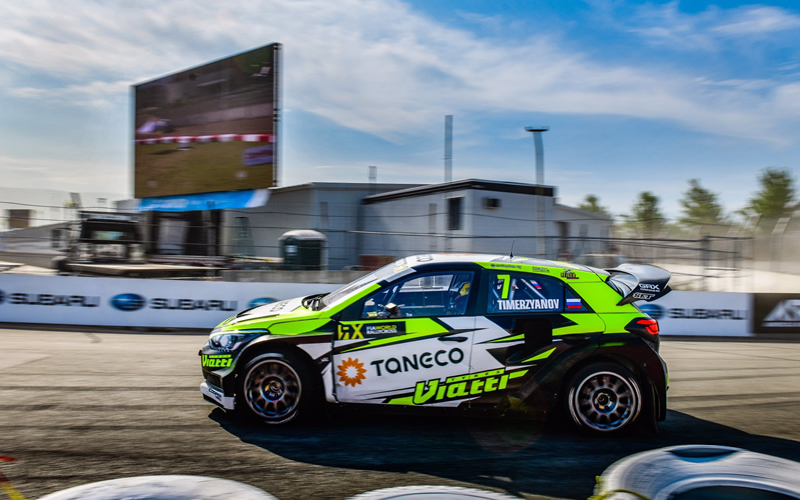 "The first lap I think the fast gravel corner was quite wet. Too quick in. It was a little too wet and sliding into the wall. Hit the wall. I think we done a good job after Q4."

Timur

Chicherit made the best start but Bakkerud held the inside to take first. Doran tried to follow his teammate through to 2nd but had to fall in behind Chicherit. On lap 2 Doran tried to slide up the inside of Chicherit but instead half spun. Timo had to stop to avoid contact and Marklund who had already jokered overtook Timo and closed on the yet to joker Doran.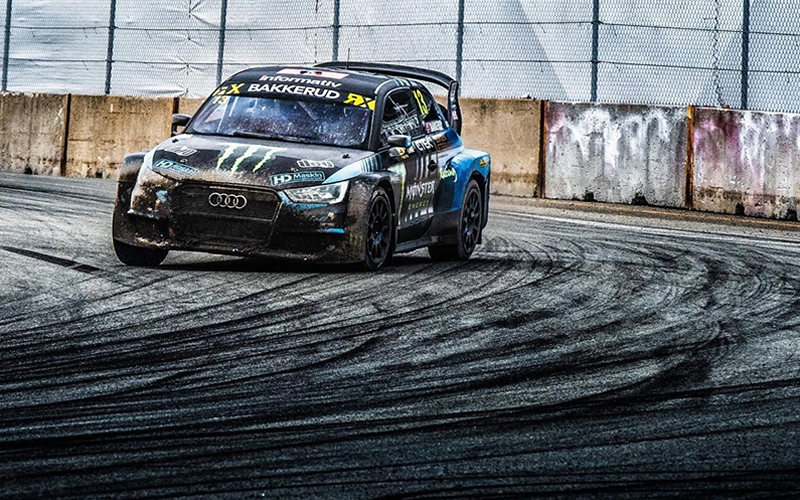 Timo had some damage on the front of the car but continued at the back. Coming onto the final lap Chicherit slowed on the main straight but Doran couldn't pass and instead lost more time so that when he jokered he was 2 seconds behind 3rd place Marklund. Bakkerud held onto a comfortable lead even after jokering to overtake Timmy Hansen in the driver's championship.

Timerzyanov made the best start but again Bakkerud held the inside to take the lead. Baumanis managed to dive up the inside of Timur and Kevin settled for 4th after looking to try and follow the Latvian through. Chicherit made a great start from 3rd but an unresolved engine issue from the semi-final meant he was last in turn 1 and the race. Timur and Marklund jokered straight away and quickly passed Chicherit. Marklund found a way past the Russian before the end of lap 2. When Kevin jokered he came out next to Marklund and pushed his fellow countryman hard into the wall forcing Anton into retirement on the exit of turn 6. As Baumanis came out of the joker lap in second, Kevin spun to last which would make little difference as Hansen would be disqualified from the final for hitting Marklund out. Bakkerud took the alternate route on lap 5, retained his lead and a lap and a half later Andreas won his first event since 2016 to close within 5 points of Kevin Hansen. Baumanis took his best ever result with 2nd while Timur took his second podium of the season.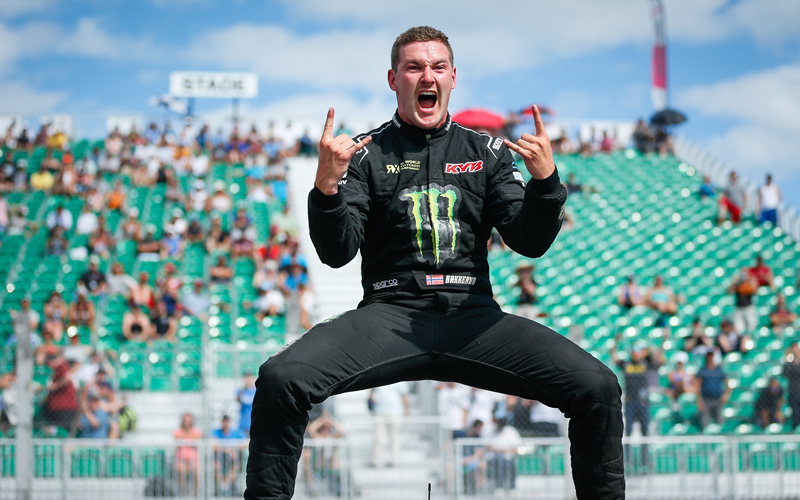 "Well if you interview me just after I cross the finish line you would get a lot of emotions. We have worked hard as a team. I haven't won since the end of 2016. It's been some challenging months before the season started. I feel we have been so close in Silverstone, in Belgian, in Sweden. It was not without drama."

Andreas Bakkerud

In 4 weeks the championship heads to Loheac where the championship battle will continue.
Word By Callum House – Xlerate