DATE NIGHT AT ACE CAFE
06/01/2018
4th Annual Ford Enthusiast Meet | Ace Cafe, London | 06/01/18:
It's Saturday night which can only mean one thing, It's Date Night with the Mrs, promising her an evening out at a popular hot spot in North London we jumped in the car heading off down the M1. Upon arriving at The Legendary Ace Cafe just off the North Circular and being greeted with a gathering of Ford Enthusiast it was not exactly her idea of Saturday night entertainment and to add to her pain, it was flipping cold outside with just a mere 3 degrees registering on the in-car thermometer.
Hmmm I haven't pulled a fast one like this on her since our so-called beach holiday to Sardinia in 2016 when the World Rally Championship just happened to be on, some serious brownie points will need to be earned after this one. Muttering in my most loving of voices, "We don't have to stay long and if you get cold I'll treat you to a Hot Choccie inside where it's warm", grudgingly she donned he bobble hat and gloves and we got out to have butchers at what was on show.
Upon having a mooch around there was a decent selection of Blue Ovals both old and new; myself and the wife learned something new this evening, She learnt what a MK3 Ford Capri looked like and I learnt that she liked MK3 Cortina's, as we stopped to take a look at a minter which was parked up.
ST & RS badges could be seen representing the newer generation of Performance Fords and were holding their own against the classic and retro machinery of which old gits like myself tend to favour more but hey ho the Mrs and I got some ideas as to what we can do to our MK3 Focus in order to tart it up a bit. Now I haven't been hanging around at night attending car meets for some 10 years or so now, the lighting played havoc with my photography so I was a little rusty as one can imagine, but neither the less I took a few snaps before we ventured inside for some warm fuel.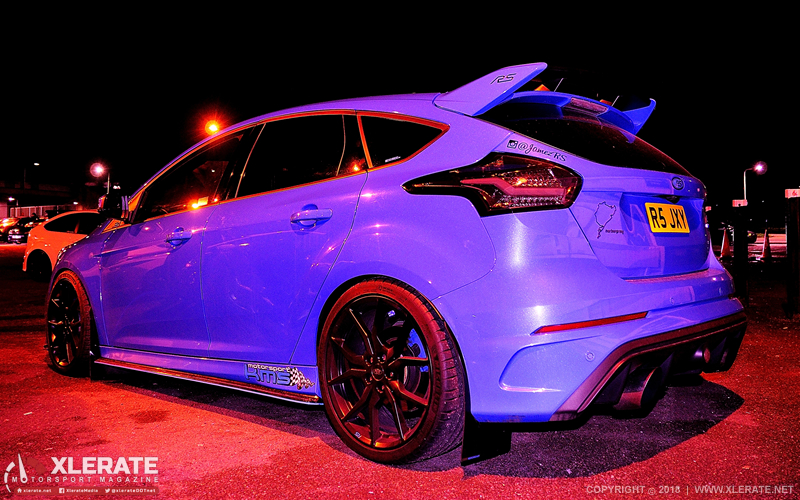 Eventually, the cold got the better of us so we jumped back in the car, cranked the heating up full whack and headed home. All in all this meeting of Ford Enthusiast produced a very reasonable selection for our viewing pleasure, maybe the cold put off a few more from attending as Ace wasn't as packed as we were used to seeing like back in our day.
Words & Photo's By Andy C | Copyright © 2018 Xlerate