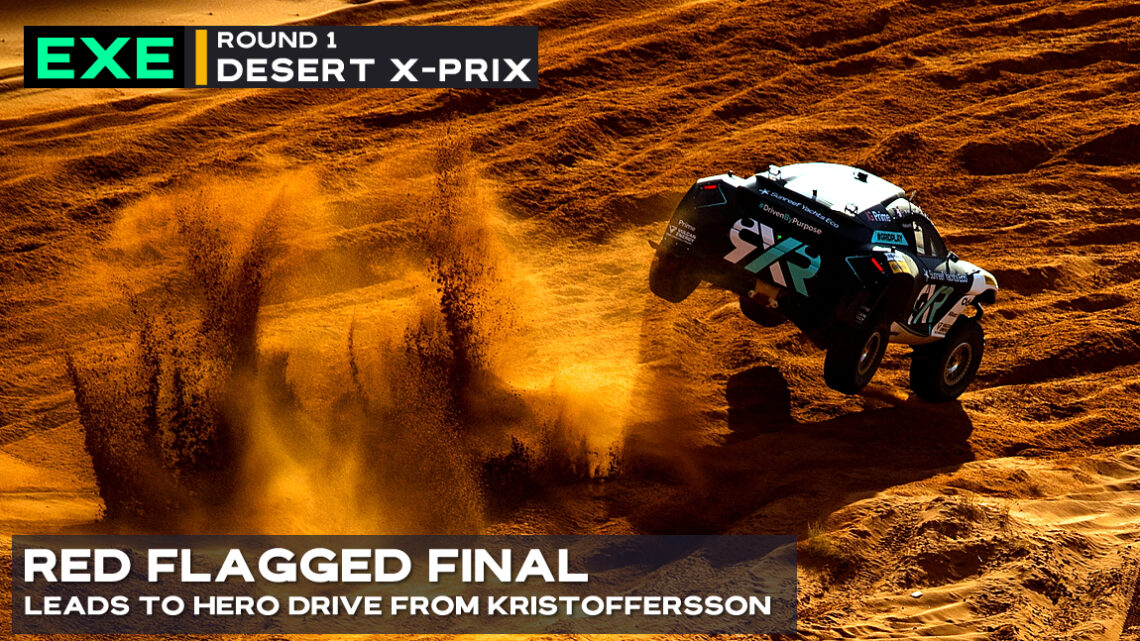 EXE | RD1 – DESERT X-PRIX FINAL 2022
20/02/2022
Johan Kristoffersson's late charge helps Rosberg X Racing to back-to-back Extreme E wins in Saudi Arabia
Johan Kristoffersson was able to come from 13 seconds behind Laia Sanz's Acciona Sainz car to win the Desert X-Prix for Rosberg X Racing.
After teammate Mikaela Åhlin-Kottulinsky had sustained cosmetic damage and fallen away from leaders Acciona Sainz and Team X44, Kristoffersson summoned the drive of his life to catch both cars.
The RXR team were able to stay in contention throughout the weekend and perform when it mattered, with other teams struggling to stay upright whilst bouncing across the desert dunes of Neom.
Timmy Hansen (Andretti United Autosport) and Tanner Foust (McLaren XE) both suffered significant rolls during Sunday's action, following Christine Gz's accident in qualifying.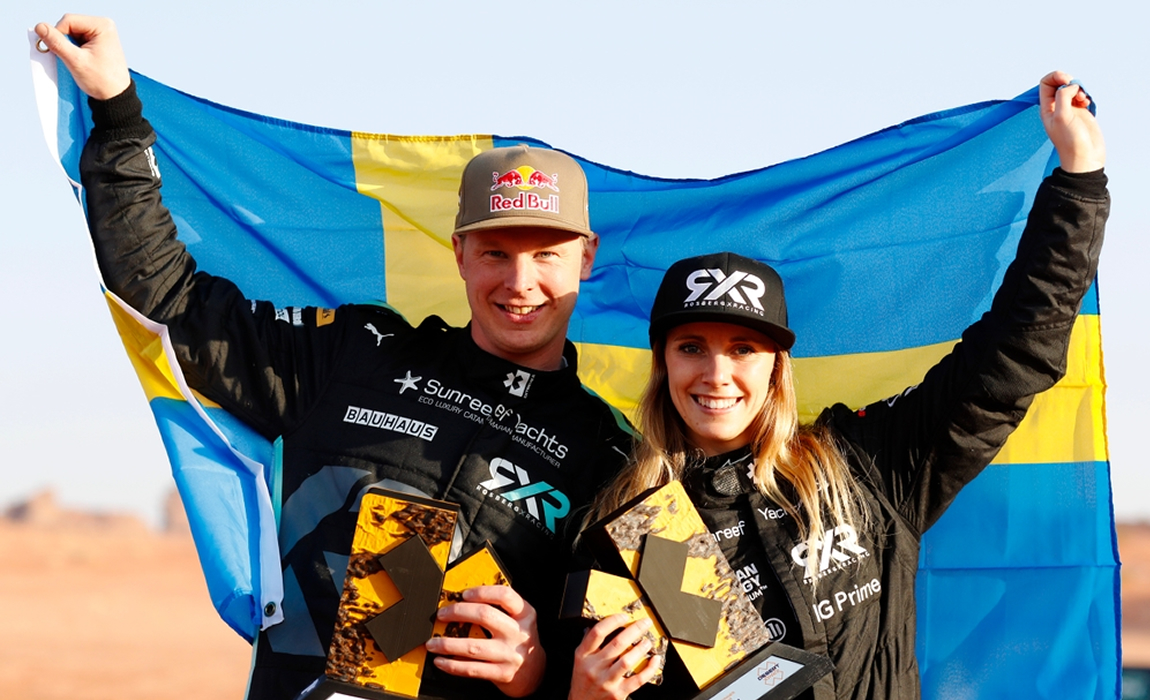 Photo: Mikaela Åhlin-Kottulinsk & Johan Kristoffersson | Rosberg X Racing (RXR)
---
Red-flagged final leads to hero drive from Kristoffersson
Carlos Sainz made a blistering start to the final, leading ahead of Sebastien Loeb's X44 car, with Åhlin-Kottulinsky and Foust trailing. Foust lost visibility in the dust that was flung into the air and ploughed into the back of Åhlin-Kottulinsky, and in losing control hit a patch of camel grass which flipped the car onto its side.
Åhlin-Kottulinsky was left with damage to the rear of the RXR car but was able to minimize time lost and continue racing. As Sainz and Loeb arrived in the switch zone, the race was red flagged in order to clear the debris left behind from Foust's accident.
The race restarted 15 minutes later, with staggered starts according to the time each team arrived in the switch zone. Kristoffersson had 13 seconds to make up on both Cristina Gutierrez and Sanz, and with Gutierrez struggling to find traction in the early part of the lap, was soon past the X44 car. He continued his charge and soon had Sanz in his sights, making a move around the outside of the penultimate corner, sending the car deep and into a lower option of the course.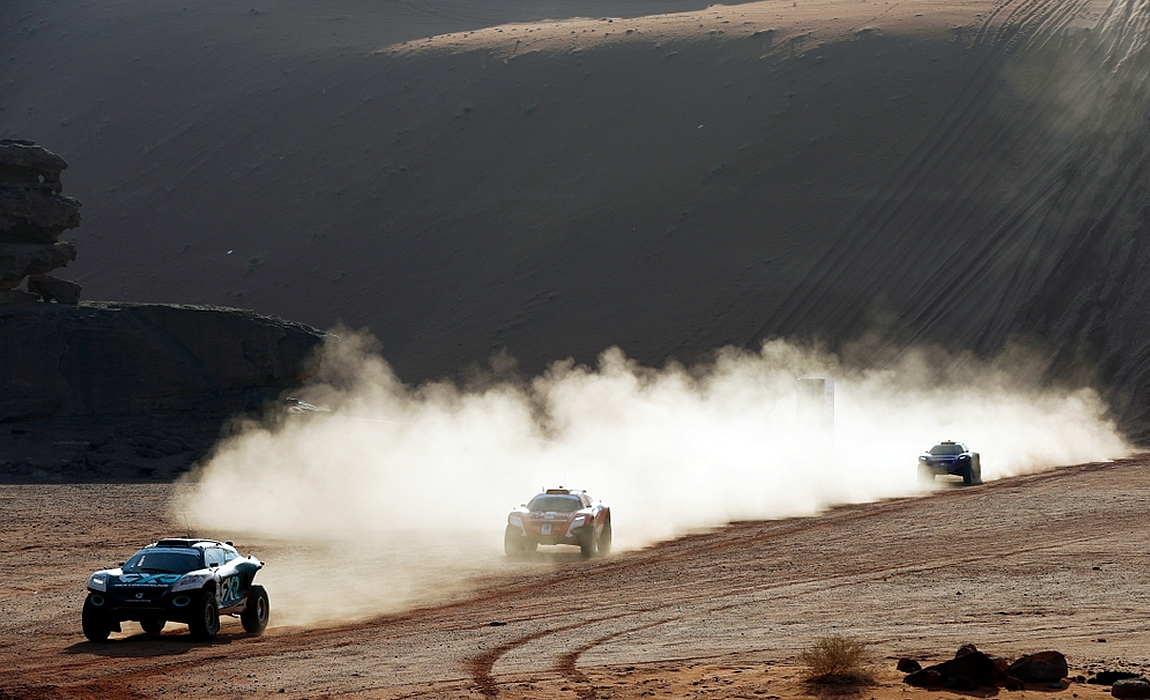 Photo: RXR leading Acciona Sainz XE team and Team X44
Kristoffersson carried his speed to cut Sanz off, and then blast down the hill after the final corner to take the win in Extreme E's first X-Prix of the 2022 season.
---
RXR benefit from XITE penalty in semi-finals
RXR almost had to watch the final from the service park, as they were beaten on the line in their semi-final by XITE Energy. Kristoffersson had to fight hard to stay ahead of championship reserve driver Tamara Molinaro, who was filling in at XITE, before Molinaro got caught on an alternative line and dropped back.
In the final lap, Åhlin-Kottulinsky bogged the car down heading into a corner, losing her flow and rhythm and allowing Loeb for X44 and Oliver Bennett in the XITE car to sail past. Åhlin-Kottulinsky was unable to catch Bennett, beaten by 0.07 seconds to the finish line, but fortunately for RXR, Bennett had caught a track marker and was handed a 10-second penalty after the race, dropping him down and out of contention.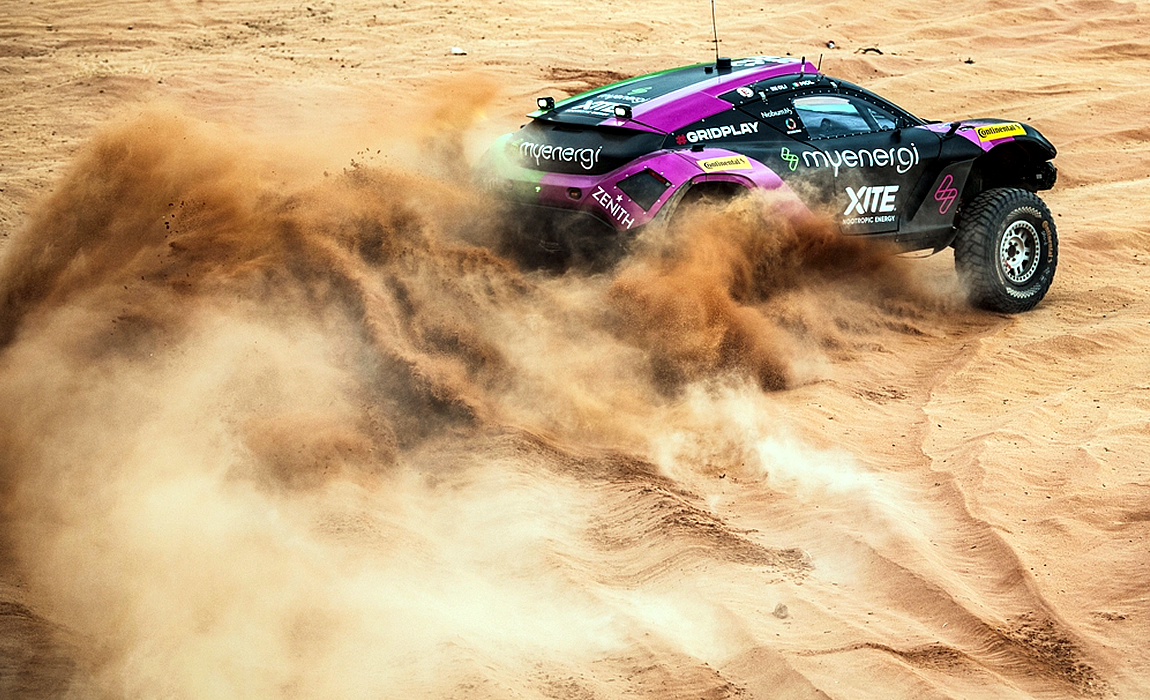 Photo: Tamara Molinaro / Oliver Bennett | Xite Energy
Regardless, the weekend was a positive result for XITE Energy, who finished 6th overall for the X-Prix and earned 10 championship points for their successes.
McLaren suffer full range of emotions on Extreme E debut
After having to settle for a place in the Crazy Race, McLaren XE were getting a rough introduction to the championship.
However, their fortunes appeared to change for the better in the Crazy Race, as Emma Gilmour drove to the front of the field ahead of Jutta Kleinschmidt and ABT Cupra.
An impressive drive from Gilmour kept McLaren ahead going into the second lap, but Foust was immediately under intense pressure from fellow rookie Nasser Al-Attiyah.
The Nitro Rallycross star put in a brilliant final sector time to take the win by two seconds, and secure passage into the final.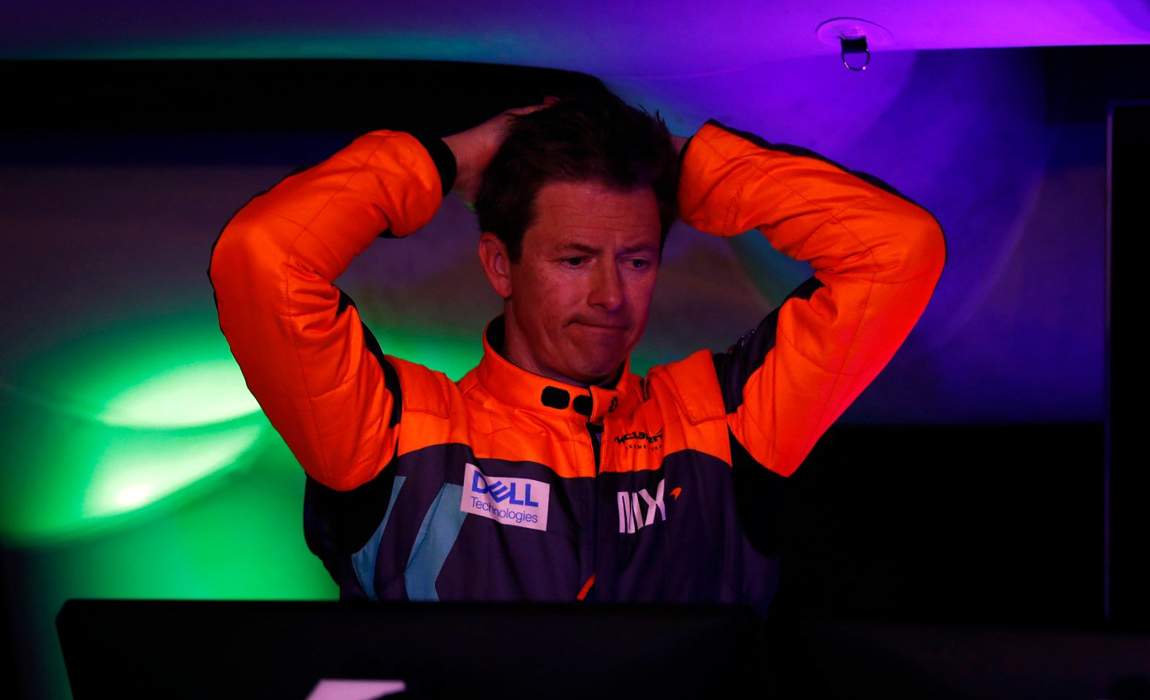 Photo: Tanner Foust | McLaren XE
Unfortunately, that's where the team's day would come undone as Foust's collision and roll saw the car suffer terminal damage and they were forced to retire.
---
CLOSING SHOT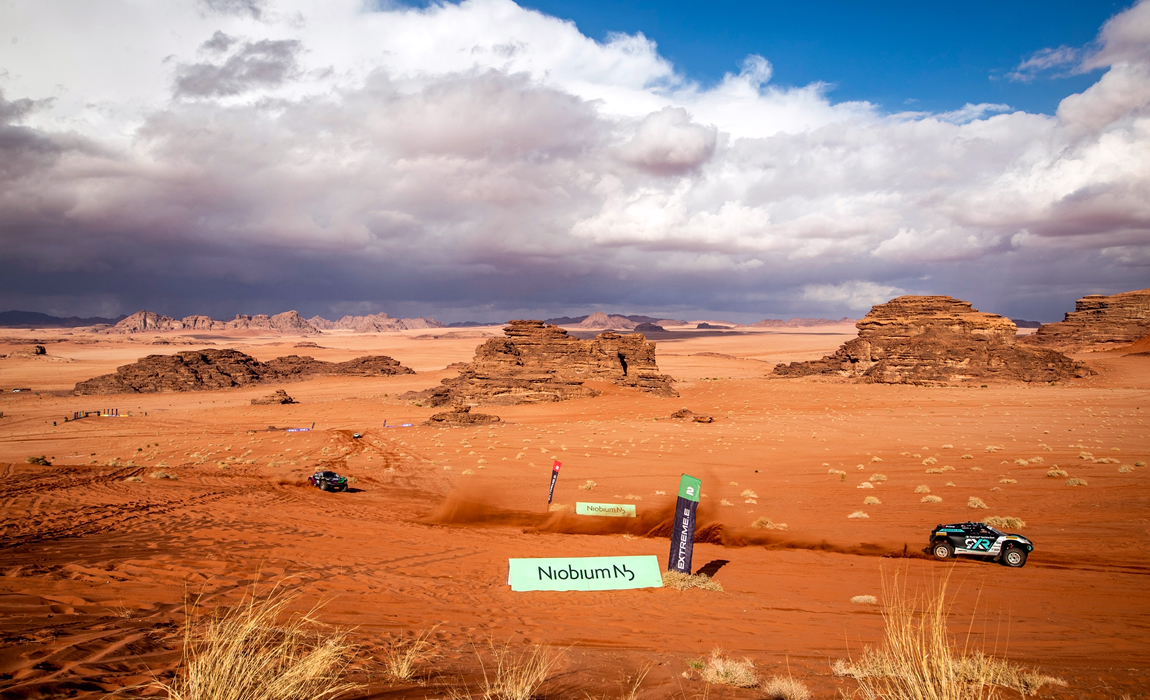 Photo: Mikaela Åhlin-Kottulinsk & Johan Kristoffersson | Rosberg X Racing (RXR)
Up Next…
Extreme E returns to Sardinia on May 7-8, for the Island X-Prix, where RXR took victory in 2021.
Words By Cameron Wyper | Photos: Extreme E Media