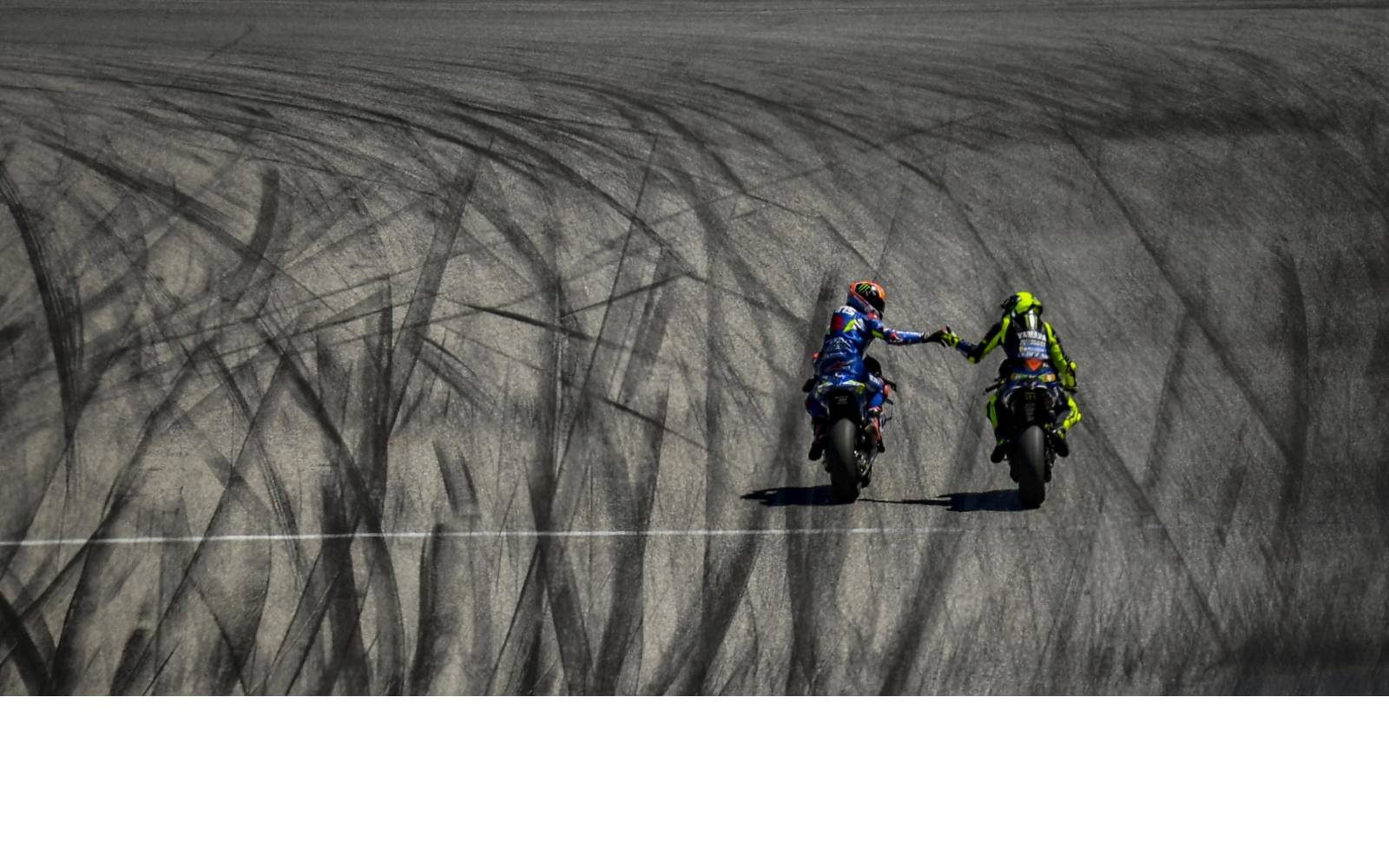 MOTOGP | RD3 | USA 2019
20/04/2019
It was a mixed bag for the Free Practise sessions and Qualifying due to the most bizarre weather conditions. During Friday both FP sessions were dry and sunny but were not dominated by Marc Marquez for once who has won here for the last six years and taken pole position every time.
FP1 finished with Marc Marquez top, Maverick Vinales in second and Jack Miller third, whilst Andrea Dovizioso did well to finish fourth on the Ducati that does not usually do too well here.
Valentino Rossi was quietly beavering away a little unnoticed in my opinion up to fifth position but looked in good shape, clearly looking to make good use of the sessions and get a good qualifying.
Fabio Quartararo was the highest placed rookie in eighth and doing well, and the two Aprilia team-mates were in the top ten too and making good progress after a torrid start by Andrea Iannone.
Cal Crutchlow was in the top ten and looking frustrated and still angry about the last race in Argentina. However, since then we have had the episode cleared up and after running a super slow motion at 1000 frames per second you could see there was a slight movement of his bike going forward, this cannot be seen by the naked eye. Therefore, by the letter of the law, he was deemed to have made a jump start as there is nothing in the rules to allow discretion.
In FP2 there was a change in the top three and this time it was Maverick Vinales in first, Marc Marquez in second and "The Doctor" Valentino Rossi in third. Nearly everybody in the paddock was having difficulty with the track which still has a very bumpy surface and just like last year, they did try to flatten some of them. It seems though that in areas of the track it has made it worse and especially down the 200mph plus back straight there are terrible bumps and lots of dust kicking up.
FP3 was cancelled due to very bad weather, the rain, thunder and lightning moved in and took over and in between, there was a bit of sunshine.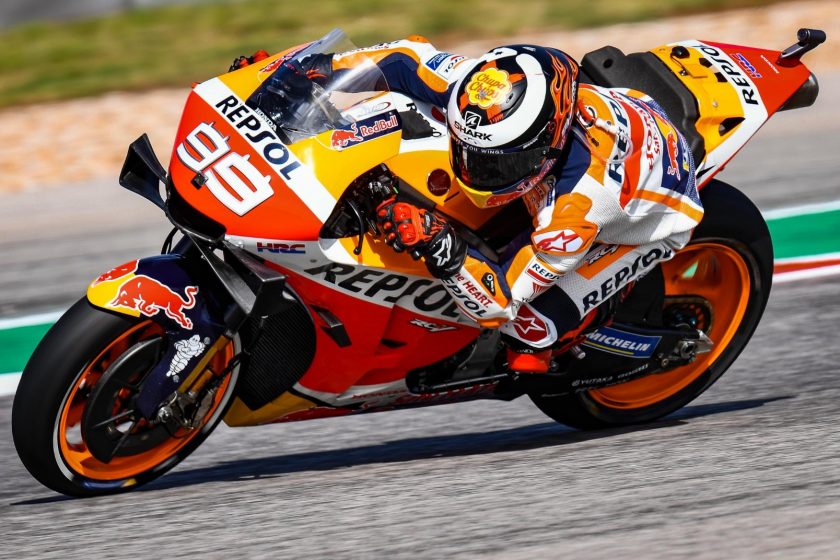 In the qualifying, the weather was a lot better and therefore the riders were able to get some decent times in. It was still Marc Marquez on pole position yet again on a track he has dominated since 2013, it was his seventh consecutive pole in America.
However, on the timesheets, the gaps behind him were not so significant as the other riders had made progress, unlike previous races.
We have Valentino Rossi in second with his best qualifying in America since Laguna Seca in 2009, Cal Crutchlow in third and Jack Miller in forth the highest placed Ducati, and one of the title favourites Andrea Dovizioso was down in thirteenth.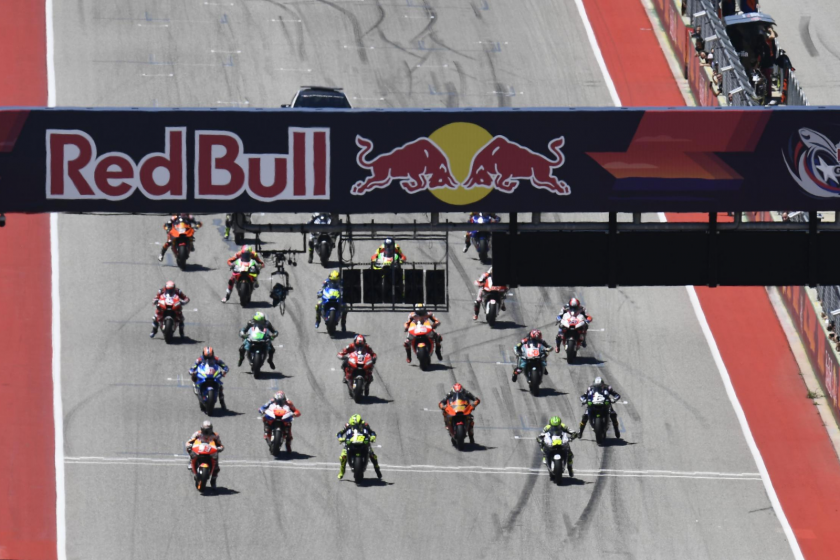 Off the line into turn one Valentino Rossi follows Marc Marquez, and already after following him through the flip flop corners two to seven and heading towards the back straight they make a good few bike lengths on third place.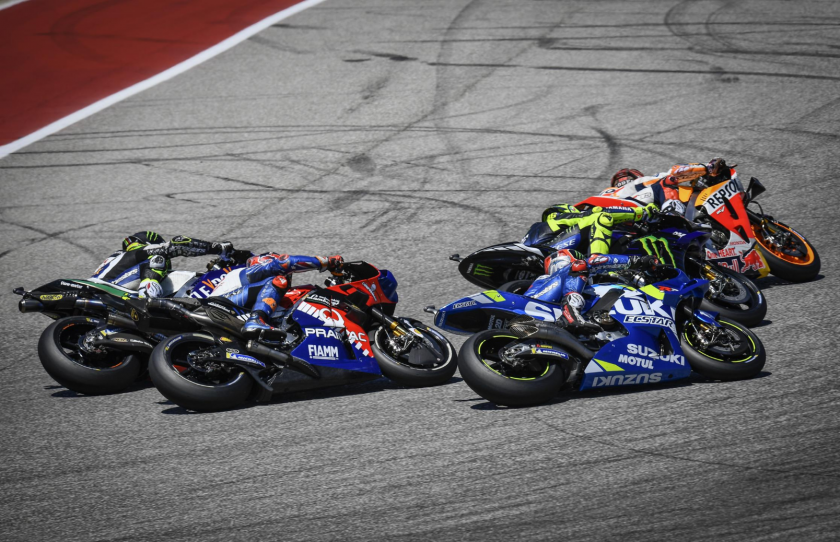 Thankfully no accidents on lap one but the most significant mover was Andrea Dovizioso going from thirteenth to sixth, great start by the Ducati man.
The first rider to hit the deck was Aleix Espargaro on the Aprilia at turn 14, he was ok and picked the bike back up. Into lap four and it comes up from the stewards that Maverick Vinales and Joan Mir have a ride through penalties for a jump start, that ended Maverick Vinales' challenge for a podium finish.
It appears they moved just like Cal Crutchlow did in the last race within their slots on the grid before the lights went out, at least the rules are being held up with consistency.
Cal Crutchlow crashes out into turn 11 on lap 5, in late on the brakes and loses the front end which wipes him out.
Maverick Vinales gets penalised twice because on lap5 he went around the penalty loop on track by mistake and then came into the pits for his ride through penalty, he will be mad with himself.
Marc Marquez on lap 8 crashes out at turn 12 at the end of the 200mph + back straight by going in too hot on the brakes and the front end gives in. In all the attempts to get back on the bike and start it, he falls off another 2 times in comical fashion.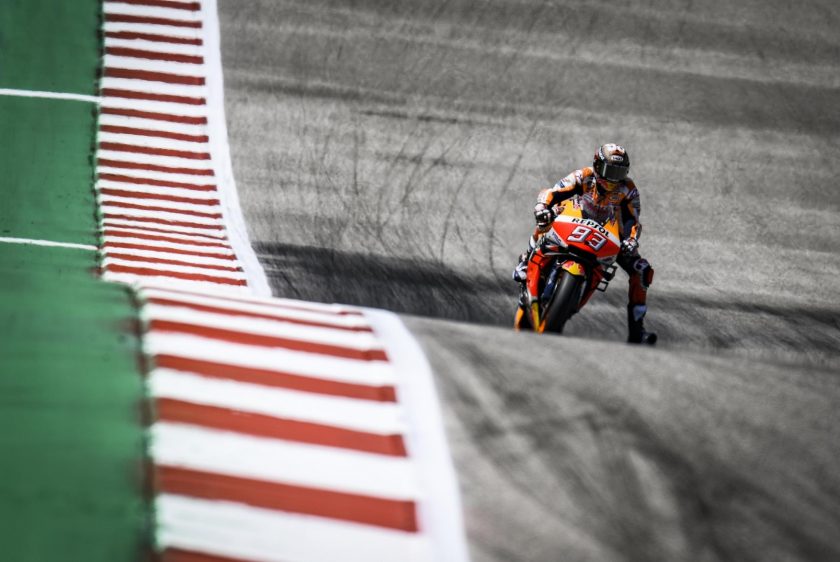 Everybody at the track did say the only person that could beat Marc Marquez here this weekend, is Marc Marquez which is exactly what happened even though he had a 4-second lead.
It is nearly 2 years since Valentino Rossi has won a race which was Assen 2017 even though he has had 20 front row starts since the pressure was on him now to win with Jack Miller and Alex Rins chasing (the Rossi fans go absolutely crazy).
Jorge Lorenzo runs into a technical issue on his bike at turn 12 a few laps after his teammate Marc Marquez amazingly, so it is from bad to worse for Repsol Honda, no points for them or their riders.
With 4 laps to go Alex Rins closes on Valentino Rossi and dives up the inside at turn 8, then down to turn 11 he goes in hot but Valentino Rossi just is not close enough to take advantage.
Now down the fastback straight into turn 12 Valentino Rossi goes in hot on the brakes to take the lead, but he runs into too deep and goes wide and Alex Rins keeps his place.
At this point, Andrea Dovizioso has passed Franco Morbidelli and gone into fourth, and now Jack Miller is struggling to hold on to third place with his soft front and rear tyres.
Into the last lap and Alex Rins has pulled out a 0.6-second lead but after turn 12 Valentino Rossi halves the gap and looks to set up a last corner lunge up the inside, unfortunately, he runs out of track and Alex Rins holds on over the line for his first MotoGP win.
Jack Miller held on to third place and Andrea Dovizioso takes fourth and Franco Morbidelli finishes fifth the highest placed rookie ahead of his teammate in seventh.
Valentino Rossi is happy and does a spectacular one-handed wheelie, he must be a little gutted at not getting the win, but he is very humble and good in defeat.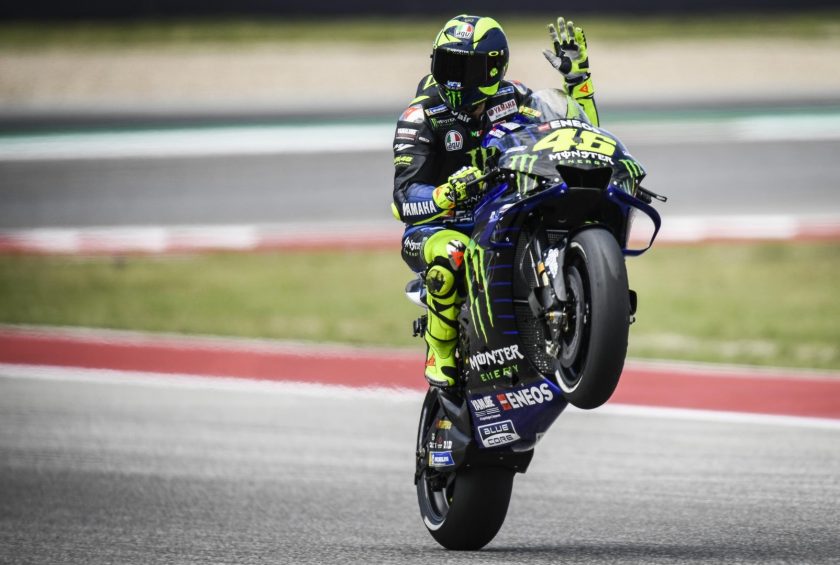 It was a very happy podium.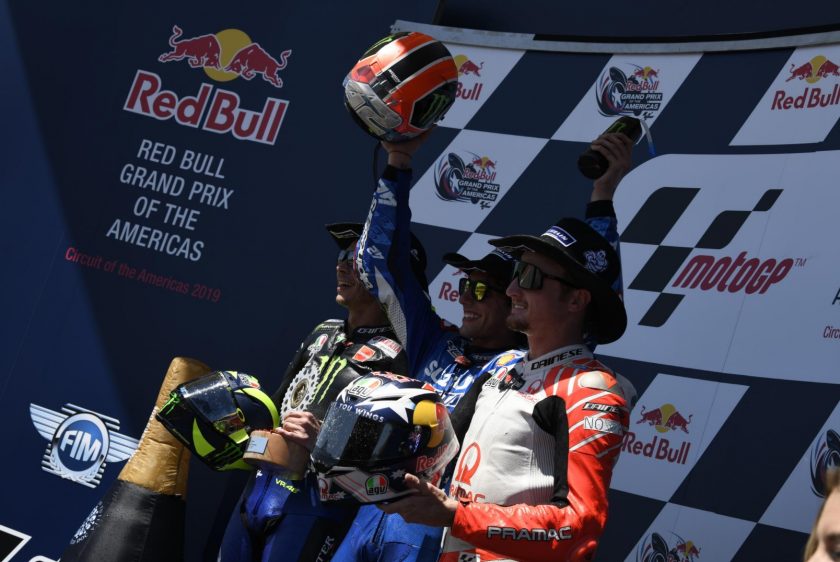 That was a good race and has now blown the championship wide open with Marc Marquez crashing out, he was looking to get 14 consecutive wins in America to take Agostini's record.
Had he done it he would have equalled Valentino Rossi's record of 7 consecutive wins at a single circuit which Valentino Rossi did at Mugello.
The next race is in Jerez, Spain where it will get interesting with the European tracks now so let's hope for more good racing.
Words By Emilio Sanchez for Xlerate
Photo's: MotoGP.com Copyright © 2019 DORNA