MOTOGP | RD5 | LE-MANS – FRANCE 2019
19/05/2019
Round 5 of the 2019 season took place at another of the iconic tracks which feature on the MotoGP calendar, Le Mans. As usual, the weather guaranteed nothing here so who would have known just what kind of a race that would have been in store.
Throughout the Free Practice (FP) sessions, turn 3 collected the most victims for crashes and the tyre choices were a bit of an issue for most riders.
Yet again one of the big named riders fell into the trap of not getting a good dry lap prior to qualifying and that was Valentino Rossi.
However, both he and Franco Morbidelli actually ended up with a slight advantage by having an extra qualify session to get used to the tyres on this ever changeable track.
They both qualified for Q2 and actually finished 5th and 6th respectfully; with Valentino Rossi in 5th this at least gave him a better starting point compared to the 13th he had in Jerez at the previous round.
Pole position went to Marc Marquez who equalled Valentino Rossi's 55 pole positions, with Danilo Petrucci and Jack Miller in 2nd and 3rd followed by Andrea Dovizioso in 4th.
Jorge Lorenzo was still struggling to get the best out of his Repsol Honda and could only manage 8th;  Maverick Vinales was mired down in 11th position way behind his teammate.
When the riders left the grid for the warm-up lap there was already drama into the dreaded turn 3 which claimed 32 victims over the course of the weekend.
Karel Abraham lost the front end on the brakes and Joan Mir followed in the same way, which left them both in the gravel pit all before the race had even started.
With all the bikes back at the grid lined up ready for the off, Karel Abraham was sprinting back to the pits for his second bike in order to start from the pit lane.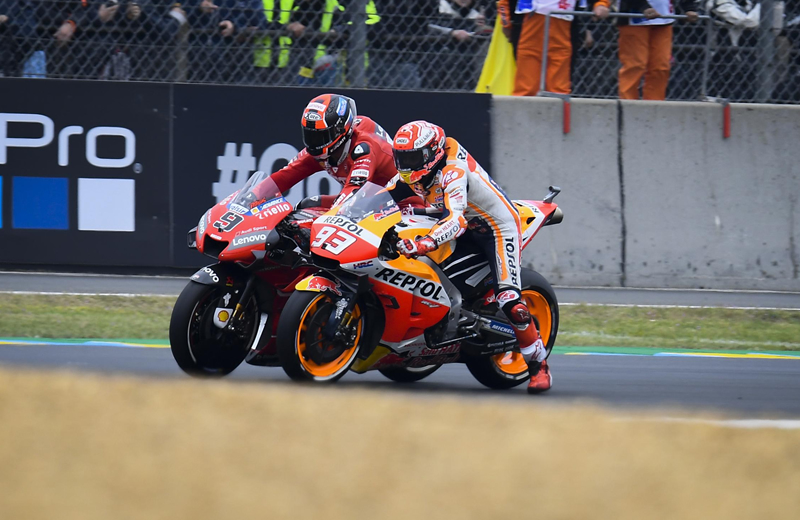 Off the line and into the dreaded turn 3 was Marc Marquez pushing past Danilo Petrucci and not giving him any space. This move was too forceful in my opinion and he really should have let up; Franco Morbidelli looks to follow through as well, luckily there were no crashes.
After about half a lap had passed, Karel Abraham had not managed to get out as his bike was not ready; Joan Mir did, however, manage to leave the pit lane and joined the race, if anything only to get some laps in.
At the end of the back straight it was Valentino Rossi pushing past Franco Morbidelli for 4th position, already not wanting to let the top three getaway.
At the start of lap 2 Danilo Petrucci made a move on Marc Marquez and on the cut back to the second apex lost the lead again, that was a close one.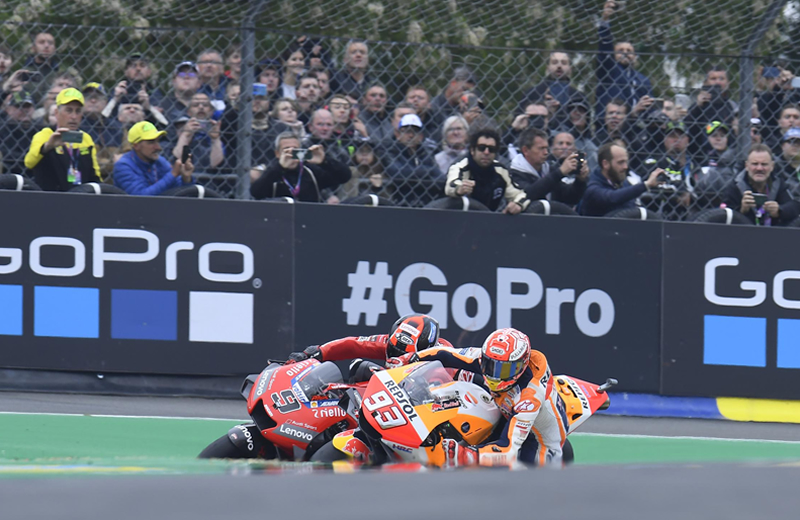 Looking aggressive on the day, Jack Miller got underneath Danilo Petrucci on Lap 3 for 2nd and at the next corner Danilo Petrucci ran wide, whilst Valentino Rossi moved up to 3rd with Andrea Dovizioso following him.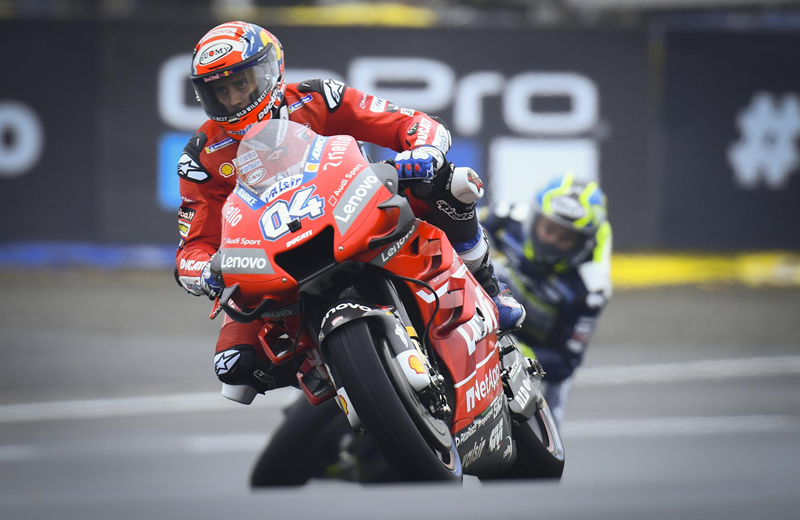 Andrea Dovizioso blasted past Valentino Rossi down the back straight on Lap 4, this was down to pure Ducati horsepower which the Yamaha simply does not have.
At the front Jack Miller was closing in on Marc Marquez and on lap 5 into turn 3 he dived past him to take the lead.
The action continued into lap 7 and Marc Marquez looks to dive up the inside on turn 3 past Jack Miller who then cuts it back at the next apex and gets the power on. At the very next corner, he runs wide and Marc Marquez cuts back underneath which then allowed Andrea Dovizioso and Valentino Rossi to close right back upon them.
At the end of lap 8 Francesco Bagnaia and Maverick Vinales collided together at turn 12 and both landed in the gravel pit.
Andrea Iannone ended his race on lap 9 with another failure, for some reason he just cannot get on with the Aprilia; which is a shame for such a talented rider.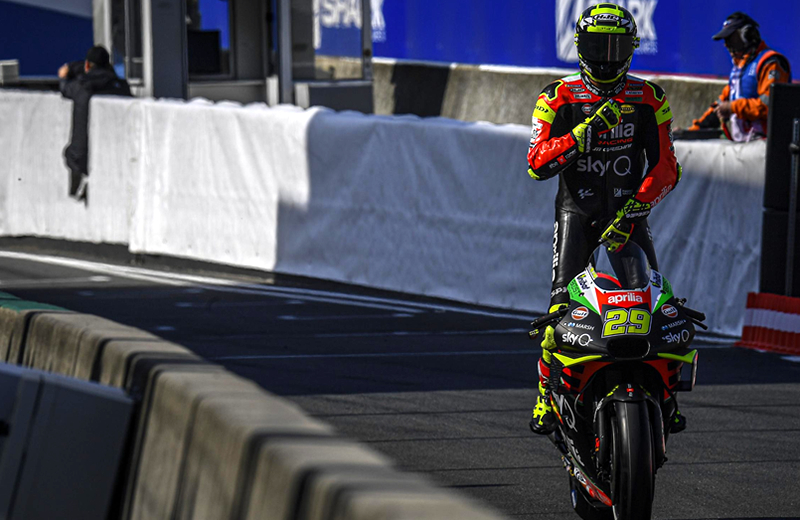 Into lap 13 and Danilo Petrucci gets past Valentino Rossi; it does look like the Yamaha does not have the pace to stay with the Ducati's and interestingly all of the top riders are on the same soft tyres which is unusual.
Takaaki Nakagami crashed out on lap 19 into turn 11, it was a bad one too, fortunately, he did get up from it.
Lap 20 saw Danilo Petrucci get past Jack Miller who was struggling for grip and continuously running out wide in the corners.
Marc Marquez had increased his gap but the 2nd to 5th group had shuffled up with Fabio Quartararo now lapping as fast as Marc Marcquez and now up into 9th closing Cal Crutchlow down.
Danilo Petrucci made a lunge on his teammate into the turn 3 of lap 23, he leaves a black mark on him and they knew that Valentino Rossi, who has late-race pace was closing.
Unfortunately, Valentino Rossi could not catch them and it was Marc Marquez who added yet another win to his collection, Andrea Dovizioso in 2nd and Danilo Petrucci in 3rd.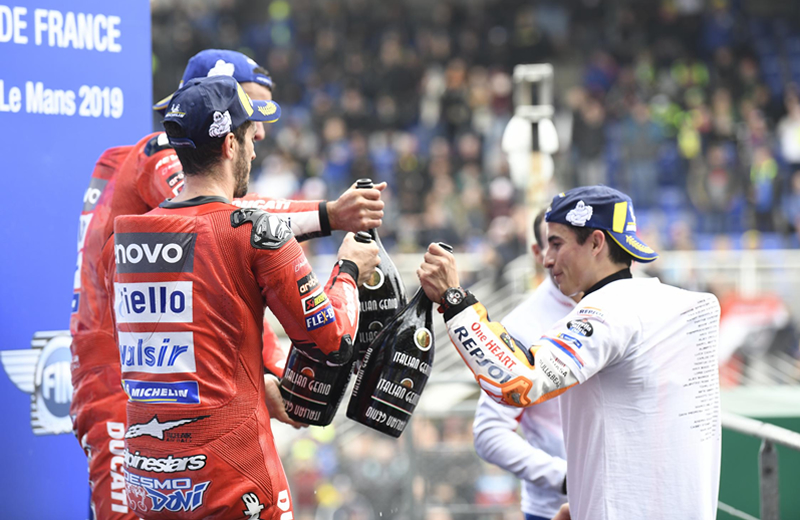 I have to say though, for me the ride of the race was Pol Espargaro on the KTM who finished 6th, 33 seconds ahead of his teammate Johann Zarco; this gave KTM their highest finish in a dry race.
Franco Morbidelli on the Petronas Yamaha was the highest finisher of the rookies in 6th position.
Next up is Mugello, Italy for another great track with an epic 220mph + home straight, see you there.
Words By Emilio Sanchez for Xlerate
Photo's: MotoGP.com Copyright © 2019 DORNA