WRC | RD4 | TOUR DE CORSE 2019
01/04/2019
This year's Tour De Corse presented a fresh new challenge for the world's best drivers with more than 75% of the route being new; this iconic event on the picturesque Mediterranean island provided plenty of action and a heartbreaking ending for one man in particular.
The event featured just 14 special stages covering some 347km of competitive rallying around the Island on tarmac roads that twist their way around the coastal and mountain roads, you can understand why it is often referred to as "The Rally of Ten Thousands Corners".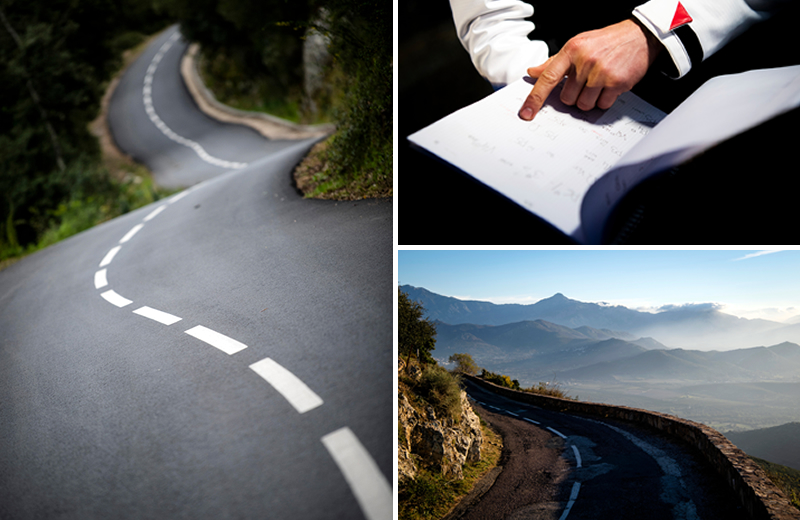 Thursday mornings pre-event shakedown just south of Bastia at Sorbo Ocagnano provided some indication of who would be on pace on the Asphalt. Championship leader heading into the event, Toyotas Ott Tanak could only manage the third-fastest time in his Yaris. He was 1.4 seconds behind the round 3, Rally Mexico winner Sebastian Ogier in the Citroen C3. Tanak's teammate, Kris Meeke was very much the man of the morning posting the three fastest times with his best run just 0.9 seconds quicker than Ogier.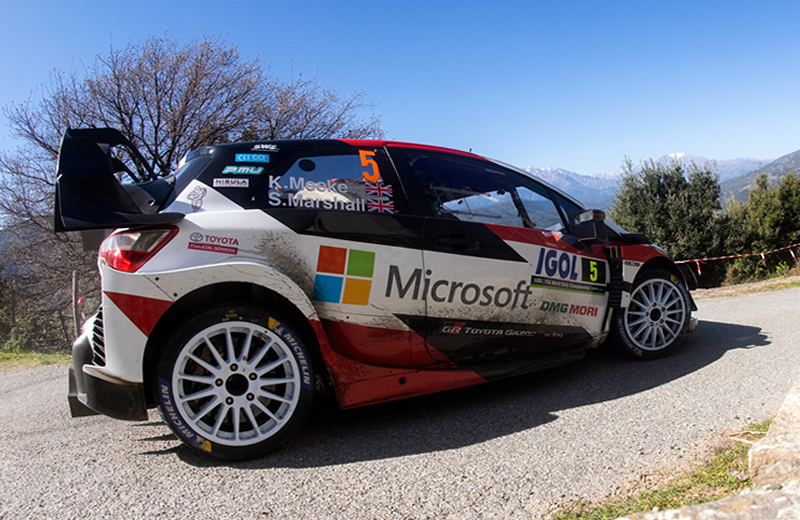 After Shakedown the circus headed South to Porto Vecchio for the opening ceremony ahead of the opening leg of the rally in the Southern Alta Rocca region on the Friday.
The first test of the rally came in the form of a 17km stage high up on the Bavella Pass to the eastern side of the Island. M-Sports Elfyn Evans was showing his intent early on taking the opening stage win in the Ford Fiesta ahead of Hyundai's number one driver, Thierry Neuville.
Fellow i20 driver Dani Sordo in third was making a pretty decent start to his second event of the season, but there were problems for some of the other front runners already.
On home soil, French rallying stars Seb Ogier and Seb Loeb both had a rotten first stage, Ogier spun on a hairpin and Loeb slid wide on a corner hitting a curb. Whist Britons Kris Meeke picked up a front-left puncture but stated that he didn't know how it happened.
Over to the west of the Island SS2 Valinco 1 was up next. Perhaps this slightly longer 26km stage would allow them to get into a better rhythm?
Neuville reported that he was struggling with the front of his car and he could only manage 4th, whereas Sordo remained consistent with another third fastest time, but those Toyota's were beginning to wake up.
Although Meeke was hinting that his pacenotes weren't great, he did manage the stage win and he was just 1.4 seconds ahead of teammate Tanak, who then moved into the overall lead. Tanak and Meeke continued their pace into stage 3 Alta Rocca 1, with Tanak beating Meeke by just half a second. The Toyotas were looking strong in this morning loop.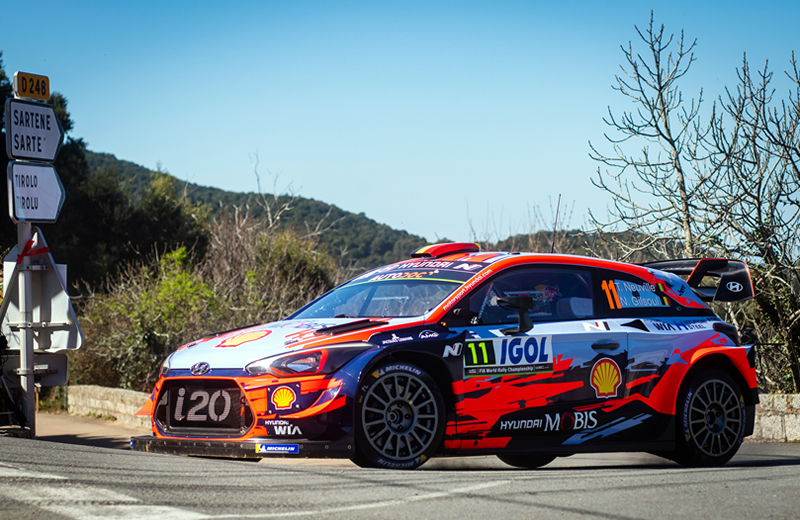 Evans remained in second place with Neuville taking the third spot away from Sordo who admitted that he "simply didn't have a good stage time in this one", coming in way down in 9th.
There was no service stop on Friday so the crews were having to deal with whatever gremlins they had picked up themselves. By adjusting pace notes and tweaking set up's as much as they could in an attempt to make improvements for the afternoons repeated run.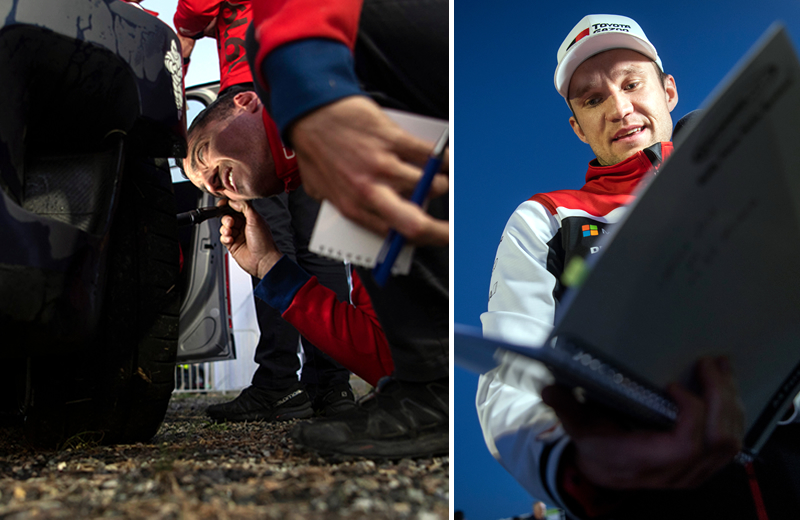 Ogier was clearly struggling with his C3, he did make some changes which he believed felt better but it wasn't the start that he was hoping for. Neuville who also struggled said that he simply "didn't want to take any risks".
Evans was "All OK", a good clean run in the morning put him in a good frame of mind ready for the battle with Tanak, who thought that his mornings' efforts, although consistent, weren't very good in his eyes.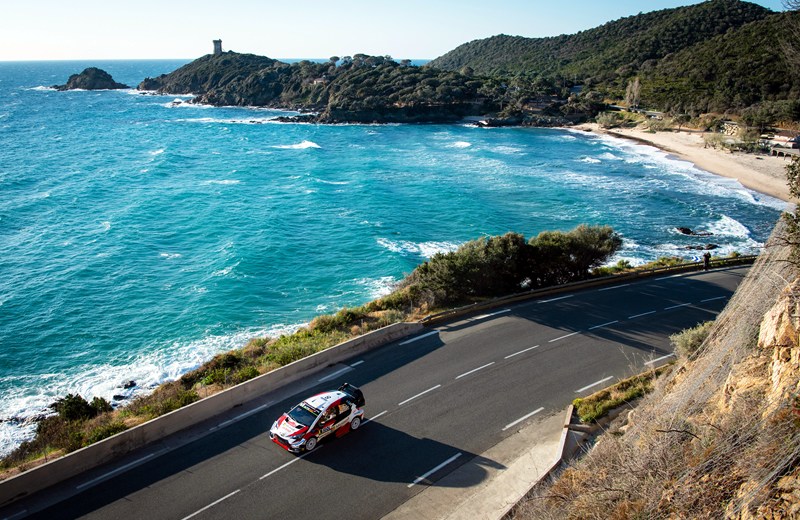 Back out on the stages and Evans repeated his opening stage win over the Bavella test, he clearly liked this stage, allowing him to take back the lead from Tanak who was nearly 3 seconds slower. Ogier managed 4th which was better than the morning but it was still not fantastic. Meeke was the third fastest and said the car felt good but the gap was pretty big now following his earlier puncture in the morning.
For Evans "Everything worked well"  and he followed this up with another stage win in SS5 Valinco 2, extending his lead over Tanak, who had a clean run but said that he "wasn't pushing the limits". Neuville who continued his search for "The feeling" put in the second-fastest time here, but he was still laying in third overall, some 11 seconds behind Tanak.
Poor old Kris Meeke took another knock to his Yaris, this time damaging the rear suspension. It just goes to show that although a driver may have the pace, you have to be clean on these tarmac roads or you risk putting yourself out of contention altogether.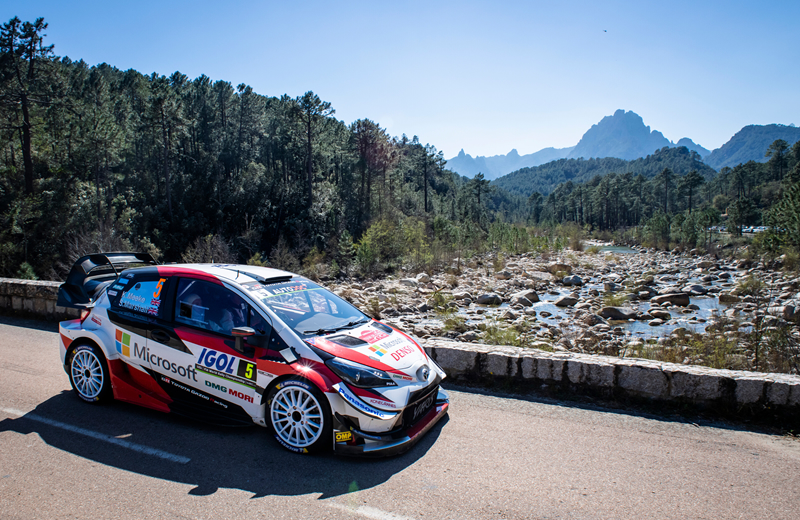 The final stage of the opening day would be a rather eventful one. Meeke who was nursing his car home with damaged suspension from the previous stage would be caught by Evans. Meeke and Co-Driver Seb Marshall were not expecting him to come up behind them, they were under the impression that the organisers would give Evans a 3 min gap to them but this didn't appear to be the case.
Evans lost a lot of time stuck behind Meeke and at the stage stop line Meeke got out to apologies' to him. Evans commented at the end of the day "I know Kris well, he wouldn't do that intentionally, I hope that it gets resolved."And it was, Evans was awarded the same time as Tanak, even though at the early splits he was up on stage winner Neuville who won by 1.3 seconds.
Evans rightfully ended the day on top with a 4.5 second lead over Tanak. Was this going to be a repeat of his 2015 performance?
Moving to the North of the Island for Leg 2, Saturday was the longest day of the event covering almost half of the competitive stage kilometres for the whole rally. Tanak kicked off the new day with a stage win on SS7 Cap Corse beating Evans by just 0.6 seconds. Evans said that although he had a good run, he did have a few hesitations in places. Tanak said that "it was shaping up to be a great battle" and it was clear that it most certainly was.
For the next stage, Evans kept it "neat and tidy" but going by the stage times that wasn't the way to go, only getting 5th place here. This provided Tanak with the opportunity to slash the gap to just 0.2 seconds overall as he took the second stage win of the day; stating that he "needed to be on the limit" and there was to be "no holding back"!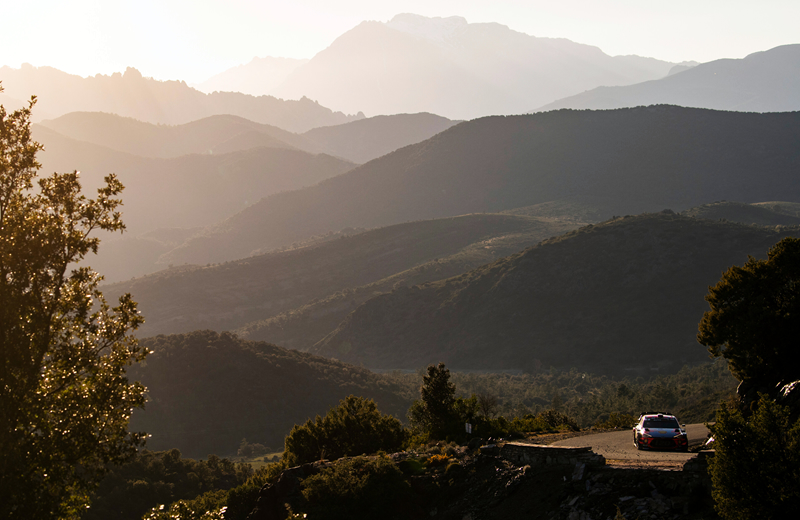 The third stage of the day was not only new one, but also a big one at that. SS9 Castagniccia was a mammoth 48km and out of nowhere came Señor Sordo in his Hyundai i20 to take the stage win, even surprising himself! However, overall Tanak was now leading Evans as they headed into service.
The return run over the Cap Corse stage saw a return to the top of the timings for Kris Meeke beating Evans by 2.1 seconds. Meeke reporting that "the stage had better grip this time around". Whilst Evans having "no dramas" was still pushing in his fight with Tanak.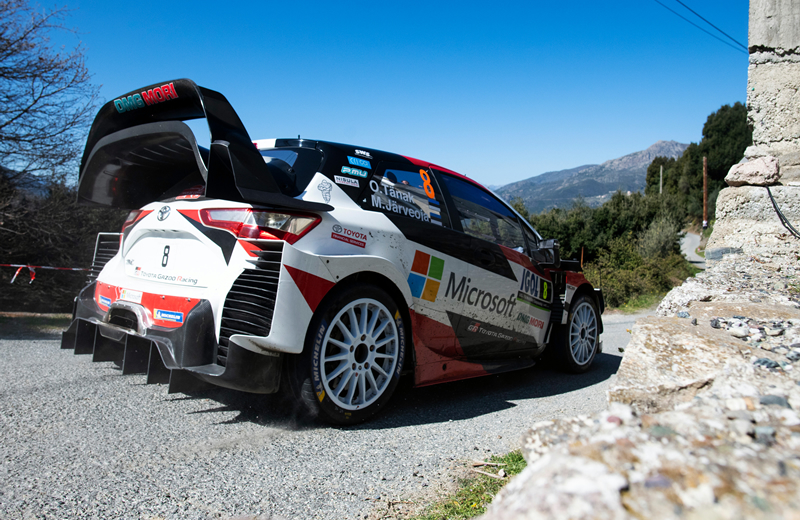 However, in the very next stage, this particular battle was to be over, Tanak lost some two minutes changing a wheel in the stage after getting a puncture, handing the rally lead back to Evans. It's an unfortunate part of the rallying game and it can be very cruel sometimes, as we would later find out as the event would conclude.
Neuville moved up into second place ahead of teammate Sordo but he was still some 11.5 seconds away from Evans; so things were now looking rather good for the young Welshman heading into the final stage of the day.
Despite having his problems, Neuville was starting to sense the possibilities of a good outcome to the rally. He snapped up the stage win on the final stage of the day pinching the lead from under the nose of Evans.
How the hell did he do that? He was some eleven and half-second behind going into this stage? What went wrong for Elfyn? "No Idea" he said, "I felt it was a good stage, I've not idea!"
Neuville now led the rally heading into the final and shortest day, although one of his championship rivals (Tanak) had fallen away and out of contention, another was slowly creeping up behind him.
That's right, remember that three times World Rally Champ Ogier? Well despite having an engine anti-lag problem, he had forced his Citroen C3 up into third place, OK he was a massive 44.8 seconds behind but a third finish here would be an ok result for his Championship campaign.
Sunday the final morning of the rally was a short 51km sprint with just two stages on the menu. If Evans was to stand any chance of getting the lead back and the win here, he would have to push on the first 32km stage of the day; because the final power stage was more than likely to be too short at just 19km.
He did just that, obliterating Neuville's time taking the stage win and the rally lead back, Neuville was absolutely stunned at the stop line and when asked if he had a problem, or how come his time was so bad, it was his turn to respond with an "I don't know".
And, so the scene was set, just one final blast over the power stage at Calvi was between Evans, the win and his second-ever WRC victory. With an 11.5 seconds advantage over Neuville surely this one was in the bag?
Kris Meeke who had saved his tyre's on stage 13 gave it his all and set the fastest time, which earned him the top bonus power stage points.
Tanak gave it his all as well and managed second-fastest time here, this combined with his 6th overall finish salvaged some half-decent points to keep him in the title fight and it was the best he could have hoped for.
Evan's teammate Teemu Suninen popped up with the third-fastest time. But it was all a bit late in the day for him to find the accelerator pedal, a 5th overall finish isn't too bad for him really.
It was the right move for Hyundai to bring Dani Sordo to Corsica, being a tarmac specialist he finished with a good result in 4th overall, scoring some valuable manufacturer points for the team.
Neuville headed into the Power Stage and gave it his best shot, but had pretty much already settled for his runner up spot on the podium. At the stop line, he had barely finished his interview before the cameras cut to Evans mid-stage.
Oh no…. oh hell no! Evans was going slow…. what on earth were we witnessing here? Evans had only gone and picked up a puncture on the front right, what a nightmare! There was nothing that he could do, there was no point in pulling over to change the wheel…. the win was gone. The best Evans could hope for now was to carry on limping to the finish in hope of salvaging something. As the news filtered to Thierry Neuville the surprise was soon followed by the realization that he had just won his first rally of 2019.
It was truly heartbreaking not just for Evans, but for the M-Sport team and the whole of the Welsh rallying community back home. After being so close to the win here in Corsica back in 2015, he performed outstandingly throughout the whole rally this time around to then lose it all again this year on the final stage of the event was a huge disappointment.
Evans:
"It's difficult to accept but okay, it happens. A similar thing maybe happened to Ott yesterday. It's the nature of the sport. I think it happened on a straight piece of road in the middle, a hole or stone that had lifted. I felt it straightaway. Very unexpected. I tried to drive on it to see if we could minimise the time loss but it started to delaminate 6km before the end. At least we have the podium but it's not what I wanted."
Neuville:
"I'm really disappointed for Elfyn, who did a really good job, but I think we deserved it as well. We were pushing all the time. Never give up!"
Evans still finished with a magnificent result, the third spot on the podium behind former teammate, Sebastian Ogier. Ogier has good history on the Island but this year it just didn't seem to click for him. Never the less to walk away from an event where you are not in the fight and don't perform so well; with a second place, he should be relieved.
Neuville now takes the top spot in the standings two points ahead of Ogier, Tanak drops down to third while Evans moves up to fourth. The combined efforts of Neuville and Sordo now place Hyundai at the top of the Manufacturers standings ahead of Citroen. Toyota who started the season off so well, now finds themselves down in third.
The next stop for the WRC is a return to Argentina and the first in a run of five gravel rallies.
Words By Andy Cook – Xlerate
Photos By Jaanus Ree © Red Bull Content Pool