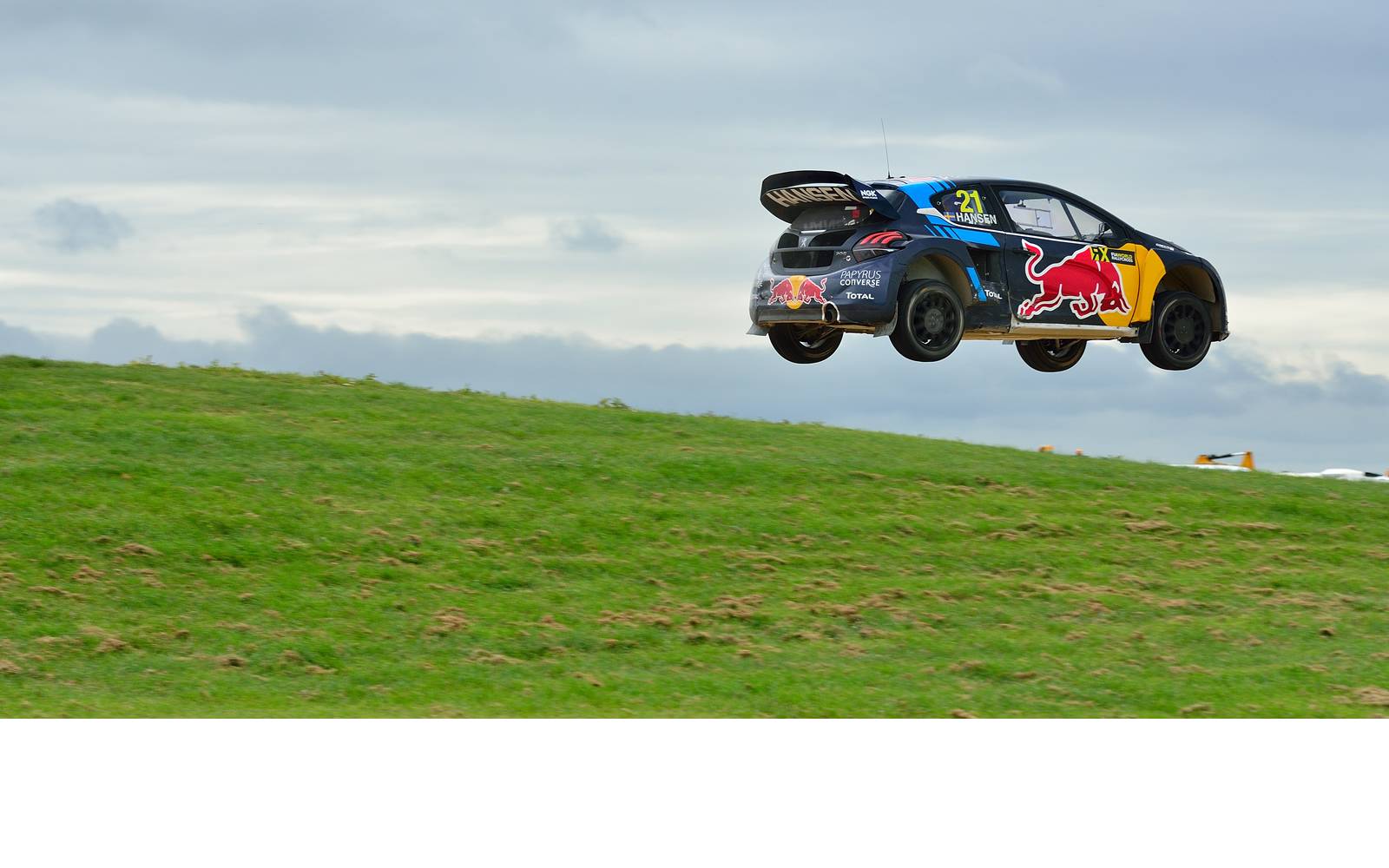 WRX | RD4 | DAYINSURE WORLD RX OF GREAT BRITAIN 2019 | DAY 2
30/05/2019

Opening up the second day of the Daysinsure World RX of Great Britain with a win in the first race of Q3 was Timmy Hansen. There was a tiny bit of contact with brother Kevin at Turn 1, but not enough to cause any upset. Timmy led the race from start to finish, but the time was some 3 seconds slower than Q2 of yesterday afternoon.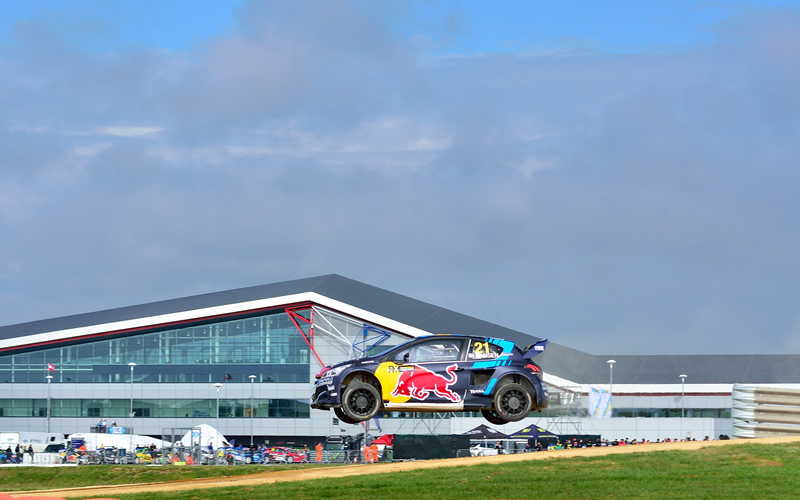 The second race of the morning was a little bit more eventful, Monster Energy RX Cartel's Andreas Bakkerud was clean away in the Audi S1 but there was a big squeeze in the pack behind him going into Turn 1.
Krisztian Szabo either locked up or bogged down his EKS ran Audi S1 and went into the tire wall, this held up Timur Timerzyanov in the GRX Hyundai i20, leaving Anton Marklund in the GCK Renault Megane RS to chase down Bakkerud.
Despite continuing to show good pace, Marklund was unable to catch Bakkerud who appeared to have woken up full of beans and had beaten Timmy Hansen's time.
Andreas Bakkerud:

"It felt very good, after the warm up I think the track has developed".
Race 3 produced some rather entertaining action, in fact, one could describe it as "The Battle of the Brits" with Liam Doran and Oliver Bennett side by side over the jump. Contact was made mid-air and Doran landed sideways hitting Guillaume De Ridder which luckily for Doran saved him, bouncing him back in the right direction.  Unfortunately for De Ridder, he would come off a lot worse sustaining some damage to his Megane RS which would then put him out of the race.
Doran would manage to pass the Mini Cooper of Bennett on the merge of Lap 3 for the win.
Liam Doran:

Terrible, I shouldn't have lost that start. I wanna win this round, I've got the speed! Fighting in rallycross is no good for times, I'm not happy at all!"
Another Brit who was in action in the final race of Q3 was Manxman Mark Higgins, he got a great start but then ran wide in turn 2 allowing Cyril Raymond past who would then go on to win the heat.
Cyril Raymond:

"I am very happy with the result after yesterday which was very difficult, I keep pushing"
Getting the better of Timmy Hansen for Q3 Top Qualifier was Andreas Bakkerud with Cyril Raymond in 3rd for what was a fantastic Q3 for him. Timmy still led the overall intermediate standings heading into Q4, but Bakkerud was now sandwiched in between Timmy and Kevin Hansen.
Q4 would offer up a last chance to make it into the semi-finals. Following on from the damage sustained to his Renault Megane RS in Q3, GCK's Guillaume De Ridder didn't make the Pre-Grid in time and was subsequently not allowed to start the first race of Q4; this left his team-mate Guerlain Chicherit to battle it out with Krisztian Szabo.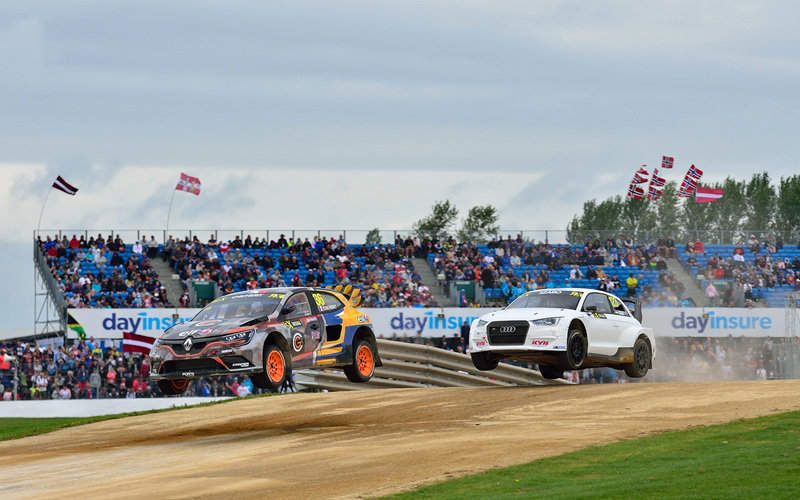 It was a close battle between them, Szabo although had the lap times couldn't quite get the better of Chicherit as they crossed the finish line. Guerlain Chicherit who said that he tried to stay focused on his race, had made it into the Semi-Finals along with Szabo.
Round 3 winner, Timur Timerzyanov was now getting a little concerned for his place in the semi-finals and had to improve on his time. He came up against the German Timo Scheider in the second race and it would end a little bit un-friendly between them.
Scheider led on the first lap but the battle between him and Timerzyanov would really heat up on laps 3 & 4. In Timur's eagerness to do better he pulled a pretty hard dive into turn 1, this upset Timo and despite winning the race he was not happy about the move. As the pair cruised around the dead leg on their way back the pits they were side by side with a little bit of fender rubbing and an exchange of hand gestures.
When asked about this Scheider said:
"He had a pretty hard dive into turn 1 when I came out of the joker and he tried to spin me around, it is not necessary to do that. So I was a bit upset about this".
Despite that little exchange of handbags, both Scheider and Timerzyanov had both made it into the Semi-Finals.
Race 3 was once again a Battle for the Brits, Doran and Bennett were to continue on their Q3 tussle, only this time they would be joined by Higgins. Higgins was unlucky on the opening lap and nosed his Peugeot 208 into the tire wall of Turn1, taking himself out of contention.
Joni Wiman who was a bit quiet in Q3 was now flying and led this race from the first turn of lap 1 right to the chequered flag, while Doran was wedged in-between Bennett and Baumanis in a battle for second.
Playing the substitute for Niclas Grönholm who had a doctors sick note; Wiman who was out on his second World RX outing for Team GRX this year commented:
"It was my first clean qualifier, I am curious to see where it takes me"
Wiman progressed into the Semi-Finals along with Doran, Baumanis and for the first time this season, Oliver Bennett.
The final qualifying race saw Andreas Bakkerud get the better of the Hansen boys, Kevin touched Bakkerud into turn 1 but Bakkerud was on a massive push to take the lead by setting the fastest lap of the day thus far.
Kevin's brother Timmy then responded to him by beating Bakkerud's fastest lap, but Bakkerud was home dry for the win ahead of Kevin and taking his second top qualifying win of the weekend as well.
Andreas Bakkerud:

I'm very happy that we won the fight with Kevin, despite stalling it in turn 7, also my radio was not working".
Despite only finishing 4th in this race, Anton Marklund had still done enough to progress with Bakkerud and the Hansen boys into the Semi-Finals. It just goes to show that if you draw a tough line up in a heat, you don't necessarily have to win your heat, it's a quick time that really matters.
With four new boots on his 208, Timmy Hansen lined up on the front row of SF1 alongside his younger sibling, Kevin.
Kevin had a bad start but still kept up with Timmy the leader into turn 1 for a Hansen 1-2 all the way to the final lap, where they both chose to joker; but here is where it would all go wrong for Kevin.
Timmy was safely through and clear to take the win but Kevin made a right mess of it. Making a mistake on the braking, as the joker lap transitioned from the loose muddy gravel onto the tarmac he over-steered into the tire wall, what a disaster!
It was all looking hunky-dory for a family one-two and them both making it into the final and then Kevin goes and blows it in the final few moments of the race.
Timmy Hansen:

"It is mixed emotions, I am super happy about my race but disappointed for my brother. He was in my mirror the whole time and just disappeared at the joker. The car feels very good."
Kevin's mistake handed second place to Anton Marklund; Timo Scheider then unexpectedly found himself in the final with them.

Joni Wiman once again looked to be performing well by making it into the Semi-Finals but it would all come tumbling down after the jump on the first lap. Cutting the corner just that little bit too fine, he was unsighted clipping the tire barrier which would send the Hyundai i20 up and over. Wiman was out of the race and that was it, race red-flagged!
On the restart it was an all Audi lockout at the front, Oliver Bennett tried to get into the mix, but on Lap 5 the racing got a little bit too hot for him.
On the radio from the spotters tower his team told him he was on fire "Thanks he replied", "no no you really are on fire, pull over". The Mini Cooper was indeed on fire, his unfortunate end to this, his home event ended in a plume of smoke, luckily the marshals managed to put it out before too much damage was done.
Bakkerud brought home the win ahead of his Monster Energy RX Cartel team-mate Liam Doran, Krisztian Szabo joined the pair in the finals.

And so we come to the final for RD4 The Daysinsure World RX of Great Britain and what a thrilling final it was, where we wouldn't find out who our winner was until the penultimate lap.
Timmy Hansen lined up on the front row in P1 with Andreas Bakkerud in the Audi S1 next to him. There was a little bit of contact between them as they piled into turn 1 but Bakkerud was on the outside for turn 2 which positioned him perfectly to take up the lead.
On the second lap, Anton Marklund once again showed his lightning pace by setting the fastest lap but that was short-lived as by lap 4 Timmy would better it.
Hansen opted to take his joker midway through the race on Lap 3 whereas Bakkerud chose lap 5. Hansen's tactics worked out perfectly as he took the lead when Bakkerud merged from his joker; meanwhile, Doran was off with some technical issues, clearly, something had broken on his Audi.
Timmy kept Andreas at bay for the final lap to win his second of the season thus far, becoming the first double winner of 2019.
Timmy Hansen:

" It was really tough, I pushed so, so hard, It felt so good to come out in front on Andreas".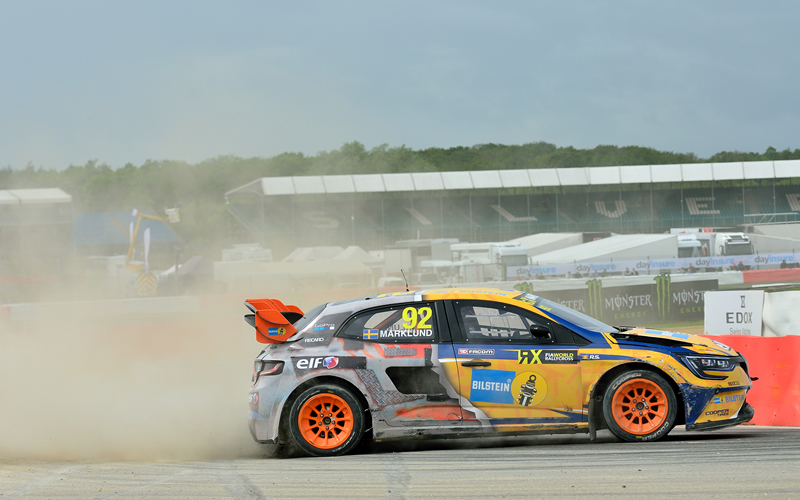 Bringing it home for a fantastic 3rd spot on the podium was Anton Marklund, this was his first of the year and it was obvious just how pleased he and the GCK team were.
Timmy Hansen:

"I was happy to still be in P1 after qualifying yesterday, I kept focused on my own race. I was absolutely on his [Andreas Bakkerud] bumper before I jokered. I definitely had to work very hard today"
Andreas Bakkerud:

"This sucks, I had great pace today, in the Semi Finals I had issues with the handbrake which was stalling the car. I feel like we had the speed to win what with my great starts, now we go to Norway with high expectations"
Anton Marklund:

"It's a big, big relief for everyone in the team, I am very satisfied with a P3".

Timmy Hansen (88 pts) now leads the drivers' standings overtaking brother Kevin (84pts) who originally led after every round up until Silverstone. Andreas Bakkerud moves up into 3rd with 77 points.
Team Hansen MJP (172 pts) still remain at the top of the teams standings stretching out their lead over GRX (147 pts) with Monster Energy RX Cartel (137 pts) in third.

The FIA World Rallycross Championship heads to Hell, in Norway next, a highlight in the World RX calendar where huge crowds come out in force to watch the world's best rallycross.
Words & Photo's By Andy Cook – Copyright © 2019 Xlerate