WRX | RD5 | HELL – NORWAY 2019
17/06/2019
In the World Rallycross' 6th year at its 66th event, the teams fittingly travelled to Hell. This is the first of only 3 traditional rallycross tracks still on the calendar and with its rolling slopes it could not be more different to Silverstone so the running order was going to be anything but easy to predict.
A number of driver changes had occurred since round 4 with Kevin Abbring debuting for ES Motorsport after Rokas Baciuška had left the team and was now driving a 5th Renault run by GCK Academy. Niclas Grönholm was finally back in his car after an appendicitis operation that left him away from racing for 6 weeks.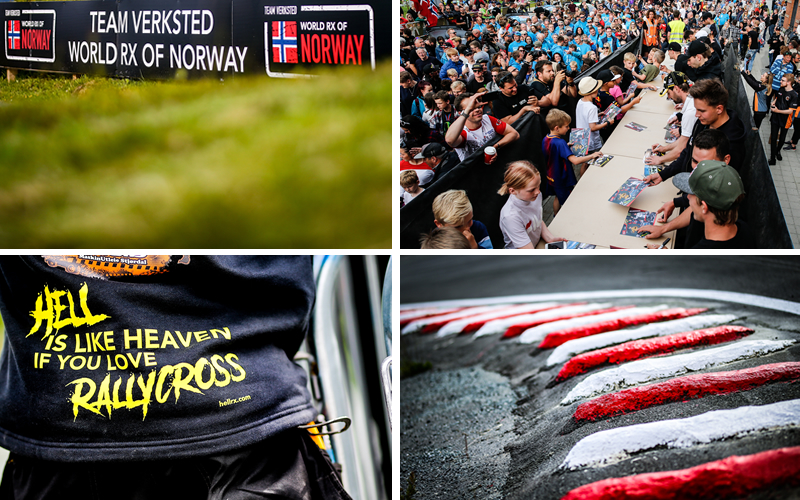 Photo: WorldRallycross.com
In race 1 Timo Scheider used a very calculated move to joker on lap one from pole and forced both Anton Marklund and Kevin Hansen to joker as well. He managed to hold the inside and powered away to the heat win with no driver wanting to risk a move that would cost them all time.
"We discussed if we are side by side I try to send both of them to the joker so this worked out."

Timo Scheider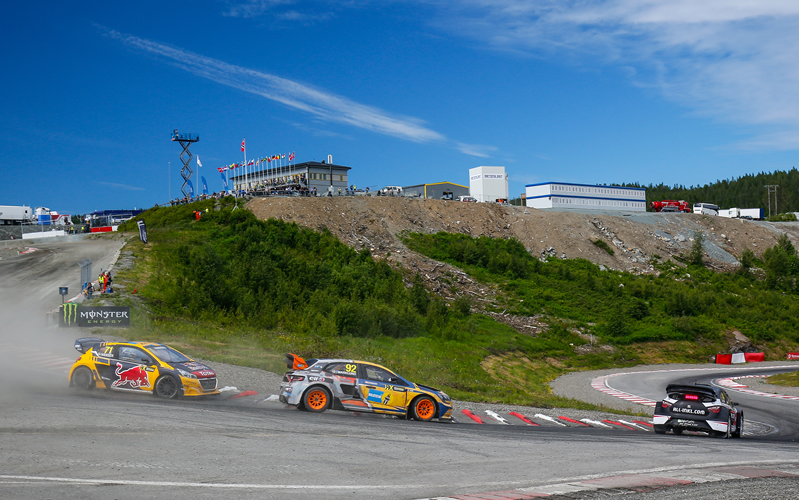 Photo: WorldRallycross.com
In race 2 in the joker lap at turn one Liam Doran and Timur Timerzyanov made light contact which hit the British Bomb into the wall. Andreas Bakkerud and Timerzyanov were then racing each other to see where Bakkerud would come out after his joker lap with the Norwegian winning out after jokering on the final lap. In a car and team new to him Baciuška just beat Doran.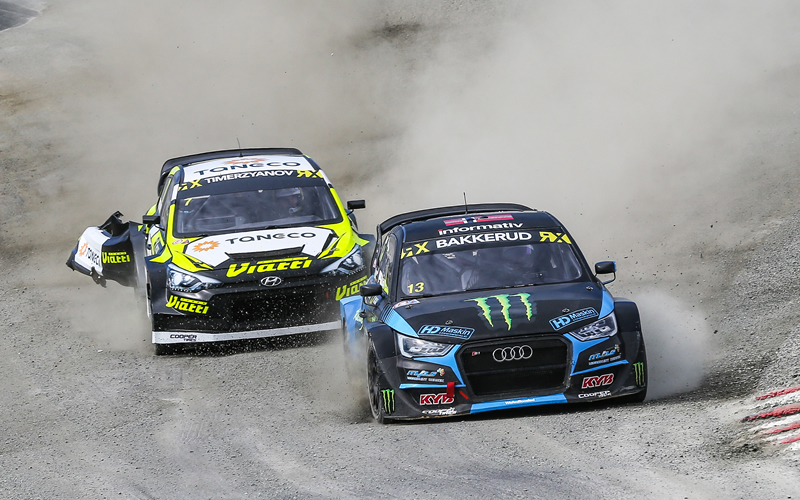 Photo: WorldRallycross.com
Bakkerud would have topped the session had Niclas Grönholm not made a great start in race 3. The GRX driver came from 4th to lead the standard lap and set blistering times to win Q1 by 1.7 seconds. Guerlain Chicherit dropped behind Jani Paasonen and Krisztián Szabó after he had to joker twice for jumping the start. Rallycross debutant Kevin Abbring stayed with Grönholm to finish 2nd on the road and go 5th fastest overall.
"Of course it's nice to start the weekend like this. It's been a tough 6 weeks. Honestly my expectations weren't that high"

Niclas Grönholm
Photo: WorldRallycross.com
In the final race of Q1 Timmy Hansen was hit by Jānis Baumanis as the Latvian went to the alternative route at turn 1. In the mess, Guillaume De Ridder was collected by Baumanis and retired on the apex of the joker lap. Hansen had some front left damage yet led and pulled away from Cyril Raymond and Oliver Bennett to win the race. However, a mistake and the ideal line for the joker lap being blocked meant he lost time and he was only 4th fastest overall. Baumanis only completed 3 laps with the right rear wheel of his Ford Fiesta being dragged behind the car after his contact with Timmy Hansen.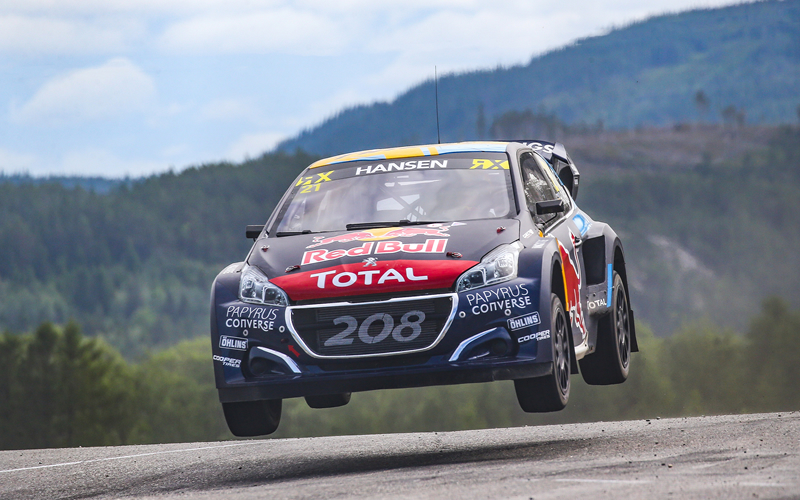 Photo: WorldRallycross.com
"Very frustrating. Everything went wrong. I think we are fast."

Timmy Hansen
Niclas Grönholm won his first-ever qualifying session over homeboy Bakkerud despite missing the last 2 rounds and still not being at full health. Timerzyanov was 3rd with Hansen 4th and Abbring an impressive 5th.
"it's definitely not what we expected. The aim is to keep our position. [In Q2] I should follow the fastest one and hope to stay in the rear bumper."

Kevin Abbring
Photo: WorldRallycross.com
In the 3 car race of Q2 Baumanis got the jump ahead of Bennett and De Ridder who made a late decision to joker. Baumanis got his head down and jokered on the last lap to set a great time that would end up 4th overall ahead of De Ridder and Bennett.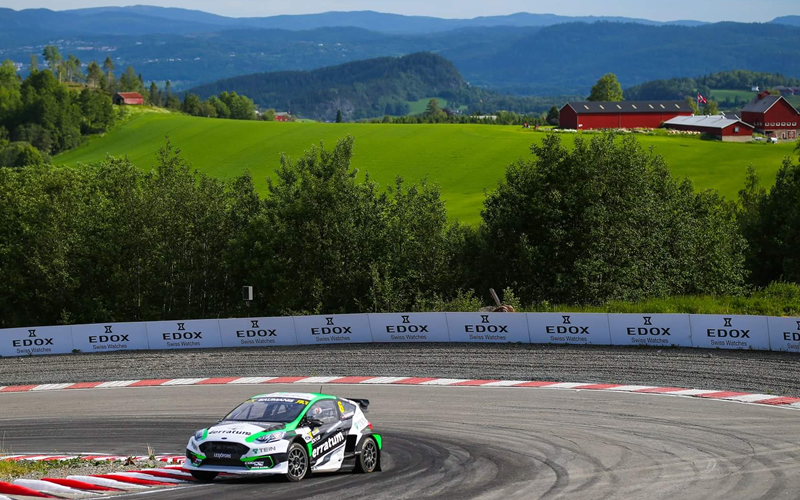 Photo: Baumanis
Raymond, Paasonen and Chicherit were level going into turn 1 with only poleman Raymond taking the standard lap. Szabó got past both Paasonen and Chicherit in the joker lap and chased after Raymond. In response, the Frenchman jokered on lap 2, came out just ahead of Szabó and was able to hold him off to the finish with everyone else also maintaining their positions. That time put him 8th in Q2.
"We took the decision to take the joker lap on lap 2 and I think it was the good strategy. Yeah I'm happy. Tomorrow will be a big day."

Cyril Raymond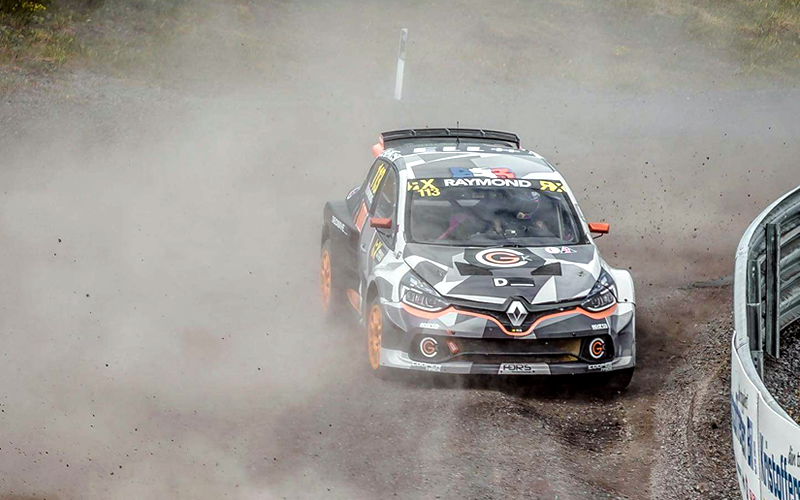 Photo: GCK
Anton Marklund and Kevin Hansen went door to door into the joker lap with the GCK driver pushing Hansen a bit wide and getting ahead of him. Scheider held off Baciuška and Doran on the standard lap and won the race to set the 2nd fastest time in Q2. Doran followed Baciuška into the joker lap and despite rubbing up against each other they maintained their order, albeit both dropping behind Marklund and Hansen. Later in the lap, Baciuška spun off with a broken rear right wheel and retired gifting Doran a position.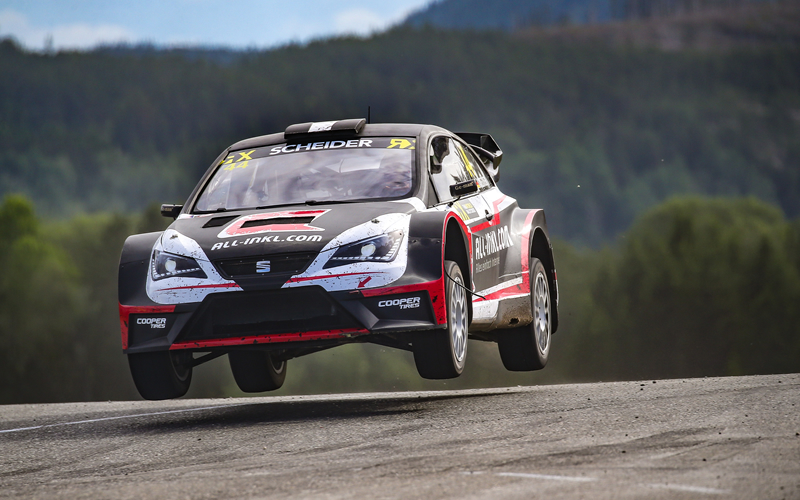 Photo: WorldRallycross.com
In the final race of the day, Grönholm from pole got the jump up to turn 1 with Timerzyanov the only driver to not take the standard lap. Kevin Abbring came out of turn 1 in second after Bakkerud had contact with both Grönholm and Timmy Hansen. Before the end of the lap, Bakkerud was already stuck behind Abbring with Timmy right on his bumper. Bakkerud immediately jokered but came out behind Timerzyanov. Hansen overtook Abbring out of turn 4 after the Skoda driver ran a bit wide in the hairpin so when he jokered on the final lap he came out between Timerzyanov and Bakkerud. With Grönholm staying clear of Abbring, who blew a turbo pipe, he won comfortably and topped Q2 by a second over Scheider. Timerzyanov was again 3rd with Baumanis 4th and Marklund 5th. Bakkerud could only manage 10th in Q2.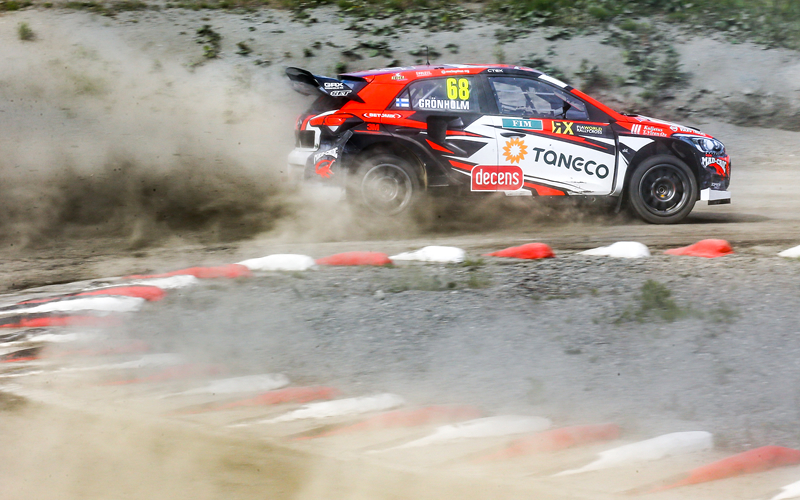 Photo: WorldRallycross.com
Overnight Grönholm led a GRX 1-2 and was pleased with the result.
"I had a small clutch issue at the start. So really lucky to not get a jump start that's why I made a huge launch. I don't know if the conditions are suiting me or what but it seems to be working well."

In the first race of Sunday, Abbring out-braked Bennett into the standard lap with Baciuška jokering. Abbring went onto win setting the 4th quickest time overall and Baciuška the 6th fastest.
Photo: WorldRallycross.com
Doran won race 2 with 4 new tyres on his car after he jokered on lap 1. Chicherit tried to hold off Doran by taking his joker lap. When Paasonen took the alternative route he came out in second but ran wide two corners in a row to drop to 4th behind De Ridder. Despite winning Doran was not happy.
"Not good at all. It was nice to have a little bit of fresh air and not have cars in front of me. We're struggling this weekend a little bit with setup and finding the speed."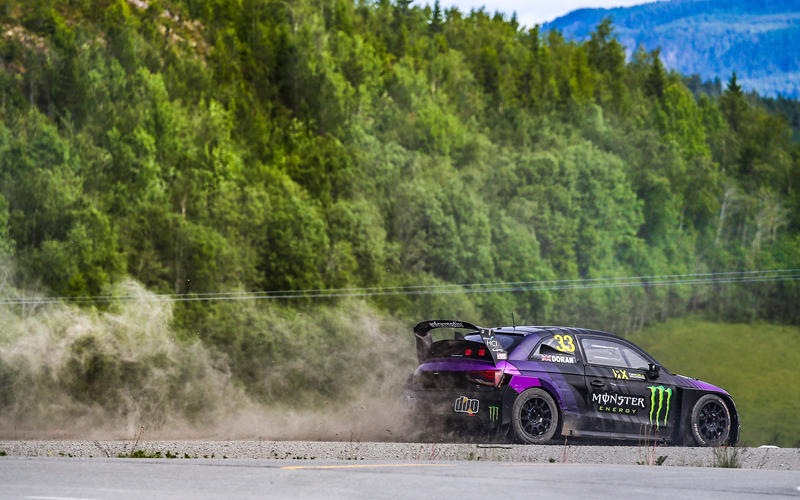 Photo: WorldRallycross.com
The fastest race of Q3 saw Timmy Hansen take a comfortable win by 1.3 seconds over his brother Kevin who was 2nd in Q3. Bakkerud jokered with Kevin on lap 1 but couldn't find a way past and had to settle for 3rd on the road and 6th overall. Szabó made contact with Raymond on lap 3 but couldn't find a way past and they brought up the rear.
"The run felt amazing. All 4 laps were spot on. This was one of those super runs that I'm really happy about."

Timmy Hansen
Photo: WorldRallycross.com
In the final race, Timerzyanov was the only person to joker on lap 1. Grönholm held the lead on the standard lap with Scheider, Baumanis and Marklund right behind. Timerzyanov picked off each driver as they jokered to win the race and go 3rd overall. Marklund used his joker well to get up to 3rd in the race just behind Grönholm and ahead of Scheider and Baumanis. Timerzyanov put the slower time down to "a good run with a lot of mistakes on the track."
Photo: Team GRX
Paasonen aced the start of race 1 and his joker to claim an easy win over Bennett and De Ridder who had stalled at turn 2 after running wide into the dust.
The first quick time came when Chicherit got the lead at the start and stayed clear to set the 7th quickest time. Baumanis followed him to second on the road with Raymond again holding off Szabó behind.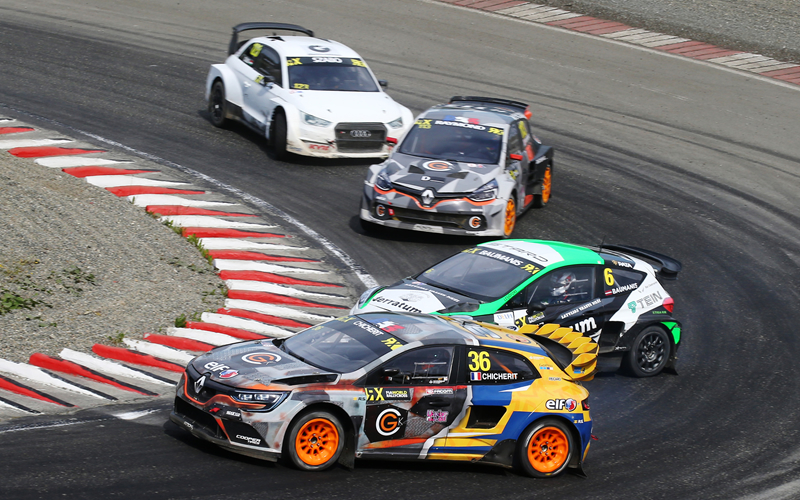 Photo: WorldRallycross.com
Bakkerud had to put in a good time to match the Hansen and GRX teams and that's exactly what he did. After being squeezed between Baciuška on the inside and Marklund and teammate Doran on the outside he jokered at turn 1. He led out of the joker lap and chased after Baciuška and Scheider overtaking both when they jokered to set the 3rd fastest time of Q4. Scheider held off Baciuška after going 5th to 1st at turn 1 with Doran in 4th and Marklund finishing in 5th place after his front right suspension collapsed.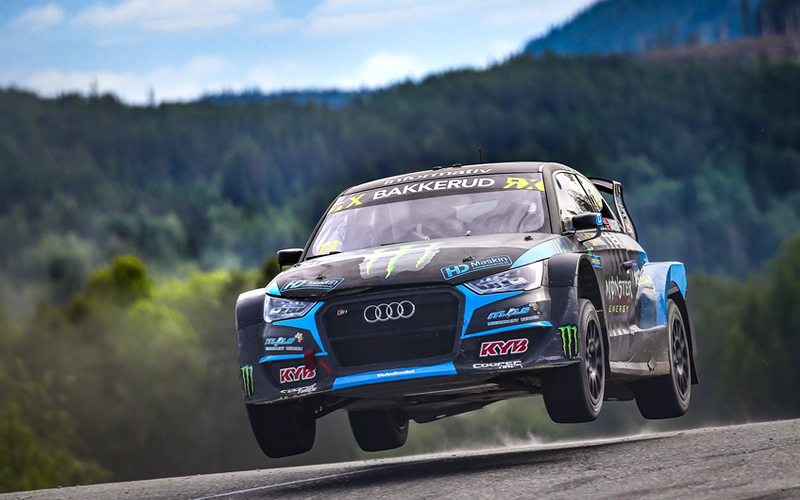 Photo: WorldRallycross.com
Timmy Hansen, Kevin Hansen, Timerzyanov and Grönholm went 4 wide into turn 1 with Grönholm diving for the joker followed by a late decision by Timerzyanov after touching both Hansen drivers on the inside. Abbring kept with the Hansen's, Timmy leading Kevin, so he didn't hold up the charging Grönholm who won when the top 3 jokered on the final lap. Timerzyanov slotted into 4th.
"It was a good strategy and it worked out surprisingly well."


Niclas Grönholm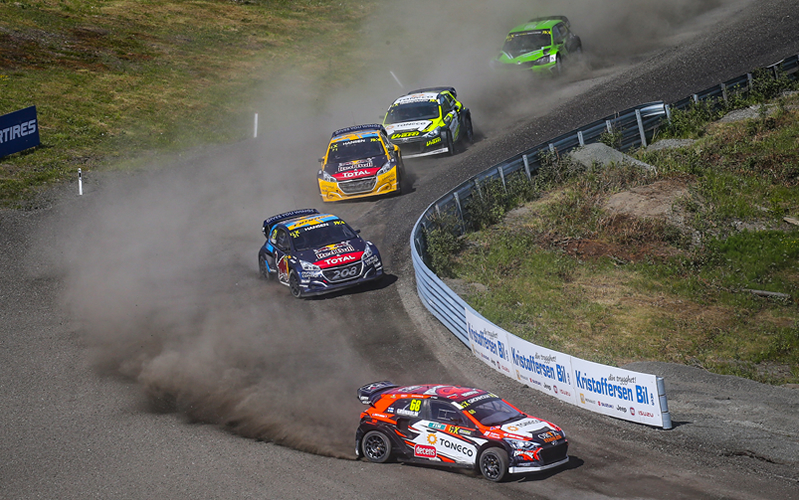 Photo: WorldRallycross.com
Grönholm won Q4 and with it was the top qualifier bagging 16 points. Timmy Hansen finished 2nd in the intermediate classification. Timerzyanov was 3rd followed by Bakkerud and Kevin Hansen. Chicherit was in the last semi-final spot equal on points with Doran but with a better Q4 result thereby eliminating the Brit.
Photo: WorldRallycross.com
Even before the Semi-finals kicked off more action took place as Baciuška was disqualified from Q3 for using the launch control button during the race and dropped from 9th to 15th gifting Doran a Semi-final slot. The heavens had also opened and drowned the circuit. With no wet running all weekend everyone had to guess where the grip would be and what setup they should use. Rivers were running across the track at turn 1 and on the run to turn 3.
Chicherit made a mega start to go from 6th to 1st. He tried to cut across the pack and take the standard lap but Timerzyanov was caught off guard and hit the Swede twice. Scheider and Baumanis also jokered with the German hitting the out of control Marklund into a spin. Baumanis and Scheider then came together in the joker lap knocking the Latvian into the wall. In sympathy, Scheider ran down the length of the outside wall breaking his suspension and retiring.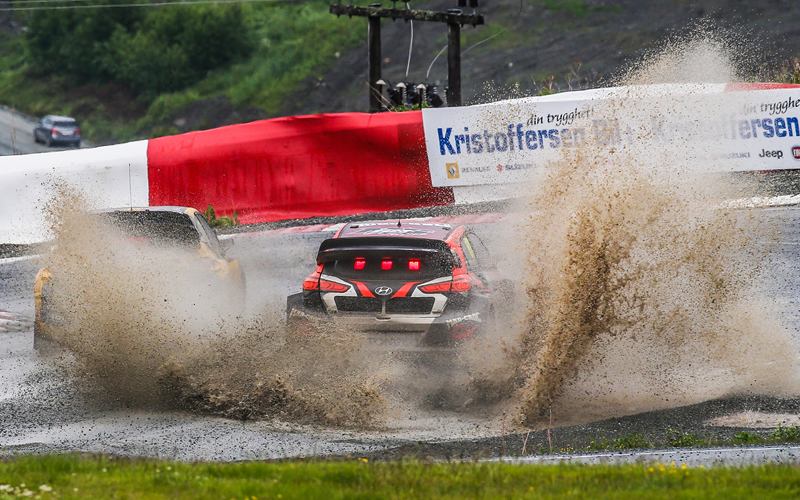 Photo: WorldRallycross.com
Grönholm led Abbring through the standard lap and was the first person to meet each puddle on the rain-soaked circuit. Abbring took a very steady joker lap and came out in 3rd between Timerzyanov and Baumanis. In the final corner of that lap, he took advantage of a gap up the inside of Timerzyanov to snatch 2nd. At turn 1 he ran wide through the newly formed river, gifting the Russian the position back. Timerzyanov then repeated the same mistake a lap later, letting Abbring slide by and wasn't able to retake the position despite hitting the rear of the Skoda. Instead, Baumanis found a way past on the exit of turn 2 to grab the last spot in the final. Thanks to all the squabbling Grönholm won by 8 seconds.

Timmy Hansen had the worst start and dropped from 1st to 6th within 100 meters. Doran led Marklund into the joker lap with Timmy following behind. Kevin Hansen took the race lead from Bakkerud with Raymond in 3rd after a very clean start between all the cars. Doran immediately caught up to the back of the top 3 with Raymond jokering on the 4th lap but came out in last. Marklund was all over Doran yet couldn't make a pass with all of Timmy's attempts also coming to nought. Kevin and Andreas both jokered on the final lap but hadn't built up a big enough gap. Kevin just beat his brother to 3rd with Bakkerud trying to sneak down the inside as well. However, he ran wide and dropped to 6th behind Raymond.
Photo: RXCartel
Doran won Semi-final 2 having thought he was knocked out of the weekend just under an hour before. He was very relieved and said "Would you believe it. I threw it away in Q4, pushed too hard. It would be the first Semi-final I've missed so far this year and I was so frustrated. It was all my fault. The luck of getting in and the luck of the rain there was no way I wasn't going to make that one work."

Doran led the field up to turn 1 and jokered followed closely by Marklund with Baumanis trying to go round the outside. Abbring made contact with Grönholm and ran slightly wide on the normal lap but managed to get traction out of the corner and took the inside and the lead at turn 2. Kevin Hansen followed Kevin Abbring through to second after he pushed Grönholm wide with a forceful move. The Fin tried to repay the favour and hit the Swede's rear bumper numerous times but couldn't pass him.
Marklund was all over Doran's rear with the pair gaining on the leaders. Abbring jokered on lap 5 which seemed to draw Kevin too deep into turn 1. Grönholm tried to overtake but they made contact and lost nearly a second to the drivers who had already jokered. Suddenly Doran lost drive with Marklund powering past soon followed by Baumanis and Abbring but not after they lost some time at turn 4 behind the British driver. Marklund took the lead when the 2 leaders jokered on the final lap with Kevin Hansen in second and Grönholm 3rd. Baumanis pushed Grönholm through Turn 2 but stayed in 4th. Abbring was 5th with Doran crawling round in 6th and last in a race he should have won.
Marklund came out of the final corner to take his and GCKs first win in World Rallycross in a topsyturvy weekend. Kevin Hansen celebrated the second position with some doughnuts in the joker lap before they headed up to the podium ceremony.
Photo: WorldRallycross.com
There was to be more drama after the race with 2 penalties handed out. Kevin Hansen was penalised for his contact with Grönholm on lap 1 at turn 2 and was given a 1 second time penalty identical to that which Grönholm received at round 1 after pushing Kevin wide in the final.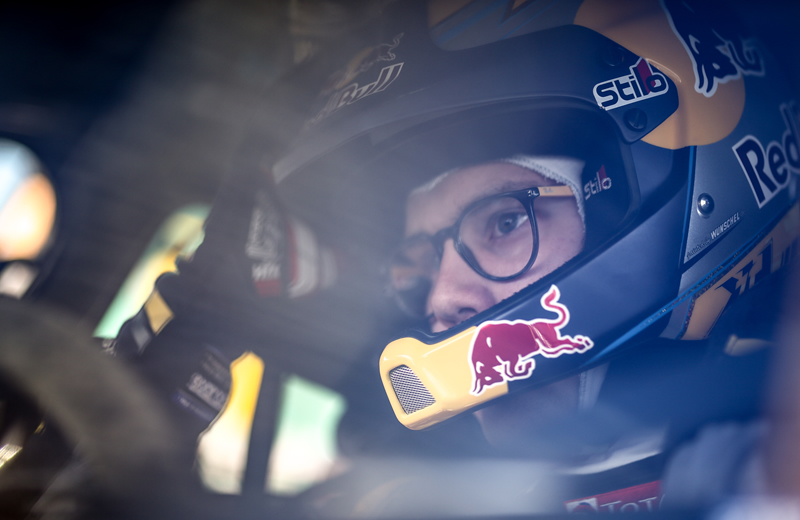 Photo: WorldRallycross.com
But the biggest penalty came when Anton Marklund was disqualified from the whole event when it was found his front bumper mounting was deemed to be too thick. This handed Grönholm his first win in the World Championship with Kevin Hansen 2nd and Jānis Baumanis 3rd.
Photo: WorldRallycross.com
"It feels nice to have a win but this is not really how we expected it to happen"

Niclas Grönholm
Timmy Hansen now leads brother Kevin by 1 point with Bakkerud a further 14 back on 92. The championship resumes at Sweden in 3 weeks.
Words By Callum House – Xlerate