EXE | RD4 – COPPER X-PRIX CHILE
29/09/2022
Team X44 keep Extreme E championship title fight alive after Rosberg X Racing retire from Copper X-Prix final.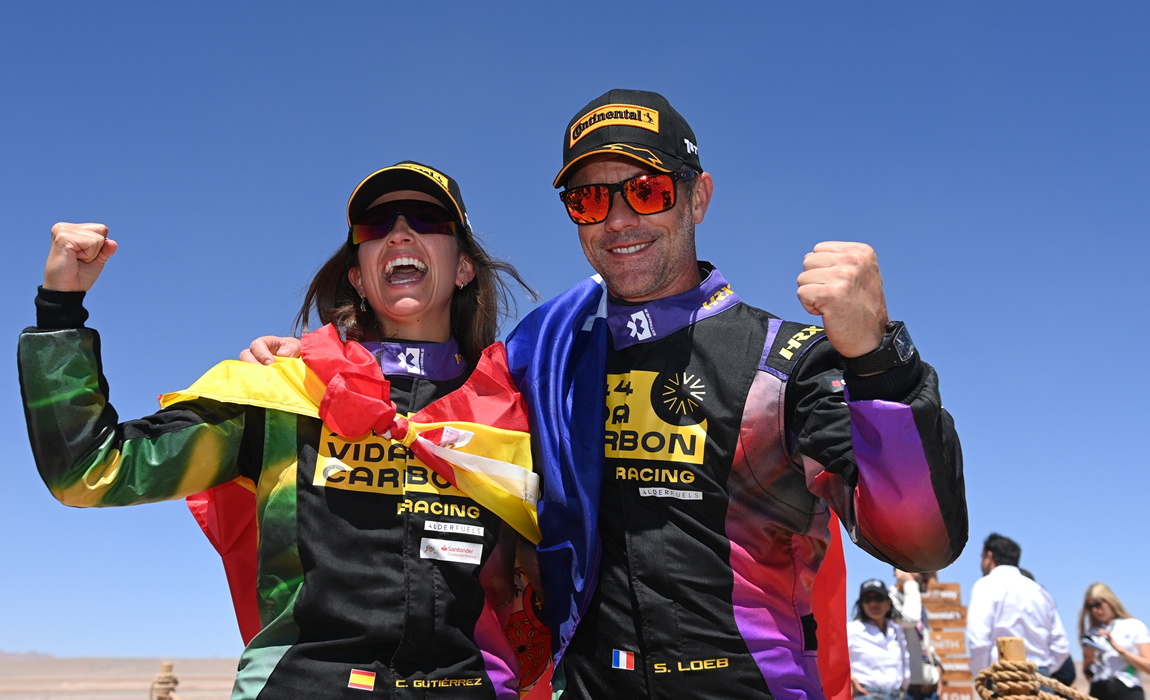 Team X44 | Photo Extreme E Media / Sam Bloxham
Team X44 benefitted from penalties for McLaren XE to win the Copper X-Prix, whilst a last-minute problem for Rosberg X Racing prevented them from taking the race start.
Despite crossing the finish line behind McLaren, Sebastien Loeb and Cristina Gutierrez were able to take their second ever Extreme E victory for X44, closing the deficit to championship leaders RXR to just 17 points.
McLaren's pair of Tanner Foust and Emma Gilmour were relegated to fifth place, after bringing down two track marker flags, incurring 20 seconds worth of penalties.
Rostberg X Racing | Photo Extreme E Media / Sam Bloxham
The reigning champions RXR could have wrapped up a second consecutive title had they won the X-Prix held in Chile, but when the car failed to start as Kristoffersson attempted to drive to the start line for the final, their hopes were dashed.
They were replaced on the starting grid by the fastest of the losing semi-finalists, Chip Ganassi Racing, who ended up being the third team to cross the line in the final.
This allowed the driver pairing of Kyle LeDuc and Sara Price to celebrate on the second step of the podium, before being handed a five-second time penalty of their own – more than hour after the event had finished – for missing a waypoint gate.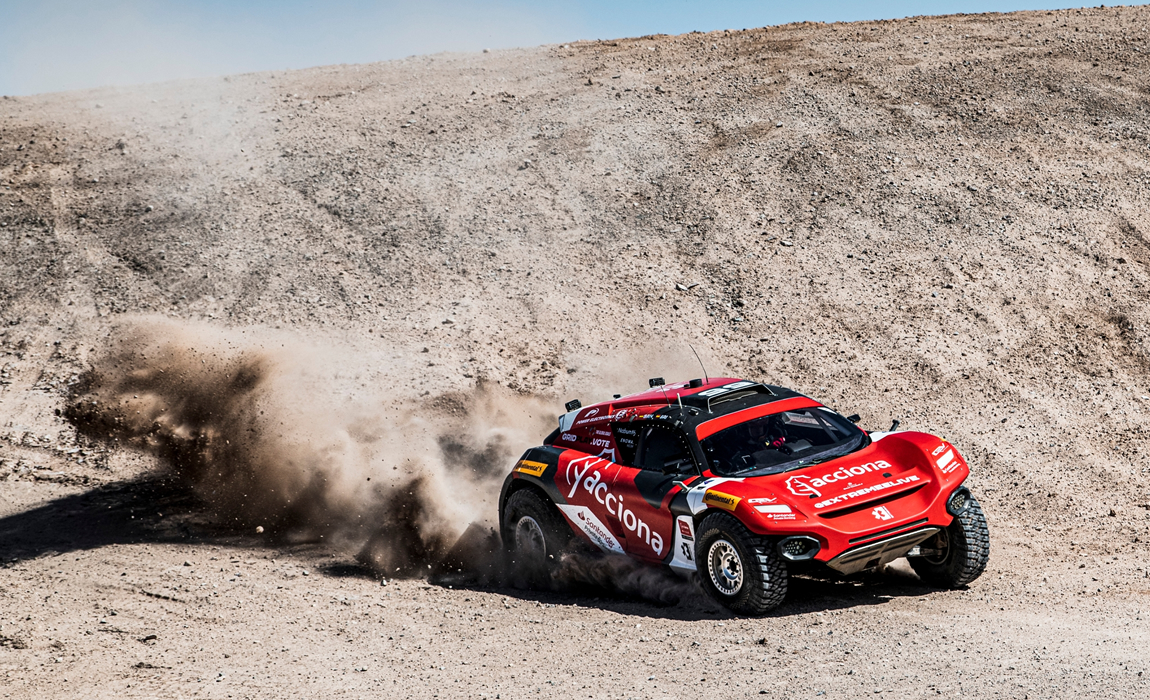 Acciona Sainz XE | Photo Extreme E Media / Charly Lopez
This promoted Acciona Sainz XE to second place, with ABT Cupra XE completing the podium positions, after a stellar debut for championship reserve driver Klara Andersson.
Results
X44 Vida Carbon Racing – 8:59:728
ACCIONA | SAINZ XE – +6.093
ABT Cupra XE – +8.612
GMC Hummer EV Chip Ganassi Racing – +10.159
NEOM McLaren XE – +18.935
Qualifying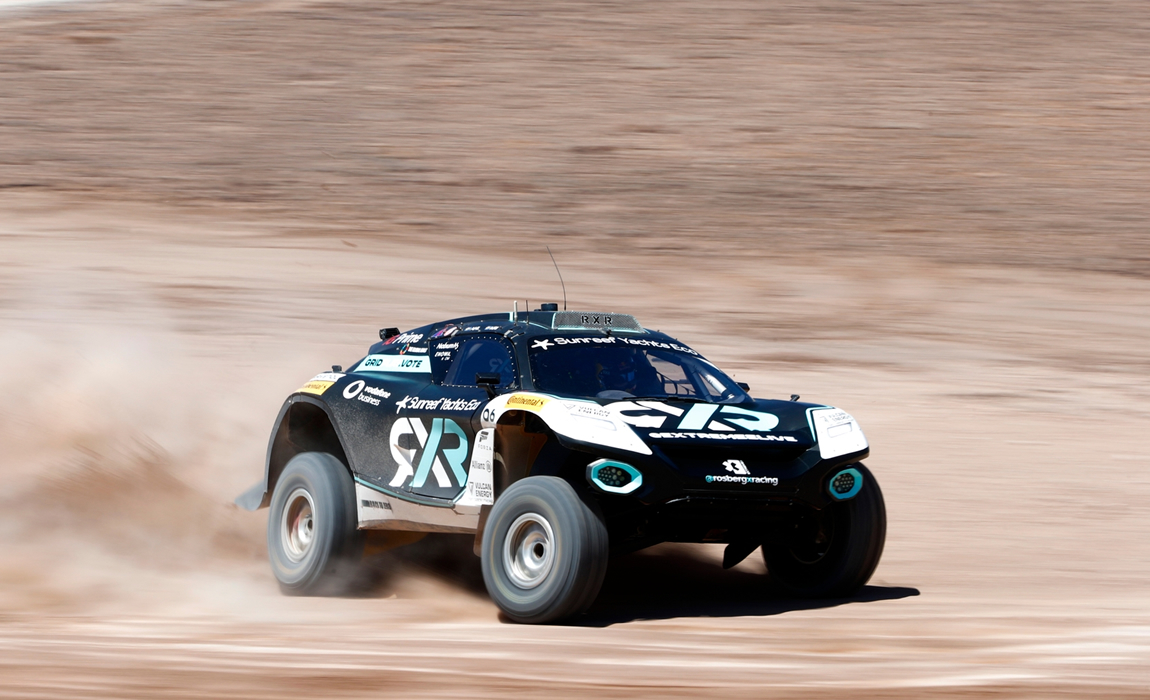 Rostberg X Racing | Photo Extreme E Media / Sam Bloxham
Rosberg X Racing's driver pair of Kristoffersson and Mikaela Åhlin-Kottulinsky were the fastest team in the single-car qualifying runs, but Kristoffersson made a poor start in Heat 1 of the second round of qualifying and found himself at the back of a pack of five cars.
Timo Scheider put XITE Energy Racing out in front after the first corner, followed by Lance Woolridge's Veloce Racing car, but this did not last long. Scheider lead a train of three cars the wrong way past waypoints 7 and 8, allowing Timmy Hansen of Andretti United and LeDuc to swoop past and into the lead positions.
Amongst the chaos, LeDuc had managed to lose his bonnet, making for quite a site as his 'Mad Max' looking car pursued Hansen. He made several dives on Hansen's inside, and one such lunge sent him wide, allowing Scheider past and Kristoffersson to exert pressure. Meanwhile, Woolridge's car had broken down and had come to a stop near Waypoints 9 and 10, so the stewards enforced yellow flags in that section, meaning the cars had to slow down to 30km/h when they passed on their second lap. LeDuc misjudged the braking zone and spun his car in an attempt to slow down, ripping his rear right tire off the rim in the process and allowing Kristoffersson past.
Entering the switch zone, Kristoffersson managed to out-brake Scheider, muscling his car narrowly in front of the German's. The female drivers then took over, with Åhlin-Kottulinsky hunting down Catie Munnings, but a problem with the pit limiter on the RXR car meant the Swedish driver was messy coming in and out of the yellow-flagged section, allowing Munnings to keep a steady gap and win the race.
Meanwhile, the XITE Energy car's steering collapsed with Tamara Molinaro behind the wheel, allowing Price to limp the CGR Racing car into third place.
In Heat 2, second-fastest qualifiers from the first round X44 trailed Acciona Sainz after the first few corners, before Loeb lined up a move on Carlos Sainz in the final part of the first lap, coming through on the inside of the penultimate corner. However, in doing so he compromised his exit, and took out a waypoint marker on the final corner, incurring a 10-second time penalty for the team.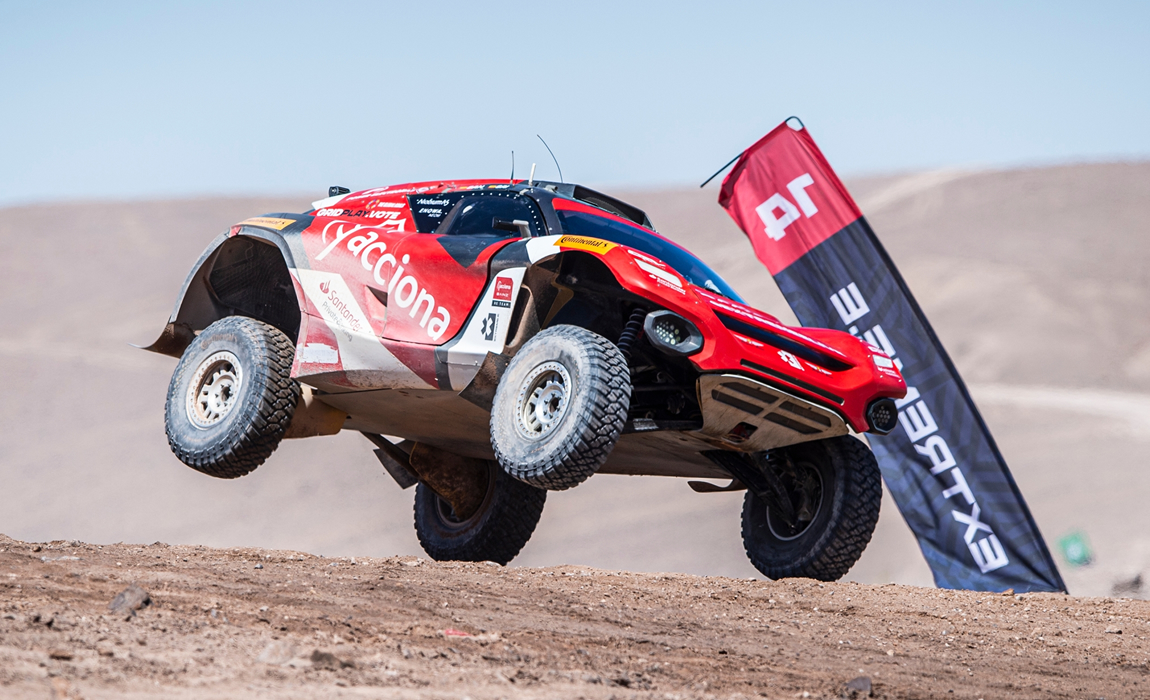 Acciona Sainz XE | Photo Extreme E Media / Charly Lopez
This relegated them to second, with Acciona Sainz taking the win, followed by ABT Cupra who were just 0.03 seconds shy of X44's total time including that penalty. Overall, RXR were the fastest qualifiers, ahead of X44 and Chip Ganassi Racing.
---
Team X44 | Photo Extreme E Media / Sam Bloxham
---
Semi-finals
The following morning, the track was watered which made conditions more slippery and loose. The start became all-important, as Munnings found to her detriment in Semi-Final 1, as the windshield of her Andretti United car was muddied as dirty water was thrown upon it from the wheels of Laia Sanz and Åhlin-Kottulinsky ahead of her. Struggling for visibility, she all but stopped on the following corner as she hastily tried to find the windscreen wipers, dropping crucial time.
Rostberg X Racing | Photo Extreme E Media / Charly Lopez
With Andretti United dropping back, Acciona Sainz and RXR were now duelling for first place. Sanz kept Åhlin-Kottulinsky at bay during her laps, but a slow driver swap allowed RXR to get ahead in the switch zone. Kristoffersson was able to coast clear of Sainz, and Hansen nearly caught the Spanish driver on the final sector, but ultimately crossed the line half a car length short of Final qualification.
In Semi-Final 2, Gutierrez's strong start put her ahead of Price and Andersson, and whilst those two squabbled for the final qualification spot, the Spaniard was able to race away unchallenged.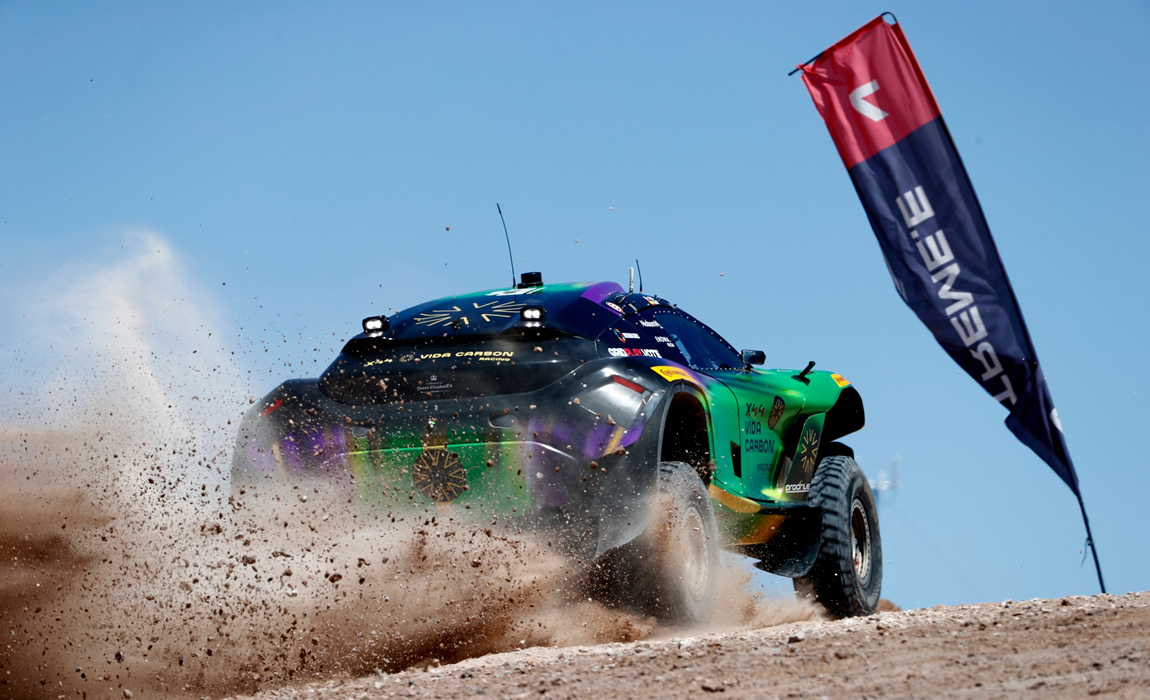 Team X44 | Photo Extreme E Media / Sam Bloxham
On the second lap, Andersson began to line Price up to make an overtake. Price, feeling the pressure, went to defensive, but a slight wiggle out of control gave Andersson a window to scurry past.
Kyle LeDuc was typically aggressive after being handed control of the car, but he proved to be no match for Nasser Al-Attiyah, who was able to maintain a comfortable gap throughout the lap.
Crazy Race
The real drama came in the Crazy Race, where each of the four cars were investigated for various infringements, leaving the paddock in total confusion as to who had secured the last remaining spot in the Final.
Emma Gilmour took the lead of the race, trailed by Kevin Hansen for JBXE Racing. Hansen followed closely, eventually finding a way past on the jumper over the lap finish line.
Meanwhile, Molinaro and Cristine Gz were fighting hard, and in Molinaro's attempts to find a way past the Veloce Racing car, she took down a waypoint marker. Despite the incoming time penalty, she kept her head down and eventually muscled her way through.
Back with the leading cars, Tanner Foust had taken over from Gilmour and was now hunting down Hedda Hosas. The experienced American caught the Norwegian driver on a jump, but both cars collided upon landing. In their haste to get back in the race, both drivers missed a waypoint. Foust kept the lead, but now he was under pressure from Scheider, who had broken clear of Woolridge after the Veloce Racing car's rear right wheel was severely damaged.
Scheider, knowing there was a penalty coming, aggressively tried to keep in touch with Foust, but the McLaren driver was showing serious pace, recording fastest sectors in his final lap, and securing the fastest time in the Continental Traction Challenge, earning five championship points, crucially denying RXR who were just 0.09 seconds slower during the weekend.
NEOM McLaren Extreme E
90 minutes after the broadcast, Extreme E announced that as a result of the penalties, XITE Energy were relegated to third place, but McLaren would keep their first-place position and therefore take the final spot in the afternoon's Final.
NEXT TIME …
The Extreme E Championship heads to Punta Del Este, Uruguay (26th – 27th Nov) for the fifth and final round of the 2022 Electric Odyssey at The All-new Energy X-Prix.
---
Words By Cameron Wyper | Photos Extreme E Media