F1 | RD3 | HEINEKEN CHINESE GRAND PRIX 2019 | QF
13/04/2019
Valtteri Bottas was able to secure pole position in China and beat his team mate Lewis Hamilton by 0.023 seconds to complete a Mercedes one-two on the grid.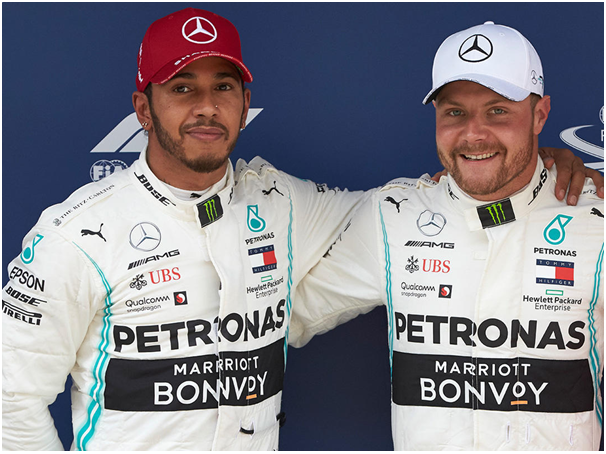 It had been a tough qualifying session for Ferrari but they managed to pick up the pace in Q3 but over three tenths slower than the Silver Arrows.

Alexander Albon would not appear on track after his crash in FP3 and there would be a second absentee of Antonio Giovinazzi who had a power unit issue with his Alfa Romeo. That meant that three of the drivers out on track would be joining those two and there was no surprise with both Williams drivers not making it out of Q1, the other driver would be Lance Stroll for the seventh consecutive time. Charles Leclerc was forced to use two sets of soft tyres. Bottas would lead the session with a time of 1m 32.658s.

McLaren, who had impressed in Bahrain, would struggle in Q2 and it would be the first time this season that Lando Norris had not made it through to Q3. Daniil Kvyat, the only Toro Rosso driver out on track would join both McLaren drivers with Sergio Perez and Kimi Raikkonen. It meant that Renault, Haas, Red Bull, Ferrari and Mercedes would have all their drivers into the last qualifying segment.
Hamilton, Bottas, Vettel, Leclerc and Verstappen all set their fastest laps in this segment on the medium tyres, which means this is the compound they will start the race on.


Q3 would anger Max Verstappen as he backed off to give himself some room but was passed by the Ferrari of Sebastian Vettel. He was unable to improve his time which left him fifth. Ferrari, who had worried Mercedes in Bahrain, were not able to replicate that type of form and found themselves in the shadow of Bottas and Hamilton.

It was a much happier time for Daniel Ricciardo, making his first Q3 appearance of the season and a much better improvement from the Haas drivers.

On the face of it the evidence suggests that Mercedes have the edge here in China, but this is Formula One and anything can happen.

Words By Neil Simmons – Xlerate

1. Bottas
2. Hamilton
3. Vettel
4. Leclerc
5. Verstappen
6. Gasly
7. Ricciardo
8. Hulkenberg
9. Magnussen
10. Grosjean
11. Kvyat
12. Perez
13. Raikkonen
14. Sainz
15. Norris
16. Stroll
17. Russell
18. Kubica

*both Albon and Giovinazzi will race at the stewards' discretion